Be it a professional video editor or a hobby artist trying to create a beautiful video collage, there are various occasions that need a MP4 joiner to merge multiple videos together. Picking the right one is pretty critical on your part. Worry not! We are here to ease your stress right away. In this article, we have compiled a list of 20 best video joiners to merge MP4 files. Keep reading to explore more!
Part 1. Top 5 MP4 Joiner for Mac and Windows PC
When you are looking for all-in-one software to combine MP4 files, UniConverter comes as the top contender. This video converter can merge multiple MP4 files to create breathtaking memories that you will cherish, without much hassle. Moreover, it allows you to save, edit, trim, compress, and download the media files. Crop, rotate, adding subtitles, watermarks, metadata and special effects is also possible with UniConverter.
The conversion rate for videos is 90 times faster, without any loss in quality during the process. These videos can easily be saved on your iPhone, Android device or computer hard drive.
Guide for Merging MP4 files using UniConverter on Mac or Windows
Step 1: Run UniConverter after installing it on your computer. Choose the Merger tab and click the + Add Files button and upload the MP4 videos you wish to combine. Alternatively, drag and drop the videos on the program interface.
Note: It can work on any Mac running from macOS 10.7 Lion to 10.15 Catalina; Windows 10 and the earlier versions.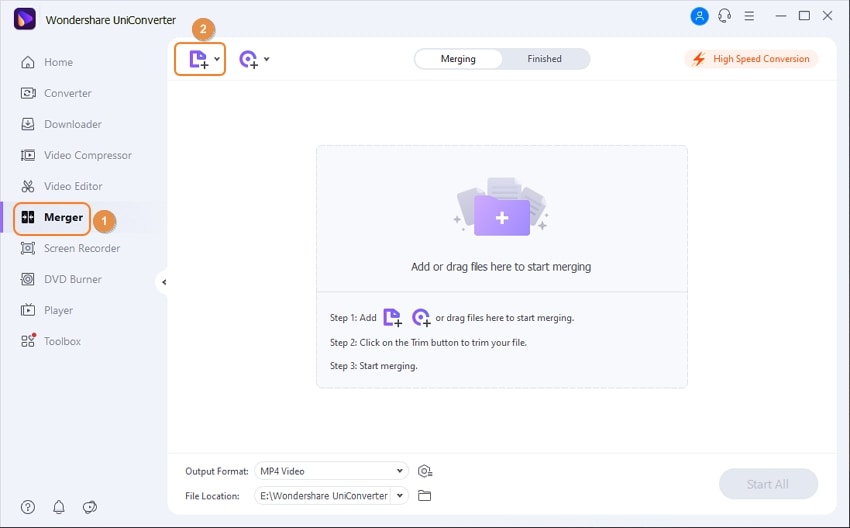 Step 2: Now, get to the Output Format drop down and choose MP4 as the output format from the 'Video' tab.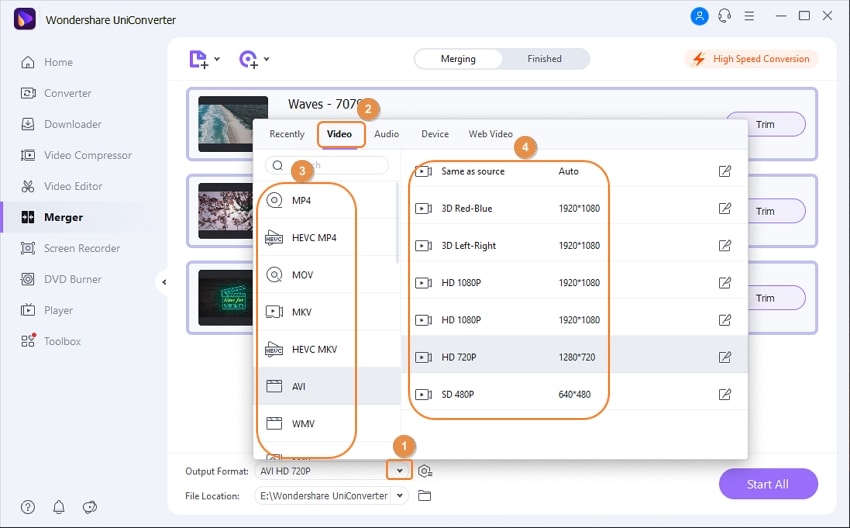 Optional: Before combine MP4 files, you can trim each MP4 video here. Click the Trim icon, where you can trim video clips.
Step 3: Now, you got to tap the File Location button and then hit the Start All button. This edited file will be found on Finished tab or Open file location icon.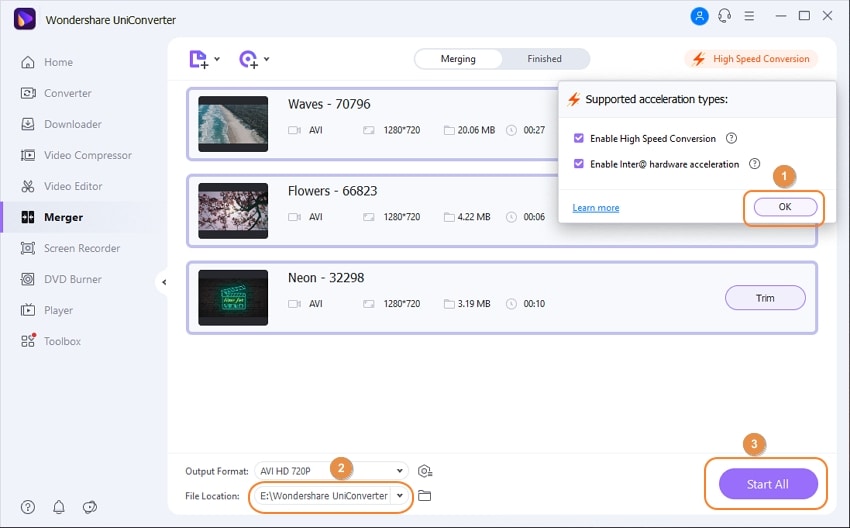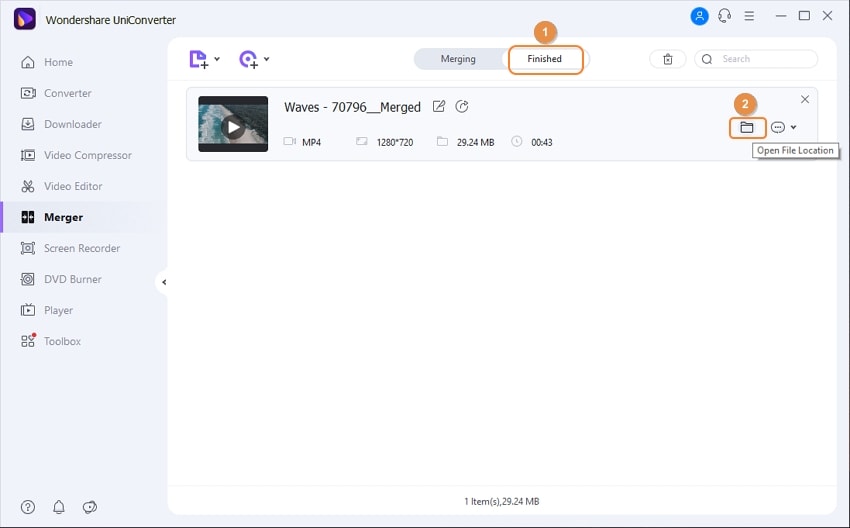 Update:
Here is the article listing Best MP4 Cutter you may be interested in.
Filmora is one of the popular tools to merge MP4 videos on your desktop. You can edit photos and videos using this software. Creating slide shows, GIFs, memes etc. is easy using this application. You will get plethora of options to edit and add effects to your photos and videos. Moreover, it can blur the background and also shows picture in picture view. Changing the photo styles, saturation, color tuning is the matter of few minutes with Filmora.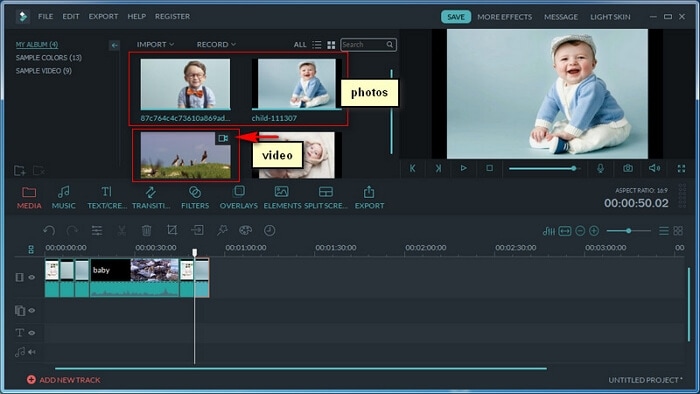 Filmora is one of the popular tools to merge MP4 videos on your desktop. You can edit photos and videos using this software. Creating slide shows, GIFs, memes etc. is easy using this application. You will get plethora of options to edit and add effects to your photos and videos. Moreover, it can blur the background and also shows picture in picture view. Changing the photo styles, saturation, color tuning is the matter of few minutes with Filmora.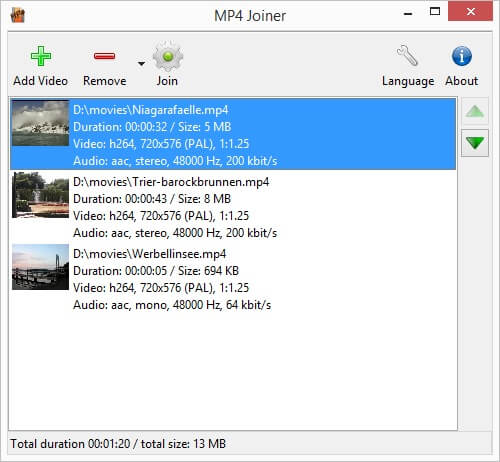 Speaking of MP4 joiners, this tool is capable of joining MP4, AVI, WMV and MPEG joiner. You can convert old videos to advanced formats. You can batch process files before merging them with this application. The dimensions and bitrate of the end product match for every piece of video merged, creating uniformity.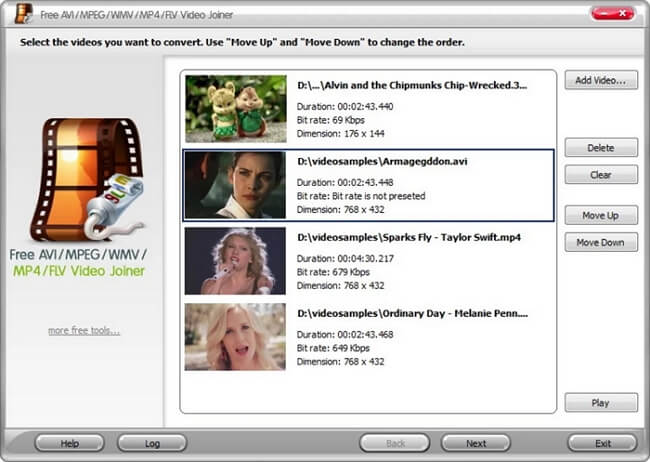 Using Handbrake, you can easily convert videos from any format to a desired video format. This is a free and open source application that requires no expenses. It can join multiple MP4 videos and is a cross-platform program. Windows, Linux and Mac computers effortlessly run this program.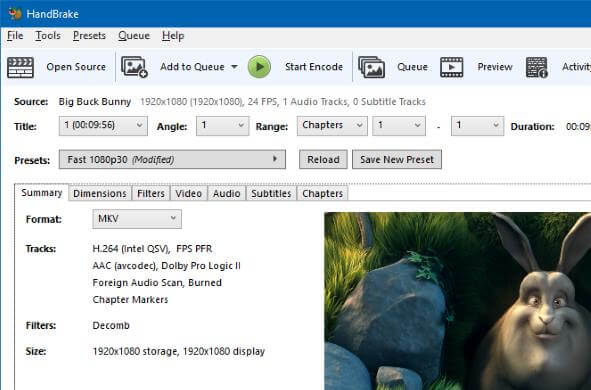 Part 2. Top 5 MP4 Joiner Online
Now that you know desktop MP4 joiners, let's check out online tools for the same.
While you scout for programs merging MP4 files online, Video Toolbox comes as a fresh breath of air. You can upload MP4 videos up to 1500MB. Apart from MP4 joining, it allows you to get thumbnails created for your video files. You can even add text watermark, insert subtitles and capture snapshots with lot many other things. It supports loads of video formats making it easier for you to get multiple files done with a single tool.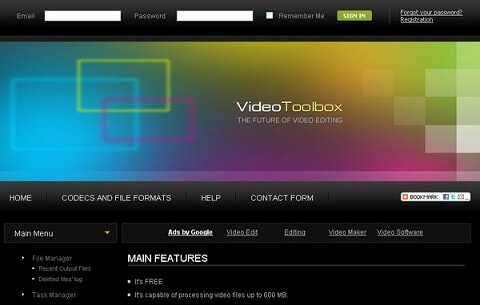 With Cellsea online MP4 video joiner, you can merge MP4 files online. You can convert videos to MP4, FLV, MOSV, AVI, and 3GP formats apart from merging diverse video formats. Using your computer or through URLs you can upload videos to this site. The file size must not exceed 25MB. The merged file can later be downloaded in any format to your computer.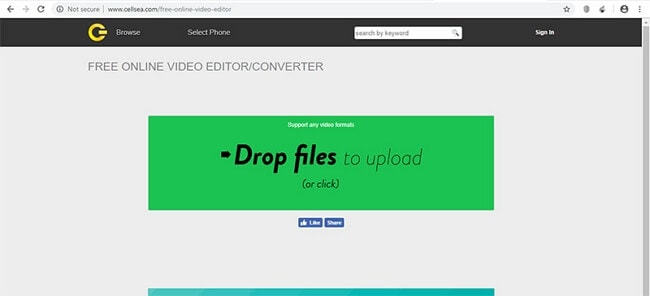 Being among the flexible online MP4 joiners, it offers a wide range of free media for supporting your video editing. It allows you to drag and drop videos for merging or editing them. The only downside you would be annoyed with is Ads.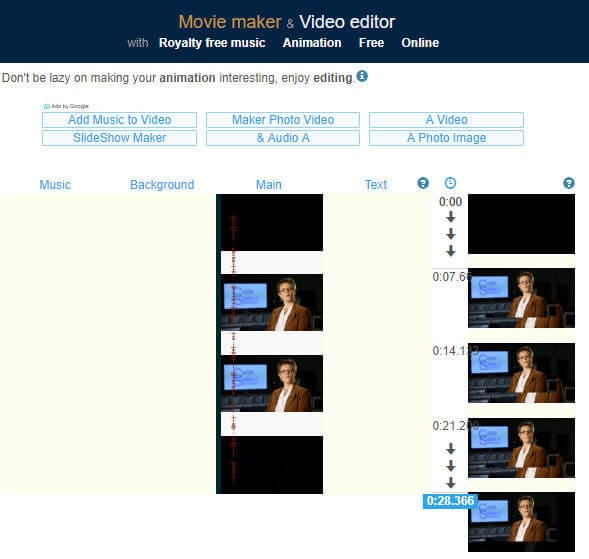 This is a free video editor, converter, compressor, as well as webcam recorder. Using this online MP4 joiner you can achieve quality videos. It comes with a paid version that costs around $7 per month. Though, the free version has some restricted features.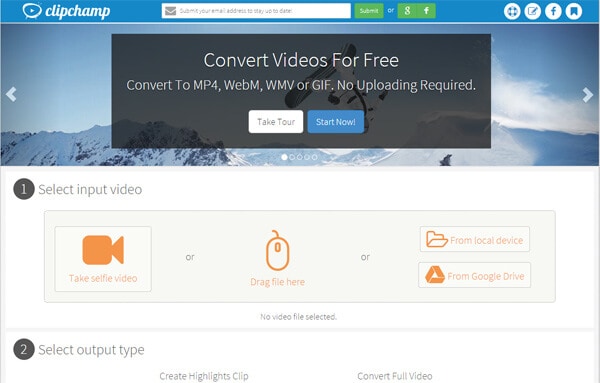 In order to merge MP4 files online, you can consider We Video. With powerful editing tools and has Ken burns, green screen, fast and slow motion, you expect nothing less than best quality videos. Your data is secure as the site is hosted on cloud. The downside with this site, it costs you a lot compared to other counterparts.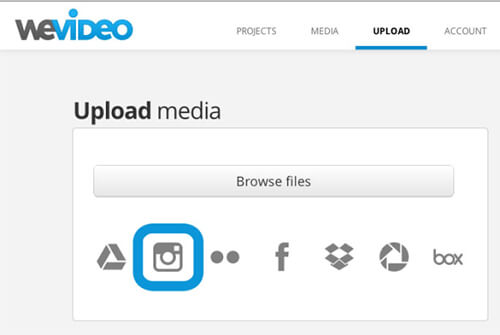 Part 3. Top 5 MP4 Joiner App for Android
Once you are done with online MP4 joiners, how about going through Android apps for merging MP4 videos?
This Android app can effortlessly join multiple MP4 videos. This video editor also combines videos of several sizes, codecs, aspect ratios, frame rate etc. The file size decides how much time it takes to merge files. You can also trim videos up to two seconds at least. You can even merge audio and MP4 video or remove sound from any MP4 video.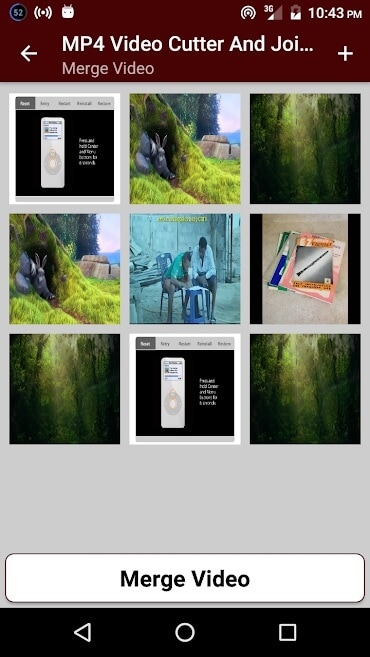 With this Android app, you can cut or merge MP4 videos with professional quality. You can convert any video to Mp3 format and alter audio of any video as well. You can playback video clips within a neat interface. Most video formats are supported with this app.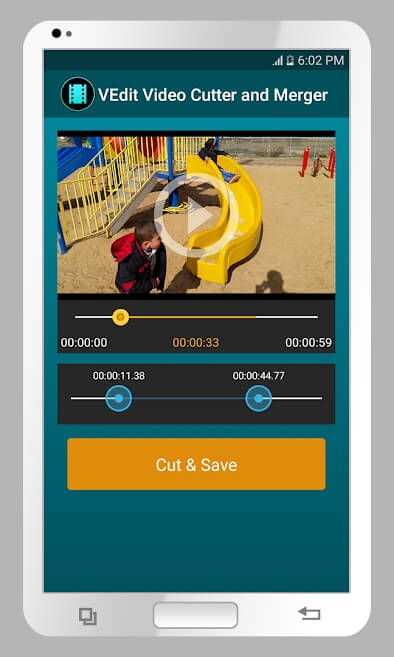 Among the Android apps for merging MP4 videos, it is known as the best video trimmer and editor for YouTube and social networking sites. It doesn't contain any banner Ads or cost you money to use. You can even compress videos, without any quality loss. Video exporting in HD quality is supported. It comes with video split and slice features. Filters and effects are adapted with slow/fast motion feature. You can create slideshows, add photo cover for video without any watermark.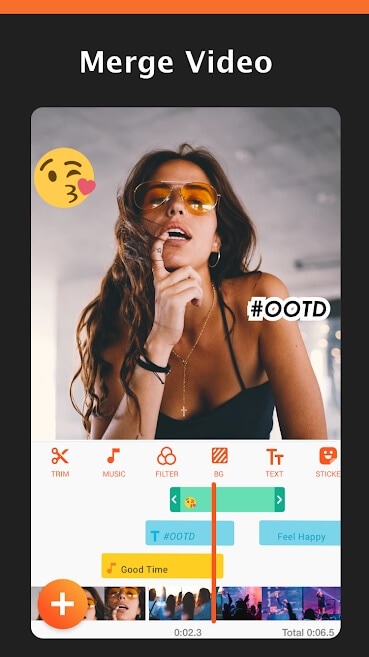 This Android MP4 joiner app is an HD video editor that can blur the background without cropping it. you can add video effects and music and create videos for Instagram, YouTube, IGTV, and other social networks. You can create YouTube vertical videos as well. Flexible aspect ratio, no quality loss, square video, movie style filters, contrast, brightness and saturation adjustment are few of the best features with InShot. Video speed control, adding music to video and slideshow creation is supported.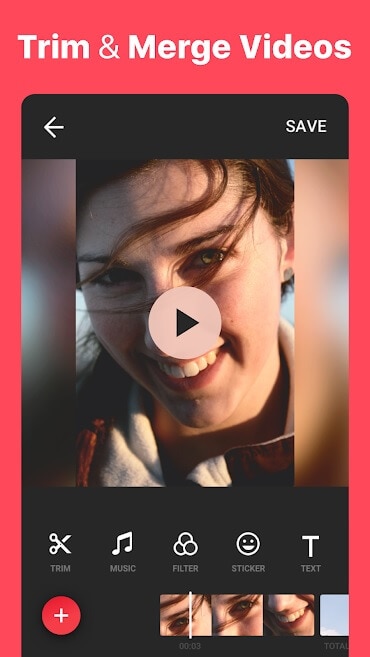 5. PhotoGrid: Video & Pic Collage Maker
This MP4 joiner Android app can remix your photos for social media posting. You can have GIF and memes, video and image collage, crop, AR effects, photo clipping, patterns, background, slideshows etc. You can add music without any watermark on videos or cropping. Trimming and merging videos with extra effects is available with the app. Moreover, you can use 300+ diverse templates for editing photos.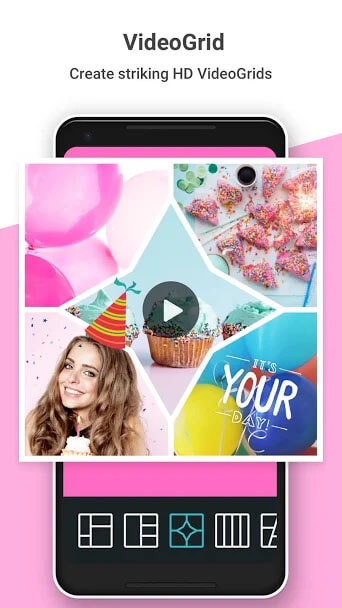 Part 4. Top 5 MP4 Joiner App for iPhone
At the end, we sum up with MP4 joiner apps for iPhone.
1. Splice
Using this iOS app, you can edit videos seamlessly. Movie creation and editing, audio and photo editing on your iPhone is supported by this app. The built-in video editor adds effects, background music, and transitions effortlessly. You can even add titles prior to merging the video. It has a paid version with additional video editing features.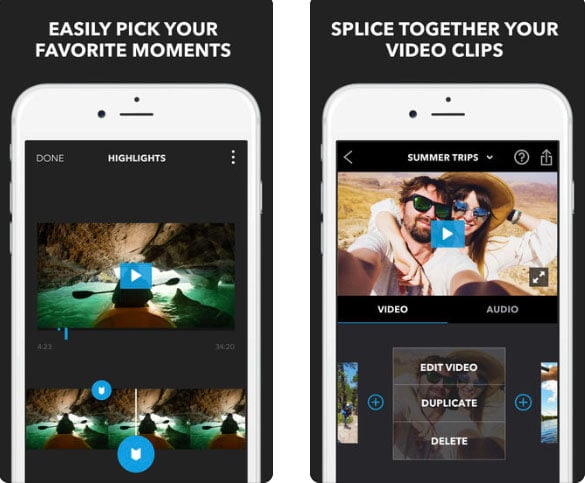 2. Apple iMovie
This app is an effective video editing program on your iPhone. you can easily trim and combine MP4 videos, audio, photos, audio within seconds. You got to order the videos in your desired sequence, prior to stitching them together.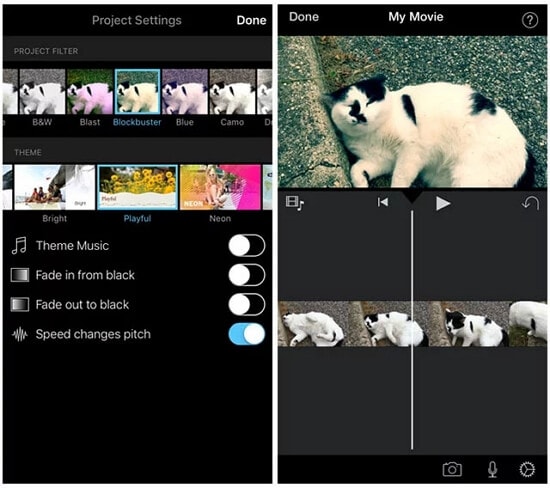 This MP4 joiner iOS app can merge multiple videos, trim, cut, flip, reverse videos with an intuitive user-interface. You can even merge audio to the video at specific interval. Texts and stickers can also be added at intervals. You can also add patterns, effects, and change the background of the video. Square, portrait and landscape formats are supported. Adjusting the volume and setting the video speed is possible too.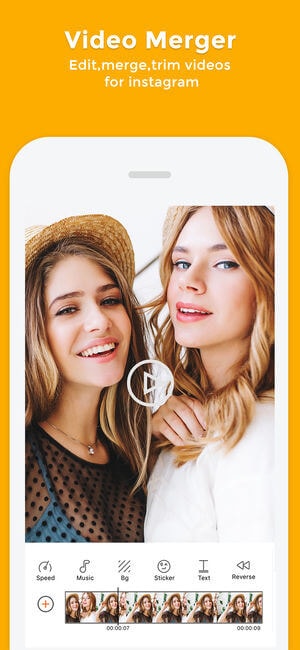 Merging MP4 videos on the go is easy with this iOS app. You can intuitively trim, merge, and edit videos with this app. Using filters for live-recording filters, adding background music, special effects, animations and borders is possible with the app.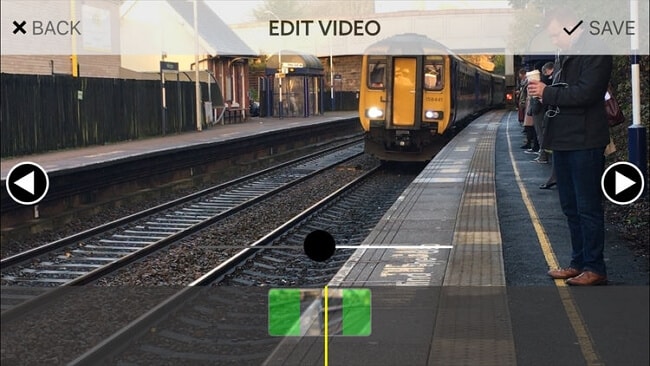 This paid iOS app delivers professional video editing features. You can edit photos, audio and videos fast. It supports creating Timeline and Dual view precision, organizing clips in a storyboard, and including effects, high-end transitions, soundtrack etc. you can export videos to continue editing on your PC. Sharing on social media is allowed. Use montages, slow/fast motion effects for audio and video and picture-in-picture effects too. It supports 2K and 4K videos too.