Which is the best MP4 trimmer for Mac and Windows PC in 2019? Trimming of MP4 video is one of the normal video editing practice as it allows you to remove the unwanted sections of your video and retain the desired portion. In 2019, there are numerous MP4 trimmers that you can purchase, but you can still go for MP4 trimmer free tools available. Since they are many free tools that allow you to trim MP4 videos you might get confused on which one to use. If you are still undecided, this is the right article for you. We have taken the liberty and narrow down to 15 best mp4 trimmer for Mac and Windows pc.
Part 1. Top 10 MP4 Trimmer for Mac and Windows
UniConverter is a one-stop-shop mp4 trimmer which gives a platform to perform every edit from primary (trim, rotate, crop) to advance (add subtitles, watermark) to mp4 video. These editing features are available on both the Mac and Windows versions of this program.
Moreover, this software allows you to add the video directly to the program from online streaming sites like YouTube or the devices like camcorders, iPhone. Also, it supports all hot video formats when importing and exporting after editing your video. iSkysoft iMedia Deluxe comes with a free version giving the chance to have the test of its features before digging deep your pockets to enjoy its services as a whole. This software comes with other vital functions that you must know.
Get the Best MP4 Trimmer:
Easily trim MP4 video on Mac or Windows PC. You can also rotate, crop video and add subtitle, watermark, effect, music to the MP4 video.
Convert videos in over 150 formats, like MP4, MOV, VOB, MKV, WMV, AVI, MPEG, etc.
Download video from great online streaming sites such as Vimeo, VEVO, YouTube, etc. Supports video file formats like MOV, AVI, MP4, M4V, and MP4.
Enables to burn a DVD media to audio and video formats.
Supports recording of videos and audios online
Supports merging of several video files to a single file.
It can import audios and export them to different audio formats like AC3, FLAC, M4A WAV, AAC, MP3, etc.
[Step-by-step Guide] How to Trim MP4 Video Using iSkysoft Media Converter Deluxe
Step 1. Add MP4 video
Launch the program and hit the "Add file" option in the Converter tab to import the mp4 video for trimming. If the video file is in your device or camcorder, tap the drop-down menu of Add Files and load from there. Also, you can drag the video and drop in the program.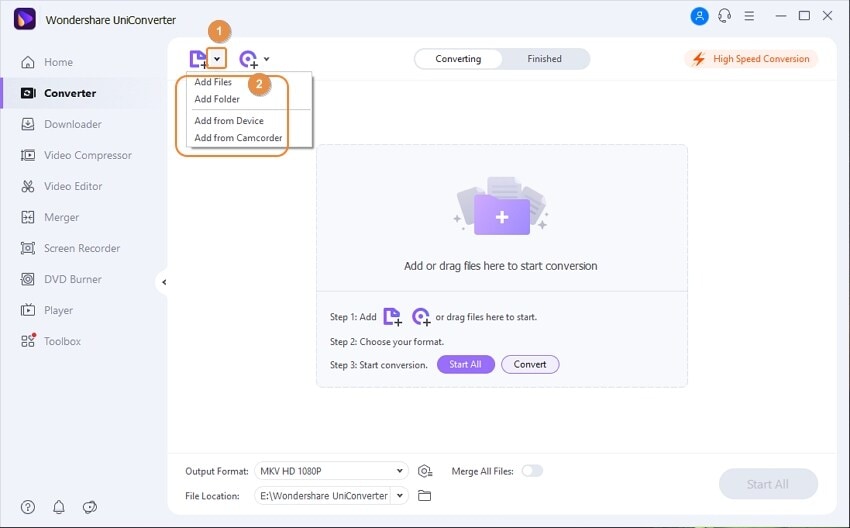 Step 2. Trim MP4 Video
Initiate video trimming process by previewing the video through clicking the icon button under the video. At the exact section, you intend to trim, tap the "Cut" button. Markers will be now visible on the progress bar. If you intend to change each segment duration, use the markers by dragging them accordingly. Redo this process to add more segments. And then click the OK button.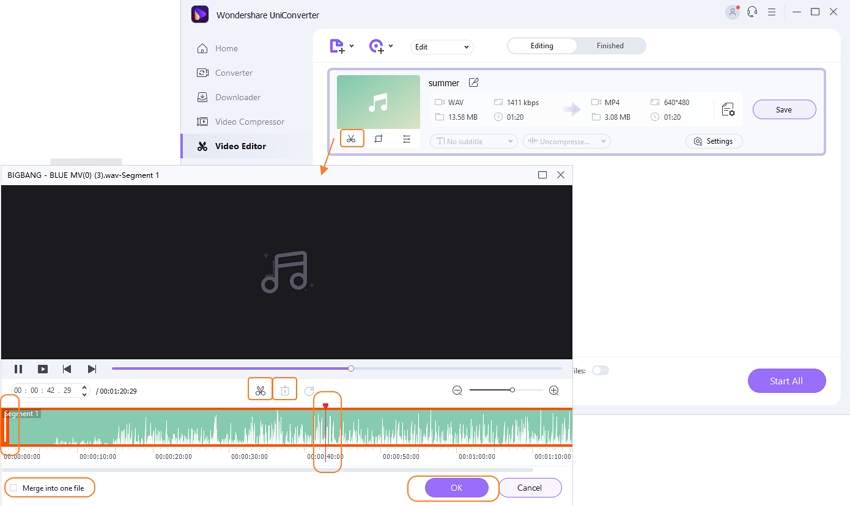 Step 3. Export Trimmed MP4 Video
After selecting the output format click Convert or Start All tabs. If you feel like changing the output folder, freely do so by selecting "Preference" followed by "Location" in the menu.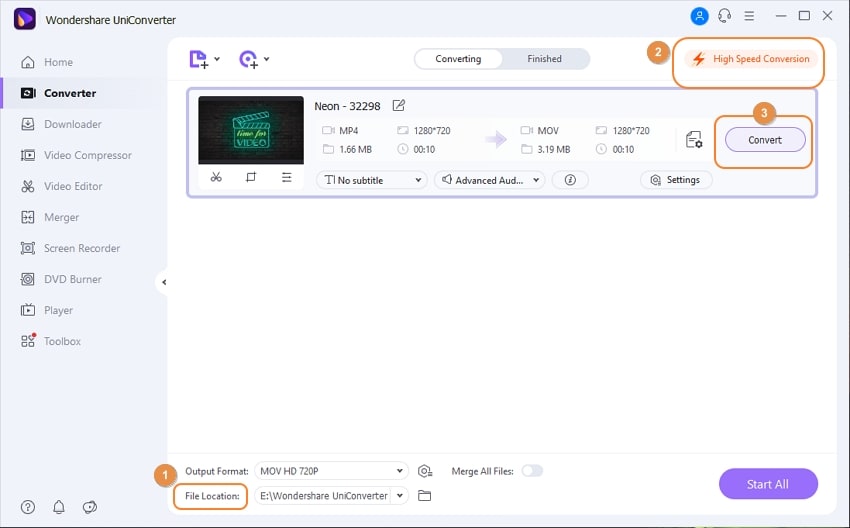 Avidemux is an excellent and free mp4 trimmer majorly created to handle trimming and other edits which include filtering and encoding the tasks. This program offers several options in which you can cut and filter video segments in a convenient manner. Moreover, Avidemux like iSkysoft iMedia Deluxe, supports a wide range of video file formats like MOV, FLV, DivX, MPG, MP4 to name but a few. When you have this software, consider yourself lucky; to trim mp4 video will be a piece of cake.
Rating: 4/5
Pros:
The interface is user-friendly.
Embodied with a clear toolbar structured with all necessary buttons on it.
Cons:
The performance isn't entirely satisfactory.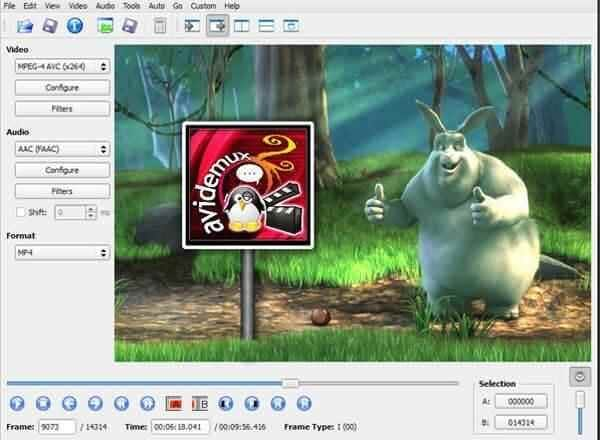 Among the aforementioned mp4 trimmer, VirtualDub is one of the most used free trimmers that makes it possible for the users to extract a small section from a video and comfortably save the other part. However, it has some shortcomings because it misses one of the vital attributes of recompressing. And the trimmed mp4 on playback is not balanced.
Rating: 4/5
Pros:
Perfectly customizable.
Provides a wide range of options to cut and edit the mp4 video.
Cons:
Supports a variety of video file input formats but only delivers AVI output format.
It is a bit complex to use.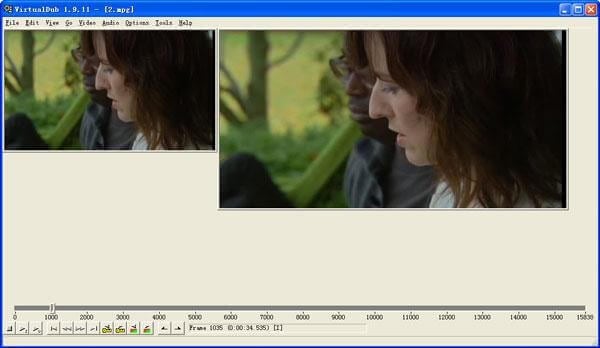 Cute Video Cutter design focuses on the user allow him/her to upload and trim large video files. It supports a wide array of file formats as inputs and delivering good quality output files as expected. The following video file formats work best with this software 3GP, MP4, AVI, WMV among more other formats. For you to have an experience to applause with Cute Video Cutter, select starting and ending points from the video, and easily trim the required segment.
Rating: 4/5
Pros:
Not a prerequisite to look for an install any other codec.
Easy and clear user interface.
Cons:
It does not contain audio cues.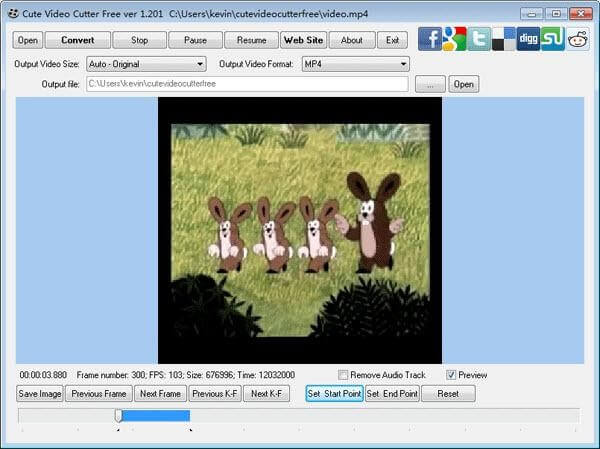 Freemake Video Converter is a reliable software used to trim, cut, merge, convert and effectively fix MP4 video files. The critical part of this program is that can comfortably handle a variety of media encoded with multiple file formats. Furthermore, it is not necessary to an output file with the same input format; freely select your preferred output file format. Being multi-functional, using multiple file formats, the user can trim and join the videos concurrently.
Rating: 3/5
Pros:
It supports online sites.
It supports output device formats.
It is free to download.
Cons:
It has limited features compared to UniConverter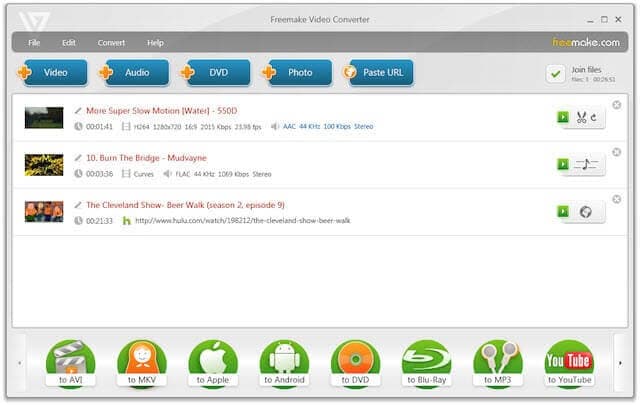 Free Video Cutter Expert is a simple MP4 trimmer for removing unwanted parts of the video freely. Like the other mp4 trimmer free tools, this software as some of the following main features; supports almost all file formats (MP4, FLV, MPEG, 3GP, SWF), fix and edit videos with just use of the pointers, cut and join multiple video segments together.
Rating: 3.5/5
Pros:
Easy to use mp4 trimmer.
It saves the frames as images.
It has a preview feature.
Cons:
You cannot export videos online.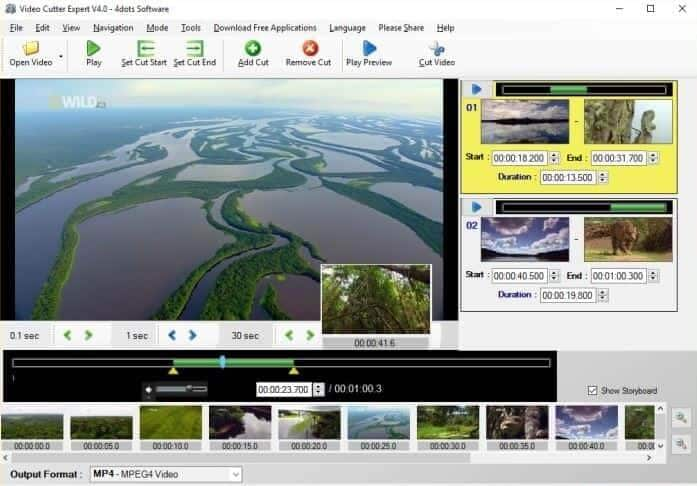 Free video cutter has made it possible to cut the video into several clips. This MP4 trimmer tool being not an exception supports a variety of other formats like rm, VOB, Rmvb, asf, Avi and WMV files. It provides customizing options to adjust the order of the video segments and also the video output modifiable settings like quality, volume, bitrate, frame rate, size, and video codec.
Rating: 4/5
Pros:
No watermark.
It allows previewing the original and selected video files.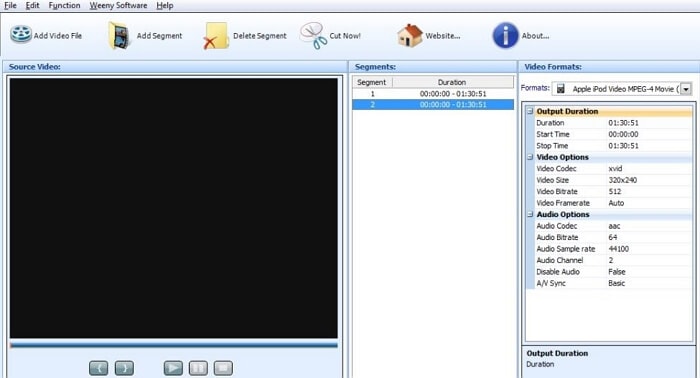 Since its inception, HitFilm Express is regarded as the best free video editing application for both Windows and Mac. With the recent upgrade, this software has seen the inclusion of a plethora of main new features. Along with these Pro features, HitFilm express allows you to purchase additional starter packs which were previously only limited to Pro Version. They include 3D particle simulator, 3D model import and render. 16-bit color depth among others.
Rating: 4/5
Pros:
Strong timeline editor.
It has export features.
Cons:
Export performance lag behind.
Some playback options get rid of some special effects.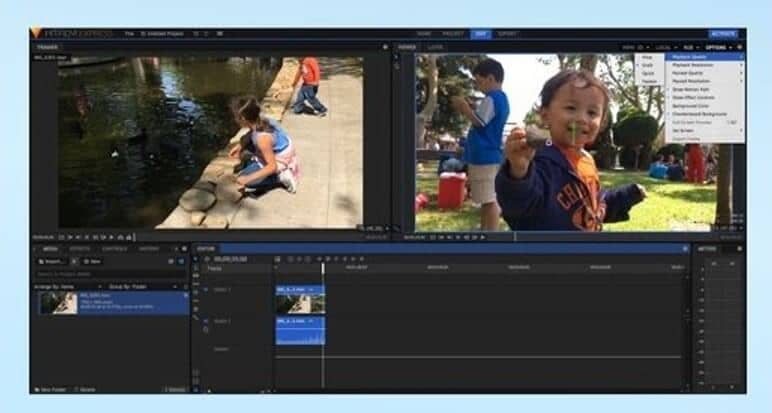 Without slipping from our mind, we have to pay homage to iMove which has been prolific MP4 trimmer for non-commercial video editors on Mac computers. For the novice, it comes with a template to jumpstart you with video trim technique. However, you might utilize creativity to create videos and movies with a professional look.
Rating: 4.5/5
Pros:
Ability to integrate iPhoto images and iTunes music into one's project.
Export trimmed mp4 video directly to iCloud.
Cons:
Supported by only Mac platform.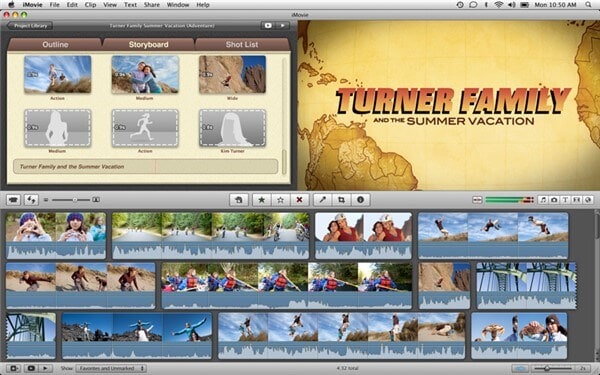 Chick Video Cutter provides not only mp4 trimmer free service but also the ability to use its effects, and transitions to enhance the video. The result is an excellent video with adorable cinematic graphics to brag to your family and friends about of the enhanced videos.
Rating: 4/5
Pros:
Ability to create gifs.
Supports joining of videos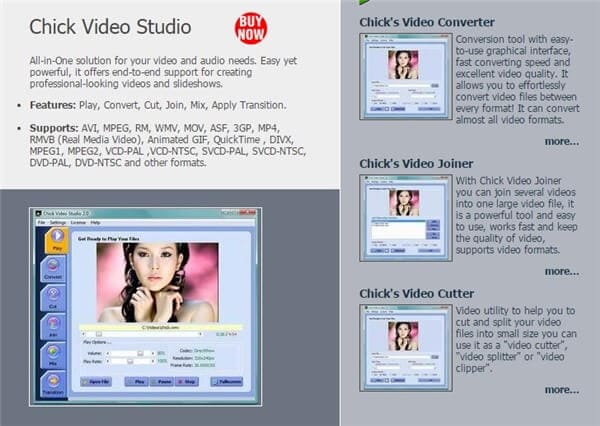 Part 2. Top 5 Free MP4 Trimmer Online
You can also use MP4 trimmer online if you do not have enough space to download the MP4 trimmer on your computer. Here are five MP4 trimmers online.
Contrary to the Android application parent name, WeVideo is a cloud-based mp4 trimmer tool. This program provides the user with liberty to pause the editing process in one device and open it on another. Also with that, the video editor can bring in his/her family or friends to collaborate during the editing process. Although its free version has some limited features and advantages, signing up for any of the monthly subscriptions will see more of allotted cloud storage space and the length of the video that you can upload.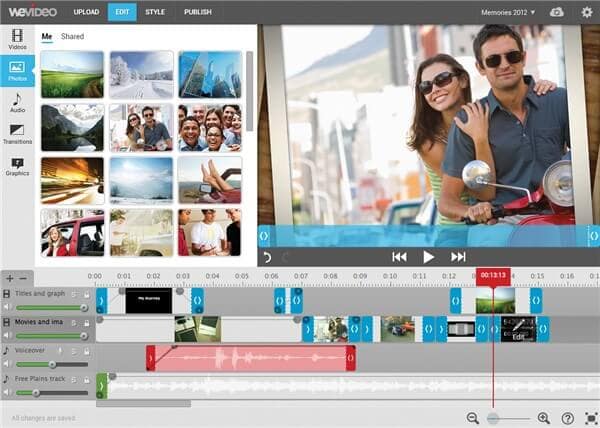 Video Toolbox allows you to trim mp4 video online for free. It is absolutely a small level up from the immediately mentioned WeVideo when content consideration is featured. It supports upload of large files, at a maximum of 600 MB and is supplied with essential features, automatic, to aid in trimming or general video edit with ease. An advanced tool called demux, get rid of subtitles, video or audio from any file. Currently, Video Toolbox runs in a free version. It implies that there is no possibility of paying for an upgrade to get more file storage size.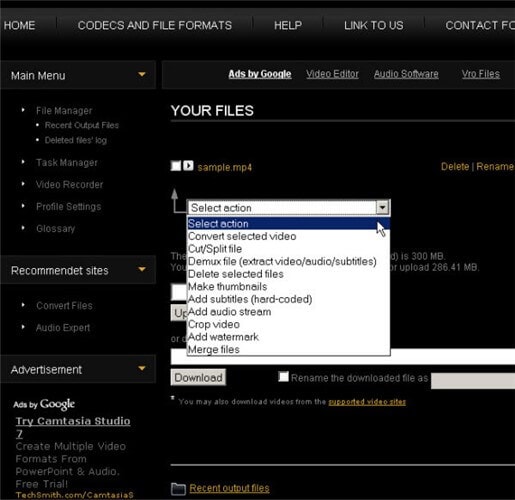 As the name suggests, it does precisely that to trim mp4 online free. If you are that person looking for a fast and easy to use online editing software, have no more hassle. It does not do much. Also, it is free to use. Although it has a hurting limitation in that it cannot open files which are more than 500 MB. The significant difference compared to another online video trimmer, is the ability to add audio and video file directly from any website URL and your google drive. Online Video Cutter basic functionality makes it possible to handle any video and audio format if not all. With this, you can sail into a seamless cloud experience.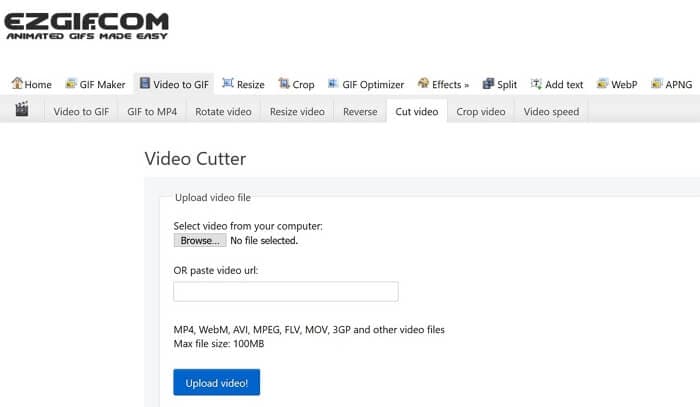 FineLab Video Editor allows you to get more beautiful with your editing apart from just being mp4 trimmer, contrary to some of the earlier mentioned online trimmer tools for mp4 files. Exactly as WeVideo, you have the freedom to collaborate and share your progress with ease. IOnly one rare thing with this mp4 trimmer tool is the website's plug-in which must be installed to run effectively.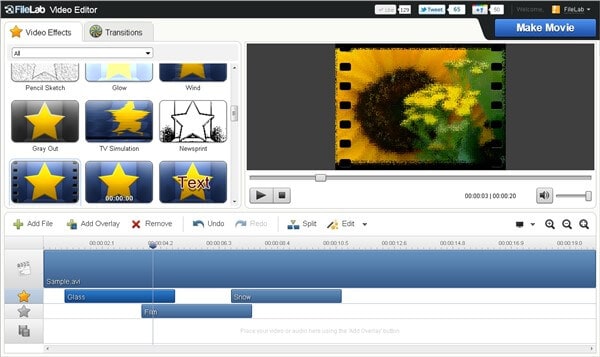 5. YouTube Video Editor
YouTube Video Editor is the unknown online video editor at the moment which is embedded in YouTube.com. From its' silent nature, it's able to trim a video to the desired upload points, add closed captioning and insert audio tracks to the final results. To use YouTube Video Editor, it is available in the creator studio just under Create. What is more relaxing about this is that after finalizing edit, the video will be uploaded and immediately go live.