Enhance Your Merging Experience-UniConverter
Make full use of your multi-core processor to speed up the merging process.
Cut unwanted portions with the built-in trim feature.
Support uploading multiple files .
Merge and convert your videos clips into cumstom formats like MOV, MKV, and web formats.
Compress, edit the merged video.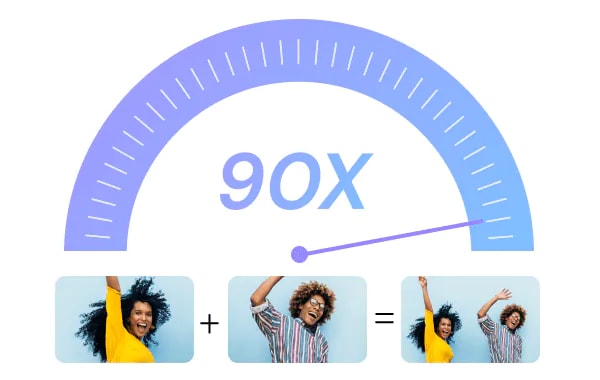 Confused about which software to use to combine audio files? This article will provide you with a detailed discussion on How to combine audio files and which tool will be appropriate for your specific purpose. So take a deep breath and thoroughly ready this easy guide to help you combine audio files.
Merging audio files is a popular hobby, particularly when they wish to produce and modify an audio track. However, others combine songs to create a continuous, uninterrupted sound. Furthermore, some people may utilize this audio Merger to present for personal purposes. However, most of us do not have the necessary skills to combine many audio recordings into a single file. There are several techniques available to the general audience. But the question arises 'which one would be the right choice?
Unfortunately, certain obstacles always hamper the way to take the jump. Hundreds of music mergers are available in the market to efficiently merge the video and audio clips. Still, it is critical to determine which one would ensure cutting-edge performance without sacrificing the quality.
Following are some of the tools which will assist you in merging video and audio files.
Part 1. Solutions to Combine Audio Files with UniConverter
Uniconverter is probably the best pick for video merging or combining audio files. It can prove to be the all-in-one solution for all your video-related concerns. You can install it on your Windows or Mac computer in a few simple steps.
Merges videos with just one click

Merges video clips in multiple formats into one. The program supports almost 100 formats, especially 4K for high-quality, quick conversion.

It allows batch uploading. The combined files may be uploaded to various devices, including Android, iOS, and hard drives.
Allows trimming videos before merging.

Local and remote subtitles can be added using the program. The font, color, type of the subtitles, and other factors, may all be changed.

After merging, you can compress, convert, edit your video.
Detailed Steps to Merge Video Files on Uniconverter:
Step 1
On your Windows PC, choose Merger present on the left side of the UniConverter screen. Select "Files" in the upper area of the center panel, and then use the Open box to choose and upload the film clips you wish to include.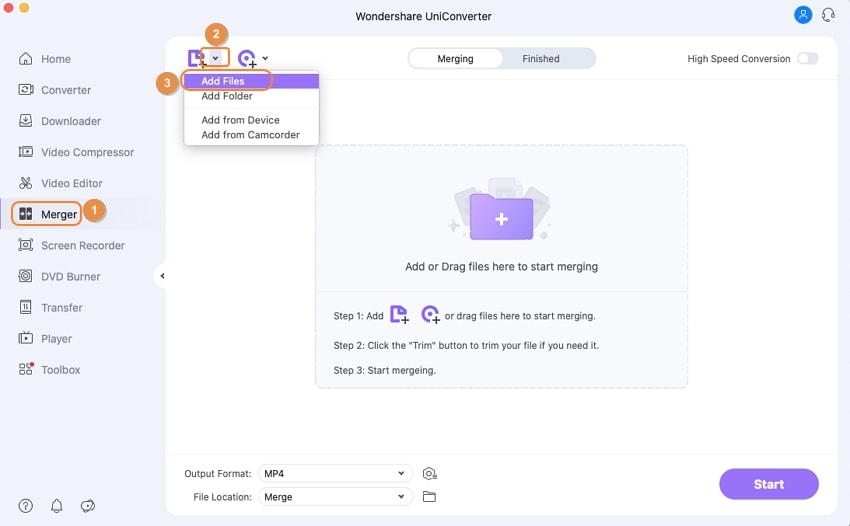 Step 2
Tap the Down Arrow bar, now the Video tab from the main window's base, then choose a file format from the option on the left and the quality you like the merged video to be in from the column just on the right.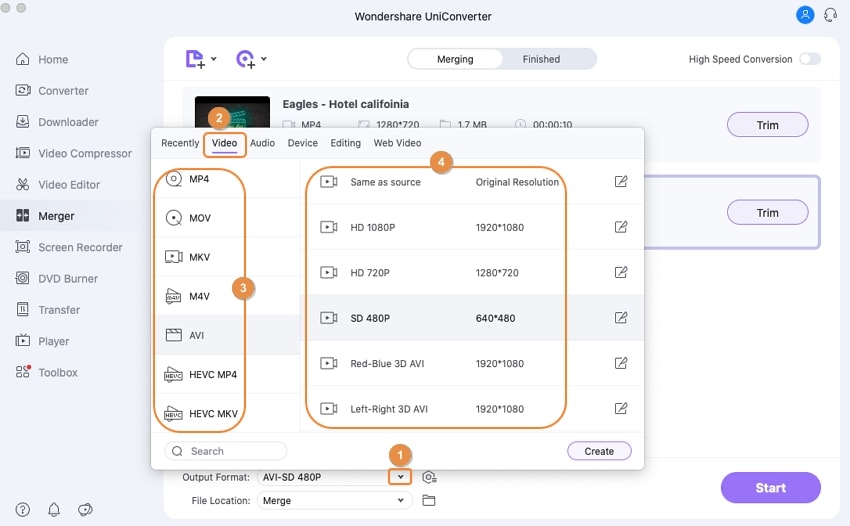 Step 3
Select one of the two available acceleration styles from the High-Speed Conversion option in the upper corner, then click OK to activate the High-Speed Conversion feature.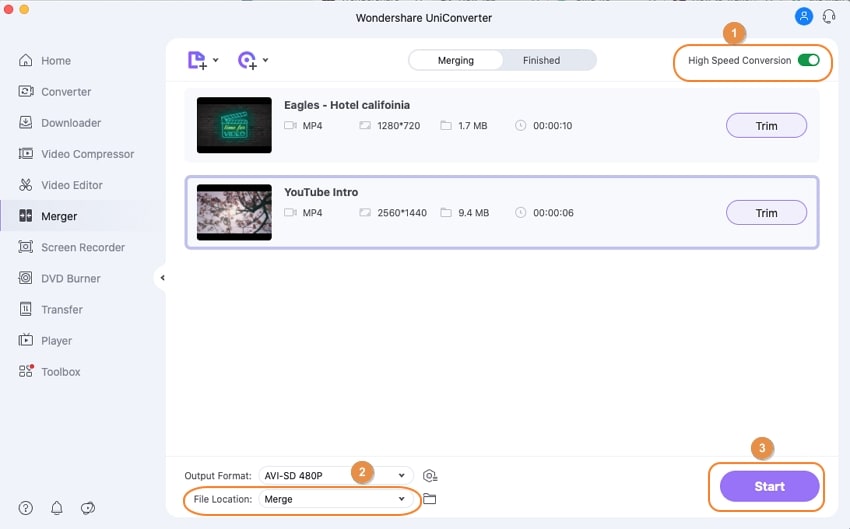 Step 4
Next, in the File Location box, pick a folder, and choose Start All at the bottom to merge all of the loaded clips into a single show.
Step 5
After the merging, go to the upper edge and select the Finished option to see the combined clip.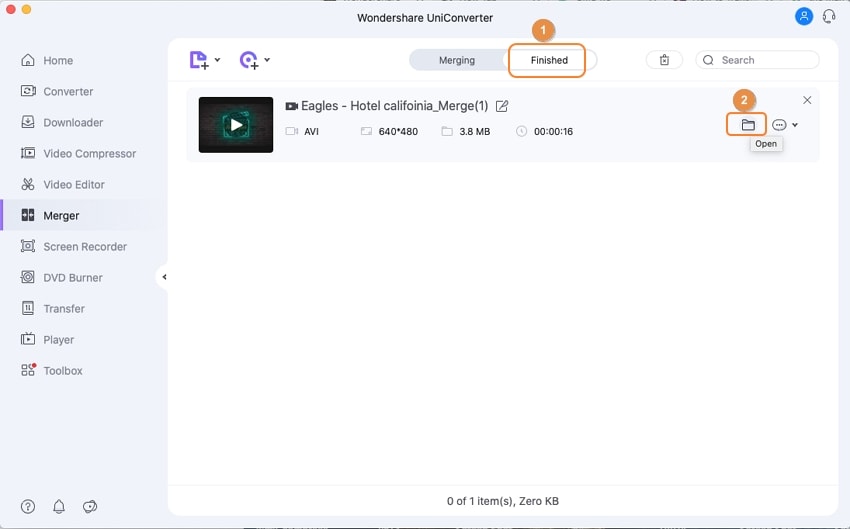 Pros
It has high export speed.
This video merging software has an easy-to-use interface.
It enables you to upload multiple files at once.
Cons
It is only available on Windows and Mac system.
Wondershare UniConverter 13 - A Complete Meida Toolbox
5,481,435 people have downloaded it.
UniConverter supports many formats and handles conversion equally, ensuring that high quality is delisered at all times.
During the conversion process, you may add multiple files since the program does batch conversion of files.
You can use the editing suite that covers subtitle editing, watermark editing, etc to make your results creative masterpieces.
This software facilitates file transfer to devices like Android and iPhone among others once the conversion is complete.
UniConverter is also capable of handling video compression hence ensures you acquire the video sizes you desire.
VLC is a multimedia platform built by the VideoLAN project that serves as a widely-used open source video player for various platforms, including Windows, macOS, Linux, BeOS, and others.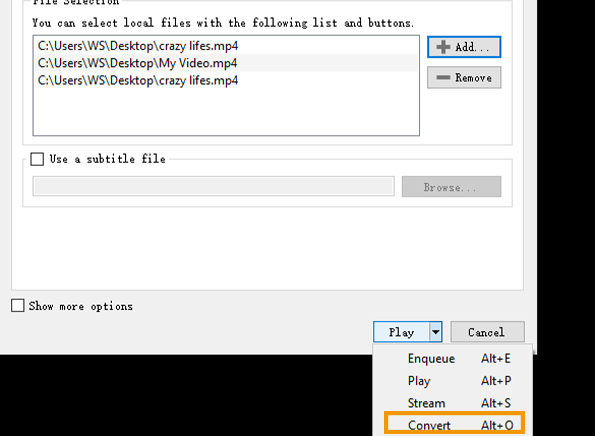 It can play a variety of audio formats (AC-3, AAC, MP3, DV Audio, FLAC, Speex, Vorbis, etc.).

Plays and supports almost every video format.
What distinguishes it from others is that it is entirely open-source and free.

Assists users in doing editing tasks such as integrating audio tracks to videos.
Detailed Steps:
If you wish to export the video clip without the background music, turn off the sound in the clip and substitute it with an external audio file. Follow these given instructions to merge audio files with the video file.
Step 1: To upload a video clip to VLC, go to Media > Convert/Save. To start, hit the Convert/Save option on the lower right.
Step 2: In the Profile menu, select the wrench icon. To deactivate the existing soundtrack, tap the Audio codec and clear the box before audio. To return, click the Save option.
Step 3: Choose a location for the video to be saved and begin the export process.
Step 4: Open VLC and upload the video without the sound. Tick to import the music into VLC, select Show More Options > Play another media simultaneously.
Step 5: Click Convert/Save from the drop-down list of the Play option at the bottom.
Step 6: To access audio codec choices, click the wrench icon. Then choose audio and export by saving the file.
Step 7: Navigate to a folder where you have to save your newly created file. To merge audio and video in VLC and save it to your system, use the Start button. And add.mp4 at the end of the file name.
Pros
You can easily add external sound or remove the existing sound without hassle. 
VLC is an entirely free and open-source media player to play and edit video and audio files.
With a VLC player, you don't need professional editing skills to merge.
Cons
It results in quality reduction after numerous re-encodings of the video.
VLC lacks key critical features, such as the ability to change the audio codec, bit rate, sample rate, and so on.
VLC does not support the mixing of external audio with the primary sound. It is used to substitute the sound in a video.
iMovie
iMovie for iOS and the iPad OS comes with a library of soundtracks and music merger features that you may utilize in your video.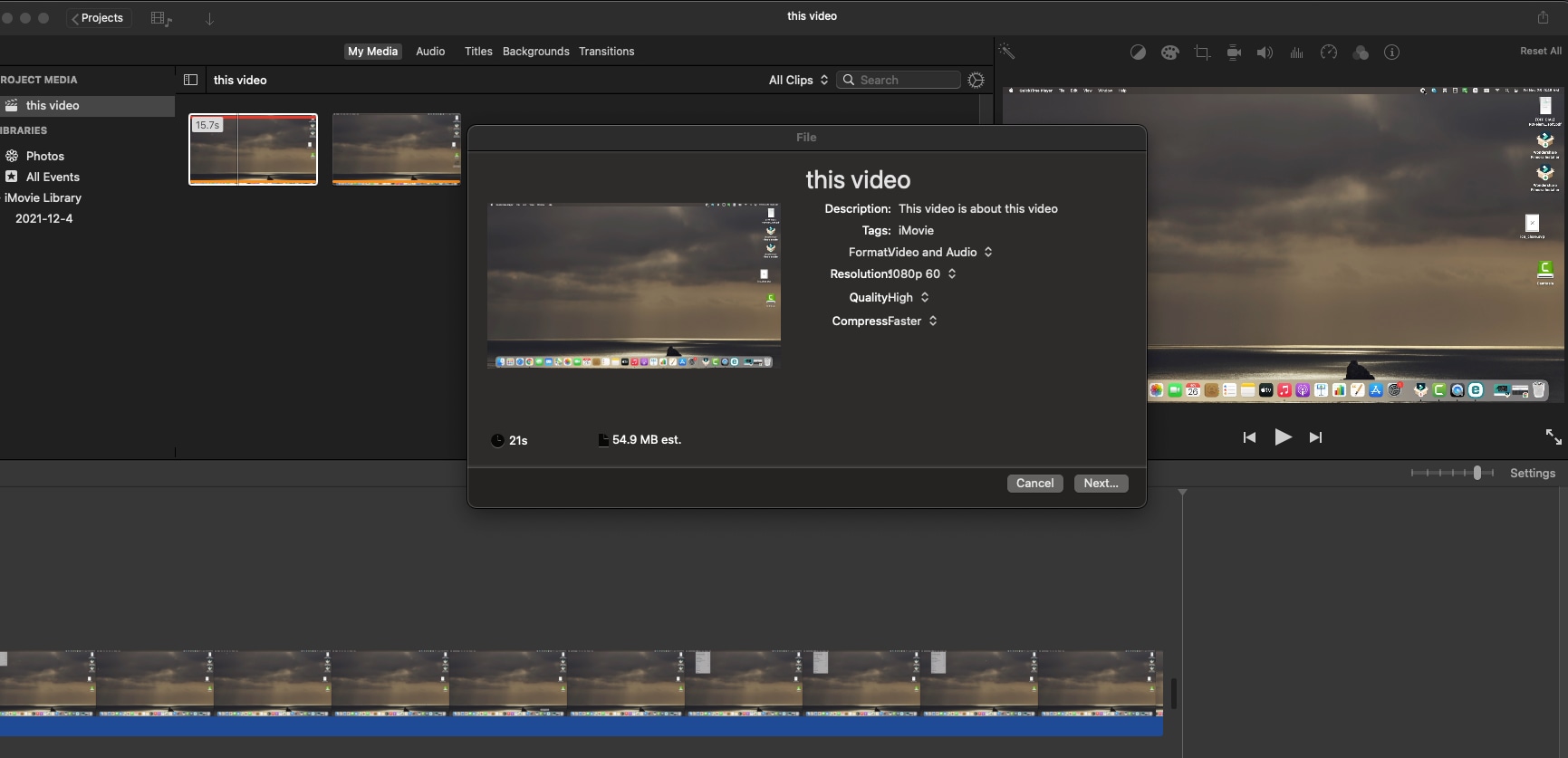 Displays the timeline of an audio track. The timeline simply elevates iMovie to the level of a professional editing tool.

It lets you see audio waveforms in the Event Window and Project window.
Enables to alter the volume of the single audio clip by dragging the horizontal line in the section of the Audio waveform.
Detailed Steps:
Step 1: Go to the Mac App Store and upgrade or download the latest versions of iMovie for the Mac.
Step 2: Drag and drop multiple audio files into iMovie, change the audio duration and reorganize the clip as appropriate.
Step 3: On the right side of the screen, click the export option > select file.
Step 4: Select the icon Audio Only Under Format and select your chosen file codec (MP3, AAC, AIFF, WAV) for export. 
Pros
You can adjust the duration of a soundtrack after you've added it, just like any other sort of clip. 
You may also utilize many soundtracks in a single project.
After you've added sound to your project, you may modify the level of the sound pitch to achieve the ideal soundtrack. 
You can also change the level of video clips that have sound.
Cons
Formats need to be imported
It only supports Mac and iOS.
It does not feature all of the functionality of a professional video editor.
Adobe audition may also be accessible to combine audio tracks. It is pretty simple. You can also mix a video file and an audio track with the Adobe audition.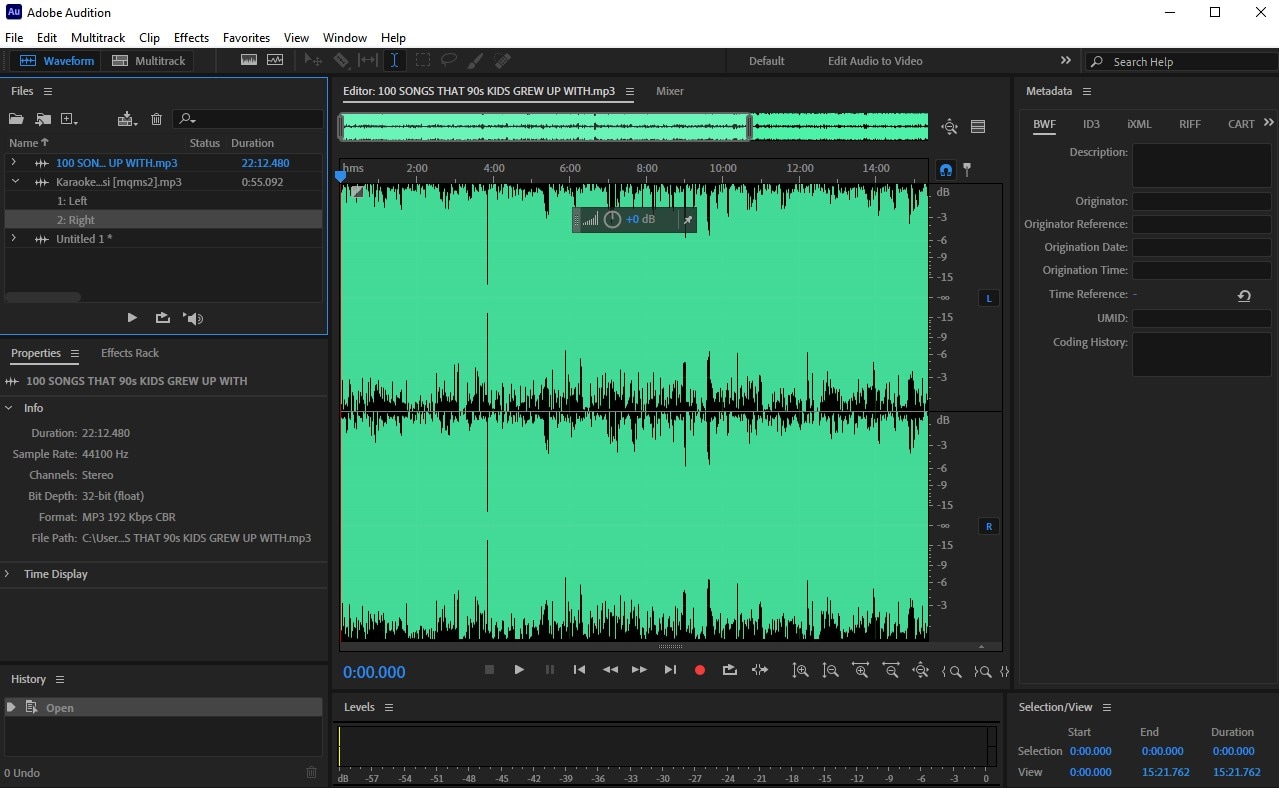 Merges the audios

Splits the soundtrack and combines with an external sound

Removes background noise
Enables clips spotting

Enables compound media import
Detailed Steps:
Step 1: Use a Multitrack editor to complete your task.
Step 2: Choose where you wish to split the timeframe.
Step 3: Press Ctrl+K on the Audio you wish to divide and choose it. Alternately, right-click on the song you want to to separate and select Split from the submenu.
Step 4: If you wish to divide all files simultaneously, click "Split All Clips Under Playhead" or press Ctrl+Alt+Shift+K.
Step 5: If you wish to combine clips, pick both audio clips, right-click on the audio and choose Merge Clips. In this way, it will be two or blended into single audio.
Pros
Allows you to trim and organize clips.
Audition provides ready-made templates according to your requirements, such as audiobooks, songs, and so on.
You may store sample effects, which spares you much time to apply the exact effects again.
Cons
a slew of redundant options
expensive audio editing software
interfacing with soundtracks is complex.
Audacity is a well-liked audio option among YouTubers. It is one of the most popular apps to combine songs. Furthermore, it can create and edit audio files like the good song merger. Audacity is free and open-source software.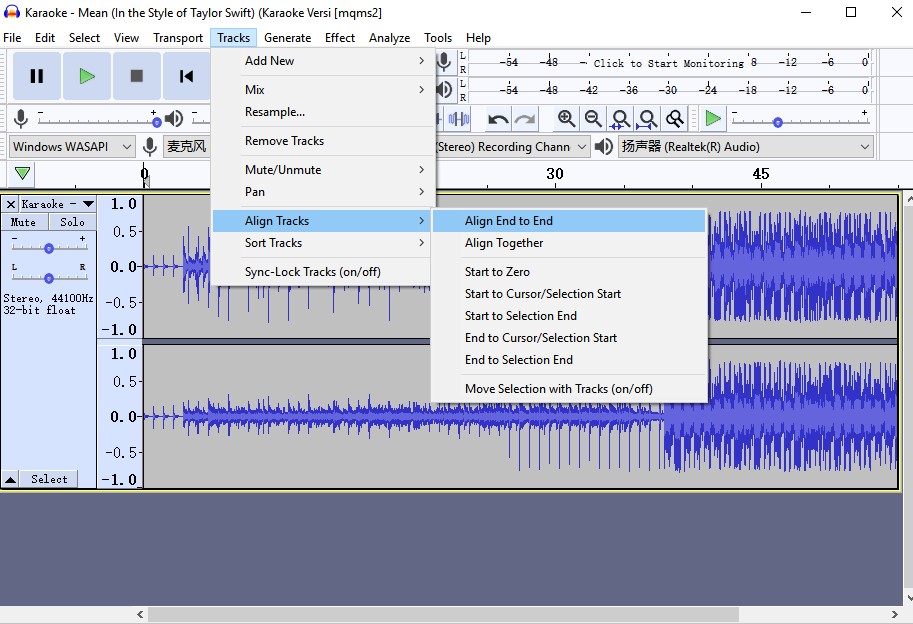 It is simple to combine multiple soundtracks.

While merging, you can convert a soundtrack to whatever Audio format.
Technological advancement protects sound quality. 

It is simple to use and does not necessitate any technical knowledge.
Detailed Steps:
Step 1: Choose the audio files you wish to combine by hovering the cursor over them (or hitting "ctrl+A" if you desire to unite all audio clips in audacity).
Step 2: Navigate to Tracks > Align Tracks > Align End to End in the navigation bar.
Step 3: The audio tracks you've chosen will be synced end to end. You may now save your file to whatever audio codec you like.
Pros
Anyone may utilize the convenient interface.
It includes an extended range of functionalities and the ability to create plugins.
It doesn't demand a lot of RAM and can be run on practically any device.
Cons
Some of the features might rapidly become intimidating to a newbie.
Some functionalities need the installation of third-party plugins, which are costlier than the application itself. 
The free version may have restricted possibilities for those with more technical talents.
Part 2. Online Solutions to Combine Audio Files
Because of its convenience and functionality nature, 123APPS Audio Joiner is among the top free audio joiner sites. It's an essential website that requires no specific knowledge to utilize.

Allows you to link tracks such that they stream quickly into each other

The app online mixes various ways.
Detailed Steps:
Step 1: First, you must submit the tracks you wish to participate in. Click the "Add tracks" icon to do so.
Add sound files in practically any format. The Merger will automatically extract the music file when you submit a video clip. You can submit an infinite amount of files.
Step 2: To rearrange the songs in your track, press and hold the Ctrl key while pressing the arrow buttons.
Step 3: After you've viewed the tracks you've uploaded, you'll need to modify the frequency of playing for each file. You may accomplish this by dragging the blue scales of each clip with your mouse pointer.
Step 4: Following that, you must choose how tracks are combined collectively. To do so, utilize the little square icons on the edges of tracks that represent the different modes.
Step 5: Then, press the "Join" button. The software may take additional time to combine the music.
Step 6: After you've combined the files, select the "Download" button to save the compilation to a computer hard disc.
Pros
The program supports 300+ audio formats 
You can merge numerous tracks online without requiring any software installed on your device.
You can participate in as many tracks as you choose.
Cons
Only local files are uploaded.
Only edits and joins audio files.
Lacks professional features for audio editing.
Worried about how to combine sounds on Tiktok? Media.io is an online platform that provides an easy solution to merge audio files without trouble.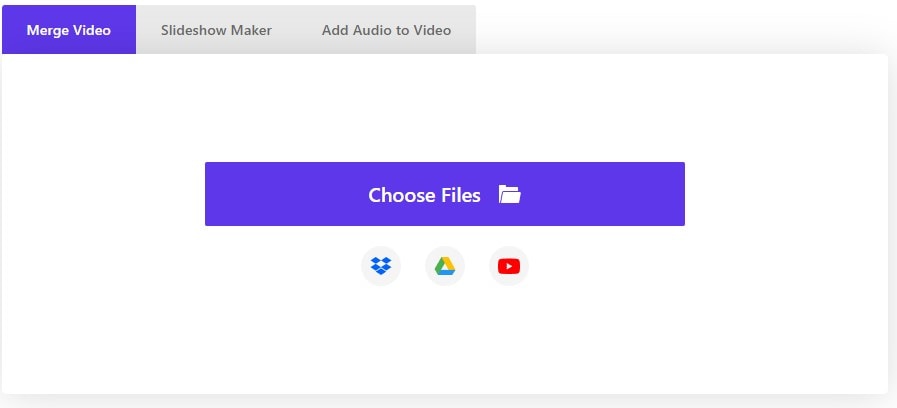 Cuts and splits audio files with no hassle

Creates soundtracks with fading effects
Merges and combines two or more audio files
Detailed Steps:
Step 1: Import the audio tracks you wish to combine by selecting the Choose Files icon or manually dragging and dropping them.
Step 2: hold your files to reorder them, and combining the tracks function is available.
Step 3: If you are pleased with your merged files, save them.
Pros
Suitable for the people who are newbies in the editing field
Combines soundtracks online without having any trouble
Cons
Supports limited audio formats
Most of the features are available in the premium version.
It does not enable professional Audio editing.
Clideo is another online platform that facilitates you to combine songs online without installing any professional audio editing platform.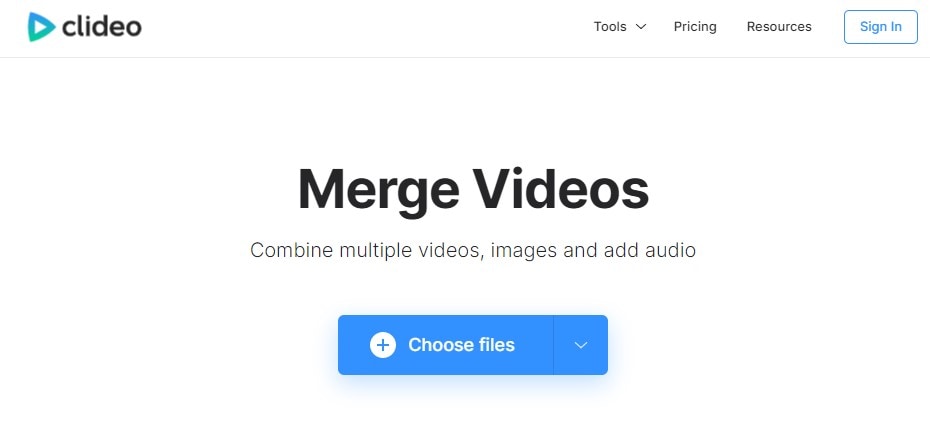 Cuts, crops, and trims the soundtracks and videos

Merges compresses and adds subtitles to the videos
Allows merging soundtrack with a video file.

Will enable you to crossfade your desired soundtrack
Detailed Steps:
Step 1: You may combine two or multiple songs by importing them from the PC, IPad, Smartphone, or Desktop. You may also import files from your Google Drive.
Step 2: Add additional music to the mix. Then select multiple tracks. If you're happy with the arrangement, then it's okay. If required, the soundtrack file can be converted and crossfaded.
Step 3: Check out the combined audio to see if you prefer it. If this is the case, download it to your computer. 
Pros
allows you to insert multiple files at once, eliminating the necessity to pick each one by one.
Cons
Too many editing options can divert the user.
Must install the third-part plugin
Limited file size in free version
MP3Cutter is a famous name in the digital recording and editing industry.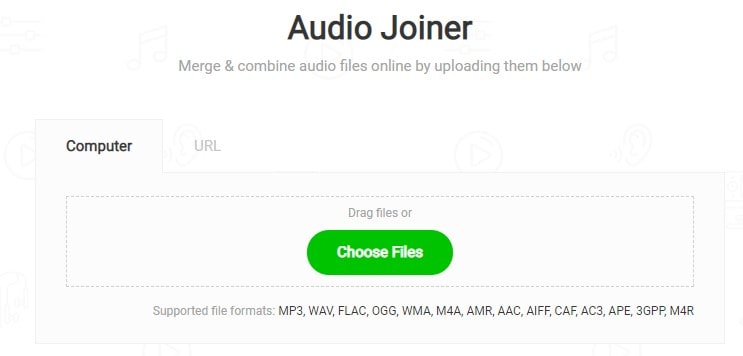 Crops and merges audio

Crossfade option 

It also enables audio file compression
Detailed Steps:
Step 1: Select the tracks you wish to combine.
Step 2: If necessary, modify the merging order.
Step 3: Choose the desired file format or whether to mixdown.
Step 4: To combine audio tracks, hit the "Merge Audio" option.
Pros
Fast uploading and editing speed 
Cons
There are no picture or video editing possibilities.
Limited audio formats (usually up to 10)
AConvert is yet another excellent sound merger that can merge any sound file. You may add audio files to combine from the local disk using the simple UI. AConvert can also trim and edit audio files as well as integrate them.

Joins audio and video

Trims and merges audios
Adds subtitle to the merged videos

Allows to apply effects to the newly created soundtrack
Detailed Steps:
Step 1: To pick a soundtrack from your computer, select the "Choose File" option. You may also use the menu bar to choose an online soundtrack utilizing a URL or Google Docs. AConverter supports are all possible audio formats. The size of a sound file is limited to 200M.
Step 2: To begin the procedure, click the "Submit" box. The music recordings you included in the merging must be of the identical format, bit rate, and so forth. The new soundtrack will be attached to the most recently generated audio track.
Step 3: After merging, hit the "Download" option to save the new file.
Pros
Straightforward interface
Excellent format compatibility
Cons
Enables only 200MB maximum file conversion size
Website overflow with ads