UniConverter - Convert Any Video/Audio Format
Use uniconverter to convert/download/compress 1000+ video/audio formats, it's 90X faster.
How to convert M3U8 file to MP4?
You find a great video on the web, download it and find out that it's in M3U8 format, a format that can't be played on some players. Therefore, you want to convert it to MP4 format, but you don't know how to do it, so you have to give up this video.
But it's a great pity to just give up this video because actually you don't need to worry about it at all because, with a good converter, you can get MP4 video easily.
To convert M3U8 to MP4, first we must come to understand M3U8 as a format. In fact, we must know that M3U8 is not a video file, it is just an index file that stores the URL links of TS media files. So, if we want to convert M3U8 video to MP4, first, we must find the TS files. We can understand the whole M3U8 video playback process according to this diagram below.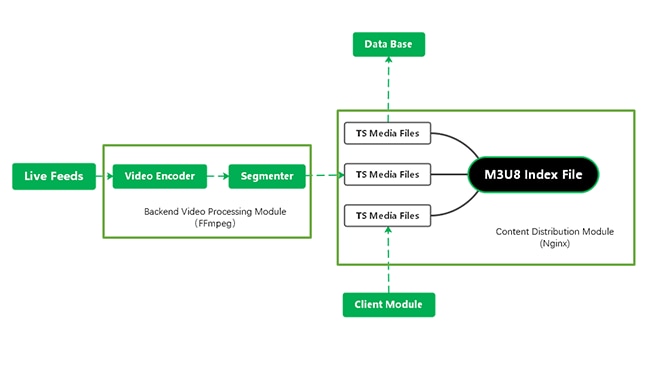 Part 1. How to Convert M3U8 to MP4 on Mac and Windows (Fast & Brilliant Way)
Without much delay, let's just uncover the first and the easiest way on today's list of M3U8 to MP4 converters, we have UniConverter. This is a powerful converter, it can help you merge and convert videos to other formats. We should konw that there are tons of TS videos in the folder, each TS video is very short, if we convert these short videos one by one, we'll waste a lot of time. But with Uniconverter, you can merge these short videos into one MP4 video easily and quickly.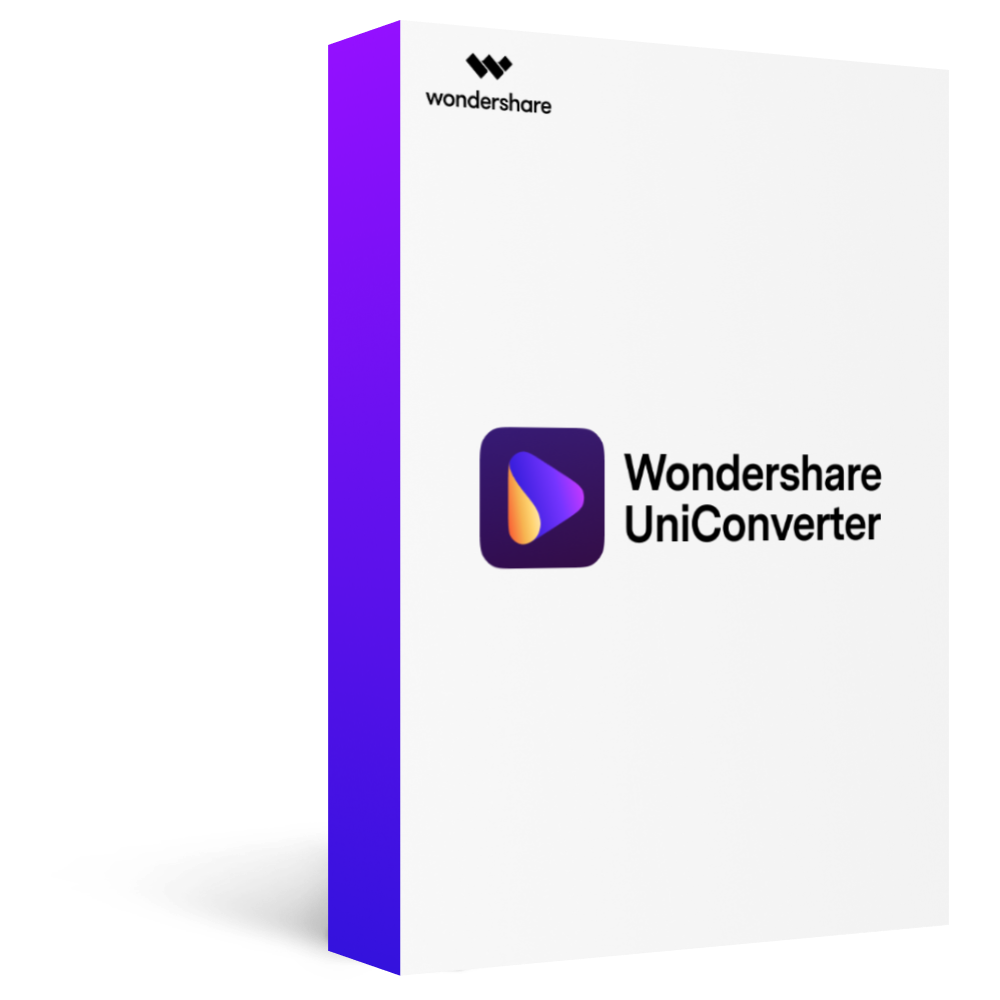 Wondershare UniConverter - Best Video Converter for Mac/Windows
5,481,435 people have downloaded it.
Easily convert M3U8(TS) to MP4 without losing quality at 30X faster speed.
Support more than 150 videos and audio formats for lossless conversion.
Edit M3U8(TS) video before converting to MP4. You can cut, crop, merge video or apply effects, etc.
Download online videos from YouTube, Netflix, Facebook, and other 1000 sites.
The toolbox includes Fix Metadata, CD/DVD burner, GIF Maker, Screen Recorder, Video Compressor.
How to Convert M3U8(TS) to MP4 Quickly with UniConverter
Step1

Download Uniconverter

Note: You can skip this step if you already have Uniconverter on your PC.

Now, go to Uniconverter's website and find the Download icon, click it and then wait for the download to complete.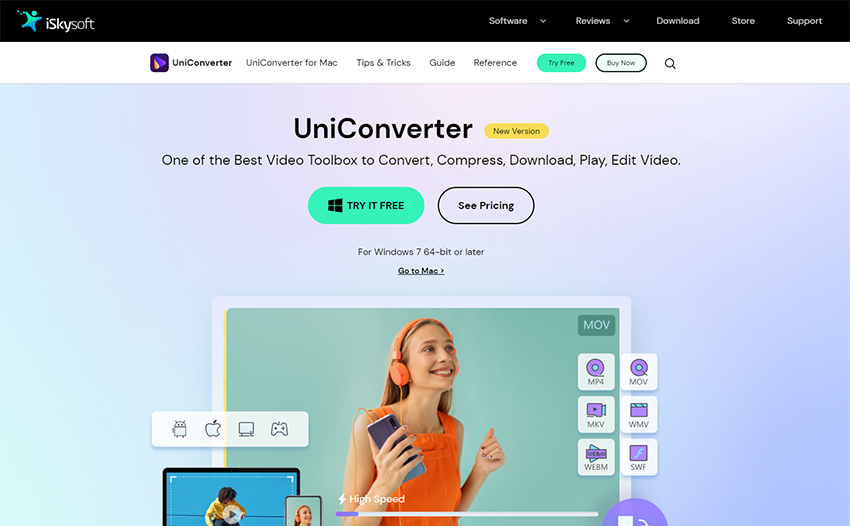 Step 2.

Upload TS files on Uniconverter

If you already have the TS files, you can upload them on Uniconverter directly. But if now you haven't got the video in TS format, first you have to find the videos files without suffixes in the folder, then rename these files to a file with the .ts suffix. After that, drag your files to Uniconverter.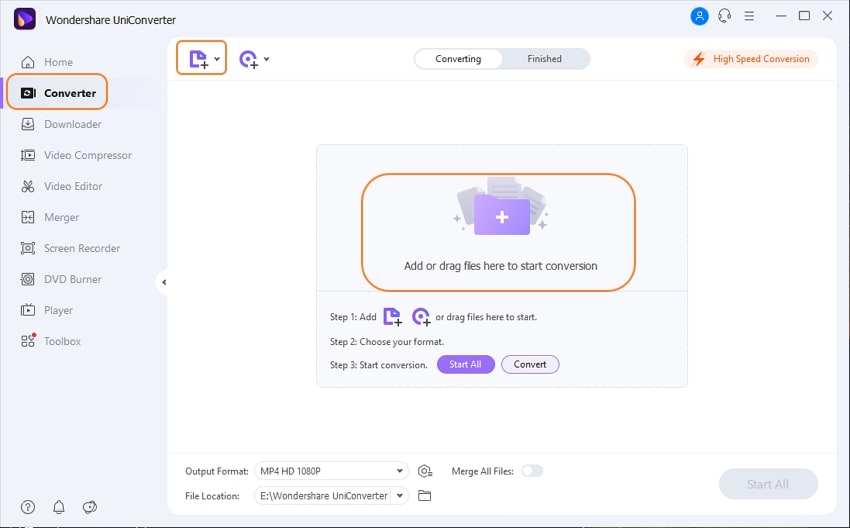 Step 3.

Select MP4 as the output format

Once the file is added, you can then opt for the desired output format to which you wish to convert your source file. For this, hit on the "Output Format" Manu next to File Location, and then select Video followed by MP4 (in this case). Select the output quality as same as the source or others as needed. After that, open "Merge All Files" mode and select file location.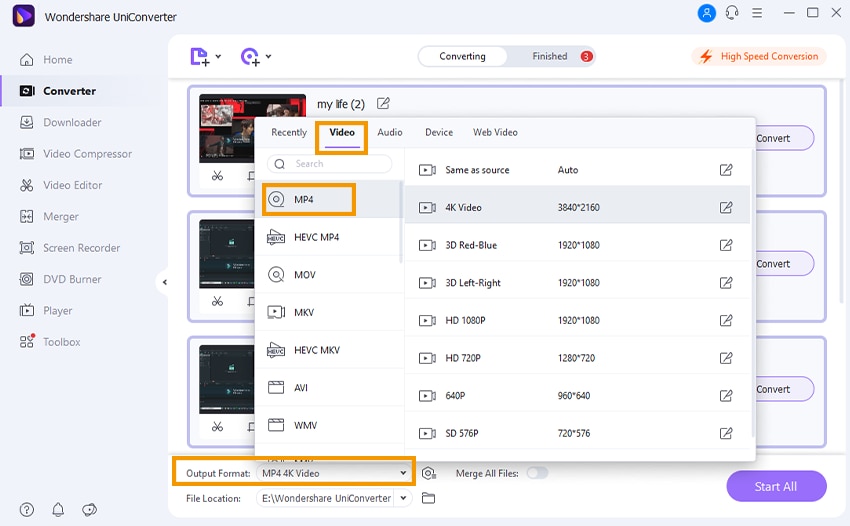 Step 4.

Start Converting

It's now time to initiate the M3U8 to MP4 conversion, you need to simply hit the Convert All button and you're all sorted. In a short time span you'll get converted M3U8 to MP4 file. Find it on the Finished tab.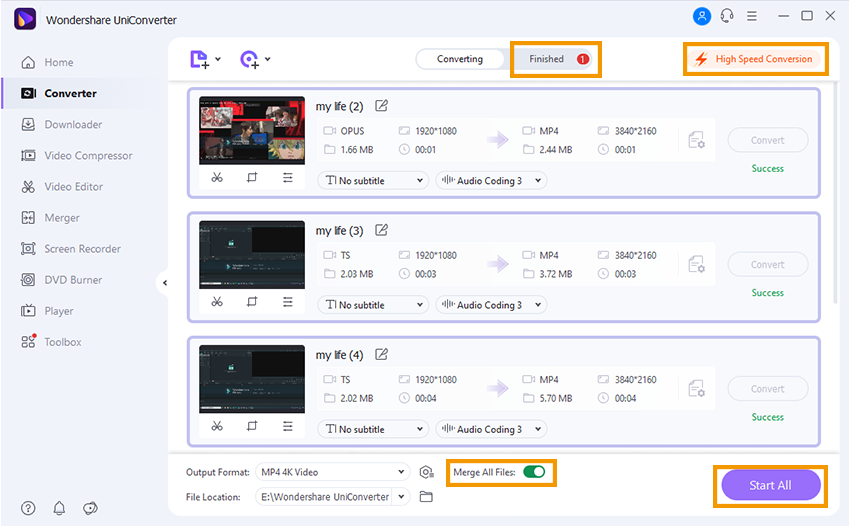 Note: You can hit the 'High Speed Conversion' icon at the top of the software interface to boost the conversion speed up to 30X faster!
Part 2. Convert M3U8 to MP43 Online Free
With this free M3U8 to MP4 online converter, you can easily either import video through Dropbox, Google Drive or entering the URL of the video.
Pros:
Covers conversion of over 50 different formats.
It provides additional settings including preset, screen size, rotating, flipping video etc.
Cons:
Quite tough to use for beginners.
The outlook of this M3U8 to MP4 converter is not much appealing.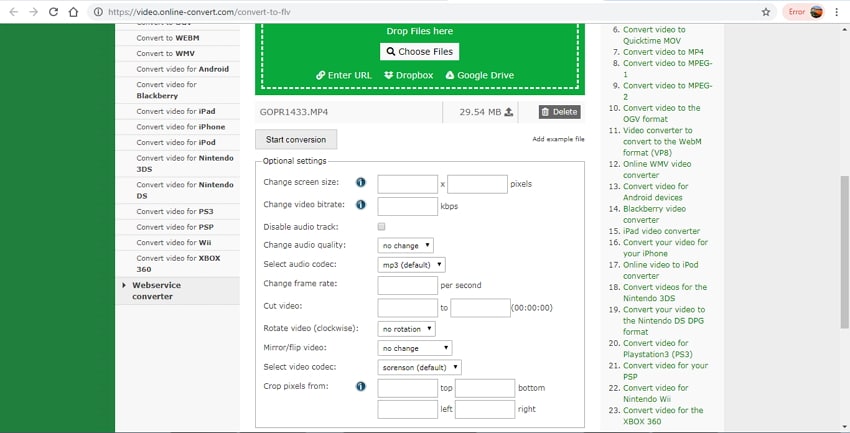 Aconvert is the next option in the list that is capable to convert M3U8 to MP4 online. It can convert not only videos, but audios, PDFs, image format conversions too.
Pros:
Simple and sober interface.
It allows you to make modifications in frame rate, bit rate, video size, video aspect etc.
Cons:
Interface is covered with too many adverts.
It may take up some time for conversion.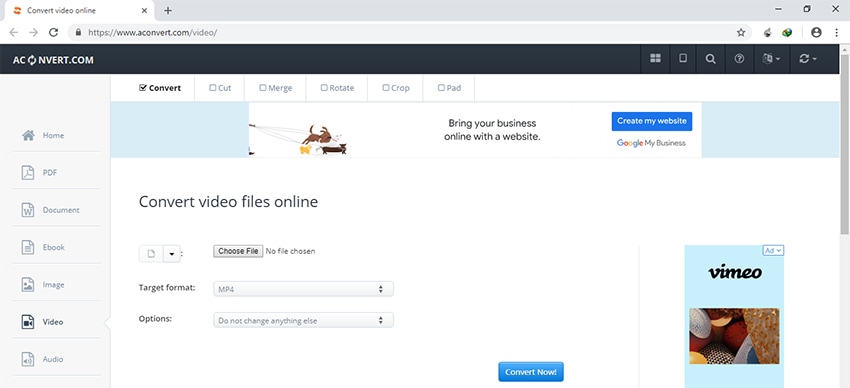 The first online M3U8 to MP4 converter in the list is Convert Files. It covers a good range of formats and supports them equally well.
Pros:
You can set the quality of the file from low to moderate to very high as per needs.
Easy-to-use interface.
Cons:
Converts your file in the queue. That implies you need to wait for some time to get the processed file.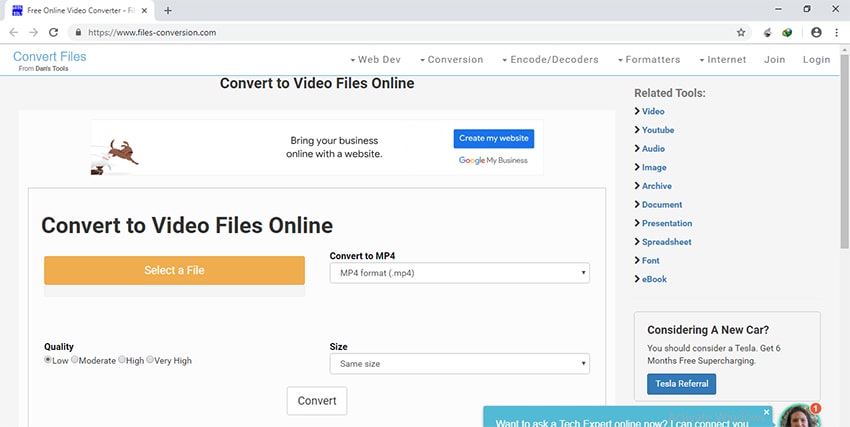 Part 3. 2 Tools for You to Convert M3U8 to MP4 on Android and iPhone
#1. M3U8 Loader App
If you use an Android device and want the conversion on your device itself, M3U8 Loader can be a good option. One gets the privilege of fast conversion via this M3U8 to MP4 converter for Android.
Features:
Configuration of loading threads is possible
M3U8 and m3u, both lists are supported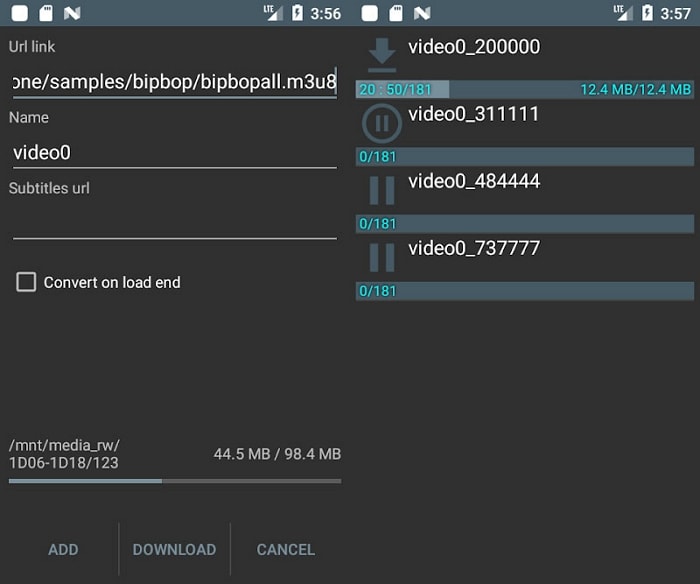 Though the iPhone doesn't have an app that directly converts M3U8 to MP4, our team has come up with a brilliant workaround to serve the purpose. Here, you need to make use of M3U8 Stream Player to play the playlist file and then utilize the built-in screen recording tool of the iPhone to get the video recorded.
Features:
Privilege to add as many URLs as per your requirement.
The app is 100% free to use.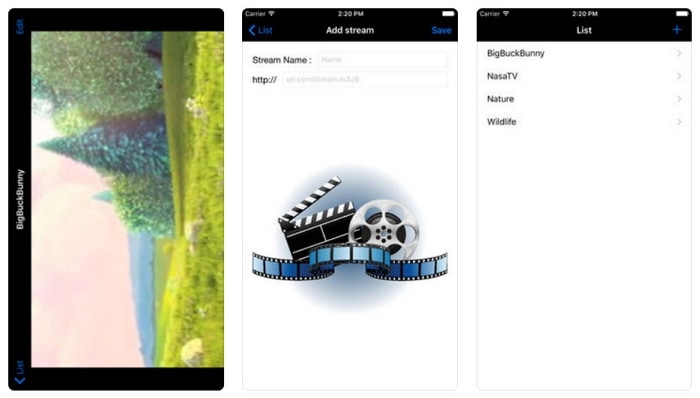 Part 4. How to Convert M3U8 to MP4 FFmpeg
FFMPEG is a renowned tool to convert file formats efficiently and effectively. Though the tool is highly efficient, this tool requires you to be a super tech-savvy person that must have sound knowledge of commands. This is because FFmpeg has no interface of its own. It is a library package which when installed over your PC, can make use of Command Prompt to perform various conversions using the command line. Baffled? Well, here's the step guide to convert M3U8 to MP4 using the command line.
How to Convert M3U8 to MP4 with FFmpeg
Step 1: Begin with, downloading FFmpeg build from its official website and then install it. Next, you need to grab the URL of your M3U8 playlist. Now, hit the "Windows + X" keys on your keyboard to launch a secret start menu and opt for Command Prompt (Admin) / PowerShell. Then, execute the command line [without double inverted commas]: "ffmpeg -i http://.../playlist.M3U8 -c copy -bsf:a aac_adtstoasc output.MP4"
Note: Replace http://.../playlist.M3U8 in the aforementioned command with the URL of your M3U8 playlist. In case, you wish to customize the processed file name, you can do that by changing output.MP4.

Step 2: Once you execute the command successfully, FFmpeg downloads the playlist and converts it to MP4 thereafter.

Step 3: As soon as the process completes, head to the destination folder to view the processed file.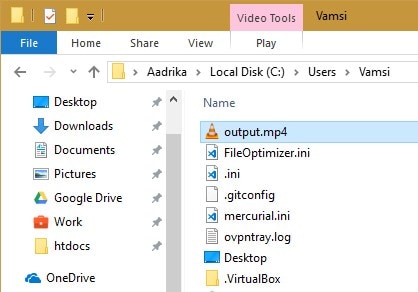 Part 5. Comparison: M3U8 vs M3U
M3U8 file extension is nothing but a UTF-8 Encoded Audio Playlist file. Such files are utilized by both audio and video players to locate where media files are actually located.
M3U file extension is an Audio Playlist file that includes various character encoding, including the UTF-8 character encoding too.
Hence, the .M3U8 file extension is utilized only to depict that the UTF-8 character encoding is being used in the file.