Enhance Your Merging Experience-UniConverter
Make full use of your multi-core processor to speed up the merging process.
Cut unwanted portions with the built-in trim feature.
Support uploading multiple files .
Merge and convert your videos clips into cumstom formats like MOV, MKV, and web formats.
Compress, edit the merged video.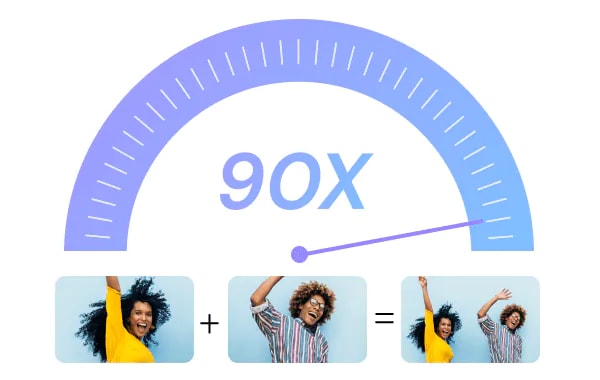 The best of the best videos aren't shot at once. Even the movies and series we watch are not all shot in one go. They are made in short clips and later combined to make a whole movie. We are not aiming for film here, but we also have some videos in mind that we plan on making. Trying to make a video in one-go means that if there is a mistake, you would have to start from the beginning, but making it in short clips means that you only need to redo a small part of it. So, you have made short clips. How do you join videos? Or combine videos online? or merge videos free online? With the use of video mergers, of course, however, this article will be talking about online mergers, i.e., video mergers that you can use online without downloading any software, and they are:
Part 1. 10 Helpful Solutions to Merge Videos Online
Kapwing is one of the most amazing video mergers on the internet that can combine videos online for free. It has some basic editing features that let you add text to your video; no subtitles but an annotation on the video. It supports uploading multiple ,different formats, meaning that you can shoot your video on different devices or gadgets, upload them to Kapwing and merge MP4 online. The user interface is simple and fluid.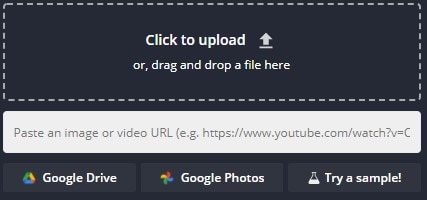 Key Features
Supports upload of up to 1GB
Support upload of different file formats at once
Limitations
The size doesn't matter, but the length does, Kapwing cannot upload videos longer than 60 minutes.
The highest quality it can upload is 1080p. If you have a higher resolution video, you might need to tone it down.
Adobe is not a new name to everyone as of now, we've had the likes of Photoshop and Illustrator come from the company, and now we give Adobe Spark. It is mainly a video editing tool with a video merger function, and it works to merge videos online for free without watermark. It allows you to combine videos online for free and automatically changes the specs to the standard format of any website of your choice. Go wild with your imagination and use Adobe Spark to edit video to your heart's content.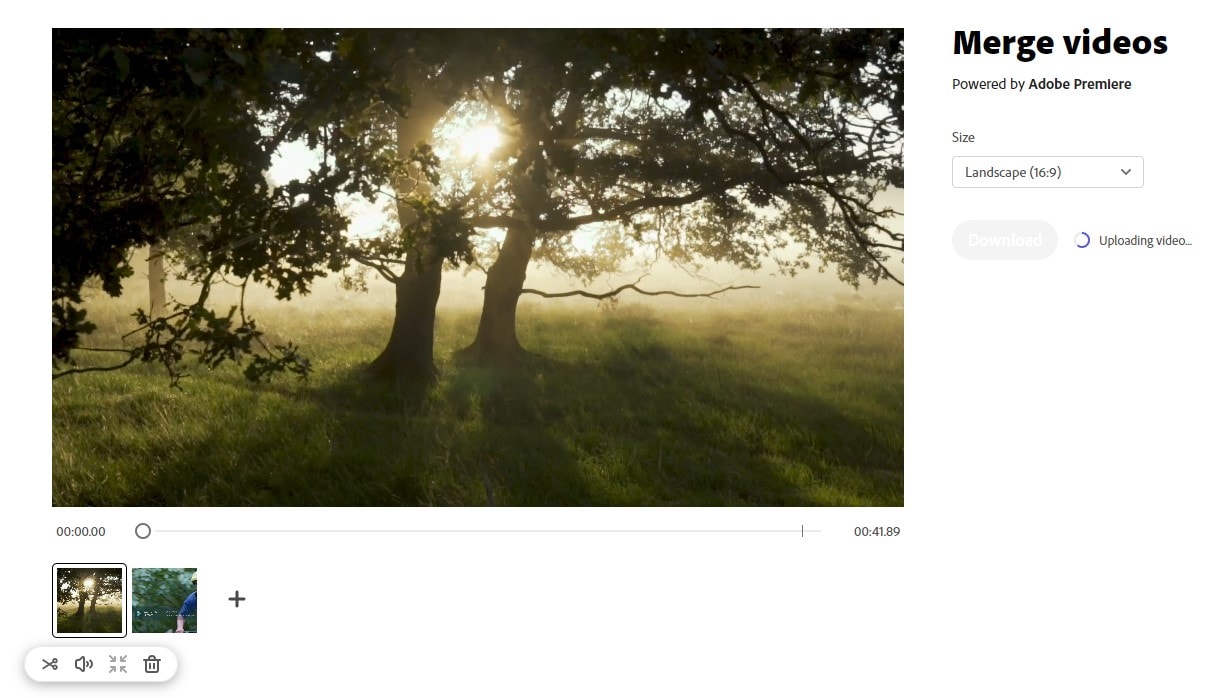 Key Features
Has a collection of online resources to download from
Automatic adjustment of videos and photos to web standard
Limitation
For a video editor, it cannot create animated GIF images
Requires training to master
Poor arrangement of tools limits the workspace.
Pixiko is an online video editor that lets you add effects to your video to make it look more professional. It allows you to add motion transition, text effects, and graphics effects. It has cool features like reverse video, video cropper and trimmer, video merger, etc. It allows you to upload different files with different formats. Pixiko will merge and convert them to a widely compatible format like mp4, i.e., it can merge mp4 online, and combine different forms into mp4.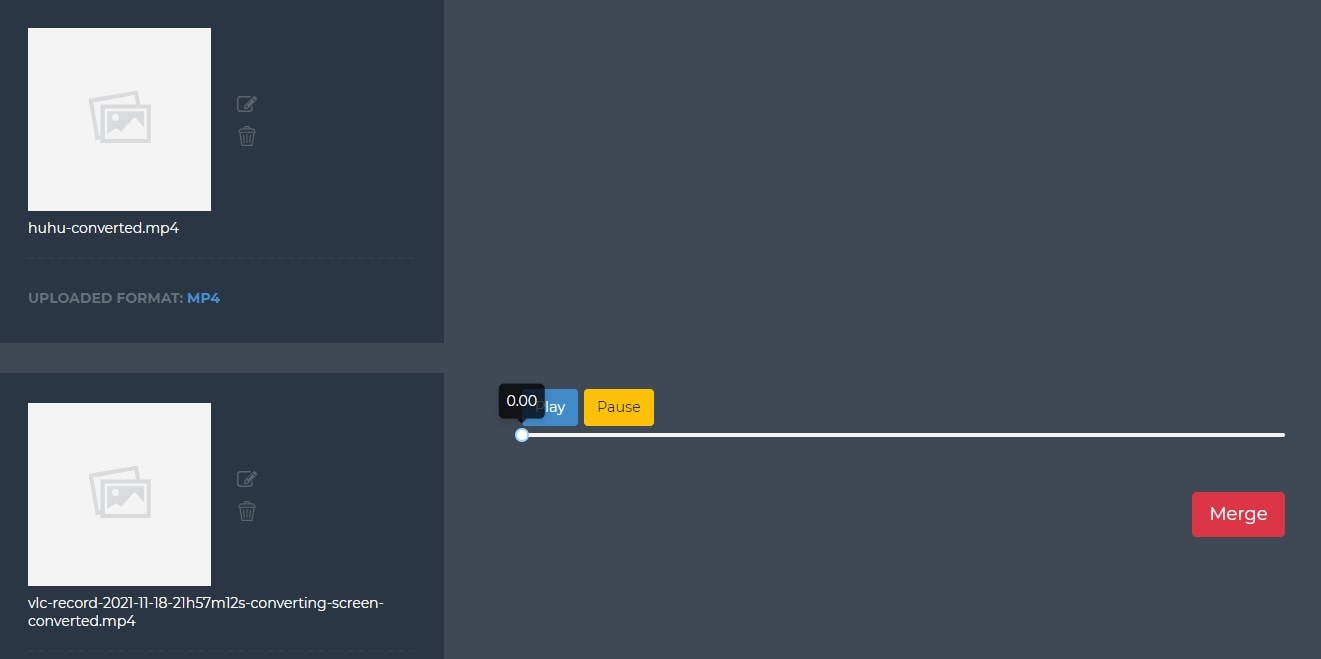 Key Features
Add annotation to the video
Create or add video and GIF images
Limitations
The free version has a PIXIKO watermark
The upload speed is also slower in the free version
It can take some time to get used to it
Biteable is an online video editing tool with an amazingly large collection of ready-to-use templates. They have different sections for their templates; you want to create an advert, social media ads, intro and outro, slideshow, infographics, birthday, wedding, religious or educational videos, Biteable has a template for all of them. Their site is also filled with tutorials on how to make the best videos using their tools, so you do not need to watch YouTube videos to understand how to use them. They have cool collections of stock images and music and can share your video directly to the internet.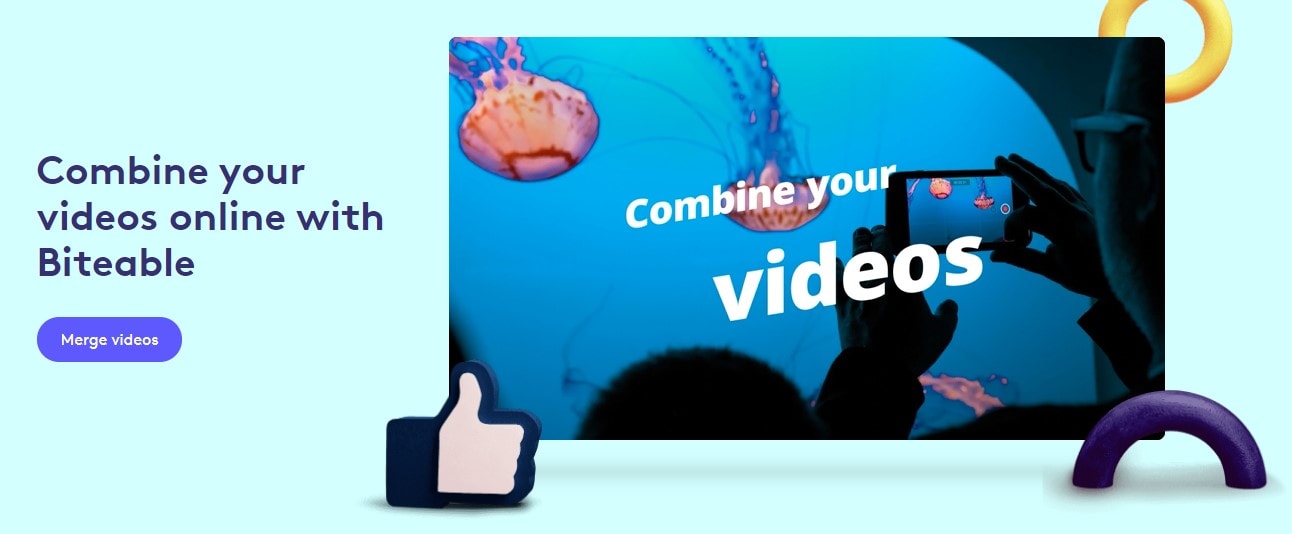 Key Features
A wide collection of stock images, backgrounds, and music
Limitations
Adds a watermark to videos in free mode
Some features can be hard to locate
You cannot add your video and in the free version
Use Flexier to edit, trim, cut, and merge zoom recordings, videos for YouTube, Twitch streams, webinars, online classes, marketing videos, sales presentations, and so on. Flexier is a powerful online video editing tool that gives you the option to create, trim, cut, and merge videos online without needing to download any app or software. Flexier understands the concept of teamwork as such. There is an option that lets you work with others in real-time. You can merge videos free online with your co-workers. You can easily add effects, edit video, record screen, and lots more.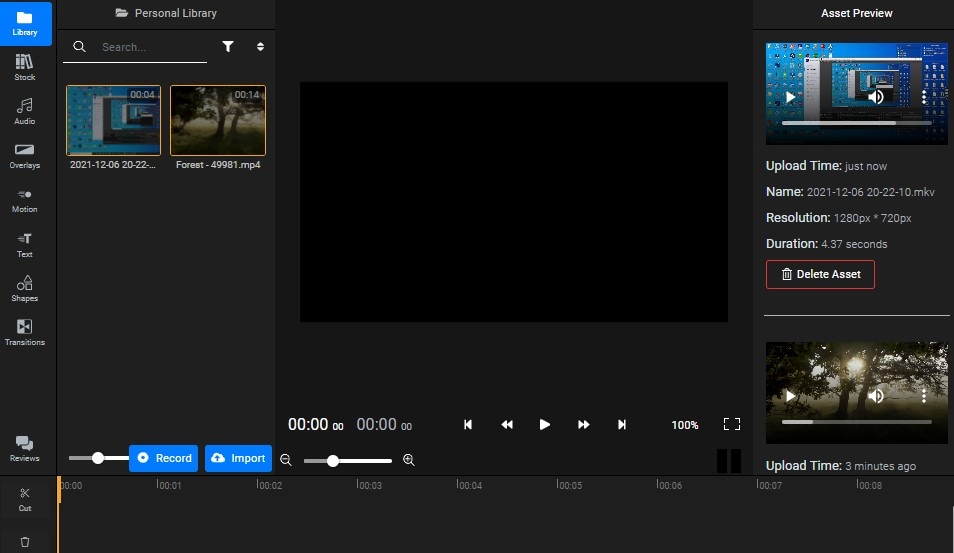 Key Features
Create graphics, motion, and transition effects
Online stock resources, i.e., images, music
Limitations
You need a PRO subscription to use the collaboration feature.
Clideo is a fairly popular online video editing tool, and it is powerful in its own right. With Clideo, it is very easy to create a video or edit one. Not only that, it can work with images and GIFs as well, and it does a very good job in the quality aspect. Clideo allows upload of HD quality, which most online tools don't. You do not need to reduce the quality of your video before uploading. Likewise, when downloading, Clideo exports your video in HD quality. It supports multiple formats, and you can remove and add audio to your merge video for free online.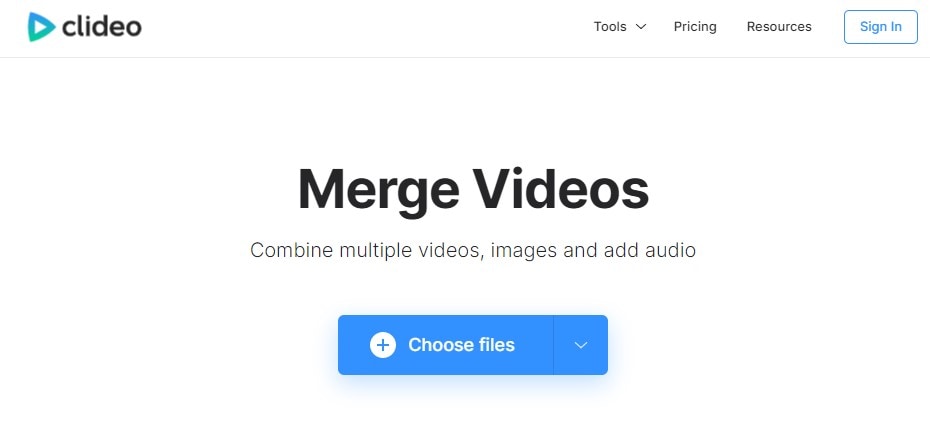 Key Features
A decent collection of stock images
HD resolution for upload and download
Limitations
The limit on size is around 650MB
When we talk about Clipchamp, we talk about professional video creating and editing features. Clipchamp can integrate and work as an extension with Chrome, Firefox, Onedrive, Google Drive, Dropbox, Zoom, TikTok, YouTube, Pinterest, and even LinkedIn. It can also act as an online video joiner, where you merge videos online for free without a watermark. Everything you need to create the best video is available for you. There is even a new collaboration where you and your team work together and create something. Isn't that awesome?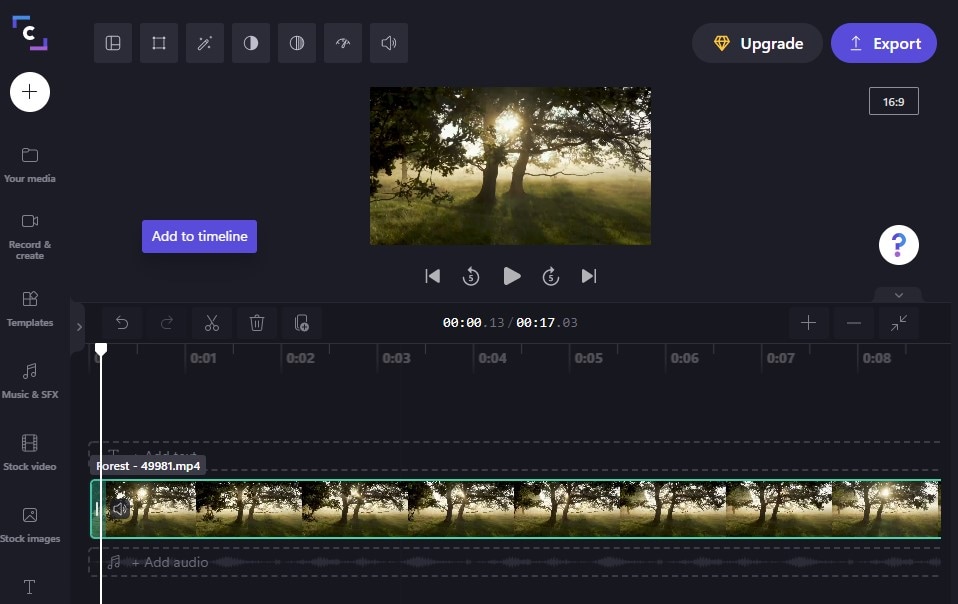 Key Features
Clipchamp Teams (BETA for now)
Screen Record (System screen and Webcam)
Limitations
30 minutes limit on webcam recording and 10 minutes on system screen recording
Processing can get slower sometimes
Requires pro version for higher export quality
Promo is a video-creating tool perfect for creating your promotional videos, Instagram and Facebook ads, YouTube ads, and LinkedIn ads. You do not need to have the resources on your system. Promo can provide stock images, music, and clips from the most popular image websites. They also present you with a template for you to work on for creating your ultimate promo video. Merging mp4 online is very easy with Promo. It can do so in simple steps.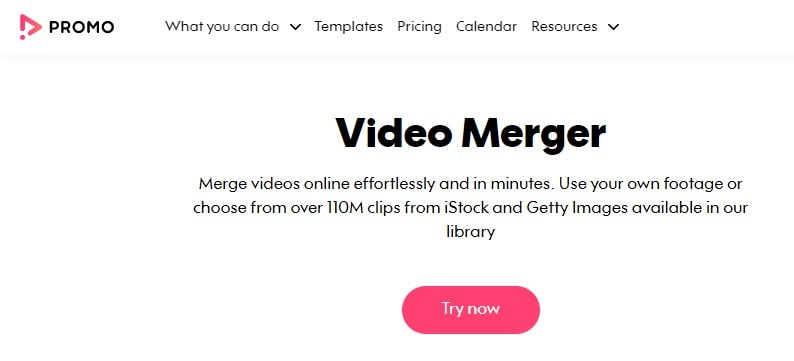 Key Features
Fast uploads and downloads
Millions of stock images, clips, and music
Support conversion to multiple formats
Limitations
It can be hard to unsubscribe
Lots of features, but they can be difficult to master.
Media.io is an online Uniconverter. It has all the best things and even more, it works online and doesn't need any download. You will have to download your output file like all other online converters, though. Media.io is the perfect online tool for creating any of your priced videos. You can convert, compress, merge, download online videos, and lots more. Wanna know how great it is? Then try to combine videos online with it and see how it seamlessly merges video for free online.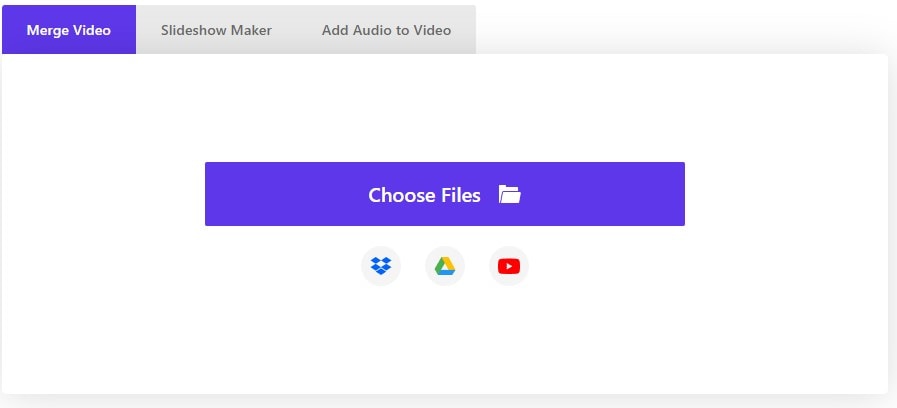 Key Features
Supports multiple formats
Lots of formats that are not complicated to locate or complex to use
Incredibly fast upload and download
Process files in batch, i.e., convert, compress, and merge simultaneously
The website contains tips and tricks for different topics
Limitations
Maximum file upload of 100MB at once
On the list, we have HitPaw as well. This video editor has gradually been working its way up to the best since it was created. They have a lot of functions like cropping, changing video speed, looping video, animation creator, adding and removing water, adding and removing back, video merger, and so on. The website is so beautifully made, and you won't have trouble navigating around at all. All the tools are at conspicuous places without them interfering with one another. It can combine videos online for free, i.e. the merger function.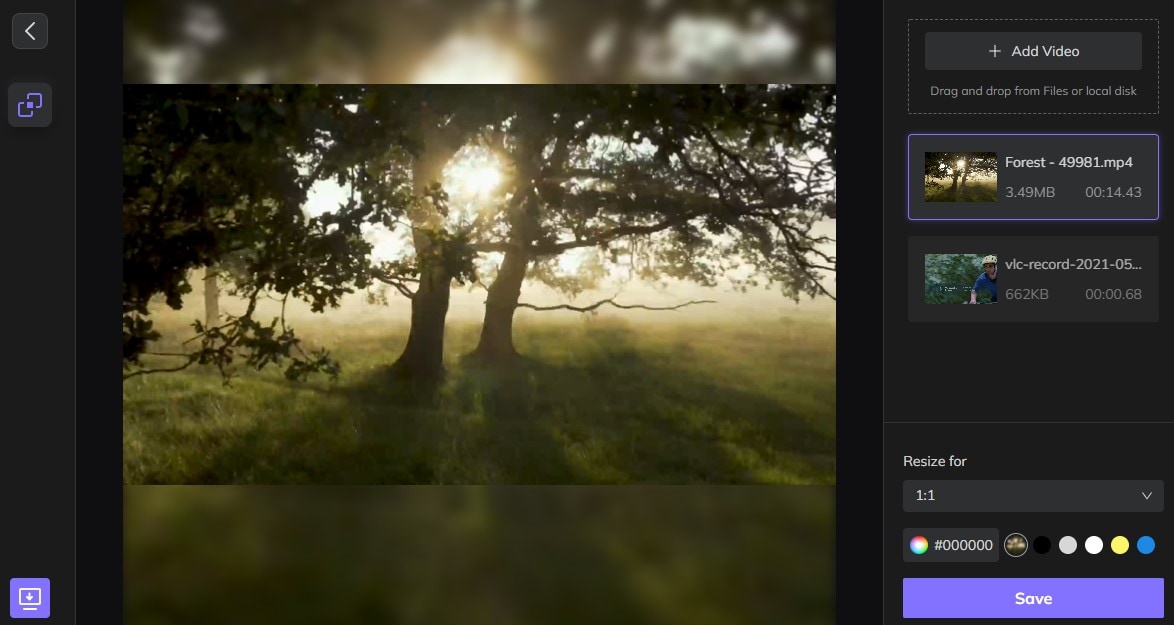 Key Features
Fast upload, extract and download
Simultaneous screen recording (Screen, Webcam, and Audio)
Limitations
There is a limit of 100MB per upload. Only the paid version of the desktop app can go past this limit.
Part 2. Something You Need to Pay Attention to When You're Merging Videos Online
1. Don't visit the unsafe web:
No matter which site you visit, this is not only about the audio or video mergers, always be careful and take note of the title of the site you are entering. The 's' at the end means 'secure', so I believe we do not need to say too much. Unsafe websites usually start with "HTTP" instead of "HTTPS", and always contain too many ads. Always visit forums and read articles like this to get the best websites.
2. Download and save the output video once finish the merge:
Common to all online tools is that your work doesn't get saved to your phone. You should take note of this. Otherwise, your work may disappear. Some advanced websites usually keep your output on their time for a specific amount of time, be sure to check and confirm.
3. Make your video files as smaller as possible:
Unlike desktop software, online tools heavily rely on the internet network for their work. If you are going to be uploading a file that is too big, that means you will need to be in a place with a very good reception else, you can spend hours uploading one video. Uploading files online usually takes a long time. As such, you should keep your video as short as possible, one of the advantages of merger if you ask. Create small clips of your video, then merge them online.
Part 3. How to Merge Video When Online Mergers Can't Work?
Merging video online is convenient, but what if the online merger cannot work? We have a lot of people who reside in places where the reception is not favorable, and online tools require a very fast and stable network for them to work effectively. So, what do you do? Go for desktop apps. They are just as easy to navigate and even contain more features than online converters. The only edge online converters have against them is that they can do it online without any download.
This software is a gem, a must-have for video editors and ad creators. It is a multifunctional tool that contains everything you might need to create a perfect, professional video that suits your taste. It includes all editing features like converting, compressing, video downloader, audio and video merging, disc burner, built-in player cropping, add and remove the watermark, add and remove background, add and remove audio, add subtitle, etc. Seriously, if you are a video creator or you are aiming to become one, then Uniconverter is a must-have for you.
The video merger tool allows you a wide range of functionality as well. You can upload and merge different videos at the same time; called batch upload, i.e., if you are trying to create three different videos with five clips for each one, you can add the clips for each one separately and merge them, you are also allowed to trim the videos before editing to get the perfect order and sync. You can join different video clips, Uniconverter supports over 100 formats, so it doesn't matter if the videos are in various formats as well. Uniconverter has a high-speed conversion rate which can even go faster in the paid version.
Steps to Merge Videos Using Uniconverter Software
Step 1

Launch Uniconverter and Select Merger

Download and install the Uniconverter software if you haven't done so already. Remember Uniconverter 13 has all the latest functions and features, so download Uniconverter 13. On the interface, there is a list of tools on the left, select Merger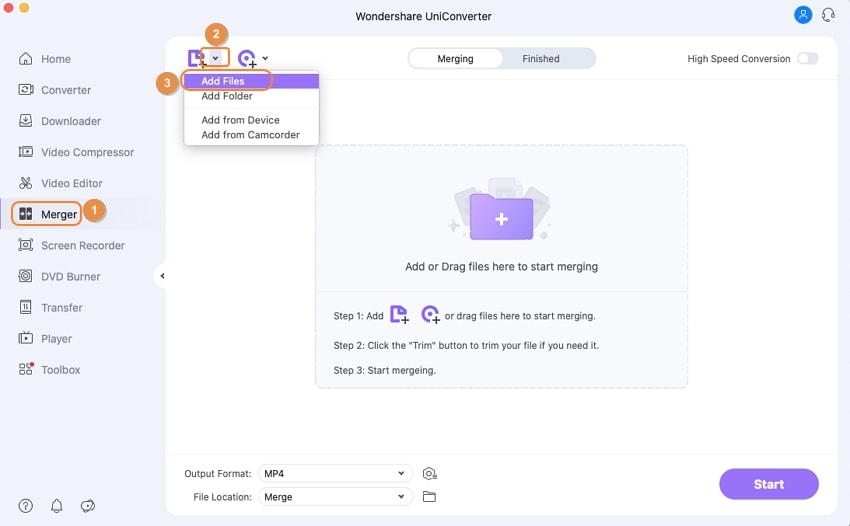 Step 2

Upload Video, Edit, and Merge

Clicking on Merger will change the interface to the Merger screen, and on the main screen, you will be to upload your videos. Do this by dragging the video and dropping it in the middle of the screen. Alternatively, you can click on the purple folder in the middle of the interface and let Uniconverter load up your videos, and you select the ones you want to merge.

After uploading the video, you will be given the option to select the output format, trim your video. This is to find the right sides for you to join the videos.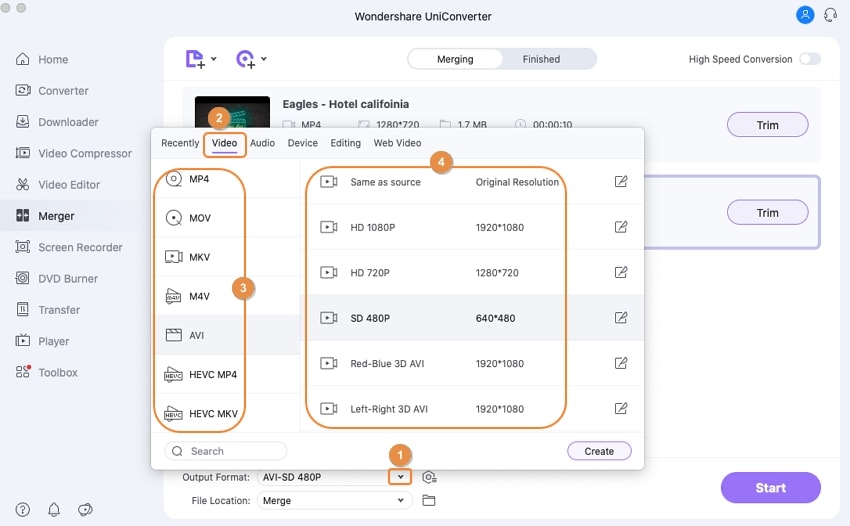 Click on Start All when you are done, and the conversion will begin immediately.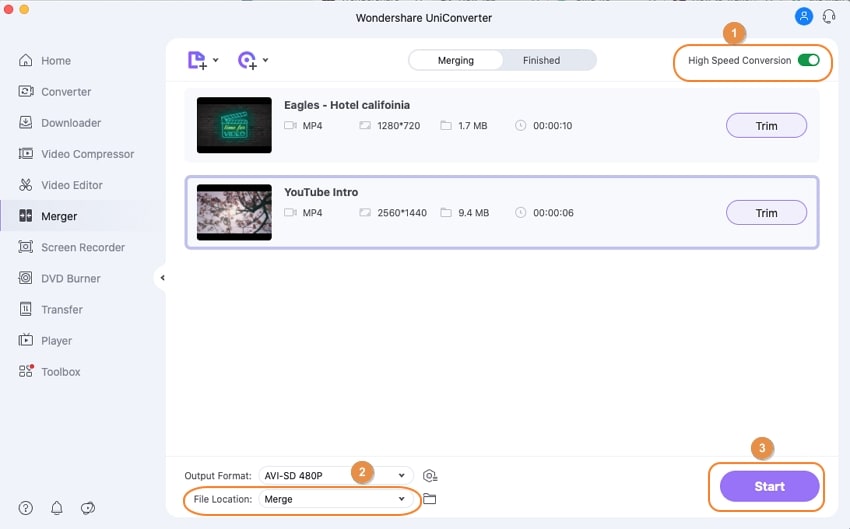 Step 3

Finish the merge

Click on the Finish tab at the top of the screen to view your output video. Your output video will be saved in the Uniconverter folder in your Local disk. If you want to change the save location, click on File located at the bottom of the Uniconverter interface and select the directory you wish to.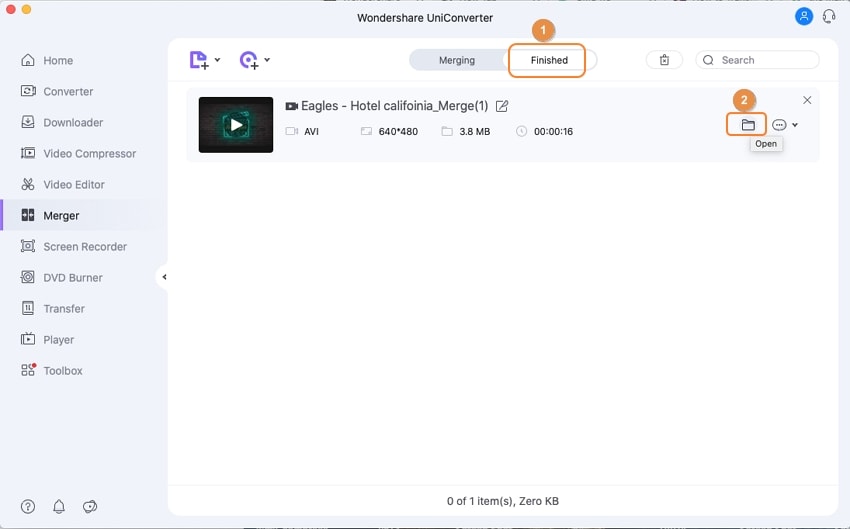 Conclusion
To conclude our article, you have gone through the list and have seen the features and limitations of these apps, and you know what you want in your video editing app. Our recommendation thus would be the Uniconverter 13 software. It has all the editing functions you need and even a free version for you to try out all the features. However, it would be better to go for the pro version to enjoy even more features and faster performance. It is not costly, and there is a price for everyone; individual, enterprise, education, and even students.
Wondershare UniConverter 13 - A Complete Meida Toolbox
5,481,435 people have downloaded it.
UniConverter supports many formats and handles conversion equally, ensuring that high quality is delisered at all times.
During the conversion process, you may add multiple files since the program does batch conversion of files.
You can use the editing suite that covers subtitle editing, watermark editing, etc to make your results creative masterpieces.
This software facilitates file transfer to devices like Android and iPhone among others once the conversion is complete.
UniConverter is also capable of handling video compression hence ensures you acquire the video sizes you desire.