Add Watermark to Video-UniConverter
Add image and text watermark to video with customized settings.
Adjust the position of the watermark with ease.
Add watermark to multiple video files.
Convert and edit the video after adding watermarks.
Additional features include video download, recording, compression, and others.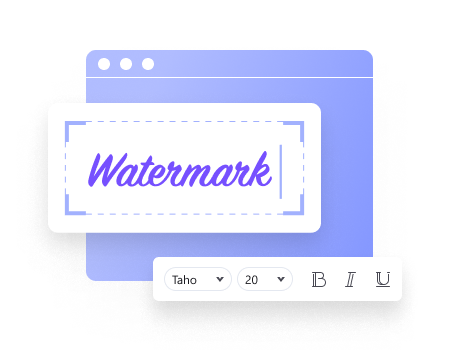 Do you know that you see watermarks every day? Yes, every single day, except days when you don't maybe watch videos online or check out memes. So the question is, what is a watermark? Watermarks are superimposed logos or patterns that appear on videos, images, or documents. Watermarks can come in various forms, they can be a pattern that is unique to the owner, they can be the company logo and they can be in the form of written words. You can use literally anything as your watermark as long as it identifies you and doesn't conflict with others. So what is the role of a watermark you ask? They are especially useful when the owner wants to have complete rights over their work, they can also be used to advertise either your channel or your brand. Everywhere the photo, video, or documents reach, be sure that your watermark will follow. They are a complete nuisance to surfers though, we can't grab images with watermarks freely because the owners will usually place them in very conspicuous places. In spite of this, there is countless watermark removing/adding apps that can remove/add watermarks flawlessly, leaving no hint.
Part1. Four Great Watermark Apps for Windows/Mac
Below we have compiled a list of the best watermarks app, be sure to read through to see which one best suits you
In terms of video editing, and photo editing, Uniconverter has been at the forefront of these deals. They are a very good video and photo editing app. Coupled with their wide range of tools, you can literally finish any operation on your with just this single app. Removing and adding watermarks is just one of the tens of functions that it has. You can convert videos to many different formats, crop your videos, compress them, create and add subtitles and so on but let's stay on the watermark part for now.
Wondershare UniConverter 13 - Best Video Converter for Mac/Windows
5,481,435 people have downloaded it.
UniConverter supports many formats and handles conversion equally, ensuring that high quality is delisered at all times.
During the conversion process, you may add multiple files since the program does batch conversion of files.
You can use the editing suite that covers subtitle editing, watermark editing, etc to make your results creative masterpieces.
This software facilitates file transfer to devices like Android and iPhone among others once the conversion is complete.
UniConverter is also capable of handling video compression hence ensures you acquire the video sizes you desire.
Below is a step-by-step procedure to remove and/ or add watermark to your video or image using Uniconverter
Steps to add or remove watermark with UniConverter 13:
Step 1

Install and Launch Uniconverter

If you are yet to download and install Uniconverter then you would need to do that first, it has an online version as well so if you are the type that don't feel comfortable with apps, you can try the online albeit with some limitations, so it is still best for you to get the app.
Step 2

Select Watermark Editor from Toolbox

When you launch the app, look on the left side of the screen and you'll see a list of the numerous available function that Uniconverter has. At the bottom part, there is Toolbox, click on the tab and you will see a list of other video editing tools, locate Watermark Editor and click on the tab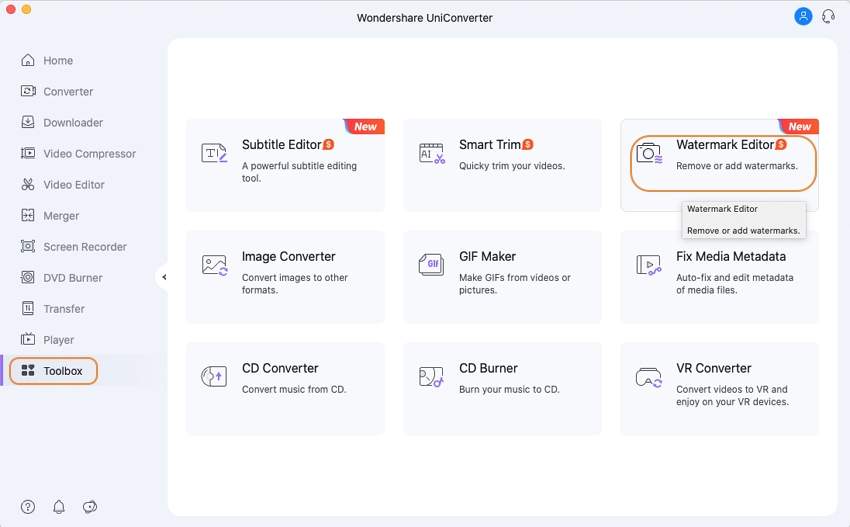 Step 3

Upload the Video with the Watermark

At the top of the next window, you will get the option to choose if you want remove a watermark or you want to add a watermark. Even though we said 'a', in actuality, you can add multiple watermarks on different spots on your video or image. After choosing which of the function you want to use, you can now upload your video. Do this by clicking on the folder icon in the middle of the screen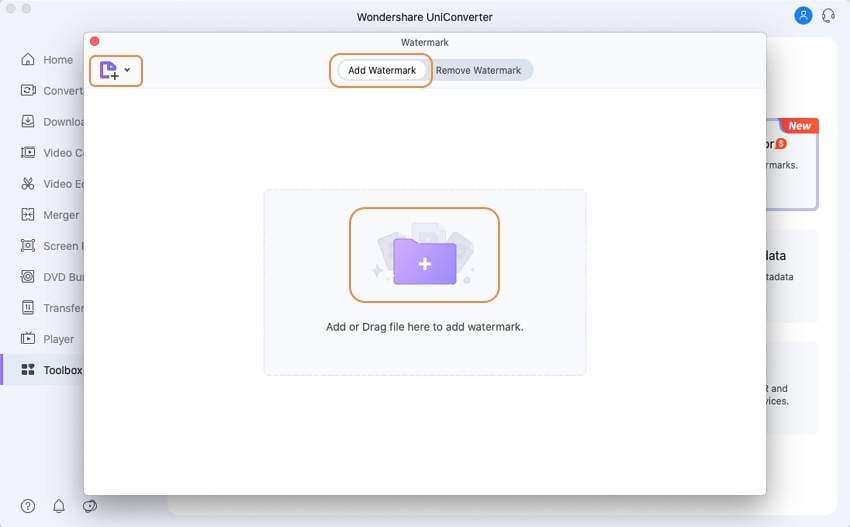 Step 4

Select Area/ Add Watermark Tab

For removing watermarks; click on the select area tab and a rectangle will appear on the screen, you can choose to adjust this rectangle or create your own by holding the left mouse key and dragging it across the watermark you want to erase. To check, click on preview. You can add as many rectangle as you want, meaning that you can clear various parts of the screen at the same time.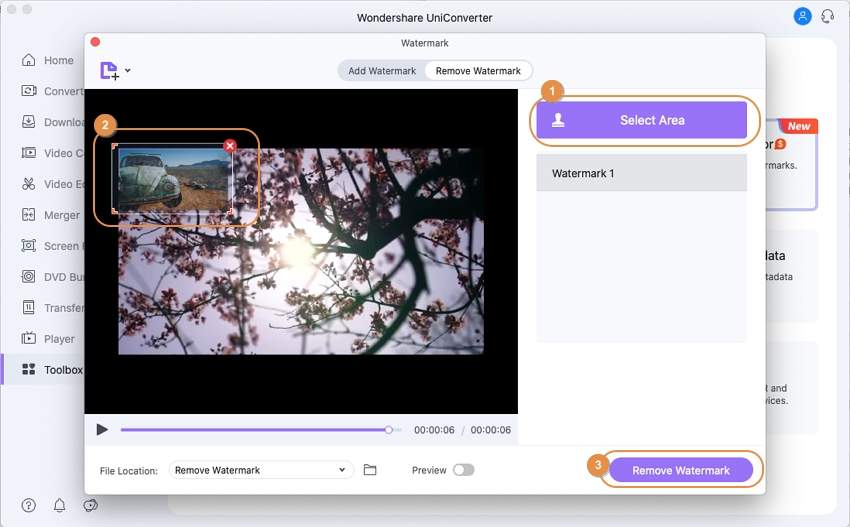 For adding watermarks; choose if the watermark you want to add is an image or just a text. For image type, you will be allowed to access your local file for the image to be used while for the text type, you can insert as much as three texts. Change font and font size as you see fit. Another amazing feature is that for all the functions that involve adding texts, Uniconverter access the fonts on your system. So you can easily use your favorites fonts.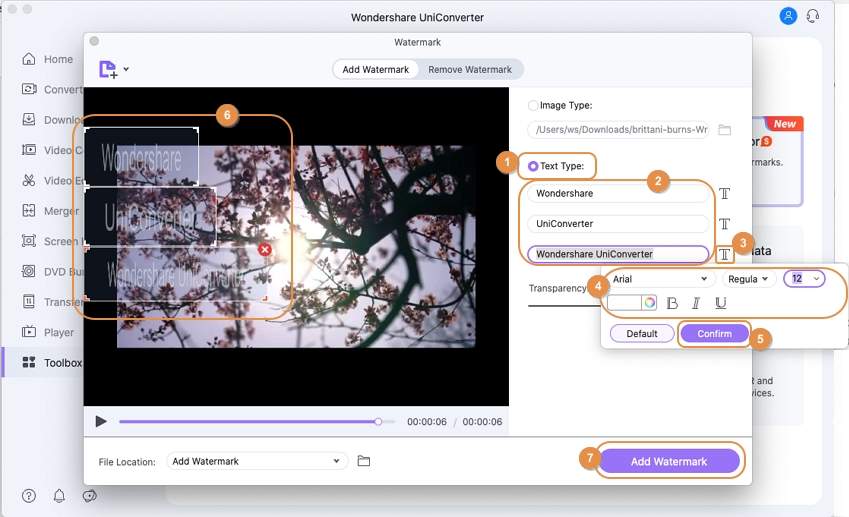 Step 5

Add/Remove Watermark

The next and final step would be to click on Remove watermark to remove the sections you have highlighted and Add watermark to save the image or text(s) you have added to the video. That's all!
MiniTool Movie Maker is a watermark freeware, meaning that it is a free watermark software and it costs nothing to use, just download it and start using its functions, even though it is free, it is still a major name in the world of video editing. As it can be seen in the name, you can easily create your own movie or create something similar like a movie trailer for example. MiniTool Movie Maker currently supports only English.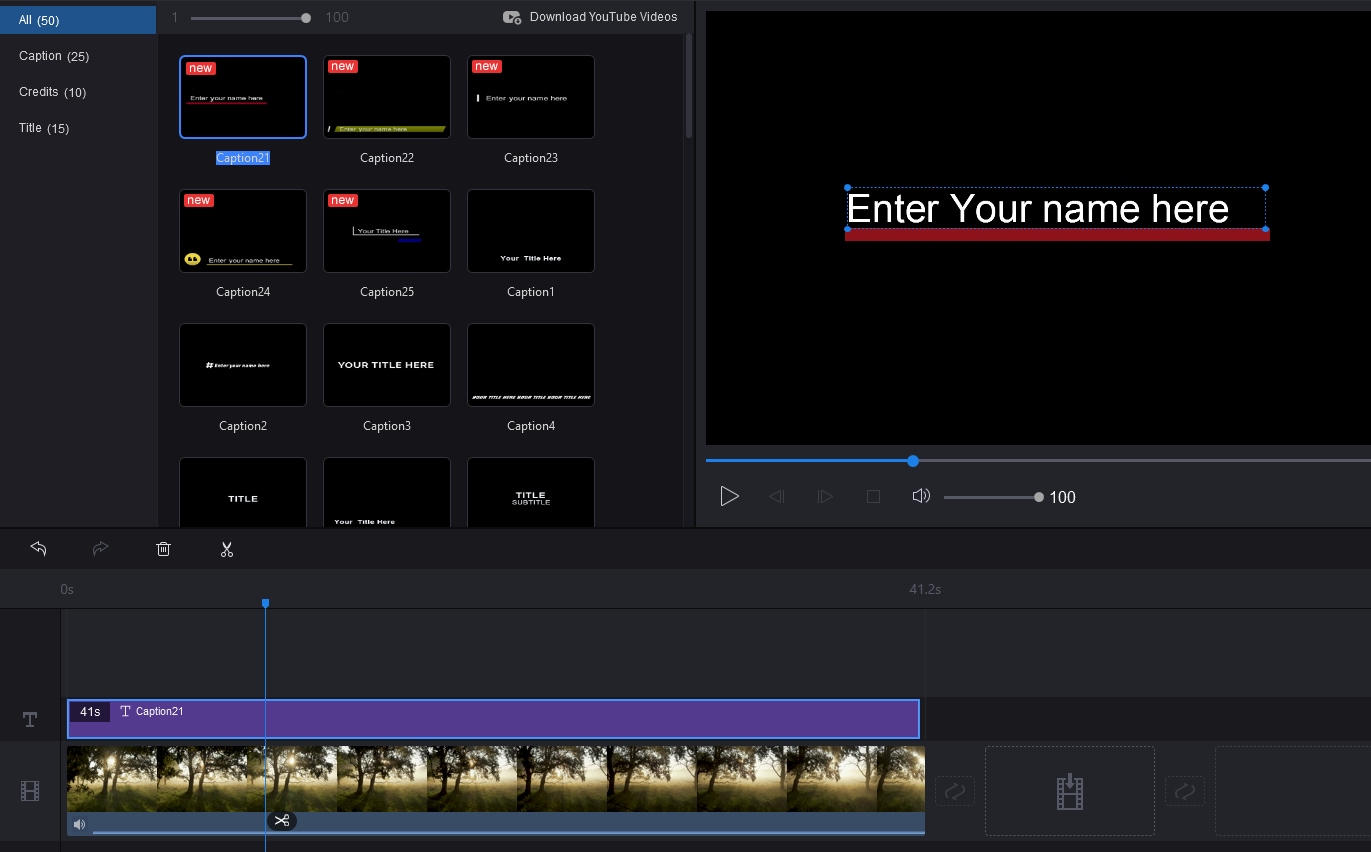 Pros
Smooth and easy-to-use interface
Very fast conversion speed
Includes a bunch of other features
Cons
It is only available on Windows
It sometimes becomes unresponsive
The audio in the video sometimes becomes sluggish
As a tool that focuses solely on adding watermarks to photos and videos, the bar is rather raised high for uMark. It is rated as one of the best watermark software for adding watermark to videos and photos. An interesting feature of uMark that makes it worthwhile is the fact that you can select a series of photos or videos and add watermarks in batch. You can even go as far as use a QR code as your watermark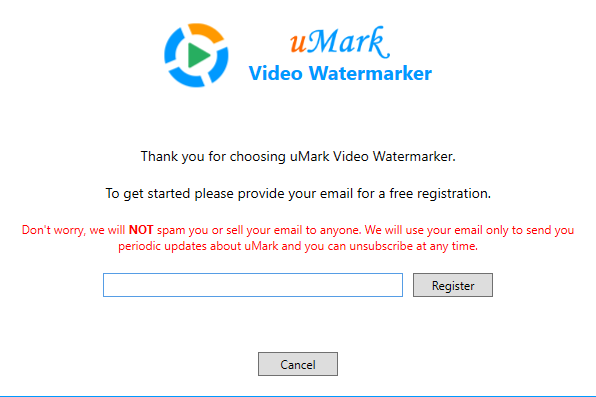 Pros
It has a wide variety of watermarking options
You can add watermark to videos and photos in batches
Cons
The free version still leaves the uMark logo on your file
Cropping can become a hassle in uMark
They say it is the world's leading watermarking app, they say it is the best watermarking software you can find on the internet and it really lives up to its reputation. Equipped with the most advanced watermarking options and functions, iWatermark is an amazing watermark software that lets you add watermark to your photos and videos easily. Now, introducing iWatermark Pro, if you think iWatermark is good then imagine how good iWatermark Pro will be.

Pros
It is a versatile app that has a wide variety of functions while still keeping it ease of use
It is available on virtually all platforms
It can add watermark to video in batches
Part2. Excellent Watermark Apps on iPhone you can choose
If you are looking for how to make a watermark on iPhone, then here is a list of best watermark app iPhone tools. These add watermark apps are very useful in their own ways. Here is the list of the best watermark app for iPhone.
Often referred to as Watermark X, is a very popular watermark video app for iPhones. It is a free watermark app that has taken a place on the phone of every content creator as it allows them to create professional logos for watermarking their works. It has a lot of watermarking functions and it offers a variety of customization options for your watermarks. You can never run out of ideas and Watermark X is also constantly updating their app to meet your needs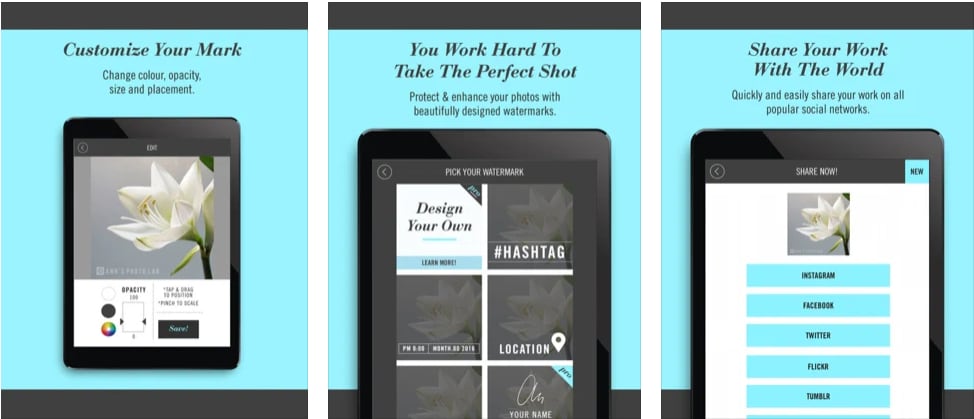 Pros
Super easy to create watermarks
Features a lot of customization options
Cons
It is free to download but has premium version
You pay to unlock some of the customization options
Created by Bits & Coffee is this masterpiece of a watermark editor. PhotoMark is a relatively easy to use iPhone watermark app. You can choose to use either texts or photos for your watermark on iPhone. You can add multiple texts and photos, they have ready-made templates but you can also import photos from your phone. When you are done, you can share your file straight to your social media or send them by e-mail through PhotoMarks.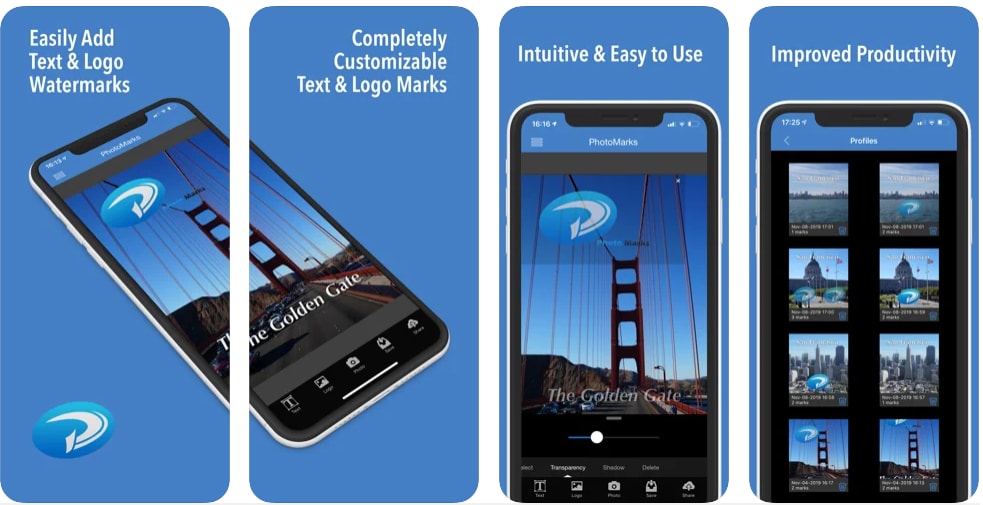 Pros
Very easy to use and a cool interface
Allows for capturing of photos, you don't necessarily need to load from your device
Export photos with no quality loss
Cons
The app can sometimes become unresponsive
Size adjustment is not well programmed
eZy Watermark Photos Lite is another very useful watermark adder. Unlike the others on this list, eZy watermark is actually available on iPhone, iPad and Mac. It also supports a wide varieties of languages and it has its own fair share of customization options. Although not as much as the others but eZy Watermark Photos Lite still has enough features to be called an outstanding app and it is also one of the best add watermark iPhone app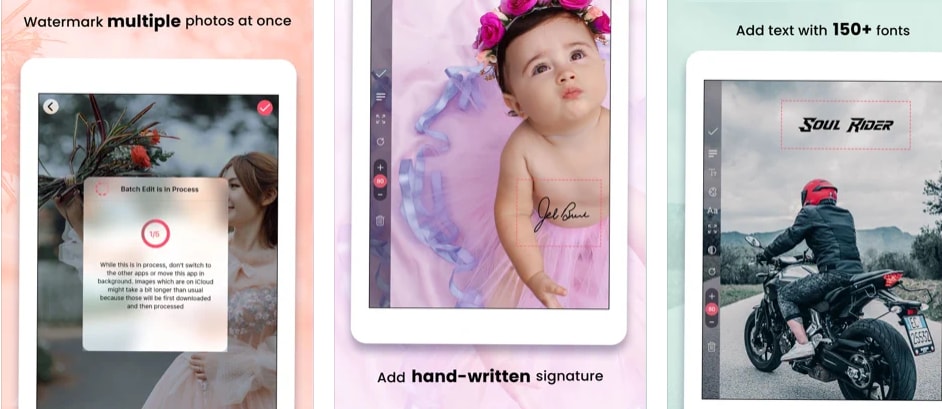 Pros
Has a large collection of fonts and colours
It has a batch processing which allows watermarking of up to 5 photos at once
Allows sharing to social media platforms
Cons
Can be very complex and is difficult to master
As one of the very few free watermark maker for iPhone, iWatermark is the free version of iWatermark Pro. However, this doesn't mean that it loses its functionality just because it is a free app. It is an amazing on its own and the fact that it is on this list with other giants proves that point. iWatermark is a very professional iPhone watermark app for making watermarks, they have all the watermark options and functions. It is perfect for beginners to work with and it has seen a lot of positive reviews from users around the globe.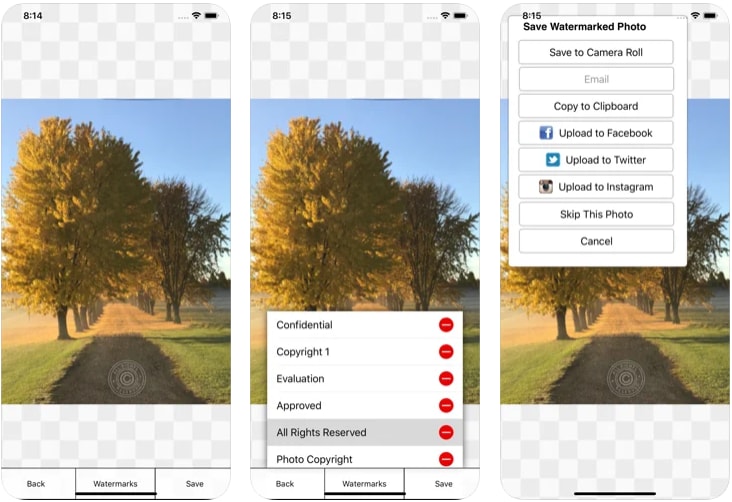 Pros
It is available on virtually all platforms
It works with both videos and images
Importing and exporting without losing the quality
Cons
It has limited functionality compared to its paid version
Conclusion
Finally, we come to our recommendation. There are countless other Watermark editing apps but the ones on this list are probably the best that you would ever find. They are all selected based on their features; ease of use and customization options but above that, they can either edit and create or edit and remove watermarks. However, there is one of them that can perform all three functions; edit, create and remove watermarks efficiently and without any extremely long process and that is WonderShare Uniconverter. It takes number on the list because of its intuitive interface and powerful function. As we have mentioned above, Wondershare is a one-stop app for all video editing functions.