Upload YouTube Videos on Instagram-UniConverter
Download YouTube videos in seconds.
Automatically resize videos for Instagram.
Adjust motion keyframes to make the result perfect.
Convert YouTube videos to the Instagram format quickly.
Additional features include video recorder, recording, compression, and others.
Can I post a YouTube video on Instagram?
Instagram and YouTube are not new to users as they are two of the most popular video sharing and video hosting platforms. YouTube is by far the platform that hosts the most video on the planet. And Instagram. It has proven to be one of the most effective ways of bringing up new brands. So it goes without saying that if you want to promote your YouTube video or channel, then using Instagram is one of the best ways. But you may have found that it is impossible to share YouTube videos through the "Share" icon on YouTube directly. So, How to make it? This article shows you how to post a YouTube video on Instagram.
Part 1. How to Download YouTube to Share YouTube Video on Instagram
How do I share a YouTube video on Instagram? This part records how you can download the YouTube video for sharing on Instagram. It requires the use of the Uniconverter video editor software. To understand how well this method works, we need to understand the Uniconverter app.
Uniconverter is one of the most versatile multimedia tools to handle multiple video editing functions, from converting to compression, merging, online downloader, video and audio editor, and more. The Uniconverter app allows converting videos and audio to and from over 500 formats, so this method removes the disadvantage of your video not being compatible with the Instagram format. In addition, its Auto-Reframe features allow you to change the aspect ratio, i.e., crop the video to Instagram requirements.
Step 1

Copy and Paste the YouTube Link

Visit the YouTube video page, copy the link, and launch Uniconverter software. On the main interface, look to the left and select Downloader from the list of tools. In the new screen, click on the purple folder in the middle of the screen, and a new window will pop up. Paste your link in this box and click on the download tab. You can also post multiple links as Uniconverter is advanced enough to process each one. Uniconverter will analyze your link and give you the result in a new window.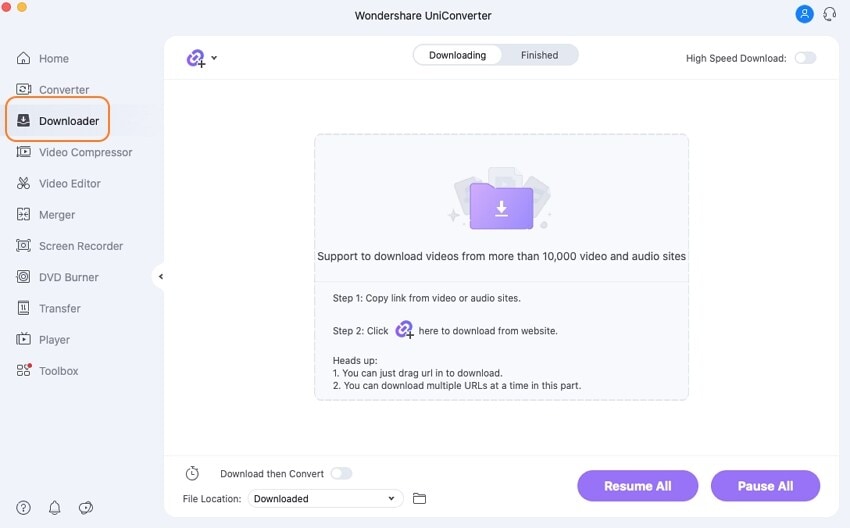 Step 2

Select the Output Format and Download

Here you can preview the video, and select the format and quality you want to download. Click on Download when you are done to save the video to your PC.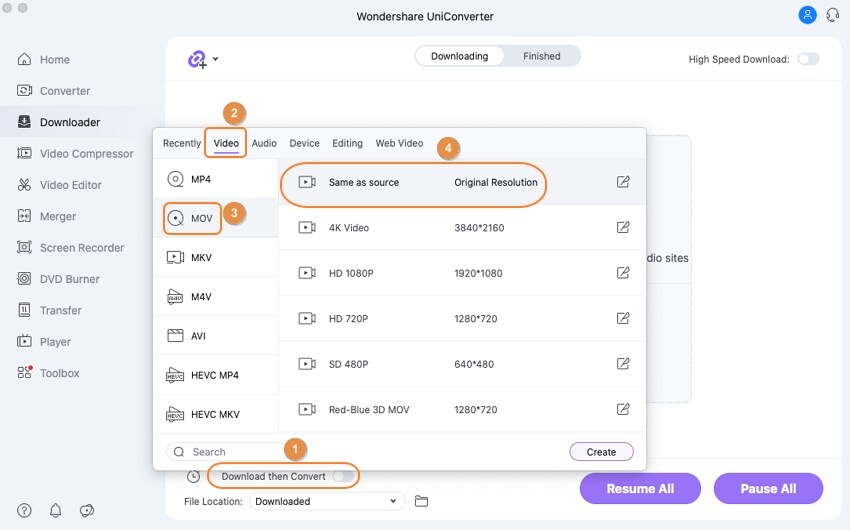 Step 3

Save the File

If you don't need to edit the video, you can share YouTube video on Instagram Now! But to make the result perfect, you can do some editing before posting YouTube video on Instagram.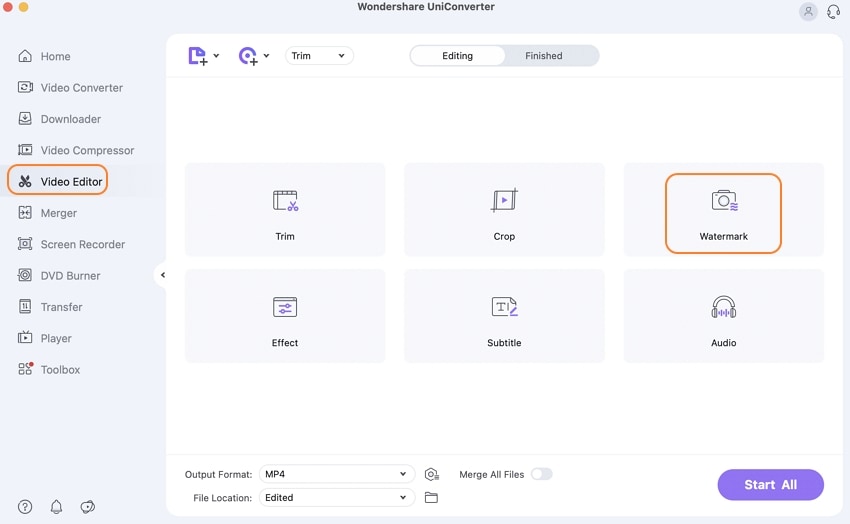 Part 2. Easy Steps to Edit Video Before You Post YouTube Video to Instagram
How do I share a YouTube video on Instagram without black bars or without it extending out of the screen? You might have noticed once or twice that the video you tried to upload on Instagram Live, Feed, Story, Carousel, and IGTV doesn't appear as it is supposed to. This is because you are getting the video aspect ratio all wrong. While Instagram requires the same size for most of their videos, there are still variations in some aspects, so you have to post YouTube video to Instagram using the appropriate specifications. The table below shows the video requirement for Feed Video, Story Video, and Carousel Video.
1. Specs for Different Instagram Video Formats
| | | | | |
| --- | --- | --- | --- | --- |
| Instagram Video | Aspect Ratio | Size | Resolution | Format |
| Feed Video | 1:1 (square) or 1.9:1 (landscape) | 4GB maximum | HD, 1080p or less | MP4 and MOV |
| Carousel Video | 1:1 | Max video size is 4GB per video/card | 1080 x 1080 pixels | MP4 |
| Story Video | 9:16 | 4GB maximum | 1080 x 1080 pixels | MP4 or MOV |
 Note: MP4 is the most preferred format does not mean that it won't accept other formats.
2. The Simple Guide to Edit Video for Upload from YouTube to Instagram
Here we mention some ways to solve how to upload YouTube videos to Instagram smoothly using the trusted Uniconverter application.
Trimming YouTube Video
Some users don't know the conditions for posting YouTube videos on Instagram. You can post a video of varying lengths from 3 seconds to 10 minutes on Instagram, and for videos that are more than 1 minute, users can see it for up to 60 seconds on their feed, and if they are interested, they click on it to watch the full video. However, if you are trying to post just a snippet of a long video or your video is longer than ten minutes, you won't be able to post as only some verified accounts are given this privilege, so what do you do? You trim your video and cut out unnecessary parts to tone down your video to 10 minutes or less. 
Step 1

Click on the Video Editor tab

On the Uniconverter interface, there is a list of tools on the left side. Locate and click on Video editor. In the next screen, select Trim from the editing options available. Then proceed to upload your video by clicking on the purple folder or using the drag and drop function.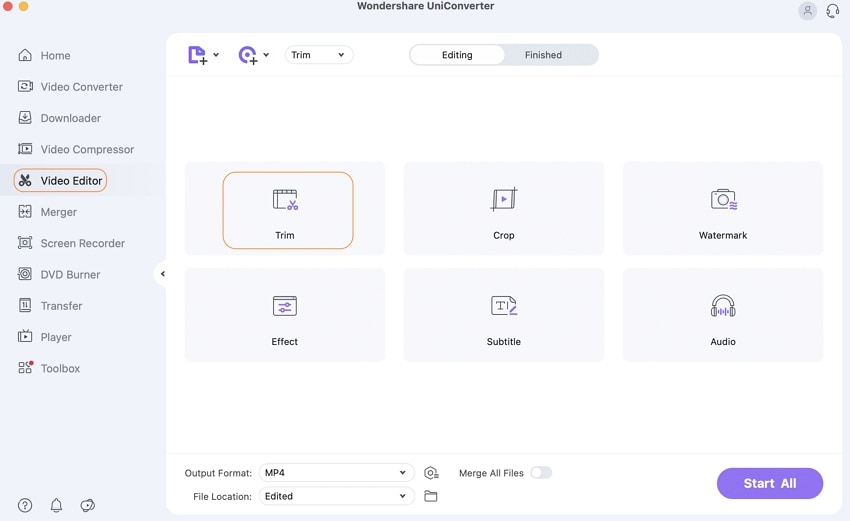 Step 2

Trim

When a video has been uploaded, a new window pops up immediately with a preview of the video, and the timeline appears below the preview screen. Drag the orange slider across the timeline to adjust where to start the video and where to end it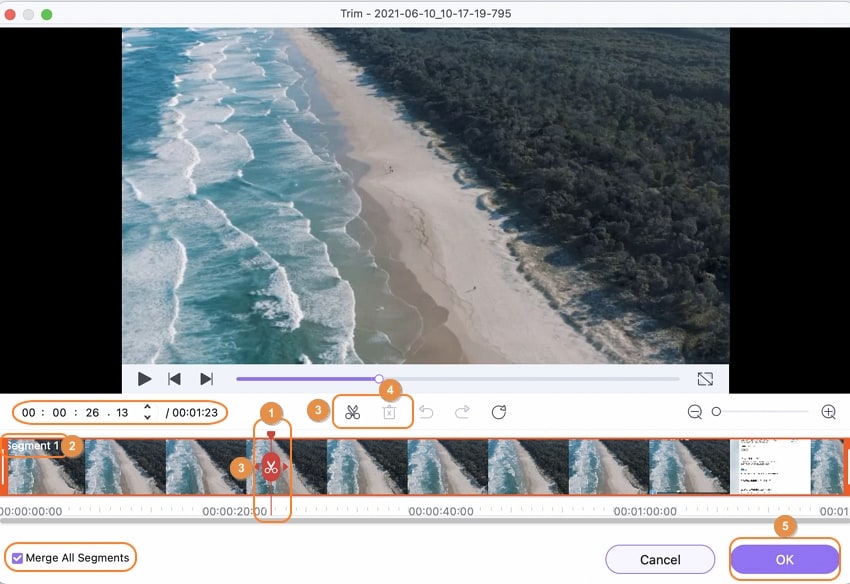 Step 3

Save

Click on OK, and the pop-up window closes down. Click on Save in front of the video thumbnail to save your trimmed video. If you want to convert your video before saving, then just click on the Choose format icon that is before the save tab, select your preferred format, then click on Save.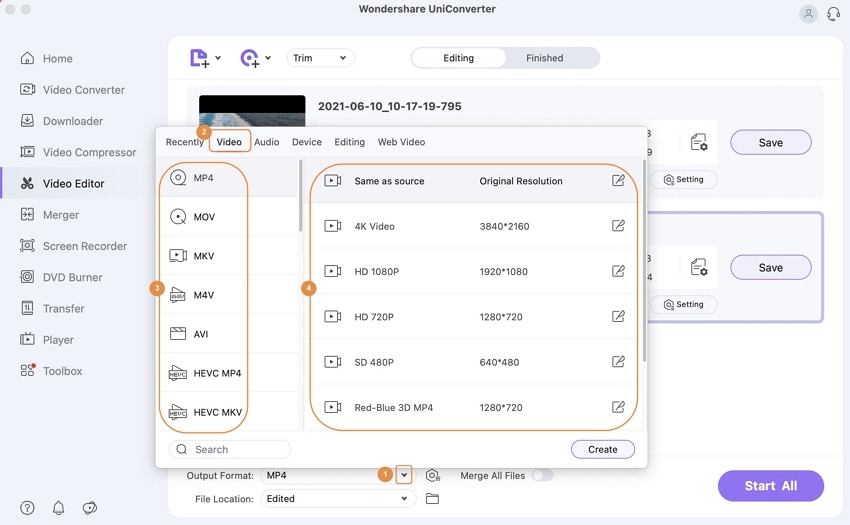 Auto Reframe YouTube Video to Fit Instagram
How to put a YouTube video on Instagram with the correct size? Things might turn ugly when the video that was supposed to boost your reputation ends up affecting it negatively, so always watch for video sizes before posting a YouTube video on Instagram. Using Uniconverter Auto Crop.
Step 1

Open the Toolbox

For easy navigation, all tools on Uniconverter are not just crammed into one space, they are neatly arranged, and most of the advanced ones are placed in the Toolbox, including the Auto Reframe function.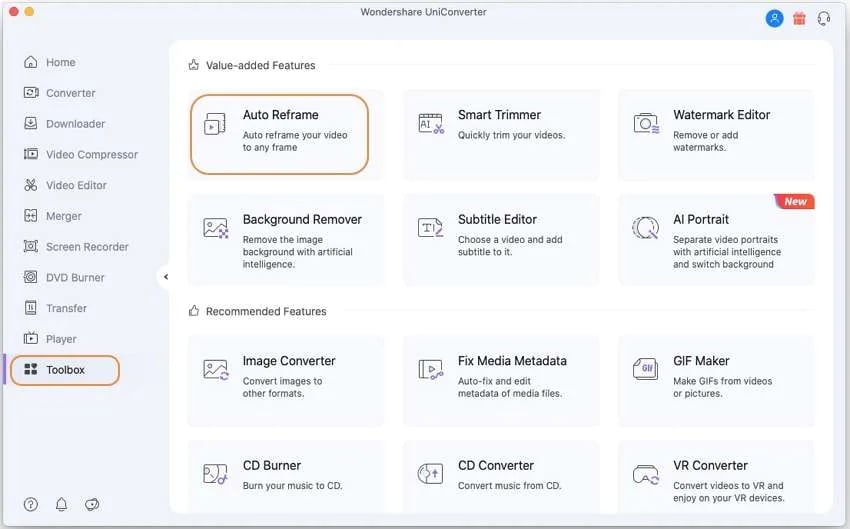 Step 2

Upload Video and Auto Crop

The options will still be greyed out until you upload a video. A preview will be made available for you on the left side of the screen. The new update on Uniconverter does not allow you to worry about cramming the numbers, click on the Aspect ratio tab and select Instagram from the list. The system will automatically choose the appropriate aspect ratio for Instagram, and it will reflect in the preview; hence the name auto-crop. A bonus function is that you can also change the movement speed of your video from normal to fast, faster and fastest to slow slower and slowest.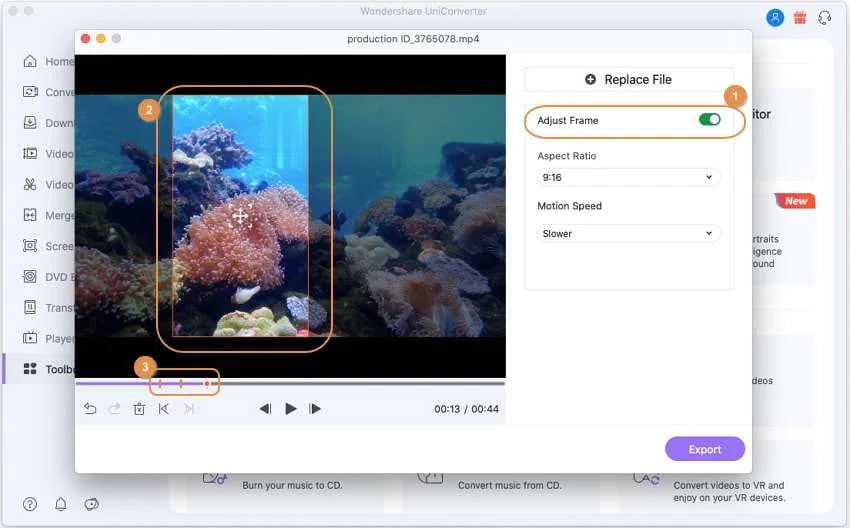 Step 3

Export

When you are done with selecting the aspect ratio, click on Export and wait for Uniconverter to analyze and save your video. You can change the save location by clicking on the File location tab at the bottom of the screen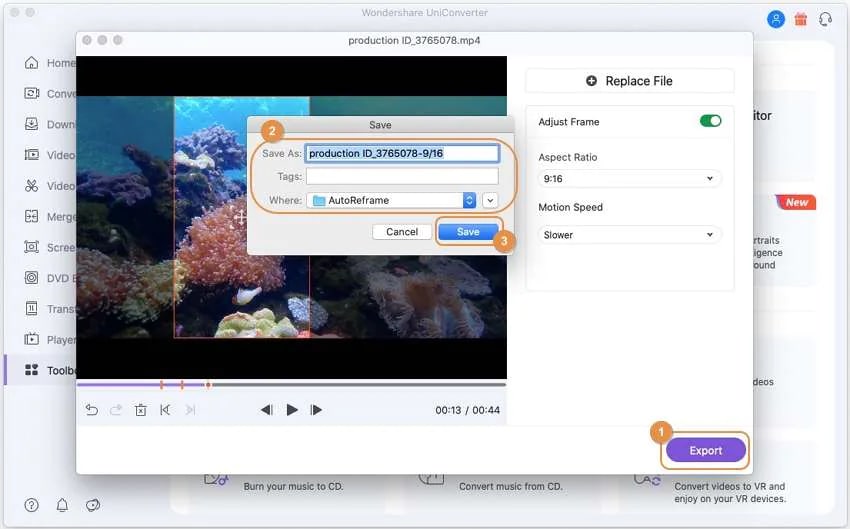 Convert YouTube Video for Instagram
How to share YouTube videos on Instagram story and feed with a compatible format? The convert function of Uniconverter works multipurpose. Instagram does not accept formats like MKV, AVI, WMV, VOB, FLV, etc. cannot be uploaded on Instagram directly. You need to convert them to compatible formats like MP4 or MOV. Follow these steps to share YouTube video to Instagram story or feed with Uniconverter;
Step 1

Use Converter feature

Click on the converter tab on the left side of the screen. On the new screen, click on the purple folder to upload the video or use the drag and drop function.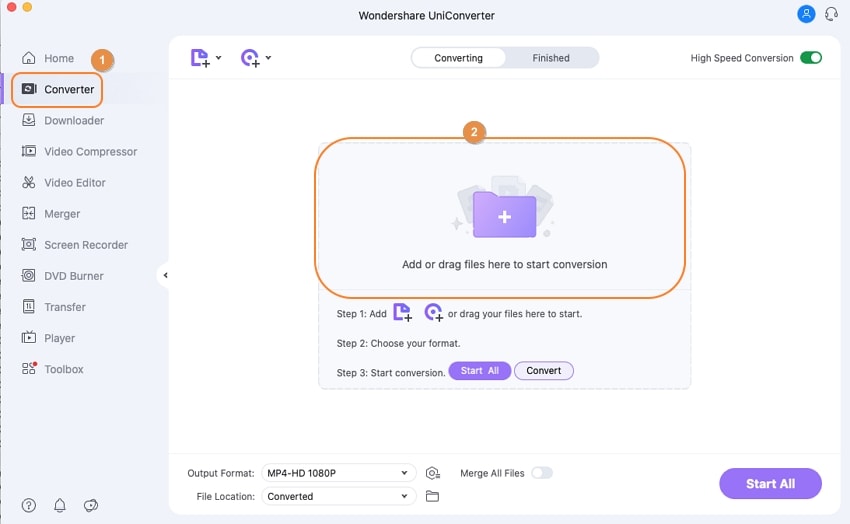 Step 2

Select Format and Resolution

Once a video has been uploaded, a thumbnail will be generated, click on the Choose format icon beside the Convert tab. Go to Video in the new pop-up box and select MP4 or MOV as the format. When a format is selected, available resolutions will also be displayed beside it. Choose HD 1080p for Instagram posting.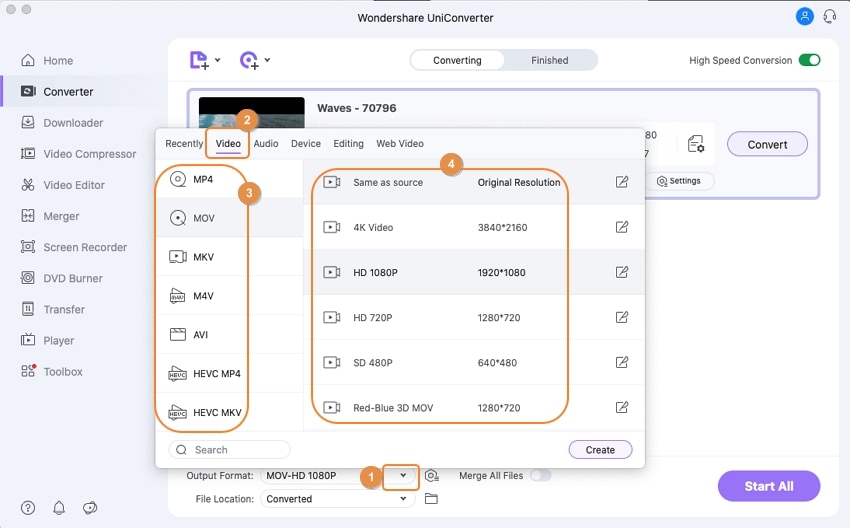 Step 3

Convert

Click on the Convert tab to begin the conversion. Look for your converted file in the Finished, and it is ready for Instagram posting. Uniconverter can also batch convert, so you can convert multiple video file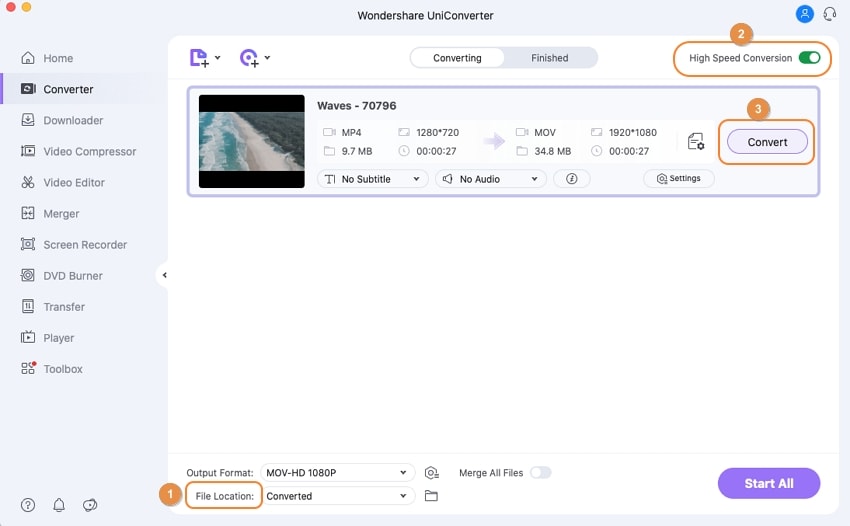 Compress YouTube for Instagram
How to post a YouTube video on Instagram without barriers? You need to solve another problem: the size limit. One sure headache everyone faces when trying to upload to social media platforms is the size limit imposed on videos. For Instagram, you can post a video that is lower than 650MB for 10 minutes or less. The verified accounts can post a 60 minutes video that is not more than 3GB. If your video exceeds any of these specs, you need to bring down the size using a compress to share the YouTube video on Instagram successfully.
Step 1

Use Video Compressor

After the conversion, at the Finished section, click Add to Another List tab and then Add to Compress List to go for the Compression interface. Next, upload your video with the drag and drop feature or just click on the purple folder and upload from your File Explorer.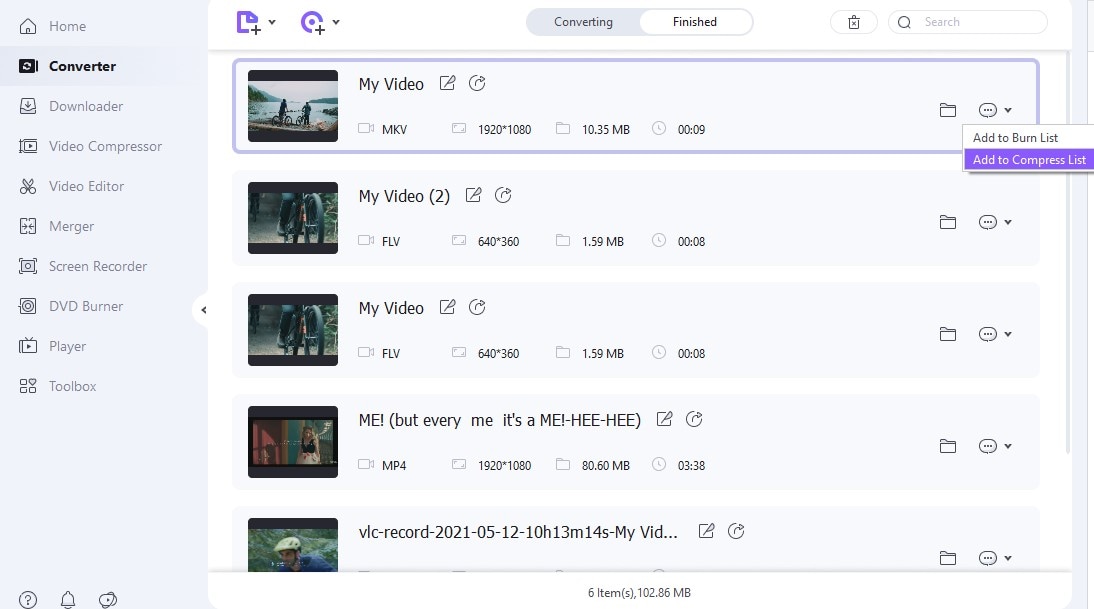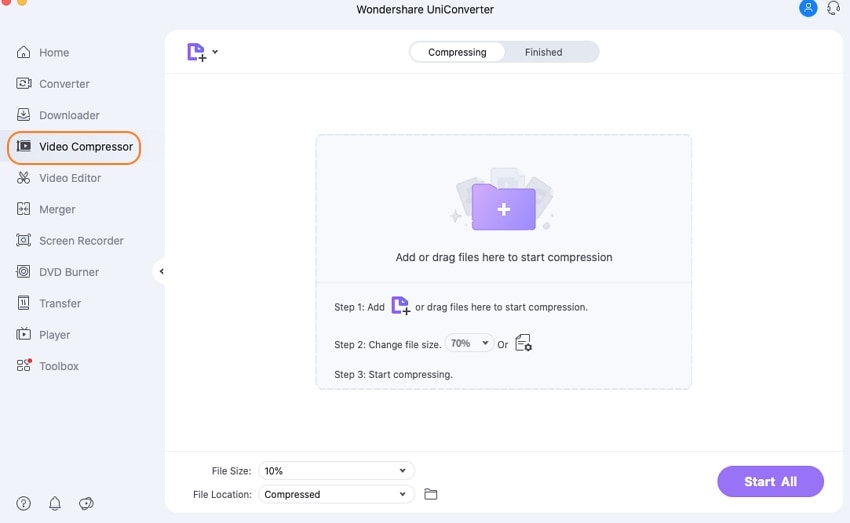 Step 2

Compress

Uniconverter allows compression of the video for up to 70% of the original size, but your video starts to lose quality once it passes the 50% threshold. So think carefully if you want to maintain the quality or you just want to beat down the size. Click on the settings icon beside the Compress tab and drag the slider to adjust the sizes. You will be able to see the estimated outcome size when you move the slider.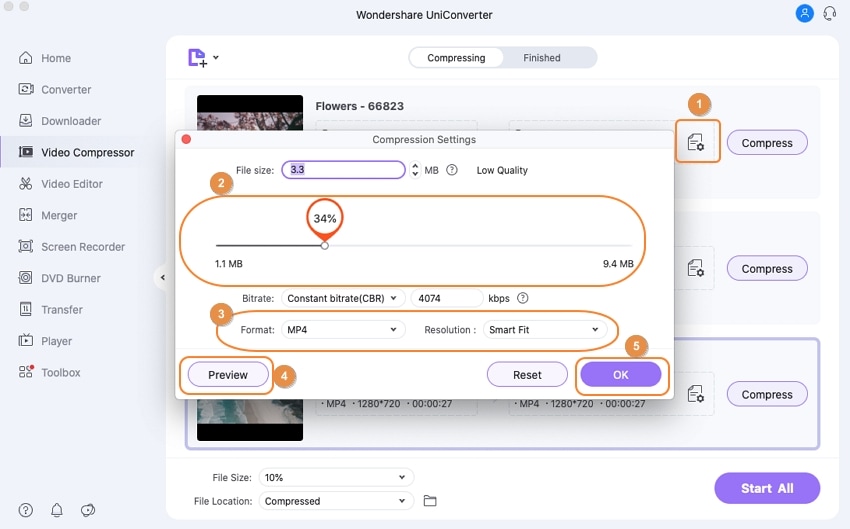 Step 3

Finish

Preview the video or just click on OK when you are done. Then click on the compress tab to start. The Video compressor can also use the batch processing, so you can upload multiple videos for compression
Part 3. How to Upload YouTube Video on Instagram?
Uploading videos to Instagram is not a hard job. On the contrary, it is pretty easy as you can do it with just a few clicks no matter if you are using the web version, lite version, PC version, or the normal mobile version.
1. How to Share YouTube Video on Instagram Feed
Whenever you post a video on your Instagram Feed, it will appear on other people's walls. Posting on the Instagram feed is just like the rest. Click on the + icon, select Post, and select the YouTube video. If you want to add an effect, then do so by selecting one of the Instagram stock and if not, move on to adding location, tag, and a caption. You can also add links and descriptions and choose if you want to share the same video to your Facebook, Twitter, and other related social media platforms. Then click on Share, and the video will be posted to your Instagram feed for everyone to view. So this is how to post a YouTube video on Instagram Feed.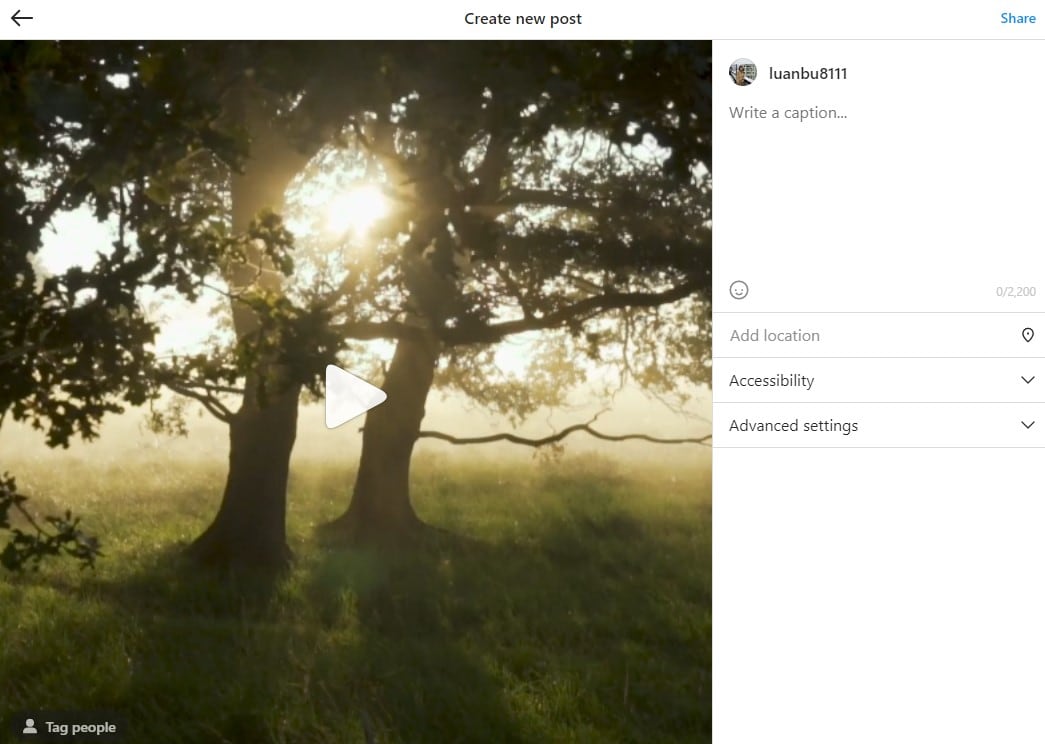 2. How to Share YouTube Video to Instagram Story
Instagram Story is similar to a WhatsApp status because this will disappear 24 hours after posting. It won't appear on your profile and reel, but it has a separate place on the timeline. Nonetheless, it is still one of the most used platforms for sharing photos and videos. To post a YouTube video to Instagram Story, download it and resize it to fit Instagram requirements, click on the + icon at the top right corner of the interface, choose Story and select the YouTube video. You can select more than one video on the Instagram story for posting. That is how to put YouTube video on Instagram story.
3. The Steps to Post YouTube Video to Instagram Carousel
An Instagram Carousel is a post with more than one image or video on your feed. A Carousel can take a maximum of 10 photos or videos. To post a YouTube video to Instagram Carousel, you need to download them first, resize them to Instagram format, click on the + icon to add them and leave the setting on POST. Click and hold on to a video until the tick appears, then select more of the other videos, and click the arrow at the top right corner to move to the video effect screen. If you don't have to add any effect, click on the arrow again to add tags and location. Click on the Share at the top to finally add your Carousel video. The difference between this step and how to add YouTube video to Instagram story lies in the fact that they are placed on different timelines, Instagram story has its section and the carousel appears on the feed.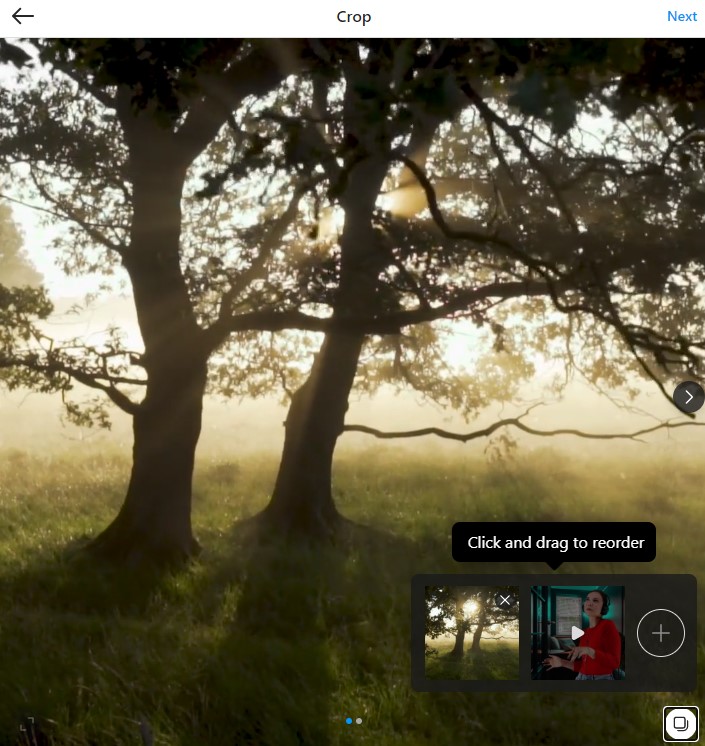 Part 4. Q&As about Sharing YouTube Video on Instagram
1. How to Add YouTube Link to Instagram Story?
Users with more than 10,000 followers on Instagram will have the 'swipe up' function on their upload screen. This is what users will use to check the website for the video, but how to post YouTube link on Instagram story? When you have your video, and it is the right size for Instagram upload, Tap on Story then the URL icon; it looks like a chain, then paste the link and click on done. Next, select Your Story to Add YouTube Link to Instagram story
2. Why my YouTube video has black bars after being uploaded on Instagram?
The possible reason is that the aspect ratio is not suitable. For example, 16:9 for landscape video and 9:16 for portrait video is the spec for Instagram video.
Wondershare uniconverter 13 - Best Video Converter for Mac/Windows
5,481,435 people have downloaded it.
uniconverter supports 1000+ formats and handles 90X faster conversion, ensuring that high quality is delivered at all times.
You can add multiple files since the program does batch conversion of files.
The GUP acceleration can help you download online videos at high speed.
You can use the editing suite to remove video background, edit watermark and subtitles, and auto-trim videos.
This software facilitates file transfer to devices like Android and iPhone among others once the conversion is complete.
uniconverter is also capable of handling video compression hence ensures you acquire the video sizes you desire.