Download & Convert YouTube Video-UniConverter
Download YouTube playlist directly with one click.
Convert YouTube playlist to MP4 with original quality and high speed.
Convert YouTube to other 1000+ standard formats.
Edit YouTube files after converting to MP4 or other formats.
Other features include recorder, merger, compressor, and so on.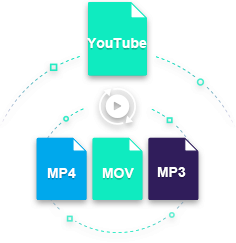 YouTube is an online video watching platform that provides you the facility to watch and share videos. But most of the time, we are not having internet, or the internet speed is not so high that we can not continuously watch the videos without any interruption. So, we try to download our favorite playlist once to enjoy it afterward whenever we want to without any problem. Yes, this is definitely possible by using different online and offline tools. We can simply convert YouTube playlist to MP4 using several online and offline solutions, but there are some tools and applications that are found best for this service and also provide some additional tools to enhance our video quality and vision.
Part 1. Offline Solutions to Convert YouTube Playlist to MP4
Uniconverter is a powerful tool having many features and can work as a video compressor, video file converter, video editor and downloader, image converter, file transfer, and many more. It is best for converting videos to 1000 format and at a fast speed (90X) with the same quality. We can call Uniconverter a YouTube Playlist to MP4 converter and compress, download, transfer videos, and edit.
Steps
If you desire to download YouTube Playlist to MP4 or Vimeo, then with the help of Uniconverter, you can easily do that faster and can download your whole Playlist instead of downloading one song.
Step 1
Open Uniconverter on your system, and then a list of features will appear on the screen's left side. Click on Downloader.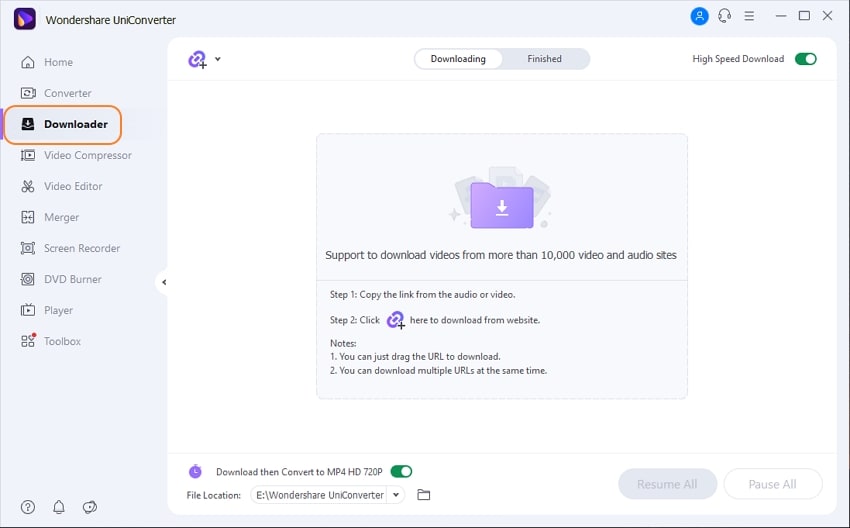 Step 2
Go to your system browser window and open your favorite playlist, which you want to download and copy that playlist's URL.
Step 3
Now go back to your Uniconverter downloader and select the file icon, which will automatically paste the link that you copied. A dialog box will emerge, in which you have to click on the download playlist option.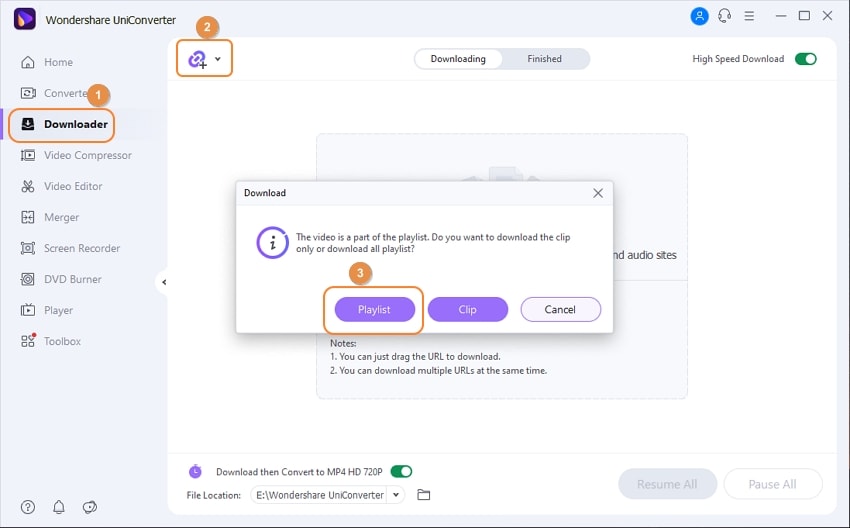 A pop-up menu will appear, showing you the list of all the songs in your playlist. All the pieces in your playlist are selected to be downloaded by default. However, you can also deselect some. Then you have to select how to save the playlist as video or audio etc., and then choose output quality. Now to start the process, click on the download option.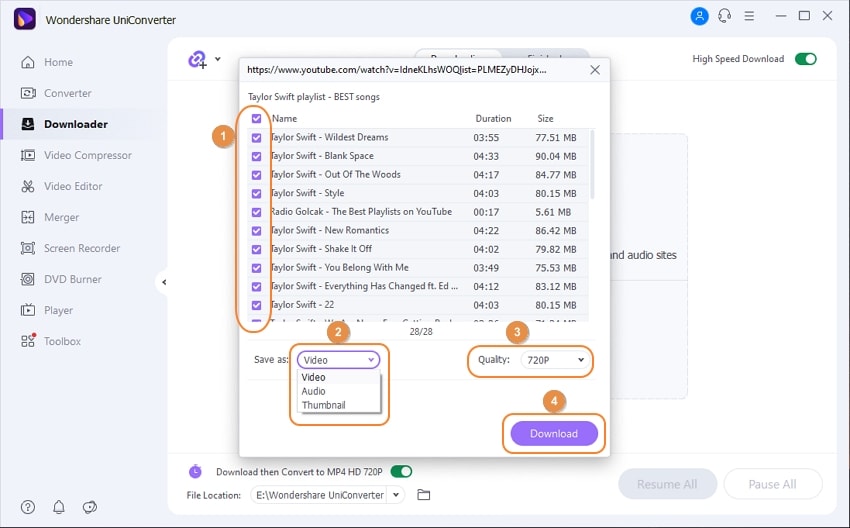 Step 4
Your playlist will start downloading. A pause button is next to your playlist, enabling you to pause the videos. You can also click on the resume to start it. When your whole Playlist is downloaded, you can see that on the Finished tab. Following these steps mentioned above, you can download the YouTube playlist to mp4.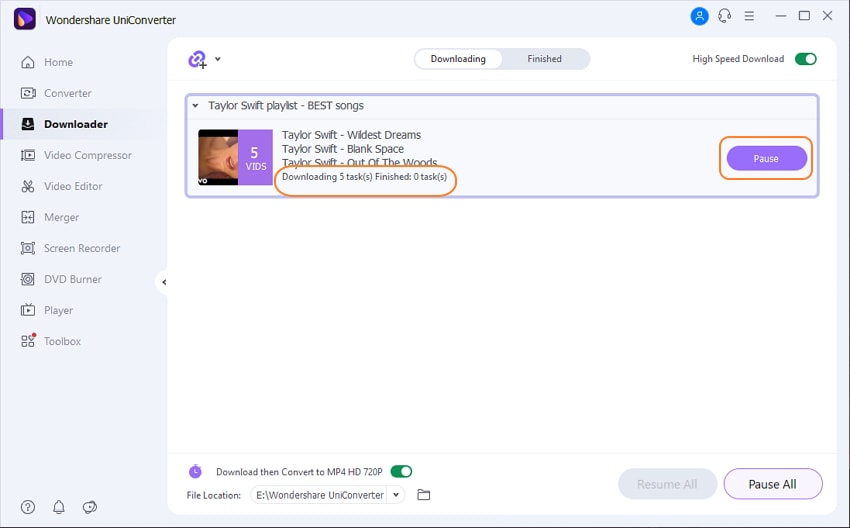 Pros
It doesn't distort the resolutions no matter how many files you convert.
Speed is fast and accurate.
Its editing services are above all other tools.
Cons
It does not support Android and iOS devices to convert files.
You can just download 1 video if you are a free trial user.
Wondershare UniConverter 13 - Best Video Converter for Mac/Windows
5,481,435 people have downloaded it.
UniConverter supports 1000+ formats and handles 90X faster conversion, ensuring that high quality is delivered at all times.
You can add the multiple files since the program does batch conversion of files.
The GUP acceleration can help you download online videos in high speed.
You can use the editing suite to make your results creative masterpieces.
This software facilitates file transfer to devices like Android and iPhone among others once the conversion is complete.
UniConverter is also capable of handling video compression hence ensures you acquire the video sizes you desire.
VLC Media Player is also a YouTube playlist to MP4 converter tool, an open-source, portable, accessible, and cross-platform media player software generated by the VideoLAN project. It is available for mobile platforms and desktop operating systems such as iOS, Android, etc.
Steps to download YouTube Playlist to mp4 using VLC Media Player
Step 1
First, you will have to download videos with the VLC Media Player. Open YouTube and copy the video's link.
Step 2
Now open VLC Media Player and click the Media option and select "Open Network Stream." Paste that video link in the network protocol area and click on the play button.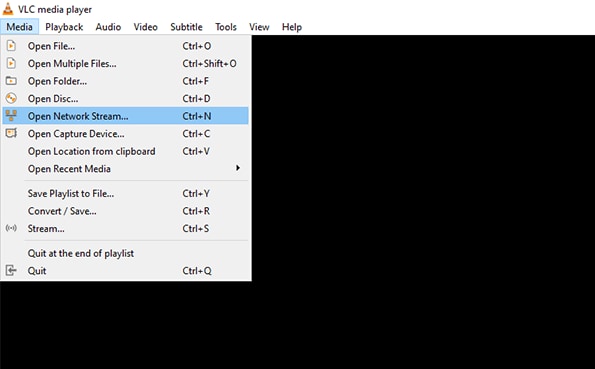 The video will start playing. Now tap on the Tools tab and select Codec Information.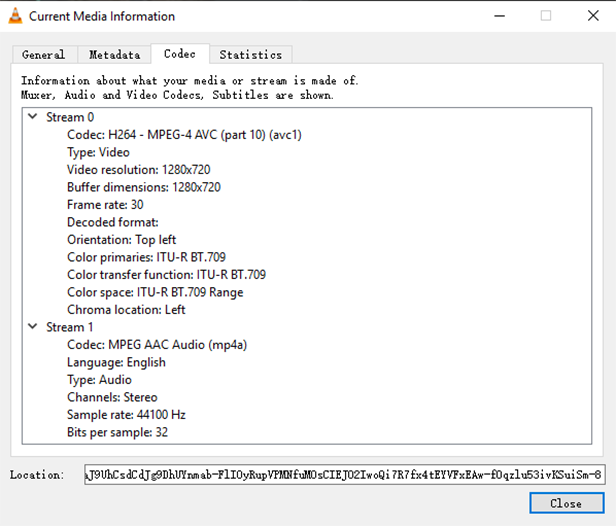 On the window Current Media Information, copy the information in the location area.
Step 3
Now open the desktop browser and paste that information in the address bar and click on the Enter key. A video will appear, right-click on it and click on Save Video As an option to Convert YouTube video to mp4.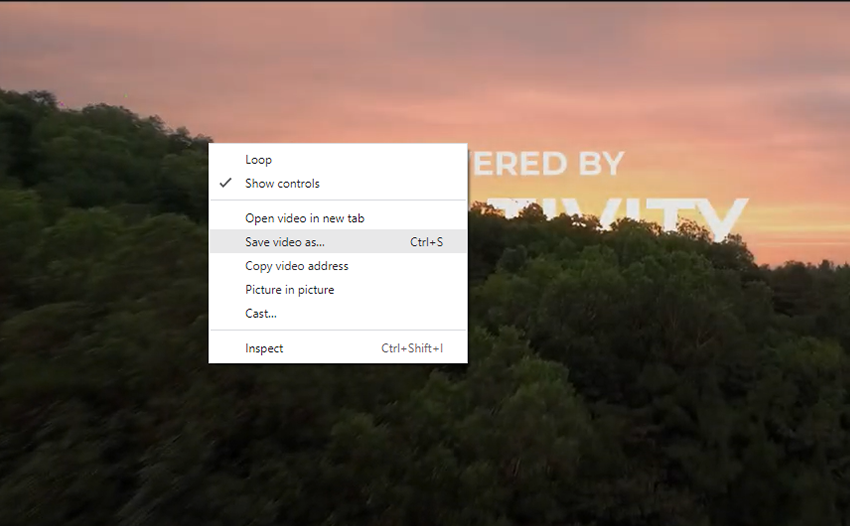 Step 4
If the downloaded video is not in MP4 format, click on Media>convert/save (CTRL+R). Now select Add option. Open your video file and select convert/save and choose MP4 and then open the browser, provide the file name and the extension ending in .mp4, and select the Start option.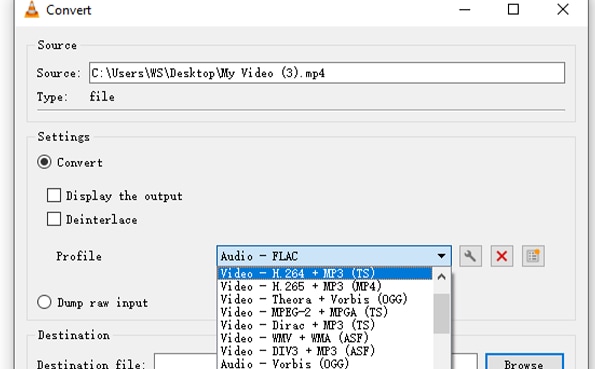 Pros
With the use of YouTube playlist converter MP4, VLC's interface is straightforward
Features and functions are easy to use.
You can also use VLC using the hotkeys.
VLC can be used on any platform, and it is free of cost and open source.
Cons
Difficult to search for songs in your VLC library hence taking a lot of your time
Program interface cannot be customized.
You will have to go to the default folder to open up an audio or video file.
Part 2. Online Solutions to Convert YouTube Playlist to MP4
Other than offline solutions, many online solutions are available that help you download the YouTube playlist to MP4. The two best solutions that we must suggest to you are two online tools named "Cloudconvert" and the second one "Kapwing". Both these tools have unique features and have their own specialties.
Cloudconvert is an online tool with the best quality results as a YouTube playlist to MP4 converter. It supports more than 200 file formats, and data security is also ensured. Besides converting files that other tools also allow, Cloud convert provides additional features for editing the video to make it more eye-catching.
Following these steps, you can easily convert YouTube Playlist to MP4 using Cloudconverter.
Step 1
Open the Cloudconverter webpage on your browser and sign up or log in with your account.
Step 2
Then upload the file that needs to be converted to MP4 and also from the drowdown menu select the file formats. The first one is the format your video is currently in, and the second one is the format in which you want to convert it.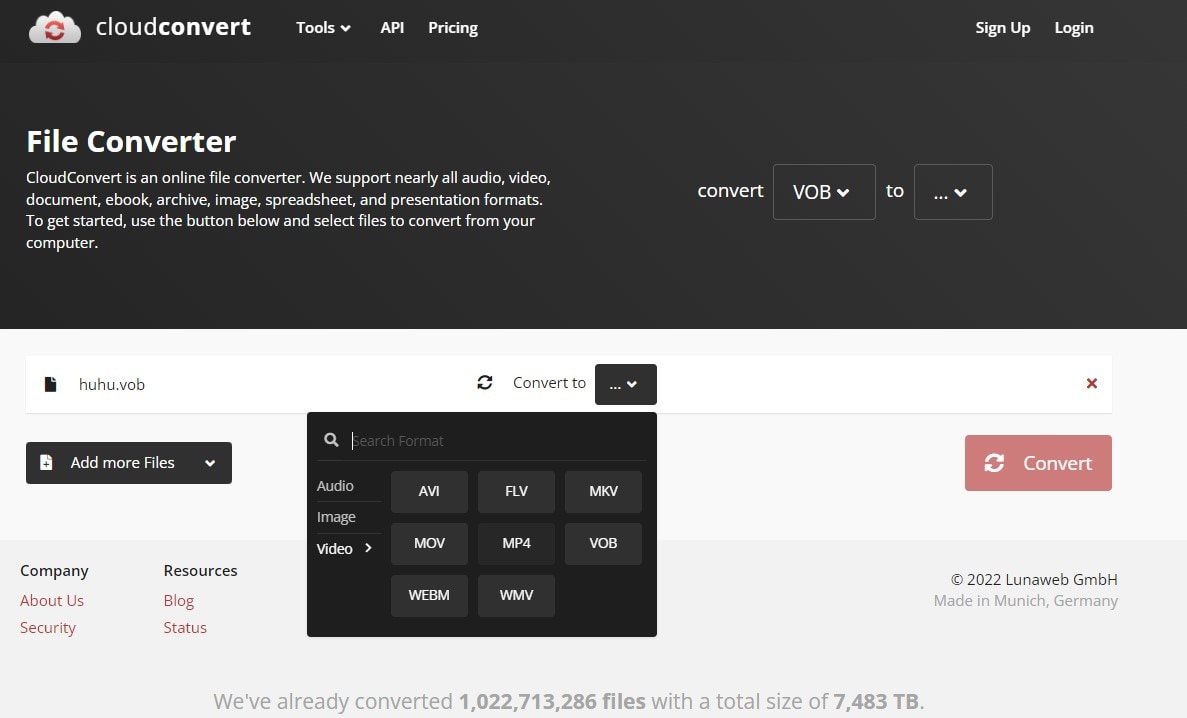 Step 3
After selecting the file format, press the button to proceed with the conversion and wait till it completes. After completion, download it to your Pc.
Pros
Cloudconvert, the YouTube playlist converter MP4, supports +200 formats and documents, audio, videos, archives, ebooks, spreadsheets, and images.
Provides best results and is a user-friendly software.
Cons
If the font is missing, it can mess up the document files while converting.
Like Cloudconvert, Kapwing is also a YouTube playlist to MP4 converter online tool. It allows you to convert the YouTube videos without any watermark. Other than MP4, you can also convert files to a large number of other file formats. Kapwing is free of cost and is also secure. This app is free from ads, so ,there will be no interruption by ads while working.
Steps
Step 1
Open the official web page of Kapwing on your browser and click on 'upload file' to select the file, or you can paste the URL of the YouTube video you want to convert.
Step 2
After doing some editing, click on Export, select the file format: MP4 to convert your YouTube playlist.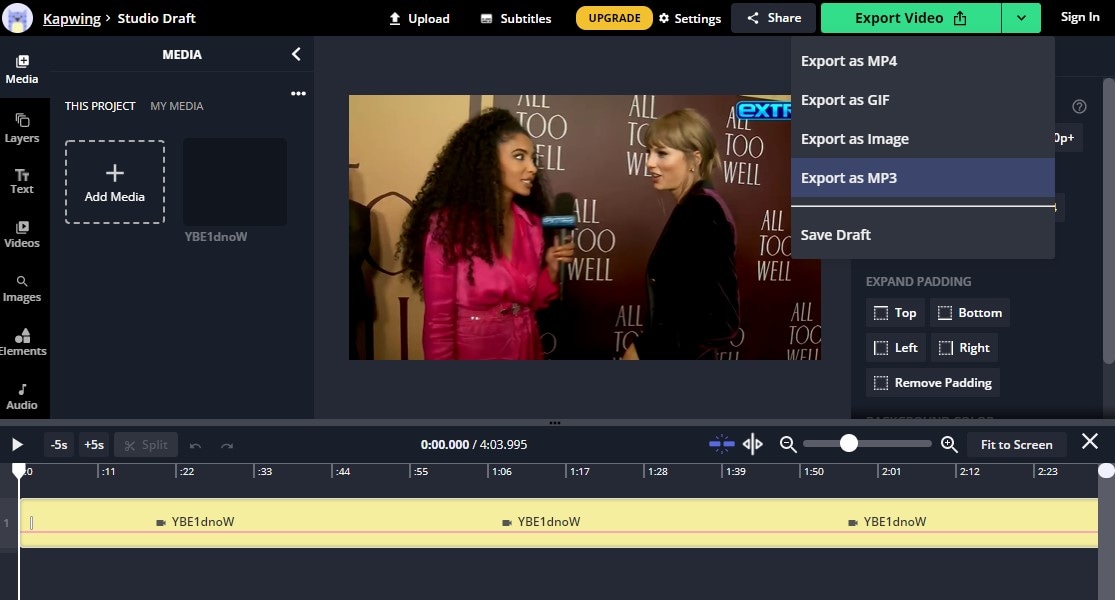 Step 3
After selecting the file format, allow the file to start converting, and after completion, download it on your device and enjoy the music. This is the whole process by which you can easily download a YouTube playlist to MP4 using Kapwing.
Pros
A trustworthy website with good quality and no ads.
Free to use; you have to upload the video and start converting or editing. The interface of kapwing is quite easy, and you do not need to see tutorials or long videos to know how to use this app.
Kapwing, a YouTube playlist to MP4 converter, is not spam, and they don't sell or misuse the information you provide.
Cons
You can not export videos that exceed 250 MB and over 30 mins if you are a trial user.
It can not separate the single clips from the playlist automatically.
Part 3. Bonus: 4 Hot YouTube Playlists in 2022 You Can Convert to MP4
Here is a suggestion for you, or just consider it a bonus. We have given you some popular playlists below so that you can convert these YouTube Playlists to MP4.
1. Pop Music Playlist - Timeless Pop Songs (Updated Weekly 2022)
Pop music can also be known as jazz music as they are trendy and listened to by people. They include songs from different sources; some examples of pop music includes: Uptown Funk, Shape of you.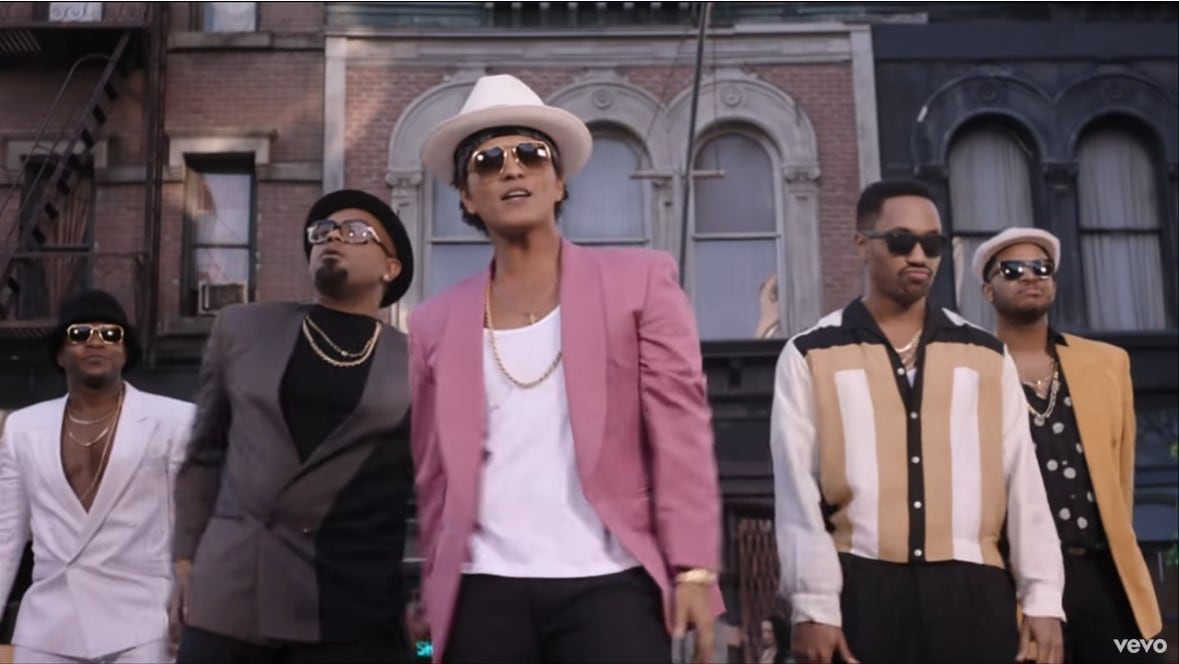 2. Today's Hits 2022 - Playlist Top Hits 2022
Top hits songs include those songs which get the most hits or likes in a year. Everyone may like or dislike these top hits songs but are still famous. Today's top hits 2022 songs list includes: Oh My God, and Cold Heart
3. TOP 100 Songs of 2022 - Billboard Hot 100 - Music Playlist 2022
Billboard Hot 100 records the songs published weekly or weekly in Billboard magazine. You can use any of the YouTube playlist converter MP4 to convert these playlists. Some of the billboard hot 100 songs of 2022 include: Easy on Me and Shivers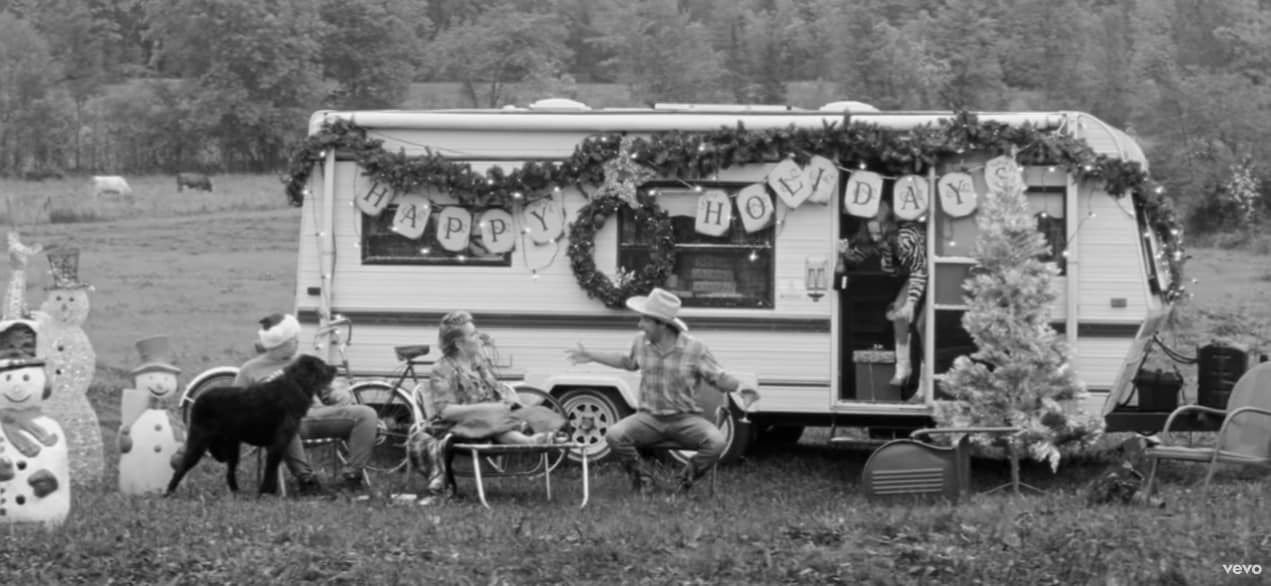 4. TOP 40 Songs of 2021 2022 (Best Hit Music Playlist) on Spotify
Spotify music playlist can be categorized as one of the largest music streaming platforms. It gives you songs, podcasts, video services from all the creators over the world. You can use Uniconverter as a YouTube playlist converter MP4 to convert these playlists. Some of the best-hit music playlist on Spotify includes: Dance Monkey and Memories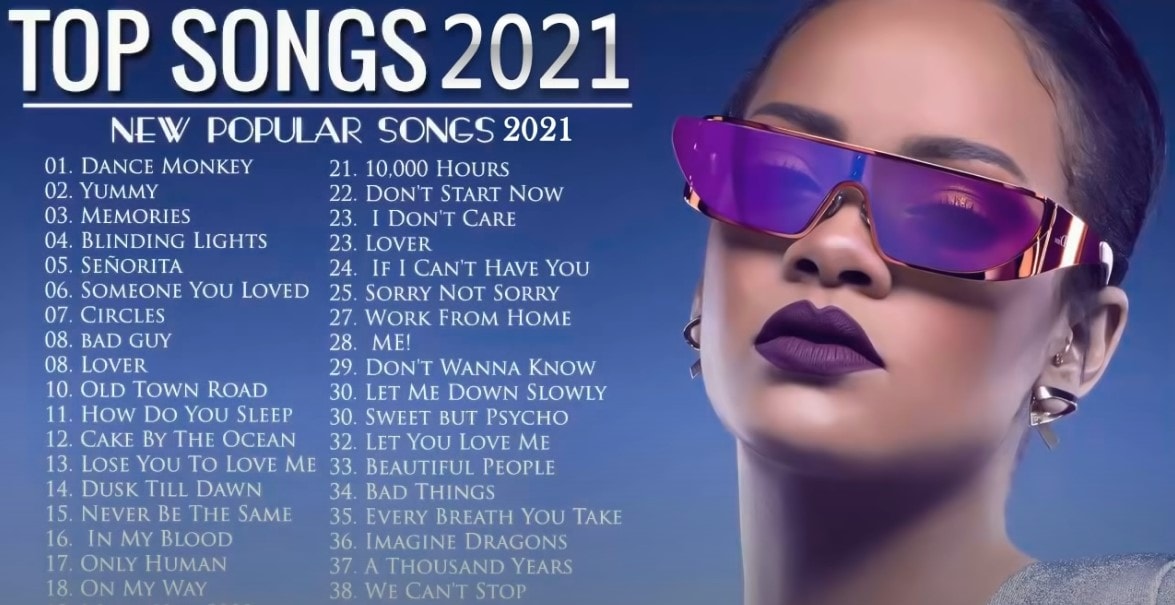 Conclusion
YouTube Playlist provides video files and a music collection of your favorite artist and YouTuber. But when you want to watch them offline YouTube playlist to MP4 converter is needed.
There are many options available for downloading and converting youtube playlists. Choosing the right choice is necessary to convert your video files in the desired format and with good quality.