Upload YouTube Videos on Facebook-UniConverter
Download YouTube videos in seconds.
Automatically resize videos for Facebook.
Adjust motion keyframes to make the result perfect.
Convert YouTube videos to the Facebook format quickly.
Additional features include video recorder, recording, compression, and others.
There are times when you come across a video on YouTube, and you love it so much that you want to save it or share it or maybe do both. Sometimes, the content might be something relevant, and you need to let others on your Facebook page see it, then you wonder how to post YouTube video on Facebook. So here are four methods on how to share YouTube video on Facebook story, timeline, or page.
Part 1. How to Share YouTube Video on Facebook by Downloading and Editing Video
Each of these methods is unique, and of course, they are not without their pros and cons. This method, in particular, allows you to play the video on Facebook instead of you being taken to YouTube. This method is also more straightforward because it saves you and your device the stress of opening a new tab to watch one video. This is for people who want to embed YouTube videos in Facebook posts or pages. In addition, one of the tools in the list has an editing function, so you can add further editing to your video before posting.
As one of the best converters you can ever find on the internet, UniConverter is a multimedia video editor working with many media and supports more than 500 media formats. Its features are numerous. You can create, edit and even upload using this one app. It can be said to be the complete video editing software. Where should we start? Converter function that can convert to and from hundreds of formats with options to adjust the quality and convert to devise formats and web formats. The compressor allows you to compress a video to at least 70% of its original size while keeping quality reduction to a minimum. The online video downloader that can download from the millions of video sharing sites on the internet, merger, subtitle creator and editor, cropping, resizing and adding effects to video, watermark remover, adder, and so on. Do you get the picture now? So how to post YouTube videos on Facebook
Steps on How to Post YouTube Video on Facebook with UniConverter
Step 1

Download

For this method to work, you need to download the video to your device then you can edit it if you want before uploading, but it is pertinent that you resize the video to Facebook specification.

First, visit the YouTube page, copy the video link, and launch UniConverter. On the UniConverter interface, click on the Downloader tab and post the YouTube link in the pop-up tab. UniConverter scans the video and generates the video with the available download formats and quality. Select your preferred format and quality and wait for the download to finish.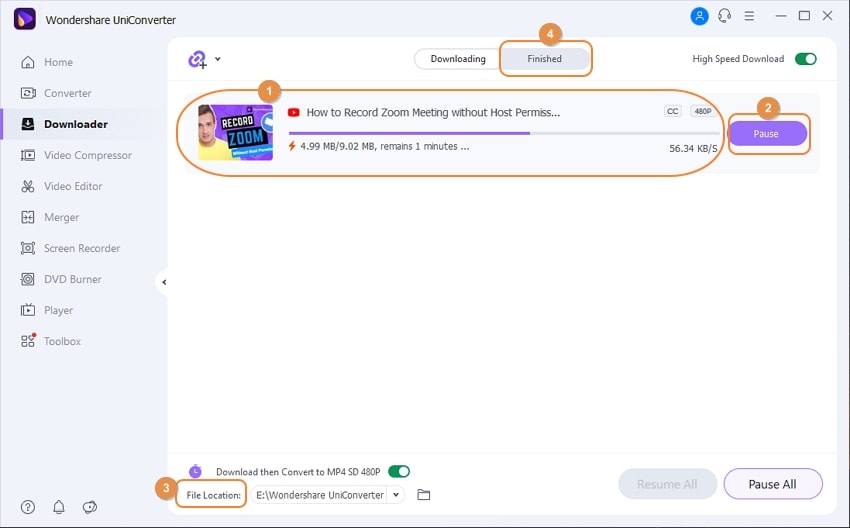 Step 2

Reframe Video for Facebook

You can't just download a video from YouTube and dump it on other social media platforms like Facebook, Instagram, etc. why? Because their specs are different and sometimes the videos don't pan out on the new social media, you need to resize them for social media posting. UniConverter's Auto Reframe function serves this purpose well.

To start, navigate to Toolbox in UniConverter and locate the Auto Reframe tool. Click on it, and on the next screen, you will be able to upload the just downloaded video. Once a video has been uploaded, the resizing option on the right side of the screen will become available. Select the suitable size for Facebook and Export the video by clicking on the purple tab at the bottom right. Next is how to add YouTube video to Facebook.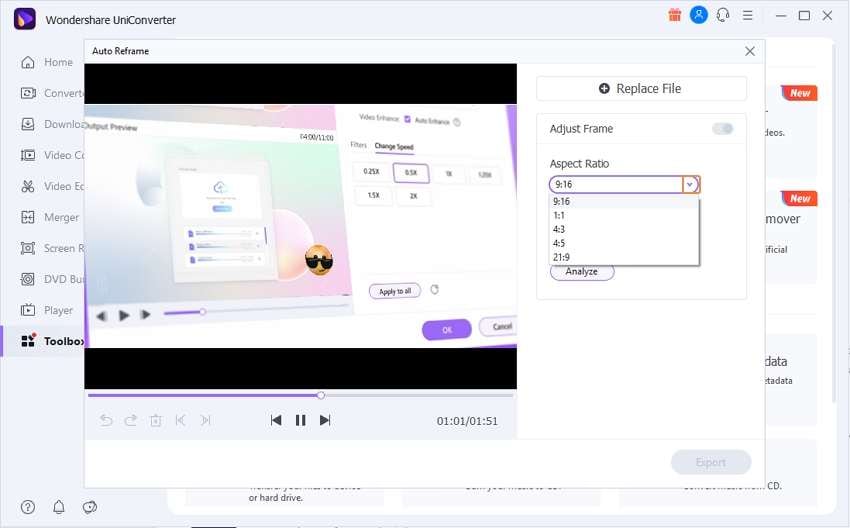 Step 3

Upload to Facebook

Finally, you can now upload your video to Facebook. Open the Facebook and decide where you want to upload it, whether on your page or timeline.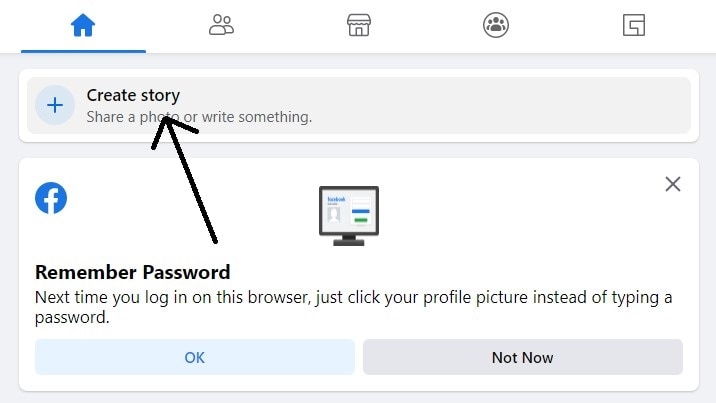 Pros
You can download YouTube videos quickly
Allows you to resize and crop YouTube videos for Facebook to make the display result perfect
It gives you the option to choose which quality and format you want your video.
Cons
Compared to others on the list, it takes more time to finish the whole process, from downloading to resizing before being able to post
Wondershare uniconverter 13 - Best Video Converter for Mac/Windows
5,481,435 people have downloaded it.
uniconverter supports 1000+ formats and handles 90X faster conversion, ensuring that high quality is delivered at all times.
You can add multiple files since the program does batch conversion of files.
The GUP acceleration can help you download online videos at high speed.
You can use the editing suite to remove video background, edit watermark and subtitles, and auto-trim videos.
This software facilitates file transfer to devices like Android and iPhone among others once the conversion is complete.
uniconverter is also capable of handling video compression hence ensures you acquire the video sizes you desire.
YouTube Built-in Downloader
This method requires no external app or third-party sites. Instead, you do it on YouTube itself. It is aimed at people who just don't want to use it. This step will reveal how you can download YouTube videos using YouTube itself and how to upload YouTube video on Facebook posts. Although there are advantages, there are certain disadvantages as well. Like you are not being able to download other people's videos. This is because this method works with YouTube studio, a platform for managing your YouTube channel. You can only download videos you have posted yourself and only if they have not been removed from YouTube and if there is no copyright issue with your video.
How to Put a YouTube Video on Facebook using YouTube Studio
Step 1

Launch YouTube Studio

You can open YouTube Studio from the YouTube app. As explained above, YouTube studio is a platform for channel owners to manage their accounts and posts, so people should already be familiar with it. If you are not, then you don't need to overthink it. Click on your profile at the top right corner of the screen and select YouTube Studio from the drop-down box.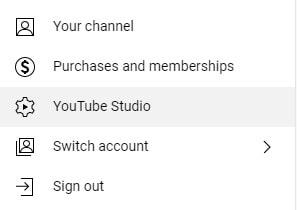 Step 2

Download

On the new page, move to the left side and click on Content from the list of options. This will then open all the videos you have posted while using your YouTube account. Once you move your mouse on top of one of the videos, a series of options will be revealed. The pencil icon for editing your post and reposting, then there is the analytic option and the comment option and an option to preview it, and lastly, there is a vertical three-dot icon. Click on it to reveal more options and locate the download button. You cannot edit the format, nor can you edit the quality.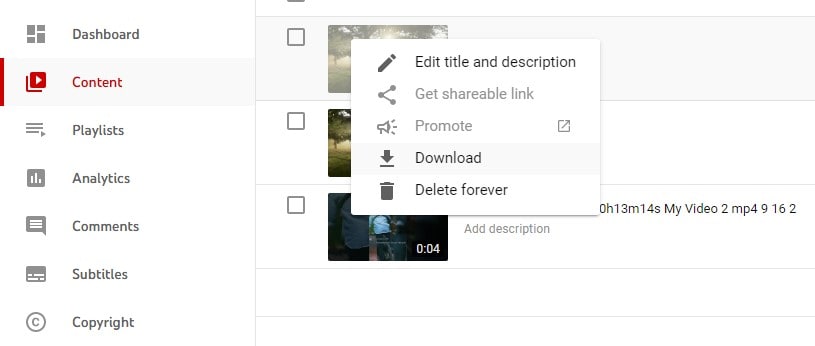 Step 3

Upload

Wait for the video to finish downloading and then launch the Facebook app or visit the website. Next, go to your timeline and add a new post. Select the option to add a video, add a description and caption, and tag your friends with the video; then click on 'post' and post the YouTube video on Facebook.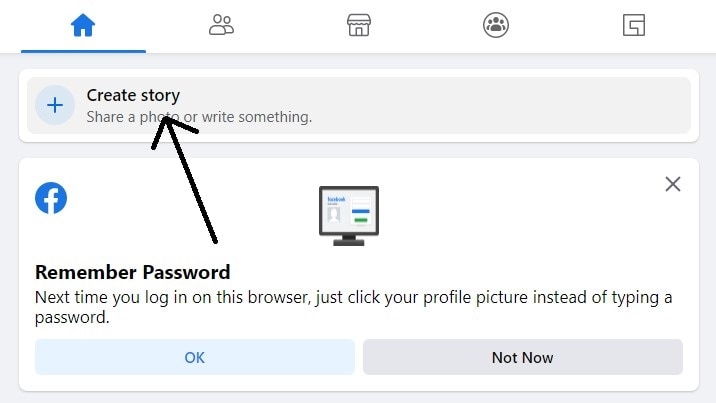 Pros
This method requires no third-party tools. You can share YouTube videos quickly
No copyright issue since the video has been posted by you
You can use another app to edit the video if you wish
Cons
It does not have a video editing tool of its own, so you can't resize or convert the video
Using this method requires you to be a channel owner
Part 2. How to Put a YouTube Video on Facebook by Pasting URL
Unlike the previous method, this one does not go through the stress of having to download the YouTube video to your device before posting on Facebook. That means that it has also lost the fact that you can edit the video before sending it and the advantage of viewing it directly from Facebook and not being redirected to the YouTube page. This method is mainly for those who want to quote the video and embed YouTube video in Facebook post while still giving credit to the original poster or for those who want people to visit their YouTube channel and generate more views, likes, and subscriptions. 
Steps on How to Post YouTube video on Facebook without a link
Step 1

Visit YouTube

The first step is to visit the YouTube website or launch the app and go to the video page.
Step 2

Copy Link

Whether it is a video created by you or someone else, they always have the SHARE option. Most of the time, it always looks like an arrow pointing outwards. The number of options available will vary depending on the social media applications you have on your device; you click on the copy link.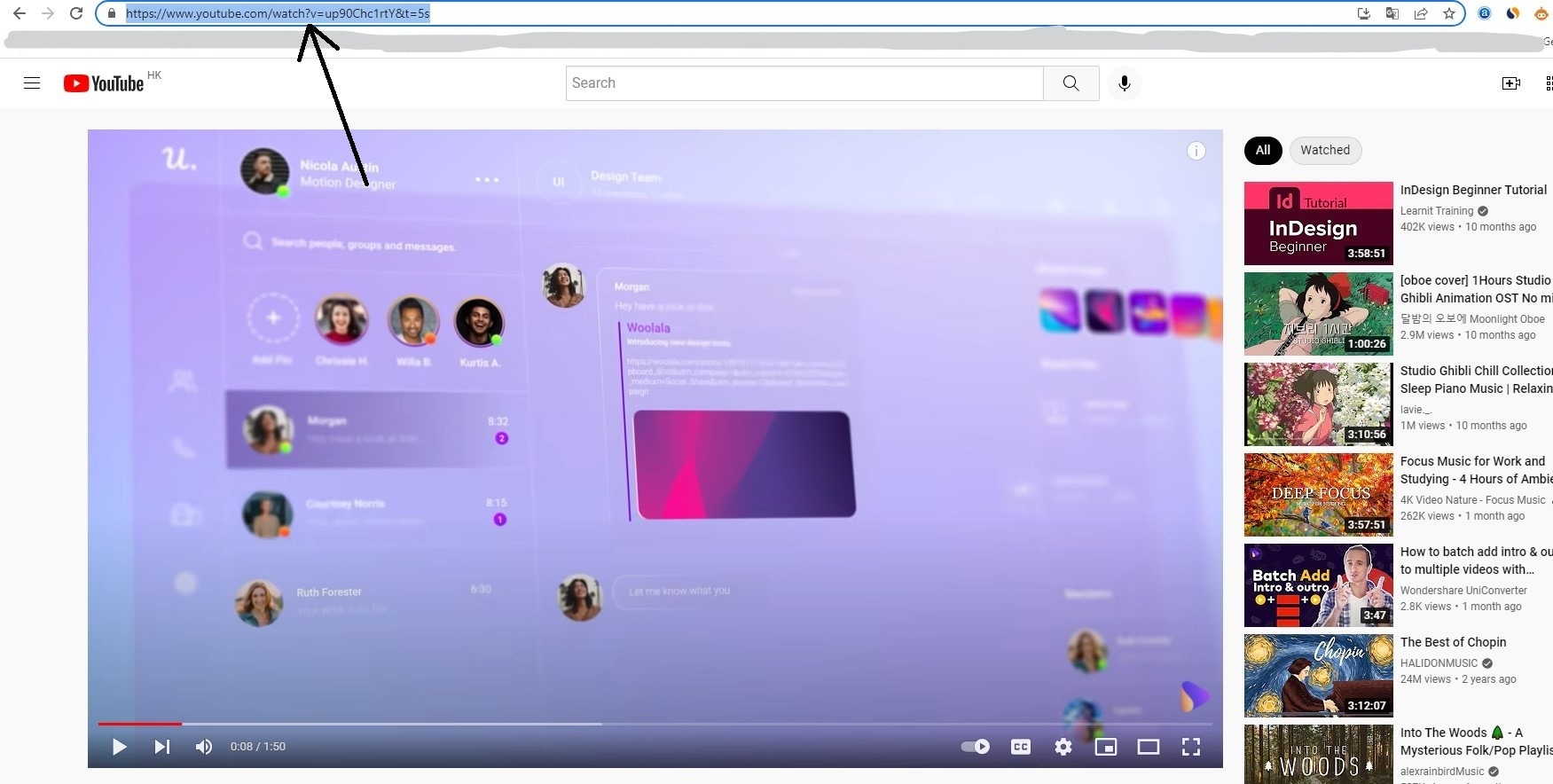 Step 3

Upload to Facebook

After copying the link, go to Facebook and post it on your timeline or Facebook page.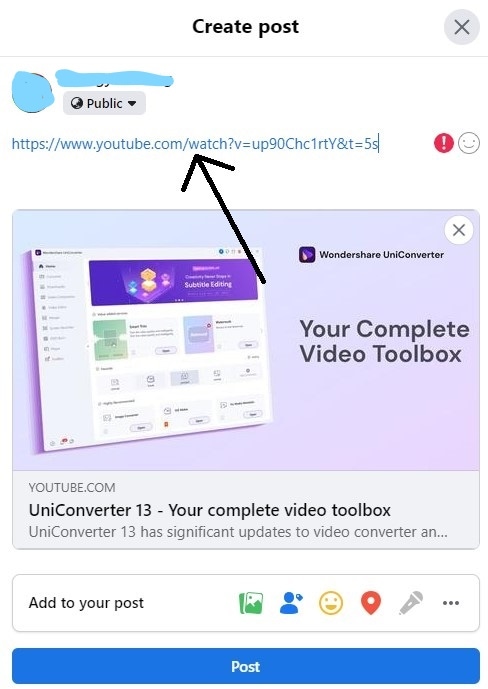 Pros
It does not take a lot of time, just about 1 to 2 minutes to complete the process. 
It is the easiest method for sharing YouTube video
Cons
You cannot do some editing of YouTube video
Viewers will be redirected to YouTube if they want to view the video
Part 3. How to Upload YouTube Videos on Facebook Using the Share Icon?
Unlike the method in Part 2, which allows you to copy the link, this method gives you the option to share the numerous video-sharing sites you have on your device. You can post the video to the specific Group, event, and the page you manage. For those who want to share a YouTube video with particular groups, this method helps a lot. The options available are just the number of social media sites you have.
How to Share YouTube video on Facebook story with the Share Icon
Step 1

Visit YouTube

Like in Part 2, the first step is to visit the YouTube website or launch the app and go to the video page.
Step 2

Copy Link and Share

Using the same way, click on the SHARE option. A new window will be generated, and it will list all the sharing options available to you. This is mainly about the number of social media applications you have on your device. The more social applications you have, the more sharing options are available to you.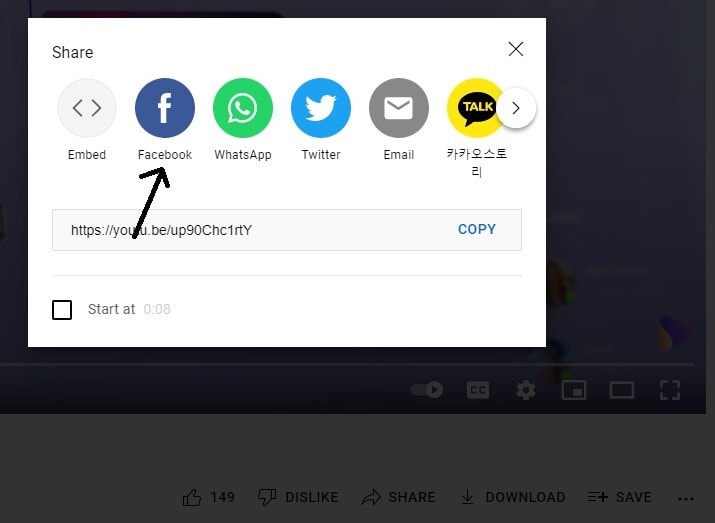 Step 3

Share to Facebook

Locate the Facebook icon and click on it. You will then be sent to the upload page on Facebook. If you want to add any other captions, attachments, or tags, this is where you do it before finally posting it on Facebook.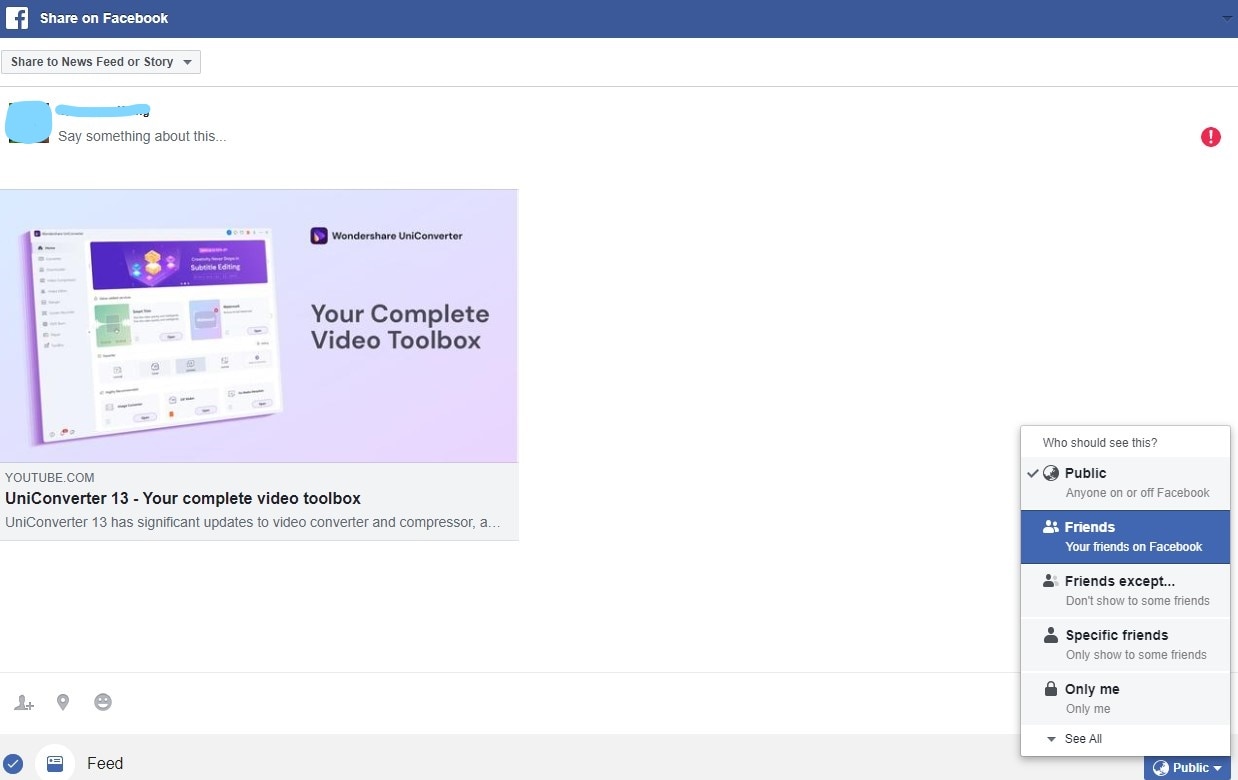 Pros
It is easily the fastest and most efficient way to post YouTube videos on Facebook
You don't need to worry about the quality. It shares the same quality as the one playing on YouTube at the moment you shared the video
Cons
It does not allow any room for editing
Your sharing options will be limited if you don't have enough social media applications
Part 4. Q&As about Sharing YouTube on Facebook
1. Why can't I add a video on Facebook?
According to the Facebook Help page, there are two main reasons your video cannot post on Facebook. The first is because of the network connection. So you should check your connection to see and make sure that there is no problem.
The second reason you can't share YouTube on Facebook is the video format. This reason is highly unlikely because Facebook itself supports a little more than 15 formats, including some of the very famous ones like 3gp, 3gpp, AVI, Windows Media (WMV and asf), all MPEG video formats, GIF, Flash Video, M2TS, VOB, even MOV is supported by Facebook. So there is a very low chance of this happening.
2. How to post YouTube video on Facebook with a big thumbnail?
Don't worry about a thumbnail appearing or not. Once the YouTube link has been copied, paste it into the post box and wait for a bit, the thumbnail will be generated automatically. If the original video contains a description, it will also be displayed