Crop Video-UniConverter
Automatically resize videos for different social media channels.
Adjust motion keyframes to make the result perfect.
Preview the output video before finishing cropping.
Rotate the video in different ways.
Adjust motion speed to the level you want.
Additional features include video convert, download, recording, compression, and others.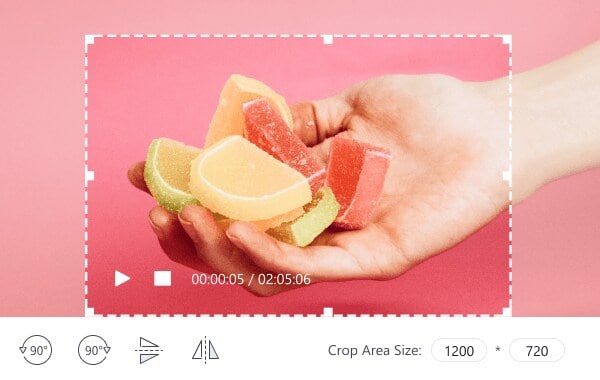 Video cropping is like one of the least used video editors, and yet it is one of the handiest. A lot of people see distorted areas in their video when they want to post, or maybe some other video editor that they used has changed the aspect ratio of the original video leaving the video with white bars around it, and they have no idea how to correct it and just post the video like that. What you need is a video cropper that can help you crop those areas. This article highlights some of the best ways to crop video online.
Part 1. 8 Helpful Ways to Resize Video Online
It is not very easy to find good online tools these days, but we can assure you that Kapwing is one of the best online croppers you can ever find. Since it is an online tool, it does have its limitations, but it can resize video online with its preset dimension and also allows you to manually set the dimensions yourself. You can upload on the website from your local disk or by using a URL that makes things convenient for the person uploading a video.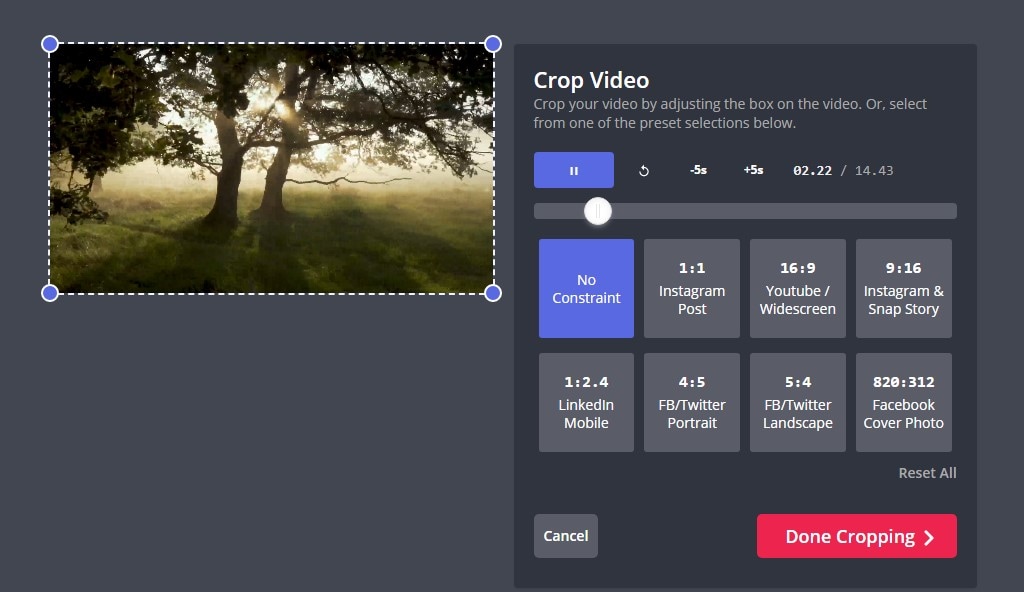 Pros
None complicated steps; pretty straightforward
It has automatic and manual cropping; you set it yourself or use one of the readily-available sizes
You can easily select a platform e.g. YouTube or TikTok, and it will automatically crop the video according to the requirements of those platforms
Cons
You need premium to unlock more functions
There is a limit on the size of video that can be uploaded in free mode
You only get to export videos without a watermark three times per month
 The first word you see on this website defines everything about it. Video editing is made simple, and VEED.io is all about simplicity. With its unique black and white user interface design, you can work even more professionally knowing that this online cropper doesn't care about being colorful; it is all about the functions and features. You can resize video online free as it works well as a video size converter online. There are a bunch of other functions available as well, do well to check them out if you are interested.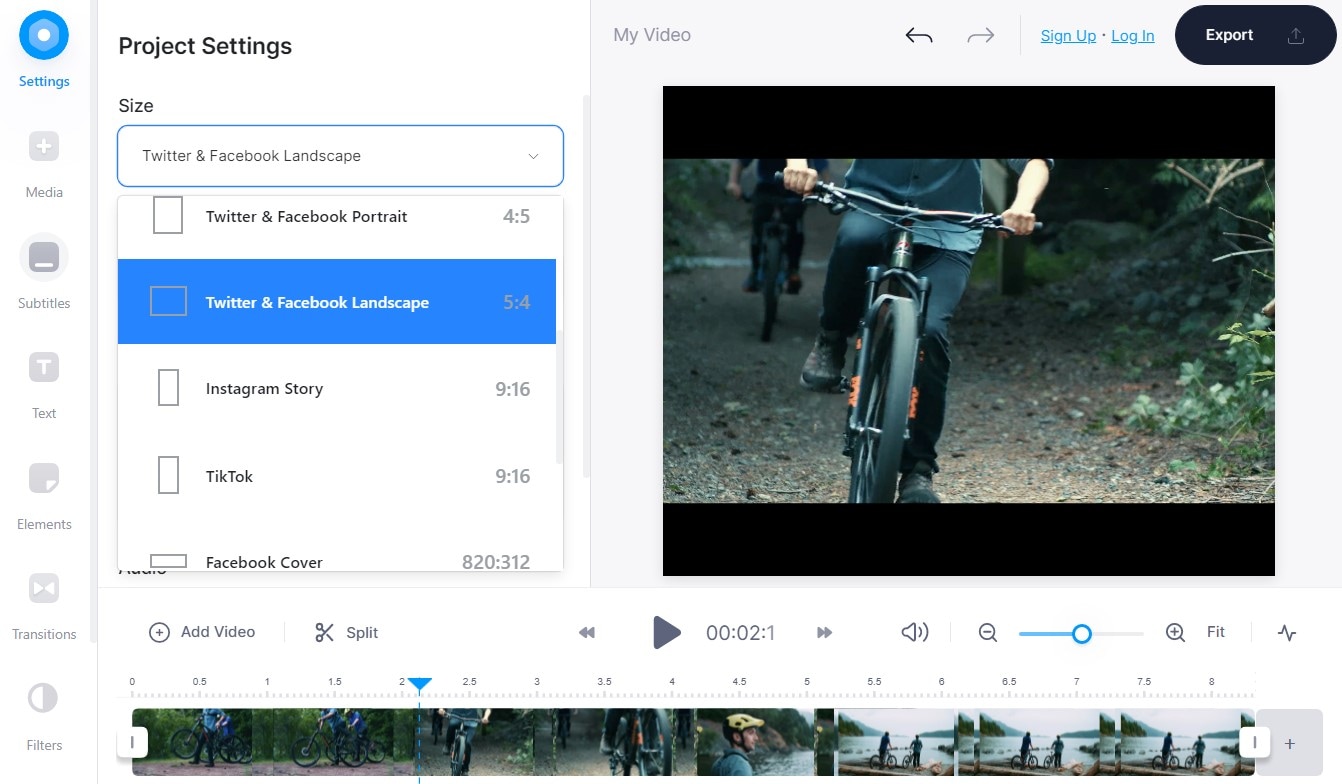 Pros
A video editor and a video creator
Unlike some free video editors, you do not need to sign up before being able to work on VEED.io
It has a preset format for most popular video platforms
Cons
You can't manually resize video online with VEED.io
There is a limit on the size and length of the video you want to upload
What is even harder to find is a multipurpose online tool that can solve virtually any video editing problem, and that is just what Clideo is. You can merge, compress, add subtitles to videos, resize video online, cut, video maker, crop video online, create memes, etc. It has preset sizes for most. Clideo is also a custom online video cropper, i.e., if you don't want any of the preset dimensions, you can input the sizes; height, and width by yourself. There is also an automatic width/height generator; you can just input the width or height you want, and Clideo will recommend the width/height that correlates with preventing your video from stretching out too much to one side.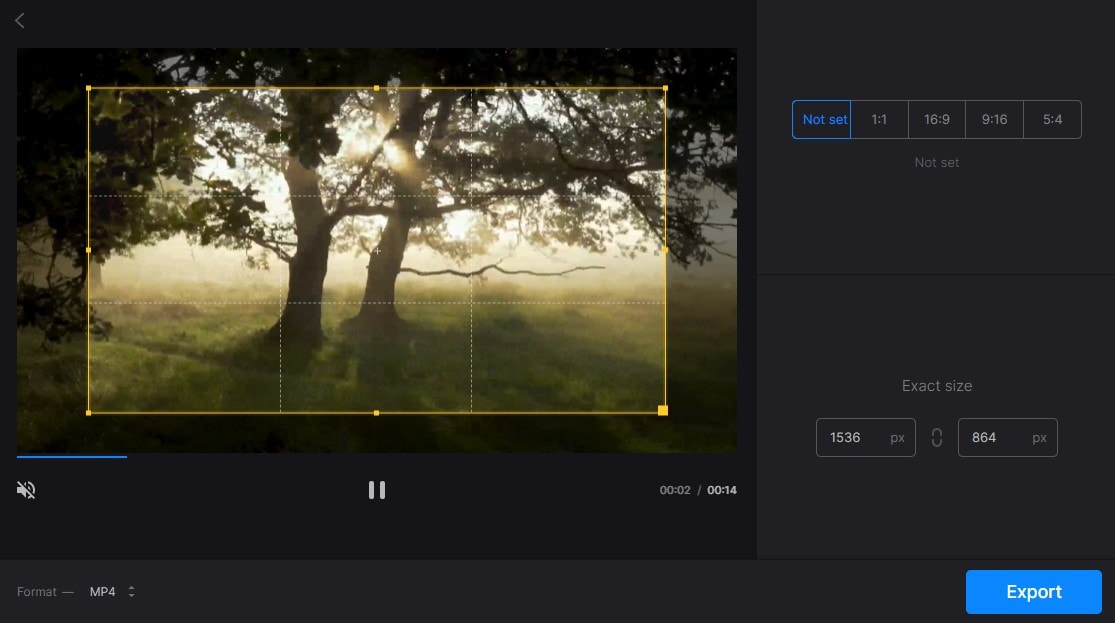 Pros
You can input the values for width and height regardless of the original aspect ratio of the video
You can convert a vertical video to a horizontal one and vice versa
You can either choose a preset or make your custom dimension for your video
Cons
Videos come with a watermark if you are in the free version
For paid users, there is not that much difference between premium and free accounts
Onlineconverter is possibly the simplest way to crop video in this long list of video size converters online. All of its functions are laid out bare on the main interface, and everything is plain for everyone to see, and you don't have to start looking for them in hidden areas. Just locate the video converter, and underneath it, it will list all video editing features that it possesses, including the crop video online tool. Onlineconverter can crop a series of presets, but no social media platform presets, but you can also resize videos to required sizes.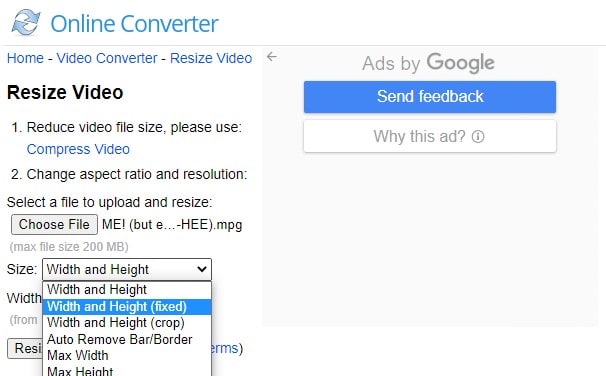 Pros
There is an option to change the video border in one of the preset options
You can choose any one of the preset or manually set the values yourself
No limit on the length of the video to be uploaded
Cons
It has no social media platform preset
You can only upload a maximum of 200MB file
A simple online GIF maker that can make and edit GIFs, convert video to GIF, Rotate videos, add effects, cut and resize video online for free. An additional bonus is that this site is still constantly being updated, and they are always getting new features and reviewing the previous ones. One downside is that this site can not export videos in all image formats.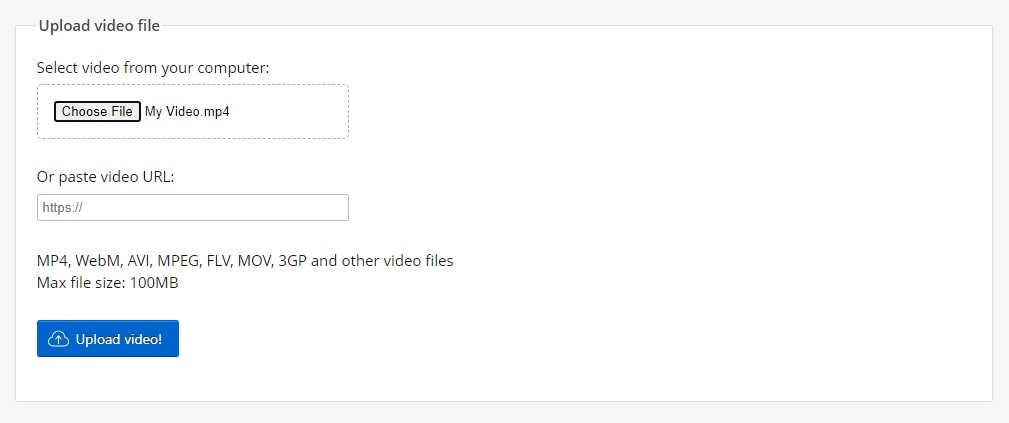 Pros
Active customer service and constant update
You can upload your video for video size converter online through a URL
Cons
You can only export in a few image formats, though you can import a normal video
There is a very small limit on the size of the video to be uploaded
Another multimedia app appears on the list. Animaker is just like any impressive online tool; it features a lot more than just one tool, you will be required to log in before proceeding with some tasks, and the interface is a plus too, pretty neat design, so to say. Easily create short videos and edit videos on Animaker, including an online cropper. Needless to say, you can resize and crop videos to any size that you desire, and it includes preset dimensions that are for the different video-sharing platforms.

Pros
It can cut videos and change the orientation, i.e., from landscape to portrait and vice versa
Preset for virtually all video sharing sites
It supports exporting to most video format
Cons
It has limitations for free users
Some of the tools are too hard to find
HitPaw is arguably one of the best tools both online and offline. It is a multimedia tool that can compete with some of the best tools on the internet. Its features are enough to hold its own against some popular video editors. The process is straightforward, it shows its superiority in the sense that it is completely free, and unlike some other online tools, it doesn't add a watermark to the exported video, it works on any device as long as you have stable internet, it ensures your privacy with its high-level security and we are pleased to announce that it features no ads at all even though it is free.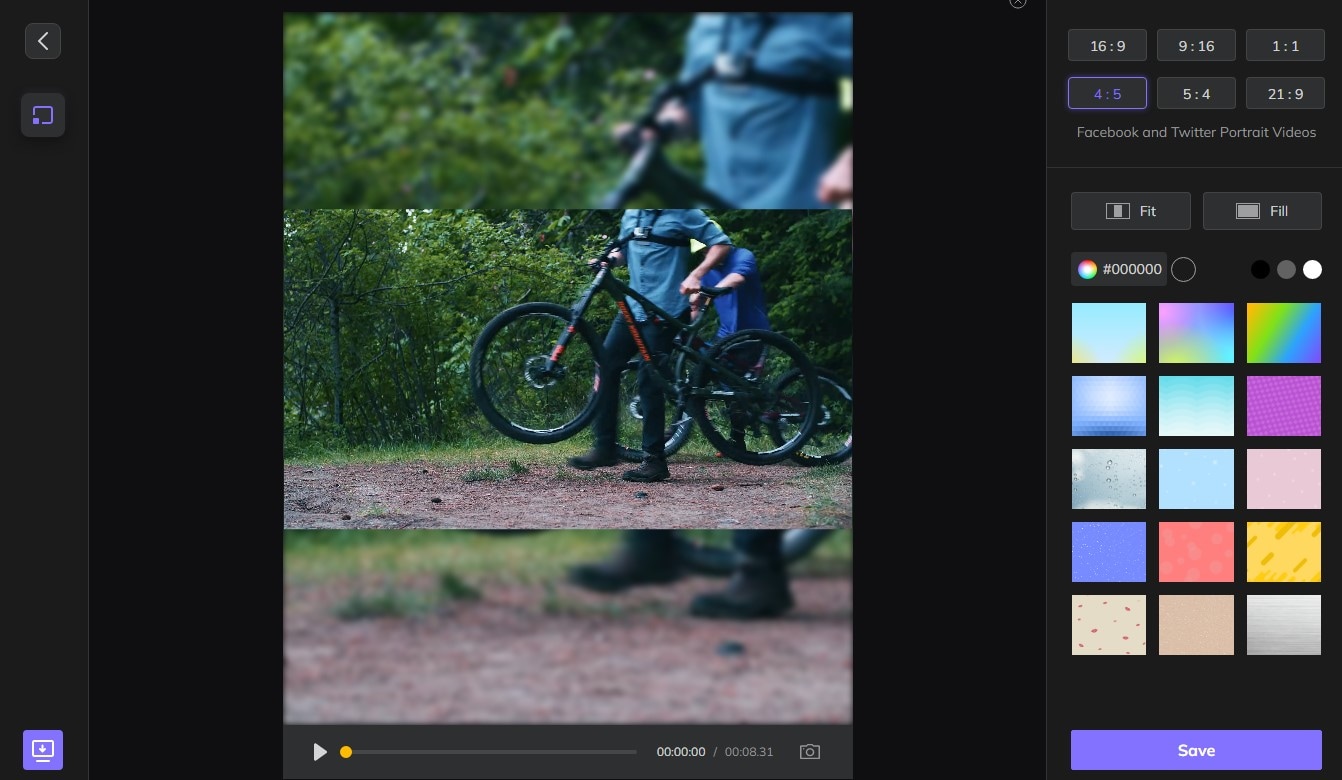 Pros
No watermark, no video upload limit in size or length, no ads, and still completely free
A neat workspace for your video cropping
Upload with a link or from your local disk
Cons
The processing can take some time
You can only export in one format
Clipchamp is a fairly popular video editor, so you can expect great things from it. They have a library of stock images and royalty-free videos that you can choose from to aid your video creation or editing. While it doesn't have enough to boast of in video cropping and resizing, you can rest assured that Climpchamp is still a very decent video editor and can produce a neat and satisfying job with the little that it has. Plus, the number of options available to you in terms of other video editing functions is also an advantage that Climpchamp has over the other so-called online croppers.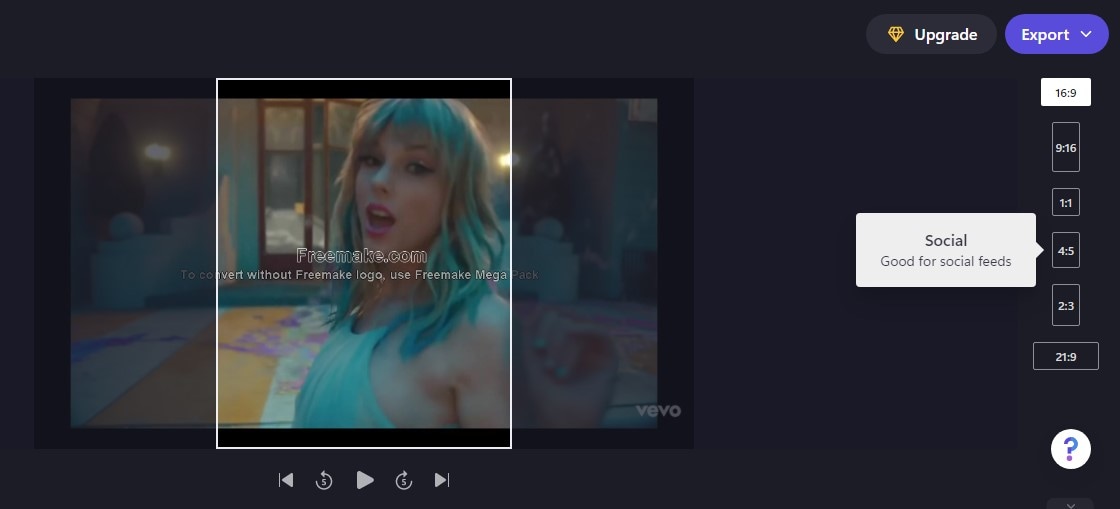 Pros
It has a series of other options available for video editing
You can choose from their stock images and videos to aid in your video editing
Cons
Loading most of the resources on the site can take some time
It doesn't support a lot of sizes and aspect ratio
Part 2. Limitations of Using Online Croppers
1. Most of them cannot frame key objects, which means some important objects would not be in the frame that online tools generate. As some of these online tools are mostly automatic online croppers and video resizers, you have no power over how the video comes out in the end. Some of them will not be accurate and may cut out a frame you want, and some might even leave frames you don't need.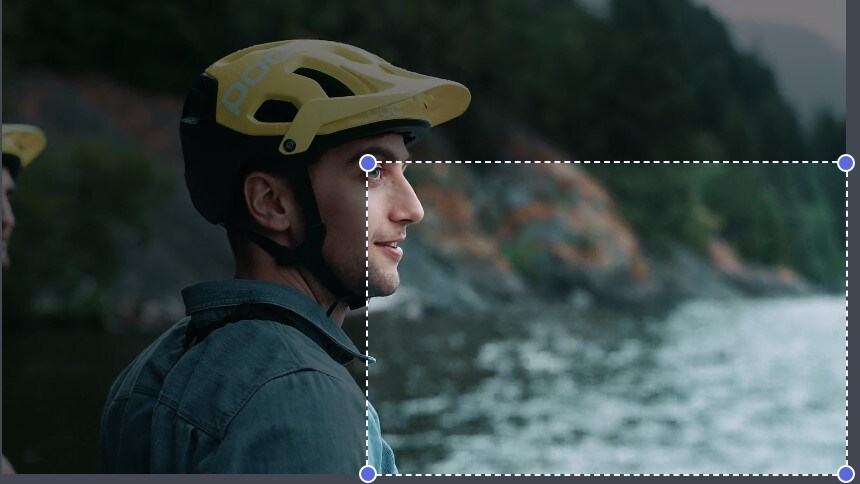 2. Some of them cannot auto-resize the video for different platforms. After looking at our list of tools to crop video online, you will see from the pros and cons that some of them possess the ability to resize video online to certain platform preferences while most of them can't. You can only select from their own preset, which may or may not suit the platform requirements in the end
3. Some would leave the black bars on video. This point is almost inevitable in all video size converters online; after cutting and/or resizing the video, they leave some black bars on the edge of the video, and it might not go away even if you try to resize it again and again.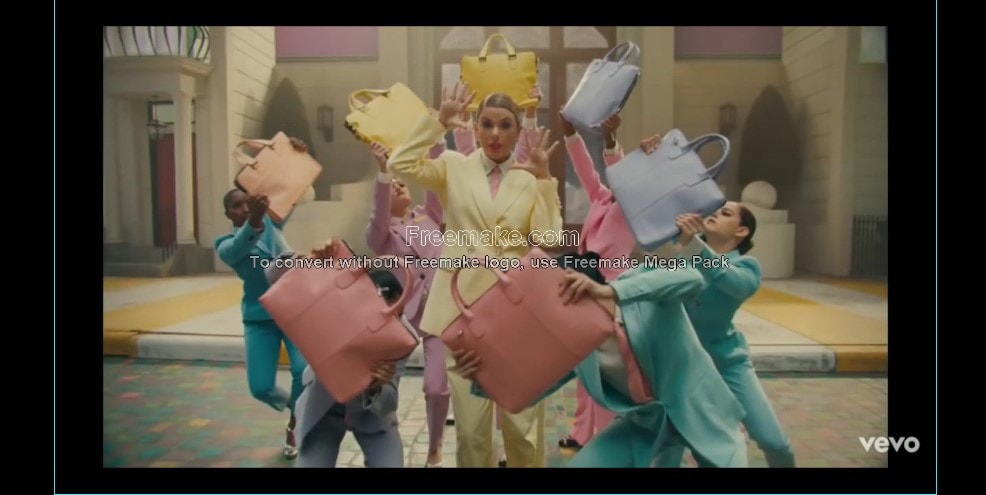 4. Upload speed is slow in most online converters. When uploading the video or processing the tools to resize video online, the processing speed is almost always slow.

5. Online tools support limited video formats. This is a given truth. They can't hold just about enough resources for one to fully enjoy them. Online tools are like quick solutions to video editing problems. Most of them don't contain complex formations like supporting multiple formats, etc.
Part 3. A More Intelligent Way to Change Video Frame Size
As mentioned above, online tools are quick solutions to video editing problems, so if you need a more comprehensive solution for video editing, then standard software is the best way to go. Here we recommended one of the kings of video editing; UniConverter.
This is one of the most hailed video editors of all time. It always stays ahead of the competition every time by bringing in new features and tools. Originally containing popular video editing tools like converter, video compressor, merger, video editor and effect, screen, voice and webcam recorder, DVD burner, video downloader, etc. Now, it brings new features like watermark adder and remover, background remover, intro, outro maker, and lots more others; let's not forget Auto Reframe. Auto reframe is the automatic video cropper and resizer for UniConverter. UniConverter's auto reframe tool features a series of options that makes video cropping and resizing very easy for you. It has a bunch of preset aspect ratios, most of which are made for uploading on video sharing platforms like YouTube, Facebook, TikTok, VEVO, etc.
Steps to Crop and/or Resize Video on UniConverter with Auto Reframe
Step 1

Launch UniConverter and Select Auto Reframe

Unlike the other popular tools placed in their area, Auto Reframe is located in the Toolbox tab. Launch UniConverter and on the main interface, look to the left side of the screen and locate Toolbox. It should be the last tab on the list. Once you click on it, the screen changes and reveals some other tools. Click on Auto Reframe. You should know that Auto Reframe only comes on the latest version of UniConverter, so if you don't have that, you need to update your UniConverter software.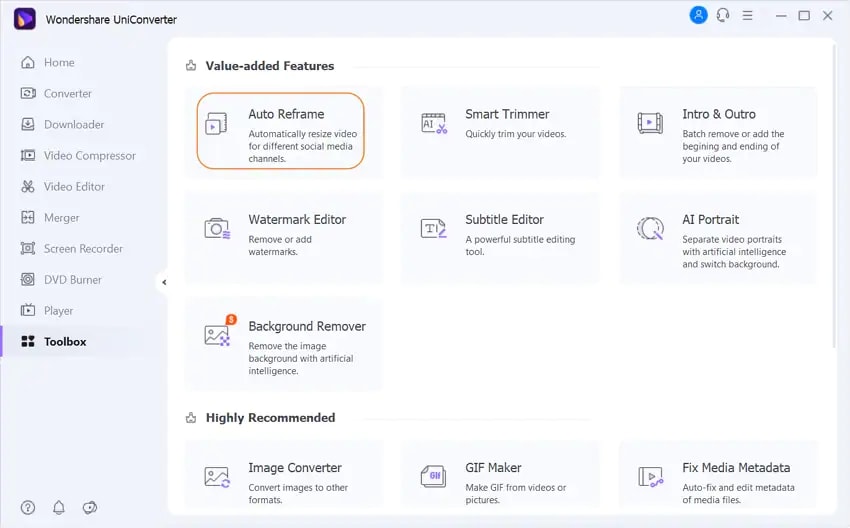 Step 2

Upload your video and Cut/Resize

When you click on Auto Reframe, a new window pops up, which allows you to upload your video. Click on the purple folder in the middle to choose from your local disk. When a video has been uploaded, the features on the right side become active, and you can set the aspect ratio and speed of the video. All formats supported by UniConverter are assigned to one or more platforms. You just need to know which one goes for which and select accordingly.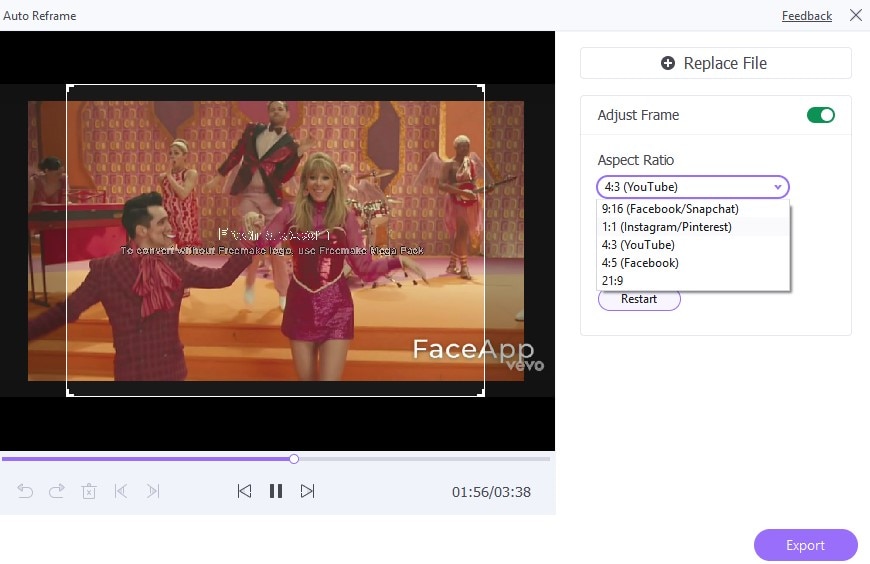 Step 3

Analyze Video and Export

When you have selected an aspect ratio, be sure to preview your video to see if it fits your preference but first, click on analyze to apply the changes you have made. Every time you make a new change to the video, you need to click on analyze to save the settings before previewing or going directly to exporting. To save your file, click on Export at the bottom right corner of the screen.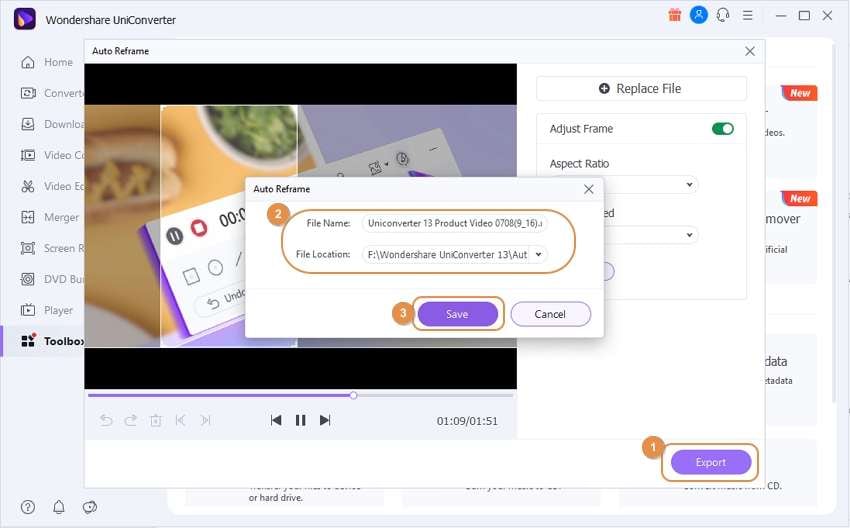 Optional
If you are not satisfied with any of the preset aspect ratios, manually change it by checking the Adjust Frame option. A box will appear on the video preview, and it can seize the key object in the video, so you can keep the main content in the new frame.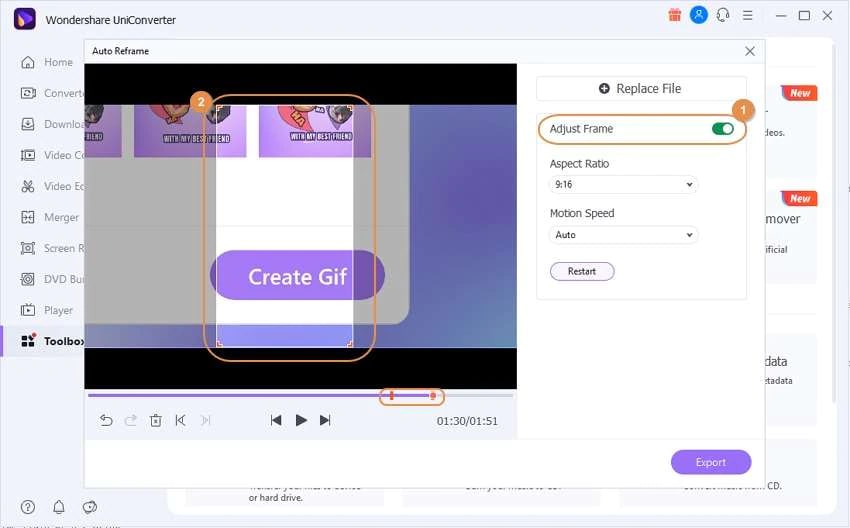 Conclusion
As you have seen, nothing has an advantage and doesn't have a disadvantage, you need to download files and resources for UniConverter, but it contains a lot more than just a video size converter online. As for the other online tools, they are pretty decent, but they may not be able to fully fulfill what you need them for, just the basics. It now depends on the user to think of what they need how each one of these tools mentioned above fit the bill.
Wondershare uniconverter 13 - Best Video Converter for Mac/Windows
5,481,435 people have downloaded it.
uniconverter supports 1000+ formats and handles 90X faster conversion, ensuring that high quality is delivered at all times.
You can add multiple files since the program does batch conversion of files.
The GUP acceleration can help you download online videos at high speed.
You can use the editing suite to remove video background, edit watermark and subtitles, and auto-trim videos.
This software facilitates file transfer to devices like Android and iPhone among others once the conversion is complete.
uniconverter is also capable of handling video compression hence ensures you acquire the video sizes you desire.