How to Create DVD Using the Best Free DVD Authoring Software
Go to Mac
Go to Windows
Whenever we create funny skits, action clips, movies, dub amines, produce music, and more, we always love to save it on a drive or disk we can easily have access to whenever we want to play them. Concerning DVD authoring, you might want to burn your created file to a DVD as a means of storage using free DVD authoring software. You don't have much to worry about as there are thousands of DVD authoring software you can use to create and burn files to DVD on your MacBook or Windows PC.
---
Part 1. The Recommended DVD Authoring Software to Edit DVD Effortlessly on Windows/Mac
As there are thousands of DVD Authoring software, you will need to choose the DVD Authoring software you wish to use. As the choice is concerned, you'll be needing nothing but the best DVD authoring software to Edit DVD files easily on Windows or Mac PC. Introducing the UNICONVERTER 13 – UniConverter 13 is a fully functional media workshop with an easy-to-use and intuitive interface if you're in search of a DVD authoring software to use. This software allows you to create your content through editing – (allowing you to cut, trim, add effects, subtitles, choose desirable supported formats, adjust bitrate, file size, resolution, and more), preview to the file to be burned, burn files to DVD and play the DVD with its media player after the conversion. Aside from being a DVD authoring software, UniConverter offers you as a user a converter, downloader, video compressor, merger, screen recorder, and more even if you're a free trial user.
Steps to Create a DVD with Wondershare DVD Authoring Software Mac:
If it's in your decision to choose Unicoverter 13 as your DVD author software, just download, install and instructively follow the steps below:
Launch UniConverter 13 and Upload the Files
Launch the UniConverter 13 software on your Mac PC and open the DVD Burner tab at the left side of the display window from the home menu. After this, import your files using the Add files or Load files icon or their dropdown options at the top left of the DVD Burner interface.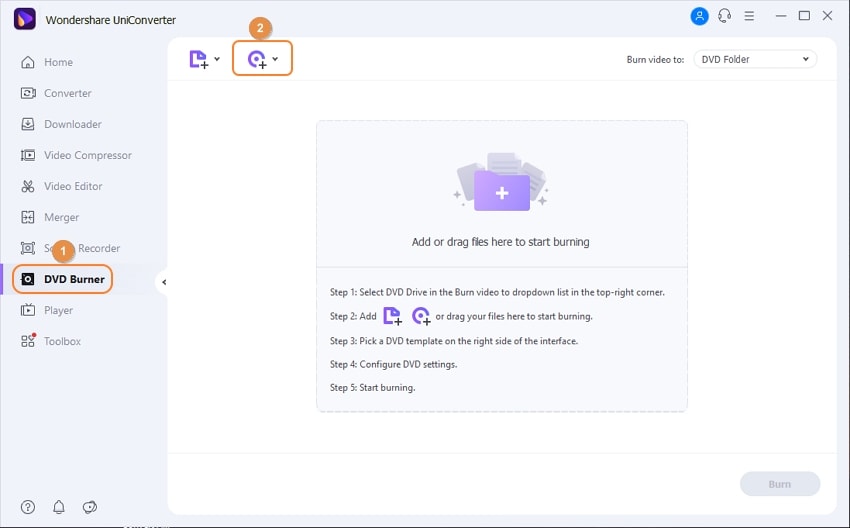 Once the files are loaded to the DVD Burner interface, You are allowed to choose any available DVD template by clicking the left and right switching arrow at the right side of the window. If you wish to edit the files, just click the edit icon next to the template option.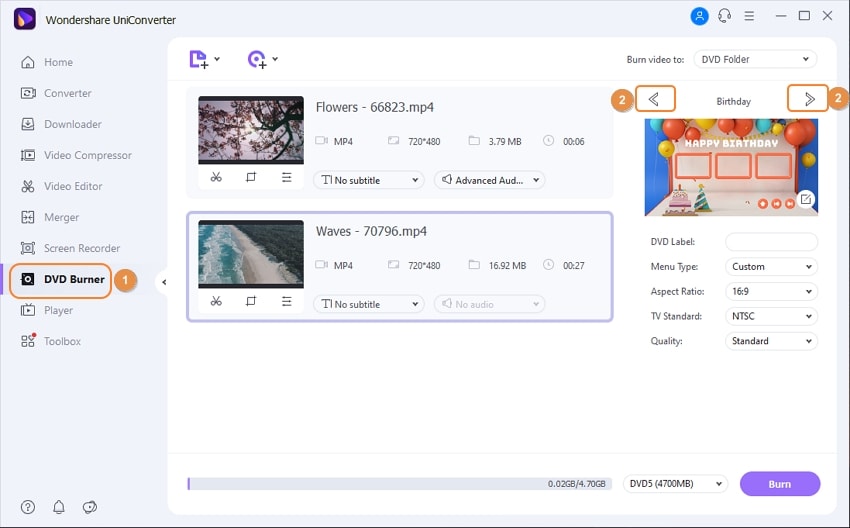 After this, at the right side of the DVD Burner window, below the selected template design, input the details of DVD label, Menu Type, Aspect Ratio, TV Standard, and Quality.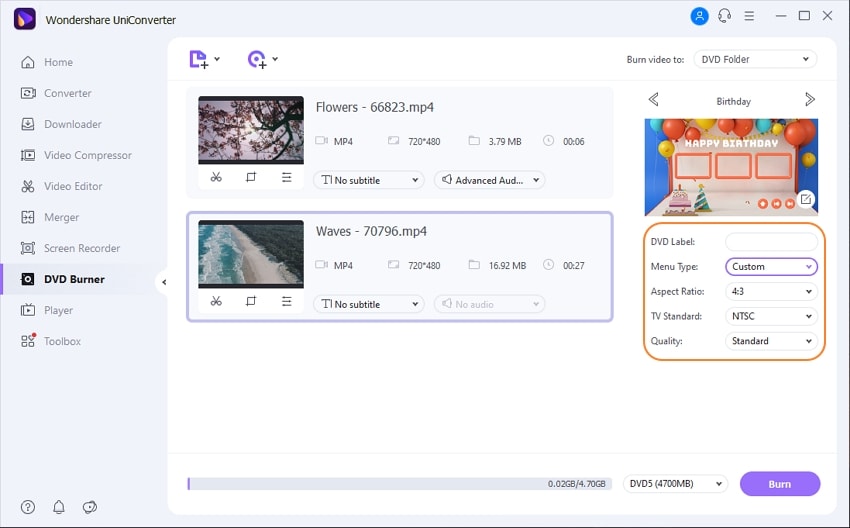 After inputting all the details, select the DVD you wish to burn the files. Then, click the Burn button to start the burning process.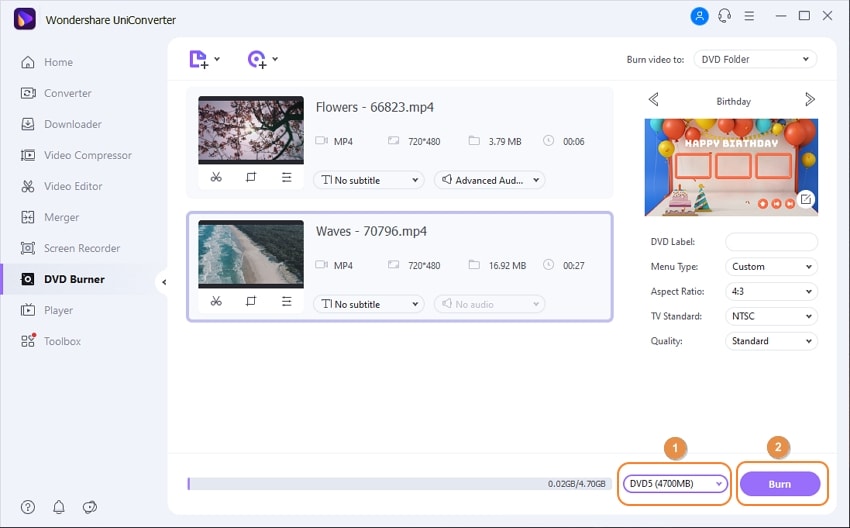 ---
Part 2. Other 5 Free DVD Authoring Software
Apart from the UniConverter 13, there are other free DVD authoring software you can use to burn files to DVD if you feel you can't keep up with the standards of the UniConverter 13 in terms of purchasing a subscription plan to unlock some features. Here are a few good DVD author software you can use.
DVD Styler is Linux, macOS, and Windows compatible DVD authoring software with a friendly user interface that allows you as a user to professionally create DVD contents, add effects, animation, add multiple audio tracks, and burn files to DVD on your PC. DVD Styler supports a few more audio/video formats like mp3, mp2, WMV, mp4, AVI, OGG. In a nutshell, you can create professional content using DVD Styler.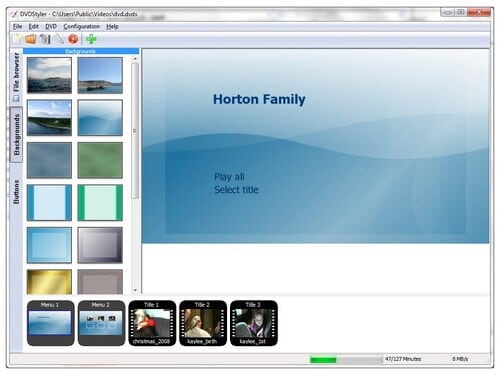 Pros
DVD Styler allows users to individually design the pattern they wish to design their DVD menu.
One amazing feature about this free DVD Authoring software is its simple drag and drop feature.
Cons
This software contains ads that might be more of a disturbance and distraction when operating on the DVD authoring software interface.
Limited audio/video formats compared to software like UniConverter 13.
Bombono DVD is another amazing DVD authoring tool whose compatibility is only with computers like Linux and Windows OS. With Bombono, you can create ISO files, burn files to DVD, create a DVD motion menu, add subtitles, and more. Just in case you're looking for a DVD authoring software to quickly use, you can choose Bombono.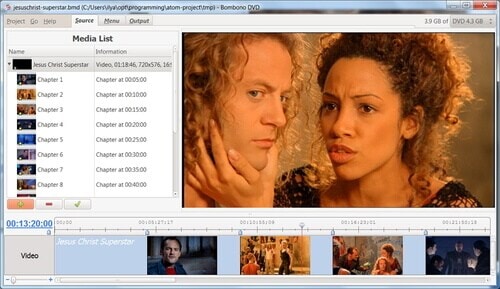 Pros
Bombono has a simple and friendly user interface that makes it easy for you to operate when it comes to DVD authoring.
Cons
This software is completely free only on Linux but requires payment or a subscription plan if you wish to use it on a Windows PC as you're limited to few features.
Limited supported formats.
Just as we have other free DVD authoring software, so is DVD flick available. It is a nice software that delivers users a real-time bitrate, add subtitle, create motion menus, burn files to a DVD in different supported formats, then gives you a chance to play the disk on a DVD player, home cinema, or a media house, when it comes to DVD authoring. DVD Flick also allows you to create additional chapters just in case you wish to add more files.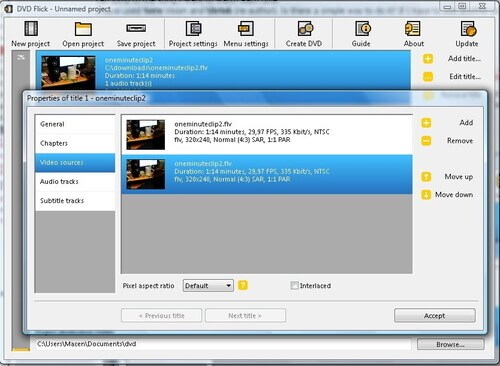 Pros
DVD Flick supports more than 45 formats with 60 video codecs and 40 audio codecs.
The software is ad-free.
Cons
It is only available to Windows users.
The software can't be recommended if you want exceptional professional experience.
DeVeDe is a windows compatible software you can choose for DVD authoring on your PC. The software has an already customized background and a menu that perfects your authoring work as you convert or burn AVI, MP4, MPG, and other supported formats to a playable DVD, CVD, or VCD video. Asides from this, you're open to additional features like menu preview, option for no menu, delay audio, create DVD with 5.1 channel sound, add subtitle from sub and srt formats, set video rate, etc.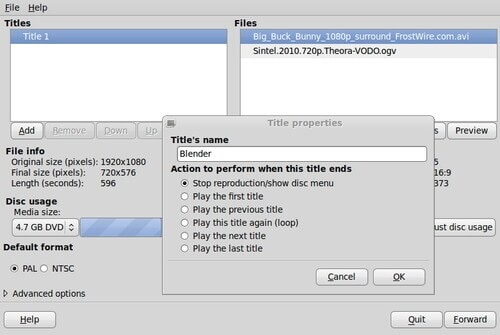 Pros
DeVeDe is a free software.
With DeVeDe, you can convert and burn multiple files into a single DVD.
Cons
This DVD authoring software is unavailable to Mac users.
DeVeDe lacks video editing features.
This is a full-time free functional software that could be used for DVD authoring with its exclusive features that include a downloader, uploader, recorder, and converter. DVD Videosoft Free Studio allows you to burn files of different formats to a DVD despite its supported formats are limited.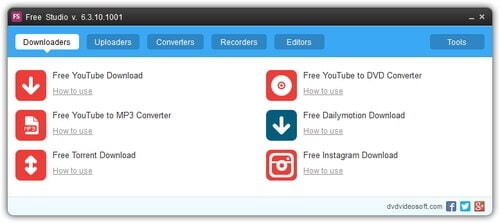 Pros
The software is safe to install on your PC without any adware or spyware.
You're permitted to download videos from Youtube and few other websites.
Cons
It is only compatible with Windows OS.
The DVD author software has limited editing tools.
---
Part 3. The Comparison Between Professional DVD Authoring Software and Free Ones
If you have a problem choosing the best DVD Authoring Software for DVD authoring, you can use the comparison table below to make your best choice
Features/Program

Wondershare UniConverter

DVDStyler

Bombono DVD

DVD Flick

DeVeDe

DVDVideoSoft Free Studio

Burning DVD, CD, and Blu-Ray discs
Yes
Burn DVDs
Burn DVDs
Burn DVDs
Burn DVDs
Yes
Burn Videos in any format
Yes, support more than 1000 formats
Limited format support
Limited format support
Support more than 45 formats
Limited format support
Limited format support
Built-in video editor
Yes
No
No
No
No
No
Set DVD Templates
Yes
No
No
No
No
No
Download Videos
Yes, from more than 10,000 sites
No
No
No
No
Yes, from YouTube and few other sites
Adding background image and music
Yes
Allows background image
No
No
Allows customizing background
No
Platform
Windows/Mac
Windows/Mac/Linux
Linux/Windows
Windows
Windows/Ubuntu, and other Debian based systems
Windows
---
From the above table, you'll see that UniConverter 13 has proven to be nothing but the best option you can go with if you've decided to crown your DVD authoring works in the best quality.
DVD
1. Burn Video to DVD

2. Convert DVD to Video

3. DVD Burning Software

4. Play DVD

5. DVD Tips