3 Ways to Burn MP4 to DVD on Windows 10/8/7
Go to Mac
Go to Windows
How do you burn MP4 files into DVD-R? A question from Quora
There are scenarios that might force you to burn MP4 to DVD. For example, MP4 is a universal format, but you can't use it to watch your favorite movie on home DVD due to compatibility issues. On top of that, you might want to create a physical copy of your MP4 file in case of accidental loss. In that case, you'll have to convert your MP4 files to DVD. So in this article, I'll show you how to burn MP4 to DVD using different options.
But converting your MP4 files to DVD is easier said than done. For starters, you'll need to find the best converter tool. But with the internet filled with different MP4 to DVD converter programs, finding the perfect fit for your needs can turn out to be an unexpected challenge. Lucky for you, I took my time to dig in and get you these three MP4 to DVD burners that won't disappoint.
---
Part 1: Use a Professional DVD Burner UniConverter
Although there is no formality to follow when choosing an MP4 to DVD conversion software, picking the right one is still very important. So if you want to have a hassle-free process with lossless quality output, only one program can assure you of that: UniConverter 13. With this program, you can burn MP4 to DVD Windows 10 and a whole host of other formats. On top of that, you can personalize your DVD by adding templates, subtitles, music, and many more.
Step by step guide on how to burn MP4 to DVD on PC using UniConverter 13:
Download, install and launch UniConverter MP4 to DVD burner
After downloading and installing UniConverter 13, launch it on your PC and then select the DVD Burner tab. From there, you can drag and drop your MP4 files to the home screen. Alternatively, you can select your MP4 files/folder by clicking on the + Add Files drop-down menu, or you can click the box at the center of the interface to upload MP4 files. You imported files will be displayed as thumbnails.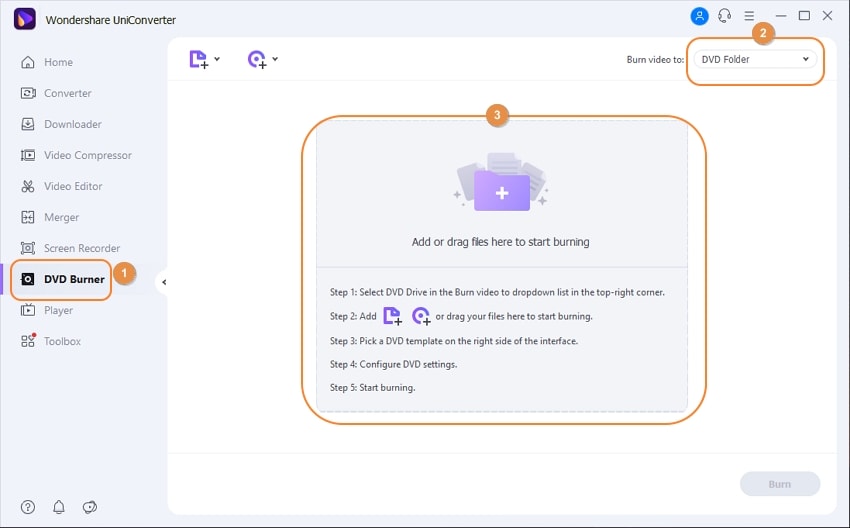 Edit your MP4 videos (Optional)
Although this step is optional, you might still want to customize your MP4 files to suit your needs. To do that, simply select one of the icons located at the right side. With this feature, you can edit Menu Type, Aspect Ratio, TV Standard, Quality, etc.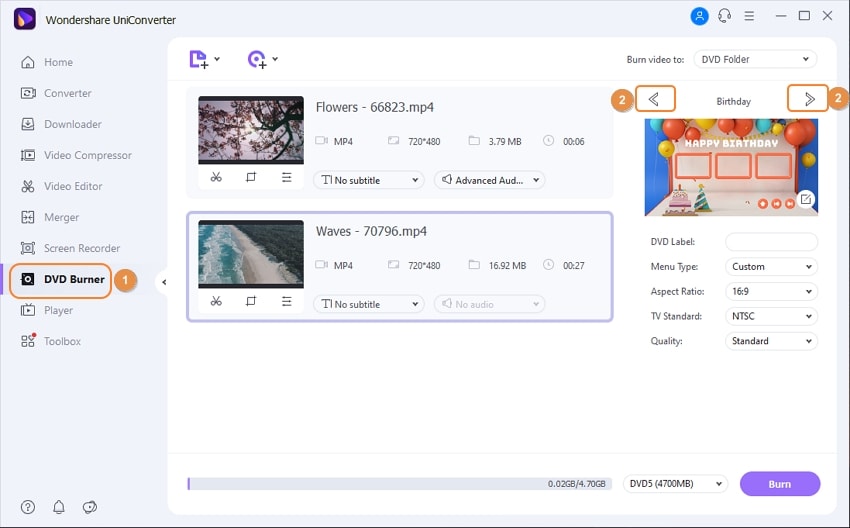 UniConverter 13 comes with 30+ DVD templates to choose from. Don't also forget to add your favorite DVD background music, DVD title, and other options.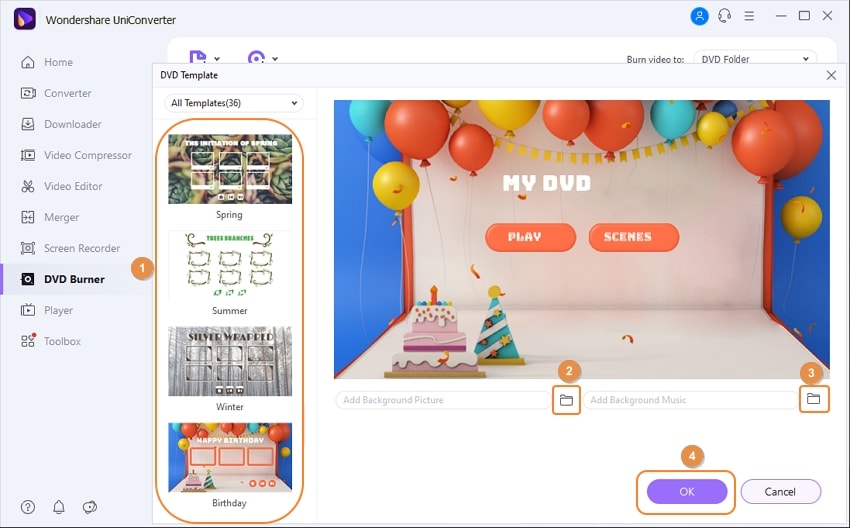 Burn MP4 to DVD with UniConverter burner
Insert your blank DVD into the computer and then select it from the Burn video to drop-down menu. Finally, click on the big Burn button and wait for UniConverter 13 to finish the conversion process.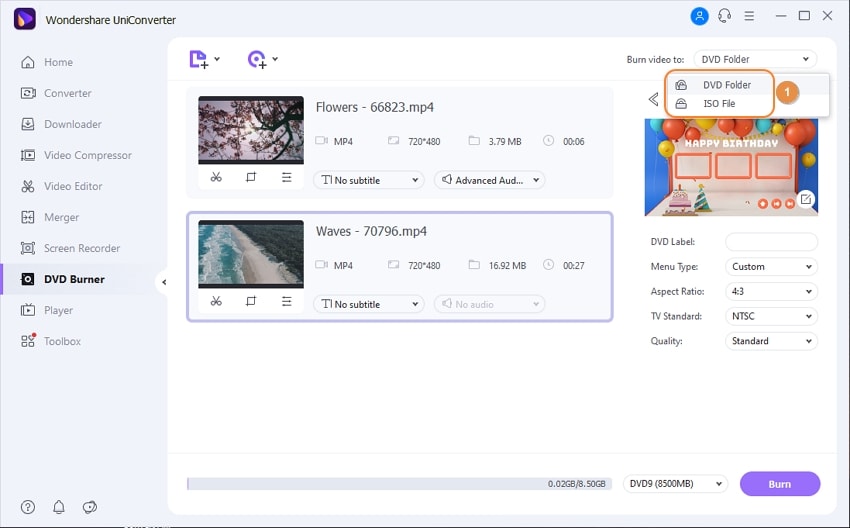 ---
Part 2: Use Windows Built-In DVD Burner to Burn MP4 to DVD on Windows 10
There is nothing as good in life as freebies, and that is precisely what Windows 10 offers with its built-in DVD burner. Just follow these simple steps:
Insert your DVD/CD (blank) into your PC's burner drive.
Click on your PC's

File Explorer

and then select the MP4 files you intend to burn to DVD. After that, select your MP4 files and then right-click on them. Finally, click

Send to

and then choose your empty DVD/CD. Keep in mind that you'll have to send the whole VIDEO_TS folder to your DVD if you intend to burn VIDEO_TS.
Enter your disc name on the pop-up

Burn a Disc

window and then click

Next

. Your MP4 files will now be sent to the DVD burner drive which will open in a new window once the files have been transferred successfully.
The next and final step is to click on the

Drive Tools

button and then click on

Finish

burning. Windows 10 burner will now burn MP4 to DVD.
---
Part 3: Use Windows Media Player to burn MP4 to DVD on Windows 7
Microsoft Windows is not done with you yet because you can also burn MP4 to DVD Window 7 free. Again, follow these steps:
Insert your blank DVD/CD into your PC's burner drive.
Launch Windows Media Player then select the

Burn

tab.
Click the

Burn

options icon after which you'll choose

Data CD

or

DVD

.
Go to

File Explorer

and select your MP4 videos. Proceed to drag and drop them to your Window Media Player Burn list.
Lastly, click on the

Start Burn

button and Windows Media Player will burn your DVD.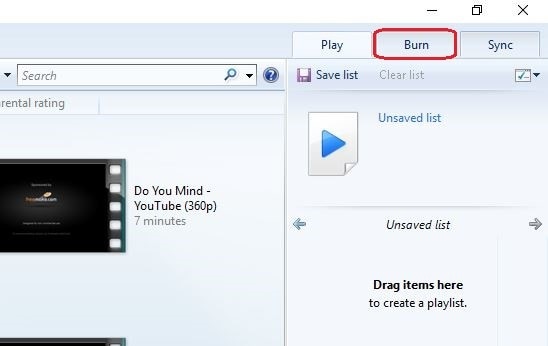 DVD
1. Burn Video to DVD

2. Convert DVD to Video

3. DVD Burning Software

4. Play DVD

5. DVD Tips