MP4 to DVD Converter: Convert MP4 to DVD with Ease
Go to Mac
Go to Windows
Sometimes, pressing situations might arise where you need to burn MP4 to DVD . Well, one of the reasons why you'll need to do this is because MP4 files are not compatible with old home DVD players. Besides, you might want to store your favorite MP4 movie on a removable disc for future entertainment. However, directly burning your MP4 files into DVD isn't the solution because you'll create data files which can't be played using a typical DVD player. In that case, you'll need to create an MP4 DVD for future playback.
With the online space laden with MP4 to DVD converters, getting the perfect fit for your needs can turn out to be an unexpected challenge. You'll need to put into consideration essential features such as conversion speed, device compatibility, and many other features. So in this article, I'll be taking you through the best MP4 to DVD converter tool plus all the necessary conversion steps (images included).
---
Part 1:How to Convert MP4 to DVD Seamlessly
If you're wondering how to convert MP4 to DVD , then wonder no more. That is because UniConverter has you covered. With this powerful desktop app, you can convert all your favorite MP4 movies to DVD and a whole host of other formats like AVI, M4V, MP3, etc.
What's more? You can use this program to edit your video files before conversion. To cut a long story short, UniConverter is undoubtedly an all-in-one tool that you've been looking for.
Step by step guide on how to convert MP4 to DVD Seamlessly
Import MP4 files to Wondershare MP4 to DVD converter
After downloading and installing the program, launch it, and then click the DVD Burner tab. Now start importing MP4 files by dragging and dropping to the home page. Alternatively, you can click on the + Add Files button to import your MP4 file or folder.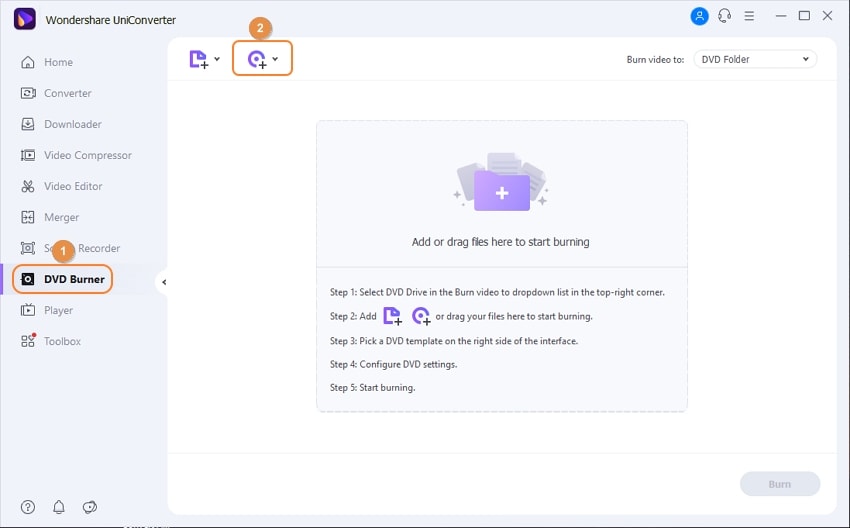 Tips: Batch conversion of MP4 files to DVD is allowed.
Adjust DVD Settings (Optional)
In the DVD Label field, type a name for the disc, select an aspect ratio from the Aspect Ratio drop-down menu, a color scheme from the TV Standard drop-down menu, and a quality from the Quality drop-down menu.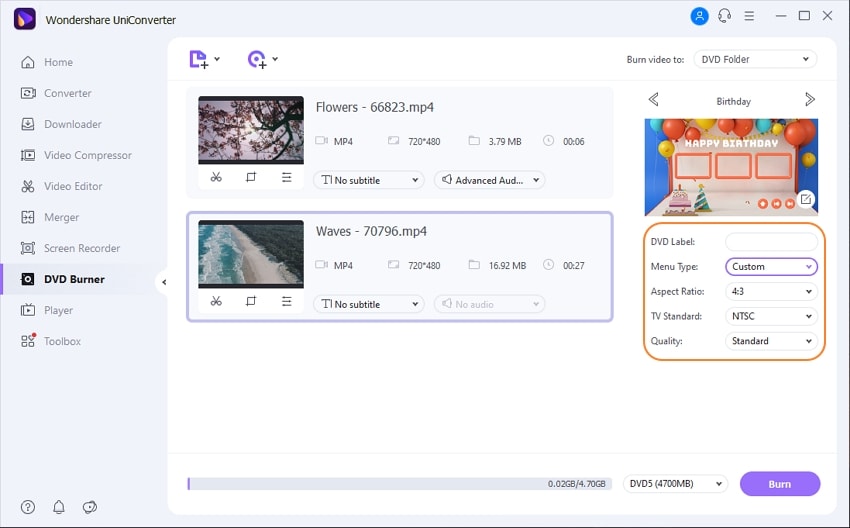 UniConverter 13 also allows you to edit the DVD template. Click the Edit icon to choose the built-in templates you want. In this section, you can also adjust background picture or background music.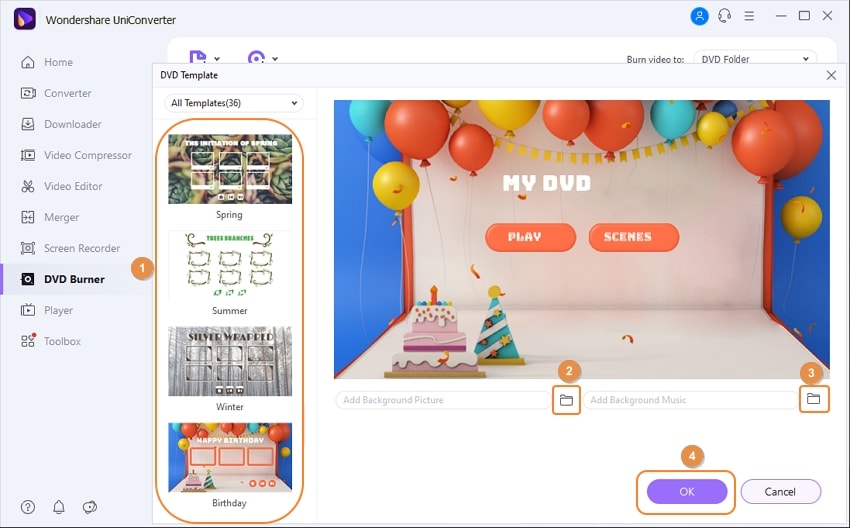 After you've completed step 2, it's now time to select your preferred destination folder for the converted files. To do this, you only have to click on the Burn video to drop-down menu. Finally, tap on the Burn button and wait for your precious DVD files. It's that simple!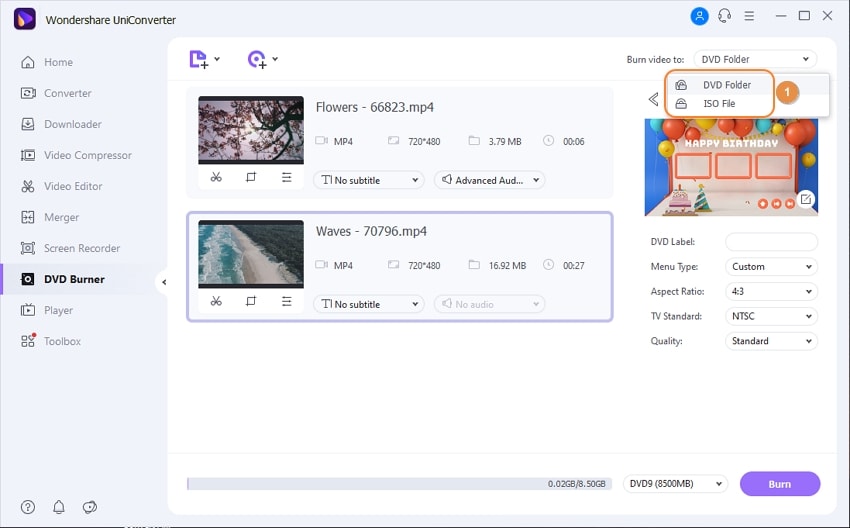 ---
Part 2: Top 3 Recommended MP4 DVD Player
Now that you know how to create your MP4 DVD, it's now time to figure out which MP4 DVD player is best for you. Although you can still use iSkysoft to watch your DVD, it's always a wise idea to have a Plan B. To help you out, I decided to dig in to bring you these three top-of-the-line MP4 DVD players that will come in handy regardless of which computer system you're using.
If you like watching movies on your Mac/Windows computer and you know nothing about VLC, please download it now. In fact, VLC has been the undisputed 'king' of all media players since its launch in 2001. However, such a title doesn't come easy. VLC is capable of playing media files of any type including DVD, MP4, M4V, AVI, MP3, MKV, and many others.
On top of that, you can use VLC to convert your MP4 videos to M4V, AVI, FLV, and many other file formats. Moreover, you can burn DVDs with this program, but you can't convert files into DVD format. Now you see why arming yourself with a powerful converter tool like iSkysoft is vital. But all in all, VLC is an excellent media player.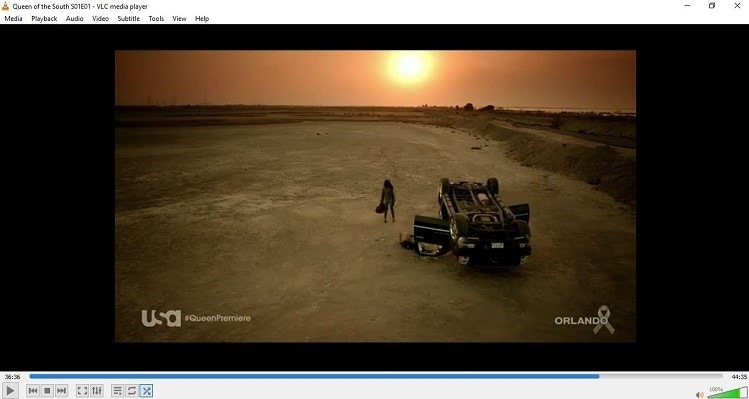 Hot on the heels of VLC is 5KPlayer which boasts of a more modern user interface, unlike VLC. This program is also free to download and install. And as free as it is, it won't infect your computer Trojans, virus, or any other unfriendly plug-ins or malware.
Moving forward, you can use 5KPlayer to play any DVD file - be it home-made or commercial DVD. On top of that, 5KPlayer can also support other file formats including APE, FLAC, MP4, , AVI, WMV, and more. If you're an Apple device user, you can also stream video and music files from iPad, iPhone, and iPod to Windows 7 PC. The only downside is that you can't use this program as a file conversion tool.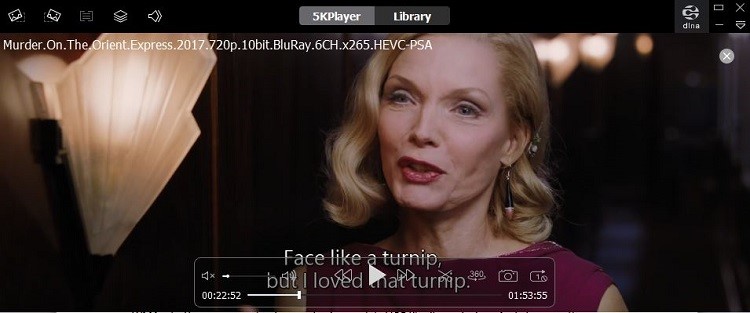 Closing the top three DVD media players is PotPlayer. This South Korean manufactured app is undoubtedly giving the other two options a run for their money. And yes, it shares the developer with the popular KMPlayer. However, PotPlayer falls short of just one thing; this app is compatible with Windows PCs only. So if you're a Mac user, better look at the other two options.
On a much brighter note, PotPlayer supports several file formats including Blu-ray videos, 3D videos, DVDs, MP4, AVI, MOV, and many other formats. Moreover, you can customize options to your liking. In short, PotPlayer is the best program if you want to handle large files, e.g. Blu-ray.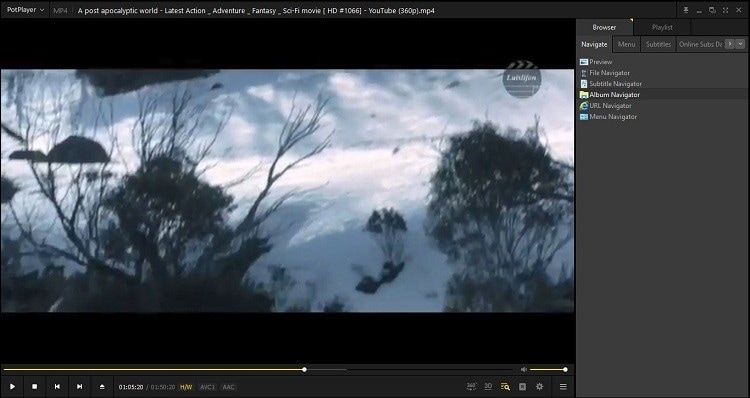 MP4 is a great file format thanks to its compatibility with modern devices and ability to take up less storage space. So to peacefully enjoy your movie on that old home DVD, you'll need to convert MP4 to DVD using UniConverter. But the best part is that you can also watch your DVD using the same program. In the meantime, you can continue enjoying your favorite MP4 movies using these three media players.
DVD
1. Burn Video to DVD

2. Convert DVD to Video

3. DVD Burning Software

4. Play DVD

5. DVD Tips