How to Convert MTS/M2TS Videos with HandBrake Hassle-Free
Go to Mac
Go to Windows
As a free video converter, HandBrake enables you to convert your MTS or M2TS camcorder videos to MP4 or MKV (only two output options provided.) It's a piece of cake to convert MTS/M2TS with HandBrake, of course. But it's a bit complicated to set the video settings. For example, if you want to convert your MTS or M2TS video to MP4 for play on your iPad, you have to adjust the output video settings by yourself according to iPad's video requirement. And HandBrake has already preset some output video formats for iPhone, iPod, Apple TV and more which you can choose when it's needed.
---
Part 1. How to Convert MTS/M2TS to MP4/MKV with HandBrake
Note: With HandBrake, you can only convert the MTS or M2TS video to MP4 or MKV. If you want to convert MTS/M2TS files to other formats like MOV, FLV or 3GP, please go to Part 2.
Step 1: Run HandBrake. Download HandBrake on your computer to convert your MTS/M2TS video. Then install and open it.
Step 2. Import MTS/M2TS files. Now you'll see the import window, please add your MTS/M2TS videos. Only one file can be imported at a time. Alternatively, you can click "Source" at the top left corner of the main interface to open it, or click the "Browse" button to find your file to convert. If you want to perform batch conversions, try a HandBrake alternative instead.
Step 3: Set the output format. Under the Output Settings section in the middle of the main interface, you can choose MP4 or MKV as the output format according to your requirement. After that, adjust your output video settings by clicking the proper tab on the bottom of the interface. If you want to customize the picture settings, just click the picture settings icon at the top right corner.
Step 4: Start to convert MTS/M2TS with HandBrake. Finally, click the "Start" button to convert MTS/M2TS videos with your HandBrake. By the way, you can add more files to the converting queue by clicking the "Add to Queue" button.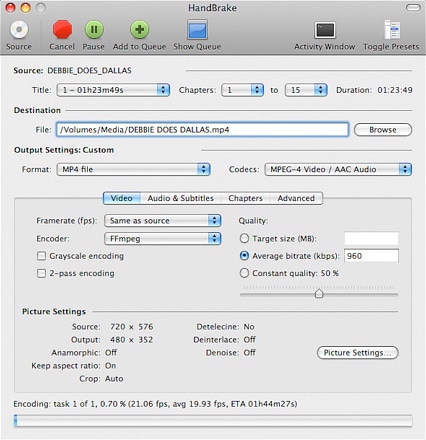 ---
Best HandBrake Alternative to Convert MTS/M2TS to MOV, AVI, FLV, 3GP and More
As it is mentioned above, HandBrake only supports to convert MTS or M2TS files to MP4 or MKV videos. Then if you want to convert MTS/M2TS videos to MOV, AVI, FLV, 3GP or other formats, UniConverter must be your best choice. With this Mac Video Converter, you can easily convert videos between any two standard and HD video formats. In addition, you needn't worry about quality loss at all.
UniConverter(formerly UniConverter)
Convert MTS/M2TS files to various formats, such as MP4, FLV, AVI, MOV, 3GP, etc.
Extract audio from videos and save them as MP3, AC3, WAV, AAC, and so on.
Convert MTS/M2TS files with 90X faster conversion speed.
Burn MTS/M2TS videos to DVD.
How to Convert MTS/M2TS to MOV, MP4, MKV, AVI, FLV, 3GP and More
At first, you should load your MTS or M2TS videos to this software with drag and drop method. By the way, you can achieve that by going to the + Add Files option on the main menu.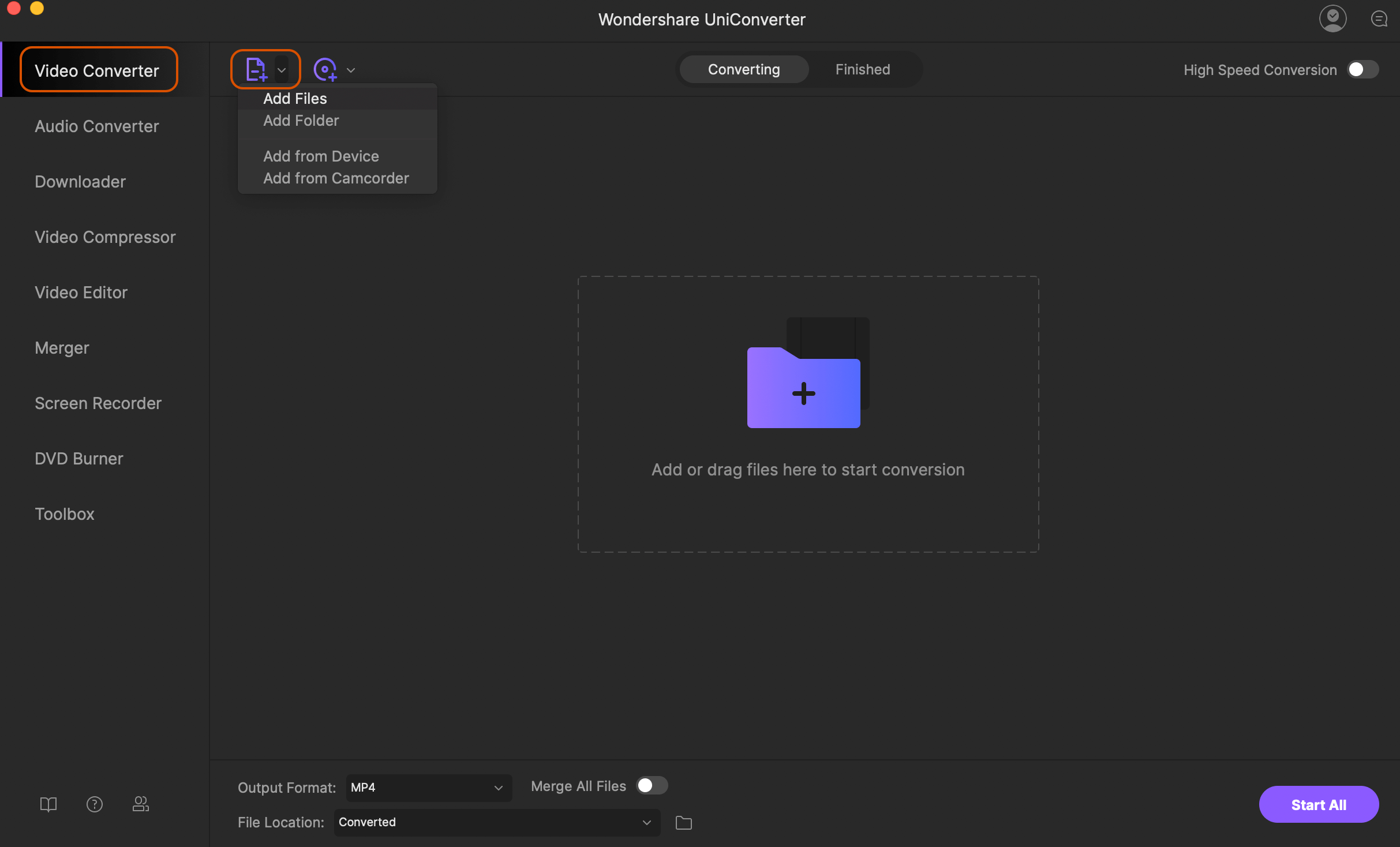 As this software allows you to convert MTS/M2TS to AVI, MOV, FLV, 3GP, MP4, MKV, and more, here you can freely select the output format as you need.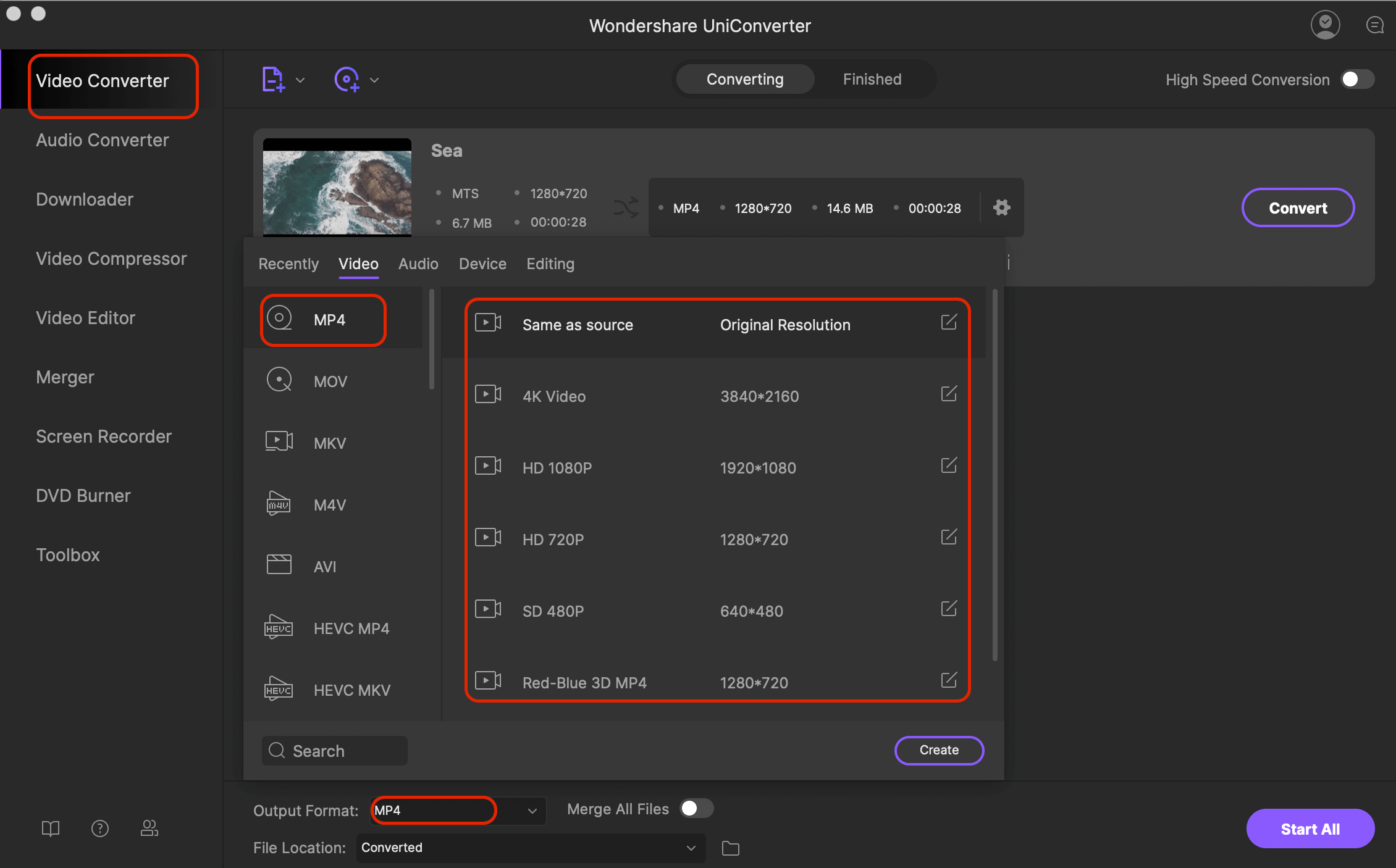 Convert M2TS to MP4 or convert MTS to AVI and other desired video format
After selecting the output format, you can click the Convert button to start the conversion from MTS/M2TS to other format. And this process will be finished within seconds.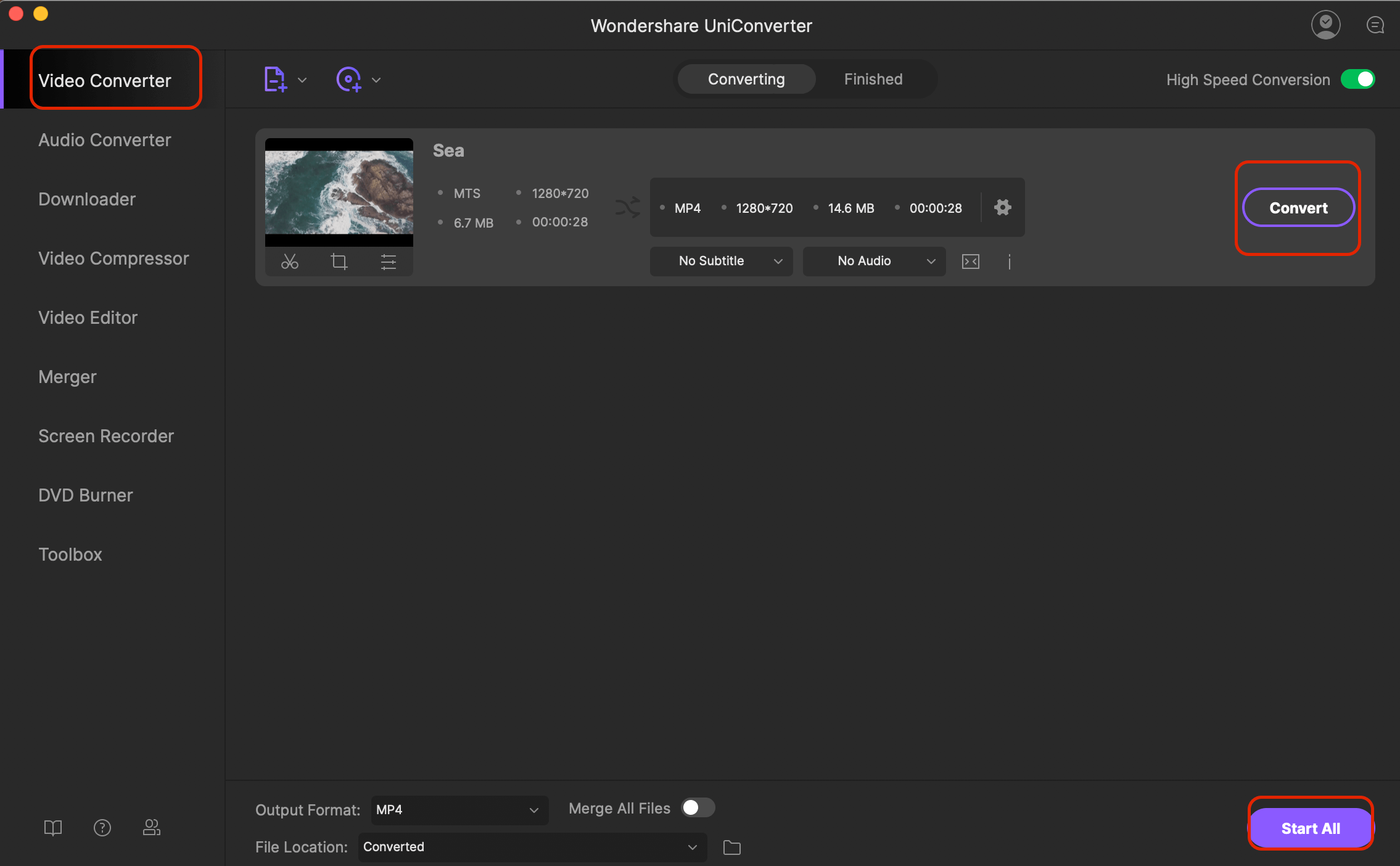 What's more, there are more tutorials about MTS/M2TS conversions: MTS/M2TS to Final Cut Pro, MTS to iMovie, MTS to MOV.
---
Part 3. Common Issue While Converting MTS/M2TS using Handbrake
Handbrake is generally one of the popular tools you could use if you have a couple of MTS files you would like to convert to M2TS. However, this does not imply that the program is absolutely perfect in converting the aforementioned files. Users will at times experience some common problems of varying degrees. Some problems can be easily solved while others would require professional guidance. In this article, you shall be guided on the common issues arising while converting MTS/M2TS files using Handbrake.
1. Out of Sync
This is definitely one of the most frequently experienced issue while using Handbrake. The following are the common causes of the Sync problems.
Player Problems- In this situation, there is a lag by the video player. When the user plays the converted video, the sound or audio codec is delayed ranging from less to several seconds and at times as far as a minute. In this case, you are highly advised to restart your computer in order begin a proper encoding process and make sure that the output file is equal in terms of size with the source file.
Intense Features- Sometimes the video having intense features can be encoded hence making the user not able to get the best results.
System Problems- If your PC has been attacked by a certain virus or malware, an out of sync issue can easily occur. In this case, you will have to restart your computer to have the problem solved.
2. Quality
Whenever this conversion takes place, users have noted that the quality of the output file gets so much affected. In fact, the video pixels are as well affected and using a Handbrake alternative program can only solve this issue.
3. NO Valid Source
At times the user could receive an error like no valid source found. You will have to make sure that your video is capable of playing in VLC.
4. Subtitle Issue
Sometimes users can add subtitles and not in the correct way. The corresponding error message is always displayed. To solve the issue, check that the steps of adding subtitles have been well adhered to and if persist just use another program.
---
Part 4. UniConverter VS HandBrake
Although a number of users like using Handbrake due to being free and loaded with an array of features, there are however some shortcomings of the same program. For this reason UniConverter comes in as the best alternative.
Features

UniConverter

Handbrake

Batch Conversion
Supports batch conversion
Lacks the batch conversion capability
File Formats
Supports nearly all formats
Supports fewer formats
Conversion Speed
The speed is 90X faster
Has a normal conversion speed
Compatibility
Fully compatible with various OS and devices including hot ones
Not much compatible with devices
Quality
There is no loss in quality of the target file
There is a significant loss of quality of target files
Save Destination
This program allows users to save their files not only on computer but also on various platforms like Facebook, and YouTub
This program lacks such a feature
Camera Video
1. Import Camera Videos to Apps

2. Play Camera Videos on Devices

3. Convert Camera Videos to Other formats

4. Camera Video Converters

5. Camera Video Tips