The .mpg format is used for any video or MPEG animation using the MPEG-1 or MPEG-2 codec, both of which were designed for lossy compression of audio and video. The .mpg files encoded using the MPEG-1 codec have been around for quite a long time, as the codec had been designed to compress raw digital video, typically of VHS quality and audio of CD quality to about 1.5 million bits per second. The MPEG-2 codec, on the other hand, is inclined on handling interlaced images with bit rates of more than four million bits per second. It has been used for digital television broadcasting and DVDs. This brought the release of MPEG-2 players which are also capable of playing media encoded using the MPEG-1. This is the reason why any DVD player that you may have at home can play your VCDs just as it would flawlessly play your DVDs.
Part 1: How to Import MPG into Final Cut Pro
You might have realized by now that converting your .mpg video files is the most effective solution you can use to have your .mpg videos up and running in Final Cut Pro. You will want to use media conversion software for your Mac PC. There are pretty much a great number of video conversion tools that you may encounter while searching the Internet. A few to none, however, match the quality and efficiency that you get when using UniConverter on your computer. To know how to use it to be able to import your .mpg video files to Final Cut Pro, read on the following steps:
Easily Convert MPG to Final Cut Pro Supported Format:
Convert 150+ Formats: Convert video and audio formats up to 150+ and extract audio from any video clips.
Custom Video: Personalize videos with diversified video editing tools such as Trim/Crop/Rotate, Add Effects, etc.
Optimized Presets: Directly convert files to fit Apple devices and Android devices.
Transfer to Devices: Easily transfer converted video or audio files to mobile phones or other devices.
Lossless Conversion: Convert videos with encoder losslessly at 90X faster speed than other video converters.
Convert Online Video: Download or capture any online video with the supplied video and audio downloader.
Supported OS - Compatible with Windows 10/8/7/XP/Vista, macOS 10.15 Catalina, 10.14 Mojave, 10.13 High Sierra, 10.12 Sierra, 10.11 El Capitan, 10.10 Yosemite, 10.9 Mavericks, 10.8 Mountain Lion and 10.7 Lion.
Guide to Convert MPG to Final Cut Pro Format on Mac
Step 1. Add MPG files to the MPG to Final Cut converter
Install UniConverter if you haven't yet. Once installed, launch it and click on "Add Files" button on the top of the window. At this point, you can start importing your MPG files to this converter. You can either use the easy drag-and-drop feature to add the MPG or MPEG files you want to convert in an instant or use the files tab to browse your computer for your .mpg videos.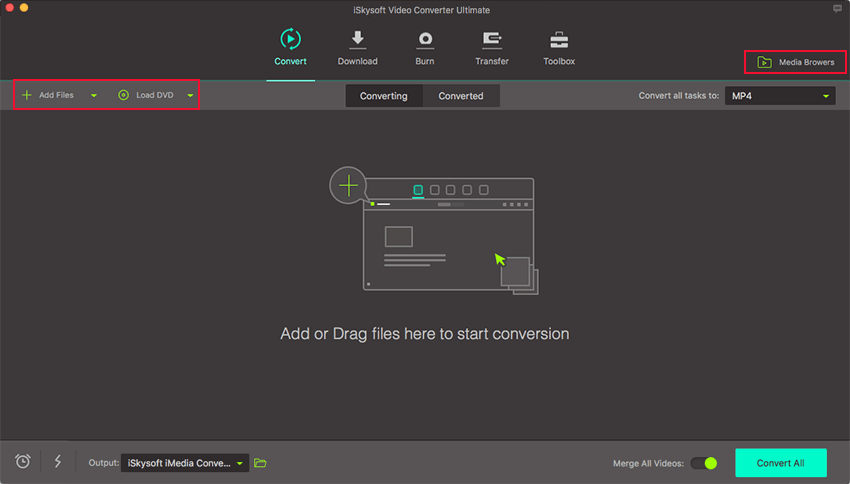 Step 2. Choose Final Cut Pro as the output format
You do not need to bother to choose one of Final Cut Pro compatible formats as the output format. For you convenience, the Mac app has already preset FCP as the output format for you. you can find it in the format tray.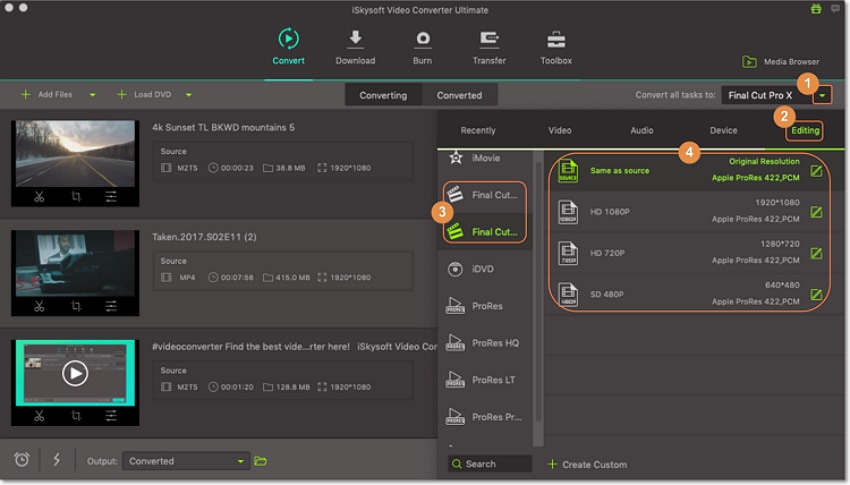 Before the MPG to FCP conversion, you can trim your video files into segments, merge video clips into a new video file, adjust or change the video effects, etc.
Step 3. Start the MPG to Final Cut Pro conversion
If you're sure that you're ready to proceed with the conversion of your files, click on "Convert" to begin the process. All you'll have to do at this point is wait for the converter to finish the conversion process. You can import your .mpg videos to Final Cut Pro once it's done.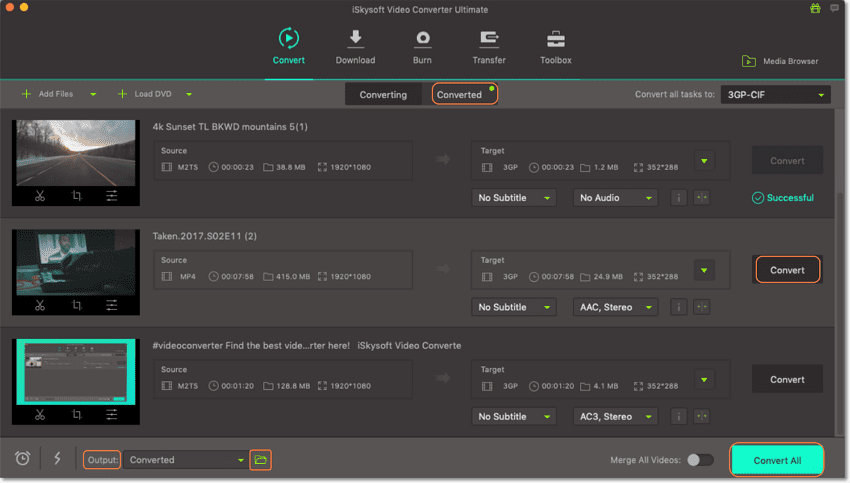 Part 2: How Do I Export Final Cut Pro Videos to MPG?
After you've finished a project in Final Cut Pro using the .mpg files you've converted, you might want to convert the finished video back to the .mpg format so you can watch it on any MPG player you may have.
If you haven't exported your finished project to the .mov format, do so with Final Cut Pro. Now Launch the FCP to MPG Video Converter once more and use the browse or drag-and-drop feature to import your .mov file. Head on to the "Video" category to select the "MPG" format.
Wait for the converter to finish and you're good to go once it's done.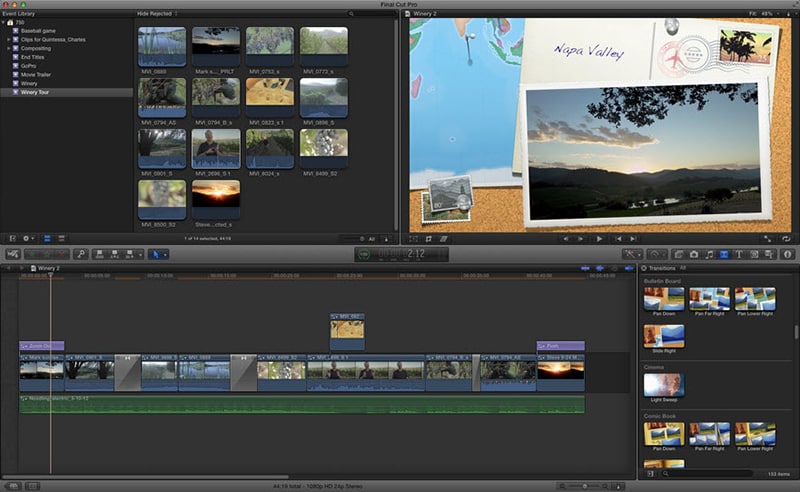 Optional: Online Tool to Convert MPG File to FCP Supported Format
If you don't want to install a MPG to Final Cut Pro converter, you can also try online video converter to convert your MPG videos to Final Cut Pro supported format. Try it below: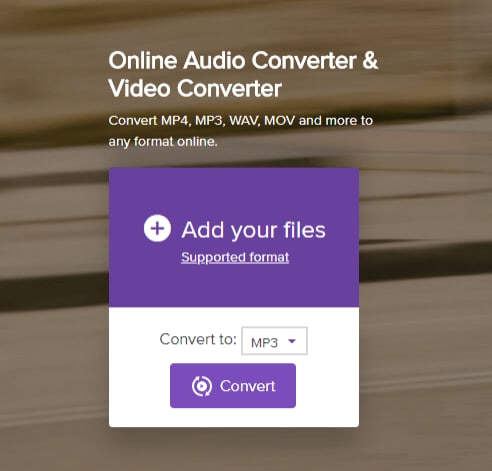 Tips: Why people cannot import MPG to Final Cut Pro
This format, although known very well and used widely, may cause some hassles for videographers and editors, especially those who use a Mac PC to do their video work. Final Cut Pro (FCP), the main professional video editing software on Mac computers, do not handle .mpg files really well as it wasn't tailored to work with all the different video and audio file formats available out there. If there's a video format that works best for FCP, it would be the .mov format. That means that if you're a video editor using a Mac PC wanting to use .mpg videos on your editor, you may have to consider doing some workarounds to successfully import your videos unless you want to encounter the following problems:
#1. Whenever I attempt to import a .mpg video, an error message appears. It says, "No importable files - None of the selected files or folders can be imported. Change the selection and try again." How do I resolve this issue?
The fault that is causing this error is FCP's lack of the right codecs to decode your .mpg video file. Without the proper codecs, Final Cut Pro cannot read your video file's audio and video component. Thus, there is actually no file that can be imported in that case. Perhaps only the conversion of your .mpg file to the .mov format using a codec supported by FCP will make things better for you.
#2. My entire .mpg is successfully imported into Final Cut Pro but I cannot edit it at all. What do I do?
This problem seems to be brought about by compatibility issues. If ever you experience a successful import, but unable to edit it, you should realize that the .mpg format just wasn't made to be compatible with Final Cut Pro. It may be one of the video formats that FCP does not offer full support on. It is highly recommended to convert your .mpg video to make it editable once you import it.
#3. I was able to import my .mpg video properly into Final Cut Pro but there is no audio. How do I make the audio work?
Not hearing the audio of your .mpg video file when you import it is a sign that only the codec used to encode the video component of your video file is supported by Final Cut Pro. It cannot decode the audio component but loads your video file anyway since at the very least, the video component can be decoded. This wouldn't work for you if you really need the actual audio of your .mpg video file. You can, however, solve this by converting it to the .mov format. Take note that the video and audio codecs that you will use for your conversion is supported by FCP or it still won't work.