Best 6 JVC Camcorders You Should Know
Go to Mac
Go to Windows
Smartphones such as the Samsung Galaxy S9 Plus and iPhone XS are giving traditional camcorders are run for their money. But the ugly truth is that no smartphone can offer the kind of footage quality you'll get in digital video cameras, especially JVC camcorders. This brand has been there for the last 90 years and is showing no signs of slowing down. So if you're looking to buy a JVC HD video camcorder, this article is tailor-made for you. You'll also learn how to convert JVC camcorder footage to other formats effortlessly.
---
Part 1. Best 6 JVC Camcorder Recommended
In this part, I've gone out of my way to compile a list of the best JVC HD video camcorders for professionals and amateurs filmmakers. So without much ado, let's dive straight in:
Looking for a camcorder that comes with quad proof protection? Well, here's one for you. The Everio GZ-R550 is a waterproof, shockproof, freeze-proof, and dust-proof camera. This unique combination makes it the go-to device for any video lover out there. It features a massive internal memory of 32GB, perfect for you take as many footages and photos as possible. With this kind of memory size, you can save video footage between 2.5-3.5 hours. Lastly, JVC Everio GZ-R550 comes with an AV cable, USB cord, lens cap, AC adapter, and adapter cable.
Pros and Cons:
+
Huge internal memory
+
5-hour battery life with quick charging
-
Doesn't feature a built-in Wi-Fi system
-
No optical image stabilization
JVC camcorders are known for their quad-proof feature, which is precisely what the Everio GZ-R440B offers. Quad Proof design makes a camera dustproof, waterproof, freezeproof, and of course, shockproof. With its 4GB built-in memory, you can take stunning videos of any event you can think of. It does not stop there, though, because this AVCHD camcorder comes fully armed with a 5-hour battery life to keep you going for as long as possible. You'll also get a USB cable, HDMI cord, SDXC card slot, and AV out.
Pros and Cons:
+
Allows in-camera file editing
+
High capacity internal battery
-
Small internal memory
-
No integrated Wi-Fi
The Everio GZ-R440D is another digital video camera camcorder that boasts of Quad Proof protection. With this camcorder, you can take full HD 1920x1080 AVCHD footage with a 60x dynamic zoom/40x optical zoom. It features a 5-hour battery life with quick charging. And if you thought that it doesn't come with image editing and stabilization abilities, then you're wrong. That aside, this camcorder has a built-in memory capacity of 4GB, which is quite a shame.
Pros and Cons:
+
Allows image stabilization
+
Built-in file editor
-
Limited memory size
-
No integrated Wi-Fi
Coming at a pocket-friendly price tag of around $500, the Everio GZ-R70B promises everything you can expect from an AVCHD camcorder. From its Quad Proof design to an internal memory capacity of 32GB, the JVC Everio GZ-R70B is the ultimate game-changer. Moreover, it comes with an auto LED feature for light intensity variation. Oh, lest I forget, you'll get up to 5 hours of battery life to enjoy taking footages.
Pros and Cons:
+
Supports special effects recording
+
3.0 touch panel LCD
-
Hefty price tag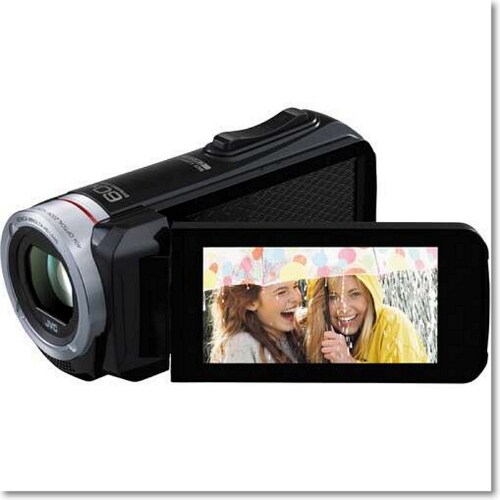 The Everio GZ-R405BEU is a Quad Proof AVCHD camcorder with an impressive 5-hour long battery life and 4GB flash memory. With this camera, you can take full HD 1920x1080 recordings, perfect for HD TVs. Additionally, it comes with a 60x dynamic and 40x optical zoom without sacrificing quality. Lastly, it works with Final Cut Pro X and iMovie.
Pros and Cons:
+
Features a fixed lens protector
+
Works with Final Cut Pro X and iMovie
-
No integrated Wi-Fi
-
Limited memory size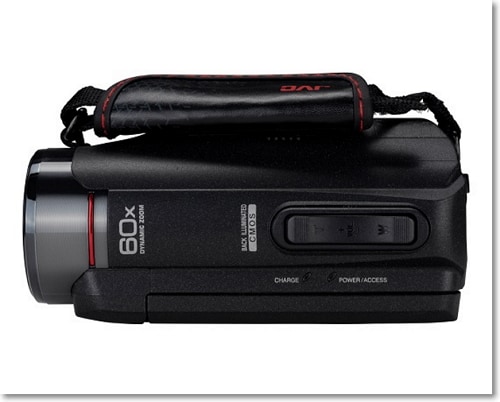 The Everio GC-PX100 is a digital camcorder with SLR-style format. However, at a price tag of $999.95, this is not a camcorder for anyone on a budget. Moving forward, the PX100 is capable of taking high-speed recordings at around 600 frames per second. For that reason, you'll find it mostly in the sports industry (e.g., training grounds) for later video analysis. It can take full HD 1080x720p footage on its 32GB internal memory.
Pros and Cons:
+
Superb design and controls
+
Excellent image quality
-
Overpriced
-
Low resolution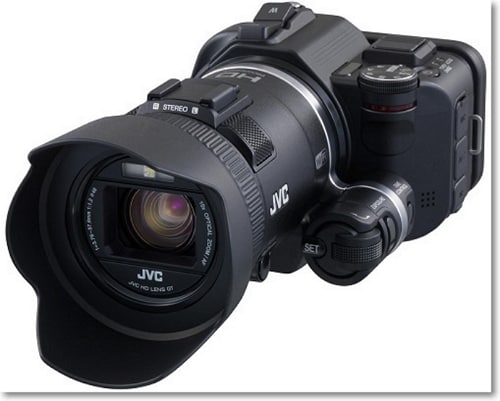 ---
Part 2. Convert JVC Camcorder Video to Any Other Format Easily
The JVC camcorders mentioned above are the best you can think of in 2019. Unfortunately, most AVCHD camcorders don't come with Wi-Fi integration, making it difficult to transfer your HD videos on the go. In addition to that, most modern devices such as smartphones and tablets don't support JVC camcorder's MOD or TOD formats.
Luckily, UniConverter is here to help out. With this professional software, converting your JVC camcorder videos to other popular formats like MP4, AVI, MOV, etc. has never been easier. Furthermore, you can edit and burn your footage to a DVD for playback on your big HD TV. And of course, it allows users to transfer JVC videos to other external devices.
UniConverter(formerly UniConverter)
Convert JVC camcorder footage to 150+ formats, e.g., MP4, MKV, MOV, AVI, etc.
Edit videos before converting/burning by trimming, cutting, rotating, applying effects, etc.
Edit videos before converting/burning by trimming, cutting, rotating, applying effects, etc.
Directly transfer JVC camcorder videos to other devices via HDMI or USB cable.
Step by step tutorial to convert JVC camcorder footage to another device-friendly format:
First of all, download and install iSkysoft JVC Video Converter on your computer and launch it. Next, connect the JVC camcorder to your computer using HDMI or USB cable. Now click + Add Files > Add from Camcorder. Your recordings will be imported as thumbnails.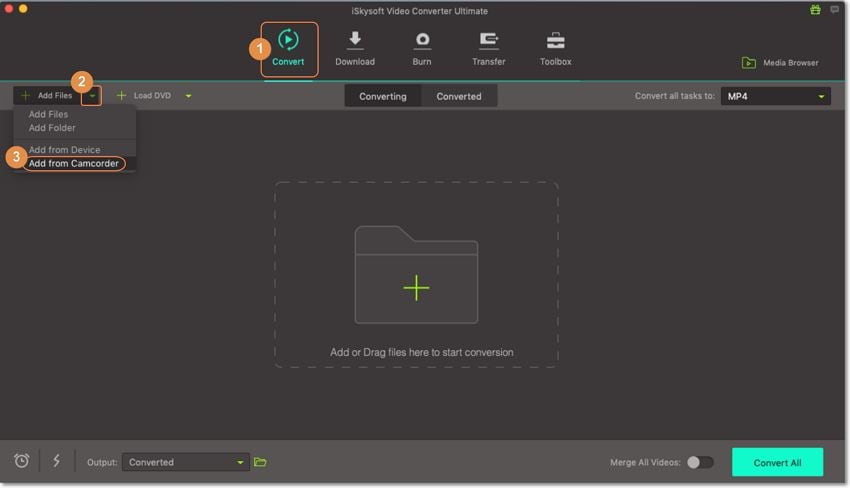 Choose your target format
Click the drop-down profile beside that Convert all files to label and then click Video. Here, we'll go with MP4 because it's a universal format. Also, select your video resolution.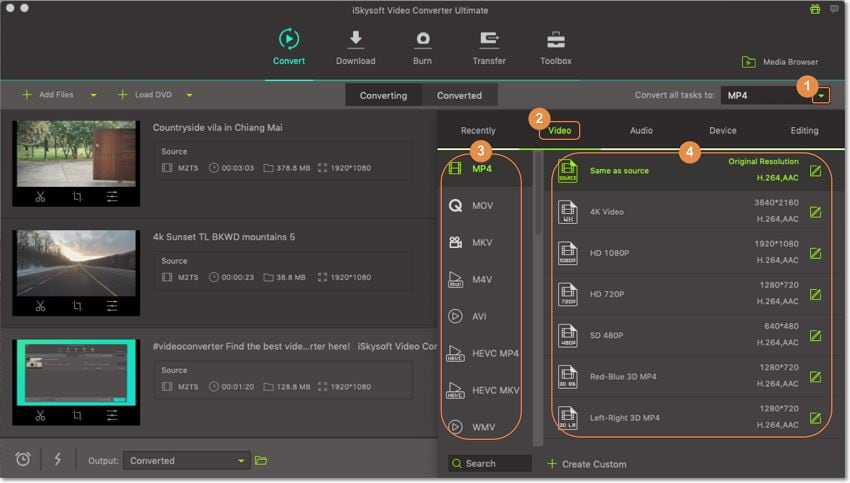 Click Output below the screen and set the destination folder. Finally, tap Convert All. iSkysoft JVC Video Converter will save your converted footage in the Converted tab. You can now burn, transfer, or watch your JVC MP4 files.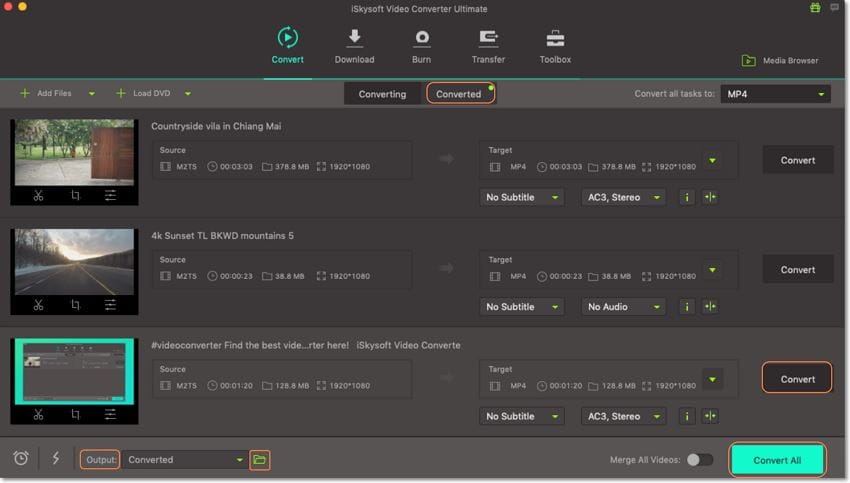 Whether you're using a Windows or Mac system, UniConverter will convert all your files with ease. This way, you can open your files on any device.
Camera Video
1. Import Camera Videos to Apps

2. Play Camera Videos on Devices

3. Convert Camera Videos to Other formats

4. Camera Video Converters

5. Camera Video Tips