Will Kodi (XBMC) Play M2TS Files
Go to Mac
Go to Windows
When you have a pile of M2TS files, the next stage is finding a great player to view them and relive the moments. There are many applications to play videos, such as Kodi (XBMC). However, what happens if there is no procedure of how to play M2TS file with Kodi? The M2TS format makes things difficult because it is not compatible with the majority of the video players in the market.
So, the only option left is to convert M2TS to MKV format. There are also several converters for this task. In this article, you will learn about two converters. The best among them is UniConverter, because it not only converts but also handles multiple M2TS files at a go, and does not compromise video quality.
---
Method 1. Use Free M2TS to MKV Conversion with MakeMKV
You can convert M2TS to MKV for free using MakeMKV, so that you can proceed to play M2TS file with XBMC in an acceptable format. MakeMKV, also known as transcoder, is a simple tool that converts videos from encrypted disc to MKV format, without changing any information. So, as the name dictates, the application only converts files to MKV. The software functions perfectly in both Mac and Windows computers and comes with shareware and freeware functionality.
MKV format is the most preferable because it preserves chapters and stores many video tracks with all the respective metadata, just like other formats such as MOV, MP4 and AVI. It stores short video clips, and hence is perfect for your M2TS videos.
MKV is different from M2TS format because various players are compatible with it and accept to play its files. Such include Kodi, MPlayer, VLC media player and Microsoft Movies. On the other hand, M2TS format is often rejected by multiple applications, which causes conversion. It is incompatible with Kodi media player software, and hence requires conversion to MKV to allow you play M2TS file with XBMC.
Start the free M2TS to MKV conversion by first downloading MakeMKV from its official website and running it in your computer.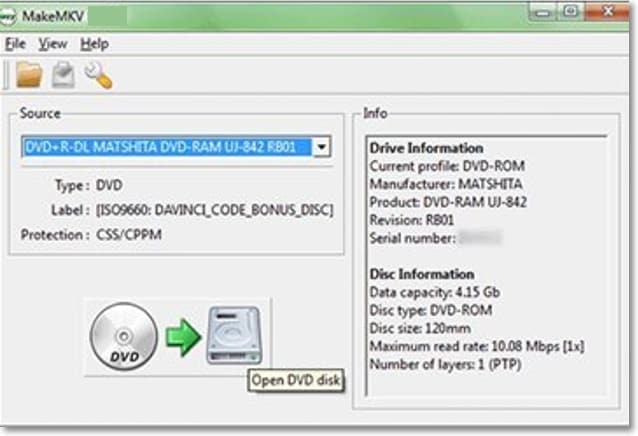 Select the respective files
From the main interface, access the files sources through File function. The M2TS can either be in a file or disc.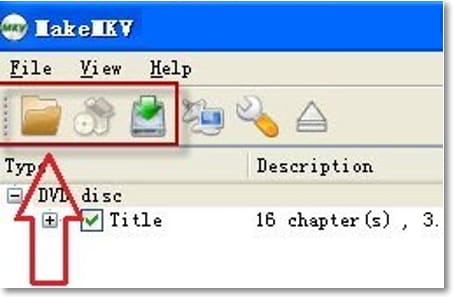 Go to the screen's right side and choose Output Folder, to specify the output destination.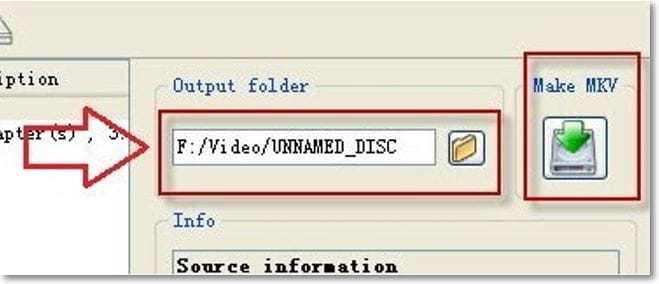 Initiate the process to convert M2TS to MKV by clicking on Make MKV.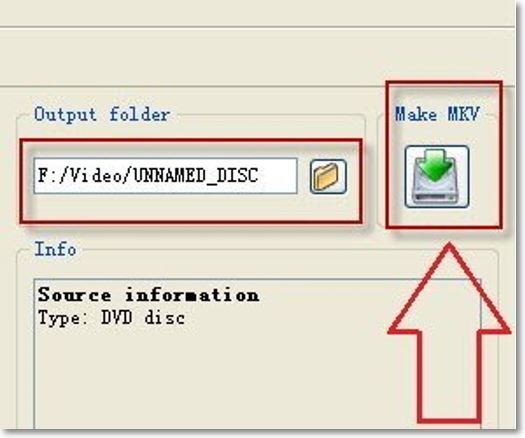 ---
Method 2. Use MakeMKV alternative
As indicated above, you will face some challenges as you play M2TS file with XBMC because M2TS is not a supported format. So, the only option is to convert M2TS to MKV, since Kodi supports MKV, among other video formats. The most recommended approach is using M2TS to Kodi converter for Mac and Windows, UniConverter.
This M2TS to MKV Windows and Mac app is easy to use, and hence provides a stress-free way of how to play M2TS files with Kodi. Therefore, you can install it in iMac, MacBook Air and MacBook running on mac OS 10.7 to 10.15, as well as Windows XP to 10. It is also the perfect software for both beginners and professionals since it has an intuitive interface, making it easy to learn. UniConverter has a lot to offer as explained below.
UniConverter(formerly UniConverter)
Transform video and audio formats to others among 150 plus formats.
Provide editing features like trimming, merging, cutting and changing or adjusting video effects.
Conduct lossless conversion, whereby it keeps the original video quality intact.
Transfer video to other devices, especially after conversion.
Guide on how to use the M2TS to Kodi converter to convert M2TS to MKV.
Import the M2TS files into the MakeMKV alternative
Since the MakeMKV alternative, UniConverter, may not be readily available in your computer, start the procedure to convert M2TS to MKV by installing it first. When installation is complete, run the program and start to import M2TS files. Go to + Add Files to carry out this importation.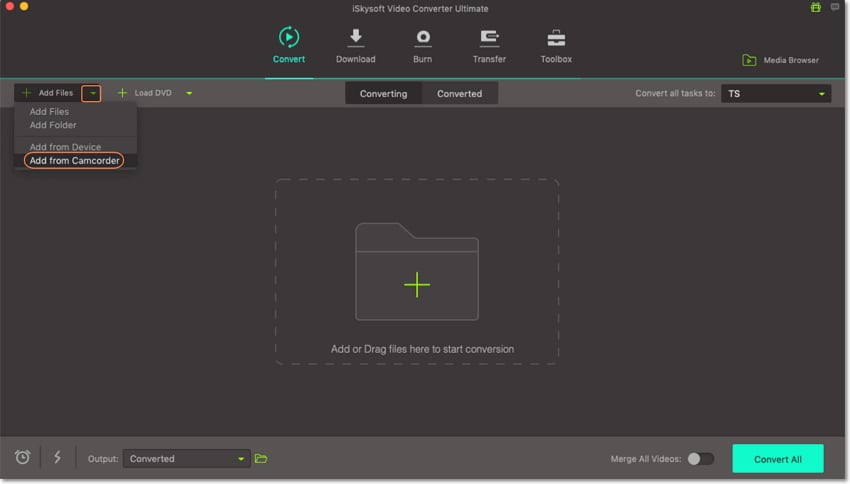 Indicate MKV as the output format
Convert all tasks to: To convert M2TS to MKV, you must set MKV to be the format for the output files. So, go to the right corner and choose Convert all tasks to: and then select Video option. You will find MKV in the list, so select it. You may change the resolution or keep it the same as the source files.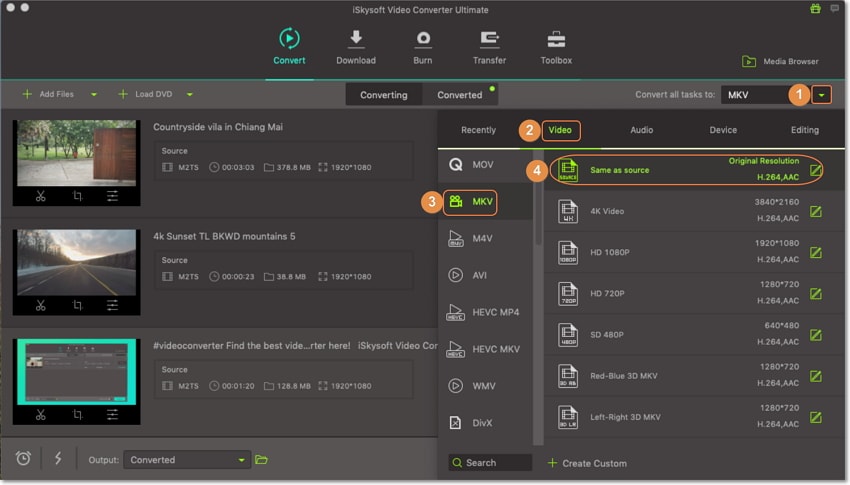 UniConverter converts the M2TS files according to your preferences. So, you may convert each M2TS files independently through the Convert function on the right, or use the Convert All button that converts all files together.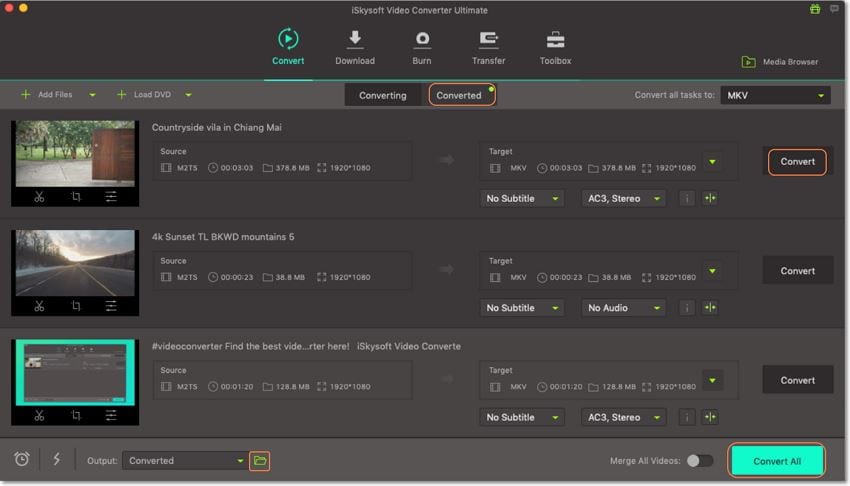 Kodi (XBMC) will not play your M2TS files. So, the alternative is to convert M2TS to MKV, since Kodi works perfectly with MKV files. There are two M2TS to Kodi format converters that you can use. MakeMKV may maintain the video information during conversion, but it cannot do batch conversion. Therefore, you are left with the best option, UniConverter, which does both.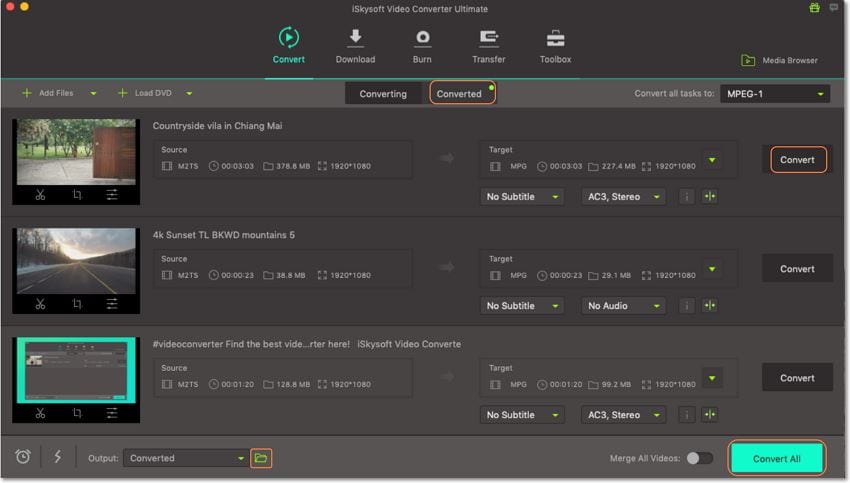 Camera Video
1. Import Camera Videos to Apps

2. Play Camera Videos on Devices

3. Convert Camera Videos to Other formats

4. Camera Video Converters

5. Camera Video Tips