How to Convert MOD to MP4 Effortlessly
Go to Mac
Go to Windows
Since JVC and Panasonic invented the MOD format, you are likely to acquire MOD clips if you use camcorders manufactures by the same companies. However, videos in these format are almost useless, since they cannot play in the commonly used players or edited in reliable software like iMovie. So, you have to convert MOD files to MP4, since it is a better format. UniConverter is the best tool for this conversion.
---
Part 1. Knowledge about MOD Video
MOD videos contain the MOD format, which was invented by JVC and Panasonic. MOD videos are recorded using digital cameras and directly saved in this format on various camcorders, especially those produced by Canon, JVC and Panasonic. The MOD files contain standard definition videos, and hence may have a maximum resolution of 576i or 480i. The MOD format resembles the MPG format and hence some MPEG-2 video players may play MOD files. However, this means renaming the MOD files to be used as MPG files. So, the format is backdated and hardly plays on majority Mac applications like Final Cut Pro. For you to view MOD video clips properly on Mac or Windows, conversion is necessary to acquire a better format that can play in multiple platforms. Therefore, converting MOD to MP4 is inevitable for anyone seeking to edit and play MOD videos.
---
Part 2. Best MOD to MP4 Converter to Convert MOD to MP4 with Original Quality
Since MOD format is not compatible with several video players, you need to convert MOD files to MP4. The most appropriate MOD to MP4 converter is UniConverter, since it is a professional application that works in Mac and Windows computers. It is compatible with the recent macOS 10.15 Catalina and Windows 10 as well as the ancient macOS 10.7 Lion and Windows Vista. Additionally, it supports MOD and MP4 formats, as well as others.
UniConverter(formerly UniConverter)
With support for more than 150 formats, it converts MOD video files to not only MP4 but also others like AVI, WMV and MKV.
It has GPU acceleration, which ensures that conversion takes place with lossless quality, thus maintains original quality.
It does video customization through an inbuilt editor.
UniConverter saves your converted video as you wish.
UniConverter is easy to work with and so use the following short procedure to transform MOD to MP4.
Importation of MOD files to MOD to MP4 converter
Importation of MOD files to MOD to MP4 converter, UniConverter, can only take place after downloading the program. After completing the installation procedure, run the software to access its interface. Select the Convert tab at the top and click on the option, + Add Files and Add from Camcorder. Find your MOD files and import them into the program interface.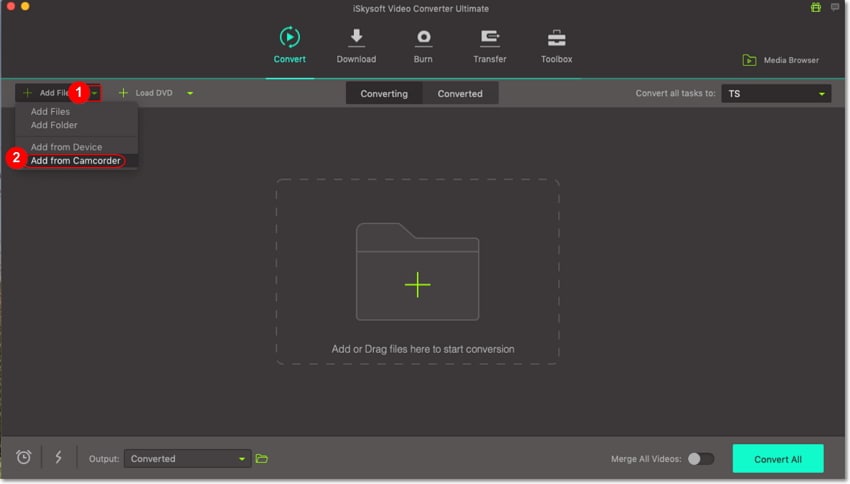 Choose the appropriate output format
To correctly convert MOD files to MP4, you should choose the appropriate output format, which is MP4. To select it, access Convert all tasks to: option and go to the Video function that contains a format list. There, choose MP4 by clicking on it. If you have no resolution specifications, the setting may remain unaltered.
When you are ready for the MOD to MP4 conversion, select the Convert All button at the bottom. The MOD to MP4 converter will convert MOD files to MP4 quickly and maintain the original quality.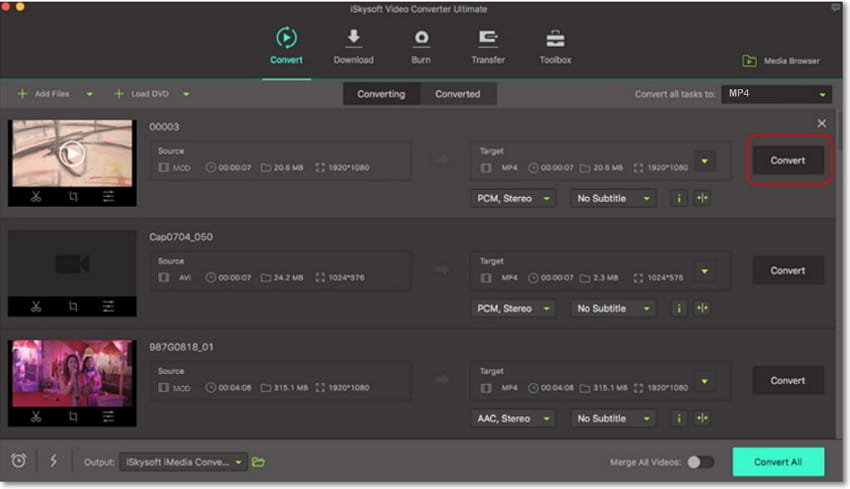 ---
Part 3. Free MOD to MP4 Converter Recommended
Online UniConverter is a free online MOD to MP4 converter that functions in multiple ways. It conducts various conversions, including MOD to MP4. This all in one MOD to MP4 converter is recommended due to its simple interface, which enables beginners to understand and carry out various tasks. It is fast as it works 30 times faster than other free online converters and hence saves time, especially for professionals that deal with multiple videos regularly. What's more, it can convert two MOD files to MP4 at once.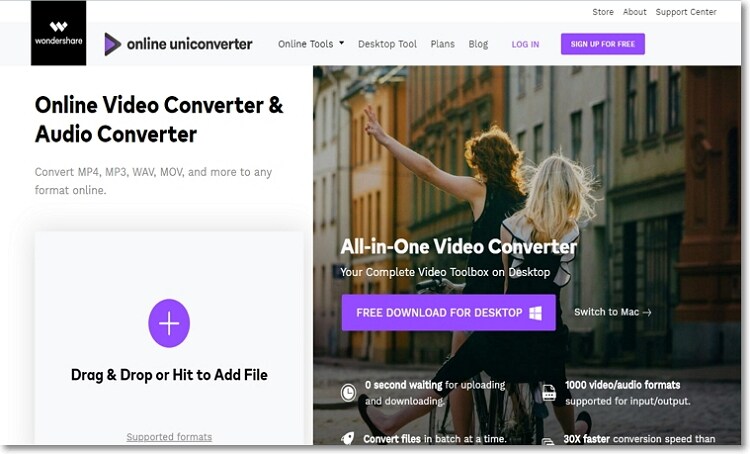 Features
It is an audio and video converter that converts audio and video files quickly.
It can compress video and audio content without affecting quality.
It edits videos by flipping, rotating, adjusting, and trimming.
It handles images perfectly by compressing and converting in batch.
It allows unlimited video downloading.
Downloading videos as well as uploading during conversion happens instantly.
It works with more than 1000 formats; inputs and outputs.
Zamzar is also a free MOD to MP4 converter online. It supports more than a hundred file formats and hence does hundreds of file conversions. This website is fast and has a self-explanatory and easy interface, which benefits new users and beginners. The MOD to MP4 conversion process is easy, since it entails uploading the MOD file, choosing MP4 as the conversion format, entering your email address and converting. This free online MOD to MP4 converter sends the converted files to your email, which explains the purpose of entering the email address in the conversion process.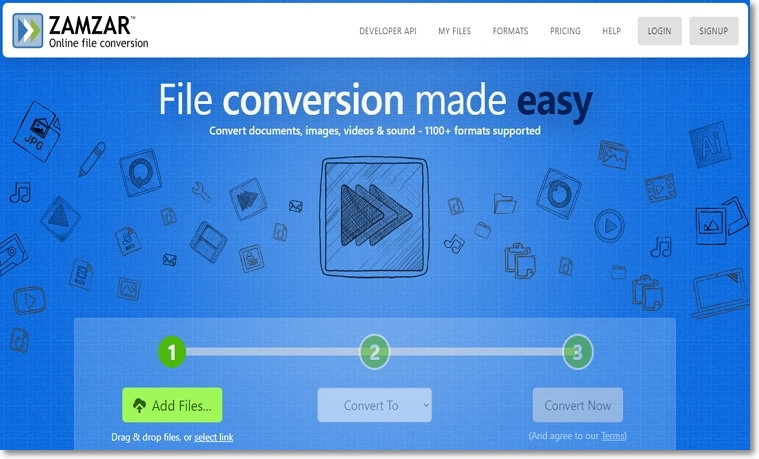 Features:
It downloads videos online at high speed, from video sites like YouTube.
It conducts email conversion, whereby users email files and get the converted versions.
Uses Zamzar personal inbox for file management. This allows safe storage of converted files.
It functions with many file formats, which exceed 150.
It streams the converted files to your iDevices.
There are various ways to convert MOD to MP4. You have the option of using a free online MOD to MP4 converter like Online UniConverter or software like UniConverter. The latter is the better since it is faster and converts many MOD videos at once.
Camera Video
1. Import Camera Videos to Apps

2. Play Camera Videos on Devices

3. Convert Camera Videos to Other formats

4. Camera Video Converters

5. Camera Video Tips