I want to convert YouTube videos to songs, who can help?
YouTube is the most common and most significant video sharing platform where users can find almost any video of their taste. For many reasons, users would like to convert audio from YouTube videos. Fortunately, there are some ways to do so, but online converters have been the most preferred way largely because installation is unnecessary. There are many such converters over the Internet. However, you need to find the right tool to address your conversion problem satisfactorily. After curating through a list of YouTube music converters, we picked the best online YouTube to audio converters for you.
Part 1. Best YouTube to Audio Converter
UniConverter is an excellent must have application for video and audio conversion on your device. The program is equipped with an array of features deliberately meant to enhance the user experience. Many users across the globe have given it a try and have rated it as the best YouTube to Audio converter. Do not be left behind, make use of this tinker tool and live to love it.
Get the Best YouTube to Music Converter:
UniConverter supports conversion between different media formats of more than 150. These formats include MP3, MOV, MP4, 3GP, and WAV among others.
The program provides a lossless conversion process, which is up to 90 times faster than normal converters in terms of speed.
The tool enables multiple conversions of media files and hence saves time for users.
It allows online conversion of videos and audios from several video sharing platforms which include YouTube, VEVO, Vimeo, DailyMotion, and Hulu among others.
UniConverter features a built-in video editor that makes it easy to edit videos. These editing features include Trim, Rotate, Crop, and Subtitle among others.
With this tool, users can easily transfer converted videos to their iPhones, iPad as well as hard drives.
How to Convert YouTube Videos to Audio using UniConverter
Step 1. Import YouTube Videos
Run the UniConverter on your device. At the top of the program's window, click the "Convert" tab to get the "Add Files" option. Click on it and select the YouTube videos that you want to convert.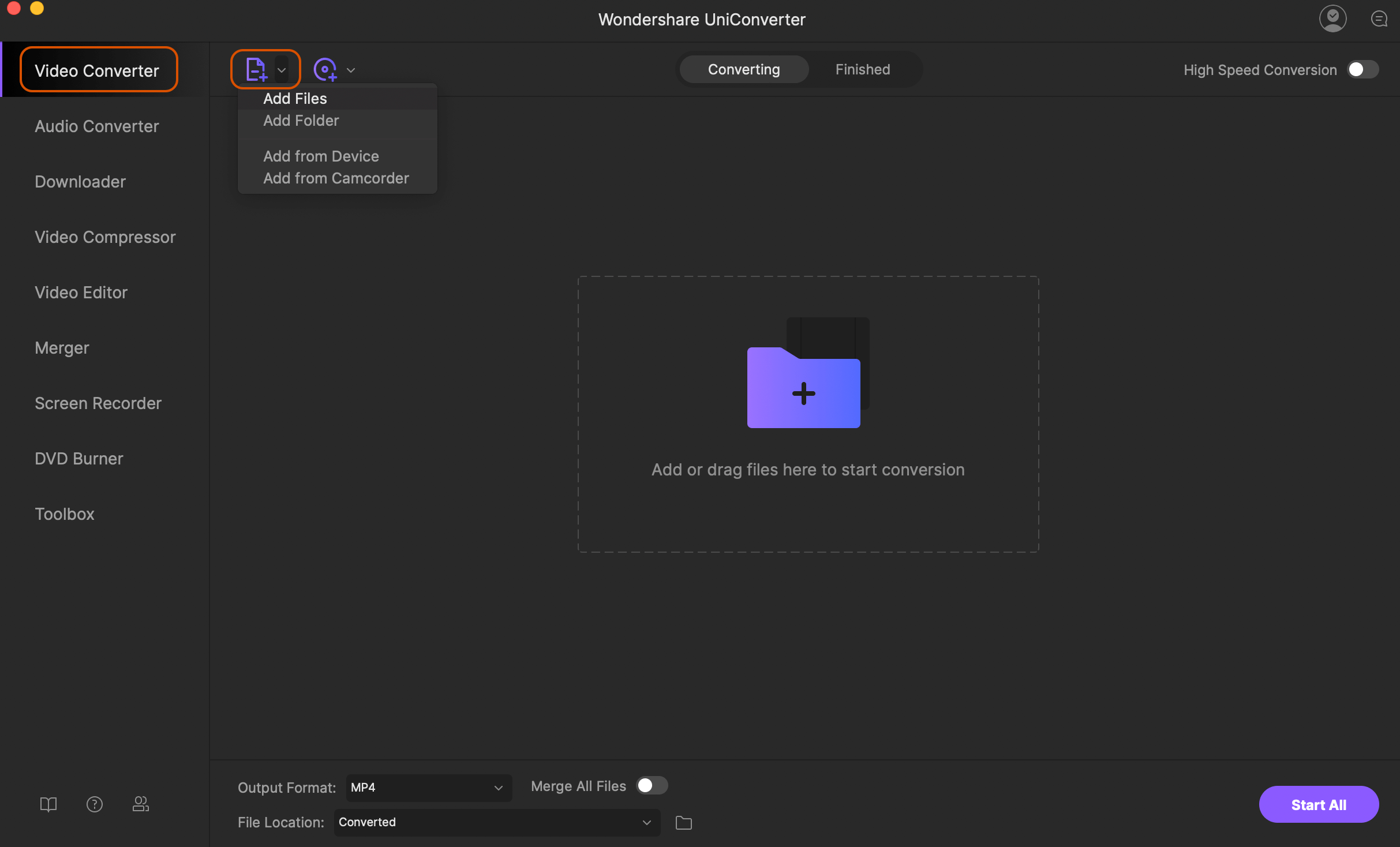 Step 2. Choose the Output Format
Click on "Convert All Tasks" button. From the drop-down menu that appears, select the preferred "Audio" icon. Now select any audio format that you prefer such as MP3, APE or WAV.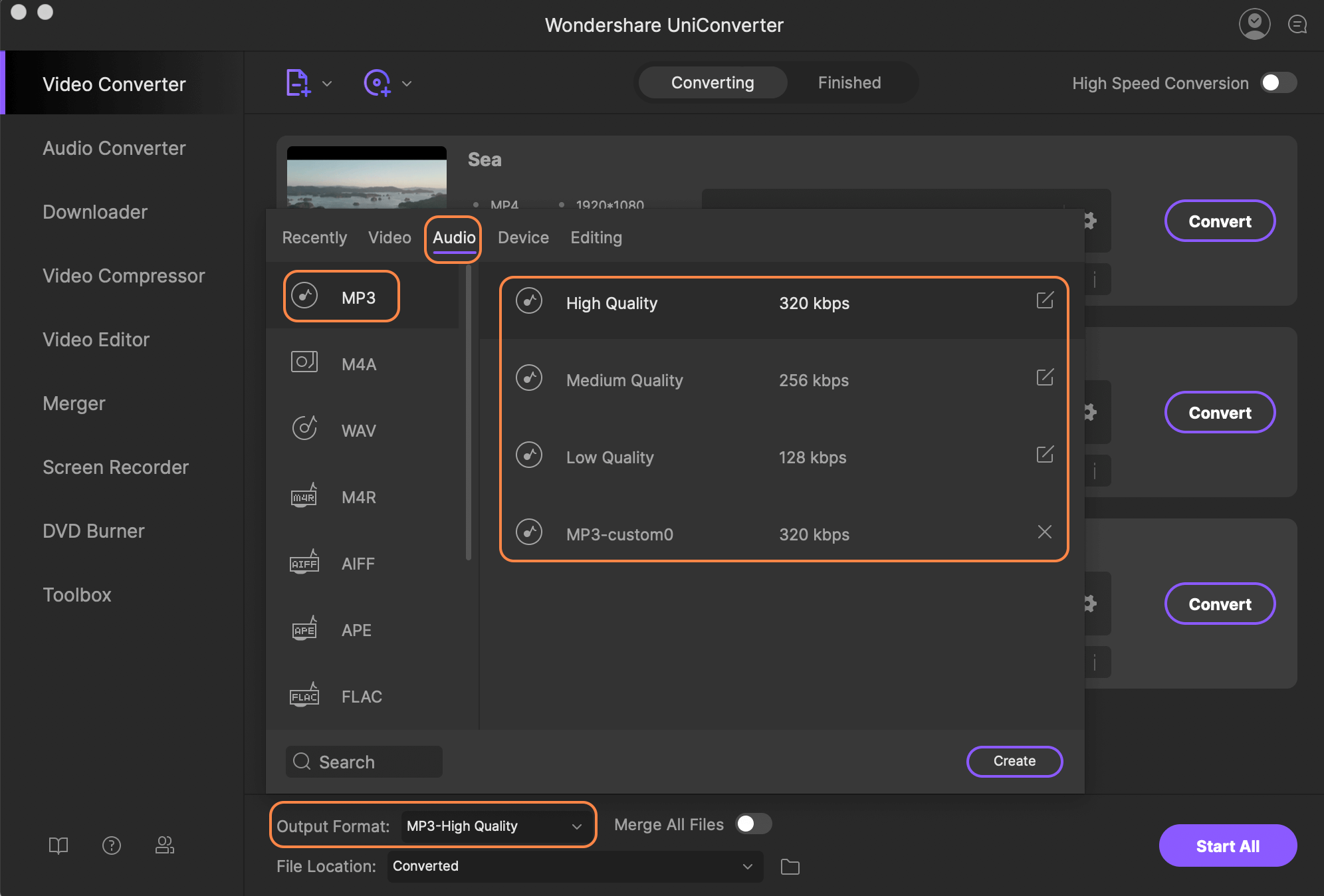 Step 3. Choose the save path for your output file
To choose the save location for the newly converted file, go to "Preference" then "Location" and select a convenient file. Alternatively, you can choose to allow the program to save the file in the default location. After that, click the "Convert All" button to complete the conversion process. This will take a short time to successfully finish. You can then go to the save location to obtain the converted file.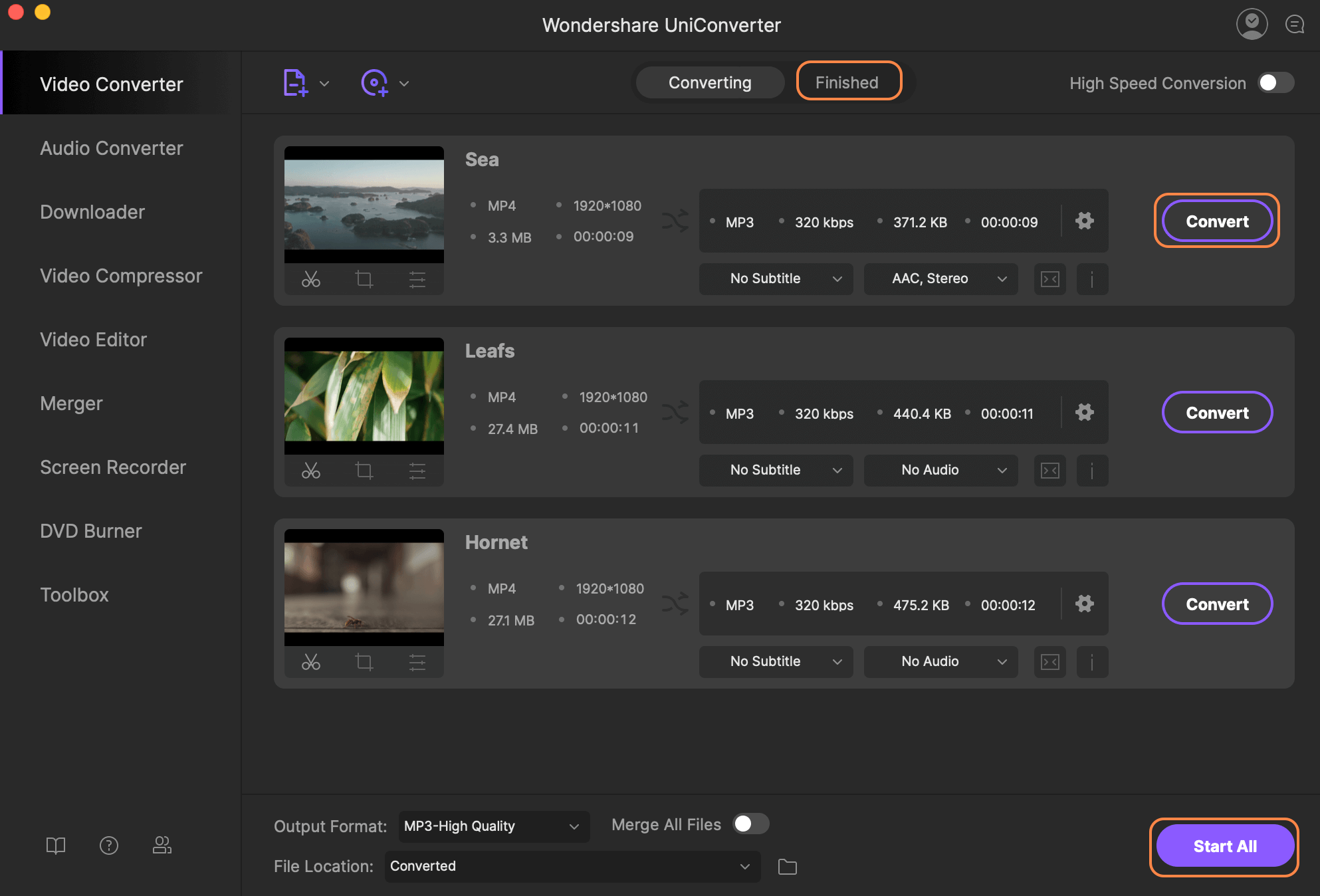 Part 2. Top 9 Online YouTube Music Converter
#1. ListenToYoutube
ListenToYoutube is a simple, fast and reliable online YouTube to audio converter. This online app does not require a user to sign up but rather copy and paste the YouTube URL link on the search box.
Pros:
• The conversion process is simple as you need not to sign up.
• The conversion speed is higher.
Cons:
• The quality of the audio file is not so good in some cases.

This is another excellent YouTube converter featuring an attractive and simple interface. Like most converters, you are required to paste the respective YouTube URL link in the search space provided and click the Convert button.
Pros:
• The program has a relatively fast downloading speed.
• The quality of audio files is high.
Cons:
• Slow when uploading a large file.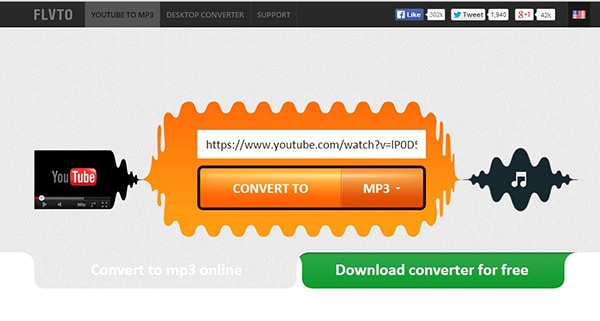 IXconverter is one of the best free online YouTube audio converter. You can download and convert your YouTube videos to various formats as MP3, FLV, and AVI among others. You can listen or watch any YouTube video anywhere.
Pros:
• This tool supports conversion of YouTube videos into several audio formats.
• The program is simple and reliable.
Cons:
• Pop-ups can be at times distracting.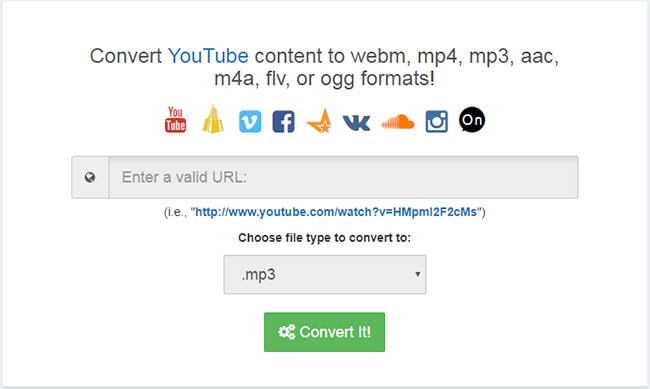 YTmp3 is no doubt among the top online YouTube to mp3 converters. It is indeed a straightforward tool with clear instructions. Copy and paste your YouTube URL into the conversion box and press the 'Convert' button.
Pros:
• YTmp3 has a user-friendly interface.
• The whole process of conversion is simple and straightforward.
Cons:
• The tool supports conversion of one file at a time.

This is an amazing online YouTube video to audio converter tool for users. This site supports video conversion to several formats including AAC, MP3, and WMA among others. The two conversion options are file uploads or provision of an external link.
Pros:
• This online converter is compatible with nearly all devices.
• With this tool, you can convert your YouTube video into several formats depending on your choice.
Cons:
• This program has a file limit of 100MB.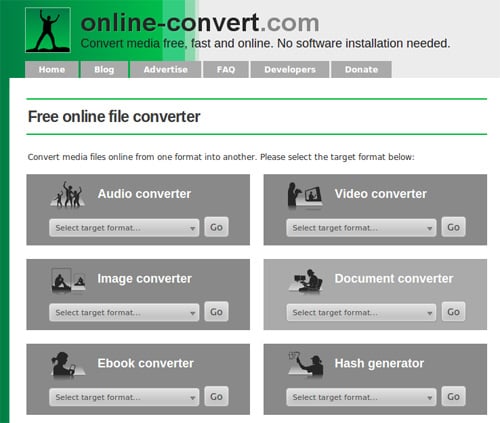 Zamzar is one of the most popular and effective online YouTube to audio converter. If you need quality audio files then Zamzar is a good choice. There are many file formats compatible with this program including MP3, WAV, MP4, AAC, and WMA among others. They are over 1200 to be precise.
Pros:
• Zamzar conversion speed is high.
• The program supports conversion between several file formats.
Cons:
• The tool has a file limit of 100MB.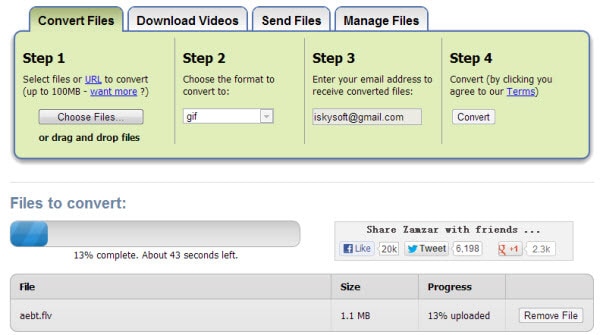 Media iO is another excellent free online YouTube converter that facilitates conversion between several file formats. These formats include FLV, MP3, AAC, and VOB only to mention but a few.
Pros:
• This software supports many media files; over 150.
• Media iO has an intuitive interface that eases user navigation.
• This application provides a faster conversion speed.
Cons:
• This program requires a stronger and stable Internet connection.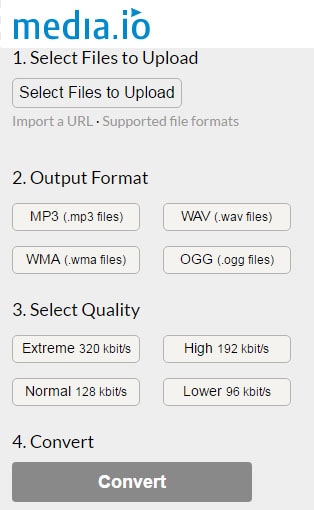 This is a popular online converter capable of doing both video and audio conversion. This tool is useful for high quality files. You can convert between a range of diverse formats like AAC, WMV, MP3, MP4, and MKV among others.
Pros:
• The program supports downloads from several sites apart from YouTube.
• The quality of the converted file is not compromised.
Cons:
• ClipConverter has a file limit of 100MB.
• This program requires a stable Internet connection.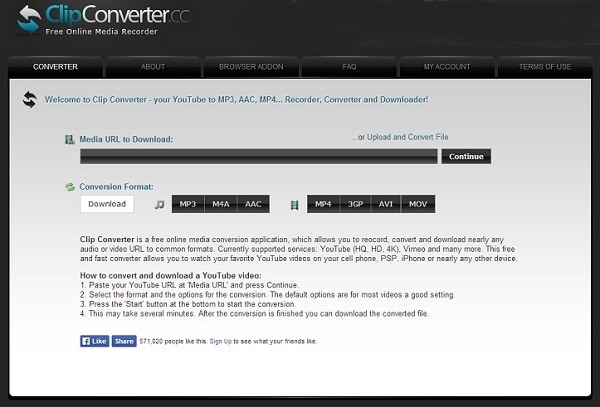 Convertio is a powerful online tool that supports conversion of YouTube videos to different formats including WAV, MP3, MP4, and WAV among others. In fact, this tool supports up to 200 different media formats and the choice on you. The files to be converted can be derived from Google drive, URL, and Dropbox. You can also drag the file to the page.
Pros:
• This program supports conversion of multiple files.
Cons:
• Every user must sign in in order to use the service.