Converting videos to audio files have brought great hassles in the olden days. There was a time when only a few people, the most technology savvy, were the only ones who understood and knew how to get the audio out of existing video files in our computer. But with the introduction of third-party conversion tools and online conversion utilities, converting between audio on video in your computer has never been easier, regardless of whether you're using a Mac or a Windows PC. In this article, you will get the simplest way to convert WMV to MP3.
Part 1. Best Solution to Convert WMV to MP3 in 3 Simple Clicks
UniConverter is a versatile tool that can convert between standard videos, HD videos, online videos and your audio files. In addition, you can easily extract audio like MP3 from your WMV videos with iSkysoft. What's more, the ability to edit videos, burn to discs, and more, are additional features added on top of the video converter's useful and stable basic features.
Get the Best WMV to MP3 Converter:
150+ formats - UniConverter will handle over 150 video and audio formats for conversion. This is by far the greatest number ever managed.
Fast speeds – you can convert videos at speeds that go up to 90X the speed of other converters.
Maintain quality – with the new advanced GPU acceleration, you can maintain the video quality as it was in the original.
Watch your videos – you need to see how the videos will look after conversion; use the media player to do this so you can make final changes if need be.
Edit videos – using the inbuilt video editor, you can trim, rotate, crop and combine several video clips and turn them into one single movie.
Perfectly compatible with Windows 10/8/7/XP/Vista, macOS 10.13 High Sierra, 10.12 Sierra, 10.11 El Capitan, 10.10 Yosemite, 10.9 Mavericks, 10.8 Mountain Lion and 10.7 Lion.
Tutorial for Converting WMV to MP3 on Mac
Step 1: Install and launch UniConverter
Load the .wmv and other video files that you want to convert. The application allows you to browse through your Mac's directories to find your WMV files, although the drag-and-drop feature should make it easier for you. The videos that you have just imported appear in the left pane of the application.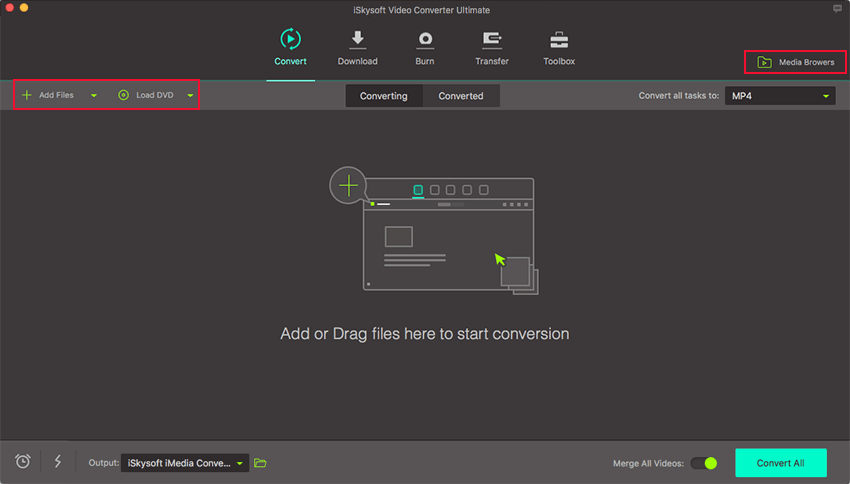 Step 2: Choosing the resulting format of the output file: MP3
On the right of each video in the left pane is a format icon. Click on your video's format icon for the output format selection window to appear.
You will not have a problem locating the .mp3 audio format for the .wmv video file that you may want to convert.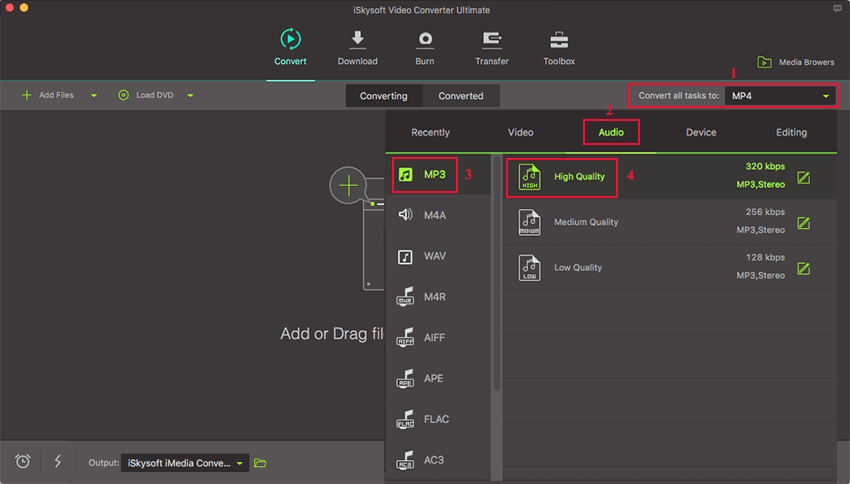 Step 3: Start the WMV to MP3 Mac conversion
Once you have set the output formats for all your videos, go ahead and click the Convert button. The UniConverter should begin converting your files and once it's done, you'll see your converted files in the default location. And that's it! You have now made your first iSkysoft video conversion.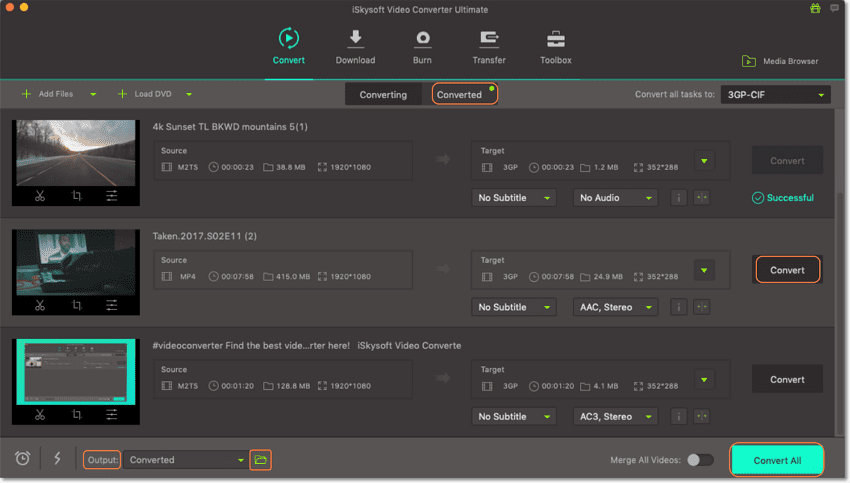 Part 2. Free Online WMV to MP3 Converter
Zamzar is a free online file conversion tool. While it specializes in media file conversions, especially in video to audio conversions, it also handles formats of reading materials such as ebook and other electronically-published text. Zamzar takes measures to ensure that all the conversions done on their site are secure.
Pros and Cons:
Zamzar is not your average media file converter as it handles reading materials too. It has a user-friendly interface that may sometimes feel overloaded. And while it does make sure that all conversions are secure, Zamzar asking for your email to send the link to the output file may not be the best idea. Aside from the hassles of converting and opening multiple files one by one, your email may be subject to spamming.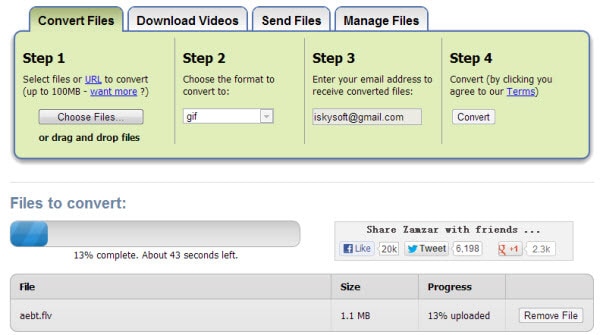 Convert.Files, just like Zamzar, is not just a simple video to audio converter. It handles conversions of various file types such as word documents, drawing files, ebooks, and more. It is definitely one of your ultimate online file conversion tool, just perfect for handling conversions of most general file types that you want to convert.
Pros and Cons:
This online tool has an interface more user-friendly than that of Zamzar since its menus and text fields are more compressed than Zamzar's horizontally-arranged ones. It also offers you an option to send the converted file link to your email, although after conversion, the link will appear in your browser already. It might have issues with the speed at which it converts some files and may take some time.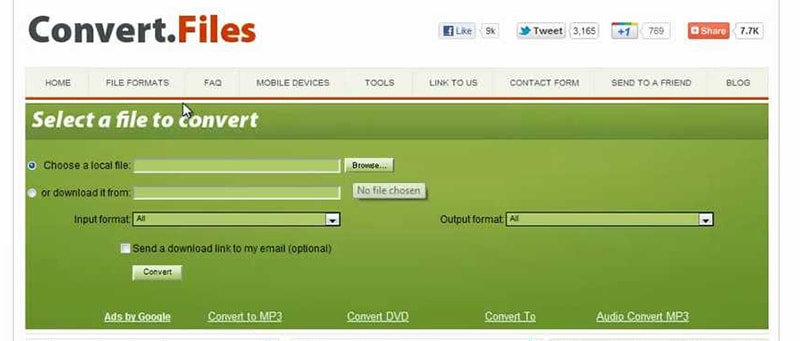 Part 3. How to Add Your Converted Files to iTunes
After converting your .wmv video to .mp3 audio, you may want to add your converted file to iTunes to have your audio files organized and ready for syncing, should you wish to sync your music with your other devices. Here's how you do it:
Step 1. Launch iTunes
If you're on a Mac, click on Spotlight or open Finder. If you're using a Windows PC, open Windows Explorer. These programs should help you locate the file you want to add to iTunes.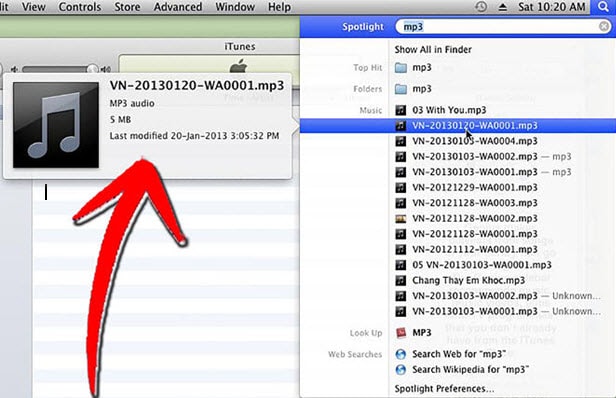 Step 2. Highlight or click on your desired file(s)
Drag it to the main and central pane of the iTunes window to add it to your iTunes library.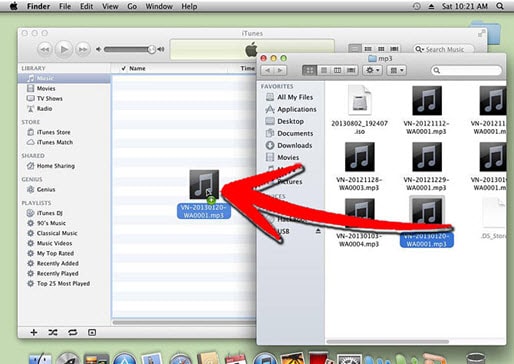 Step 3. Import MP3 to iTunes
After adding your audio file, it should appear in the central pane of your iTunes window in this way.
Now that the file is in your library, you can edit its details according to your own liking. You may change the song title, the album, and the artist, among others. You can even add a corresponding album art for the audio file that you've just added.