Where Can I Get the Best YouTube to MP3 Converter for Mac or Windows PC?
With Internet access, it is easy for one to stay online and watch all the available YouTube Videos. The challenge however comes in when he or she has to go offline and still wish to watch some of the clips previously accessed on YouTube. It is at this instant that one might find him/herself in need of a YouTube video converter. The available YouTube converters do not all function at the same levels. It is therefore one to select out of the best in order to be able to carry out the desired tasks as close to perfection as possible from the list below.
List 10 YouTube to MP3 Converter Software
#1. UniConverter
This form of media converter is one of those available online that tops the list that can convert YouTube to MP3 files freely. It is an ultimate videos converter, which offers all packages of the video tools in order to provide users with the opportunity to download, burn, make and edit videos and transfer them to different devices. One of the benefits of using UniConverter is that it offers greater speeds of conversion. Second, the app ensures the production of quality videos. The expansion of the product also ensures increase in the number of media formats that are allowed by the app. Some of the features of the application are as below.
Get the Best YouTube to MP3 Converter:
Simple procedure of drag and drop in order to load videos.
Supports different media formats such as WMA, MP, WAV, AC3 OGG, AIFF, AAC, AU, FLAC, MKA, AA, M4R, AAX.
Can download audios and videos from over 1000 sharing sites.
Its DVD toolkit has a number of DVD templates that you can use to create your DVD despite burning them.
It allows you to share your music to Facebook, Vimeo and YouTube.
Bult-in video editor has several editing options like effects, watermarks layouts and others.
You will be able to use its toolbox that converts VR, records screen, fixes metadata and create GIFs.
How to Convert YouTube Videos to MP3 using UniConverter
With all the above features, UniConverter gives you a memorable experience when converting YouTube to MP3. A free trial is provided before you can purchase the software. To ease the conversion process below is a step-by-step guide on how to convert YouTube to MP3 for iPhone or Android using UniConverter:
Step 1. Import YouTube videos
Download and install UniConverter application and launch it. Once the program opens click on "Convert" button. You will see "Add Files" where you will select the YouTube videos to convert on your computer.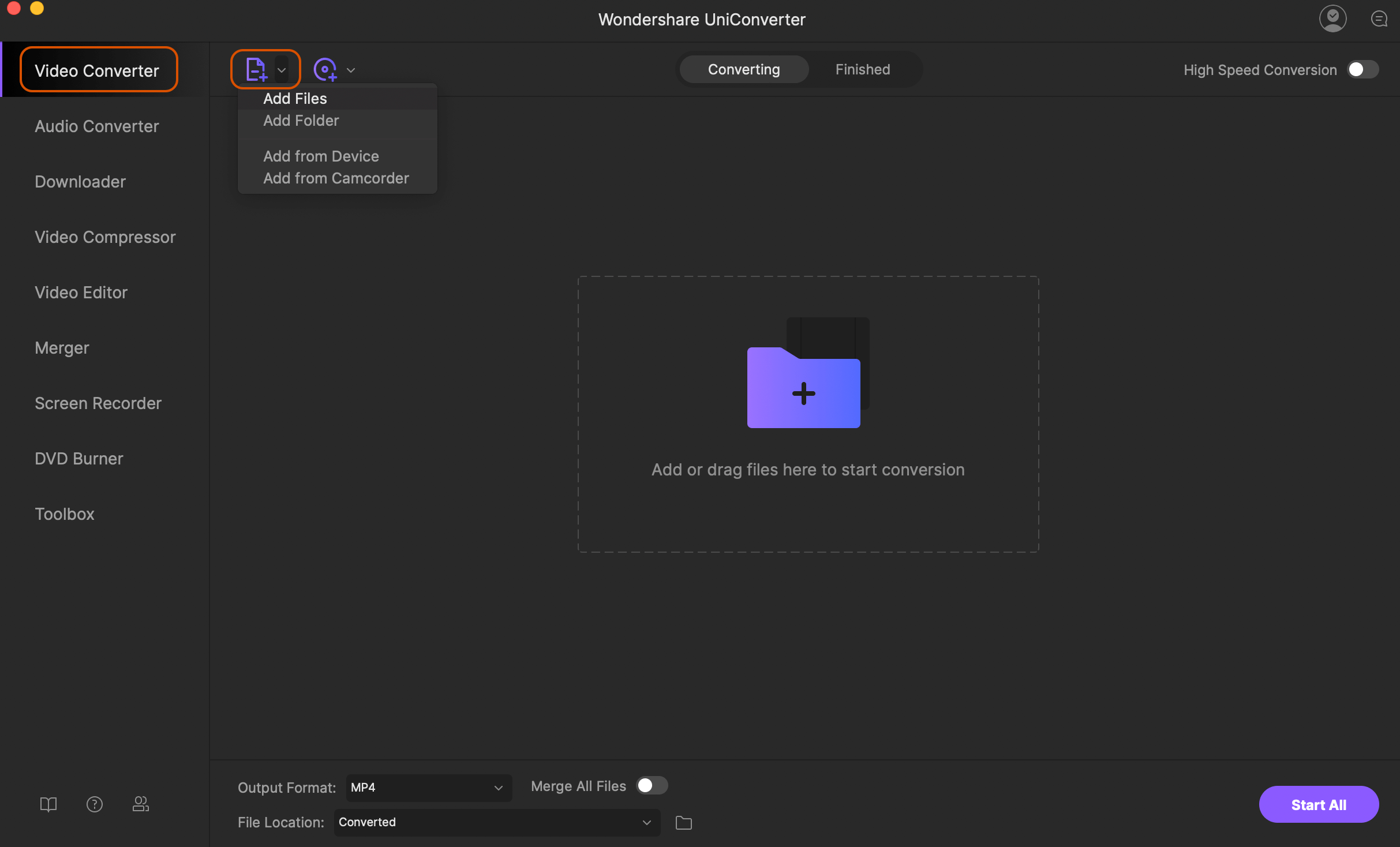 Step 2. Set output format as MP3
After uploading files, you can now select output format. Click on "Convert all tasks to" and go to "Audio" option. Select "MP3" format and then name the Output folder.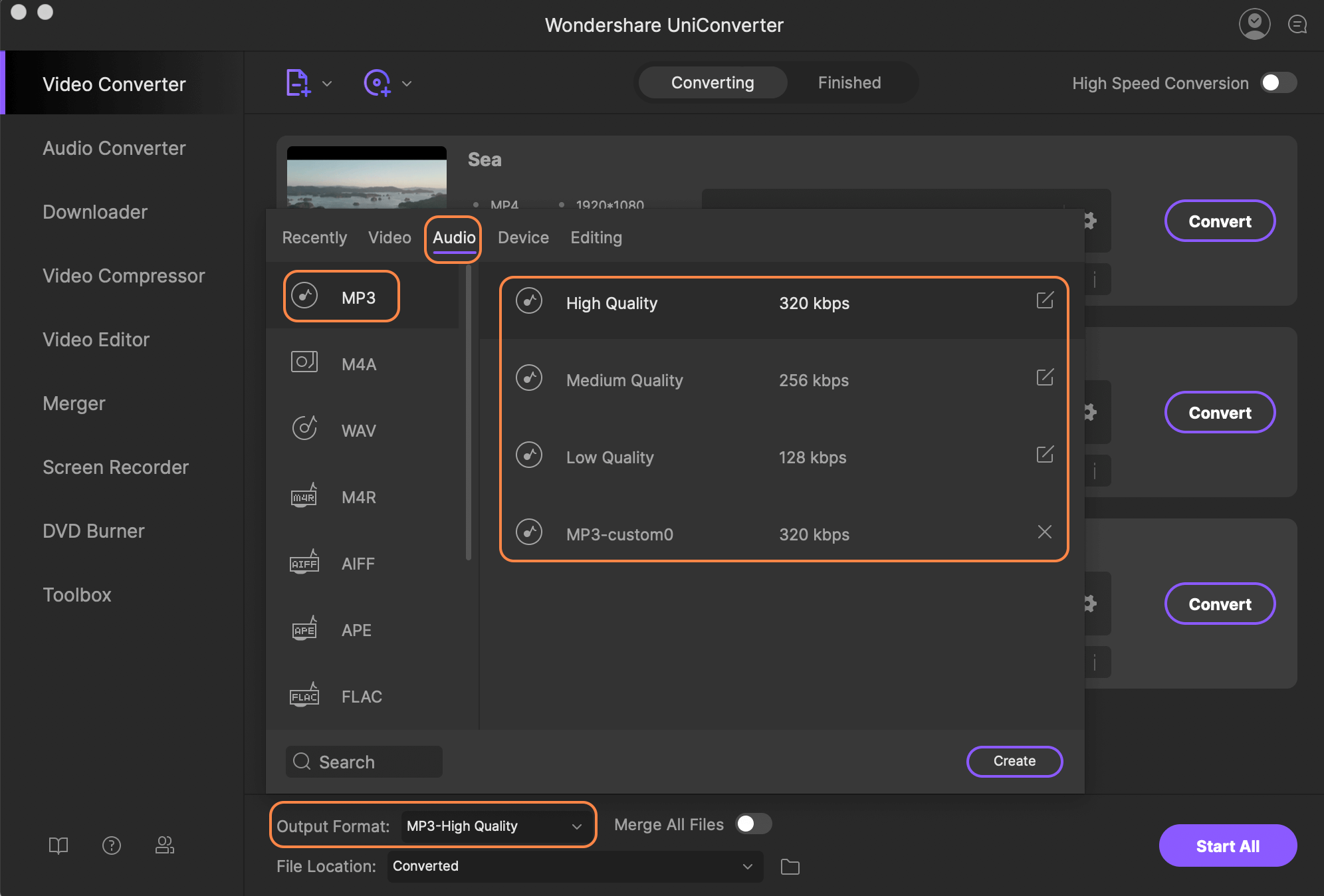 Step 3. Convert YouTube to MP3
From there click on "Convert All" button to initiate conversion process immediately.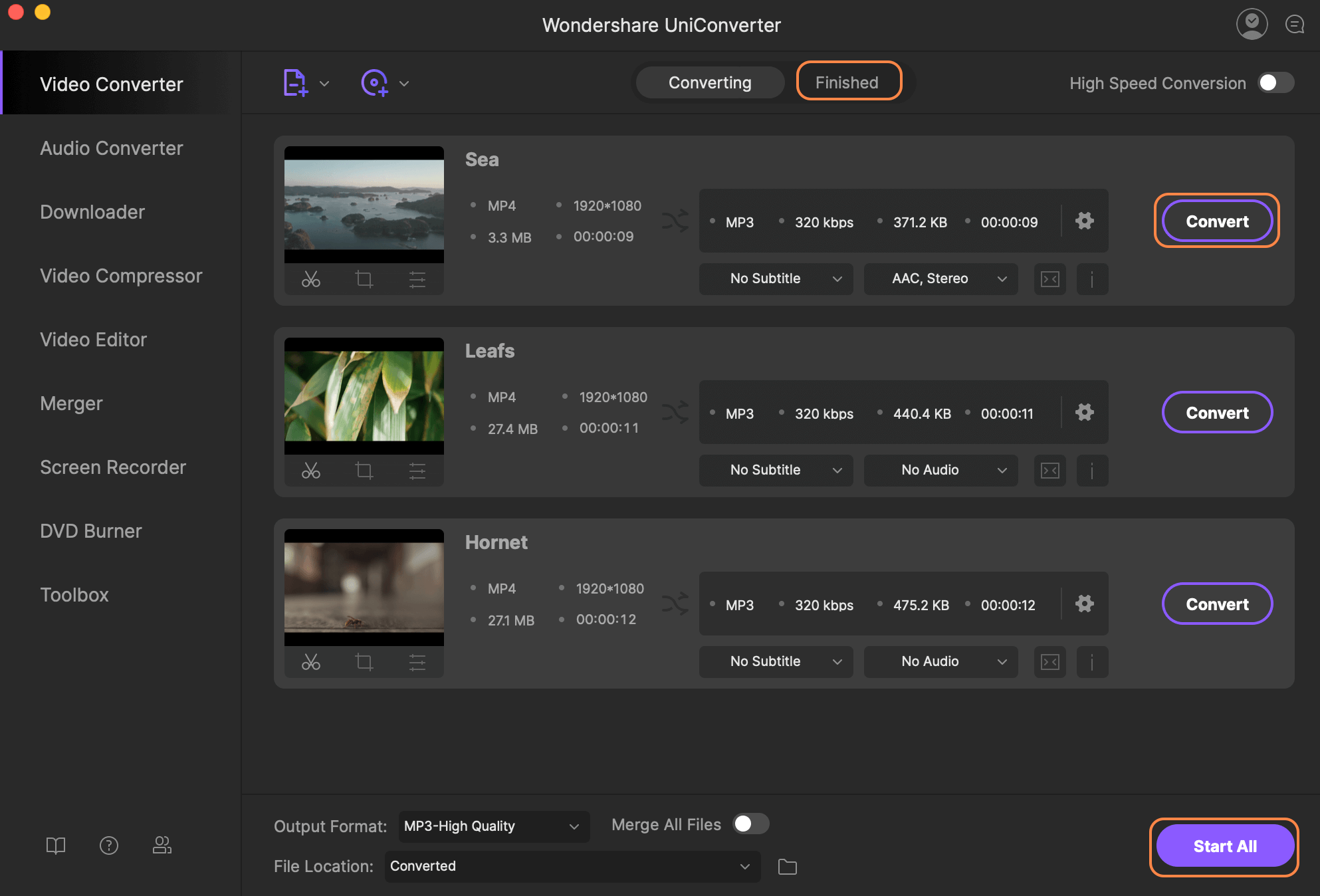 This is a freeware application that can be used to convert YouTube videos to MP3. It is characterized by its intuitive interface With this software you can download playlist or music from YouTube. It is compatible with Windows, Mac and Ubuntu.
Pros:
• You can import iTunes playlist.
• It support other sites like Vime, Vevo and Soundcloud.
• It is free to use. 
Cons:
• You have to follow several steps to select output format.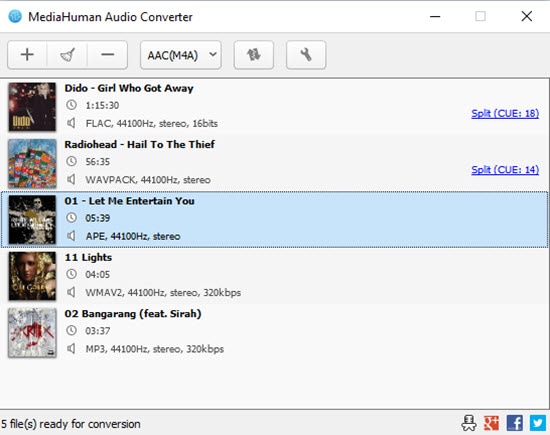 This is a free YouTube to Mp3 converter with the goal of making conversions faster and easier. It largely supports both the Windows and mac OS. FLVto YouTube converter converts audio and videos from YouTube.
Pros:
• It can work as an audio player.
• It is a batch converter.
Cons:
• It cannot convert to files to mobile devices.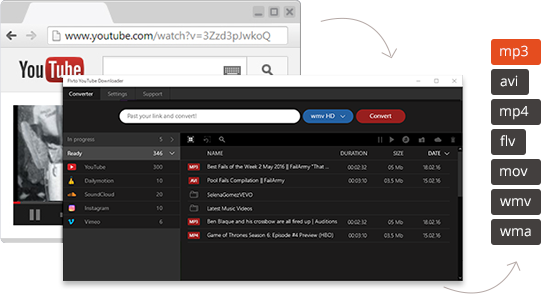 This can be described as a great bundle of free video and audio conversion and editing functions. This application can be run on both Windows and Mac OS.
Pros:
• It supports batch downloads.
• It boasts of quality outputs.
• You can convert YouTube playlist to iTunes directly.
Cons:
• It supports limited audio formats.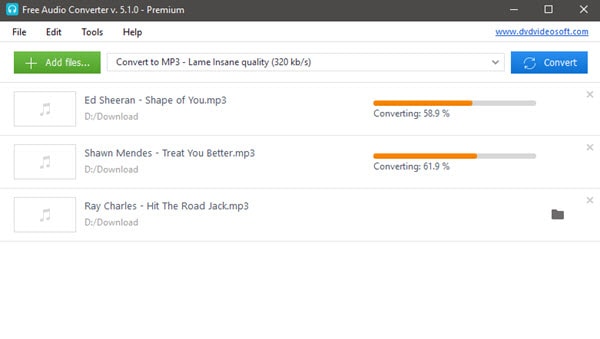 This is software initially created for the encoding of quality videos, but also with the functionality of downloading and converting YouTube videos on your Windows or Mac platform. The upgrade of the software eliminated the previously dominant ads as one attempted to use the software to convert videos to MP3.
Pros:
• It supports YouTube links.
• It is free and fast.
• It can convert YouTube to mobile devices.
Cons:
• It only supports YouTube.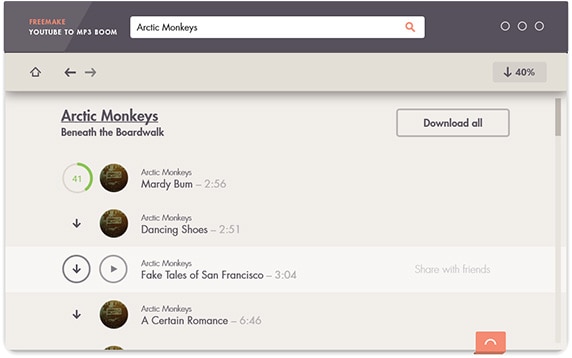 The main purpose for the creation of this software is to allow for the extraction of audio from YouTube. Some of its great features include direct transfer of media files to iTunes, ease of its proxy setup and the support it provides for embedded videos. The software is supported on MacOS, Linux and Windows platforms.
Pros:
• Offers effortless accessibility.
• Offers effortless accessibility.
• Software is translated to multiple languages, hence allowing diversity in its users.
Cons:
• Is characterized as a malware app.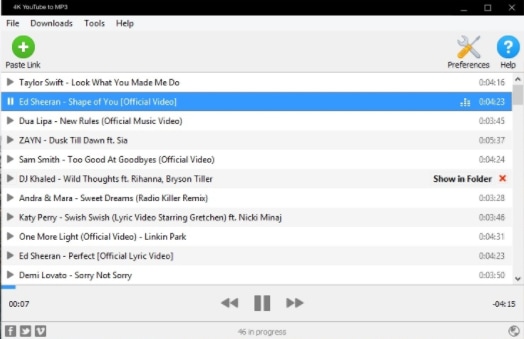 Can be described as an almost perfect application for downloading and converting YouTube media files to MP3 and was created for the sole purpose of being able to download videos from YouTube. It can also convert YouTube files to WAV and MP4 formats. It is supported on Windows and Mac operating systems. This program works with Windows OS only.
Pros:
• It supports batch conversion.
• It can convert YouTube files to your device.
• It absolutely free.
Cons:
• It lacks a video editor.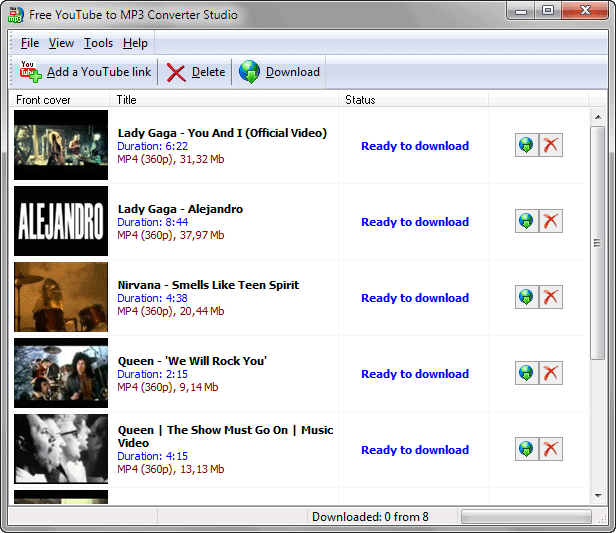 Though not so popular as the others, ClipGrab is one of the applications that can be used to download both HD and 4K videos from YouTube. It can also download videos from other platforms such as Vimeo, DailyMotion and other online platforms. The application is supported on variant operating systems such as Windows, Mac and Linux.
Pros:
• It is simple and easy to use, therefore proves quite helpful to first time users.
• It allows for the basic video conversions.
Cons:
• There is an unknown support for 4k videos with this this application, and in many cases, it is not integrated with the web browser.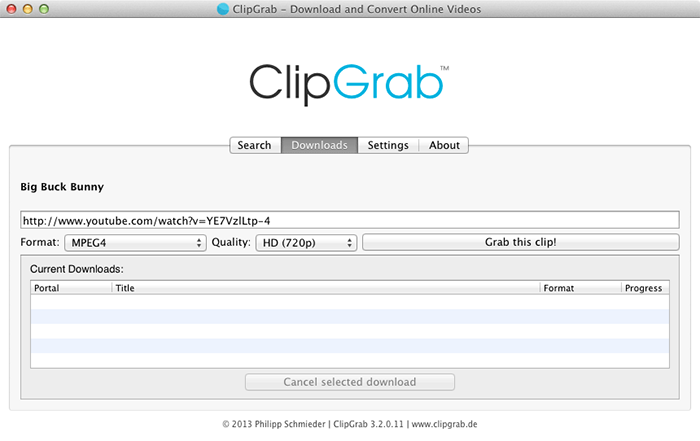 This software was developed in order to provide support for 4K UHD and HD videos with ease. The application supports different formats of the YouTube videos, and provides a wide range of output format options. The application is supported on Windows and Mac operating systems.
Pros:
• It provides users with an interface that is quite easy to use.
• The useful and unique features which provide users with variety of options.
Cons:
• Has quite a limited amount of sites.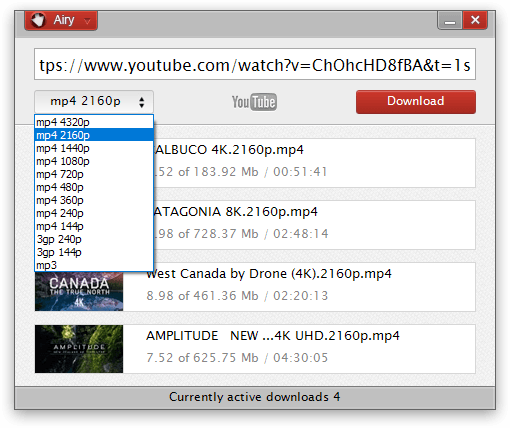 Supported on only Windows Operating system, the software was designed to provide ease of use to both new and continuing users. It can be described as an application that is gaudy and not geeky. Its greatest feature is the fact that it provides users with a wide range of file formats.
Pros:
• It is a stable application to use that is characterized by its simplicity.
• It has a set batch mode that can allow for multiple YouTube video downloads and conversion.
Cons:
• It is specific on the file formats it can download and convert from YouTube, with main restrictions placed on the 4K format.