Where can I get the best site to convert YouTube to MP3?
There are so many YouTube to mp3 converter online. All you need to do is to google search them and you will be spoilt for choice. The best website is one that has a simple to use interface, fast download speed, free from viruses, and stable. It must also be able to save your content and allow you to choose the appropriate name for your file. The best website for your YouTube to MP3 conversion should be compatible with your phone or desktop and most of them are free. We have sampled some websites, which fit right into the billing, and here are ones that stand a cut above the rest.
Part 1. Top 10 Youtube to MP3 Online Converter
This is an online converter that can convert videos not only from YouTube but also from several other sites such as Megavideo, Dailymotion, Metacafe, myspace, break, I film, funky junk, plumbers etc. to mp3. VidtoMP3.com allows the conversion of any uncopyrighted video you can find on the sites compatible.
Pros:
• It is very easy to use. It only requires a source URL of the song you wish to download and within a few minutes, you will have an MP3 version of the same.
Cons:
• Unable to convert copyrighted content.
• It limits conversion to mp3 only.

Convert2MP3 is yet another awesome site to use to convert youtube videos to MP3 Format. It accepts videos from other websites and it also facilitates conversion to other formats other than MP3. All you need to do is follow three simple steps. One you need to first identify the video you want to convert then copy the link to that particular video. Lastly, you need to select the format you want the video to be converted to then click convert. In case you do not wish to first search for the video on YouTube, you can just open the site and search for the video through that site. The simplicity of this site is amazing the procedure is simple to follow and understand.
Pros:
• This converter is simple to use. All you need to do is follow three simple steps.
• It offers browser add-ons.
• You don't need to register.
Cons:
• It doesn't support long web videos.
• It doesn't support batch downloading.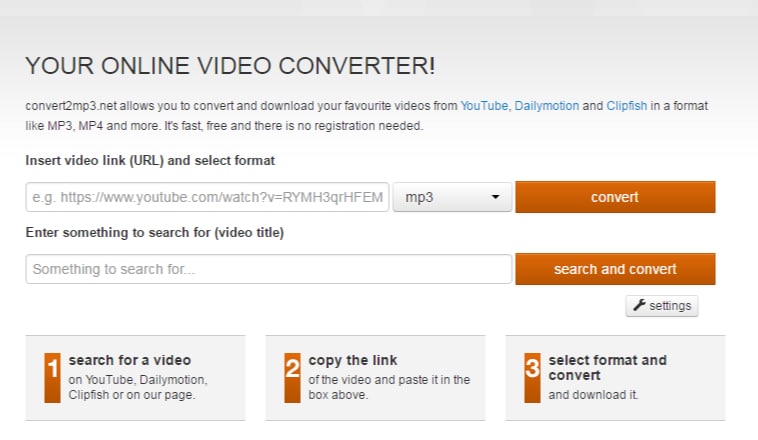 FLVTO is a site dedicated to making your youtube video conversion a walk in the park. This site simply works like the others for online youtube video conversion to mp3. It accommodates instantaneous conversion from video format to mp3 among any other desired formats. Such as AVI, AVI HD, MP4, MHD, etc.
Pros:
• It is easy to use.
• During conversion there is no quality loss.
• It supports multitasking downloads.
Cons:
• It doesn't have a bandwidth limit.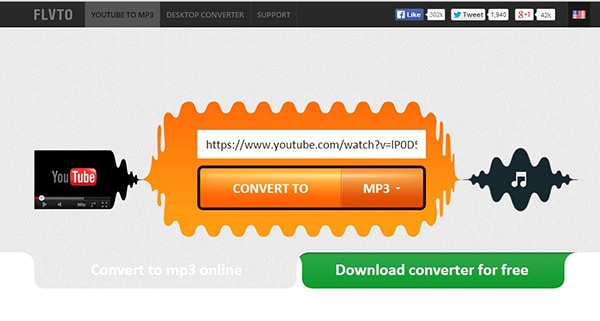 #4. Listentoyoutube
Listentoyoutube is a site that is dedicated to enabling its clients to actually "listen to youtube". This site contains an online converter that apart from being able to convert the videos to MP3, can convert FLV to MP3, Extract MP3 from a flash video among others.
Pros:
• It is easy to use, the interface is clutter-free.
• It is convenient and free.
Cons:
• It does not convert VEVO YouTube videos.
• The processes are slow a times.

MP3Fibre is an online conversion site. It enables the users to convert videos to MP3, MP4, and WEBM formats. This site accepts videos for conversion from YouTube, Sound Cloud. Instagram, Dailymotion, Facebook, etc.
Pros:
• You can save different qualities.
Cons:
• It has slow download and conversion speed.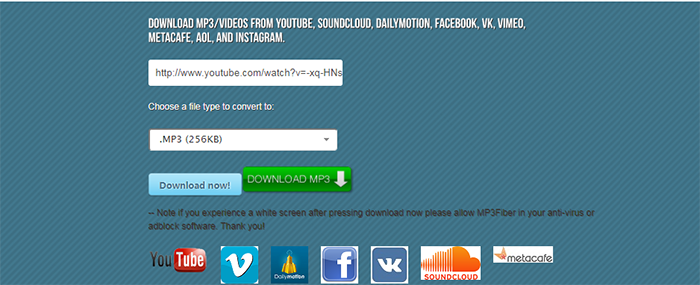 Clip converter is a free online media recorder. It offers a wide range of target formats among them is MP3. Just like the converters mentioned above, all you need to do is copy the URL of the video that needs conversion then select the format and click convert.
Pros:
• The app enables the extraction of background music in a movie.
• It can convert various formats of video.
• Supports the conversion of videos into various formats like WMA, MP3, and much more.
• The app can be used as an audio player.
Cons:
• To remove ads, you have to purchase at $0.99.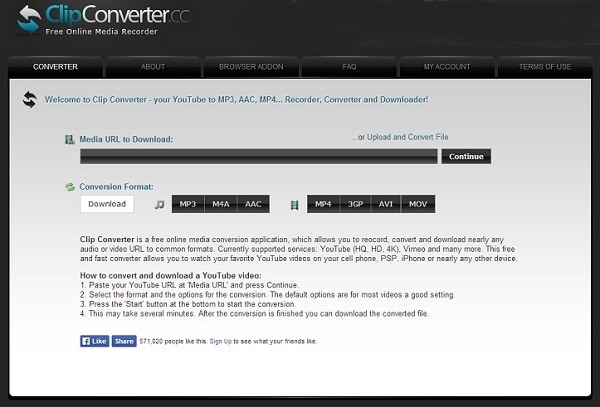 TheYouMp3 is a site that allows the users to convert their favorite youtube videos to MP3 format without having to download it or register. You can also use it on your mobile phone.
Pros:
• It is free to use.
• It is fast download speed.
Cons:
• It has too many unrelated ads.

This site is solely dedicated to converting youtube videos to MP3 among other formats and is mobile friendly. You just drop the file to be converted to the app window to convert it.
Pros:
• It is simple to use.
• It has a clean interface.
• It is fast and efficient.
Cons:
• Sometimes it is non-responsive.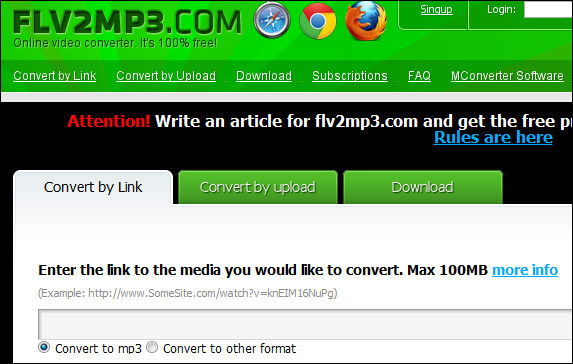 #9. OnlineVideoConverter
This converter is one of the highly regarded converters worldwide. It is compatible with many other online video sites such as Dailymotion, Vimeo, etc.
Pros:
• The site offers fast conversion and easy usability.
• There is no limitation to the number of videos one wants to convert.
• No registration needed to access the site.
Cons:
• Its compatibility can be limited.

The IXConverter is an online converter that can convert video content to formats such as WebM, MP3, MP4, AAC, M4A, FLV, and OGG. The public has free access to this website.
Pros:
• There is no need for registration to this site.
• The site is also mobile compatible with Windows, IOS, and Android phones.
Cons:
• The interface can be a bit complicated because of the many portals.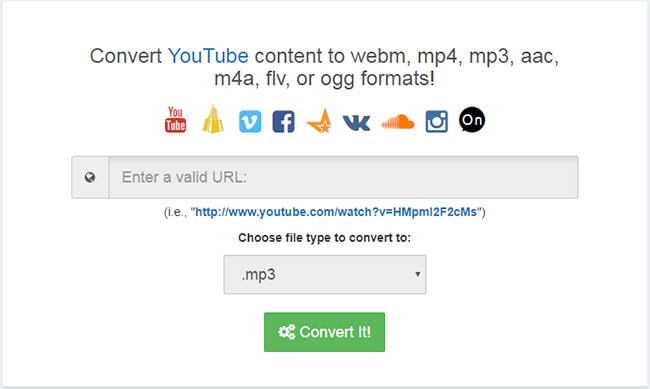 Part 2. Best YouTube to MP3 Converter to Convert YouTube to MP3 on Mac/PC
If you are looking for speed up to 90 times faster and high quality, UniConverter is the best. You will get YouTube link and convert it to MP3 without losing any detail. With its wide range of device profiles and presets you can finish your conversion with just one click.
Get the Best YouTube to MP3 Converter:
It has a modern interface that is easy to use.
Easily converts videos to any format freely.
It has awesome editing and formatting tools for your videos such as watermarks, layouts, and others.
Helps to burn media files to DVD and copy them.
Compatible with iPhone, iPad, Apple TV, HTC, LG, Samsung, PSP, Xbox, Samsung, Gear Vr, HTC Vive, Oculus Rift.
Compatible with macOS 10.13 High Sierra, 10.12 Sierra, 10.11 El Capitan, 10.10 Yosemite, 10.9 Mavericks, 10.8 Mountain Lion and 10.7 Lion; as well as Windows 10/8/7/XP/Vista.
How to Convert YouTube to MP3 using UniConverter
With all the above features, UniConverter gives you a memorable experience when converting YouTube to MP3. A free trial is provided before you can purchase the software. To ease the conversion process below is a step-by-step guide on how to convert YouTube to MP3 for PC using UniConverter:
Step 1. Launch the software, import YouTube videos
At the top you will see several buttons, click on "Converter" option and then click on the "Add Files" Uploading your YouTube files since this software supports batch conversions.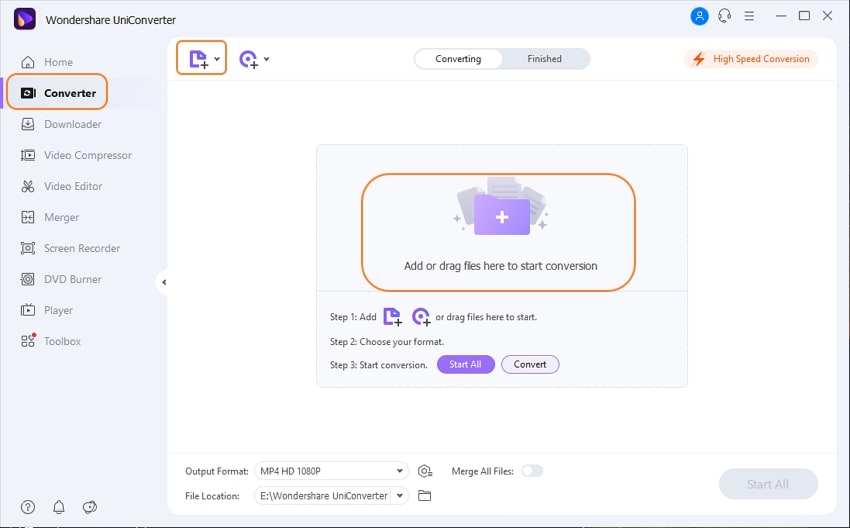 Step 2. Set output format as MP3
Next, you need to set a preferred output format, which is MP3. To do so, click on "Convert All Tasks" to go for "Audio" and select "MP3" format.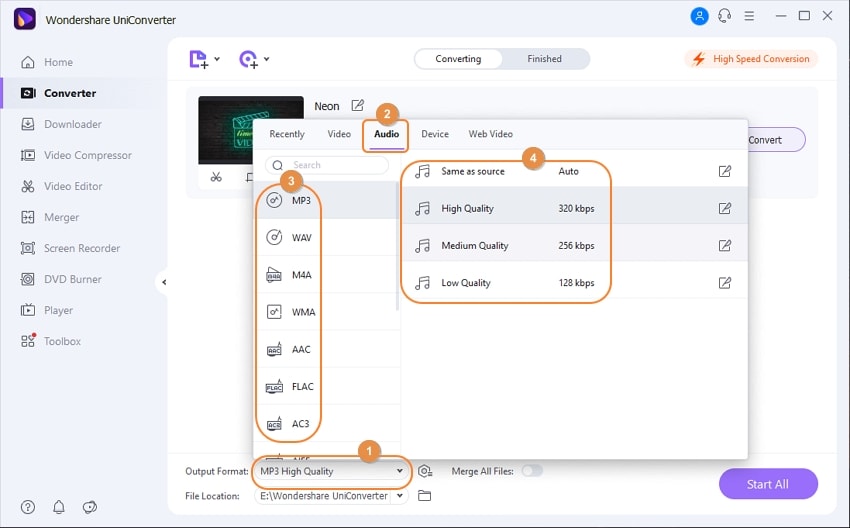 Step 3. Convert YouTube to MP3
Before you click on the "Convert All" button you can set to change the default location by going to "Preference" and then "Location". The conversion process will begin immediately and you can locate the MP3 files on the defined location.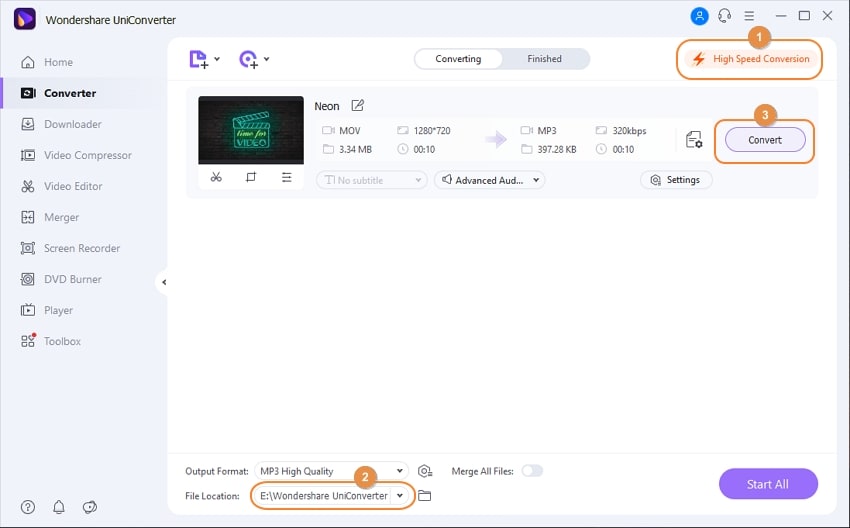 Gone are the days when you could only enjoy your music in one format especially on YouTube when you had to be online. With the wide range of YouTube to MP3 converting sites, you can get the output format you want at no cost. If you are looking for the best investment for long-term use and perfect quality, UniConverter will never disappoint.