Download & Convert YouTube Video-UniConverter
Download video from YouTube and other 10000+ sites directly with one click.
Convert YouTube to MP3 with original quality high speed.
Convert YouTube to 1000+ standard formats.
Edit YouTube files after converting to MP3 or other formats.
Other features include recorder, merger, compressor, and so on.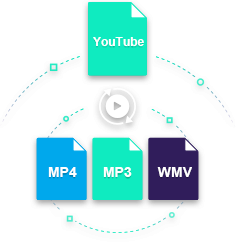 Not once, not twice, and not thrice have you seen or come across music that we just love on YouTube, or probably a video that left a huge impression on you, and you just thought, 'I need to have this!'. However, YouTube is just a streaming site and has no download features, so you search online for different ways to download videos, and a lot of results will require you to download apps but bet you've never come across extensions that serve as YouTube to MP3 converter for Chrome. Either in mp3 format or mp4, you can download videos directly from Chrome with these youtube mp3 converter extensions without additional apps. Now we list the 5 best Chrome extensions and web for converting YouTube videos to mp3 or mp4 for offline viewing.
Part 1. 5 YouTube to MP3 Converters for Chromebook
A long time ago, the Chrome extension store hosted some YouTube to mp3 converter extensions, but many of them was removed from the official store. Who knows what went down? But now, there are different other extensions and YouTube converter tools that you can try out. If the extensions are hard to be found, then you can try out the suggested extensions and converters in this list.
It might not look like much, but the MP3 converter extension for Chrome is one of the surest ways to get your videos converted in such a short time. There is nothing tricky about the interface as it just has one main screen. Although it does ask for a lot of permission, in the end, they are all to make your conversion easier. It has the drag and drop function, and surprisingly it works for links too. If you want to enjoy MP3 music freely, then you can use MP3 Converter on Chrome to realize it.
Steps to Convert Video with MP3 Converter Extension for Chrome
Step 1

Download and add the extension

The first step would be to download the extension, type in the MP3 converter in the Chrome web store search box and download it. Add it to the extension section and use it for a YouTube mp3 downloader on Chrome.

Step 2

Launch and Upload videos

Click on the MP3 converter icon from the extension section. It should be the icon with an 'm' in a grey circle. When you click on it, a new window will be opened, and there you have your converter. You can either click in the middle of the interface and search for it in your file explorer or search for it in your file explorer, then drag it into the mp3 converter interface. Alternatively, you can drag links from video-sharing sites and drop them into the interface. If you prefer to copy and paste, click on the clipboard icon on the top left side of the interface and permit it to access your clipboard. Keep in mind that only the text you copied last will be pasted.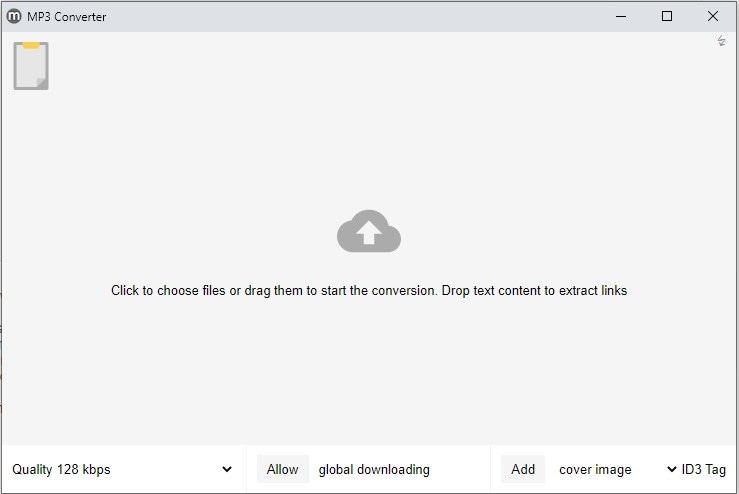 Step 3

Decode and Convert

Once the video has been added either by local files or by video link, the converter will tell you immediately if it can be converted or not. If you see 'not a media file', it means it cannot be converted, but if it can, you can see it reading and then decoding. Once the decoding has finished, you can find your mp3 in your downloads.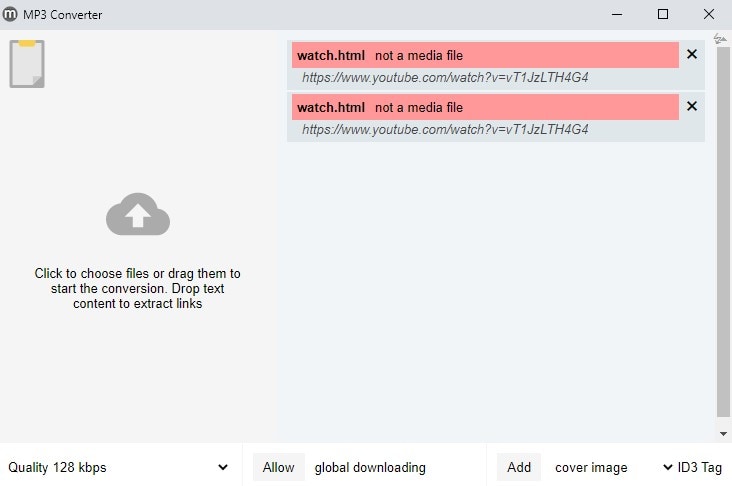 Pros
You can select the audio quality that your video will be exported in
Cons
Conversion is one-way. You can only convert to mp3
The conversion is slow, and it still depends on how big the video size is
You can convert YouTube to MP3 only by uploading YouTube videos from your local explore, cause most YouTube links will be defined as 'not a media file'
Addoncrop YouTube MP3 Converter is a YouTube to MP3 Downloader for Chrome that allows you to get the MP3 file from YouTube with one click. You can utilize it to download YouTube to MP3 in different bitrates. It can be used on Google Chrome, Firefox, Safari, and so on. Below are the steps you can follow to convert YouTube MP3 on Your Chrome.
Steps to Convert YouTube video with >Addoncrop
Step 1

Add the extension to Chrome

Visit the official website. Before using Addoncrop YouTube MP3 Converter, you need to add Foxisied to your Chrome first, cause it can make the extension work properly. Then Addoncrop converter will appear at the extension list automatically.

Step 2

Open the YouTube video page

The extension automatically embeds itself in the YouTube page, so you don't need any additional effort to download the audio for the video. Make sure that your browser is on the video page that you want to download and scroll down. You will see a new option looking like a Music Note right beside the 'like' button.

Step 3

Select the Download Quality

Click on the three dots, and it will reveal more options for you to choose from. After selecting the quality, proceed to click on download. Your MP3 file will be downloaded in a few seconds.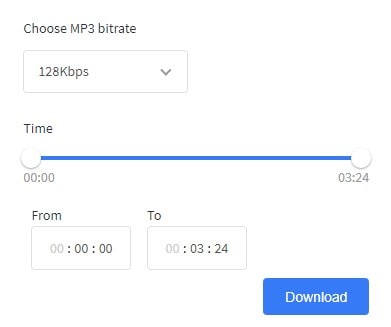 Pros
It works in YouTube itself. It doesn't take you to any external site
It can convert to mp3 and mp4
Downloading YouTube videos with it is easy since you don't need any elaborate steps
It can let us choose which part of the YouTube video to be downloaded
Cons
It takes a lot of effort to obtain the extension
There are not that many options, and the mp3 conversion have even less
If you want to get more advanced options you need to download Flixmate
The popular online converter has found its way into Chrome extensions, and it is ready to dominate the youtube mp3 converter extension page. It is different from the rest of the converters on the list, media.io has a solid base, and it is produced by a fairly popular company. It is capable of converting video files from over 50+ media formats and can convert to and from these formats. It also features a series of other functions that you might want to explore later on. The conversion process is pretty easy and very fast.
Steps to Convert Video with Media.io Youtube Mp3 Converter for Chrome
Step 1

Download and add the extension

The first step would be to download the extension, type in Online UniConverter in the Chrome web store search box and download it. Then add to the extension section box.

Step 2

Launch and Upload videos

Click on the Online UniConverter icon from the extension section. A new window will be launched, and from there, you can upload your videos. With media.io, there are four options for you to upload a video from the cloud; dropbox and google drive, from the internet; youtube, and from your local disk. Click on the YouTube icon, and paste the URL on the box.

Step 3

Convert

Once uploaded, you will have the option to choose which formats you want to convert to. There will be two boxes available, and you will have to select the original format of the video and the format you want to convert it. Then click on convert to begin the conversion. Your file will be saved to downloads.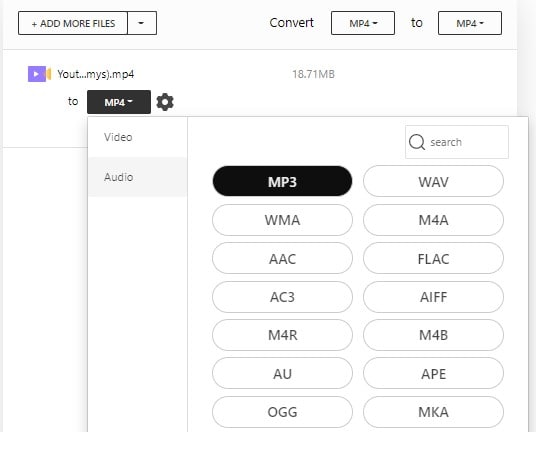 Pros
You can convert to and from as many as fifty formats
Supports conversion of both audio and video
The conversion is lightning fast
Cons
It is not free, although some features are opened, you can't use some without subscribing
Clip Converter is a YouTube converter through and through. The interface build might be a little crude, but it is still a fine converter. Converting YouTube video with clip converter youtube to mp3 converter for Chromebook is easy as it supports some of the most popular formats like mp3, m4a, and aac for audio and mp3, 3gp, AVI, MOV, and MKV for audio formats. Additionally, you can select the quality of the audio and video formats.
Steps to Convert YouTube video with ClipConvert YouTube to Mp3 Downloader for Chrome
Step 1

Download and add the extension

Unlike the other extension, God knows why clip converter is not hosted officially on the Web store, but you can get it by searching its name on Google. After you open the page, you need to download Tampermonkey first, and then the clipconverter.user.js. Finally, it will show up in your chrome extension.

Step 2

Download Video

Next time you open a YouTube video, the 'ClipConverter' icon will show on your screen.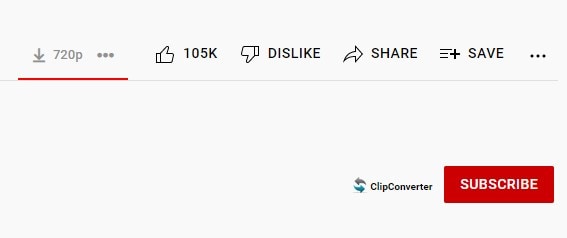 Pros
It supports lots of formats
Can convert both audio and video
Cons
The interface might be a bit unappealing
It can not convert videos that have music
Just your average video to mp3 converter. As the name implies, it serves as a youtube to mp3 downloader for Chrome. Although you can't use it to download youtube videos in mp4 formats, you still have lots of options to choose from. It supports many audio formats, and the conversion speed is pretty fast.
Steps to Download YouTube videos with ytmp3.club youtube to mp3 converter for Chrome
Step 1

Download and add the extension

Visit the ytmp3.club website
Step 2

Upload video

On the main interface, you will see an obvious box that you will paste your YouTube video link.

Step 3

Select Format and Download

After adding the link, the next step would be to choose the output format. Keep in mind that ytmp3.club is strictly for youtube to mp3 conversion, don't go looking for video formats in it. Your downloaded file will be saved in the 'download' folder on your computer.
Pros
It has a variety of mp3 formats to choose from
Cons
It can only convert to audio format
Wondershare UniConverter 13 - Best Video Converter for Mac/Windows
5,481,435 people have downloaded it.
UniConverter supports 1000+ formats and handles 90X faster conversion, ensuring that high quality is delivered at all times.
You can add the multiple files since the program does batch conversion of files.
The GUP acceleration can help you download online videos in high speed.
You can use the editing suite to make your results creative masterpieces.
This software facilitates file transfer to devices like Android and iPhone among others once the conversion is complete.
UniConverter is also capable of handling video compression hence ensures you acquire the video sizes you desire.
Part 2. Limitations of YouTube to MP3 Converter Extensions and Webs
Depend on the internet connection:
As an extension, they require the same internet just like Chrome itself, an unstable internet connection can cause your conversion or other video editing process to stop midway, and this can hamper your progress. While some of these converters are indeed fast on their own, the internet also plays a part in their speed, some will slow down, and some will just outright cancel your conversion.
Limited converting features
The size of an app will tell what type of amazing jargon has been crammed into it. Extensions are mostly in kilobytes as such, they have limited features as compared to online tools, not to talk of standard software.
Maybe unsafe sometimes
Downloading them from a third-party website can be very dangerous but take care to only download from the Chrome web store. Downloads from third-party sites might have already been corrupted, or a malicious virus might have infected it.
It's a little bit complex for new users to use
There is a reason why using the extension is not very famous. A lot of people do not want to go through that stress of adding extension before being able to use the converter, and it is justifiable. Plus, it is not all converters that function the same way in their extension.
Part 3. What Should We Do When YouTube to MP3 Converter Extensions or Webs Don't Work?
Accidents happen, especially when it comes to electronics and the internet, those things can let you down when you need them the most, so there is always a need for you to prepare some contingency, and for converting, we recommend UniConverter.
This is a highly favorable video editing tool, it is multi-purpose, and it will satisfy your video editing needs to the fullest. Just by pasting links, you can convert videos from YouTube, and not only that, as long as you have the link, you can convert video from almost any video-sharing site. The conversion process is also smooth, and the app has been optimized to change performance based on your system specs. This doesn't mean that it loses its functionalities on a low-spec system, it just means that it adjusts its parameter to function fluidly on low-spec computers. You can convert to different formats, including device and web formats. While selecting the format that you want to export your video, you can also select the quality, and UniConverter supports up to 4k video.
Steps to Convert YouTube Video to Mp3 with UniConverter
Step 1

Launch and Select Video Downloader

Go to the official site to download the UniConverter software if you are yet to do so. Downloading some third-party sites is not advised. Launch the Uniconveter software, and on the main interface, you will see a list of tools on the left side of the screen. Click on the Downloader tab and watch the screen change to the 'Downloader window'.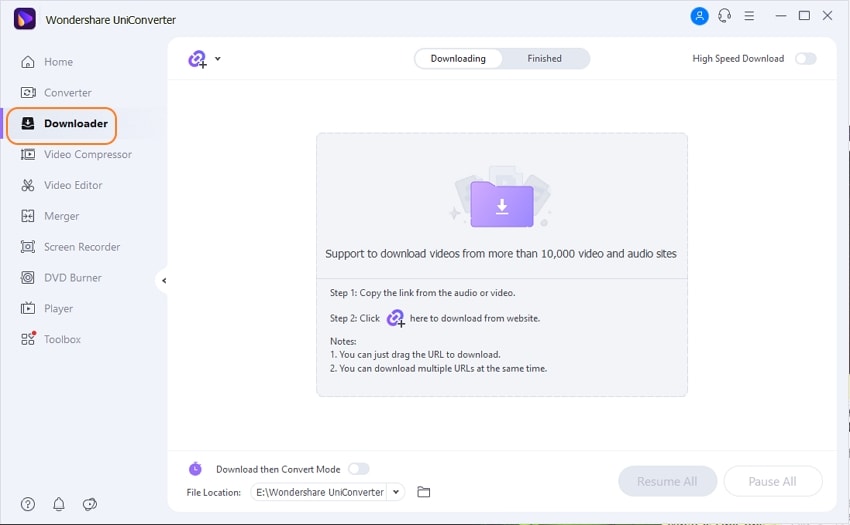 Step 2

Add Video Link and choose a format

On the new window, click on the purple folder in the middle of the interface to start the download process. If you have a link in your clipboard, i.e., if you have previously copied the link, the analysis of the link will start immediately you click on the purple folder. After analyzing the link, UniConverter will produce a series of downloadable formats for you, and you can select whichever one you want, either video or audio formats. You can also click the 'Download MP3' option to convert YouTube to MP3 directly.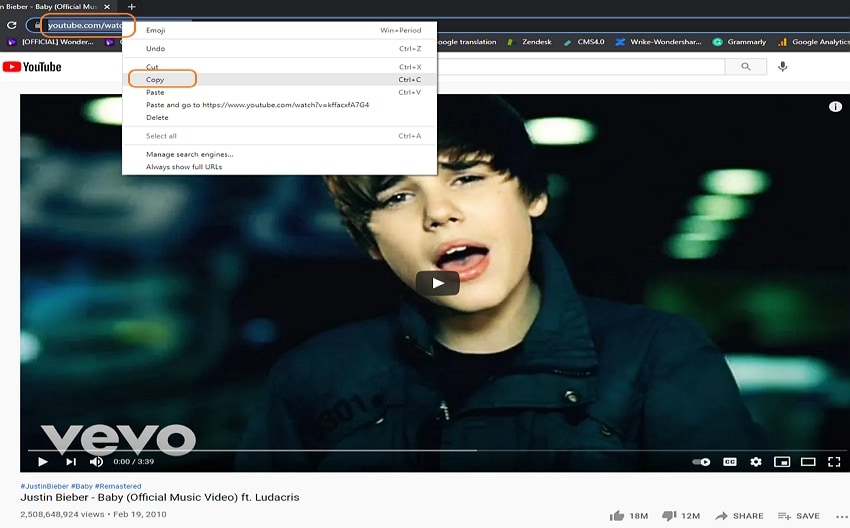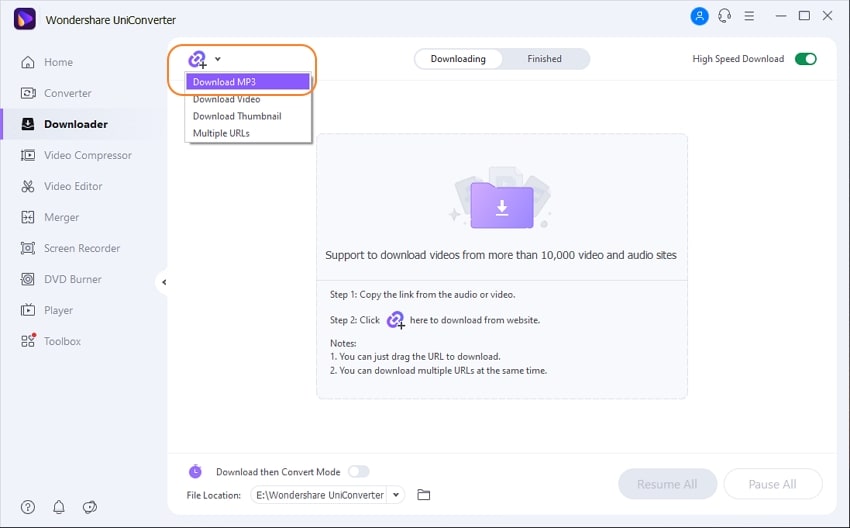 Step 3

Download and Save

After selecting the format that you want, click on download. UniConverter has a very fast processing speed, so it won't take long for it to finish. Check the downloaded file under your 'download' folder.