Download & Convert YouTube Video-UniConverter
Download video from YouTube and other 10000+ sites directly with one click.
Convert YouTube to Ringtone with original quality high speed.
Convert YouTube to 1000+ standard formats.
Editing toolbox to auto-trim video and audio, remove background, or edit watermark.
Other features include recorder, merger, compressor, and so on.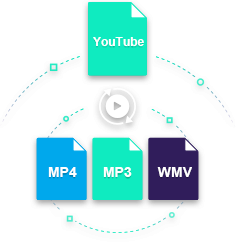 If we talk about the past, mobile phones have built-in ringtones for calls, messages, and alarms, but now there are several options to download the ringtones from the internet and select it as a caller tone or whatever purpose you want. With the advancement in technology, you are now even able to create your ringtones if you are looking for any specific ringtone that is paid or is not available anywhere. You can use different software available online, offline, and even the mobile apps from the Android or iOS devices as a YouTube to ringtone converter to convert any YouTube video into a ringtone.
Part 1. How to Convert YouTube to Ringtone with Mobile Apps?
Several apps have been available in the market that helps you convert YouTube to ringtone with some additional features to become unique and more useful for its users. We will discuss two mobile apps best for YouTube conversion using mobile apps.
Easy Ringtone Maker for iPhone is considered one of the best apps to convert YouTube to mp3 ringtone. This app supports many languages, including Chinese, English, French, Italian, etc. It has an age restriction for those who are less than 17. You can easily convert your iTunes music free of cost using this app. You can set the alarm whenever you want to use this app. Easy Ringtone Maker enables you to create unlimited ringtones and share them with your friends using email. It supports not only the caller tone or message tune, but also the calendar tones, Twitter, and mail notification tones also. Using this app, you can easily convert YouTube video to mp3 ringtone and even Tiktok videos. You can also record a video file on your device and convert it to a ringtone.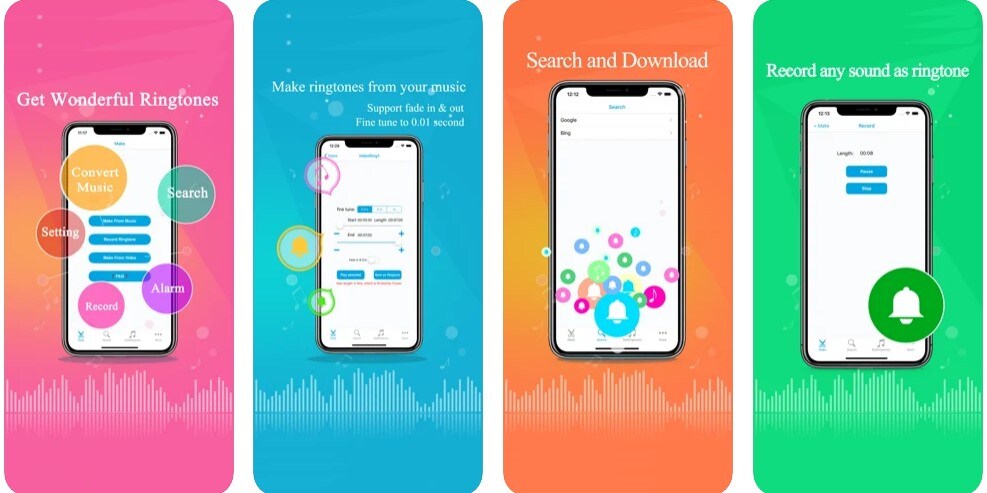 Detailed Steps
Using steps are easy for this app:
Step 1: Download the Easy Ringtone app from Apple Store and provide the details needed.
Step 2: You will be provided with different methods to convert into a ringtone. Select the one you want to use.
Step 3: After selecting the video, set the start time and end time, and other settings available to customize your ringtone.
Step 4: Then save the ringtone with the name you want to and add it to your caller tone or elsewhere.
Pros
Provides more than one method to select a video.
You can create unlimited ringtones.
Cons
Only supports iOS 10.0 or above versions.
It is a little bit confusing for new users.
Before this, we have discussed converting YouTube videos into a ringtone for iPhone. Now we will provide a solution for the same thing but for Android uses. Snappea is an Android application available on Google Play Store to turn video into a ringtone with an easy interface. Besides YouTube, you can also take videos from Daily Motion and other video-sharing websites. It supports not only MP3 but also MP4 formats, so you can download any of the two formats to convert it into a ringtone. Snappea also provides some additional features to its users, like the night mode that enables viewers to watch the screen clearly in the dark,,the dark without any eyesight side effects. This app has provided picture in picture mode to do more than one task at a time.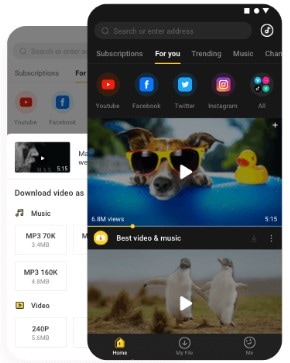 Detailed Steps
Downloading Snappea and its usage involves only a few simple steps:
 Step 1: Download the app from Play Store or the official website. This step may take some minutes or seconds, depending upon the internet speed.
Step 2: Open the downloaded file to install the app on your Android device. If it asks for access permission, go to settings and allow access to the app to get installed.
Step 3: After installing the app, search for the media file you want to convert into a ringtone and then press the arrow button to download the file. You also need to specify the file format to download the ringtone. 
Pros
Free and no hidden charges and ads.
You can continue other tasks while using this app.
Cons
Not available for iPhone users.
Part 2. How to Convert YouTube Video to MP3 Ringtone with Offline software?
We don't have internet service available all the time, and sometimes the mobile phone is not compatible with the applications, as they demand high-speed internet and high specifications sometimes. So to solve this issue and continue converting ringtones, we need to use an offline software that can help you perform the task without any interruption. In this regard, UniConverter is the best application ever experienced, and its extra features attract the users more.
Uniconverter is the best offline software used as a YouTube to ringtone converter software. This software enables you to download videos and convert them to ringtones at a very high speed, and this is one of the basic reasons people prefer it. It supports both Mac and Windows Operating Systems  and can convert your favorite ringtone to more than one thousand file formats. The most amazing thing about this offline software is that it enables users to customize the ringtone with several different and unique features.
Detailed Steps 
The process to turn YouTube video into a ringtone using Uniconverter involves a few steps:
Step 1
Download the Uniconverter software on your Pc and install it to use its various features and tab the option "downloader".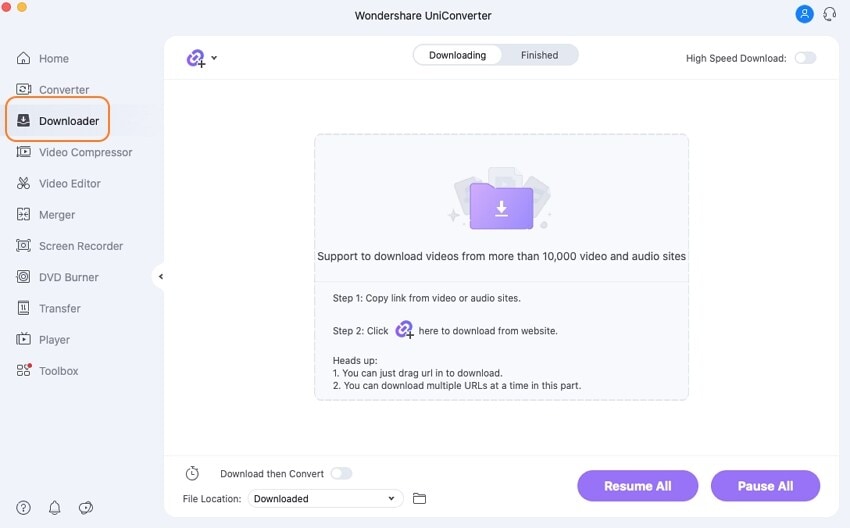 Step 2
Copy the link of the video you want to convert into a ringtone and then select "download MP3" from the drop-down menu of files option. This will automatically paste the copied link and will start downloading.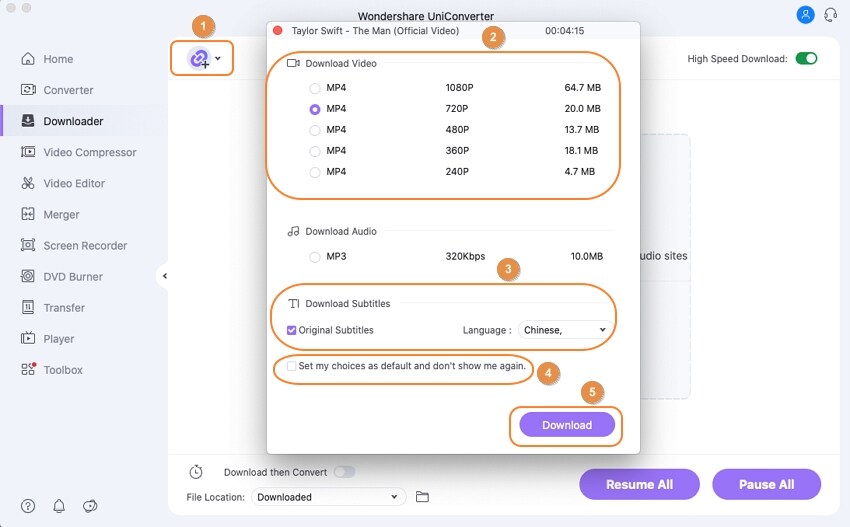 Step 3
Uniconverter also allows you to stop downloading if you want before completing the download. You will get the downloaded file in the 'Finished' tab.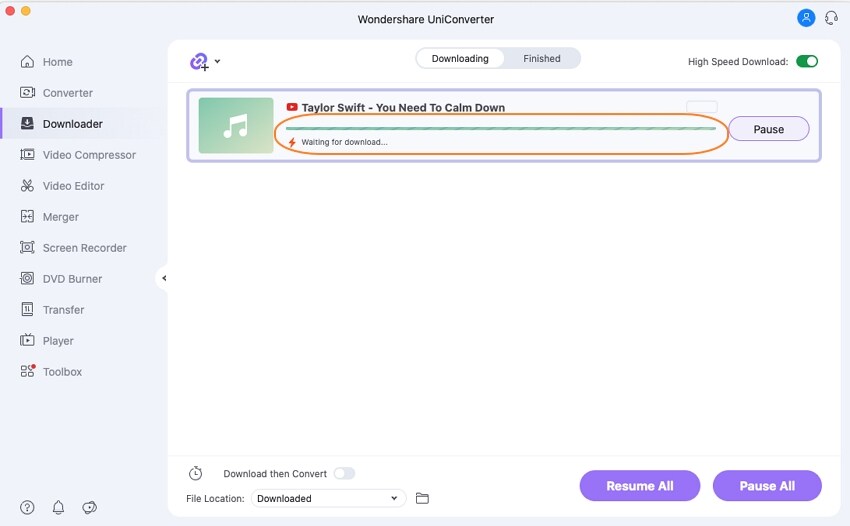 Pros
Offline service is available.
High-speed downloading as compared to other software.
Cons
A free trial does not provide many services.
Wondershare UniConverter 13 - Best Video Converter for Mac/Windows
5,481,435 people have downloaded it.
UniConverter supports 1000+ formats and handles 90X faster conversion, ensuring that high quality is delivered at all times.
You can add the multiple files since the program does batch conversion of files.
The GUP acceleration can help you download online videos in high speed.
You can use the editing suite to make your results creative masterpieces.
This software facilitates file transfer to devices like Android and iPhone among others once the conversion is complete.
UniConverter is also capable of handling video compression hence ensures you acquire the video sizes you desire.
VLC stands for "VideoLAN Client". Almost all are aware of the VLC media player and use it to watch videos, but you will be surprised to know that this same software is also used to convert YouTube to ringtone. Yes, I was also surprised when I heard it for the very first time. This software provides you with offline conversion into ringtones. The good thing that this video player has is that it supports many operating systems like Android, iOS, Mac, Windows, etc. VLC is a safe tool if you download it from its official source. If you got trapped in some fake source, it may breach your privacy.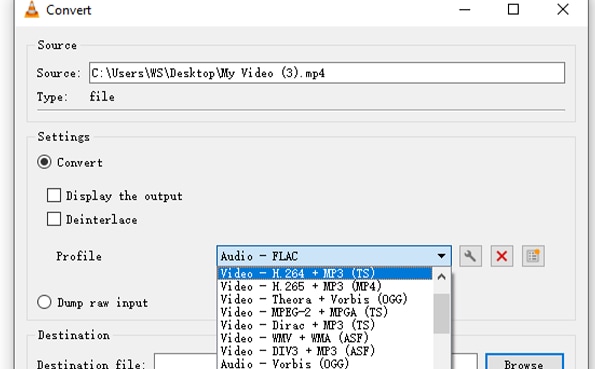 Detailed Steps 
The steps to convert YouTube video to MP3 ringtone using the VLC media player are very easy if you follow my steps carefully:
Step 1
Download the VLC media player software from the official source and install it on your device. Open the drop-down menu from the top left corner "Media". There you will click on "Convert/Save". A new box will open.
Step 2
In the file selection box, you will add the file you have downloaded from YouTube. After selecting it, press the "Open" button. 
Step 3
From the Convert/Save button, you will select "Convert". You will see a new window box with a profile tab. There you will select the MP3 format or any else you need. 
Step 4
Then press the "Browse" button and select the file name, and the file format should be changed to MP3. After pressing save, it will be saved in the destination you have mentioned within a few seconds or a minute.
Pros
It does not require any fast-speed internet.
Compatible with more than one Operating System.
Cons
The program interface cannot be customized.
It involves complicated steps for converting files.
Part 3. How to Convert YouTube to MP3 Ringtone Online?
Every person has different preferences, depending upon how they feel comfortable, and due to this reason, we have shared you with all the possible methods that can be used as software such as YouTube to ringtone converter. Some people who have good internet speed and need to convert ringtones very often always prefer online tools to convert them. There is never waste time in downloading the apps and installing them even it occupies some space also.
Kapwing is one of the best apps to convert YouTube to MP3 ringtone online. This tool has a very user-friendly interface that anyone new to this can use without much difficulty. Kapwing is a free tool for trimming and cutting a video with the best sound you want as your ringtone and converting it into an MP3 ringtone. You can also set the ringtone for the alarm.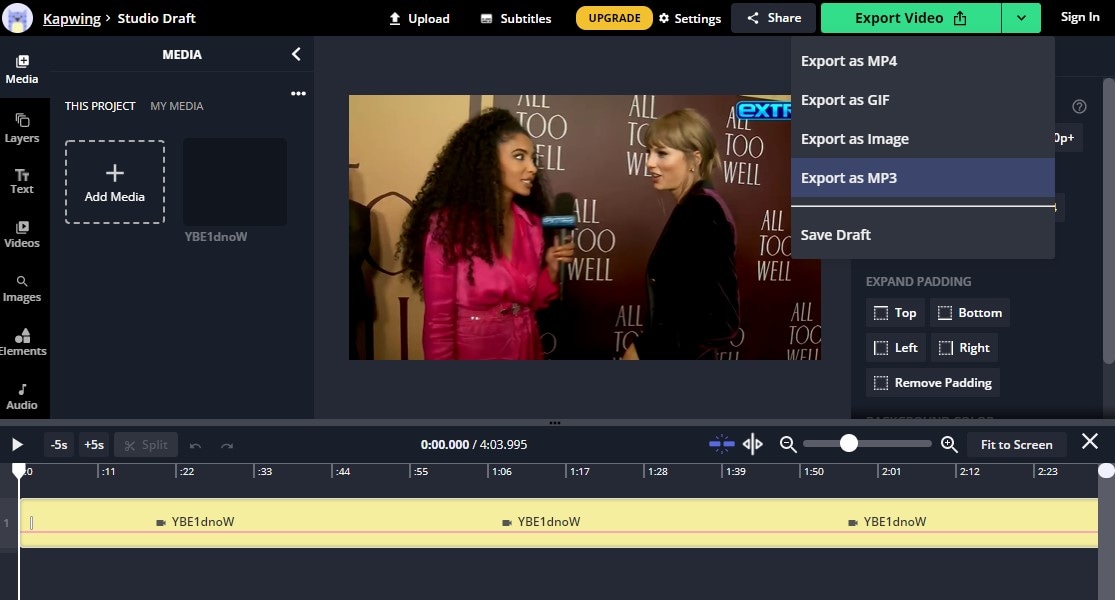 Detailed Steps 
To convert YouTube to ringtone, we need to follow a few steps:
Step 1: Open the website of Kapwing, where you will have to place the URL of that YouTube video that you want to convert.
Step 2: Go to YouTube, copy the link, and paste it in the Convert video tool in the "Tools" option seen at the top left corner of the website.
Step 3: Trim the video as you want to by selecting the start and end of the video and other changes provided by this online tool.
Step 4: In the last step, after completing all the changes, you want to click on "Export Video" and select '" Export as MP3". Then click on the download option to download it to your device and then open the file where it is saved and set it where desired.
Pros
Saves downloading and installing time.
Cons
The connection may cut off sometimes and will have to work from the start again.
Like Kapwing, y2meta is also a tool to convert YouTube to MP3 ringtone online. This online tool is slightly different from the Kapwing due to its features. Y2meta enables you to convert romantic, funny, and other videos into ringtones free of cost. Other than YouTube, you can also convert videos from Facebook, Daily motion, and many other websites. An amazing thing about this tool is that it supports many file formats like MP3, MP4, FLV, WMV, etc. It provides you facility with no limits, which means unlimited videos can be converted to ringtones using this online tool. The downloading speed on this tool is quite high, and it can easily download files due to its compatibility with the websites. This is the easiest method to convert YouTube videos into MP3 ringtones with just a few steps.

Detailed Steps 
It includes a few steps to download and convert the files into an MP3 ringtone. For your convenience, let me explain to you the steps:
Step 1: Open YouTube and search for the video you want to convert. Copy the link to that video.
Step 2: Open the website with this URL: https://www.y2meta.com/youtube/P3Vr6X3EYzw and paste the link of the video you copied YouTube.
Step 3: You will get three options: Video, MP3, and Audio. You will select MP3 and click on download. The file will start downloading and will be completed in a few seconds. Then you play that audio file on your device and set it as your ringtone. 
Pros
No registration is required.
This tool allows you to convert the files into various file formats like MP3, MP4, FLV, etc.
Cons
It is not safe as it may carry a virus in your device.
Using this app, you are continuously shown the ads of gaming and pornographic content.
Conclusion:
In this article, we have discussed three different methods that can be used as a YouTube to ringtone converter. The basic purpose of writing this article is to let you know how to convert YouTube videos into MP3 ringtones using online tools and offline software. There are also several mobile applications available on the Apple Store and Google Play Store that help you in this regard. To save your time, we have already mentioned here the best tools and software of each category so that you can directly use them without any problem. You can choose any of the methods that suit best for you.