I want to convert long YouTube videos to MP3, who can help?
Conversion of YouTube videos to MP3 files is not only restricted to the short videos. One may also convert longer videos, for example, those that last for longer than 20 minutes. This calls for the right YouTube to MP3 converter in order to attain the desired quality of output. Converting long YouTube videos normally calls for apps that can carry out the task without altering the quality of the media output. Such an app ought to be characterized by the appropriate, basic to professional video converting tools as well.
Wondering what tools can do this? Well, there are many in the market but this article will introduce you to one tool that stands a cut above the rest in UniConverter coupled with how you can leverage the tool to convert long YouTube videos to MP3. Just read through and take some notes!
How to Convert Long Videos from YouTube to MP3
The major challenge with the conversion of YouTube videos is the different lengths of the videos. In many cases, video converter apps convert short videos such as songs, which take between 4 to 10 minutes. However, they prove to be inefficient when it comes to converting YouTube videos that are longer than 20 minutes. Such inefficiency might be caused by the minimal speeds at which these applications convert videos. 
On the contrary, UniConverter is characterized by its high conversion speeds. One major attribute that can be accorded to the app that allows it to be able to carry out the task of converting long videos is the fact that despite it bearing a wide array of tools for recording, editing, downloading and converting tools, the conversion process is its key function. This makes it simple to use, as the only requirement for you to be able to convert the videos is to launch the application.
Get the Best Long YouTube Video to MP3 Converter:
Offers the user with an easy to use 'drag-and-drop' interface that's efficient when loading videos to be converted. This is coupled with the high user-friendliness option.
It supports a wide array of video formats including MP4, M4V, WMA, WAV, OGG, AC3, AAC, AIFF, MKA, FLAC, AU, APE, M4R, AA, M4P and AAX, etc.
The in-built editing tools allow users to adjust brightness, saturation, and volume, add layouts, watermarks and effects.
It had a DVD burner that allows you to edit DVD media, edit them and do a backup by copying them to your external device.
With this software you will be able to edit video metadata, do VR conversions, create GIFS and also record your screen activities.
One can convert videos from different devices the application comes with a device mode which supports Oculus Rift, Apple TV, iPhones, iPads, Playstation, Xbox and Android.
It supports over 1000 sharing sites like YouTube, Spotify, Hulu, Break, DailyMotion, VEVO and many more.
How to Convert Large YouTube Videos to MP3 using UniConverter
Step 1: Import long YouTube videos
Launch the UniConverter software and locate the "Convert" button. Click on "Add Files" icon and you will be able to upload your long YouTube files from a local folder on your computer.
Or you can directly copy the URL of the video that you want to download, then select the "Downloader" in the interface and click the "Download MP3" button. The software will automatically start video download and convert.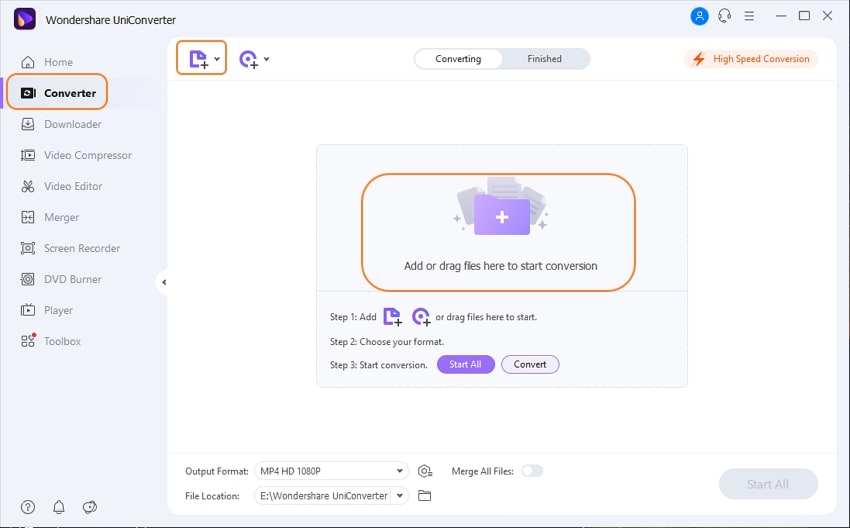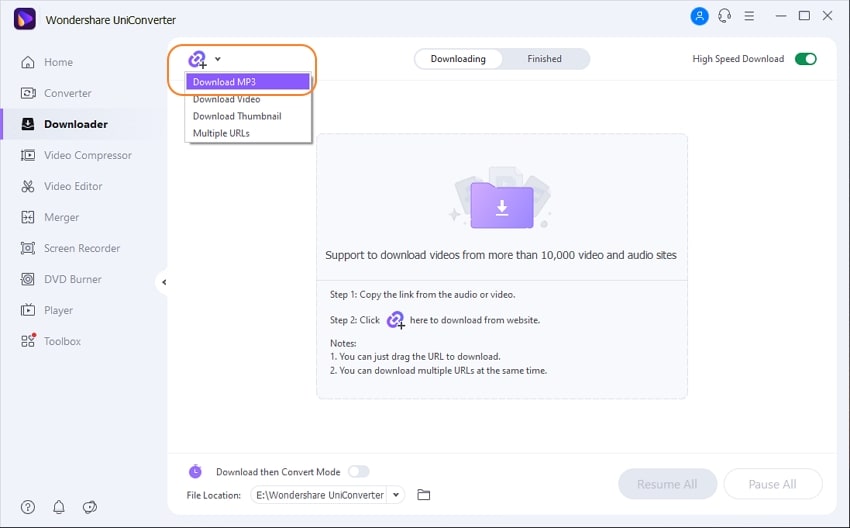 Step 2. Choose output format
Next, click on "Output Format" and then head to "Audio" list where you will pick on "MP3" format. Choose a preferred quality output and move to the next step. By the way, you can convert all YouTube videos to MP3 format, as well as converting multiple YouTube videos to different formats as needed.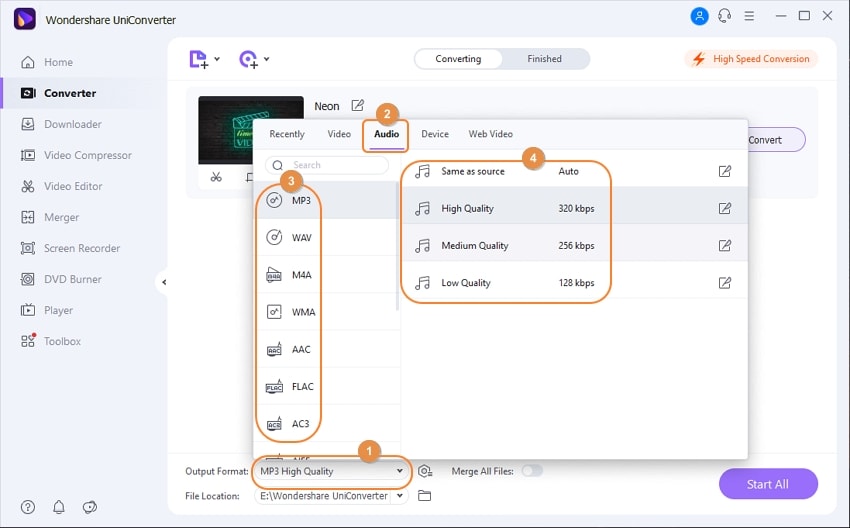 Step 3. Convert large YouTube videos to MP3
Select the output folder in which you want to save the downloaded and converted file. After that, you can now scroll the cursor to the bottom right and click on "Convert" or "Start All" button. The program will begin converting the long YouTube files to MP3 format. You can now choose to move the downloaded file from the folder in which it was saved to any other device or location.