How to Export WMV from Final Cut Pro
Go to Mac
Go to Windows
Final Cut Pro is a puissant software that is used to edit videos. It's no wonder this program is relied upon by many especially those who want to add some professional outlook when doing final touches in their videos and hence get a better display.
But you will first have to upload the edited videos into your device storage export final cut pro to WMV to make them playable in platforms like PowerPoint. This guide is going to take you through the whole process and help you get started especially if you are a beginner. And within just a few steps, you will be well set to export final cut pro to WMV.
---
Part 1. What is Final Cut Pro
Final Cut Pro was originally designed by Apple to let its users handle various photo and video editing needs. However, with time, the demand for the program grew and hence a Windows OS version was released. Through professionally designed features such as filters, photo and video effects, and motion graphics, users have the chance to come up with stunning videos.
Here are some of its features:
2D and 3D Titles: Final Cut Pro is equipped with templates that have been designed graphically, with filters and other effects to enable quality storytelling in videos.
Great Speed:: Gone are the days when you would have been forced to wait for longer durations to get your files rendered. Final Cut Pro makes use of the multi-core and multi-thread features to deliver videos faster.
Powerful Editor: The magnetic timeline feature supports moving and trimming of clips with ultimate ease and such that it won't affect the rest of the video. This feature is also equipped to distinguish contents based on color making editing videos easier and efficient.
Captivating Interface:: This tool has been designed to enable its well-labeled icons to be the most prominent thing on the screen. Hence, even beginners can perform tasks with the.
Virtual Reality Support: The 360 degrees viewer incorporated in this tool lets the users view videos from all angles. More so, the users are allowed to make changes to the viewed files with the help of simple tools.
---
Part 2. How to Export Final Cut Pro Files to Mac
The steps involved when exporting Final Cut Pro videos to Mac devices are simple and straightforward as shown below.
Step 1: After launching the Final Cut Pro software, go to the videos that you would want to export to your Mac device. Then select the specific video or projects to be exported. You should, however, note that you cannot mix both clips and projects. This tool allows for only a project batch or clips batch to be exported independently.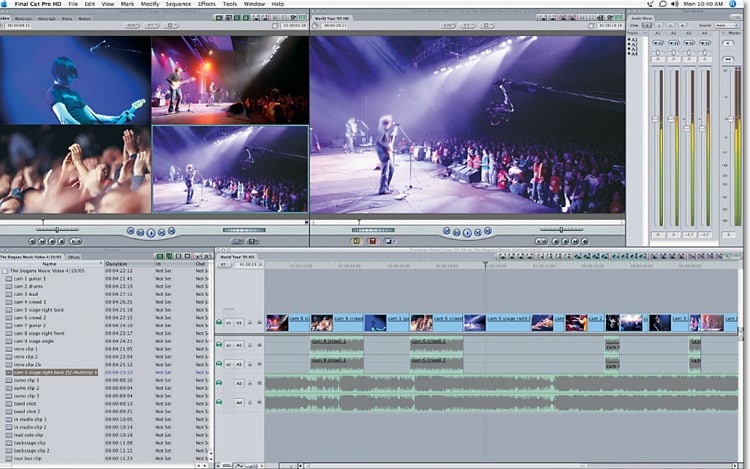 Step 2: If the videos that you created with this software is to be used on proxy media, open the video through the timeline and click on the 'View' tab in the top icon. A new window will appear. Select Optimized/Original. This will ensure that a high-quality video will be exported to your device storage.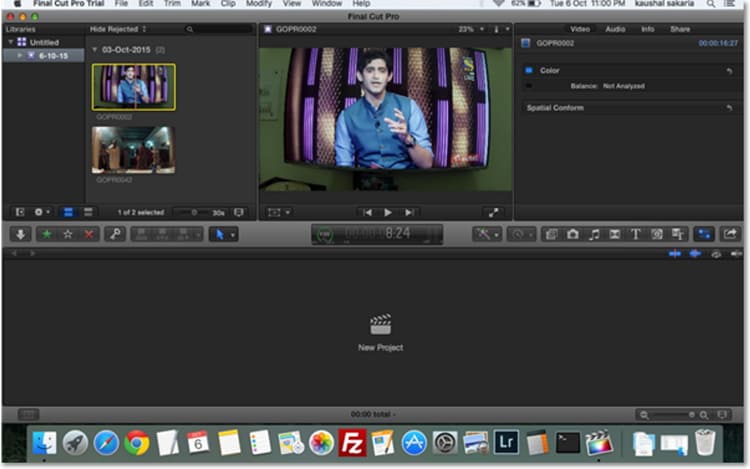 Step 3: Click on the 'File' tab from where a popup window will appear. Select the button named 'Share' that will be availed in the drop-down window. After that, choose 'Master File'.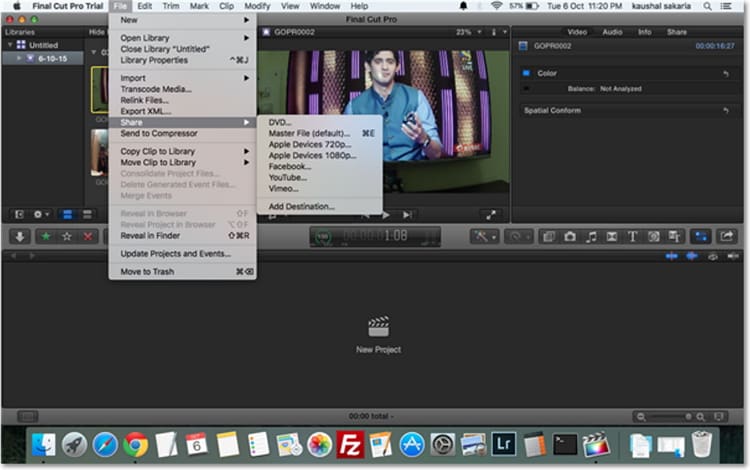 Step 4: A popup window will be shown after Step 3. Use the 'Save As' option to name your file and 'Where' to state the location that the files will be stored in your device.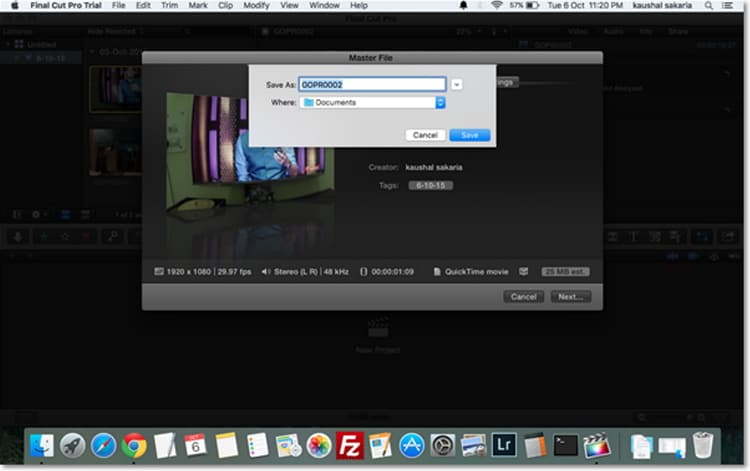 ---
Part 3. How to Convert Exported FCP Videos to WMV Format
After having your videos stored in the device memory, you may find that the video does not play in your device. You will, therefore, need to find a way through which you can export the final cut pro to WMV. Plenty of tools have been availed to help you handle this task. UniConverter is one of the highly recommended tools for both professionals and novices. It has been designed to enable users to perform their tasks with ease. And in the end, get high-quality outputs. Here are the steps on how to export the final cut pro to WMV.
Download the program's setup
It is available on the main website. After downloading, install the tool and launch it.
Access the Convert option and upload videos.
From there, click on the + Add Files. You will be taken to the internal storage of your device. Select the exported FCP videos to be converted and upload them to your device.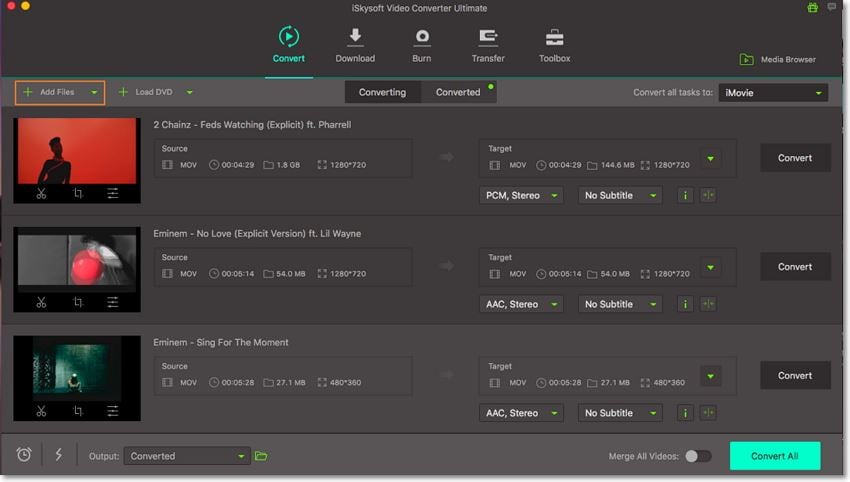 Choose WMV as the output format
Go to the Target section. Click on the drop-down icon that has been availed there. Choose Video and then on WMVWMV. You should also choose the resolution.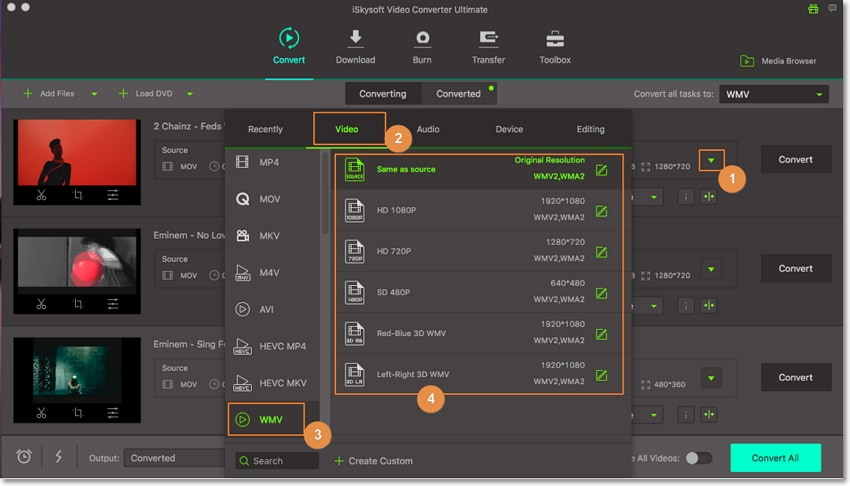 Convert Final Cut Pro File to WMV
Set the location where the converted videos will be stored in your device. When everything is well set, click on the Convert All button.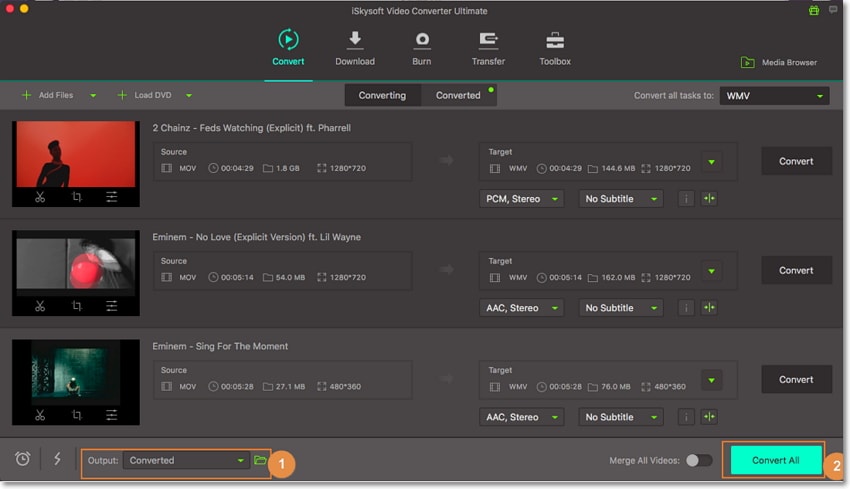 ---
Part 4: Tips and Tricks of Final Cut Pro
Final Cut Pro has been applauded by a big number of video editors as the best tool for editing files. Simply called FCP, the tool possesses unique and powerful features that will be greatly helpful in getting your tasks done. One can still enhance what they are able to do with this program to get even better and high-quality output. Below are some of the tips and tricks that you can incorporate in your video editing endeavors to obtain even quality output.
Customizing Output Files

: There are two options when it comes to moving videos from Final Cut Pro to device storage. You can either use the 'export' way or share to master file alternatives. If you would still want to customize your files and still enhance their outlook, use the Share way.

Making videos Web-friendly

: There is a general format that is relied upon when you plan using videos over the web. Set output video to HD 720p (1280, 640) if you want to use them on YouTube, Vimeo, or Facebook.

Exporting Audios

: When exporting audios, ensure that you set 'Audio' as the output format.

Trim Videos Live

: Final Cut Pro has real-time editing prowess such as Trim Start, Trim End, and Trim Playhead. These tools will play a bigger role in enabling you to make clips shorter with ease.
Undoubtedly, Apple Final Cut Pro is one of the best video editors that is relied upon by both professionals and novices. The finals output of the program is normally set to FCP and hence you will have to export WMV from a final cut pro to play your files effectively. Top programs like UniConverter can be of help to export the final cut pro to WMV without any hitches.
WMV
1. Convert WMV to Other Format

2. Convert Other Format to WMV

3. WMV Tools & Tips