Record Voice Memo-UniConverter
Help you record audio at your home and convert, compress your recorded files.
Record the online music and listen to it offline.
Transfer your recorded audio to your Android or iPhone devices.
Record the meeting voice to save the important information.
Additional features include video converting, downloading, editing, and others.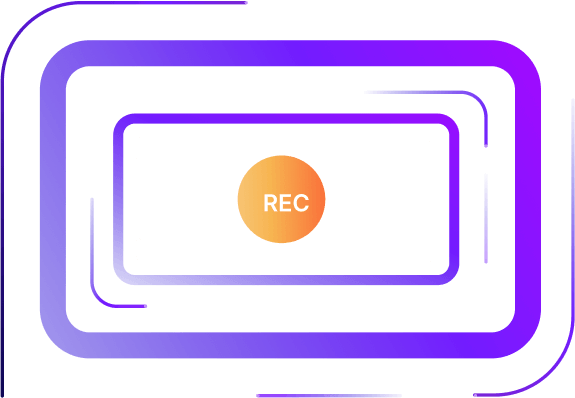 Recording a voice memo could be a way to unlock and access a couple of things that took place in the past. There are times we forget the ideas we have about a project, can't give a detailed description about an event that took place or lectures received in a classroom, seminar, or at a conference, and we sort to implore the best option to keep memories of past events in a safe place that'll be accessible to us any day, anytime. Sometimes we're opportune to hear news and useful information from our tv, radio, and other broadcasting devices and decide to share it. If you find yourself in this situation, then using an audio memo could be a lifesaving solution. Recording voice memos on an iPhone, or android device isn't a difficult task when you utilize the appropriate and worthy apps. If you're a computer user, you also have the opportunity to record a voice memo on Mac or Windows operating system with no problems.
Part 1. How to Record Voice Memo on Mac/ Windows Devices?
In an advanced world of technology like ours, there are thousands of memo recorders that are compatible with our computers whether it's a Windows, Mac, GNU, Linux, or other operating systems, but our ultimate goal is to get an audio memo recorder to provide quality in terms of its features and output delivery. If you love to keep memories, make audio documents, and own a Mac or Windows, then the Uniconconverter 13 is solely at your recommendation.
UniConverter 13 is a media workstation owning a beautiful and understandable interface to itself and its users alone, allowing them to explore the features of its built-in tools like a Converter, Downloader, Compressor, Merger, Video Editor, Screen Recorder, DVD Burner, Media player, Toolbox and more. The universal and ultimate UniConverter 13 permits its users to record voice memos on their PC whether it's a Mac or Windows operating system. Without much boasting about the qualities and features of UniConverter, if you wish to use this intuitive software to record a voice memo on mac or Windows, gently follow the instructional steps below.
STEP1

Download and install the UniConverter 13 on your PC. Launch the software once it's done installing. Once the software opens, from the left side of the UniConverter's interface click the Screen Recorder option and select the Audio Recorder option from the options displayed on the screen of the recorder's user interface.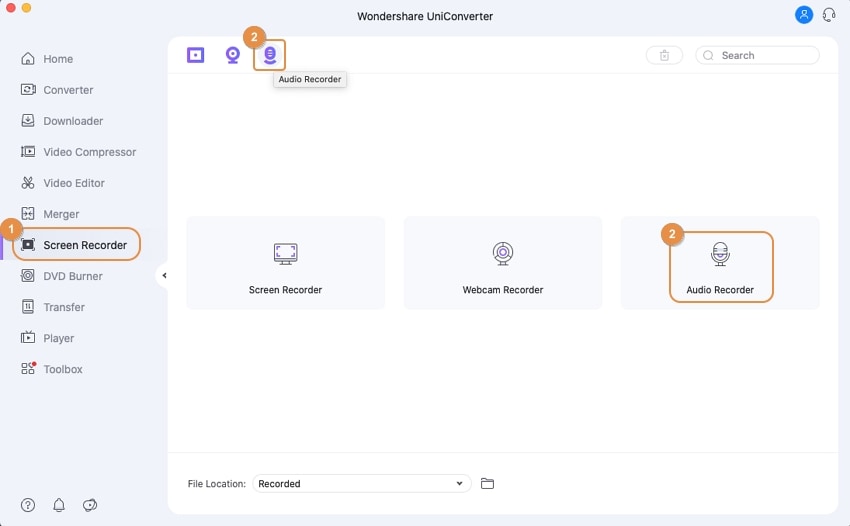 STEP2

Immediately after clicking the audio recorder option, a new window shows up on the screen of your PC. With no hesitation set the system audio, microphone, and format you wish to record the voice memo using the dropdown options from the newly displayed window as shown below.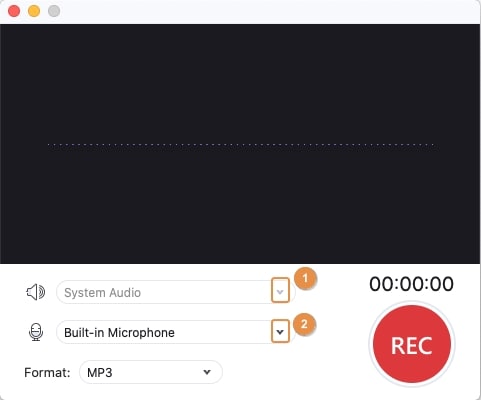 Note: Since it's a voice memo you want to make, there's no need for you to activate the system audio. It's advisable to use it only when you decide to record audio playing from the PC.
STEP3
Once you've set every necessary parameter as required and desired, you can go ahead to click the big red REC button you'll see at the bottom right corner of the audio recorder's interface. If you wish to end the recording process, just kindly click the REC for a second time to stop the recording.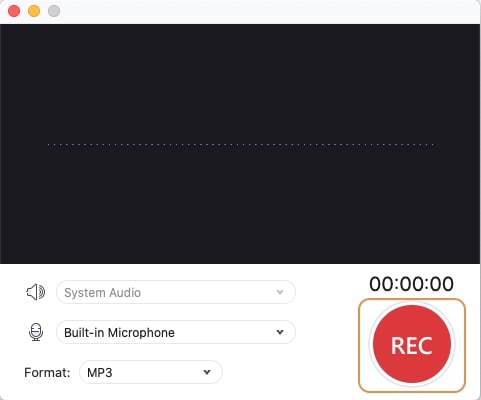 Wondershare UniConverter 13 - A Complete Meida Toolbox
5,481,435 people have downloaded it.
UniConverter supports many formats and handles conversion equally, ensuring that high quality is delisered at all times.
During the conversion process, you may add multiple files since the program does batch conversion of files.
You can use the editing suite that covers subtitle editing, watermark editing, etc to make your results creative masterpieces.
This software facilitates file transfer to devices like Android and iPhone among others once the conversion is complete.
UniConverter is also capable of handling video compression hence ensures you acquire the video sizes you desire.
Part 2. How to Record Voice Memo on iPhone/Android?
Just as there are thousands of voice memo software for computers, so there are thousands of voice memo recorders available for iPhones, Androids, iPads, tablets, and other mobile devices. This article has created a profile list of a few good voice recorders to record a voice memo on iPhone, Android, and more. Without wasting your time, go below, explore and discover the surprise that awaits you in this article.
Easy Voice Recorder is an iOS and Android compatible app that allows you as a user to record a voice memo on iPhone, iPad, Android, and any other mobile device. The iPhone voice memo recorder permits users to record voice memos in different audio formats, cut and trim unwanted parts of the recording, and save the recorded voice note on iCloud, local storage, and more. If you wish to record, edit, share voice memos on android smartphones or iPhones, let the steps below guide you through the recording process.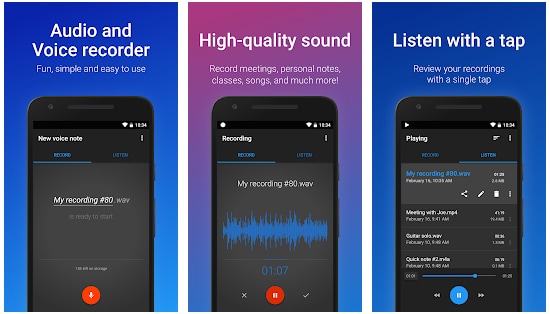 image souce: https://play.google.com/
STEP1 First of all, download and install the Easy voice Recorder on your mobile device if you'd like to use the app. Once the installation is done, open the app on your phone. You'll see a beautiful interface displayed on the screen of your mobile device, tap the microphone icon "Record" you'll see at the bottom left.
STEP2 Once you tap the microphone icon you'll be given a chance to start recording a voice memo with no hesitation. You can stop recording as long as you tap the big red button you'll see in between ✖️and ✔️
STEP3 Once you're done with recording, you can decide to eliminate the recording or save by tapping between ✖️and ✔️ respectively.
Pros
Easy voice recorder allows users to share audio memos via email and other mailing platforms
Its subscription plan supports family sharing
If you're looking forward to recording a voice memo on an iPad, the Easy voice recorder gives you that opportunity as it supports a wide range of devices.
Cons
It contains in-app purchases
It doesn't support Windows or Mac OS
You can't add photo art to your recordings
Voice Recorder is a voice recording station that merges its compatibility with Android devices. The memo recorder with a simple and easy-to-use interface offers its users the opportunity to record voice memos with high quality, play, pause, and stop their recordings with an opportunity to get rid of the voice memo if it's not needed. With Voice Recorder, you can record conversations with people, interviews, conference meetings, classroom lectures, and more. Just like other recording apps, you're allowed to record voice memos on Android devices following these listed steps.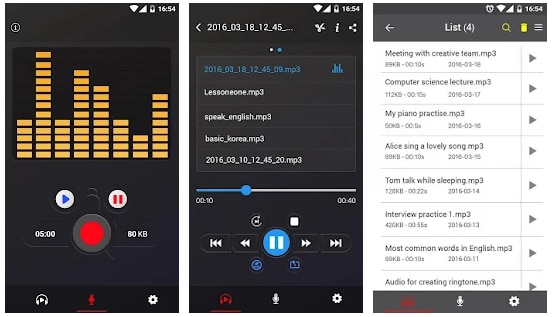 image souce: https://play.google.com/
STEP1 Visit Google play store from your Android device, search for a voice recorder, download and install the memo recorder on your phone. After installing it, open the app immediately.
STEP2 Once the app is opened, you're allowed to record voice memos by tapping the microphone icon, access and listen to recorded audio memos by tapping the headphone icon, configure the voice recorder app through settings by tapping the gear icon at bottom of the app's interface.
STEP3 To record, tap the microphone icon below, then tap the red big button to start recording and tap it again to end the recording process.
Pros
It allows sharing of audio memos via email, WhatsApp, Dropbox, and more
It has a spectrum analyzer
The recording process continues in the background and it supports mp3 and Ogg formats
Cons
You're not allowed to record phone calls with this app
Although it's free and still contain ads and in-app purchase
If you're in search of an Apple voice memo recorder to record a memo on your iPhone, then AudioShare is at your recommendation. AudioShare is an iPhone memo recording app that allows users to record a voice memo on iPhone easily. The iOS-compatible app enrolls users with the benefit of being able to share their recordings, import audio memos or files from iCloud, SoundCloud, and more. Aside from all of these, the voice memo recorder supports external inputs like a microphone and other known devices. If you like what you see and wish to use the iOS voice memo app to record audio on your iPhone, then follow the steps below.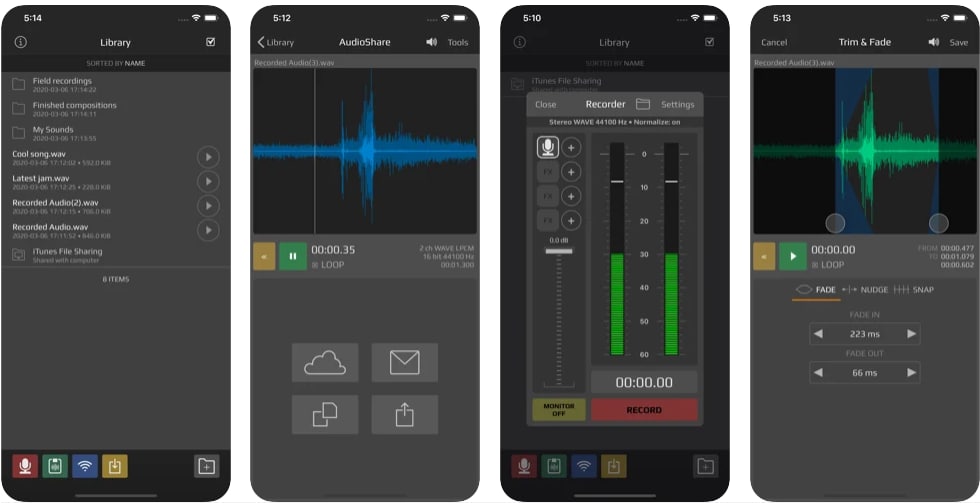 image souce: https://apps.apple.com/
STEP1 Go to the App Store on your iOS device, search AudioShare, purchase and install the app. After installing the app, open it, to begin with, your recording process
STEP2 Once AudioShare opens, set your microphone to the main input and tap the Record button at the bottom of the interface to record a voice note on your iPhone.
STEP3 If you're satisfied with the length of your recording you can tap the Stop button to end the recording. After this, you can save to the desired location or available platform.
Pros
AudioShare allows multi-tracking
You're allowed to edit and add effect to recorded voice notes on iPhone, iPad, and other iOS devices.
It can be recommended for musicians
Cons
You can install the app only if you purchase it
It might be a bit complex for beginners to use.
Voice Recorder is another iOS compatible voice memo recorder with a lot of features and benefit that allows users to record, share and transfer recorded audio files with ease. The easy-to-use and simple app with its interface permits you to pause and continue recordings, trim and cut recorded voice notes, convert recorded audio memos to MP3 and m4a. You can use this app on an iOS device by following the steps below.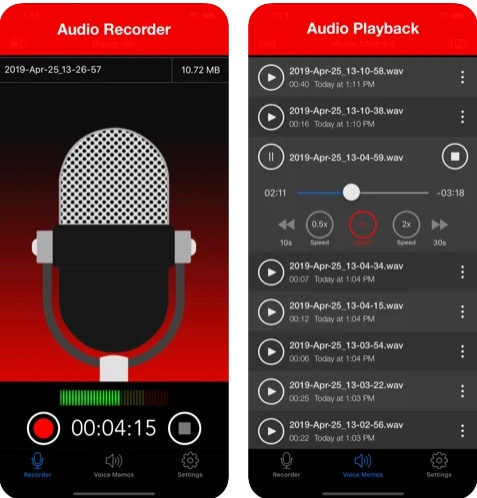 image souce: https://apps.apple.com/
STEP1 Go to App Store, search for Voice Recorder, purchase the app and install it on your iPhone, iPad, or any other iOS compatible device.
STEP2 Once the installation is done, open the app and use the Recorder tab. If you meet the recorder tab opened, then tap on the red record button you'll see on the left side to start the recording process. Afterward, tap on the Stop button you'll find on the right side to finish the recording.
STEP3 Once the recording is done, tap the voice memo tab to access and listen to your recordings.
Pros
It supports sharing of recordings via email
You can upload your voice memo to Dropbox, drive
Voice Recorder allows you to select the quality you wish to record.
Cons
It is not free. You'll have to purchase the app
It only supports iOS devices
It does not have any noise filter to deliver a smooth and noise-free recording
Conclusion
Even though there are thousands of voice memo recorders for iOS, android, windows, macOS, or other devices, you'll be needing an app or software that'll deliver nothing but everything you've ever wanted in terms of quality and output. If you feel the listed features are your priority, then the online/offline UniConverter is best at your service.