Record audio-UniConverter
Help you record your song at your home studio and convert, compress your recorded files.
Record the online music and listen to it offline.
Transfer your recorded songs to your Android or iPhone devices.
Record the meeting voice to save the important information.
Additional features include video converting, downloading, editing, and others.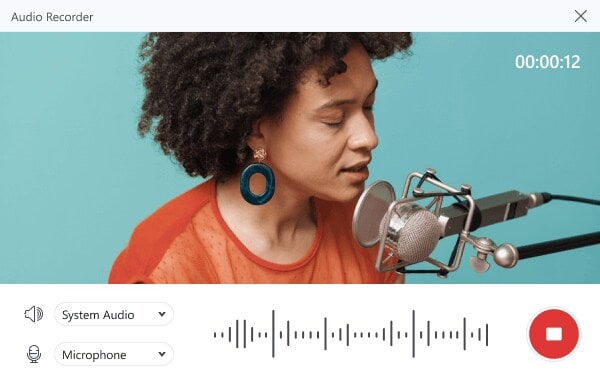 The criteria for choosing a voice recorder for singing is not a tough one, everyone knows what they want and the type of song they want to record. Song recorders are different and better than ordinary recorders why? Because apps to record singing need to possess some function that will make them suitable for recording with a high-quality output for creating the best music. Any recording app that falls short of this criteria or lacks one or more of these functions cannot be called a singing recorder. Singing recorders need to satisfy a few conditions to make it easy for the singer to make and mix their music. Below are some of the criteria a good song recorder must at least have and some apps to record singing.
Part1. What Should Be Considered When We Choose A Song Recorder App?
Easy to Handle (UI and UX)
UI and UX make up the whole app; meaning user interface and user experience respectively. The user interface is the screen that allows the user to interact with the app and the interaction between the app and the user is the UX; users experience. An app shouldn't be too clustered such that navigating it will become another on its own and the app should do what it is created for perfectly, apps with bugs and glitches do not create a very good user experience.
The Output Quality (but it is also influenced by other recording devices)
A very important advantage that song recorders have over ordinary recorders is their output quality. Even without external recording devices, apps to record singing can generate high-quality audio recorder output that can rival even that of external devices meant for recording. Best apps to record singing should be able to do at least this much to fit the criteria. You can also fit in external recorders or controllers to increase the quality even more
Reverberation
To reverb means to bounce back and in music, it happens in the beats that we listen to when recording. Reverberation is a special effect that makes your sound recorder more professional with its depth and fullness characteristics. There are some song recorders out there that have everything, a nice user interface, good functions, and features, great quality audio recorder output, and sound mixing effects.
The Pricing
It is supposed to be number one if not for the importance and weight of the others as well. I mean, no one wants to do past themselves, your pocket mainly determines your capabilities. Are you willing to pay high just to get that perfect song out from your head and heart? Free recorders are good but paid ones are even better and in this article, we have made a list of the best apps to record singing with different pricing options you are going to love.
Part2. Six Great Voice Recorders for Singing
So, we promised a list of the best apps to record singing and here it is. Just know that our description does not accurately describe the awesome of these recording apps. You would need to try them out yourselves to witness their greatness.
The adobe name is a major in the software world, we all know of different adobe apps in graphics, photo editing, video creating, and editing. We bring to your Adobe audition; the audio r and editing adobe. Being called a professional digital audio workstation, Adobe Audition is a software for creating editing mixing, recording, and restoring audio. It includes features that make it suitable for audio finishing.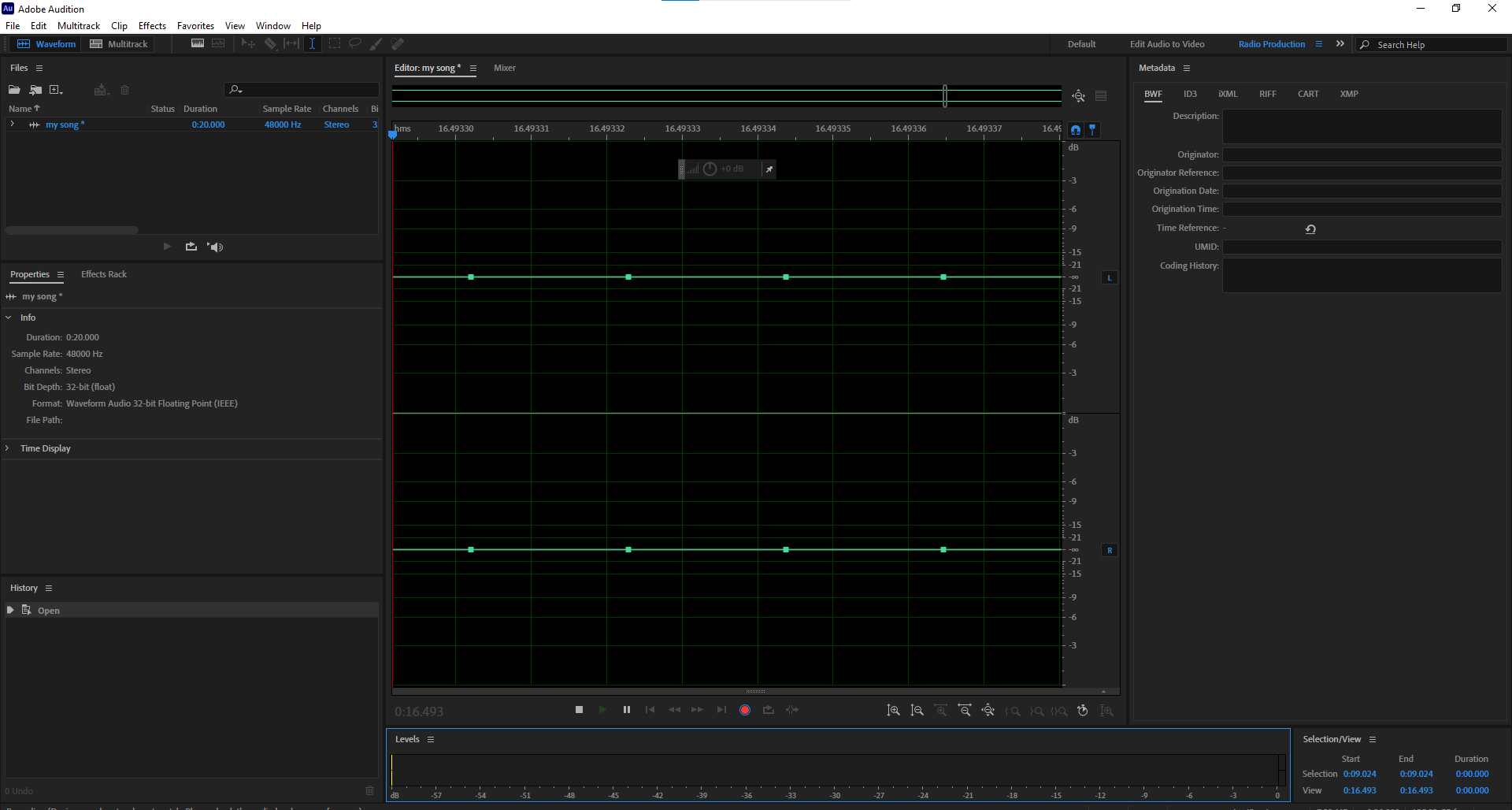 Key Features
Record, create, edit, mix and restore audio content

Multitrack, spectral and waveform display

Fine audio finishing tools
Accelerated video production tools

Rearrange songs and remix tools

Repair and restore

Create Podcast
Pros
Sound effects and filters
Supports multiple formats
Increased video and audio processing
Accelerated video creation
Cons
The user interface is complex
Lots of unnecessary options
Important options are tough to locate
Pricing: $20.99 per month
A very common voice recording apps and software on phones and computers. Virtual DJ lets you play the role of a disc jockey as it lets you mix music from your local storage. Import song, export, and add amazing effects, intro effects, transition effects, and lots more. Virtual DJ uses advanced codecs and coding to let you start mixing in real-time, even without the extravagant DJ equipment. It is suitable for any occasion and it works well with many other controllers and audio enhancers.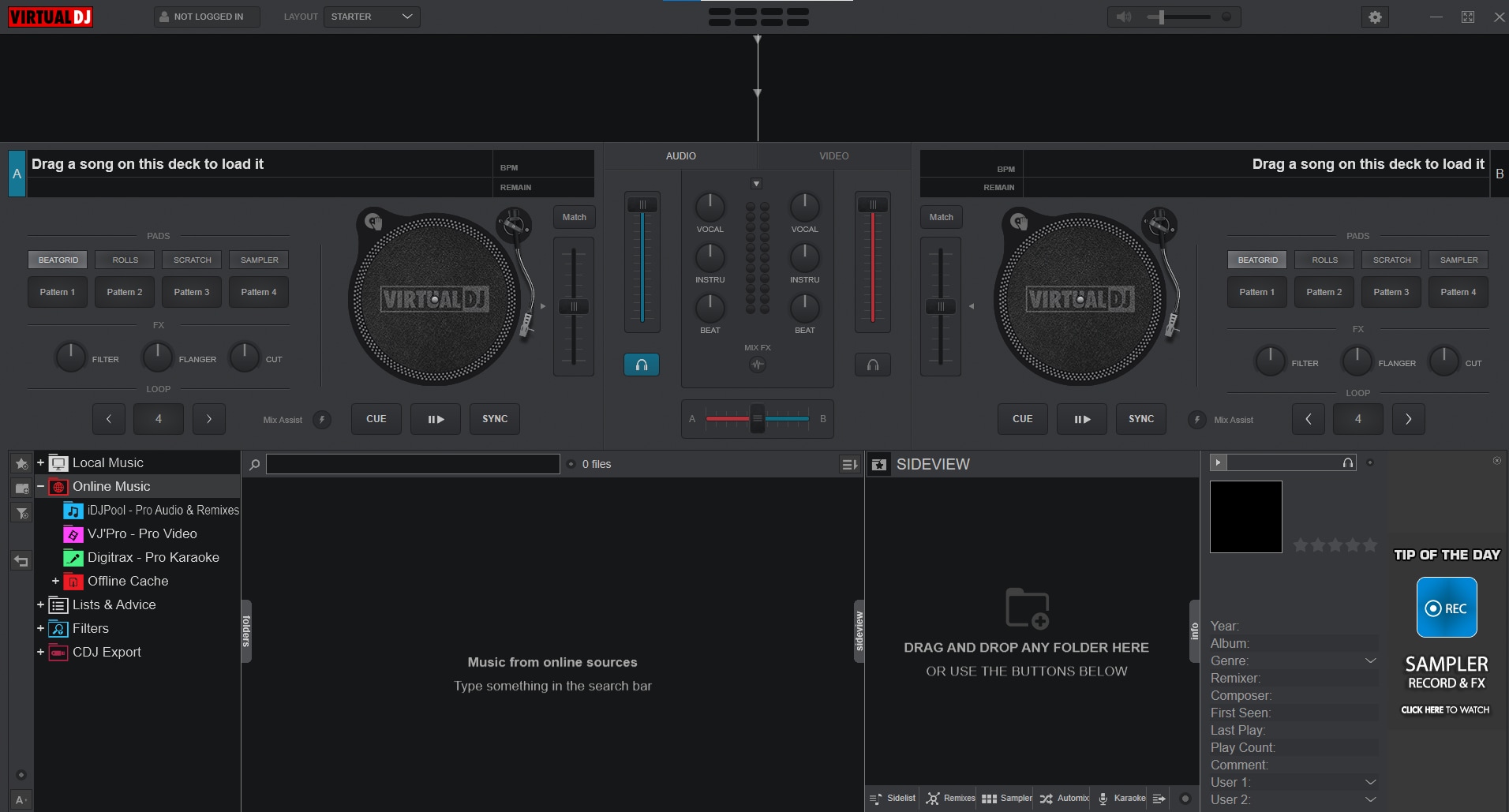 Key Features
Mix songs in real-time

Video and Audio editing
Allows use of external controllers and audio enhancers

Separate audios (vocals, instruments, beats, acoustics, etc.) in real-time
Pros
Works well with external controllers
Anyone can mix songs beautifully even without prior experience
Cons
For more advanced features, you need to go pro
If you want to make money with the app, then it is necessary to purchase the pro license
Pricing
Pro license cost $19/month
Pro infinity license cost $299 (one-time purchase)
Home plus license cost $49 or $99 (only entry-level controllers)
Business license cost $99/month
Licenses are not transferable
As one of the best sound recorders for android, Smart Recorder has some features that made it find its way into this list of voice recorders. Voice recording apps to record singing usually have high-quality audio output and Smart Recorder does have any limit on the time to record. It also has a silencing function that skips silent areas in your record. Sometimes, it stops when you get an incoming call and on some phones, it can't record calls due to manufacturer's settings but all this can be overridden in the smart recorder settings; meaning that you can record ongoing calls; good for conference calls.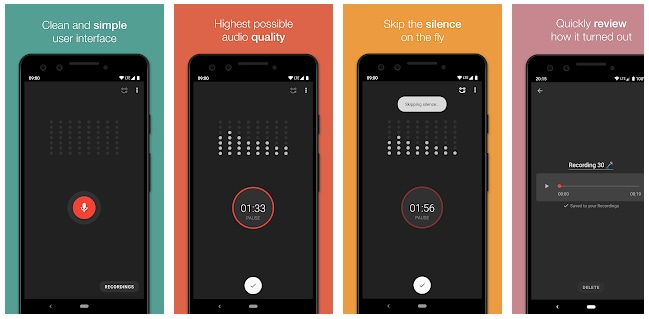 image source: https://play.google.com/store
Key Features
Automatic and manual setting for the noise reduction function

Silence skip which omits the silent parts of videos

Record control Start, stop, cancel, pause and resume functions are all available
Works in the background

Voice-activated recorder
Pros
Minimizing the app doesn't stop your recording
Has the silence skip which eliminates the parts with little sounds
There is no limit on recording time
Cons
Sometimes pauses recording when you get an incoming call
Cannot share recordings directly
Limited editing functions
Pricing: Free
Another android app making itself on the list of the best apps for song recording. BandLab is a free tool for recording, creating, editing, and sharing songs. It is a cloud-based app which means that all of its functions are on the internet. Although you can start a recording offline, you would need an internet connection to access the editing and sharing features as well as save your work. You require a network to download instruments, beats, and sounds and to save them to their cloud and publish it. Bandlab also has a web-based version that works on browsers, recommended browser is Chrome for an amazing user experience. There is the android and iOS app which also has amazing features waiting to be explored.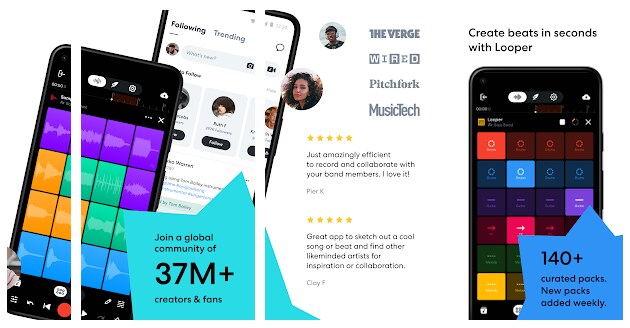 image source: https://play.google.com/store
Key Features
Web-based and Mobile based apps

Sync works on the app with the web-based version

MIDI editor
Catalog of instrumentals to be downloaded for free
Basic and advanced recording functions
Pros
Completely free and easy to use
Free instrumentals to be downloaded
Cons
Needs a very stable internet connection
The web-based version may run slower on systems with low specs
Pricing: Free
It is believed that there is a singer within all of us, StarMaker was created for you to produce the ultimate song by yourself or with friends. StarMaker: sing free karaoke is a fun app that lets you connect with your friends or new friends online. It encourages interaction as it lets you sing sings by displaying lyrics and lets you sing along; along or with friends. Just pick out a song, select video effects, voice effects, and backing, and start singing. StarMaker can also be used to create a duet with top artists and reigning songs. It also has a live feature where you go live with your song and try to get likes and fans.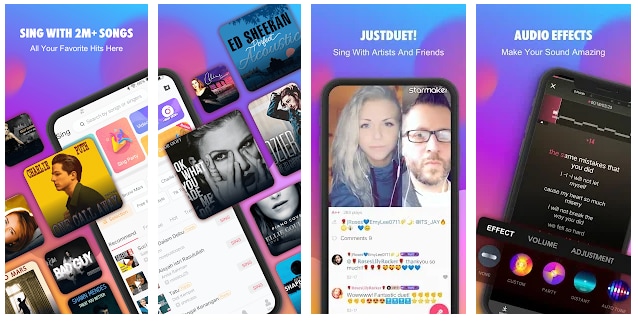 image source: https://play.google.com/store
Key Features
Social interaction

Karaoke: sing along

Create duet
Amazing video filter and audio effects

Voice optimization options

Live broadcast
Pros
Fosters a social environment
Has amazing voice optimization options
Create fantastic duets with cool voice edits
Cons
Requires token to unlock the full library
Locks most of the popular song
Works online so it requires a stable internet connection
Pricing: $1.99/weekly
Dolby on is created by the popular video creating company Dolby. It is a company that focuses and mainly deals with media files. The AC-3 audio format is Dolby's very own creation. Now, introducing Dolby on; a free singing recorder and sound editor which works for audio, video editing, and creation. It utilizes the great company's technologies to create the best output quality for your recording and audios. It reduces noise, clears up audio quality, allows fade-in-fade-out when mixing among other sound recorder transition tools. Compression without losing quality is also one of the functions of Dolby On and you can share your finished music directly to your social media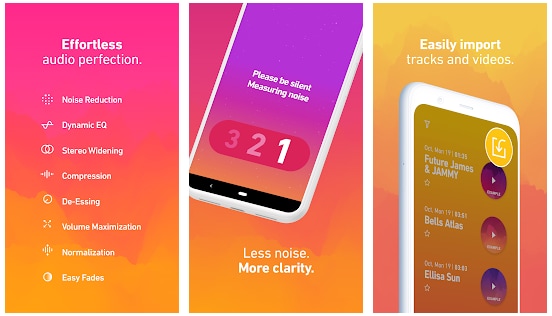 image source: https://play.google.com/store
Key Features
Easy to use sound editor and recorder

Noise reduction functions

Song and beats optimization
Import and export lossless and lossy audio format without losing quality

Audio compression without losing sound quality

Live to stream
Pros
Supports lossy and lossless audio formats
More precise audio editing functions (for professionals)
Cons
Not all sounds are affected when you change sound effects
Pricing: Free trials are available but Dolby products are charged at $0.0025/minute
Part3. Tips for Enhancing Your Song Recording
1

Make a Preparation

Before recording anything, of course, one needs to have practiced and practiced. You wouldn't want to start recording only for you to be stuttering or missing lines right? Do anything that makes you calm, go over the lyrics again and again before attempting a record
2

Find a Quiet Place

A quiet place is the best place to start any recording unless your recording will require having external sounds and noise interference. Noiseless areas will also keep you from getting confused and keep you calm and relaxed.
3

Make your recording compatible with devices and smaller in size

Most recordings are usually made in a variety of formats WAV, AAC, and AMR among others. What you need is to get your audio universally compatible. The format which fits this bill would be MP3.

Recording in the original will make sure it keeps its original quality but with great quality comes great sizes. WAV is a lossless format so it is very high in quality but so is the size, you need to convert it to a format that is both compressed with low size but still has a decent amount of quality and is compatible with all and any device. So how do you convert your recording? We recommend UniConverter 13 to help you become a great creator

Launch the app and follow the steps below to perform either conversion, compression, or editing:

To Convert: Click on the Converter tab at the left side of the interface. Click on the Add Files in the center of the screen to add your recording. Next, click on the Output Format tab, and a format list will show up. They have been categorized into Video, Audio, Device, and Web Video. Clicking on any of the categories will reveal the supported formats you can convert. When you have selected a format, click on Convert to start converting; if the audio is more than one, click on start-all to convert all at once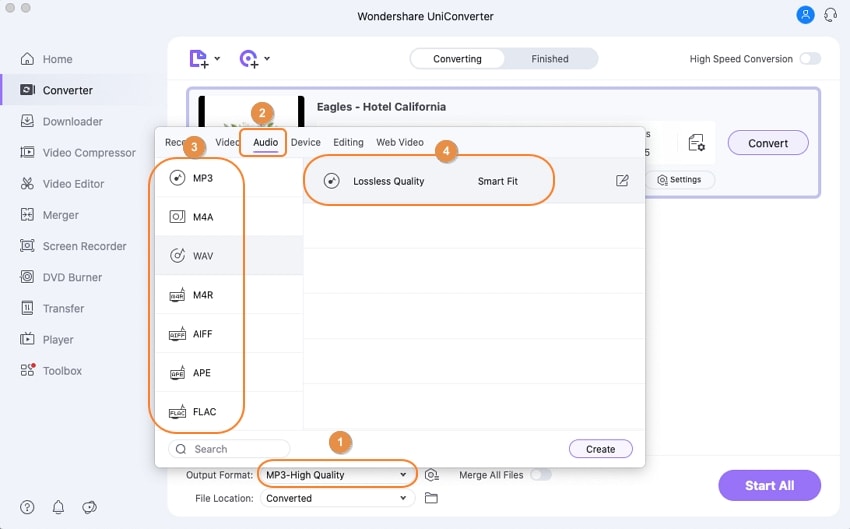 To Compress, stay at the Converter interface, click on Settings on the template. Adjust the audio size by changing the bitrate. Then click Save then Start All to finish the compression.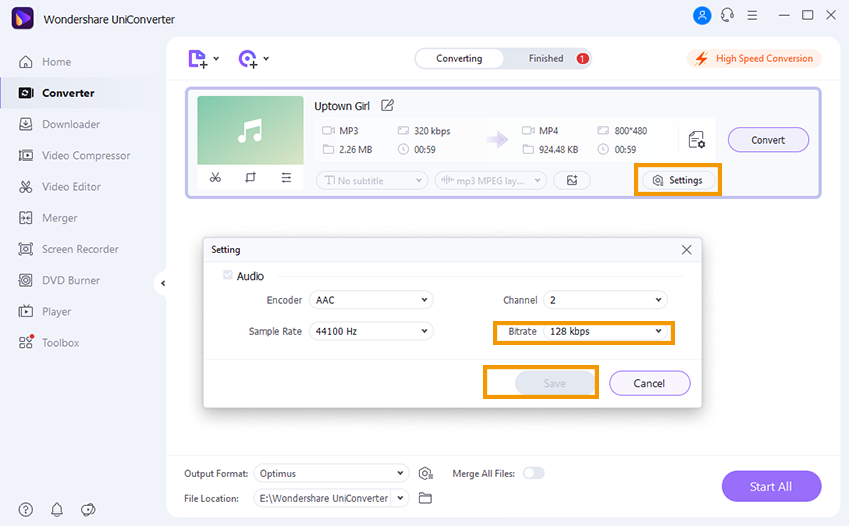 To Edit: Click on Video Editor from the list on the left. UniConverter features editing options like trim, crop, and add effects to your audio, adding a cover photo for your recording and other advanced editing includes changing the encoder, sample rate, bitrate, and channel.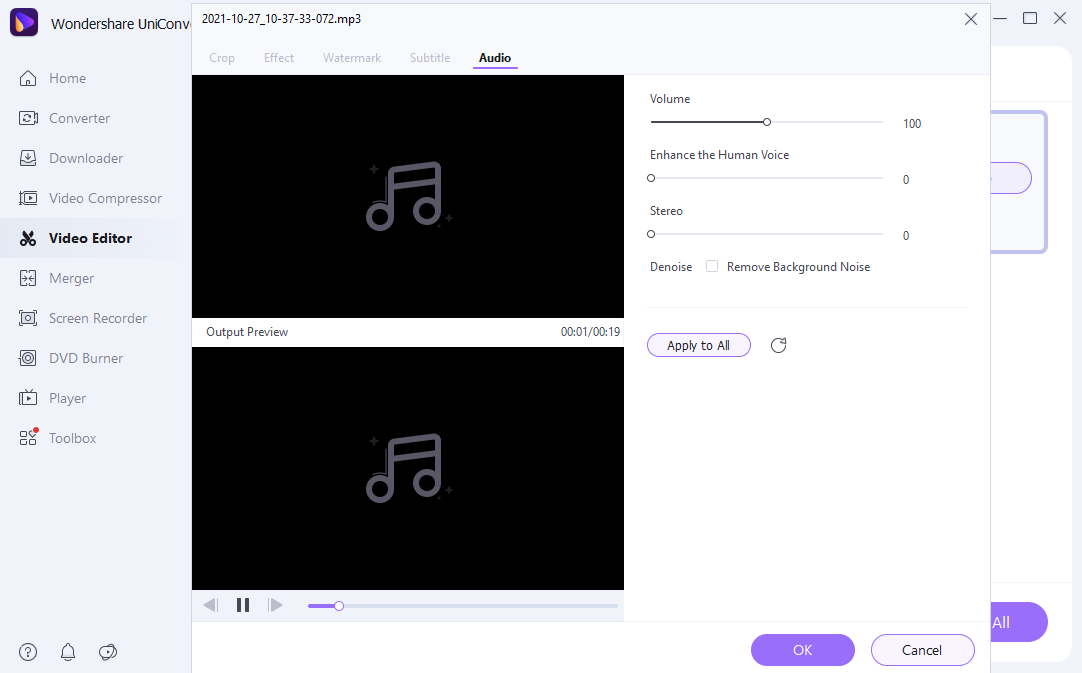 Note:If you use UniConverter 13 to record your song, after you record your song, you can add your recorded file to the Video Editor list, then your song will appear at the Video Editor interface.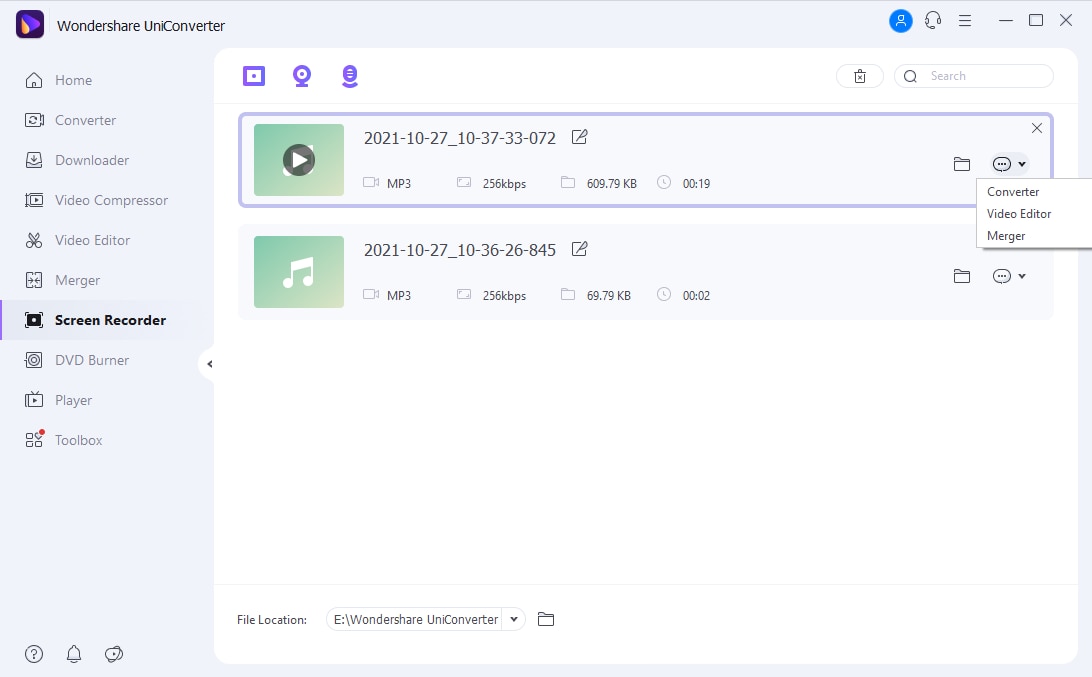 Wondershare UniConverter 13 - A Complete Meida Toolbox
5,481,435 people have downloaded it.
UniConverter supports many formats and handles conversion equally, ensuring that high quality is delisered at all times.
During the conversion process, you may add multiple files since the program does batch conversion of files.
You can use the editing suite that covers subtitle editing, watermark editing, etc to make your results creative masterpieces.
This software facilitates file transfer to devices like Android and iPhone among others once the conversion is complete.
UniConverter is also capable of handling video compression hence ensures you acquire the video sizes you desire.