Download & Convert YouTube Video-UniConverter
Download video/audio from YouTube and other 10000+ video and audio sites directly with one click.
Convert YouTube to iTunes with 100% original quality and 90x faster speed.
Convert YouTube to other 1000+ standard audio and video formats including device optimization.
Edit YouTube files after converting to iTunes or other formats.
Other features include recorder, merger, compressor, and so on.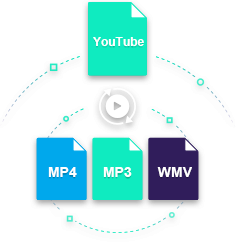 Why would we even need to convert YouTube to iTunes? If you are still asking this question, then you have never been in a situation where you saw a piece of music on YouTube, and you were like, "I must have this". iTunes is not any less popular than YouTube, but we all know that there is barely any other site that comes close to YouTube when it comes to content. The downside, however, is that YouTube cannot save music offline, iTunes on the other hand, can play music offline, but it supports limited formats. Hence, the need to convert YouTube to iTunes format.
Here, we cover some of the best rated YouTube to iTunes converters that will give you no stress at all; both online converters and software.
Part 1. 4 Useful YouTube to iTunes Converters Offline
Best among the best YouTube to iTunes converters, and it is no surprise that it is number 1 on this list. Uniconverter stands at the pinnacle of video editing as it has no lack of editing functions and features. Conversion, online downloads, compression, merger, DVD burner, watermark adder and remover, and lots more. For downloading on YouTube, all you just need to do is to paste the link into the designated area and watch as Uniconverter performs its magic and converts YouTube to iTunes instantly. Uniconverter supports over 1000 formats, so rest assured that the formats supported by iTunes would be there and in case you need to convert to other formats.
Steps to Convert YouTube to iTunes using Uniconverter.
Step 1

Launch and Select Downloader.

If you have yet to download the Uniconverter software, please download it from the official website to prevent third-party sites from invading your system. Install and launch the Uniconverter software. There is a list of tools on the left side on the main interface. Locate and click on 'Downloader'.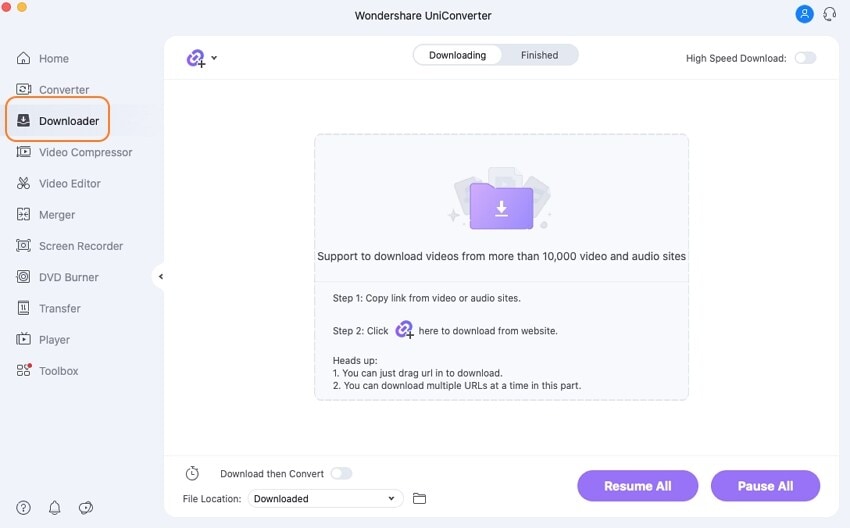 Step 2

Paste Video Link

You must have had the YouTube link copied. If so, click on the purple folder in the middle of the screen and watch Uniconverter access your clipboard to paste the link automatically and start analyzing. If not, you can minimize the app and copy the YouTube link before clicking on the purple folder.
Step 3

Select Format and Download

After analyzing your pasted link, Uniconverter generates a series of options available for the video like the formats, the quality, if there is a subtitle available, which of course, you won't probably be needing for mp3. Select your preferred formats and click on Download to begin downloading. By default, the downloads will save to Uniconverter's download folder in your local disk, but you can change this by clicking on the File location tab at the bottom of the screen.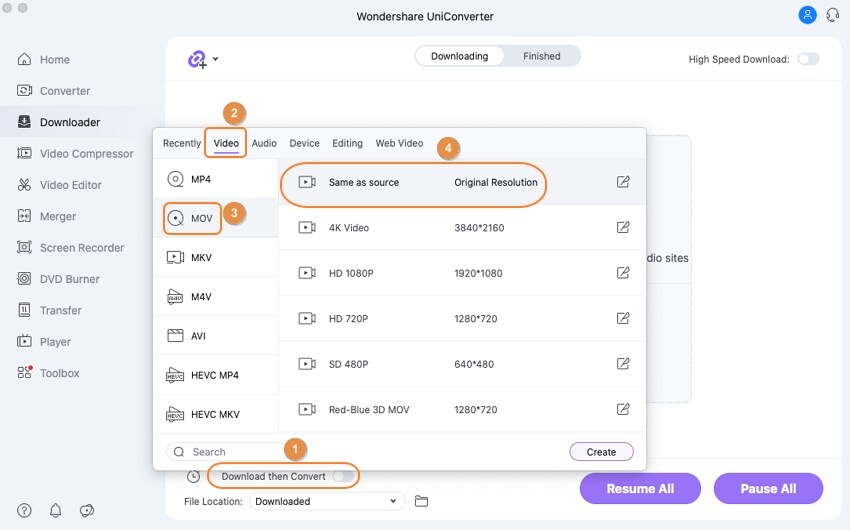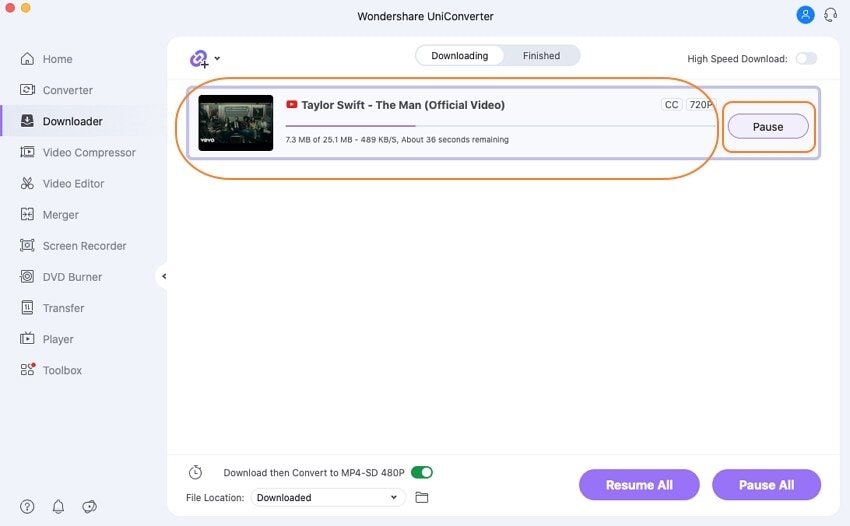 Pros
It has a very fast processing speed for downloading, converting, compressing, and so on
It has a lot of editing features
It supports a lot of formats, including device and social media formats which means that it uses some presets to change the media to suit the device or criteria for the social media
Cons
It is not yet available on Linux
You cannot download more than 1 video on the free version
Wondershare UniConverter 13 - Best Video Converter for Mac/Windows
5,481,435 people have downloaded it.
UniConverter supports many formats and handles conversion equally, ensuring that high quality is delivered at all times.
During the conversion process, you may add the VOB files since the program does batch conversion of files.
You can use the editing suite to make your results creative masterpieces.
This software facilitates file transfer to devices like Android and iPhone among others once the conversion is complete.
UniConverter is also capable of handling video compression hence ensures you acquire the video sizes you desire.
4k YouTube to MP3 does well for a YouTube to iTunes converter. You get to download a full YouTube playlist or videos from a channel in formats like mp3, m4a, and OGG. It can even download from your 'watch later', 'my mix', and 'liked videos' list. Not only that, you can access and download videos from other sites like Soundcloud, Instagram, Vimeo, Flickr, Facebook, Dailymotion, and even Twitch. After conversion, the audio quality is guaranteed to be the same quality as the original one in the video, so you don't need to worry about quality loss. It is one of the best tools to convert YouTube to iTunes for free.
Steps to Convert YouTube to iTunes with 4k YouTube to MP3
Step 1

Download and Install 4k YouTube to MP3

This step requires you to get the app. So, if you are yet to download it on your computer, visit their official site to download
Step 2

Launch 4k YouTube to Mp3 software and paste the video link

Copy the link to the video that you want to download from YouTube. Note that you can download the channel link or playlist link as well. Open the 4k YouTube to MP3 software and paste the copied link. To paste links, click on the 'Paste link' icon, located at the top left corner of the screen. Click on it, and the software will automatically analyze the link in your clipboard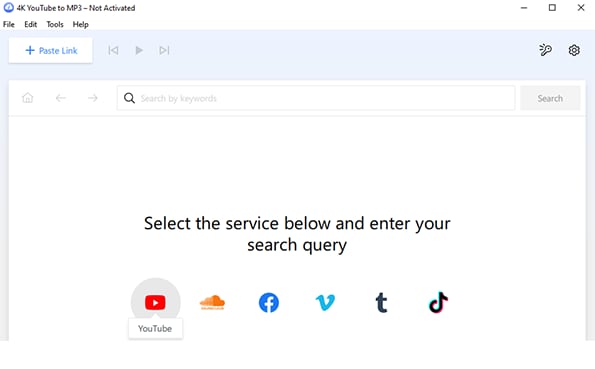 Step 3

Wait for Download

Once the link has been pasted, the download will begin automatically. Wait for it to finish, then look for your file in the download folder on your local disk.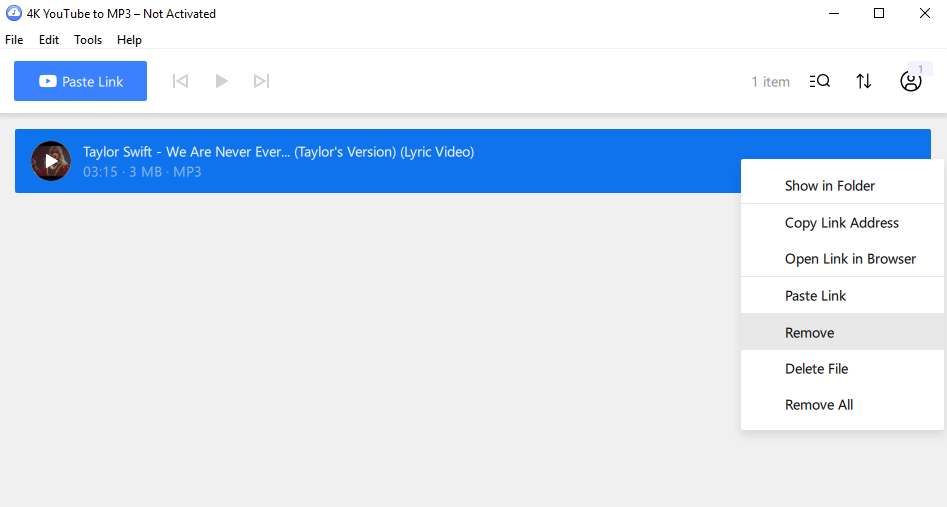 Pros
Fast downloads and processing speed
Have access to download premium YouTube contents
It can also download from lots of other websites
Cons
It only supports MP3 format, and you don't get to choose the quality as well
One of the best YouTube to iTunes converters for the Mac system, you can already hope to expect great things from iMusic. It has its very own music store where you can download music, and it does have a lot of stock music that you can download. On the other hand, you can download the videos from other video-sharing sites and save them offline using this same app. You can see the different options from the interface of the app itself. What is most interesting about iMusic is that it can download from exclusive sites like Spotify, SoundCloud, BBC, and even MTV.
Steps to Convert YouTube to iTunes using iMusic
Step 1

Launch the Software and Select the Download Option

On the main interface of iMusic, you will be open to many options but don't let them overwhelm you. It is pretty simple to navigate. You will see four options at the top of the page: Get Music, Library, Device, and Toolbox. Make sure your selection is on getting Music because literally, that's where you get options to download. Right under these four options are the Get Music options: Discover, Download, and Record. Use Discover to download videos from the iMusic store and download videos from other sites.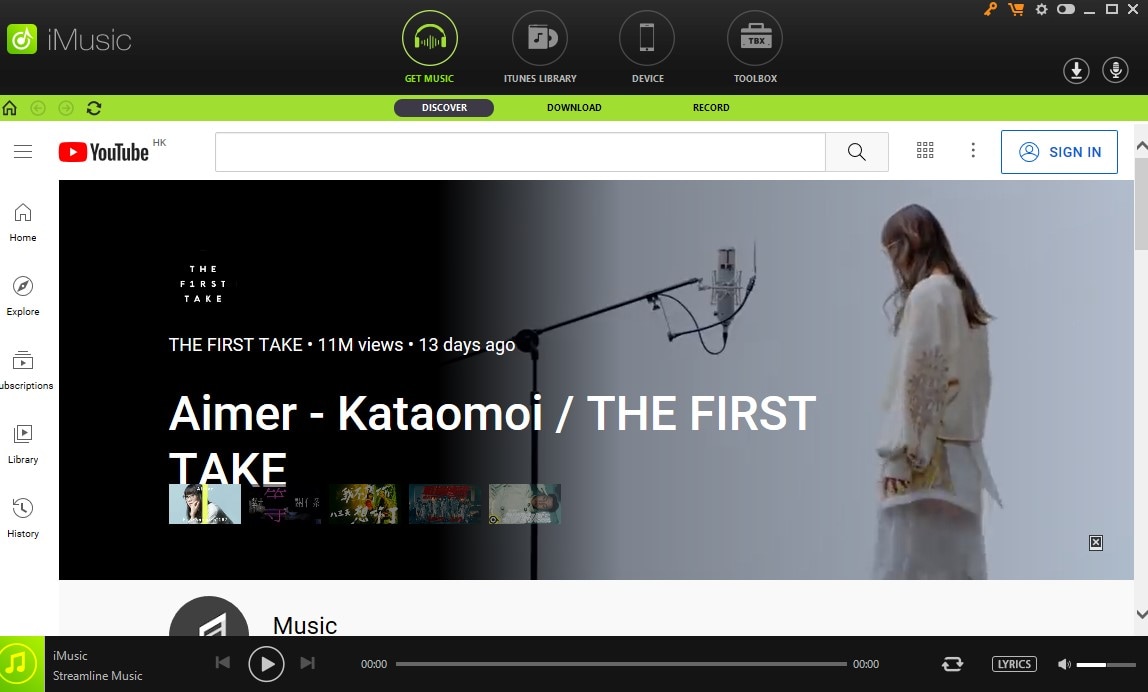 Step 2

Copy and Paste Link

After clicking on Download, the screen changes, and you get a box where you can paste the link. Also, you will see a list of supported formats, which only includes MP3 and MP4, though, and the supported sites. This implies that you can copy links from any sites and download them in MP4 and MP3.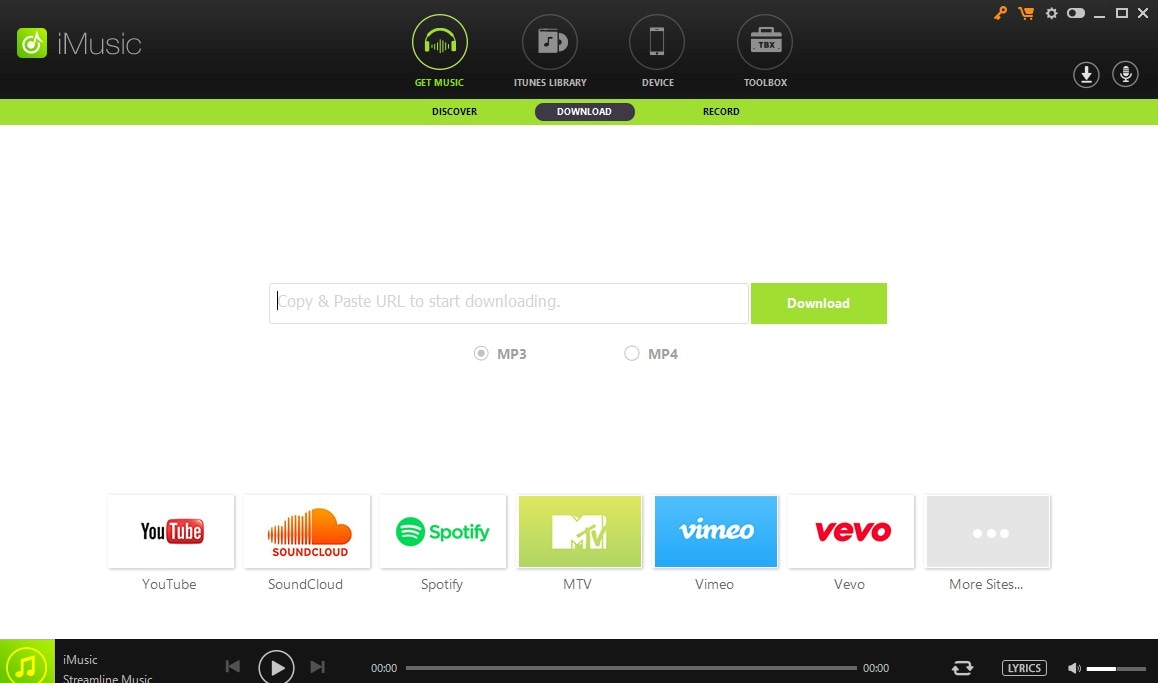 Step 3

Download

After pasting the link, click on the download icon located right beside the URL box to begin the conversion. Using this method, you can also copy links from playlists and channels and download them as a whole. To check your download, click on Library, which displays all your music.
Pros
It is simple to use and navigate
The processing speed is fast
It supports downloads from lots of exclusive sites
Cons
It can only convert to MP3 and MP4
Working with MediaHuman has got to be the easiest way to get your videos converted ASAP and with no fuss. The interface is very simple, and all you need to do is follow the prompts, and you can get your YouTube videos downloaded in MP3 format. MediaHuman features a collection of cool apps for making your music and video experience more relaxing and entertaining, like the Lyrics Finder and of course, some for converting YouTube videos like their YouTube to MP3 converter. It is open-source software, supported on most systems and is one of the best YouTube to iTunes converter free.
Steps to Convert YouTube to iTunes using Media Human
Step 1

Copy Video Link

After launching Media Human – YouTube to MP3 Converter, the first step to take is to visit the site that has the video, locate the video, and copy the link.
Step 2

Paste Link

Go back to the Media Human – YouTube to MP3 Converter software and click on the Paste link. The icon is located at the top left corner of the interface. The app immediately analyzes the link you copied and gives you the video almost instantaneously but fetching other details, and sometimes the download link may take some time.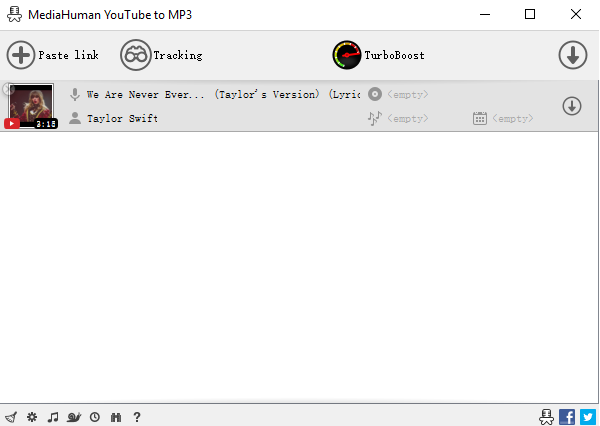 Step 3

Download

Click on the download icon at the far end of the search result to begin downloading. Your download will automatically be saved to the download folder on your computer.
Pros
The interface is simple, and navigation is quite straightforward
Its download and conversion speed is rather fast
Cons
It supports just 3 audio formats. For an MP3 converter, this is rather little
Part 2. Online YouTube to iTunes Converters for Your Reference
Normally, there would be nothing much to expect from an online downloader, but recently, they've all been stepping up their games, and Loader.to is just one out of the many evidence of this claim. It supports practically all popular audio formats, an amazing feat for an online converter. Of course, if you are thinking of a YouTube to iTunes converter online, then try Loader.to. It gives you the option of selecting the quality you want your video to be downloaded. As long as you have the YouTube link, you can be sure that Loader.to can get the audio converted for you.
Steps to Convert YouTube to iTunes using Loader.to
Step 1

Visit the Loader.to website and Paste Link

Access the website to the online converter by typing www.loader.to in the address box or clicking this one provided. Copy the video link from YouTube and paste it in the designated container in loader.to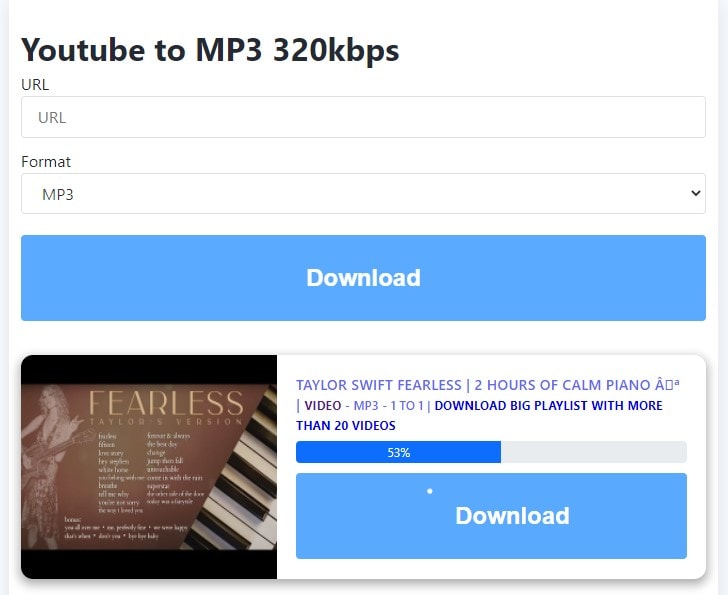 Step 2

Select Format

As Loader.to contains other formats, these steps become important. By default, the format box will be on MP3. If you wish you change this, you can click on the box and select your preferred format.
Step 3

Download

Click on the big download tab and start your download.
Pros
It is pretty simple to use
It supports more audio formats
Supports downloading from other video sharing sites as well
Cons
There is no diversity in the quality of the audio format. There is just the format, and you don't know if you are downloading a high-quality mp3 or not
It does not display the estimated download size. You just download blindly and hope for the best
YTop1.com is not just your average YouTube to iTunes converter online. This can be seen because it supports multiple video formats and can batch download or convert videos, a feature rarely seen in online converters. Not only can you download YouTube videos, but you can also convert YouTube to MP3 or even extract the audio from the YouTube videos. The other thing it has over some other YouTube to MP3 converters is that you can select the quality of the audio you want to download. You can either download mp3 or m4a.
Steps to Convert YouTube to iTunes using YTop1.com
Step 1

Copy Link and Visit YTop1.com

The first thing to do would be to visit YouTube and copy the link from the address box. Visit YTop1.com and change the function to YouTube to MP3, because by default, the page would be on YouTube Downloader, and you may not be able to get audio formats here. Click on the three lines at the top right corner to switch to other functions.

Step 2

Paste the Link and Select Format

Remember to change the function from YouTube to Mp3 because both interfaces look the same. Paste the YouTube link in the designated box and wait for it to fetch your video. On the next page, you will be given the option of selecting your preferred format, and you can even choose quality as well.
Step 3

Download

Click on the Download button to start your download without delay
Pros
It supports different quality
Its build allows you to download playlists and channel
The interface is neatly arranged
Cons
Ads; they feature some ads on their site
It doesn't support a lot of audio formats
If we say Media.io stands at the pinnacle of online converters, it is undoubtedly true, but we will just say that it deserves its place as one of the best online converters. Media.io is a combination of a cool-looking interface and amazing functionality. It can confidently compete with some converting and downloading software because its function is more or less on par with them. Supporting other 300+ formats, including device and social media formats, you don't even need to select mp3 or other audio formats that you think might be supported by iTunes, just go to device format and select iTunes itself. Converting YouTube to your preferred format just got easier.
Steps to Convert YouTube to MP3 using Media.io
Step 1

Copy Link and paste in Media.io

Visit YouTube and copy the link to the mp3 that you want to download. Go to media.io and click on the YouTube icon below the purple tab in the middle of the screen. A new box will pop up, and you can paste the video link.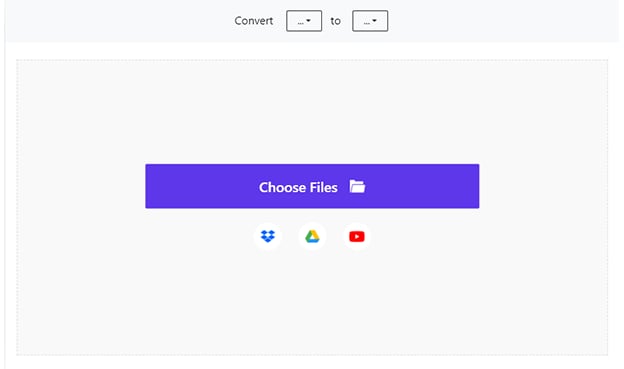 Step 2

Select Format

After pasting, click on Add and watch Media.io generate your video for you. Right in front of the video is a tab with mp3 in it. Click on it to see the list of other available formats. Select your preferred format
Step 3

Download and Save

Click on download when you've selected the format you want. The download will start immediately, and you can find it in your computer's download folder when it is done.
Pros
It is very fast; the processing, the download, the conversion, everything is top-notch
It supports a lot of formats as well, and you can even choose the quality
It displays the estimated size of the file you are about to download
It has a bunch of other editing tools
Cons
It can only download from YouTube, it doesn't support other video sharing site
Part 3. Q&As about Converting YouTube to iTunes
1. What are the iTunes supported formats?
WAV, AIFF, Apple Lossless, AAC, and MP3 are supported by iTunes
2. Is converting YouTube to iTunes illegal?
Technically, it is not illegal to convert a YouTube video to MP3 - but it is illegal to download a copyrighted music video. Using a YouTube converter to download a personal copy is against US copyright law. If you have the copyright, you can download them.