Download & Convert YouTube Video-UniConverter
Download video/audio from YouTube and other 10000+ video and audio sites directly with one click.
Convert YouTube to MPEG with 100% original quality and 90x faster speed.
Convert YouTube to other 1000+ standard audio and video formats including device optimization.
Edit files after converting YouTube videos to MPEG or other formats.
Other features include recorder, merger, compressor, and so on.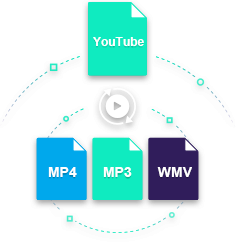 If you want to watch videos online, then you just have to watch them as it has been posted, but when trying to download, you need to watch out for the format that you download, and the recommended format will be MPEG because it is the most widely accepted file format on all devices and websites. When downloading YouTube videos offline, there are a variety of formats that you can convert to, but when you convert YouTube to MPEG, you can be sure that the video will play offline. Some people may not even know about the existence of other video formats, that is just how widely accepted the MPEG format is. It is good for streaming, and it's compatible with various software, so we convert YouTube to MPEG format to play them on many software, like QuickTime, VLC, Windows Media player, etc.
Here we list YouTube to MPEG converters that can work online and those that work offline.
Part 1. 3 YouTube to MPEG Converters Operating Online
Wonder why this is the first on our list? Try it out and see for yourself, but we will tell you a little bit about it. For an online converter, this one is pretty advanced, and it's no surprise if it eventually gets to become software. Its features include downloading from video link and URL, converting from and to different media formats, online screen recorder, etc. One of the many special things about VideoMP3Converter is its uniquely designed interface, and another thing would be the speed of its conversion and processing, although it only supports conversion and download of just 14 formats overall, it is still a very powerful converter.
Steps to Convert YouTube to MPEG using VideoMP3Converter
Step 1

Copy YouTube Link and Visit videomp3converter.com

To download a YouTube video, you first need to get the link to the video you want to download. Now, visit the website www.videomp3converter.com and select 'Download from Video link/URL'. It should be the first option on the page. The rest should include; 'Convert a Video or Audio File', 'Online Screen Recorder', 'Download Desktop App Version', 'Download a Browser Extension', 'Download Mobile App Version'. If you see these, then you are on the right page. There are a lot of websites with similar names.
Step 2

Paste Link and Select Format

On the next screen, you will not be able to paste the copied link and select the format you want. Select any MPEG formats or any other preferred formats. Additionally, you can click on 'more setting' to choose an audio format for yourself, meaning that the quality of the audio that comes with the video can be changed. This may or may not work, but it's worth trying it out.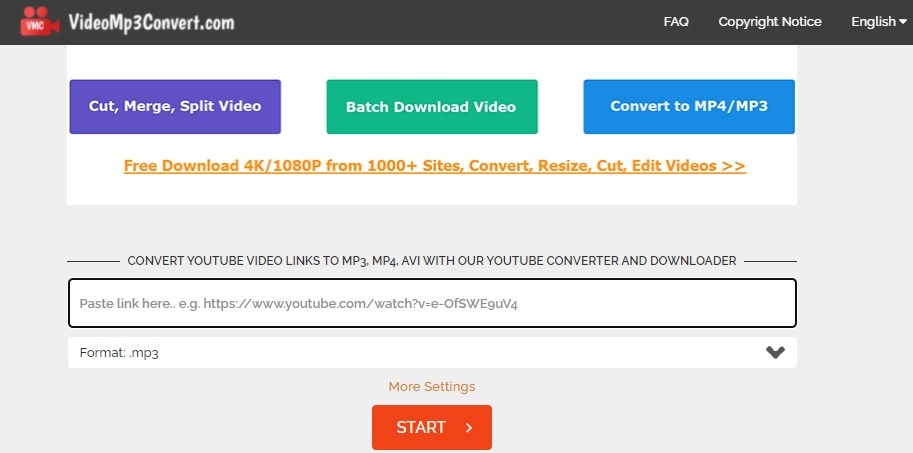 Step 3

Download

Click on Start to begin the download and convert YouTube to MPEG. As with all online converters, your downloaded file will be saved to the download folder on your computer.
Pros
It features some other options, which are something rare in online converters and downloaders because they are mostly focused on one thing
Fast processing and download speed
You can even adjust audio quality with this online converter
Cons
It doesn't support a lot of formats
This is a free YouTube to MPEG converter online media editing tool that can convert, download, and record videos. Although its supported formats are limited, it still supports most of the most popular formats. When downloading from YouTube, you can download quality of up to 4k; impressive, right? Also, YouTubeMPG.com is not only limited to YouTube downloads. It can download from other websites VEVO, Vimeo, Dailymotion, even Yahoo attachments, and up to 200 more sites.
Steps to Convert YouTube to MPEG using YouTubeMPG.com
Step 1

Copy Link from YouTube and Visit YouTubeMPG.com

Visit the YouTube page with the link and copy the link address. Next, visit www.youtube-mpg.com
Step 2

Paste Link and Select Format

Paste the copied link in the designated box. This box's the first thing you see when you access the page. Underneath it, there is a list of supported formats, choose your preferred format.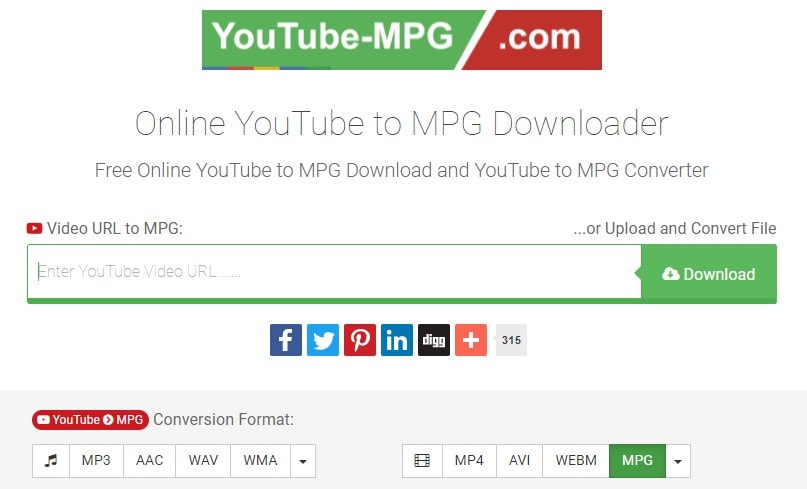 Step 3

Download

Go back to the box with the YouTube URL and click on the download icon at the end. Wait for your download to start and save it to your device.
Pros
Download and conversion process is easy
Download speed is fairly fast
Cons
It doesn't support that many formats
They feature some ads on the page
A pretty plain YouTube to MPEG converter, if you ask. Visit the page, and you will see that it can only convert to MP4 or MP3 and even though it has such limited formats and capability, making it into this list still puts it among the best YouTube to MPEG converters online. The interface is clear and straightforward, the app is designed for YouTube to MPEG conversion, and that is exactly what it does no other functions or features to distract, and being as simple as it is, it doesn't host any ads.
Steps to Convert YouTube to MPEG using Onlineconverter.com
Step 1

Copy Link from YouTube

Visit the page that has the online YouTube video that you want to download and copy the link address.
Step 2

Visit onlineconverter.com and Paste Link

The next step is to visit the website onlineconverter.com and paste the link to the box designated for it.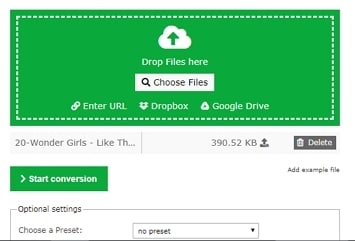 Step 3

Choose Format and Download

Just below the box where you paste the link, you are expected to select the format that you want to download; either mp3 or mp4, so there is not much of choice there. The download starts immediately you click on convert. Sometimes your link may not be found, so you might need to copy it again or try another video.
Pros
It is simple to use, even new users can get around the app pretty easily
Cons
It cannot download any other format apart from MPEG
It cannot download from other sites except YouTube
Part 2. 3 Offline YouTube to MPEG Converters
UniConverter can be said to be the number 1 go-to when it comes to matters regarding video editing. The new update, UniConverter 13, comes with a GPU acceleration that helps to speed up the processing speed. It finishes jobs like compression, conversion, online downloads, video and audio merging in just seconds. UniConverter is a multimedia tool that is host to a lot of very many video editing features. Each feature on its own is powerful enough and all combined in one single app makes UniConverter almost perfect when it comes to conversion. It supports over 1000 formats MPEG included as well, and you even get to choose the video quality.
Steps to Convert YouTube to MPEG using UniConverter
Step 1

Upload YouTube Link

On the UniConverter main interface, there is a panel on the left side that lists the tools of UniConverter. By default, it will be on the Home Screen. Click on the Downloader to switch to the Downloader tab. If there is a YouTube link in your clipboard, i.e., recently copied, UniConverter will start analyzing the link immediately. If not, you can go to YouTube and copy the link then click on the purple folder in the middle of the UniConverter interface to upload the link.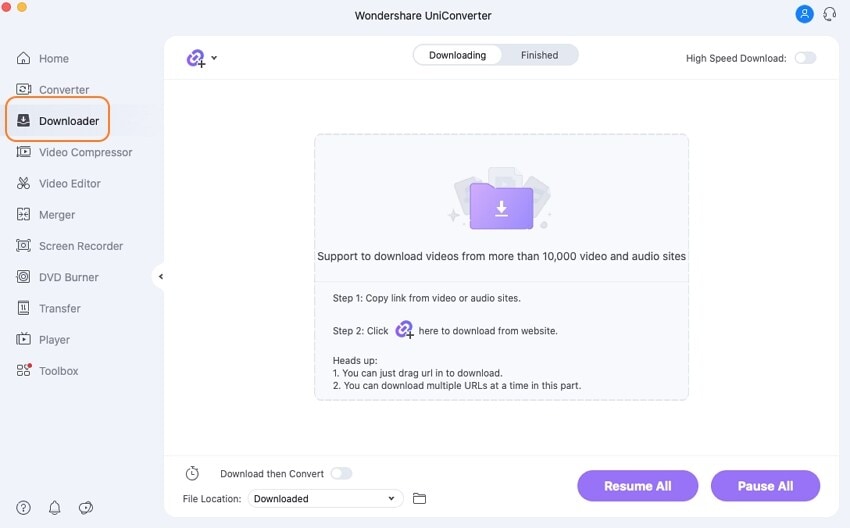 Step 2

Select Format

After analyzing the link, UniConverter will generate the available formats for you to choose from. Now you can select MP4 as the preferred format, also, you have the choice to choose which video quality you want.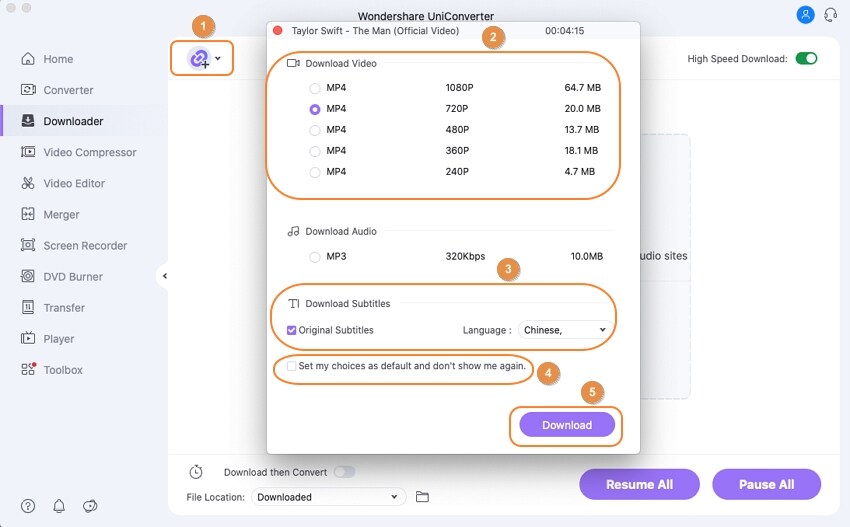 You can also choose the output format by opening the 'Download the Convert' mode.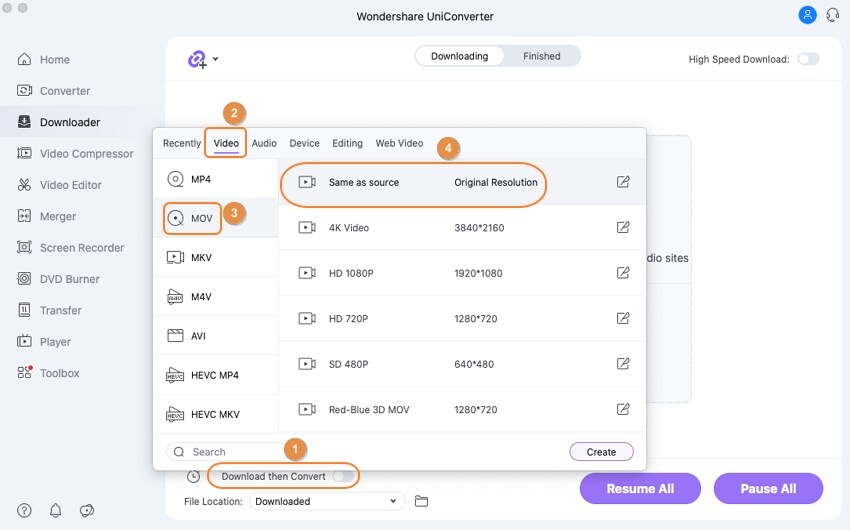 Step 3

Download and Save

After that, click on Download to begin downloading your video. The converted file will be saved to Downloader in UniConverter folder, which is in your Local Disk, but you can change the save location by clicking on File located at the bottom of the screen.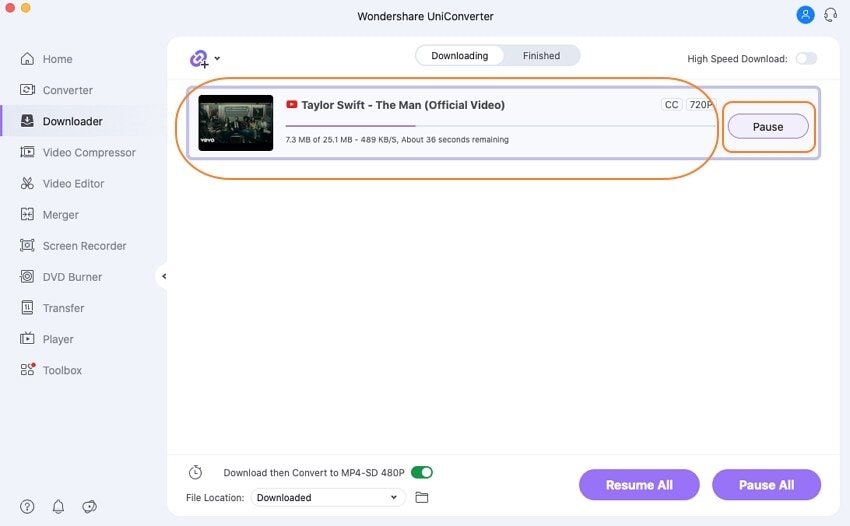 Pros
UniConverter has a very fast processing speed, just click on Download, and boom, it's done
It supports over 1000+ formats, so you can explore other formats as well
It is host to a lot of other editing tools as well. It is the complete video editing software
Cons
It only supports Mac and Windows for now
Wondershare UniConverter 13 - Best Video Converter for Mac/Windows
5,481,435 people have downloaded it.
UniConverter supports many formats and handles conversion equally, ensuring that high quality is delivered at all times.
During the conversion process, you may add the Multiple files since the program does batch conversion of files.
You can use the editing suite to make your results creative masterpieces.
This software facilitates file transfer to devices like Android and iPhone among others once the conversion is complete.
UniConverter is also capable of handling video compression hence ensures you acquire the video sizes you desire.
This amazing app allows you to download and convert YouTube to MPG. The downloader aspect supports up to 500+ media formats, including popular likes MP4, MP3, AVI, WMV, MKV, FLV, 3GP, MPEG, Blu-Ray, and even some device formats.
Steps to Convert YouTube to MPEG using Freemake Video Converter/Downloader
Step 1

Download and Install the Freemake Video Downloader

Note that they are essentially different, they are both referred to as Freemake Video Converter most of the time, but on their official page, it is separated.
Step 2

Copy URL and Paste in Freemake Video Downloader

For Freemake, launch the software first, then go to YouTube. Copy link from YouTube then goes back to the software. Click on Paste URL in the blue box at the upper left corner of the interface and watch Freemake generate the video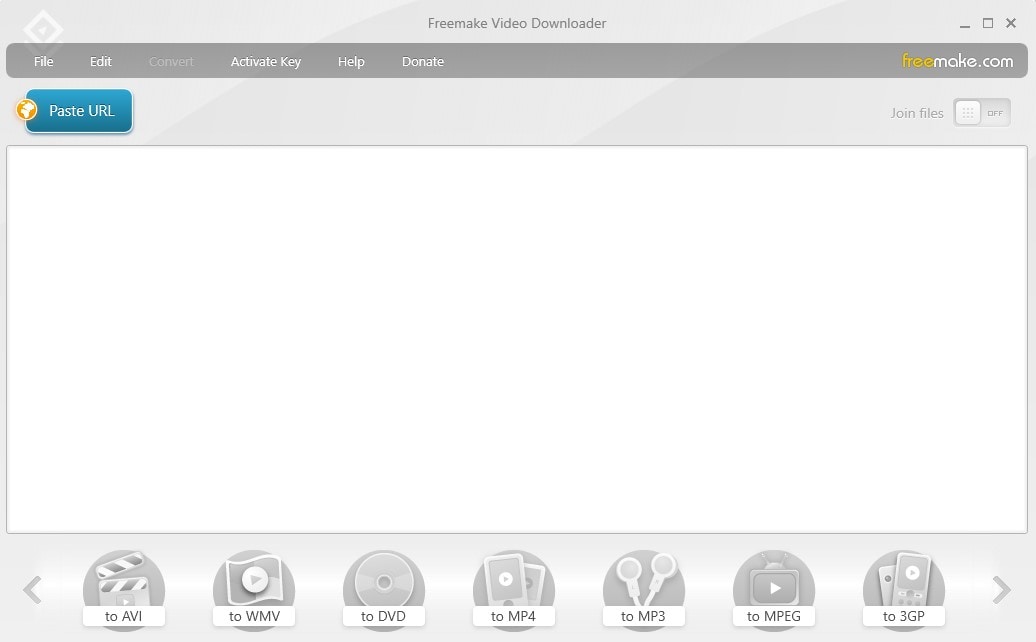 Step 3

Select format and Download

A new window pops up, which allows you to be able to view the different formats available for download. Choose MPEG or any of its advanced formats and click on Download at the bottom of the screen. You can also change the download location on this screen.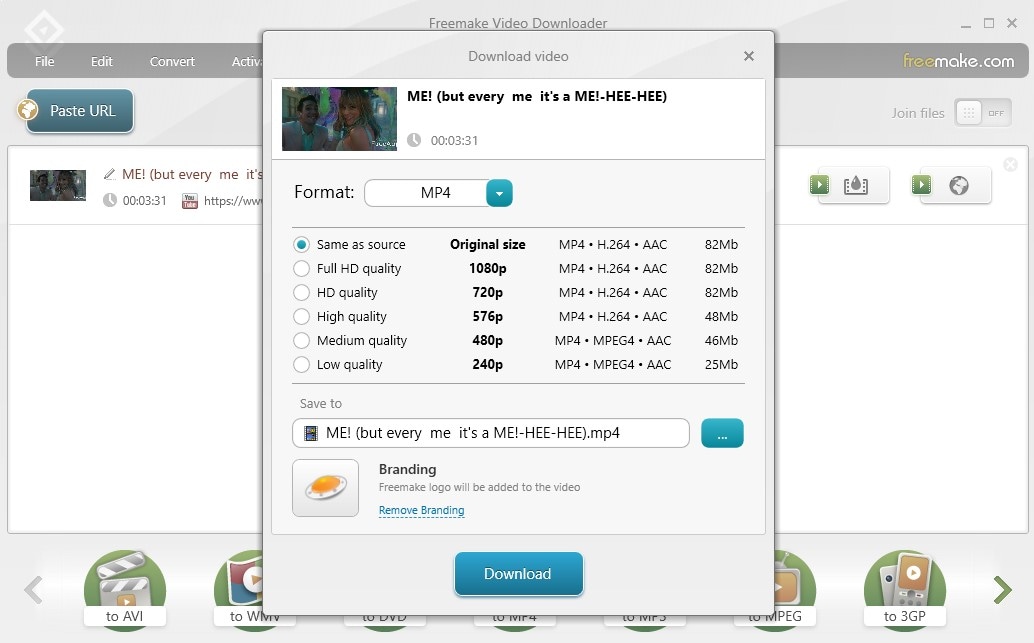 Pros
It supports a lot of formats; at least 500
Can process videos; convert and download in batch
You can manipulate the download speed
Cons
The download is very slow
The download of other videos in the queue becomes even slower. Only the first one will be actively downloading while the others will just be trailing behind it
HitPaw video converter should not be new to video editors. It deserves to be named one of the best video converters you could ever use. It is a combo pack of a converter, video downloader, merger, editing, effects, trimming, cropping, etc. When downloading or converting, you can work on multiple videos simultaneously, and it doesn't matter they are not of the same format, meaning that you can convert mp3, mp4, MOV videos simultaneously when batch converting. HitPaw is said to support over 1000+ formats, and of course, you can find all the popular formats and more.
Steps to Convert YouTube to MPEG using HitPaw
Step 1

Launch HitPaw and Click on Download

Download and install the app if you haven't done so. There are three main visible functions of HitPaw on its main interface; Convert, Download and Edit. Click on Download, then move to the next step.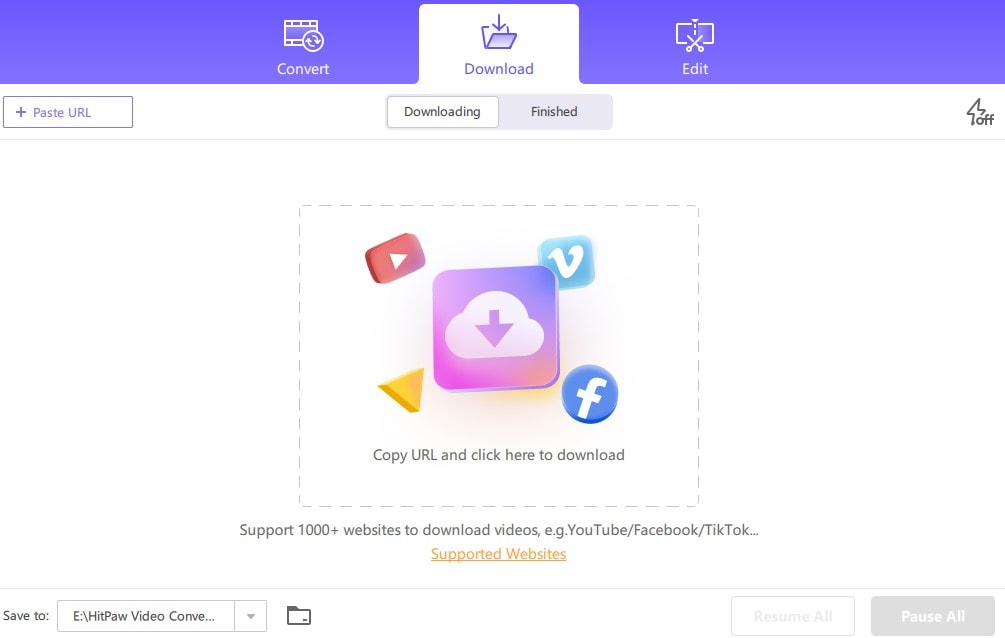 Step 2

Copy YouTube Link and Paste in HitPaw

Copy the link to the video that you want to download. On the main page of HitPaw, there is a '+Paste URL' tab at the top left corner. Click on it and watch HitPaw analyze the link of the video. Alternatively, you can click on the folder in the middle of the page.
Step 3

Choose Format and Download

After analyzing the link, it automatically generates all formats that you can download and of course, the quality as well. Click on MPEG or any of its advanced formats. If there is a thumbnail available for the video, it will give the option to download it as well, and let's not forget subtitles.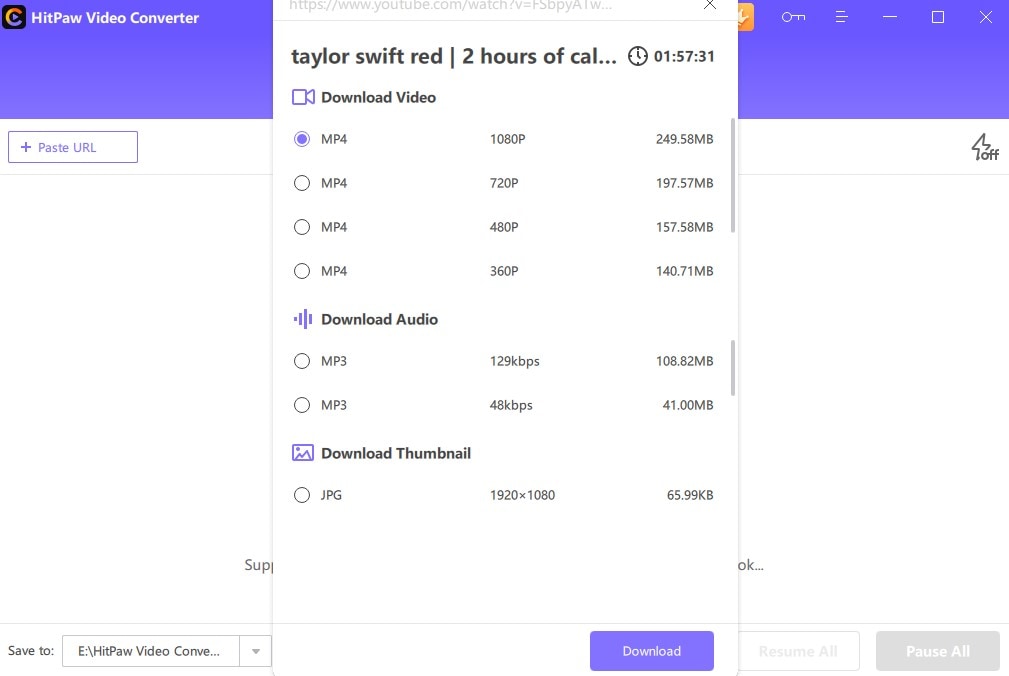 Click on Download when you are ready to begin. Your downloads will be saved to your computer by clicking on Export when you are done with all work.
Pros
Batch conversion; this should be the best app that manages to create a good batch conversion
A very fast processing speed
It supports a lot of formats
Cons
Only available on Windows for now
Q&A about Converting YouTube to MPEG
1. What is the difference between MPEG and MP4?
MP4 is just an advanced form of MPEG itself. Its full meaning is MPEG-4 Part 14, but while MPEG only holds videos, MP4 can hold a series of other information like subtitles, audios, etc.
2. Is MPEG good for YouTube?
MPEG-4 i.e. MP4 is the recommended and best format for uploading on YouTube while YouTube does indeed support formats like 3gpp, AVI, MOV, FLV, WebM, and WMV, MP4 is still the most commonly used, and it is also the format that has a diverse number of picture quality.