User Guide for UniConverter
Go to Mac
Go to Windows
How to Download YouTube Playlist Video to Computer?
Instead of downloading one song at a time from YouTube, Vimeo, Lynda, and other sites, Wondershare UniConverter allows you to download a whole playlist. The procedure is simple and quick. The procedures for downloading a Youtube playlist are shown below, and the steps for downloading a playlist from other sites are also the same.
Choose Downloader from the drop-down menu.
When you launch the software on your computer, a list of the primary functions that are supported appears on the left side of the screen. Select the Downloader option from the drop-down menu.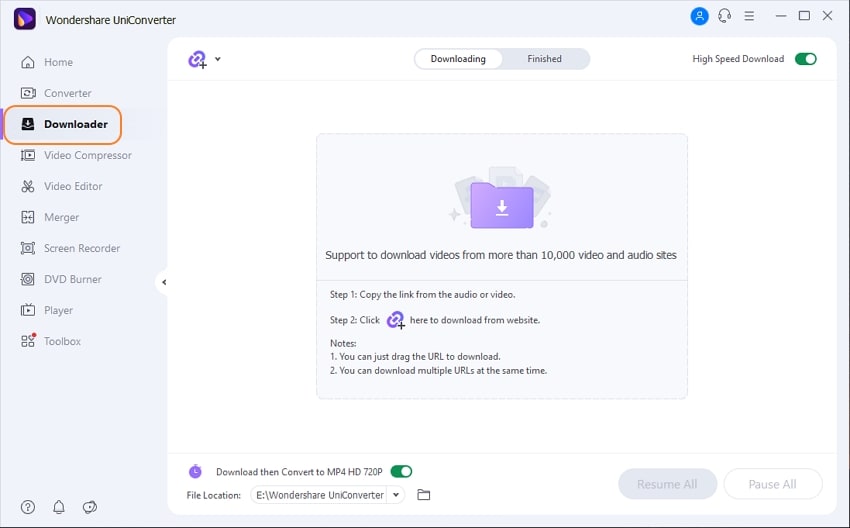 Make a copy of the playlist's URL.
Open the appropriate playlist that you wish to download in your system's browser window and copy its URL.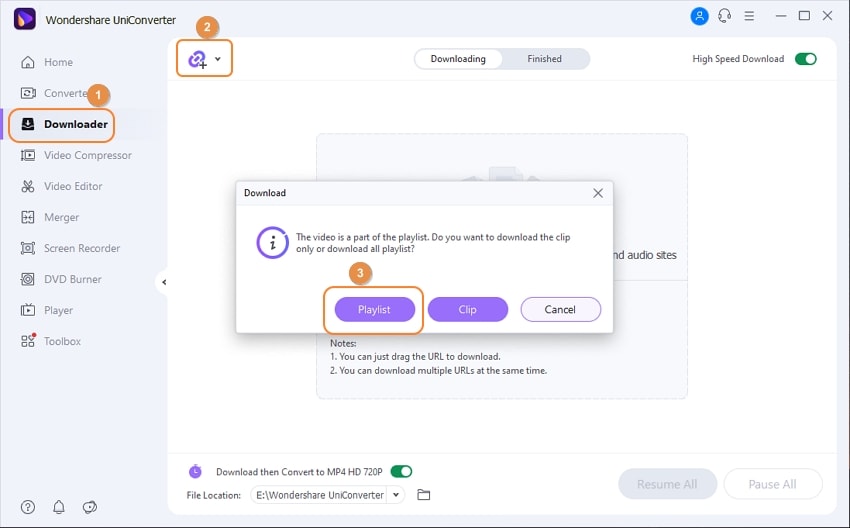 Choose the output format after pasting the URL.
Return to the software's Downloader interface and click the file icon, which will automatically paste the copied link. You can also just drag and drop the copied URL into the software interface. A pop-up dialog box will appear, from which you must pick the option to Download the playlist.
The software will examine the URL, and a pop-up window will appear, displaying the playlist's music list. All of the tracks are selected to be downloaded by default. You can uncheck the boxes next to the ones you don't want to download. After that, you may pick whether to save the playlist as video, audio, or a thumbnail, as well as the quality of the output. Then, to begin the procedure, click the Download option.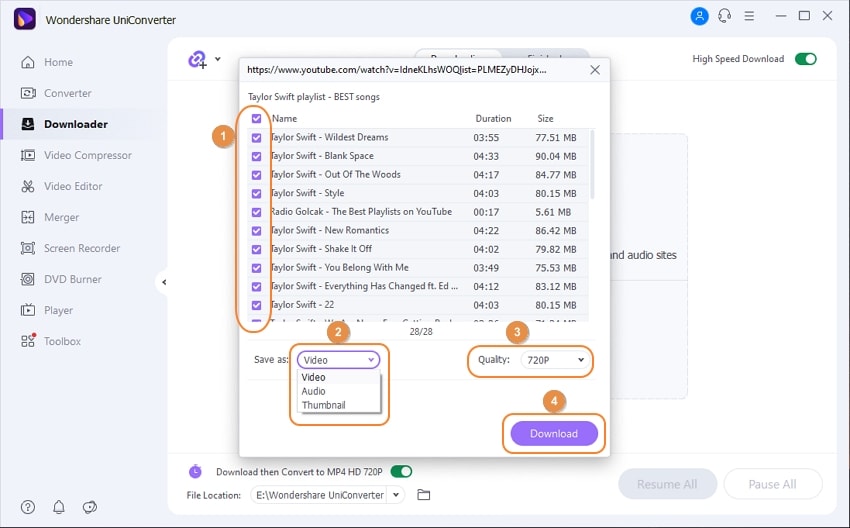 Check the downloading procedure.
The software will begin downloading all of the videos in the playlist, with the remaining time and other process data displayed in the progress bar. You can pause the recording by clicking the Pause button next to the video, then resume it by clicking the Resume button.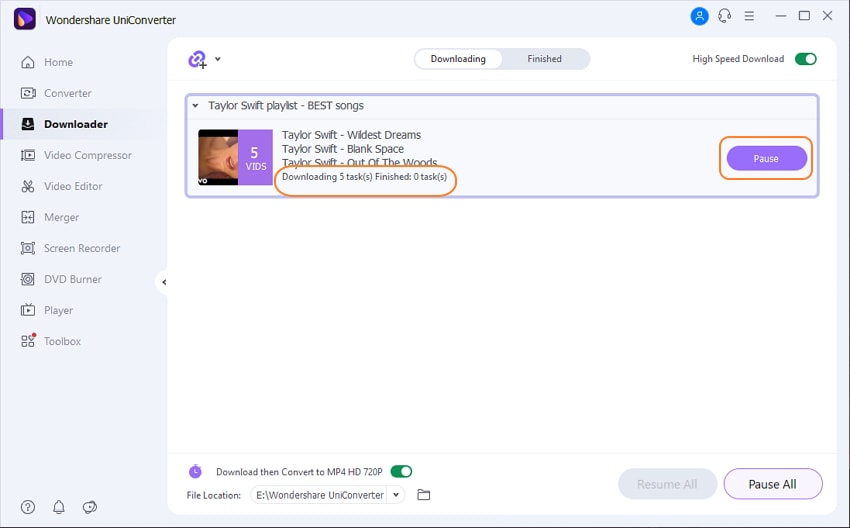 When the download is finished, go to the Finished tab to view the playlist. The downloaded videos are saved to the location you specify in the File Location tab on your computer.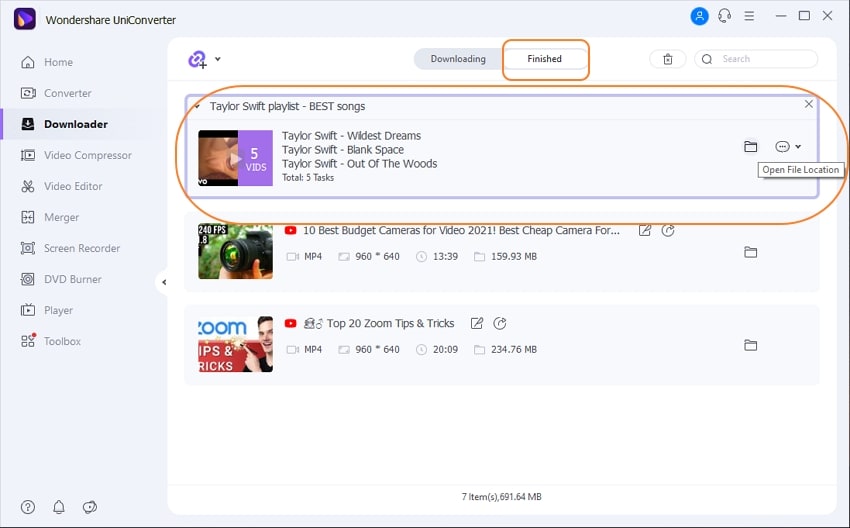 Expand all video clips in the playlist bar by double-clicking them or using the drop-down icon on the left.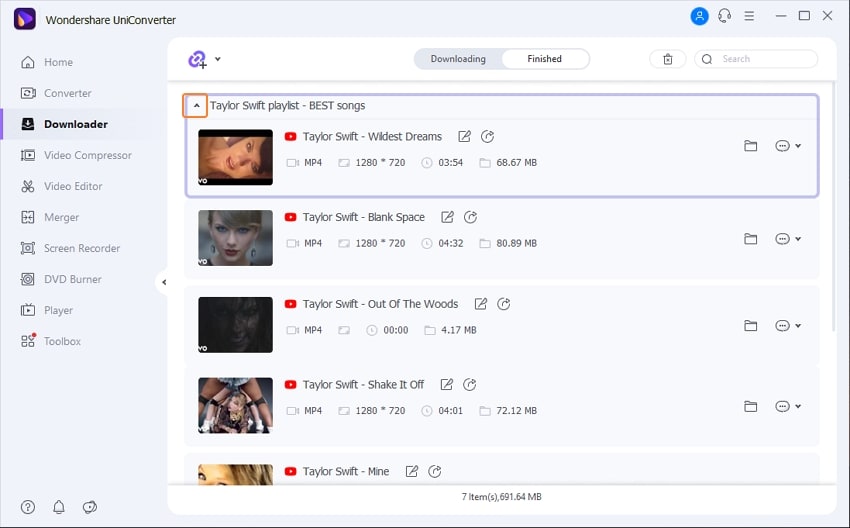 ---