Download & Convert YouTube Video-UniConverter
Download YouTube directly with one click.
Convert YouTube to WMV with original quality and high speed.
Convert YouTube to other 1000+ standard formats including device optimization.
Edit YouTube files after converting to WMV or other formats.
Other features include recorder, merger, compressor, and so on.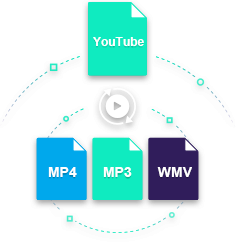 I'm sure we all want to download YouTube videos and watch them offline comfortably without having to go through the occasional pauses caused by network and buffering and, recently, the annoying ads. There are several ways to accomplish this, and we will be going over some of the most useful software and online tools to convert YouTube to WMV. Why Wmv, you ask? Because converting YouTube to WMV can help us watch youtube videos offline on Windows Media. As you can already guess that WMV is the official media format for the built-in Windows Media Player
Part 1. How to Convert YouTube to WMV Files Online?
VideoMP3Converter is not popular, but you can download videos just by using the link, for example, downloading YouTube to WMV file. And it also features some extra functions like converters, where you can select a file from your computer and convert it to another format, and it also has a screen recorder. You could even see that the interface has a desktop version, a mobile version, and even an extension,, so don't underestimate this one. You might be captivated by the uniquely designed interface and fast processing speed as well. The process for downloading and conversion is so easy you do not need to waste any time. VideoMP3converter does not download solely from YouTube, you can get other websites and download from them. As for its supported formats, of course, it supports some of the most popular formats, including MP4, MP3, WMV, MOV, AVI, WAV, etc
Steps to Convert YouTube to WMV using VideoMP3Converter
Step 1

Copy YouTube Link and Visit The Site

To download a YouTube video, you first need to get the link to the video you want to download. Now, visit the website and select 'Download from Video link/URL'. It should be the first option on the page.
Step 2

Paste Link and Select Format

On the next screen, you will not be able to paste the copied link and select the format you want. Select WMV as your output format. Additionally, you can click on 'more setting' to choose the audio quality yourself, meaning that the audio quality that comes with the video can be changed. This may or may not work, but it's worth trying it out.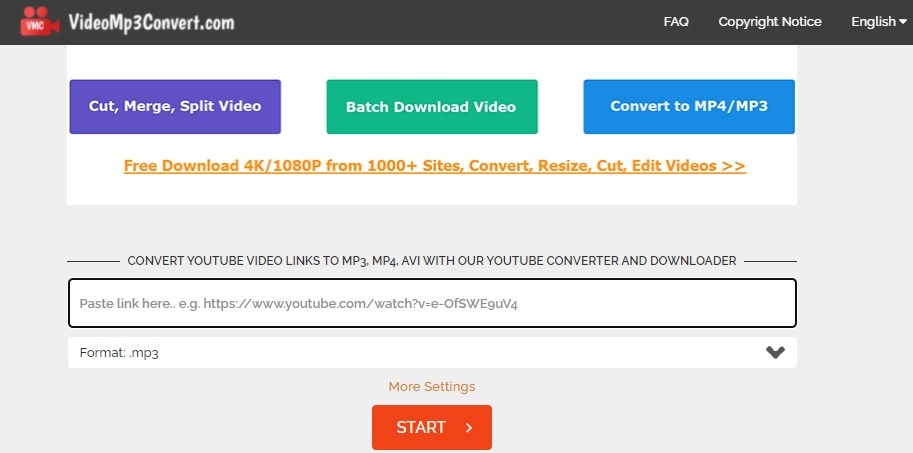 Step 3

Download

Click on Start to begin the download and convert YouTube to WMV. As with all online converters, your downloaded file will be saved to the download folder on your computer.
It is very hard not to confuse media.io for a standard video editing software because of the sheer amount of uses. Media.io is an exception among exceptions, and it can no doubt compete with a lot of software that also does conversions and other video editing functions. It supports many formats like up to 200+ including all the popular formats and device and social media formats. Converting YouTube to WMV online is incredibly easy and fast with Media.io, and you even get to choose the quality of video you want. Media.io interface is so beautifully designed and well arranged, you will have no problem navigating through the wide array of tools available on the website.
Steps to Convert YouTube to Wmv using Media.io
Step 1

Copy YouTube link and Paste in Media.io

First, visit YouTube and go to the address with the video. Copy the address and open media.io. At the bottom of the big purple tab, there are three icons, Dropbox, Google Drive, and YouTube. Click on the YouTube icon, and a new box will pop up. Paste the link you copied in the box and click on Add to continue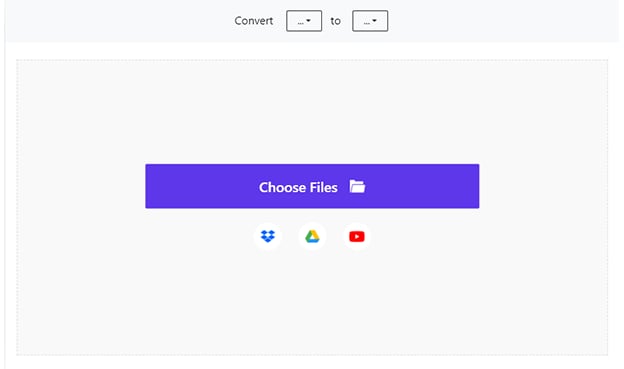 Step 2

Select Format

Media.io generates your video in seconds and makes your video available for download. All you have to do is click on the MP4 box and change it to WMV. There might be other qualities available under WMV as well, select your preferred format and quality.
Step 3

Download

Lastly, click on 'Download', and your videos begins to download to your computer.
If anyone asks for one of the easy ways to convert videos or download videos, then Cloudconvert will be among the top picks. The ease at which this online converter operates is just surreal. Everything is neatly arranged on the interface that just by glancing at the whole thing, you already know where you are going. However, the interface is not only the best thing about Cloudconvert, you can convert to and from over 200 formats using this online tool, you should know that some online converter only hosts two formats: mp3 and mp4, so for one to support more than 100 is pretty amazing. The download speed can be a bit slow when you convert YouTube to WMV, but the quality you get from it is guaranteed to be high quality.
Converting YouTube to WMV using CloudConvert
Step 1

Visit the website

As CloudConvert is an online tool, you will need to visit the Cloudconvert website online. Depending on the browser you are using, it may or may not work on mobile phones, but for optimal use, computers are advised.
Step 2

Upload file and select format

To upload the video directly from YouTube, click on the drop-down arrow on the tab. From the list of options, click on 'From URL', a new tab pops up, and you will be able to paste your video link. After analyzing the link, you will now be able to select the format you want to convert to, click on WMV.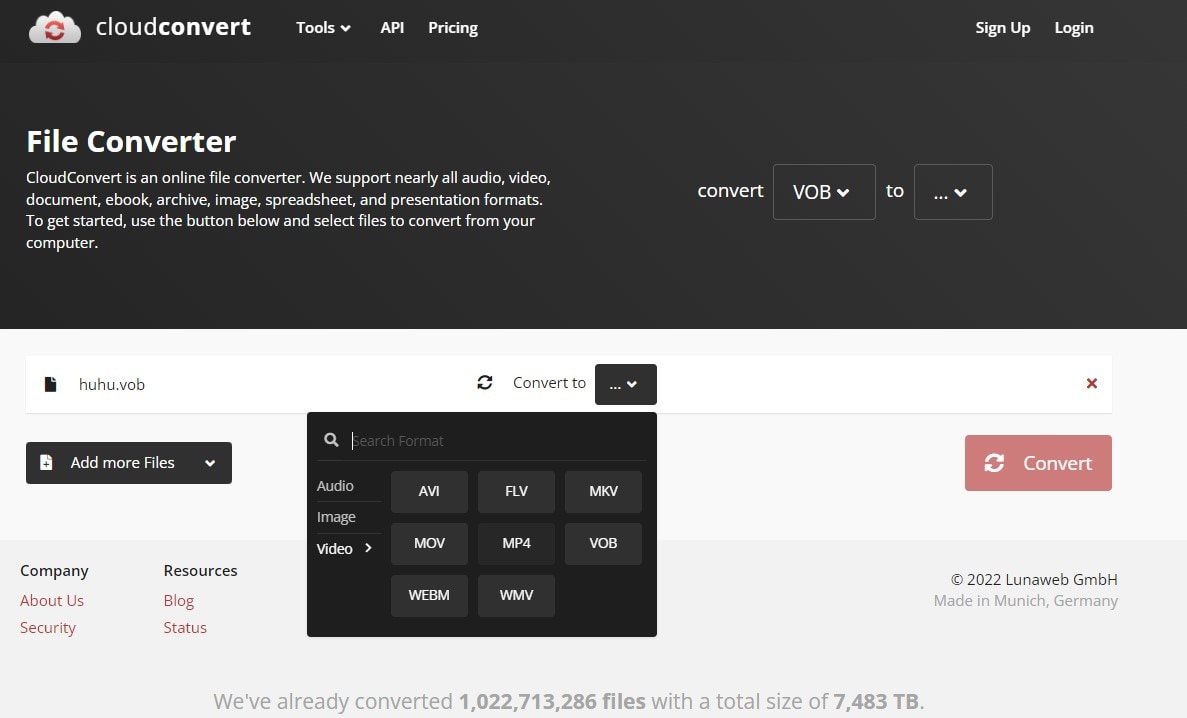 Step 3

Download and Save

When it is done with the conversion, it will still be on the CloudConvert database. You will need to download it before you can play it yourself.
Disadvantages of Using Online Tools to convert YouTube to WMV Files
1. Not safe sometimes
It is not news that the internet is full of malicious malware that is just swimming around looking for ways to invade and destroy systems. So, there is that constant risk with online converters, but some are relatively safe and free from viruses and malware. Read posts like this to see some more safe online converters

2. Limited converting options
There is just no way an online converter can match up to the software's functionality. The size of an app will determine just how many functions have been injected into it. Online converters are being hosted online and cannot contain too many functions.
3. Impacted by the internet connection
Perhaps the most annoying thing about online converters is the need for a constant and stable internet connection. If you are converting and your network lags, you might need to start the conversion process again.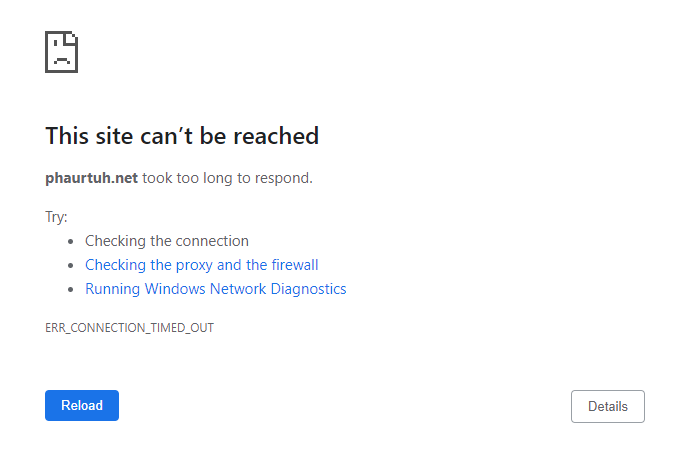 Part 2. How to Convert YouTube to WMV FIles without Internet Connection?
Uniconverter is the ideal video editing software as it is tailored to meet the needs of every video editor. It is capable of a whole lot of things, including but not limited to conversion, compression, merging, online downloads, DVD burner, subtitle creator and editor, watermark adder and remover, video effect, trimming, cropping, etc. In terms of conversion, Uniconverter can convert to and from over 1000 media formats, both audio and video. In terms of downloading, Uniconverter can download media from millions of websites across the internet, so don't limit your scope to downloading from YouTube alone. Just like most downloaders, you get to download YouTube to WMV file with just the link, Uniconverter automatically analyzes the link and brings out the video for you and also the formats of the video that are available for download. If there is an available subtitle, you can download that as well.
Steps to Convert YouTube to WMV using Uniconverter
Step 1

Copy the link and Launch Uniconverter

Visit YouTube and copy the link address, then open Uniconverter. On the main interface, look to the left, and you will see a list of tools that Uniconverter has to offer. Click on Downloader and watch the window change. Click on the purple folder in the middle of the screen to be able to paste your link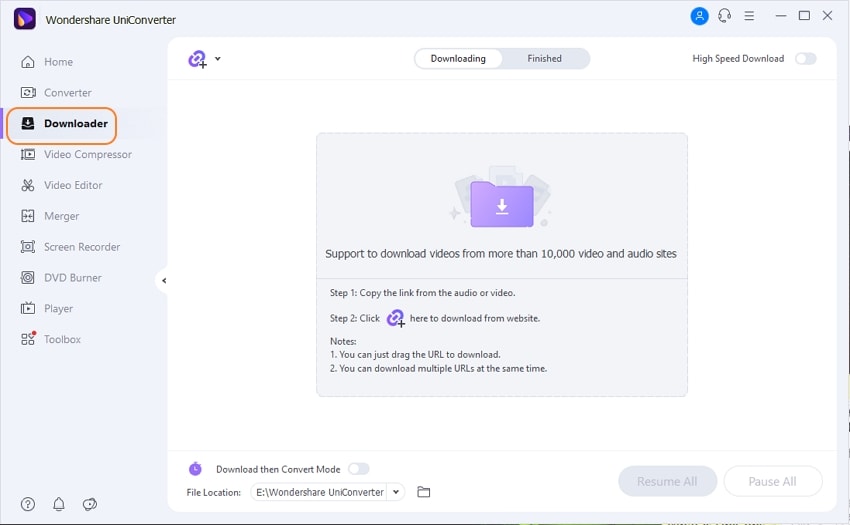 Step 2

Paste the link and choose Format

After clicking on the folder, a new window will pop up and automatically scan the link from your clipboard. If you did not do step 1, you can still copy the link from YouTube and paste it manually, but it is much easier to copy the link first and let Uniconverter get on with the lasting and analyzing. After analyzing the format, you can now select the format you want to download, If WMV is not in the format list, you can go to the Output Format menu to select WMV.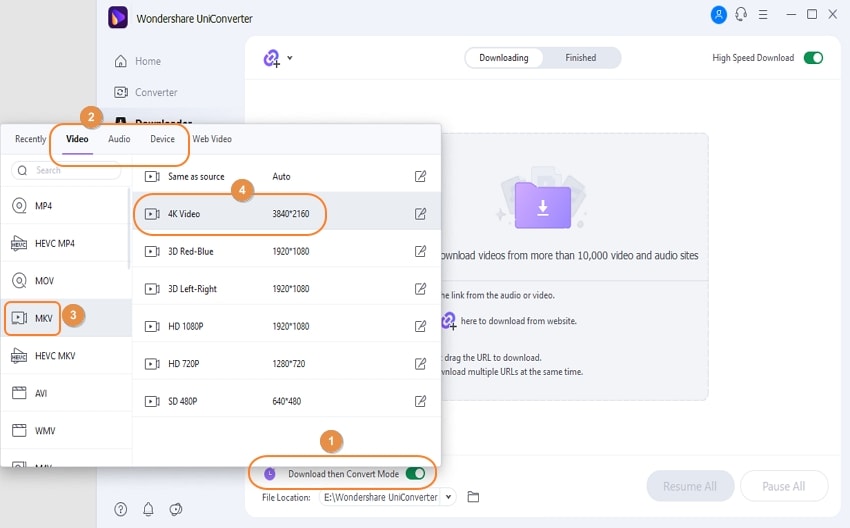 Step 3

Download

When you select either format or quality, you can now click on 'Start' to begin converting YouTube to WMV.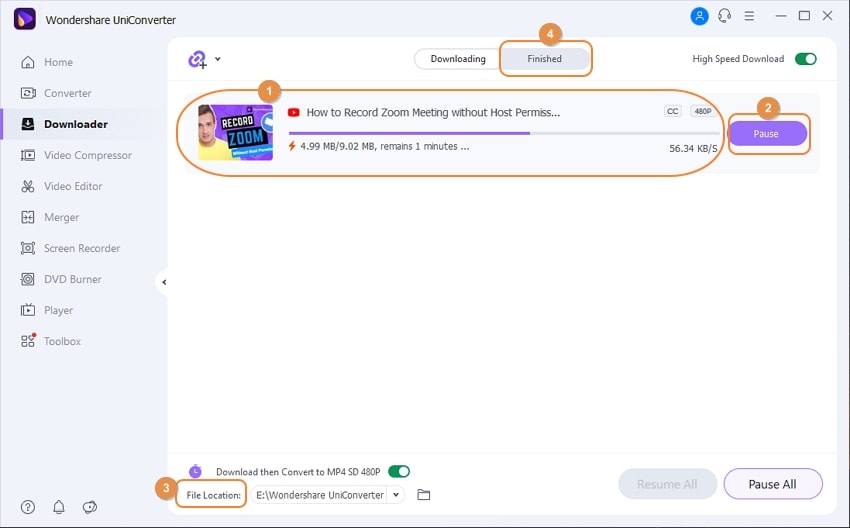 Wondershare UniConverter 13 - Best Video Converter for Mac/Windows
5,481,435 people have downloaded it.
UniConverter supports 1000+ formats and handles 90X faster conversion, ensuring that high quality is delivered at all times.
You can add the multiple files since the program does batch conversion of files.
The GUP acceleration can help you download online videos in high speed.
You can use the editing suite to make your results creative masterpieces.
This software facilitates file transfer to devices like Android and iPhone among others once the conversion is complete.
UniConverter is also capable of handling video compression hence ensures you acquire the video sizes you desire.
Some people might recognize this software, but of course, many people won't, so here is a brief introduction. Leawo Video Converter Ultimate, which can also be called Prof. Media DVD Media Pack, is a multimedia editor with multiple functions. It can convert videos to and from over 180 formats. It can download videos from many video-sharing sites, including but not limited to YouTube, Facebook, Instagram, DailyMotion, VEVO, Vimeo, etc. It can burn photos/videos to disc, rip DVD, and so on. According to one of the critics' reviews, "it is a competent software".
Steps to Convert YouTube to WMV using Leawo Video Converter Ultimate
Step 1

Find the target video

When you launch Leawo and click on the download tab, the default page that will be opened is youtube.com. Please search for the video on this page and click on it. This will make it easier for you to copy the link.
Step 2

Select Format and Download

Once you click on it, it starts playing the video using the built-in player, and the downloader will continue analyzing the video has it plays. When it is done analyzing, it will display a series of available formats for download and video quality and resolution. Select one of the options given and start downloading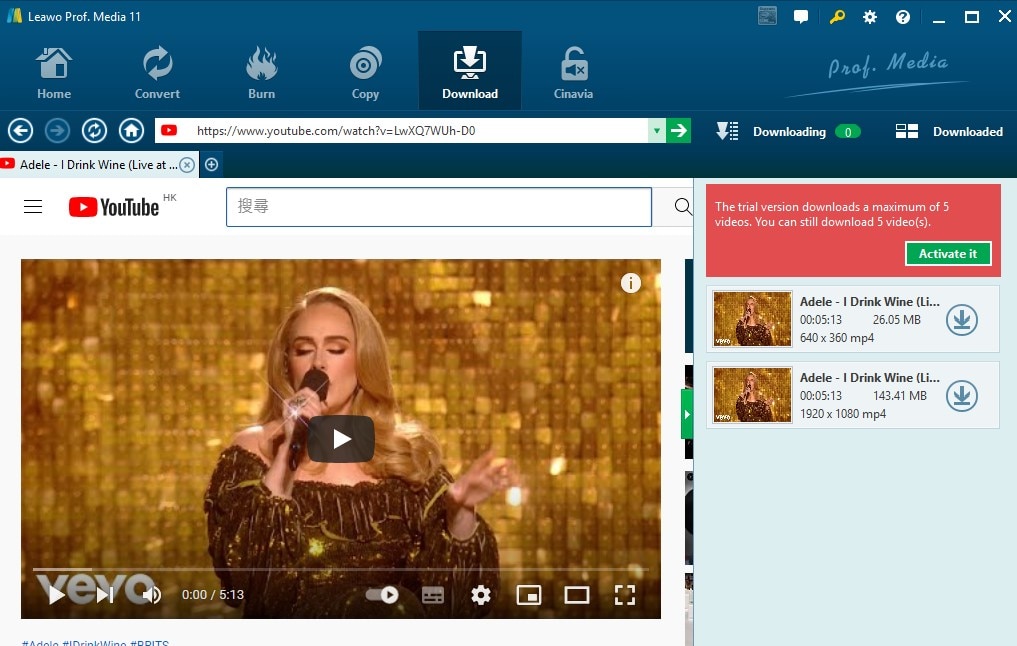 Step 3

Convert

When your video has finished downloading, go to the downloaded tab and right-click on the video to display some other options. Click on Add to convert and go to the convert tab by clicking on convert at the top of the screen. Select WMV as the format to convert to and convert the video in the next screen. Done!
Pros
The steps might look a bit complicated, but when put into actual practice, it is very easy to get simply due to the well-arranged interface
It supports more than 180 different formats
The download speed is fast, and you don't even need to open YouTube in another tab, you do everything in the app
Cons
It takes time to finish conversions of high-quality
Converting YouTube to WMV doesn't get any better than this. iTubeGo is a good choice if you decide to use it for your YouTube to WMV conversion. The interface is plain and bland, but it is still an excellent downloader and converter. iTubeGo is divided into two tools, downloader and converter, and from the name, you can already guess the function of each one. With iTubeGo you are not limited to downloading videos from YouTube alone but from other sites like Facebook, Instagram, Vimeo, VEVO, Dailymotion, etc. It is said to support most video-sharing sites, so if you have a video on a site, iTubeGo will probably be able to download it. You can download whole playlists with iTubeGo, and it can convert to other formats as well; it supports popular formats like MOV, AVI, and M4A with a lot more others
Steps to Converting YouTube to MP4 1080p using iTubeGo YouTube Downloader
Step 1

Launch iTubeGo YouTube downloader

Download and install the iTubeGo software if you are yet to do so. There are a series of tools by the left side of the interface, 'downloading', which allows you to download and convert YouTube to WMV for playing on Windows Media player.
Step 2

Upload a link

Click on the 'downloading' tab, look to the top left corner, and you will see a section with 'paste URL' and this is where you paste your copied YouTube link.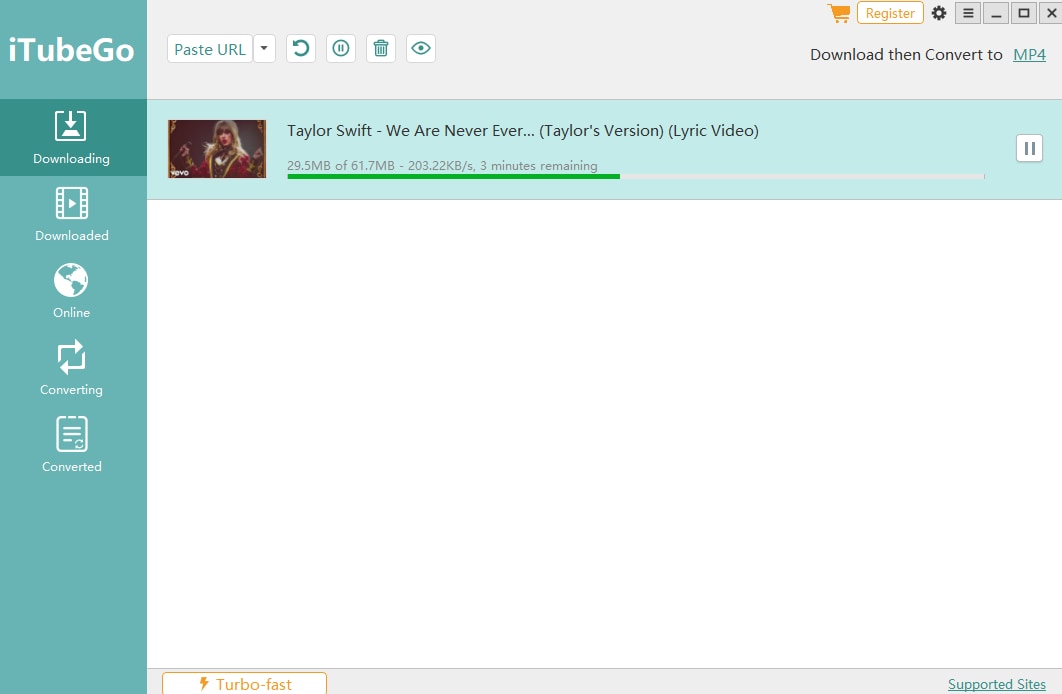 Step 3

Download and Save

Once pasted, iTubeGo will analyze the link and start downloading automatically. Please wait for it to finish downloading and check the download folder on your computer.
Pros
Can download a YouTube playlist as long as you copied the right link
Support download from other sites as well.
Can download and convert videos in batches
Cons
It is not very fast when downloading or converting
Its functions are still very limited
Part 3. Q&As of Converting YouTube to WMV?
1. Does WMV work on youtube?
Yes, the formats youtube supports are 3GPP, AVI, FLV, MOV, MPEG4, MPEG-PS, WebM, and WMV.
2. Is WMV lossless?
WMV is a lossless format, you can enjoy it on Windows in high quality. But it is also the truth that it has the large size.