Can I upload M4A to YouTube?
Uploading your favorite videos to YouTube is an enjoyable experience. However, it can be frustrating when the video format that you wish to upload is not compatible with YouTube upload. Some of the compatibility issues may result from the format of the video and the time length. Nevertheless, it is easier to upload even those file formats that are not compatible with the YouTube such as your M4A video. For a successful upload, you will require the best M4A video converter for Mac. For a detailed guide on how to upload M4A to YouTube, read the guideline which is given below.
How to Upload M4A to YouTube using UniConverter for Mac
Uploading M4A to YouTube on Mac has been made easier by the UniConverter for Mac. The software helps to upload videos directly to YouTube, and it also helps convert videos to other supported file that are supported by YouTube. UniConverter for Mac will help you convert different-sized files and upload them to YouTube in batch and at a very fast speed.
Get the Best YouTube Video Uploader: UniConverter
It is compatible with more than 150 video and audio formats, and it enables you to convert to any video and audio format that you want.
It directly uploads M4A video files and other file types such as MOV, M4V, MP4, AVI, MTS/MT2TS and more file types to YouTube with no quality loss.
It operates as a video downloader to download videos from online sites such as YouTube, Facebook, Hulu, break, Vimeo, Vevo, etc.
The app works as an ultimate DVD toolkit. It lets you burn media files on DVD discs, copy materials from a DVD to your computer and backup your DVD for safe keeping.
UniConverter for Mac is the best app for video related activities from creating to editing. It makes video editing hassle-free with its simple editing features. The features comprise of functions such as watermarking, Trimming, Cropping, Subtitle, volume, Rotate, etc.
Video Tutorial on How to Convert M4A to YouTube
Step-by-step Guide to Convert and Upload M4A to YouTube
The following step-by-step tutorial indicates how you can upload M4A files to YouTube, successfully with UniConverter for Mac (macOS 10.7 Lion to 10.15 Catalina).
Step 1. Import M4A files to the UniConverter
The first step to converting the M4A file is to import it into the app. After you have launched the program successfully on your Mac, you can import the video in three different ways. First, you can hit the "Media Browers" button at the right top of the window to attach files. Otherwise, you can go to the main menu then click "Add Files" and add the M4A videos from their location. Thirdly, you can locate the M4A videos on the Finder, or use the app's media browser to find the files and then drag and drop them on the iMedia Converter window. The software permits you to load and convert multiple M4A files concurrently.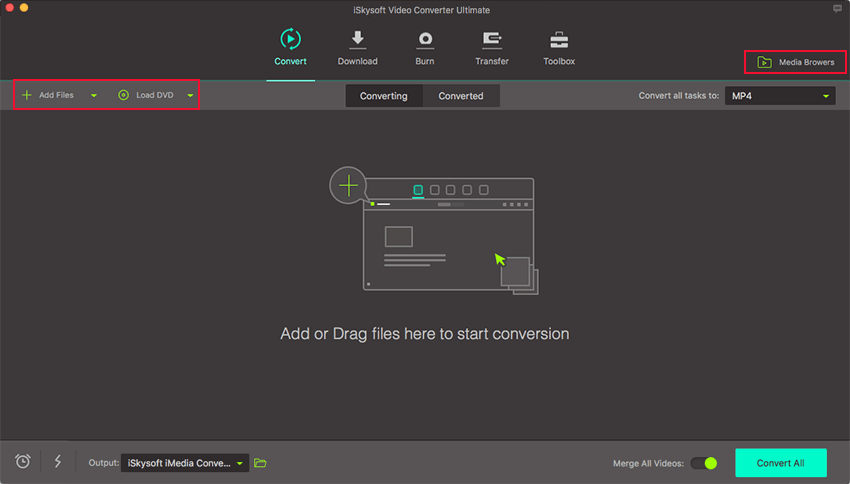 Step 2. Upload M4A to YouTube
After importing the files, you will see and "Export" menu on Mac. Hit that menu and then select "Uploading to YouTube". You should note that this choice is only available on Mac and if you are using Windows you will need to convert the M4A files to YouTube supported formats primarily and then upload to YouTube.
Step 3. Upload to YouTube
Next, you need to give the details on of the video on the YouTube window. After that click on "Sign in" button or log in if you have signed before. From there you can upload the M4A file to the YouTube.