Convert MOV to WMV-UniConverter
Convert MOV to WMV or other 1000+ video & audio formats.
Batch converts MOV to WMV in 90X high-speed.
Convert online videos from 1,000 popular sites to WMV.
Transfer WMV files to Android, and other devices.
The powerful toolbox includes Fix Metadata, GIF Maker, Screen Recorder, VR Converter, etc.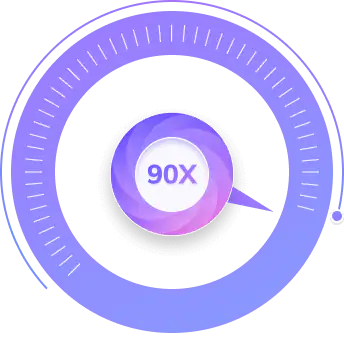 MOV is one of the most popular media formats, especially among Mac users, because the default export format for any video created on QuickTime is MOV. However, MOV is large and may not be compatible with some systems. For example, if we need to play it on a windows system, it may be incompatible, then we need to convert MOV to WMV. On the other hand, WMV is the default video format for windows, so it is easily compatible with the Windows system. The following are sure methods to convert MOV to WMV.
Part 1. How to Convert MOV to WMV with Uniconverter?
Uniconverter is a multimedia video converter that does not limit itself to just one or two functions. Its features do well in converting and managing. With easy controls and navigations, even new users can quickly get used to this MOV to WMV converter. It can convert video and audio to and from over 1000+ formats with fast speed and without reducing quality. What's more, it can also perform some other advanced video editing like compression, video downloader, merger, DVD burner, video editor, etc. It is available on Windows and Mac, so you can use it to convert MOV to WMV on Mac or Windows.
Steps to Convert MOV to WMV using Uniconverter
Step 1

Launch Uniconverter and Import Video

Open the Uniconverter software on Mac or Windows. The default home screen will display some suggested tools for you to try, look to the left side of the screen and click on the first option, which is Converter. The converter screen allows you to import videos for conversion by clicking on the purple folder in the middle of the screen. Alternatively, you can drag and drop your MOV video file into the main screen. Uniconverter supports batch conversion so that you can add more than 1 video at a time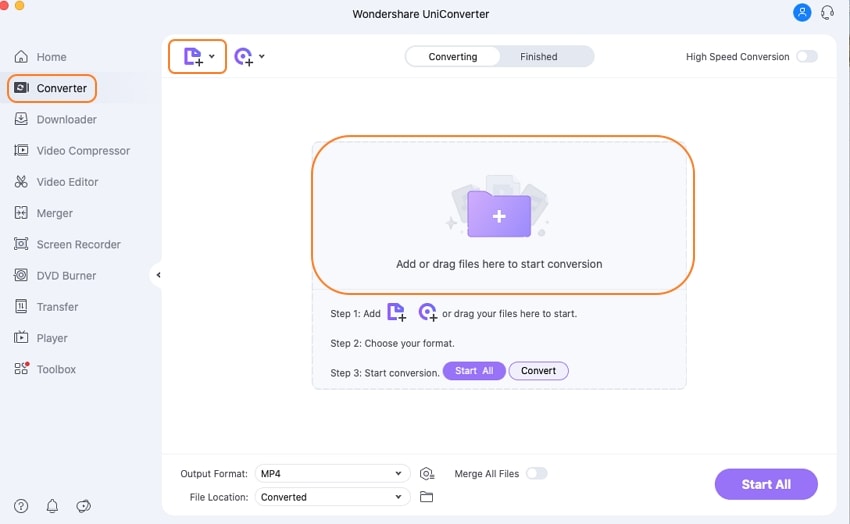 Step 2

Select Format and Quality

Once uploaded, a thumbnail will be generated for your video(s). Click on the options icon beside the purple convert tab, and a new window will pop up. Here, you can select the format you want to convert your video. Click on WMV to convert MOV to WMV. As for quality, that depends on the specs of the device you are using because some devices can't play high-quality videos, so sometimes you need to downgrade the quality. The quality will also affect the size of the video, so people can choose to reduce the rate to get a smaller size. Uniconverter gives you the freedom to choose.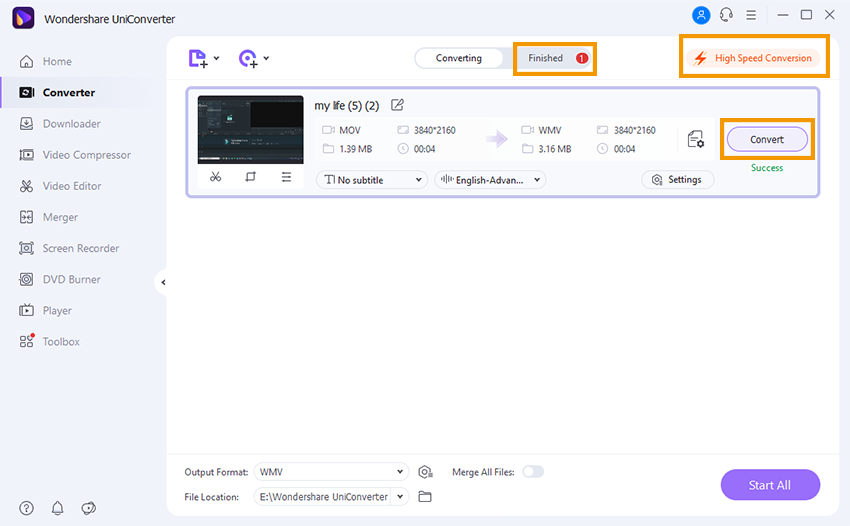 Step 3

Convert & Export

When you are done with the settings, click on the Convert tab to begin MOV to WMV conversion. When you have multiple videos imported, click on Start All at the bottom of the screen to convert all of them simultaneously. You can find WMV files at the Finished section.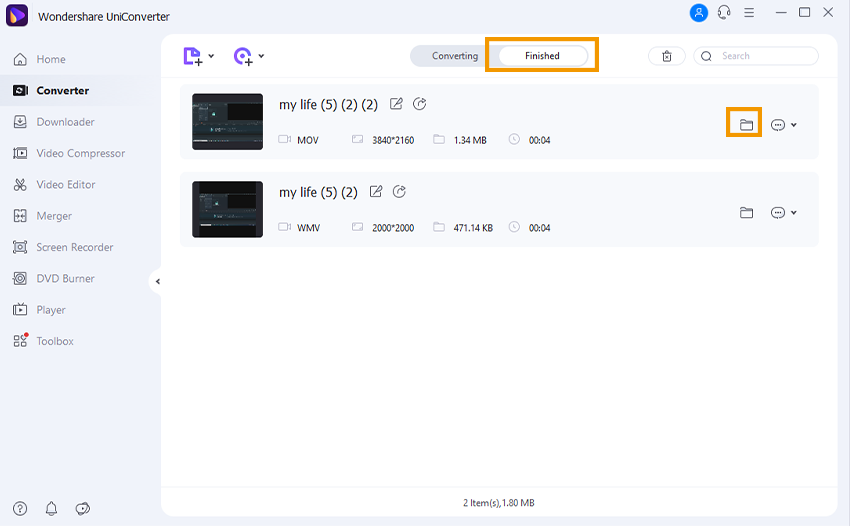 Pros
Breakneck processing speed is still the 90X speed option for advanced users.
Convert to multiple formats, including device and website formats
It can convert videos in batch
Cons
It is not yet available on Linux and mobile systems
Wondershare UniConverter 13 - Best Video Converter for Mac/Windows
5,481,435 people have downloaded it.
UniConverter supports 1000+ formats and handles 90X faster conversion, ensuring that high quality is delivered at all times.
You can add the multiple files since the program does batch conversion of files.
The GUP acceleration can help you download online videos in high speed.
You can use the editing suite to make your results creative masterpieces.
This software facilitates file transfer to devices like Android and iPhone among others once the conversion is complete.
UniConverter is also capable of handling video compression hence ensures you acquire the video sizes you desire.
Part 2. How to Use VLC as A MOV to WMV Converter?
The Uniconverter mentioned above is one of the best solutions to convert MOV files to WMV and perform some other video editing functions, but it is not without its flaw in that it is not free. It has a free version but with limited functionalities, so what do you do for free users? Use VLC. Yes, that VLC media player that you use solely for watching movies can also be used as a MOV to WMV converter. Although not built for video editing, it does a pretty decent job with video conversion, so it is one of the best free video converters that you can find plus.
Steps to Convert MOV to WMV using VLC Media Player
Step 1

Import Video

Open the VLC media player normally, without playing any video. Then click on the Menu option in the toolbar. Next, locate Convert/Save from the option generated from the drop-down box. A new window pops up, and you can import your MOV video by clicking on +Add.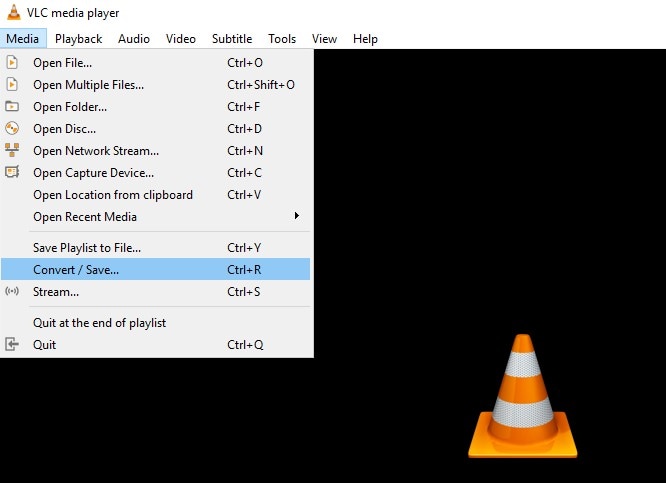 Step 2

Choose Format

Once a video has been imported, click on the drop-down arrow beside the Convert/Save tab. Once the options from the drop-down arrow have been revealed, locate convert and click on it. The box will change, and you will now be able to select the format you want. To convert to MOV QuickTime to WMV, pick 'WMV'. If there is no WMV option from the profile list, you can create one by clicking Create a new profile icon.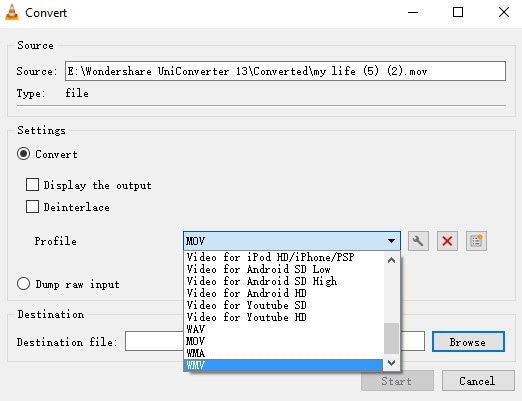 Step 3

Start Conversion

After this, select the destination folder by clicking on the Browse, choose your preferred save location, then proceed to click on Start to begin to convert MOV files to WMV in earnest.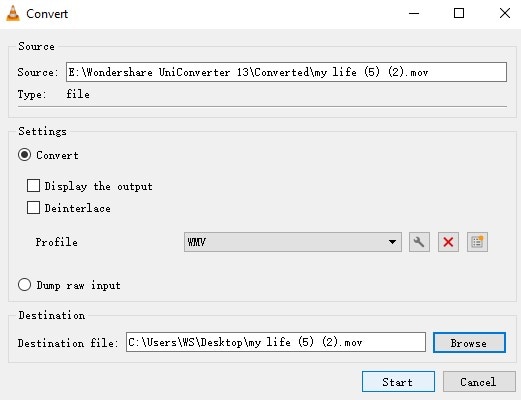 Pros
VLC supports just about every video format
It can batch convert videos effortlessly
Cons
It has a limited and not easy-to-use editing features
Creating a new format like WMV on VLC is difficult for those who are unfamiliar with formats and codecs.
It was not initially made for video editing, so it has limited functionality.
Part 3. How to Realize MOV to WMV Conversion Online?
As mentioned above, sometimes VLC might fail you because it was not meant originally for video editing. The next option is to use a free online MOV to WMV converter like Cloudconvert. Cloudconvert allows you to convert to and from over 250 media formats, including document and image formats. As it is an online tool, the speed of conversion depends on the strength of your network connection, but for Cloudconvert, a strong network connection can guarantee a very fast conversion speed.
Steps to Convert MOV to WMV using Cloudconvert
Step 1

Launch the website and select the format

Visit Cloudconvert on your device. On the home screen, there are two boxes; here, you select the format you want to import (optional) and the format you want to convert to. Next, click on the red Select file tab and upload your MOV video from your device.

Step 2

Convert

The website automatically detects the video format, so you don't need to select that. You only need to choose the format you want the video to be converted to. You can add more than one file, but this option only becomes available when you've added the first one. Click on the convert tab when you are ready to start converting.

Step 3

Download

When the conversion is finished, you will still need to download the file to your device. Unfortunately, Cloudconvert doesn't store your file for download later, so you will need to download it immediately after the conversion ends.
Pros
Breakneck conversion speed
It supports a lot of formats both for importing and converting
Automatically detects the format of the imported video
Cons
You have to download your file immediately, and once you leave the website, you will lose the converted file
It cannot convert to device or web format
The supported formats are divided into audio, video, document, and image, so it doesn't support a lot of video formats
Part 4. Q&As about Converting MOV Files to WMV
What are the differences between MOV and WMV?
As MOV is to QuickTime file extension, WMV is to Windows Media file extension. The acronym stands for Windows Media Video. It is widely compatible with any Windows device. MOV is known for being high in quality and likewise in size. WMV has a moderate quality and small size. A more advanced difference would be that MOV is a QuickTime video codec that can contain texts, images, and audios that multiple video compression formats have encoded, while WMV itself is a compression format
Does converting MOV to WMV damage video quality?
Damage is a bit of a strong word. MOV video is of very high quality, so converting to another format will reduce the quality, not damage it. MOV to WMV conversion may result in the MOV losing a bit of quality when you convert to WMV because WMV is a compressed format, so it has a small size but limited quality. However, video editors should also note that the large size is a testament to the quality of the video, so the more you compress the original video, the more video quality will be lost.