The Windows Media Video format, also known as WMV is a very popular format that's widely used on the Windows platform. However, due to its major popularity, we can now encounter it on a variety of other platforms as well, from Mac based to computers to Linux and even mobile devices. The Android platform is surely not a stranger to this format, as you can easily find a WMV Android Player very fast.
Part 1. How to Play WMV Videos on iPhone/iPad/Android Devices
In the last few decades, developers tried to innovate more and more, and that's how the smartphones were created. The amazing WMV videos can now be seen on the iOS and Android platform as well. While there are numerous players with complete support for lots of formats, converting the video you want to the native format of these devices, which is MP4 is surely recommended, as this can bring you a better, more engaging experience. Then the best tool you can find on the market which can easily convert your WMV videos to an iOS or Android device format is surely UniConverter. The most important thing is this WMV converter for iPhone, iPad, iPod or Android mobile phones is extremely easy to use.
Easily Play WMV Files on iPad/iPhone/iPod/Android Devices:
Convert WMV videos to iPhone/iPad/Android devices in three simple steps.
Convert WMV videos to different video editing tools supported formats with ease.
Aside from WMV, it supports to convert lots of HD and standard video formats, such as AVI, FLV, VOB, MP4, MKV, etc.
It supports to convert audio formats as well.
Compatible with all macOS, including 10.12 Sierra & 10.11 El Capitan.
3,981,454 people have downloaded it
Tutorial for Converting WMV to Android Mobile Phone and iPad, iPhone (X/8/8 Plus/7/7 Plus/6s)
Step 1. Import WMV videos into the Mac WMV Converter
First of all you need to load the video files you want to convert from all files located on your computer with drag and drop method. Since this video converer supports batch conversion. So you can add multiple files a time. And if you want to join all the loaded videos into one file, you can tick the "Merge all videos" option.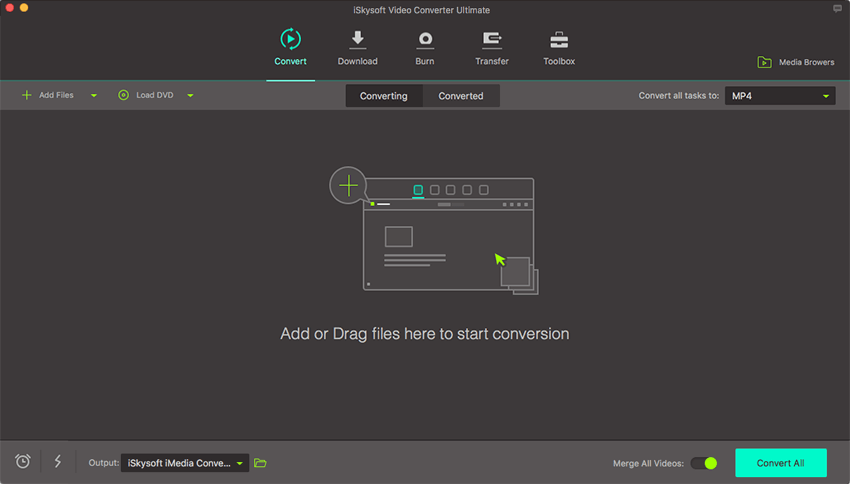 Step 2. Choose the preset format for your devices
Once that is done, you then need to select the output format and modify the resolution of the output video as well, if you want. The app allows you to select certain devices as the output format, narrowing down the results and helping you a lot in the process. iSkysoft Video Converter for Mac offers optimized presets for iPhone (X/8/8 Plus/7/7 Plus/6s), iPad, Samsung Galaxy S7, S6 and various mobile devices. In addition, you can also choose to modify the output location, as that is surely important, especially if you want to batch convert videos.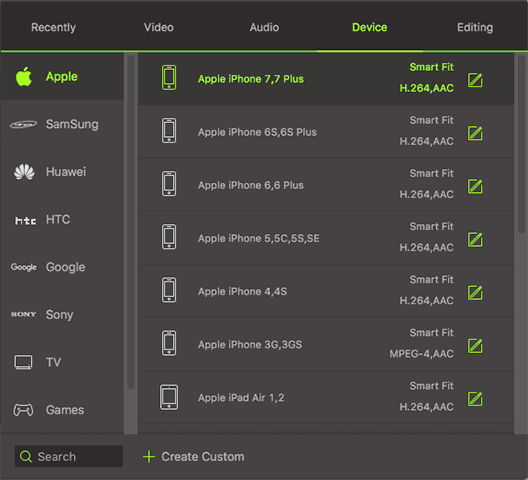 Step 3. Start converting WMV to iPhone, iPad, etc.
After you customize all these options you can easily start the conversion process just by clicking the "Convert" button. Depending on the amount of videos you need to convert, you might have to wait for a few minutes. The conversion speed is very fast, which is surely amazing for such an application.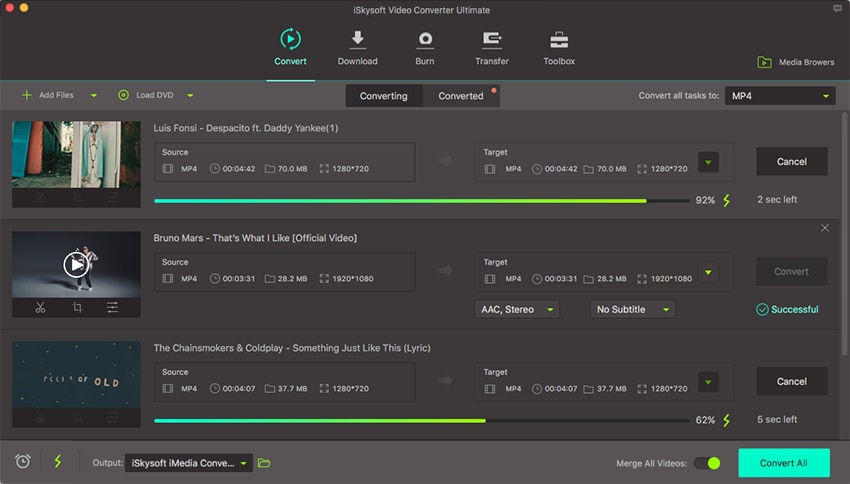 Part 2. WMV Player for Android/iPhone/iPad/iPod
1. BS Player Free (for Android)
BS Player Free is surely a very popular option on the Windows based computers, but it does have a large amount of popularity on the mobile platforms as well due to ease of use and other features. What makes it really interesting is the fact that all the video playing is hardware accelerated, which provides a much faster playback and an intense experience overall.
Pros: Very easy to use interface, brings complete support for numerous platforms.
Cons: You might encounter bugs sometimes that ruing the playback experience.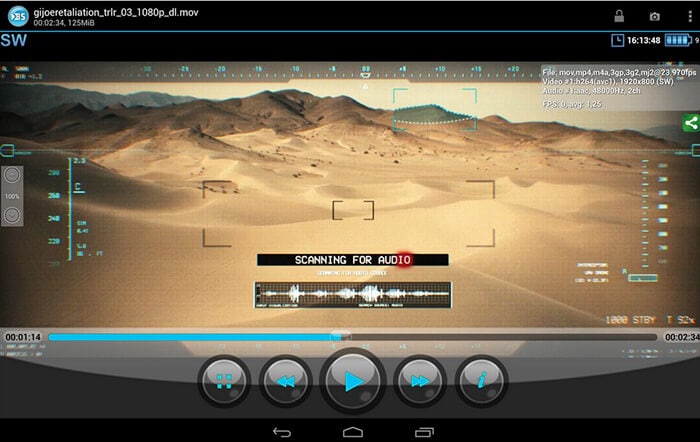 2. VLC for Android
VLC for Android brings the greatness of the VLC application to the Android platform. Featuring complete support for most types of video and audio, this tool is most probably the perfect choice for any person that needs a reliable and easy to use video playback utility.
Pros: Brings complete support for a plethora of video formats.
Cons: The videos are laggy sometimes.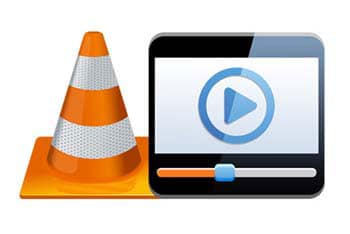 3. Android Video Player
Android Video Player is a tool that supports all the popular video formats. It's a media player that not only brings high definition support, but it can also play movies, flash and any other type of content with ease. It's one of the best multimedia tools that you can install on your Android phone and it's free of charge, of course.
Pros: Identifies video type, doesn't require a lot of memory to function, opens quickly.
Cons: Lacks the ability to rotate videos and crashes at times.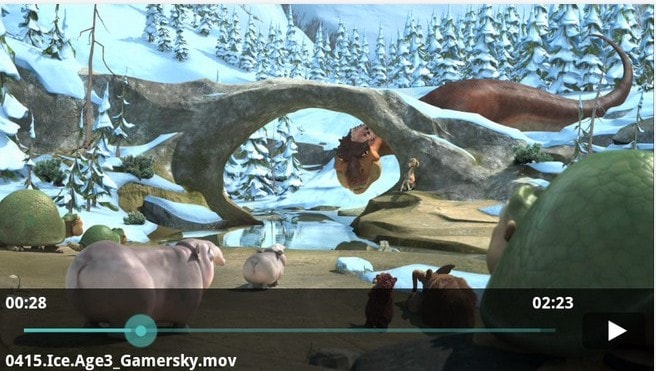 4. Video Player (for Android)
Video Player is an application designed for those persons that love playing videos on their mobile phones. The app brings a media library for audio, video and other types of files and it even enables you to browse files directly without a problem. As expected, it brings complete support for subtitles and multi-track audio, which is surely impressive.
Pros: Easy to use app that brings complete support for multiple devices.
Cons: Won't work on some devices.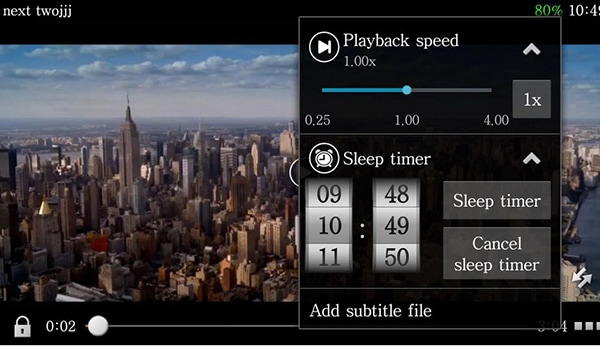 5. MP4 FLV WMV Media Player (for Android)
MP4 FLV WMV Media Player is one of the best choices for those that want to play WMV, MP4, FLV and many other types of video without any problem. It also features crisp audio playback as well as numerous other features that enrich the experience, something that's surely desirable. It also allows you to set a password to your private folder, move movie files to other folders and it even bring complete support for video and audio playback.
Pros: Simple interface, easy to use, you can change the brightness of the screen during video playback.
Cons: Won't load files at times.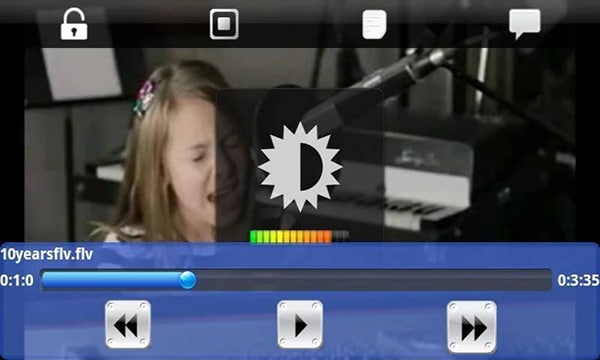 6. PlayerXtreme HD (for iPhone/iPad)
PlayerXtreme HD is a comprehensive audio and video player that also brings numerous unique features such as an easy to use library, tag and color folders, ass well as complete network support and the ability to map your library as drive, if you want. If needed, you can also set passcode on your library in order to restrict anyone from accessing folder and you can also hide folders at any given time, if that's needed.
Pros: Simple interface, brings the ability to lock the library and can play videos from networks.
Cons: Crashes randomly at times.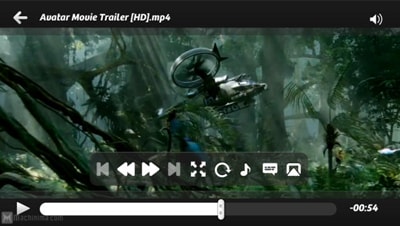 7. Flex Player (for iPhone/iPad)
Flex Player is one of the best tools when it comes to watching MKV, AVI, WMV, VOB or any other type of video files on your computer. It's very easy to use and it allows you to transfer videos from your computer using the iTunes sharing function. It's also an universal tool that works the same way on all iOS devices.
Pros: Exquisite interface and the ability to switch between videos at all times.
Cons: Will sometimes stop loading files.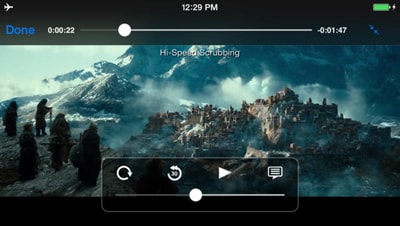 8. iVideo Player (for iPhone/iPad)
iVideo Player is one of those tools that you can easily use any time you need to convert videos. You can import videos from anywhere, including your Dropbox or Camera Roll, but you can also create a playlist, share your saved videos and even access a comprehensive help section in case you want to learn more about the functionality of the application.
Pros: Crisp, clear interface and amazing video playback.
Cons: Sound and lips movements are not in sync sometimes.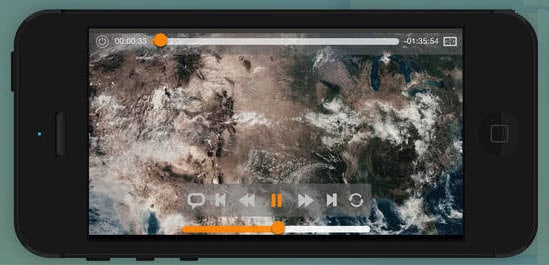 9. Fresh Video Player (for iPhone/iPad)
Fresh Video Player is a great application for anyone that needs to watch videos and stream them with ease on their Apple device. It allows you to transfer videos from your computer without hassle, while also bringing passcode features, support for numerous streaming protocols as well as file management options. If you need more features, then the application even brings complete support for the UpnP and DLNA servers, video streaming, but it can also search servers in your home network. This brings a lot of compatibility and ease of use into a single package, which is surely impressive.
Pros: Brings support for video streaming and has an easy to use interface.
Cons: Subtitles and Airplay mode might not work sometimes.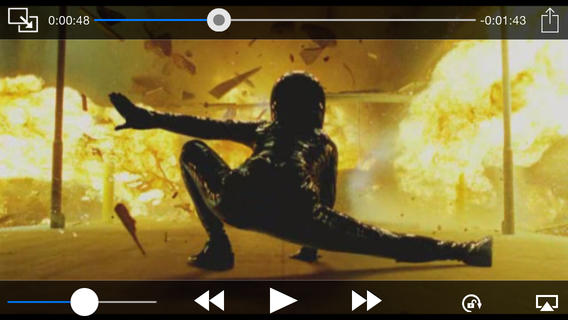 10. PlayerZoomy (for iPhone/iPad)
PlayerZoomy brings complete support for a plethora of video and audio files, which surely makes it perfect for the matter at hand. In addition, it even allows you to download videos for your device very fast and without hassle. Once you download those files you can easily play them using the integrated player. This feature makes PlayerZoomy a powerful tool that you surely need to use as often as possible.
Pros: You can browse videos very easy. Supports lots of file formats.
Cons: The interface needs a little more work.