[Solved]Can VLC Play WMV files?
Go to Mac
Go to Windows
VLC is unquestionably the most prominent Windows or Mac media player. It can open and play virtually any video you throw at it. However, sometimes you might encounter the "VLC not playing WMV" clips problem, especially if you're a Mac user. But before you start panicking, keep in mind that there are a few solutions to this issue. You might decide to get the right codecs by updating the app or convert WMV to a VLC-supported format. So today, you'll know how to play WMV with VLC hassle-free on Mac or PC.
---
Part 1. What is a WMV File
WMV (Windows Media Video) is a video format developed by IBM and Microsoft. Most WMV files feature image, audio, text, and video data. It is similar to the Advanced System Format (ASF). In some unique instances, it comes in the ASF videos with either a .asf or .wmv file extension. Some WMV files can also be included in an AVI container. Although WMV files can open on either VLC or Windows Media Player on PC, Mac users will have to use the WMV Components for QuickTime to open it. To avoid lots of troubles, converting WMV to another Mac-supported format is inevitable.
---
Part 2. How to Play WMV with VLC Media Player on Mac
PC users can rest easy because WMV files are compatible with these computers. You can open it using VLC, Windows Media Player, 5KPlayer, 4KPlayer, and many others. Even better, WMV is one of the clearest video files on Windows with an impressive resolution of around 720 to 1080 pixels. This allows for an HD video-like output. Mac users, on the other hand, have no option but to convert WMV to either MP4 (universal format) or MOV (Apple QuickTime).
---
Part 3. How to Solve the "VLC Not Playing WMV" Issue
Simple! Just install the UniConverter (Originally UniConverter) on your Mac computer. With it, you will easily convert WMV clips to another Mac-friendly format, like MP4, AVI, VOB, MOV, and many more. But before the conversion process, this tool allows you to edit videos by adding subtitles, applying effects/watermarks, adjusting the frame rate, etc. The process is also pretty quick with a demonic 90x faster conversion speed compared to other converters. Lastly, it features a multimedia player for directly playing WMV videos on Mac.
UniConverter – The #1 Video Converter
Solve the "VLC not playing WMV" problem by converting WMV to MP4, MOV, VOB, or any other VLC-supported format.
90x faster conversion speed compared to any conventional converter.
Built-in media player as a VLC alternative.
Edit video clips by cropping, rotating, trimming, cutting, etc.
Step-by-step process to convert WMV to a VLC-supported format using UniConverter:
On the default Convert tab on the menu bar of the app, click the + Add Files drop-down list then choose whether you want to add a folder or files. Once you find the WMV clips, select them then click Open to start importing. A more straightforward method is dragging and dropping to the home window.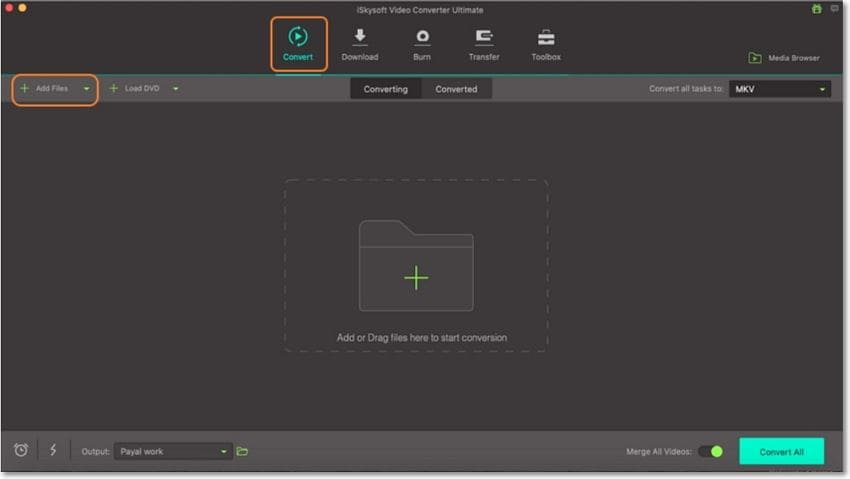 Choose a VLC-compatible format
In this case, I will champion for MP4 because it can play on any device. To select it, click Convert all files to > Video > MP4MP4 and then set a resolution.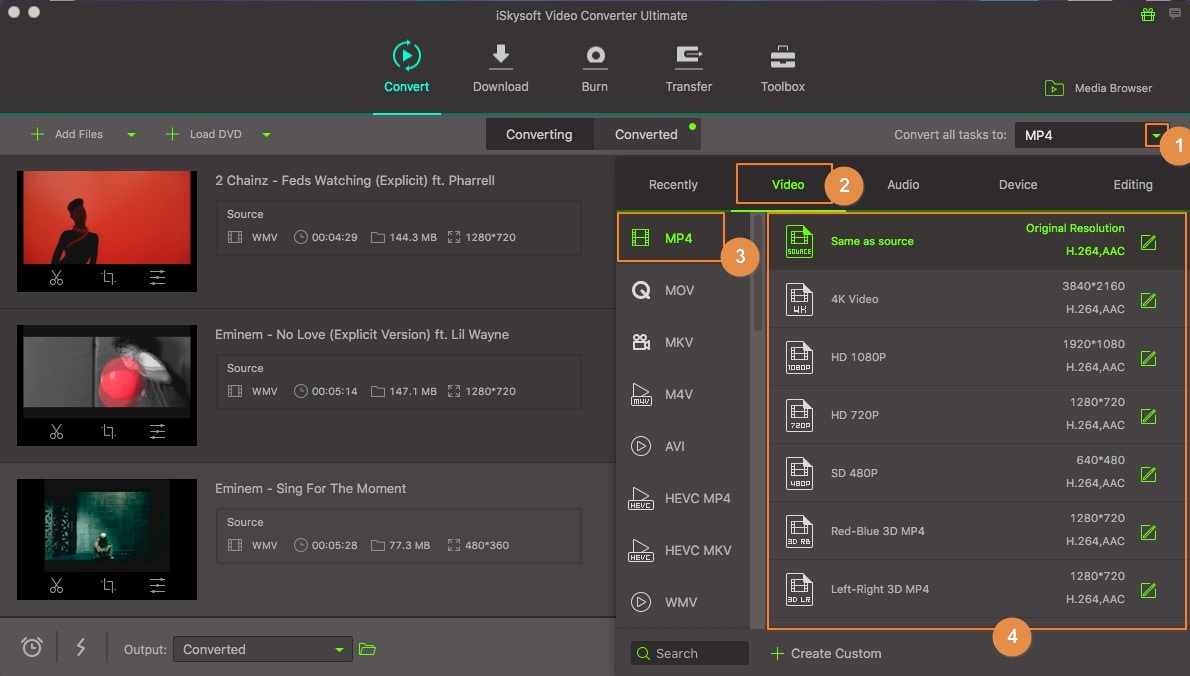 Note:
If you like, you can play the WMV files using this app by clicking on the imported video. Other than that, click the three small edit icons to personalize the WMV videos before converting them to MP4.
Convert WMV to VLC format
Now rush to the Output section at the bottom of the window and select a destination path. After that, click the Convert All button. ISkysoft WMV to VLC converter will automatically start converting the videos and save them under the Converted tab. From there, right-click on one of the MP4 files then choose the Open File Location option to locate and play your videos on VLC.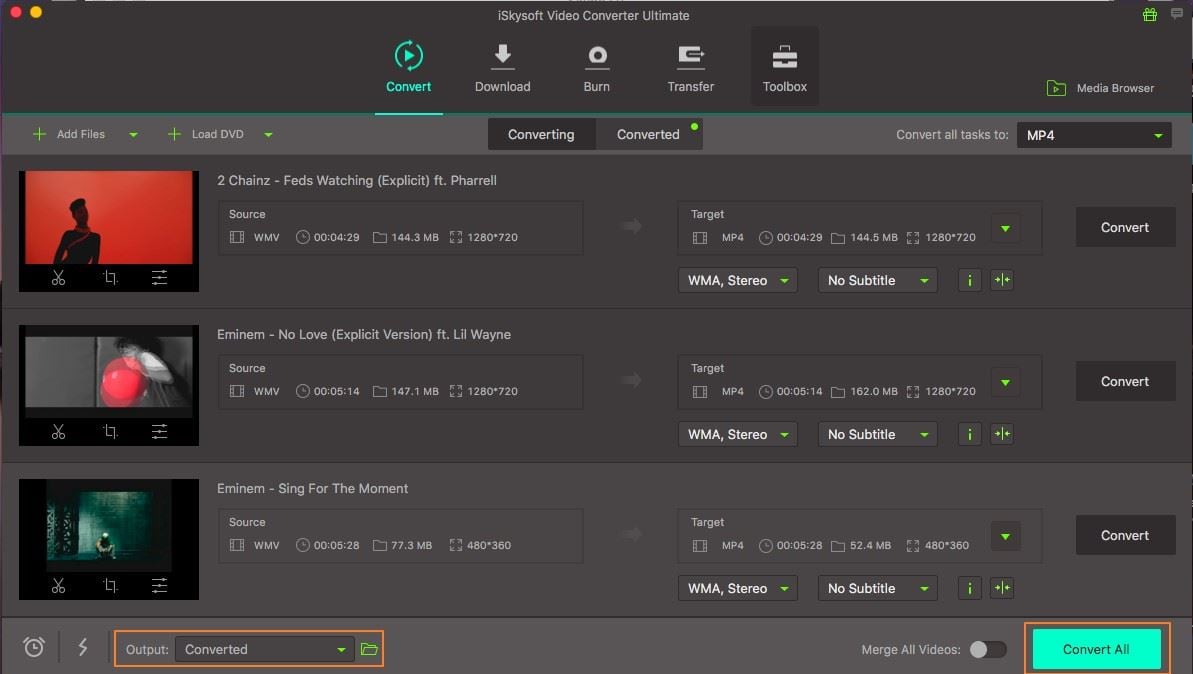 ---
Part 4. Learn More About Playing WMV with VLC
If you've never used VLC before, it's an open-source, free media streaming, and media player software. It is developed by VideoLAN and is available on both mobile and desktop platforms like iOS, Android, Windows, Mac, Tizen, etc. You can get it from the official VLC site, Microsoft Store, Google Play, or Apple App Store.
Moving on, VLC supports plenty of audio and video formats. They are so many that we can't even list them all on this post. Some supported formats include ASF, MP4, FLAC, MP3, Apple HLS, WAV, VOB, and many others. You can even play digital camcorder formats like TOD and MOD via USB. So if you want to play VLC on Windows, follow these simple steps:
Step 1: After installing and running VLC, click the "Media" tab on the far-left side of the window.
Step 2: Locate, select, and then click "Open" to start adding WMV videos. VLC will automatically play the WMV files.
Note:
A more natural way to play videos after installing VLC is via right-clicking the videos file/folder and then choose "Open with" > VLC media player.
In conclusion, VLC is an excellent media player that you won't have to subscribe or pay anything to use. However, Mac users will be disappointed because VLC can't play WMV videos directly. In that case, get a VLC alternative in UniConverter.
WMV
1. Convert WMV to Other Format

2. Convert Other Format to WMV

3. WMV Tools & Tips