Can We Play MP4 on Android or iPhone Device?
Playing MP4 videos on your smartphone is pretty convenient but when some MP4 file fails to play on Android or iPhone things do seem very pleasant. This happens because of the codecs of the video you want to play does not matches with your smartphone. For this a powerful video converter is required. You can correct the default settings of your smartphone and can watch the MP4 video easily. For this you need to download a reliable video converter, add the file you want to convert, choose the format you want and convert it. You can also do that on your phone with the Android and iPhone video converting apps.
Part 1. Play MP4 by Converting MP4 to Android or iPhone Supported Format
In order to play MP4 videos on various platforms, you may need to convert them. Then you can't miss UniConverter, which helps play, convert and burn MP4 video with ease. This is the most used worldwide video converter that supports all sorts of formats. You can fix any media from here. Before converting any video you want you can always give it some personal touches like editing, splitting and giving effects. You can even add in your own watermark. Within a matter of click you can even download the videos from other sites. It can convert videos, audios, DVDs, burns files and also can copy them.
Get the Best MP4 to Android/iPhone Video Converter:
Maintain the quality of your videos – not many video converters will maintain the quality of your original video but UniConverter will; a faster GPU allows for conversion without compression so no loss in quality.
Be fast – no more waiting for ages as your high definition videos are converted; converting at 90X the normal speeds, you will have your video done in no time at all.
Be flexible – there was a time when you needed several video converters when working with multiple video formats; UniConverter can now handle 150 formats of video and audio.
Edit videos – with a new inbuilt video editor, you can now make your videos sharper, edit colors and a lot more using UniConverter.
Burn to DVD and more – you can send the video to the Internet, burn it on a DVD or send to your mobile devices.
Compatible with macOS 10.15 Catalina, 10.14 Mojave, 10.13 High Sierra, 10.12 Sierra, 10.11 El Capitan, 10.10 Yosemite, 10.9 Mavericks, 10.8 Mountain Lion and 10.7 Lion, as well as Windows 10/8/7/XP/Vista.
Guide to Convert MP4 to Android or iPhone (X/8/8 Plus/7/7 Plus/6s) Supported Format
Step 1. Upload the MP4 File
After installing this program, please load your MP4 video with drag and drop method. Alternatively, you can go to the main interface and click "Add Files" to achieve that.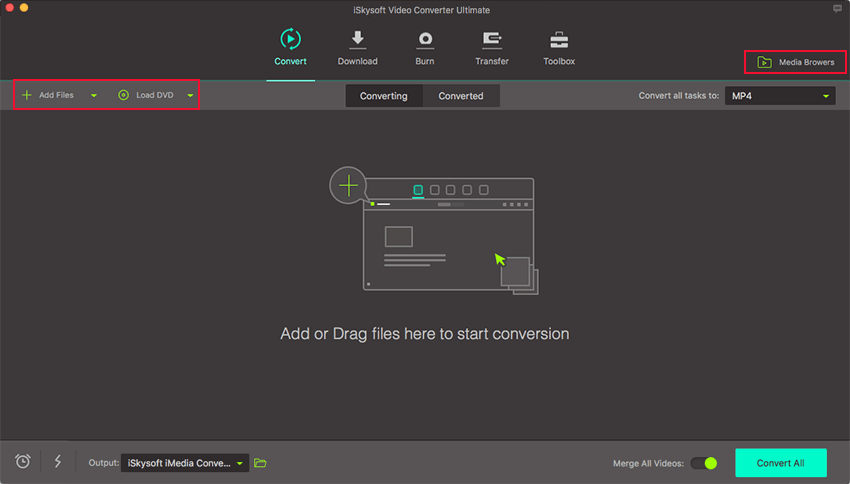 Step 2. Select Output Format
Now please go to the "Convert all tasks to" option, here you can select "iPhone" or "Android" as the output device as you need.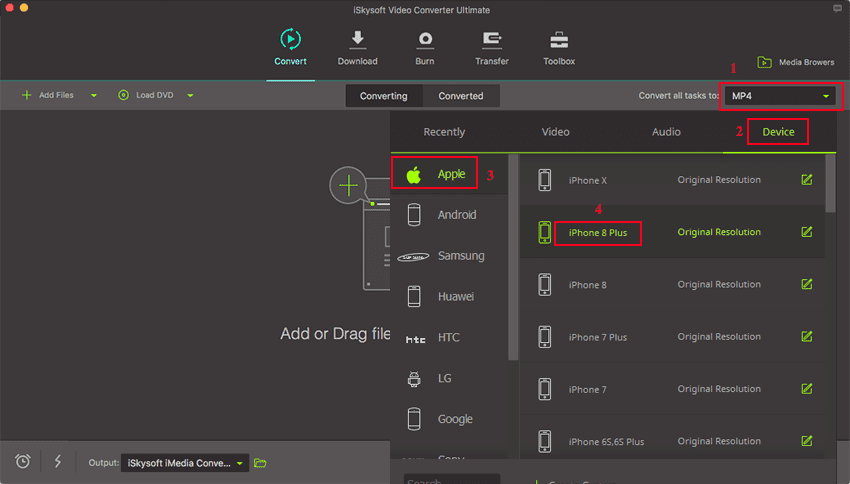 Step 3. Start Converting
If you want to edit or give effects then you can do that before converting. Just when after is set then you can click on the "Convert" button and start converting the video.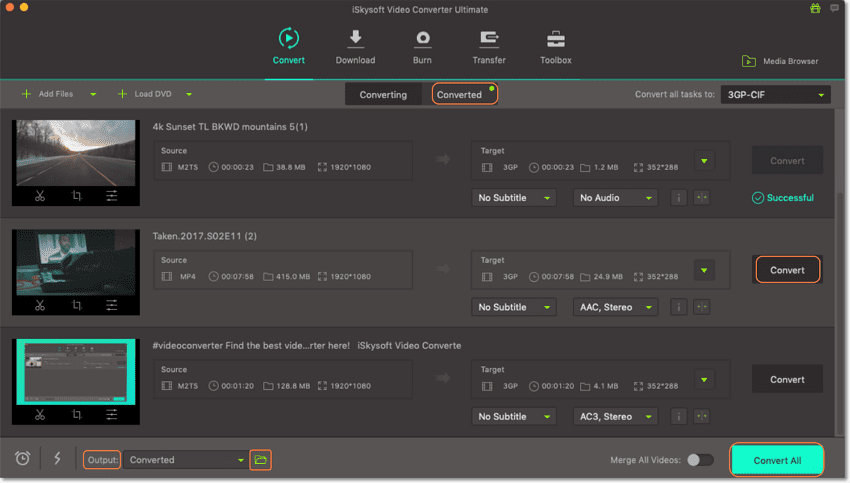 Part 2. MP4 Player Apps for iPhone or Android Device
#1: PlayerXtreme HD for iPhone
PlayerXtreme HD is a powerful video player that helps to play MP4 videos in all sorts of formats. It provides the users with the personal library and makes it easy to watch the videos without finding them.
Price: Free download, $3 for the Pro version.
Pros:
Desktop like interface and helps play all formats well.
Cons:
Streaming only happens in the Pro version.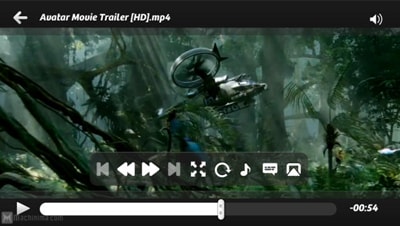 #2: OPlayer Lite (OPlayer HD Lite) for iPhone
OPlayer is one of the popular media players that helps in watching all kinds of formats on iPhones. You can easily convert the no supported MP4 format from OPlayer Lite and watch it without any hurdles.
Price: $2.99
Pros:
Best compatible with iPod touch and iPhone as well.
Cons:
Slow downloading of videos.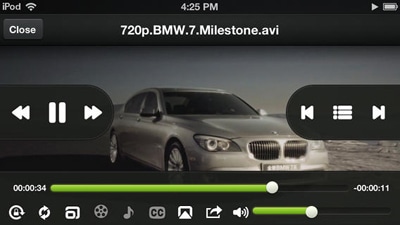 #3: HD Player for iPhone
Simple and powerful media player that helps play MP4 formats and transfer them from the local files to your iPhone, iPod, iPad and such via iTunes.
Price: Free
Pros:
Supports 5.0 iOS version and more.
Cons:
Does not supports FLV and MKV formats as they require codecs.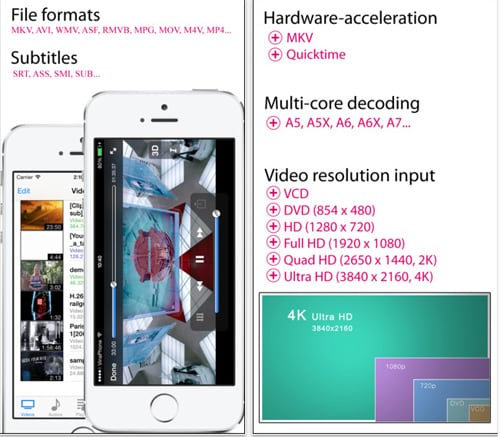 RockPlayer2 is a media player that supports all sorts of formats and plays them without any stress. The one of a kind media player also plays MP4 files pretty easily.
Price: Free
Pros:
Videos can be shared to other devices apart from iOS compatible ones.
Cons:
Only supports iPad, iPhone and iPod touch.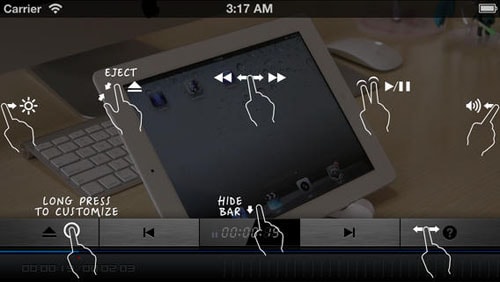 #5: Flex:player for iPhone
Flex: player is the popular media player that has made playing all video formats in it very simple. The users just can't enough of the superlative player. You can even convert the files that don't play at first.
Price: $7.99
Pros:
Rips, converts, burns and plays MP4 files easily.
Cons:
Only supports two formats for free.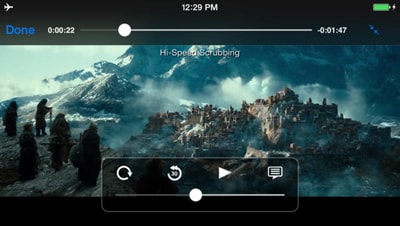 Storing, sharing and converting videos has become easier with the AirPlayit media player. It can play all sorts of HD videos and provide the users with maximum satisfaction. Whether you want to convert or play any video you can with AirPlayit.
Price: Free
Pros:
Supports all formats and streams videos and audios easily.
Cons:
None so far.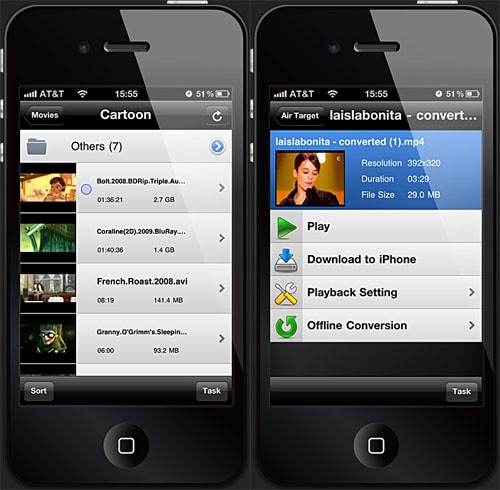 #7: iStreamTunes for iPhone
iStreamTunes is a one of a kind media player produced for iOS. It enables the users to watch movies and play playlists as well. Works with Wi-Fi as well as 4G.
Price: $1.99
Pros:
Converts your files to your device without syncing and is multi-lingual.
Cons:
Without subtitles.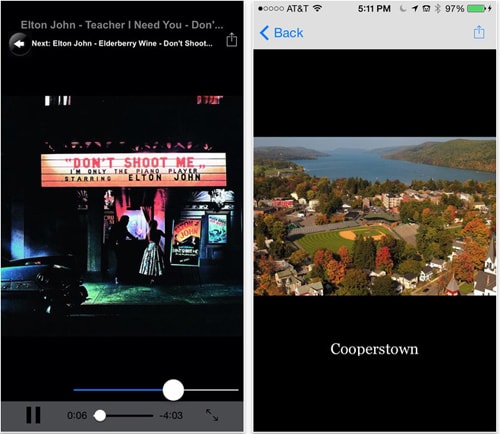 Enjoy your time and use VidOn player to play various MP4 files without any third party interference. This is a free media player that helps the users in playing files and converting them as well. You can edit your video clips as well.
Price: Free
Pros:
It can edit any video and provides ad free movies.
Cons:
Average speed.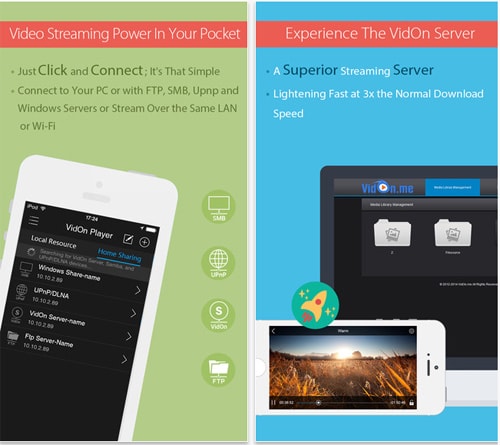 #9: Azul Media Player for iPhone
Once you get your hands on this media player you will just not get enough of it. Azul media player enables the users to play MP4 videos and convert them in whatever format supported by the app.
Price: $2.99
Pros:
Supports all sorts of formats and has got a personal library as well.
Cons:
No retina and poor decoder.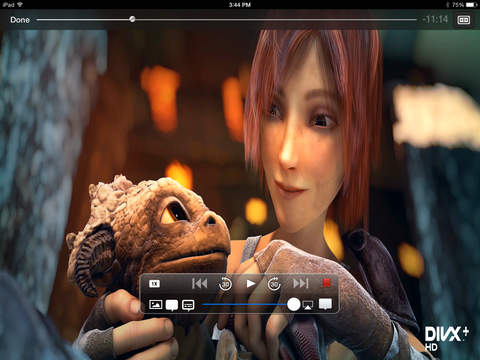 #10: Mobo Player for Android
One of the widely used video converter for Android which enables the users to convert videos into any format they require. Supports all kinds of video formats.
Price: Free
Pros:
Supports wide range of formats and provides subtitles too.
Cons:
Outdated design and malware.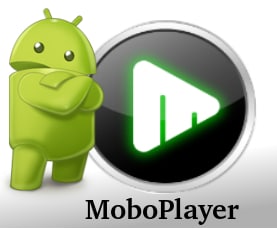 #11: Crackle for iPhone
Owned by Sony Pictures Entertainment, Crackle is one of the best MP4 players of all-time and helps the users convert video files smoothly and easily.
Price: Free
Pros:
All converted videos are in flash format.
Cons:
Not all movies are to be found here.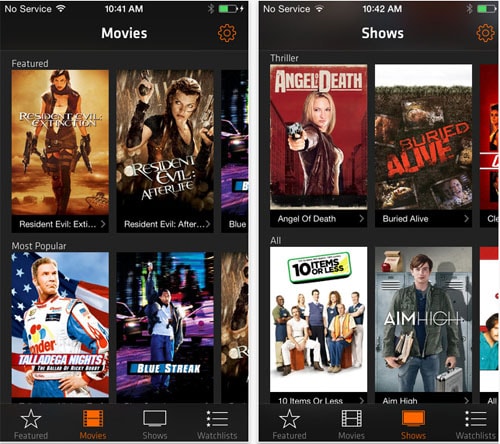 Playing videos has become easier with MX Player as this app helps unlock all sorts of video formats and makes watching videos easier on smartphones. Provides codec if now found.
Price: Free
Pros:
Supports all formats and allows adjustments.
Cons:
Misbehaves due to GPU or phone processor.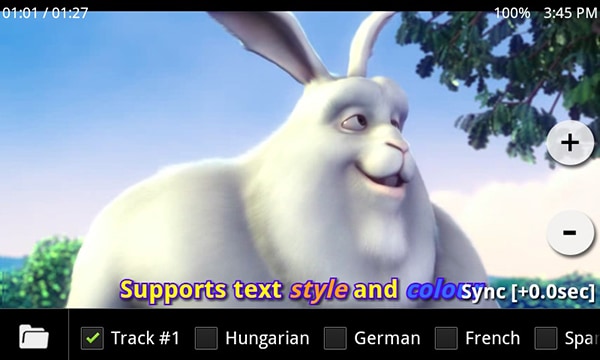 #13: BigFlix for Android
BigFlix is one of the most popular MP4 player for Android smartphones. Any movie or video you like to play can be played with the help of this super MP4 player.
Price: $6.50 per month
Pros:
Compatible with all Android devices and promotes different languages.
Cons:
Lacks subtitles.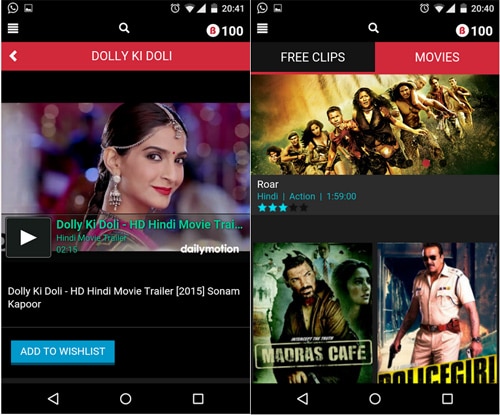 Introduced in 2012, VPlayer is one of the best players that allows using the decoding feature. Consumes less battery and converts videos in high quality.
Price: Free
Pros:
Supports different Android devices and convenient tools.
Cons:
Does supports subtitles.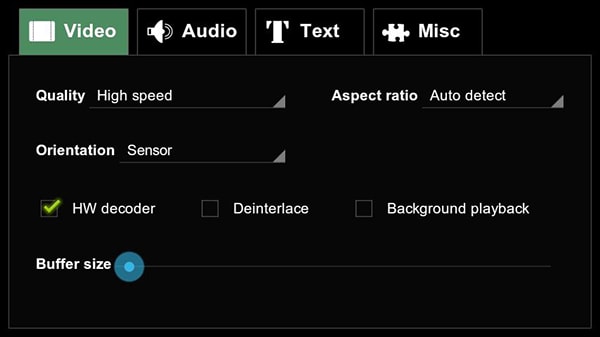 The well-known open source video player and converter that adds the perfect touch to your Android phone is considered the best. This beta player is surely something to be witnessed.
Price: Free
Pros:
Unique layout and adjusts ratios.
Cons:
Only supports basic formats.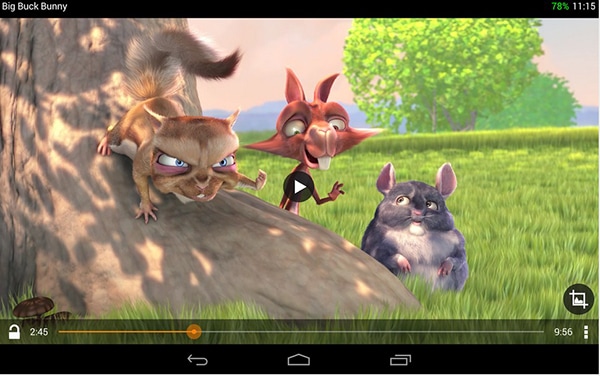 Video Converter Android is one of the best video converting applications around. You can convert a video into any kind of format you like. The app is available on Google Play and one can download it for free.
Price: Free
Pros:
Video and audio info display and reduces file size through SMS.
Cons:
Not very fast.