AI Background Remover - UniConverter
Remove image backgrounds in batch.
Change the image background with the built-in templates.
Upload the local images to switch pictures' backgrounds.
Remove photo background quickly with AI.
Other features include a converter, recorder, downloader, compressor, and so on.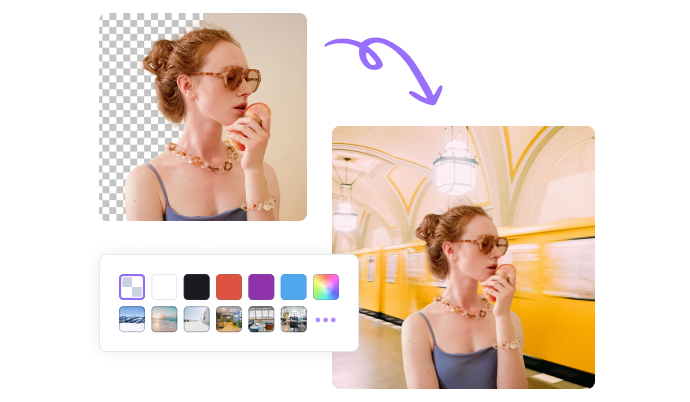 Convenience and pleasure are what everyone deserves when removing background from a video. Despicably, nothing is more annoying than the time consumed and tension when using a chroma key or green screen to remove the background from your video. This is more of a reason we've stepped in again to help you fix your discomfort, as we've provided 10 auto background removers to help you eliminate backgrounds from your videos within the blink of an eye.
Part 1. 5 Automatic Background Remover Offline
With all awesomeness, UniConverter has proven to be among the best media editing software ignoring the fact that it still possesses an online version that supports users who are not fans of offline software applications. The intuitive software also has a video background remover that provides users with that convenience and pleasure when it concerns eliminating a background from a video. Just in case, this catches your interest, and you're willing to utilize the UniConverter's automatic background remover, you can follow the summarized procedures below.
STEP 1
Download and install the UniConverter 13 on your PC > launch the software > from the left side on the main interface, click on "Toolbox" and go to the select "Al portrait" from the crowd of options displayed on your screen.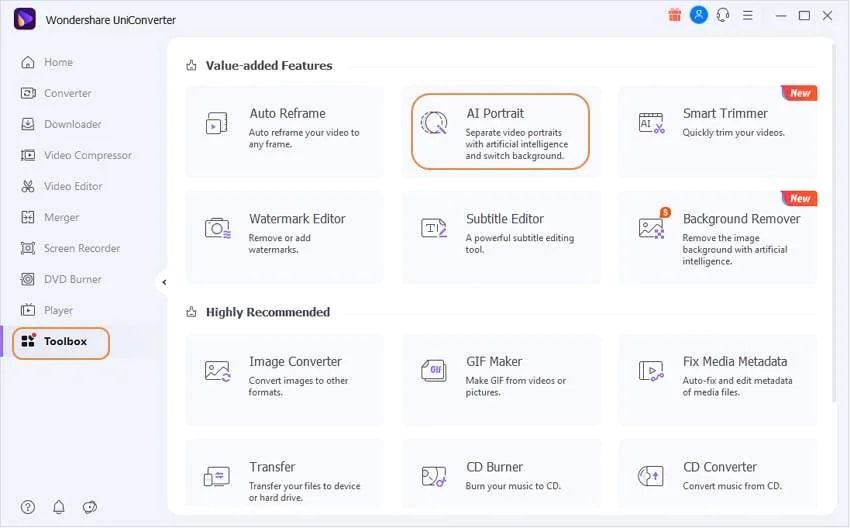 STEP 2
Once the Al portrait user interface opens, click on the "Add File" at the right side of the interface to import the video you want to remove the background from. Amazingly, you don't need to do anything once the video appears because the UniConverter's Al portrait will automatically deduct the background. You can change the background as preferred using the available templates.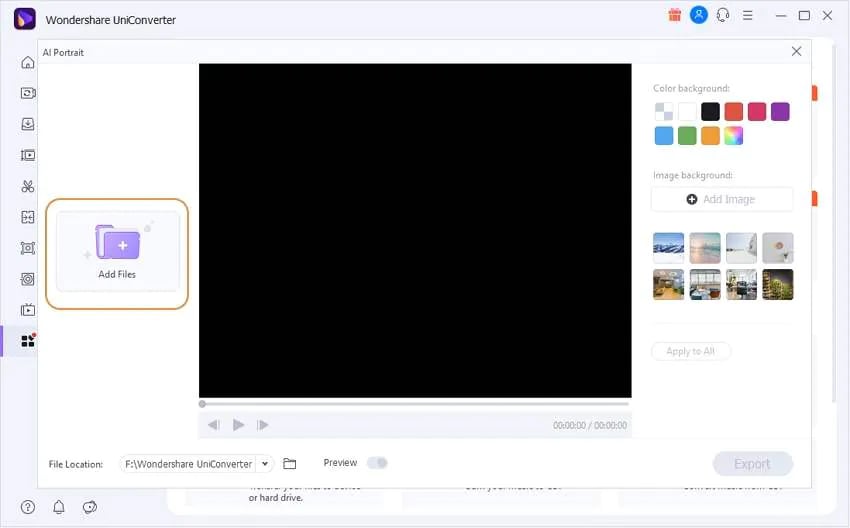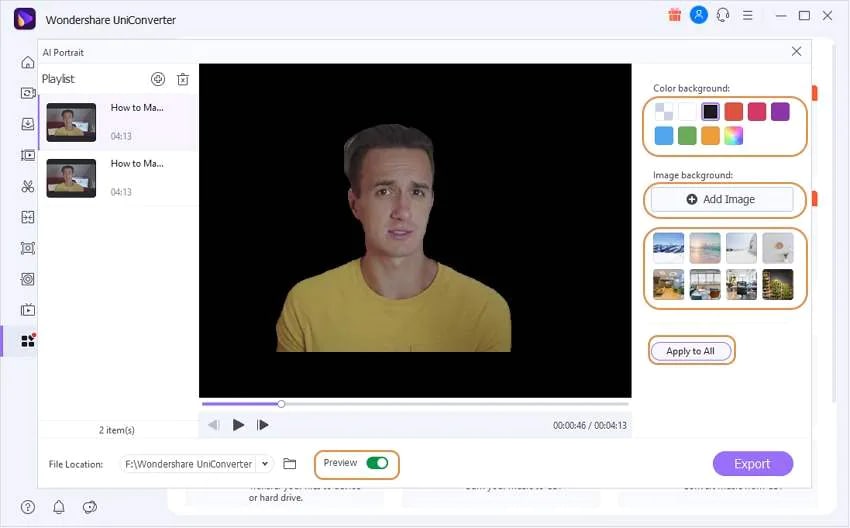 STEP 3
Before exporting the video, you enable the "Preview" toggle button to display the backgrounds as you change them. If you're satisfied with any selected backgrounds, click the "Export" you'll see below.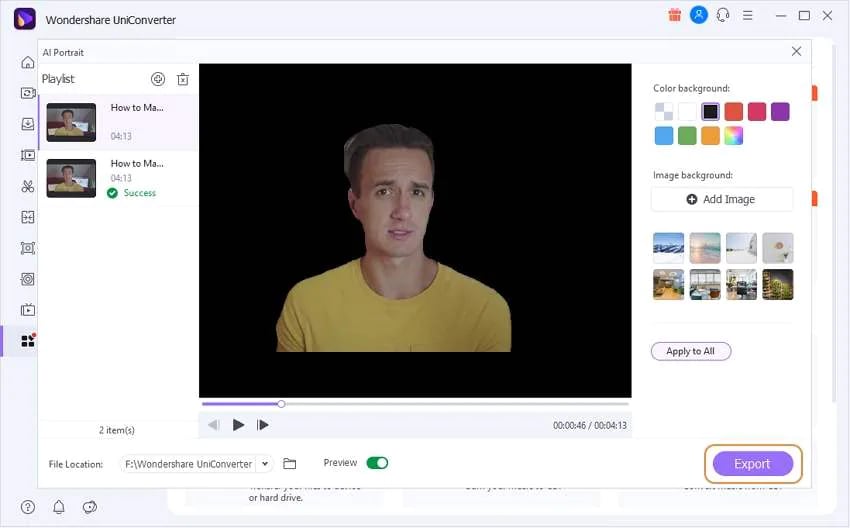 Tips: If you want to change the image background automatically, you can choose 'Background Remover' from Toolbox. Once you have uploaded the pictures, UniConverter can bulk clear the background quickly.
Pros
UniConverter can auto-remove backgrounds of videos and images in batch.
No labor is required as editing is automatic
Edited files are exported in their original quality
Cons
It offers a paid version (Pro version)
The offline version only supports Mac and Windows OS
You can only get 30% work output if you're a free trial version user
AI Portrait - $15.99 / 1 year
Lifetime Plan - $79.99 / 1 PC
Annual plan - $39.99 / 1 PC
Commercial Plan - $337.46 / 5 PCs
Wondershare UniConverter 13 - Best Video Converter for Mac/Windows
5,481,435 people have downloaded it.
UniConverter supports 1000+ formats and handles 90X faster conversion, ensuring that high quality is delivered at all times.
You can add the multiple files since the program does batch conversion of files.
The GUP acceleration can help you download online videos in high speed.
You can use the editing suite to remove video background, edit watermark and subtitle, and auto-trim videos.
This software facilitates file transfer to devices like Android and iPhone among others once the conversion is complete.
UniConverter is also capable of handling video compression hence ensures you acquire the video sizes you desire.
Leawo is another incredible software that helps users automatically get rid of backgrounds from videos. It is funny how the amazing software still gives room to users who want to cut out background manually from a video as it offers a feature that guarantees it. Without wasting time emphasizing the features this software possesses, you can use the steps below to edit successfully.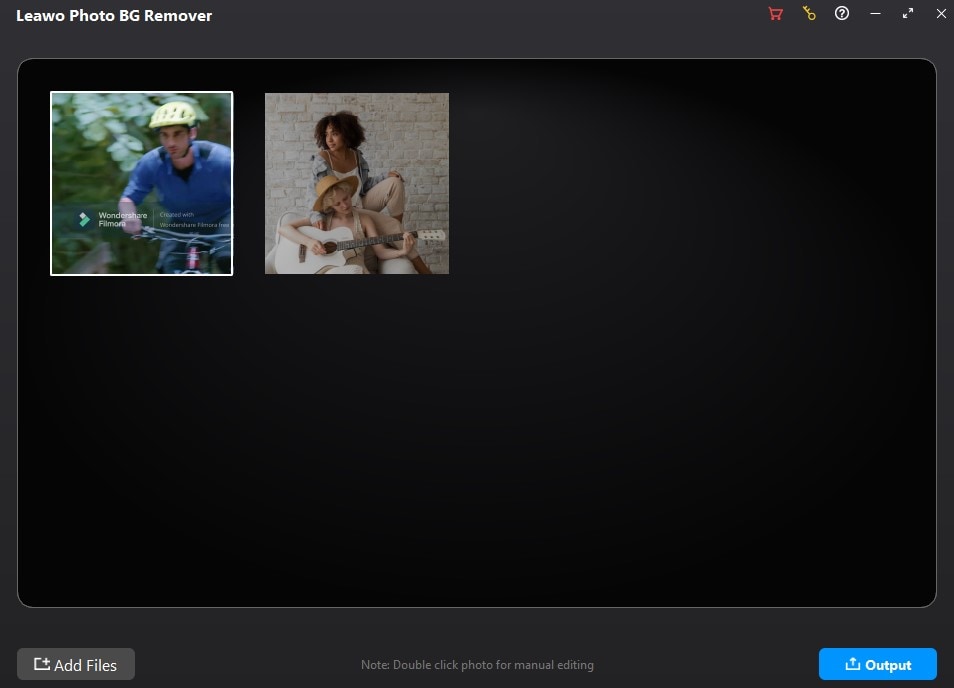 STEPS
First of all, Download and Install Leawo > launch it > click on the "Add File" icon at the top left side of the software interface to Import the image > once the image is imported, from the left side of the interface click on "A" icon to automatically remove the background from the image > click the "Foreground" icon to set every parameter available under it > click the "Background" icon to add color or an image as background. After this, click the "Hard drive" icon to save the edited image.
Pros
It has a lot of editing features
If you're not satisfied with the automatic removal, then you can use the manual option
It supports batch editing
Cons
It supports only Mac and windows pc
The finishing touches are not as perfect as that of Photoshop
You can not preview the output effects.
Pricing
Single-User Lifetime Update License - $39.95
Apowersoft Background Eraser is another wonderful tool to consider whenever selecting an auto background remover. This software help users to remove background from images with a guarantee of replacing the background with a color or an image. If you'd like to use Apowersoft to achieve your desired goal, you can utilize the simplified steps below.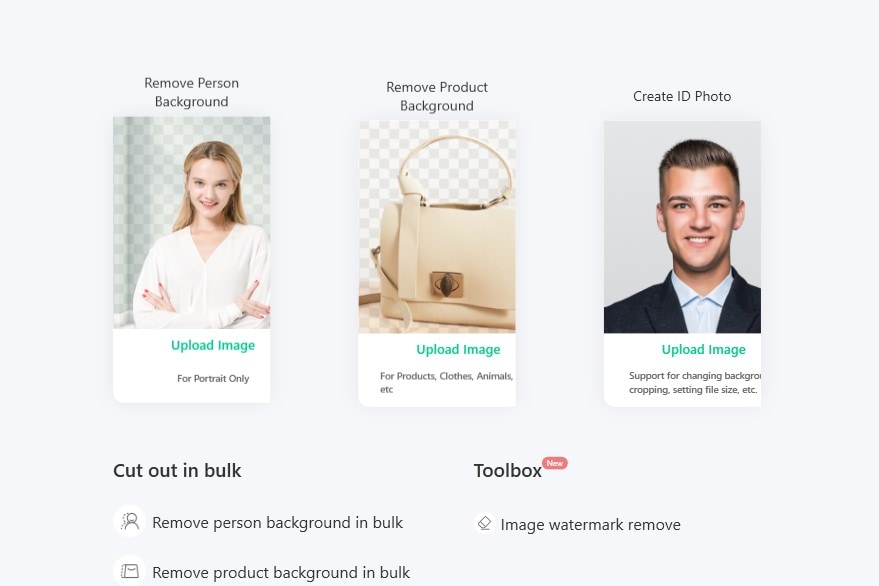 STEPS
Download and Install Apowersoft from Google play store or App Store > once the app is available on your device, launch It > tap "One-Click Cutout" to select and import the image to be automatically edited > wait for the app to automatically remove the background > when the background is eliminated, tap the "Background" option you'll see below to select a preferred background > make every necessary adjustment > tap on the green "Save HD" button at the top right corner of the interface to save the edited image.
Pros
It supports bulk background removal from images
Apowersoft offers a manual option for a precise background removal
Exporting quality is the same as the original quality
Cons
It has a few editing features
You need to pay for it before using it.
Users need to sign in before they're allowed to export the edited image
Pricing
Annual Plan - $ 59.95
SoftOrbits is another one to look into when you want to remove and change the background of an image irrespective of its kind. With softOrbit, users have nothing required of them, only to sit back and watch the background being removed from the uploaded image automatically. If you'd like to use SoftOrbit as your automatic background remover, kindly use the guidelines below.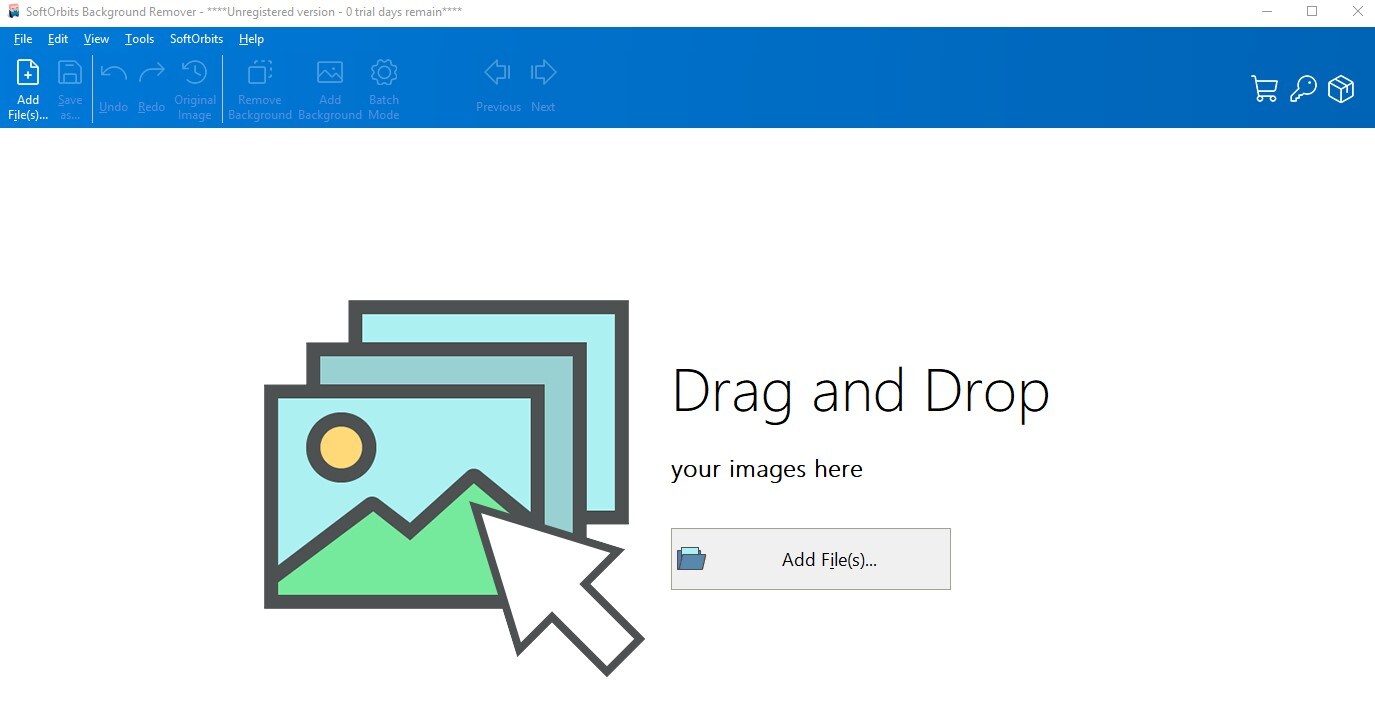 STEPS
Ensure that SoftOrbit is Installed on your PC > launch the software > drag and drop the image you want to remove background from into the interface or use the "Add File(s).." to import the image > tick the "Detect Shadow" box and click "Remove" from the right side of the software's interface > click the "Add background" at the top of the interface to choose a color or an image as a background from the right side of the editing window > now, you can peacefully save the edited image.
Pros
It offers a manual remover feature users can utilize
There is a preferred choice of background selection
Cons
It only offers a paid version
It does not support video files
It requires tiny learning around it
Pricing
Basic Plan - $19.99
Preview app is another wonderful software that users can look into when they consider using auto background remover to edit their photos. The Preview app was developed to function as an image and pdf viewer; who would have ever thought it could act as a background remover? If you want to know how this works, carefully follow the simplified step below.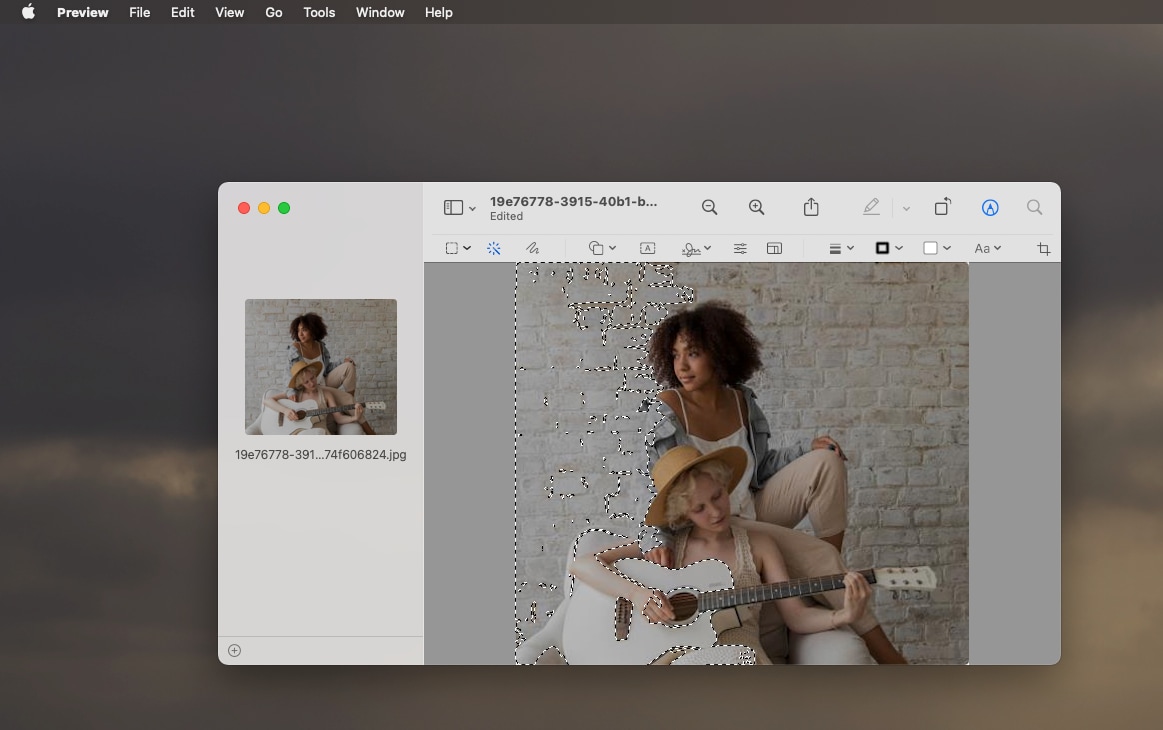 STEPS
Launch the Preview app on your MacBook. Better still you can open the image you want to remove background from using Preview > once the image is on the interface, click the "wand tool" (Instant alpha) you'll see as the second option at the top of the interface > drag the tool over the background of the image to eliminate it. If it's a complex background, click on the "selection Icon" dropdown option at the left of the wand tool > click "Lasso Selection" or "Smart Lasso" to manually cut out the subject > select the trace subject and copy it > Open the background you want to use with Preview and paste the copied subject to It.
Pros
It is simple and easy to use
It offers a manual remover feature
It provides a free trial version
Cons
It is only compatible with MacBook
It can't be recommended for professional works
It has limited editing features
Pricing
Pro - $6.67/month
Premium - $12.50/month
Part 2. 5 Online Tools to Help AI Background Removal
In case you're not comfortable using the provided offline solutions, we present the Remove.bg software to you. Remove.bg is an online software that permits users to conveniently remove background with ai from an image giving users the chance to replace the removed background.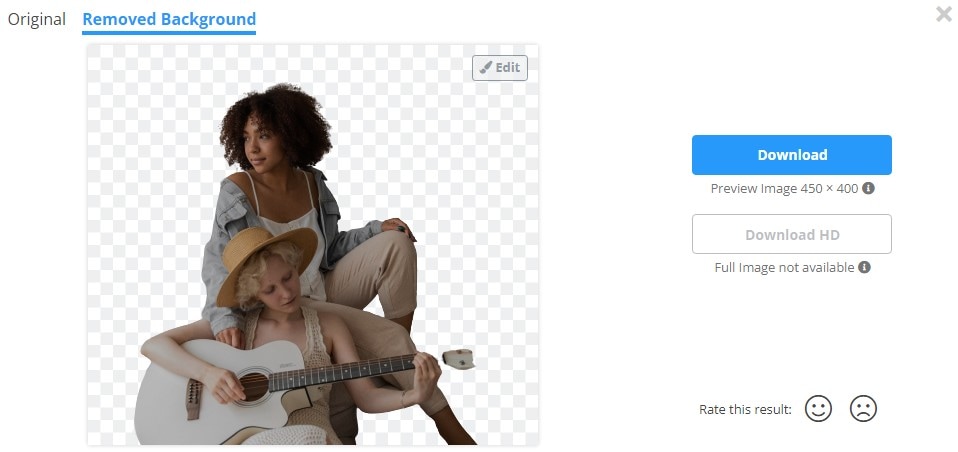 Pros
It cuts out the subject automatically
Users are allowed to use their preferred background
Cons
Automatically trimmed images are not perfect
It can't be recommended as a professional tool
It doesn't support video formats
Pricing
40 credits - $9/month ($0.23 / image) min
75,000 credits - $5,450/month ($0.07/image) max
Clippingmagic is another online solution made intuitive as it assists users in removing background from a photo. This software permits you to automatically trim the subject in a picture with the gift of changing the background. Without much talking, you can view the pros and cons to know if it suits you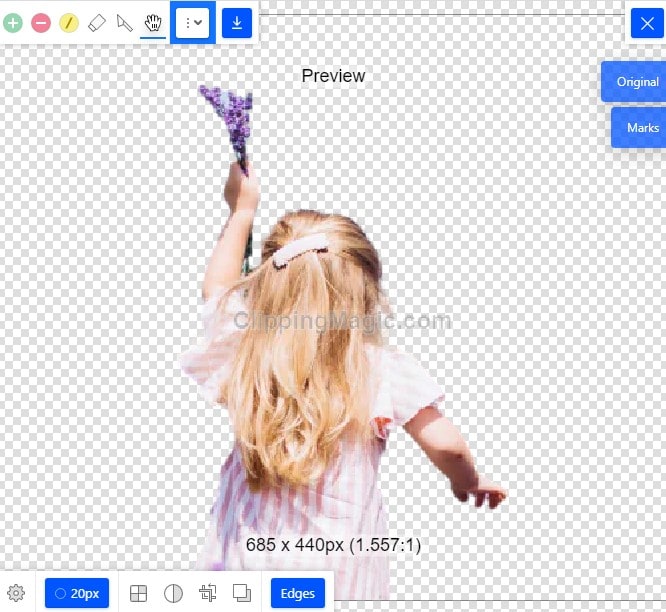 Pros
Automatically trimmed images appear perfect
Cons
No choice of background selection only colors
The free version reduces the quality of the image
Pricing
Light - $2.74/month
Standard - $5.49/month
Pro - $12.99/month
PixCut is an intuitive product of Wondershare with a great feature that permits you as a user to remove image background automatically with AI just with a click on the upload button. You can check the pros and cons to know what you're going for.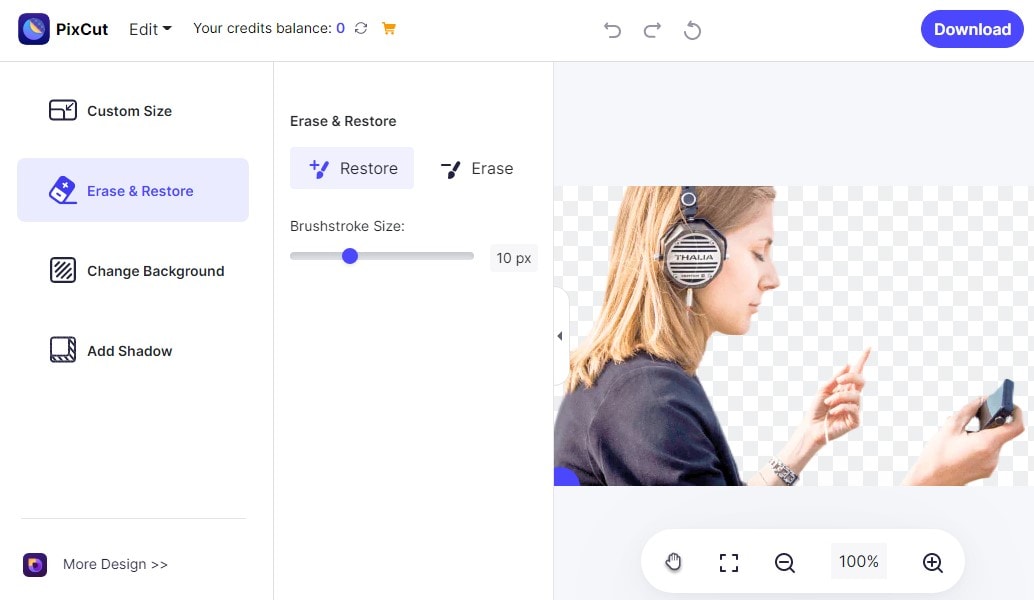 Pros
It offers a free trial version
It supports bulk removal of background
The edited image still retains its quality
Cons
Freely edited images are watermarked
Only supports bulk removal when it's loaded on a PC browser
Image analysis for background removal is time-consuming on mobile devices
Pricing
40 HD images/month - $5.99
120 HD images/year - $25.99
1 HD image/permanent - $1.59
Slazzer is another beautifully made software that removes background with AI. The web-based software permits users to get rid of unwanted background with the guarantee to replace the deleted background whether you're a smartphone or PC user. Below are a few listed features to help you determine if you'd be able to use the online product.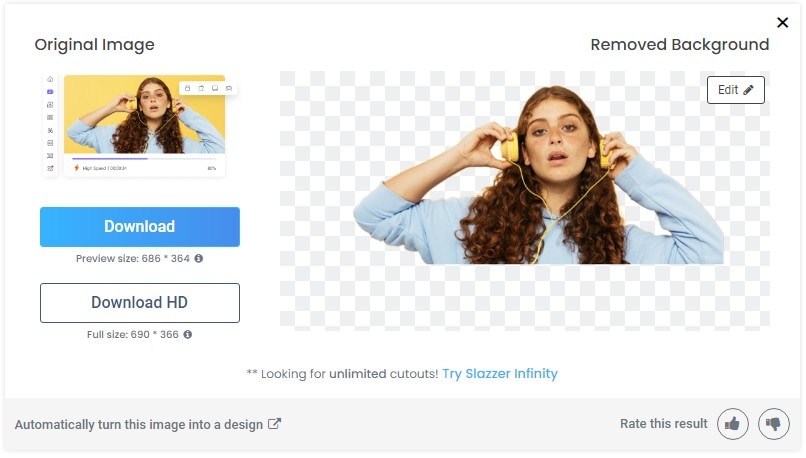 Pros
It offers a free trial version
Just like the others, it allows users to select a preferred background
No watermark on the edited image
Cons
The free trial version reduces the quality of the photo
Unlike UniConverter, users can't edit videos, only images
The edited image disappears 30 minutes later, if not saved
Pricing
Free Plan
Subscription plan - $0.12/image
Top Up - $0.42/image
FocoClipping is just another one like the stated auto background removers, although they differ in features. This online software offers users the opportunity to use its advanced auto-ai algorithm to remove background from an image within a second.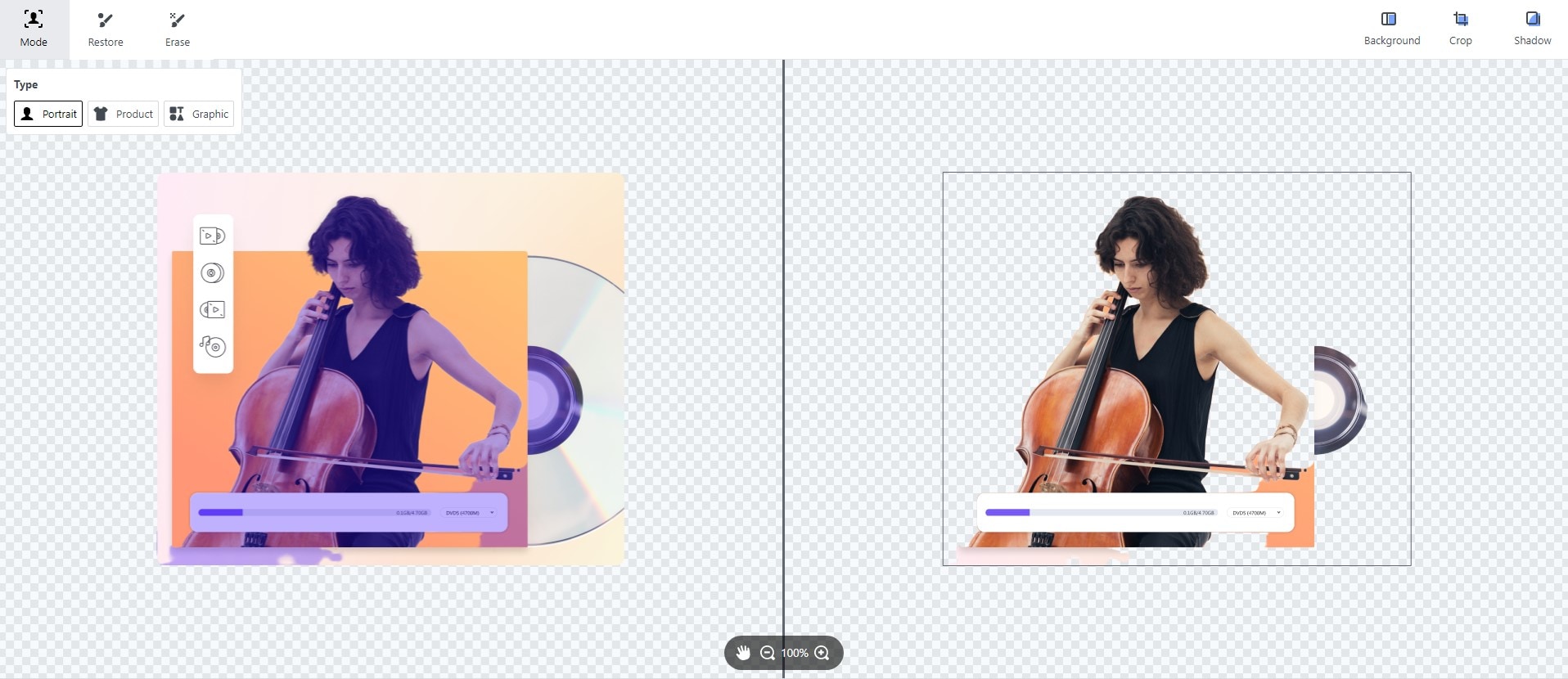 Pros
It offers a free trial version
Users can select a preferred background
Cons
It reduces the original quality of an image When utilizing its free mode
Pricing
It is free (Freemium)
Part 3. Q&As about Removing Background with AI
1. Does removing background damage the image quality?
This only depends on your choice of background remover. Suppose you choose a background remover designed to automatically reduce the quality of the image whenever an image is being edited. In that case, it can damage the quality of the picture.
2. Are the Online Background Removers Safe?
A 100% safety isn't guaranteed using an online background remover because your device might be open to bugs and viruses, and at the same time, personal data can be bridged.
3. How to Remove Background of GIFs?
To remove background from GIFs, you'll be needing a background remover like the UniConverter as it supports GIF format.