AI Background Remover - uniconverter
Remove image backgrounds in batch.
Change the photo background with the built-in templates.
Upload the local images to switch pictures' backgrounds.
Remove image background quickly with AI.
Other features include a converter, recorder, downloader, compressor, and so on.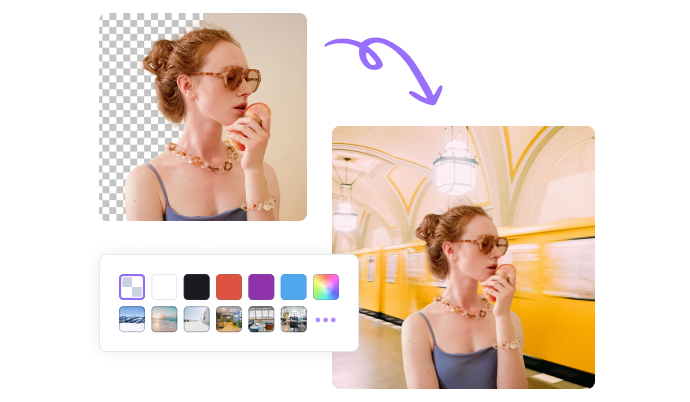 It is not rare for people to want to think with their pictures, and professional photographers often need to remove and change the background of images for their clients. Video editors and content creators might need to change their backgrounds when working. So, how do you achieve all this? With free photo background remover, you can remove the background from the image for free, and some can even help you design a new background for yourself. They help to create better work and are widely used, and we introduce 12 free background removers for you.
Part 1. 4 Hidden Software to Remove Background from Image for Free
As stated in the title, the following background erasers for free are most likely software you use every day but what will be revealed is how you can use them to cut out the image for free.
Microsoft Word
Word comes in the same package as PowerPoint and Excel, except they all serve different purposes. It is arguably the most popular, widely used, and the best software in the Office collection. No PC user can say that they have not used Word at one point in time. It allows you to create, format, and edit documents, and it is also possibly the easiest software to use and master.
Steps to Use Word as a Free Photo Background Remover
Step 1

Launch Word and Insert Image

Start by opening the Microsoft Word software. You should have at least Microsoft Office 2007 to be able to remove the background. Later versions are most advised since the function has been revised and improved over the years. On the Microsoft Word screen, click on Insert at the top of the screen and click on Pictures. The file explorer will pop up, and you can upload your photo from there.
Step 2

Remove Background

Free picture background remover in Word is relatively easy to use. After importing the image, a new option called 'Format' will be available. Once an image is imported, the Format option will be activated by default, and the first option on the Format bar is the Remove Background function. Click on it and wait for Word to automatically detect the Foreground and Background and erase the background for free.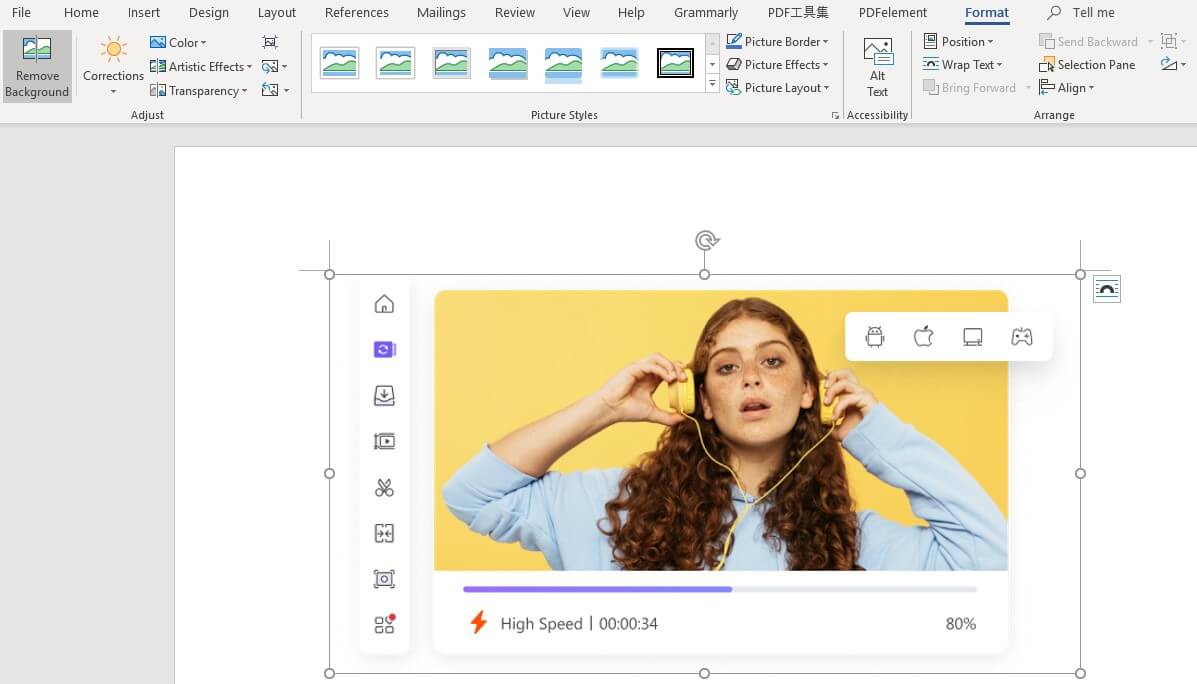 Step 3

Adjust and Save

Most of the time, the automatic background eraser for free may not be accurate. You will know this because the areas that will be removed will be marked with a pink color. Use the Add Marked Area to restore a place that might have been erased by the AI background remover and the Remove Marked Area to delete an area that you don't need but was not removed by the AI. When you are done with all settings, save your work. Word cannot export in any image format, so your best bet would be to export the photo in PDF format.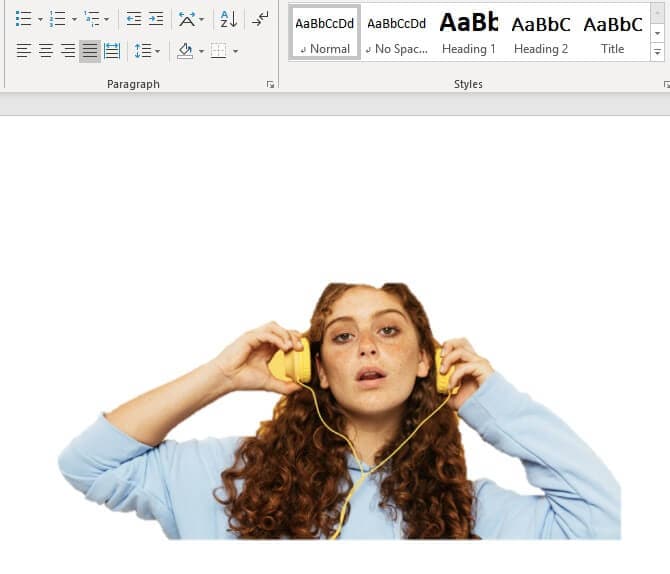 Paint 3D
You may not recognize Paint 3D, but surely you know Microsoft Paint. Paint 3D is an upgrade and improved version of the Microsoft Paint software. Paint 3D is a graphics and 3D modeling software that allows you to create unique 2D designs and effects and build 3d objects. It is a one-of-a-kind app, and not many can match it. While it is not discontinued, Microsoft has claimed that it will not be pre-installed on new Windows systems starting from Windows 11, making it only available as a pre-installed app on Windows 10.
Steps to Use Paint 3D as a Free Background Remover
Step 1

Launch Paint 3D and Import Image

The Paint 3D app may not be in an obvious place like your frequently and popularly used app, so if you can't find it, you can always search for it using the name as the keyword. If you don't have it on your computer, you might want to install it from the Microsoft store. Once it opens, you will be asked to create a new canvas or open a previously used one. Click on New, and a blank white sheet will appear. Click on Menu, which is at the top left corner of the screen, and click on Insert from the list to import an image into Paint 3D. Don't want to go through that trouble? Then drag and drop the image into the app interface.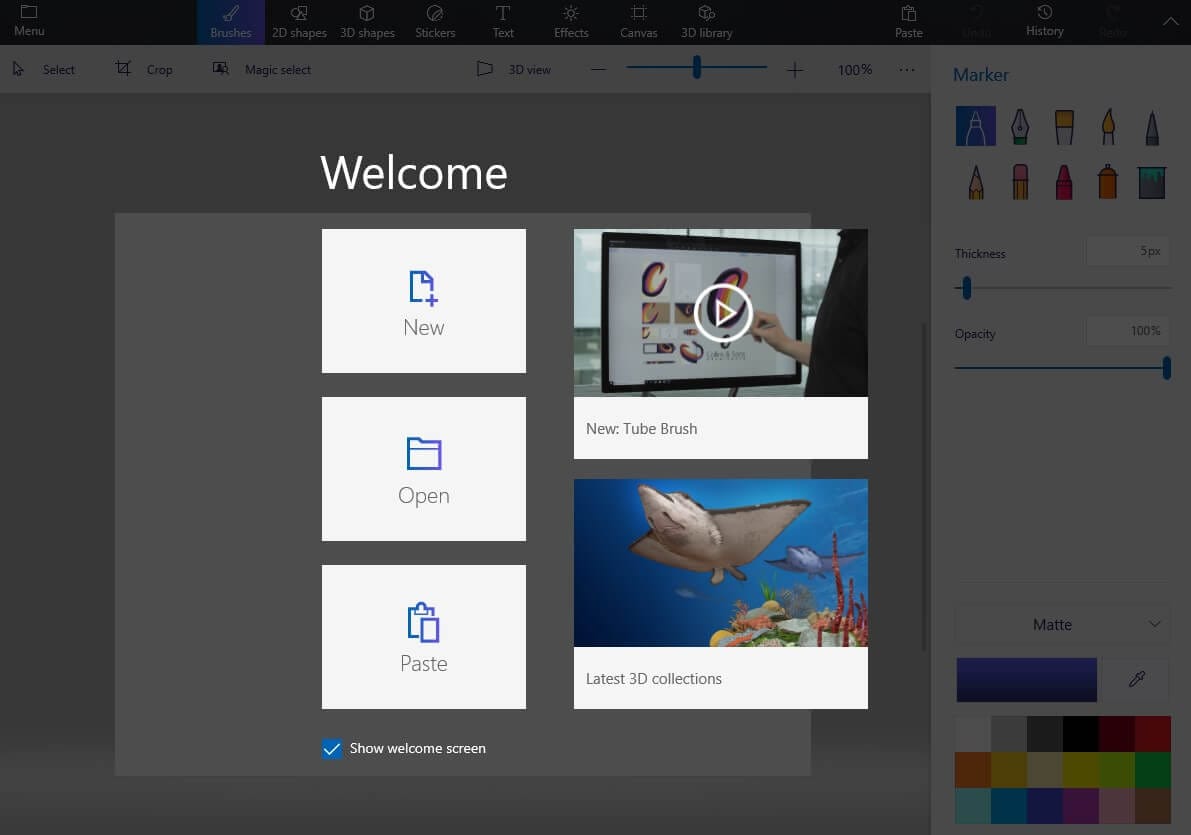 Step 2

Remove the Background

To remove the object from a photo for free in Paint 3D, click on Magic Select Tool, located on the right side. A selection option becomes available. Drag the sides and top until all the image has been selected. Now, click on Next, and Paint 3D will reveal how it cut out a photo for free. If there are parts that were deleted and you want to add, click on the Add option, and if there are parts that were not deleted and you need them gone, click on the Remove option. Both of them are located on the tab on the right, and it works in the form of a pen tool where you can trace the image for areas that you want to add or remove.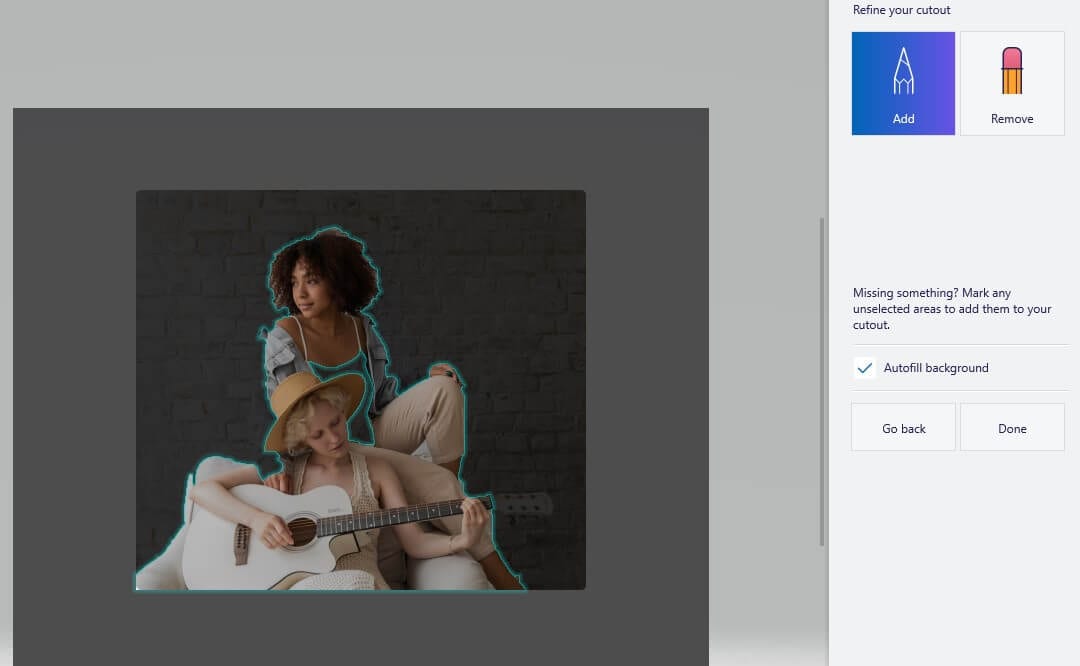 Step 3

Save

When you are done, click on Menu again and choose how to save your photo. There are three options, but since we are working with photos, you should keep your work as an image. Paint 3D works well as a PNG background remover for free and can also export in GIF, TIFF, Bitmap, and JPEG. Locate your photo in the saved folder when you are done to make sure it is saved before closing the app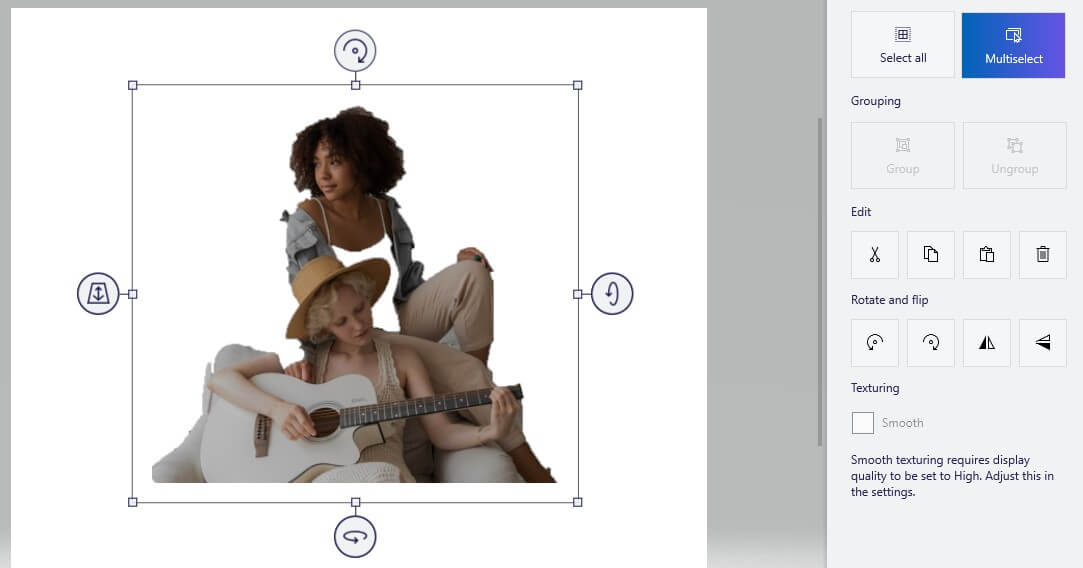 Mac Preview
A preview is a built-in software that performs the work of an image and document viewer on Mac systems. However, it serves purposes way greater than that if you don't know. Your Mac Preview can also edit media, not only talking image viewing here, serious image conversion, and a free background removal tool. You can remove an object from photo free and even use background eraser for free.
Steps to Use Mac Preview as a Free Photo Background Remover
Step 1

Launch and Open Image

Open the preferred image with the Mac Preview software
Step 2

Open Markup Toolbar

Search for the Markup in the toolbar at the top of the screen. If it is showing, you click on the Instant Alpha icon; it looks like a magic wand, then use the tool to trace the image you want to edit. If the Markup is not active, make sure to activate it before this.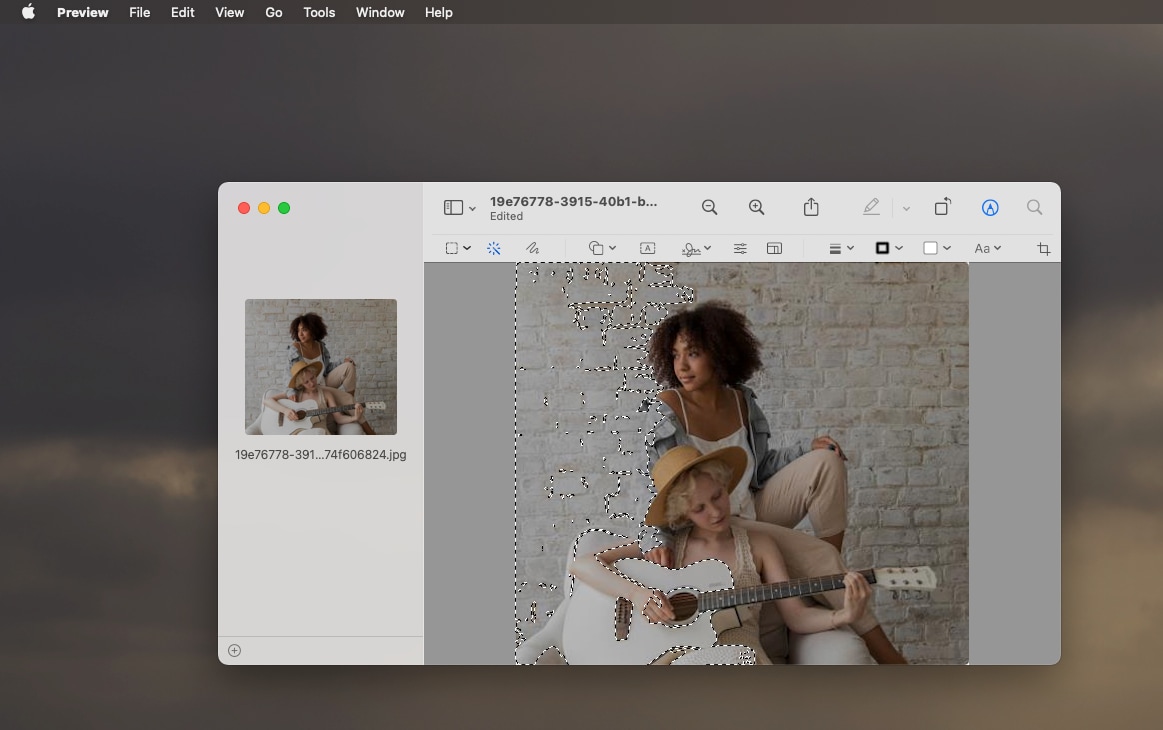 Step 3

Remove Background and Save

With the Instant Alpha icon tool, cut out an image for free and click Delete to delete them. Repeat this until you get a desirable picture.
GIMP
An open-source freeware that requires no additional payment or subscription yet does its job with little to no limitations. GIMP is often regarded as one of the best photo editors on PC. People often use it as an alternative to the widely acclaimed best photo editing software, Photoshop. While it does have its perks, it has the edge over Photoshop because Photoshop is not entirely free, and it does not support Linux while GIMP does. GIMP features a lot of add-ons and plug-ins, which it uses to supplement its photo editing. It can perform editing functions like erasing background for free.
Steps to Remove Background from Image for Free using GIMP
Step 1

Launch GIMP and Upload Photo

Like most popular media editors, you can upload your photo to GIMP by clicking on File and then Open, or you can drag and drop it into the GIMP interface and be done with it.
Step 2

Add Alpha Channel

You can erase background for free in GIMP using the Fuzzy Select tool. To get to this tool, click on Tool, then Selection tool, and you will see Fuzzy Select. Then go to Layers and click on Transparency, then Add Alpha Channel, or you can simply right-click on the layer in the dialog box at the right side of the interface. The Alpha channel is important because it will make the original image transparent, thereby allowing you to cut out the background accurately. If the Add Alpha channel is greyed out, then that means the image already has an alpha channel.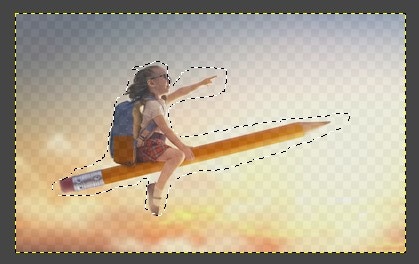 Step 3

Remove Background and Save

Using the Alpha Channel tool, you can now start to cut out images for free manually. Pick the right starting point, then go around and end back on the same spot. Press the delete key to remove all the selected areas. If you are not satisfied with the cut, you can always undo it and do it again. If all the background is gone, you can choose to add a new background or save it without a background. 
Disadvantages of using these software: While these are standard software and work, the downside is that they are not made for background removal. As such, there are many holes, and they might end up making things even more difficult for the editor. For example, Word cannot export into any image format, Paint 3D might crash a few times if you are using the background remover function, and you have to spend a lot of time before you can finish one image if you use Mac Preview. Except for GIMP, none of the apps are built for high-level photo editing, like background remover.
Part 2. 6 Free Background Remover Working with Internet
We are done with the hidden apps, and WHAT A SURPRISE! Right? Let's move to the removers that require no download to work. Online tools are usually very convenient because you can access them on any device as long as you have a very strong internet connection. While we said they don't need to be downloaded, you still need to download your image after you are done removing the background.
Online free background removal tools like this are not very rare, but they each have unique characteristics, and that of remove.bg will be its extreme simplicity. This online free background remover in no way makes things hard for users. Its interface is easy to navigate, and the steps are written on the navigation tabs. You just have to follow the prompts, and you will have your background removed in less than a minute.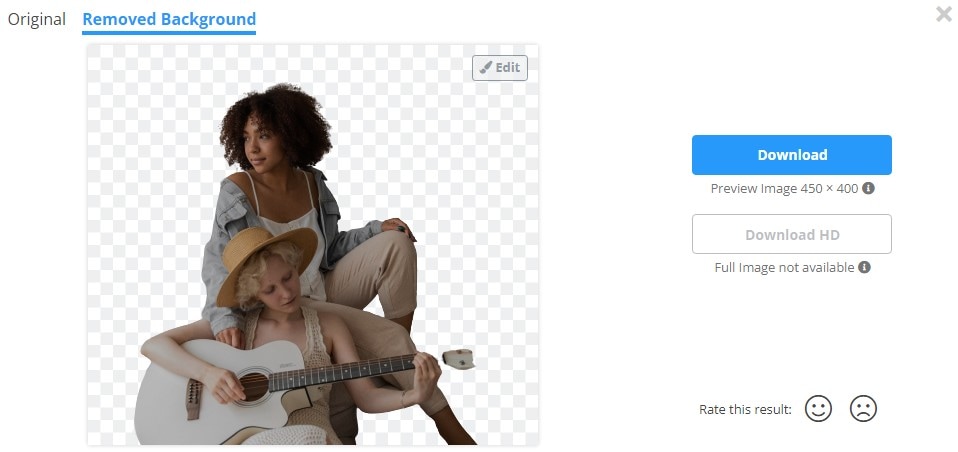 Pros
It is very easy to navigate
It is AI-powered, so the system does everything
It has some other additional plug-ins that help facilitate photo editing
Cons
It can only export the image in PNG format
It removes the original background but left white space behind the image; this may or may not affect further editing
They claim to be able to remove background from image for free in less than 5 seconds, and yes! That is just about right. You can seldom find a free photo background remover as fast as FocoClipping. It also uses the AI algorithm, meaning that it only requires you to upload your photo and leave it to handle the rest. It can also process images in bulk and remove their background simultaneously.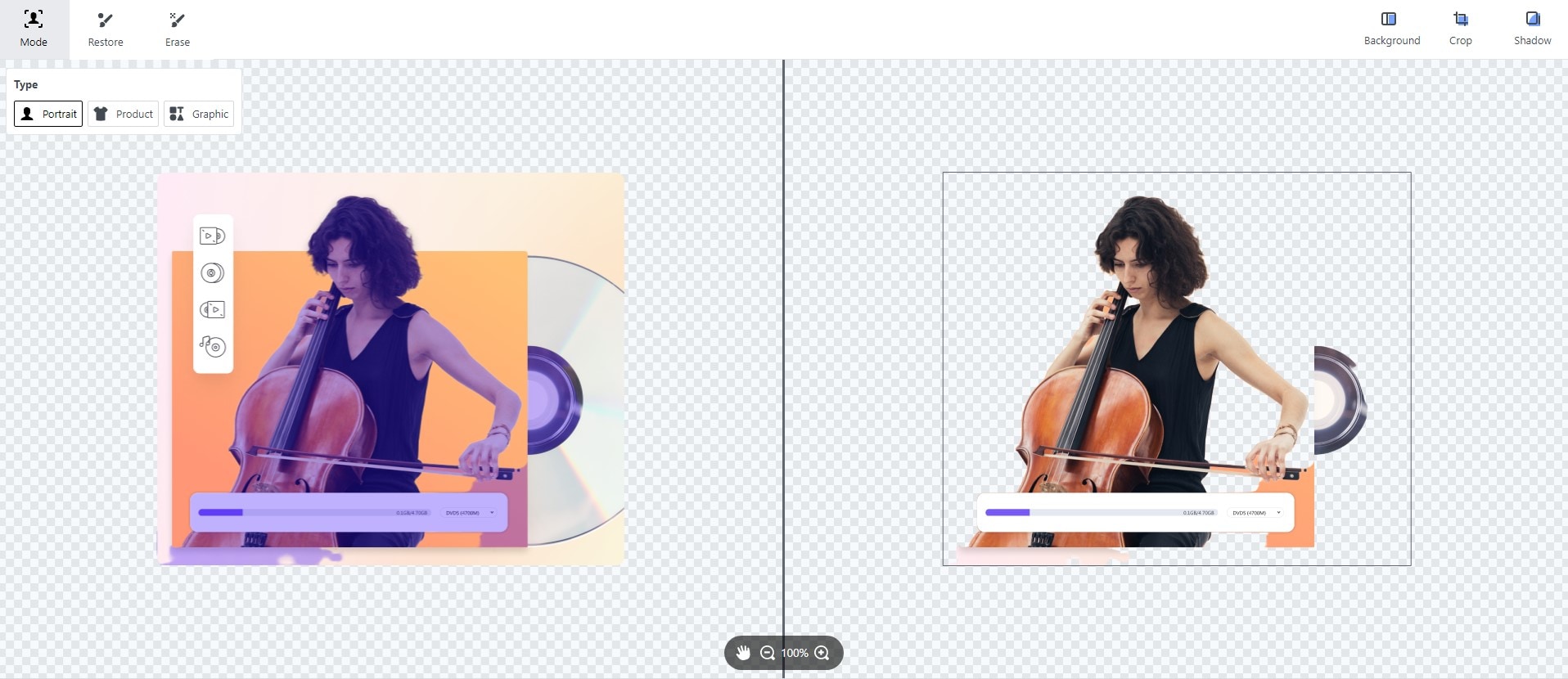 Pros
It allows you to upload an image using a URL
It has a very fast processing speed
It can process image background removal in bulk
Cons
Its AI background remover is not perfect. As such, it still leaves some areas uncut
You can't access all of its functions on a mobile device browser
With an amazing browser, you will enjoy Pixlr even more. Its interface is the first thing that should be addressed at it just so well designed, you can't help but admire it. Pixlr is an online photo editor that can help design your images and make them even more eye-catching and purposeful, and of course, one of the tools that it employs is the background remover. Its free picture background remover is also AI-powered. You don't need to do anything but upload the image.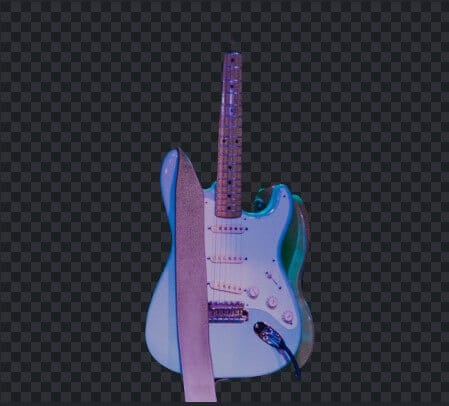 Pros
There is no limit on the image that you can upload
It exports pictures in high quality
Cons
It can't convert in batches
Sometimes, the AI background remover might not be thorough
As can be deduced from the tool's name, Erase.bg is a background eraser for free and nothing else. Unlike some other means that join many other features and functions, which all end up being trashy, Erase.bg sticks to one thing, and they make it look real good. They recently got a mobile app that functions similarly to its online counterpart. Erase.bg can easily remove objects from photo free and serves as a free photo background remover. You can rest assured that it will accurately calculate the foreground and the background.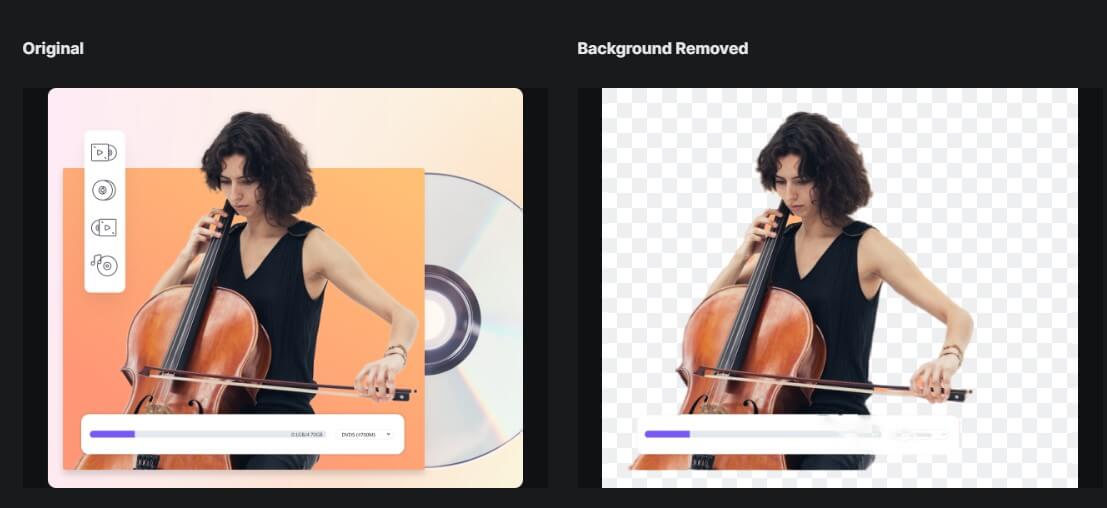 Pros
JPEG, JPG, WEBP, and PNG background remover for free
You can add new backgrounds to your image
Accurately cut out an image for free without affecting the picture quality
Cons
It is fairly slow in processing the image
It downloads the image with a checkered background
One of the easiest to master graphics design and the picture editing tool would be Picmaker. You can start editing or designing by starting from scratch, creating a template, or using one of their pre-designed templates. Picmaker also features many other tools, and their website is not short of pro tips for creating a nice design, but we are concerned about their background remover. The free background removal tool here is a bit complicated as you can't use it without signing in first, but it works just fine.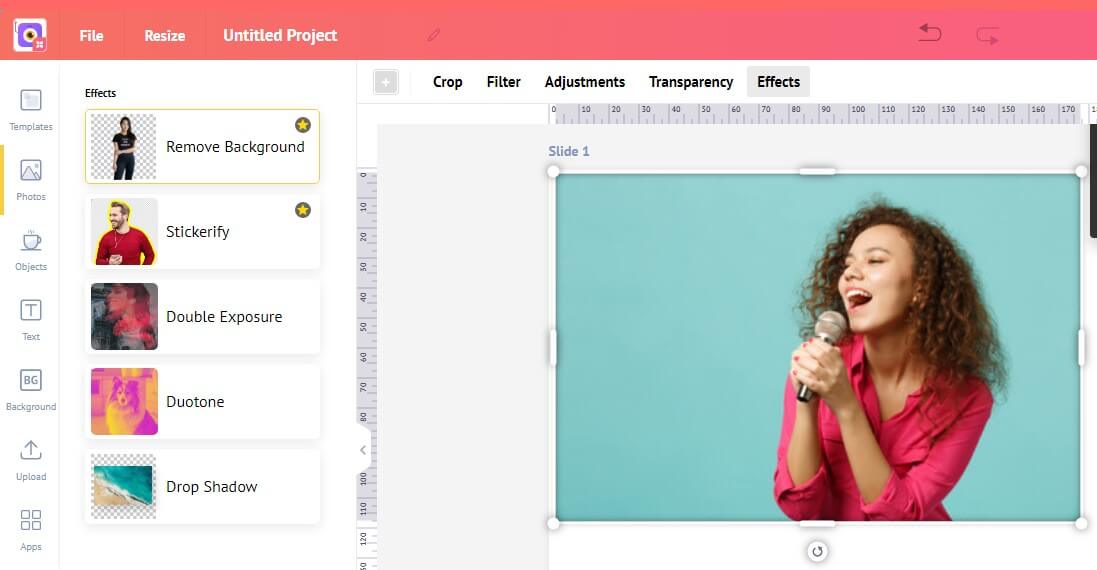 Pros
It is a designing tool with a lot of templates
It doesn't have a limit on the size of the photo you can upload
Cons
It is a bit hard to locate the free photo background remover
The process of using the it is a bit complex
Full options are only available on a PC browser
Slazzer is an advanced free background remover because, unlike most AI-powered online free picture background remover, Slazzer's AI algorithm is smarter and can remove background from images free without leaving any space, but it might cut out more place than necessary. You can erase the background for free and swiftly as it takes less than 5 seconds to process the photo, remove the background and preview it. The desktop version also possesses bulk image processing.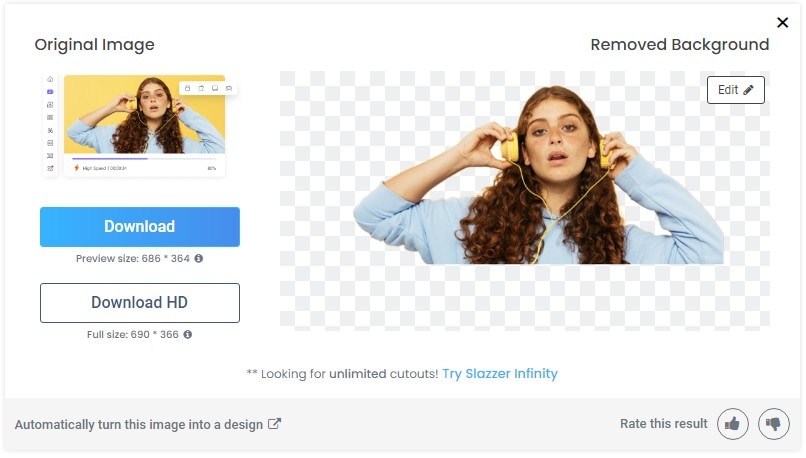 Pros
Accurately removes the background from images
AI-powered automatic free background remover
Cons
It can only download in PNG format
It reduces the quality of images somewhat
Precisely cut out an image for free using Clipping Magic. It is not very often that you come across a nice free background removal tool that removes background from image for free without any flaw. Clipping Magic satisfies that worry when the background doesn't come out as you expect it to because after the AI algorithm does its things, you can now use manual editing tools to adjust the image and the removed background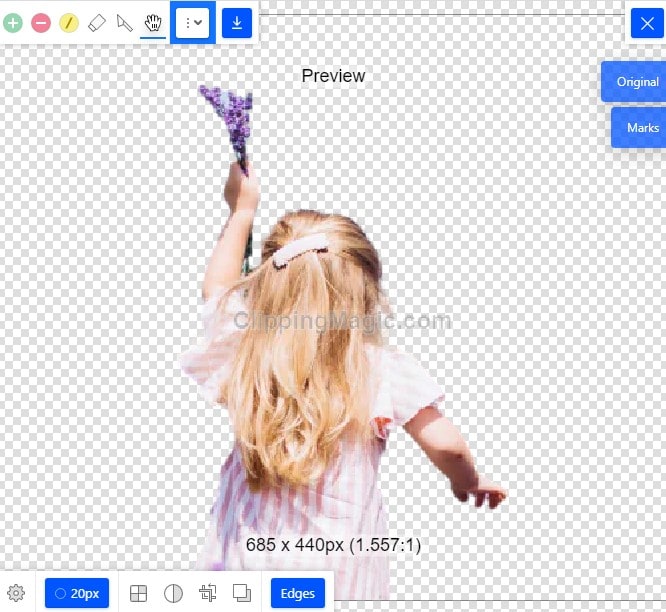 Pros
You can initiate both AI and manual background cutting, so it is convenient
It gets your image ready in less than 10 seconds
Cons
It is not free. There are some limitations with the free trial
It can only export your image in one format
Disadvantages of using these online tools: The above listed online have a major flaw in that most of them only allow you to download your file in just one format. This may sit right with some photo, editors, or content creators who need their photos to be exported in a particular format to facilitate sharing or further editing. They can also be very annoying to deal with because some images may be roughly cut out that it would not even be pleasing to the eye, but this depends on the image and how intricate the background you are trying to cut is. Since they are all AI-powered, there is no way to rectify it.
Part 3. A Useful Solution When Background Eraser for Free Doesn't Work
Since all the aforementioned tools are free, you can't complain, but what if you try to use a paid app for your background remover? The free photo background removers come with their limitations, but we can attribute those limitations to the fact that it is free. Here, we recommend one of the best background removal tools for PC supported on Windows and Mac; UniConverter.
Saying UniConverter is on another level compared to previously mentioned apps will be an understatement, while saying it belongs to another realm still doesn't do it justice. UniConverter is much more than just your average video or image editor. It is a multimedia editor that features many tools and functions, and each is powerful enough in its own right. The AI Portrait function is the automatic background remover for UniConverter. It can accurately trace out the background of an image and remove it accurately. In the AI portrait tab, you can also choose a new background for your image or save it without the background. UniConverter supports lots of media formats and has no shortage of image formats. It helps bulk removal background without losing quality from PNG, JPG, BMP, and GIFs. Adjust to get more precise results based on AI Background Removal.
Steps to Remove Background from Images using UniConverter
Step 1

Launch UniConverter and Click Toolbox

Launch UniConverter software and look to the list of tools lined up on the left side of the interface. Click on the last option, which should be Toolbox. The screen will change and reveal an additional set of tools. Locate Background Remover and click on it.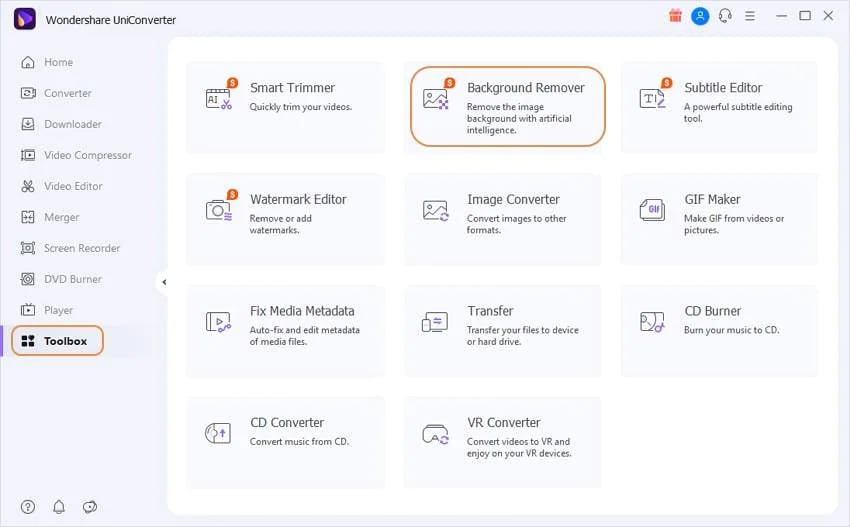 Step 2

Upload Image and remove the background

You will now be able to add your image, do this by clicking on the purple tab and selecting a photo from your File Explorer or Finder or you can drag and drop the image into the interface, and it will be uploaded. You can upload more than one photo for bulk background removal using these two steps. Once the images have been uploaded, click Start to begin removal. After removing the background, click the Edit icon on the image template, now you can edit image background with the templates, colors and local images.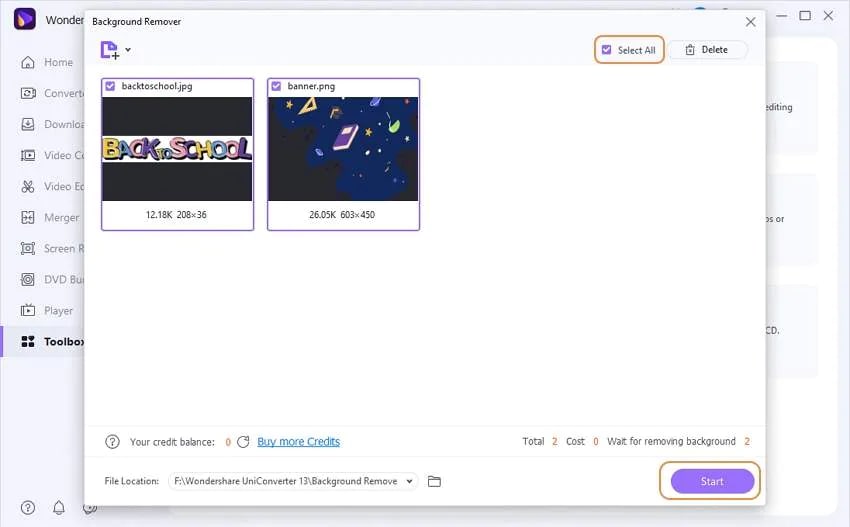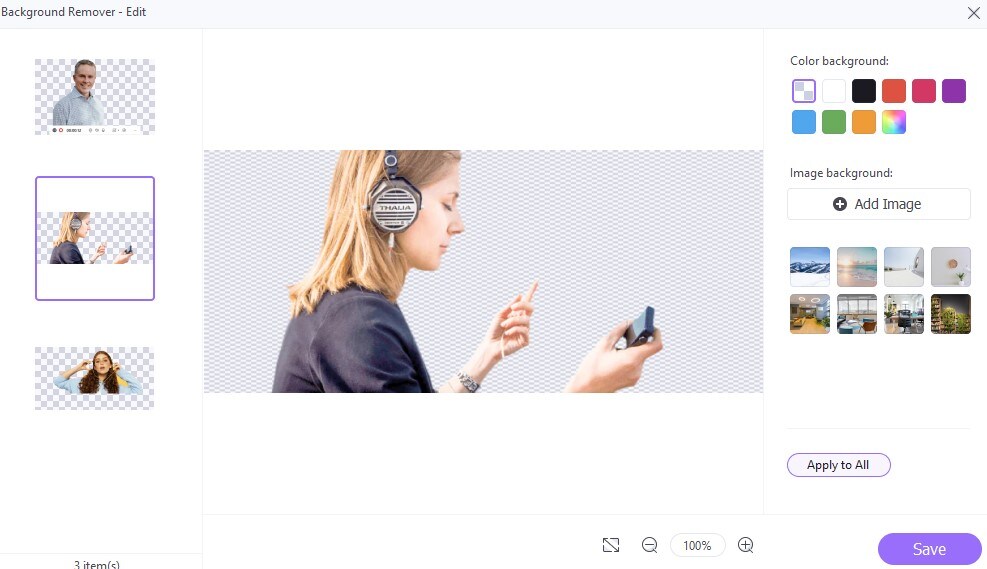 Step 3

Save the results

If you are satisfied with the output effects, click Save to keep photos on your local explore.
Wondershare uniconverter 13 - Best Video Converter for Mac/Windows
5,481,435 people have downloaded it.
uniconverter supports 1000+ formats and handles 90X faster conversion, ensuring that high quality is delivered at all times.
You can add multiple files since the program does batch conversion of files.
The GUP acceleration can help you download online videos at high speed.
You can use the editing suite to remove video background, edit watermark and subtitles, and auto-trim videos.
This software facilitates file transfer to devices like Android and iPhone among others once the conversion is complete.
uniconverter is also capable of handling video compression hence ensures you acquire the video sizes you desire.
Part 4. Q&As about Free Picture Background Remover
1. How does the background remover work?
The technology is based on neural networks. The algorithm analyzes a picture and identifies the foreground and the background to isolate it. Once it has been separated, it begins to work on removing it. Some background remover works better if a human is in the photo, they can recognize the outline and shape of the human and cut out anything unrelated
2. Why do we need background remover?
We want our pictures to look as perfect as possible, and unfortunately, some background just doesn't cut it. We might have taken the picture in place with a nice view, but sometimes it doesn't fit the image in our head, so we want to change it. Photographers will want to please their client by making the photos a work of art by removing and replacing the background, and some might do it on request from the client. Content creators will use it to enhance their content and make it more appealing, so it depends on the individual, why you would want to use a background remover.