Remove Image Background - UniConverter
Remove image background in batch.
Change the image background with the built-in templates.
Upload the local images to switch backgrounds.
Remove video background quickly with AI.
Other features include a converter, recorder, downloader, compressor, and so on.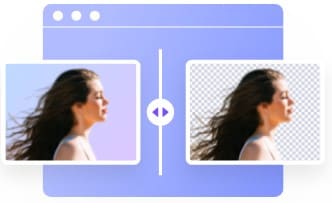 Everybody wants to look even better in their snapshots, and some just want to explore their options for photo editing. So we edit our photos, be it adding effects or filters or outright changing the background into something else. This article will introduce how to remove background online using useful free photo BG erasers. We'll have you know that removing background from image online is not easy but still very easy, as long as you have the right background eraser online tool. Here we introduce the good online removers to help you.
Part 1. 8 Ways to Remove Background Online for Free
This is one of the best background eraser tools online, free no doubt. It is operated by an AI that automatically marks the foreground and the background and makes the cut very smoothly. You don't need to do anything too stressful. Just upload your image to Removal.ai and wait for it to finish the job by itself. It also has some stock background that you might be interested in to design a new background for your image. It also has a few supporting plug-ins and a full manual customer-supported editing feature where you send the details of the edit you want and leave your email address. Once the editing has been done, the image will be sent back to your email, cool right?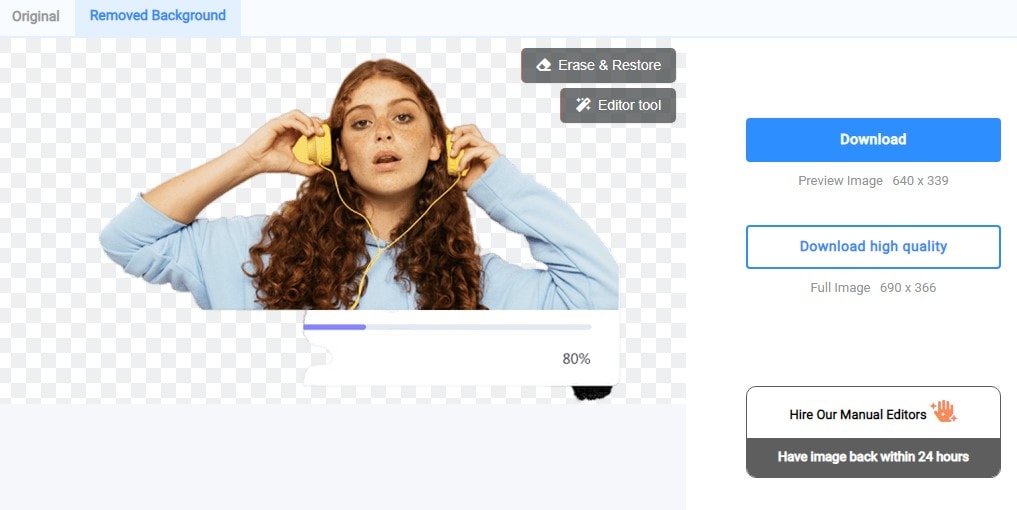 AI-powered background remover

Fully functional customer service

Create a new background for your edited image

Bulk removal on the desktop app

Edit on request option
Steps to Remove Background Online using Removal.ai
Step 1. Visit the website and upload your image: Once you have accessed the removal.ai website, click on the blue tab in the middle to upload your image. Alternatively, if you are using a computer, you can simply drag the file from the file explorer or finder and drop it in the middle of the interface.
Step 2. Remove Background and Edit Image (optional): Removal.ai just requires you to upload your image. It will automatically remove background online free by itself. When it is done, it will also give you the option of additional editing, where you can add another background to the image, add a text caption, adjust the brightness and contrast of the image, as well
Step 3. Save: To save your image is to download it. Since this is an online tool, any finished job must be downloaded to be saved. While tools can keep your file for a little while, some will erase it immediately you leave the site, so always remember to download your file.
Pros
Remove background from image online free
There is no limit on the size of the image that you can upload
Cons
There is no way to adjust the image if it doesn't cut very well
Limited functionality for an online photo editor that removes background
No matter how you look at it, PhotoRoom looks more like a standard photo editor than other background eraser tools online for free. The interface is neatly designed, and you only have one function, so there is no story about you not finding the function you want to use. It is also AI-powered and removes the background from images online swiftly. PhotoRoom can remove background online better than most of its counterparts. It cuts out the edge perfectly, and you don't need to do any manual editing after. However, it also features a mini photo editor, allowing you to add another background to the image or add a text caption and maybe resize the image.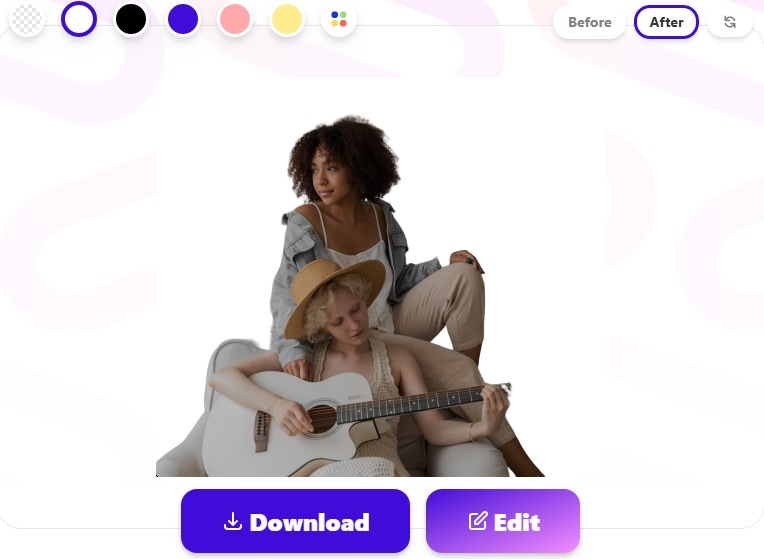 Bulk background eraser online

Features a photo editor albeit with limited options

AI-powered photo background remover online

A standard android app with even more functionalities
Steps to Remove Background Online using PhotoRoom
Step 1. Visit the website and add a photo: Launch the browser and enter the address photoroom.com. On the main interface, you will be able to upload your image either by clicking on the blue tab and selecting or by dragging and dropping the photo from your file explorer.
Step 2. Remove background: The AI will automatically remove background from photo online free, so kick back and relax. After this, you will be given the option of adding minor editing like captions, background, and resizing images.
Step 3. Save: Download your finished file and enjoy
Pros
It has a built-in photo editor
It can remove picture background from images online in bulk
Cons
The AI might not remove white background online in some images
It can only export in one format
In terms of the simple interface, FocoClipping might not be the best, but there is barely any competition for it when it comes to processing speed. It boasts of being able to remove background online from any image in less than 10 seconds, and for real, it does. The interface is simple as it can be, but you can't get the full package if you are using a mobile phone browser to access the site. FocoClipping allows you to upload from a website using the URL. If you are the type that you don't have the image on your phone but instead on your social media, then this method might be favorable.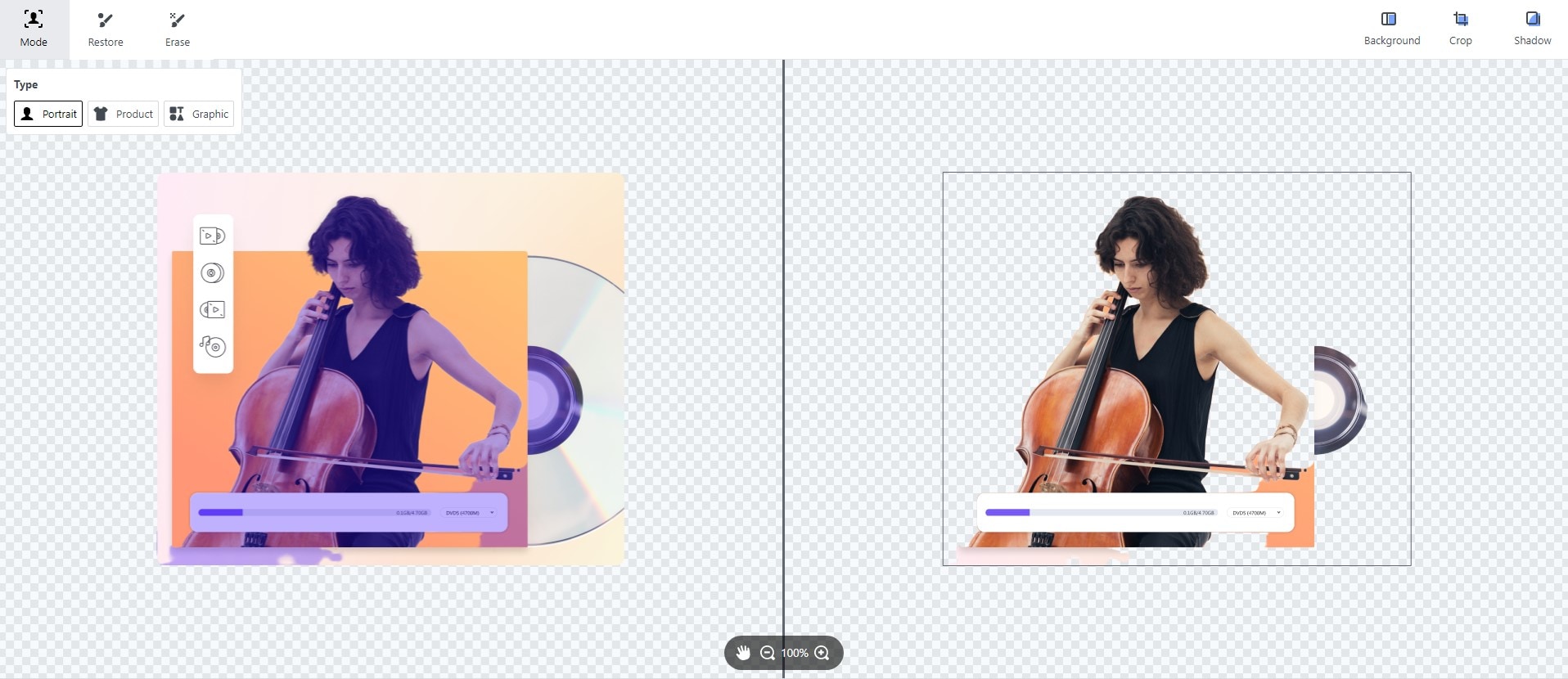 AI-powered background eraser online

Supports other add-ins and plug-ins for even more photo editing options

Upload images from your computer or the internet
Steps to Remove Background Online using FocoClipping
Step 1. Visit website and upload image: On the main website fococlipping.com, you can click on the black tab to upload your image, or if you are using a desktop version, you are also exposed to the option of uploading an image from the internet.
Step 2. Remove Background: Wait for the AI to process the image and remove the background online for free. FocoClipping doesn't have any editing option, nor can you adjust the result of the picture given.
Step 3. Download: Next, download your photo. You can find it in the download folder of your device.
Pros
You can upload an image using a URL. It doesn't necessarily have to be from your device storage.
Cons
The AI background remover is not entirely perfect
You can only access full functions on a PC browser or by downloading their desktop app
Inpixio takes pride in the quality of its processed images. Unlike some other background remover that just shamelessly reduces the quality of your photo has even failed to remove the background from the picture completely, Inpixio boasts of high-quality image export, i.e., you can remove background from the image and download it in almost the same quality as the original image. It is also AI-powered, and the job is done automatically by the system. However, there is a manual background remover available on its desktop version, but of course, you have to pay for that, and that is not our main topic, is it?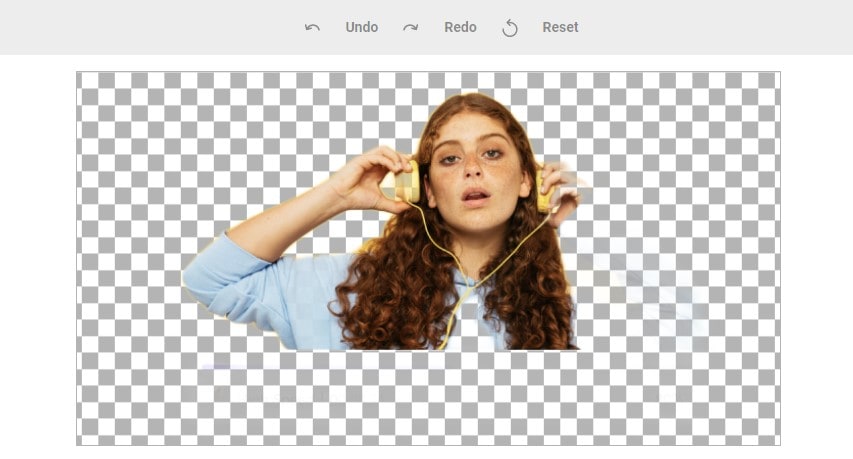 For professional, commercial, and personal use

It exports images in high quality

AI-powered background remover

Bulk background remover from images

Steps to Remove Background Online using Inpixio
Step 1. Visit website and upload image: On the main screen of the website, there is a green tab with Upload a photo written on it. Use this and select the picture that you want from your device. Alternatively, you can use the URL option to upload an image from the internet.
Step 2. Remove Background: Let the AI system finish the background removal, and you will see a preview. Also, Inpixio will make some stock backgrounds available for you if you want to change the background, and you are interested in any of the ones they presented.
Step 3. Save: The file can now be downloaded when you are done with all adjustments. Click on 'save your photo' at the bottom of the screen and download the photo.
Pros
Useful in a lot of settings; for personal use, or professional use, even in a business setting
The quality of the image will not reduce when the background is removed
Can remove background from pictures in bulk
Cons
The processing might be a bit slow
There is no editing option; which might have been useful if the AI didn't cut out the image very well
Wondershare UniConverter 13 - Best Video Converter for Mac/Windows
5,481,435 people have downloaded it.
UniConverter supports 1000+ formats and handles 90X faster conversion, ensuring that high quality is delivered at all times.
You can add multiple files since the program does batch conversion of files.
The GUP acceleration can help you download online videos with high speed.
You can use the editing suite to remove video background, edit watermark and subtitles, and auto-trim videos.
This software facilitates file transfer to devices like Android and iPhone among others once the conversion is complete.
UniConverter is also capable of handling video compression hence ensures you acquire the video sizes you desire.
One of the fairly popular online background removers. Remove.bg is as simple as they come, and even an amateur can use it immediately. It only works as a background remover, so you don't have to worry about being distracted by other tools. It hosts some additional API, plug-ins, and add-ins that can help you with your photo editing. Remove.bg processes your photo in just a few seconds and presents a preview, and lets you download in PNG format only.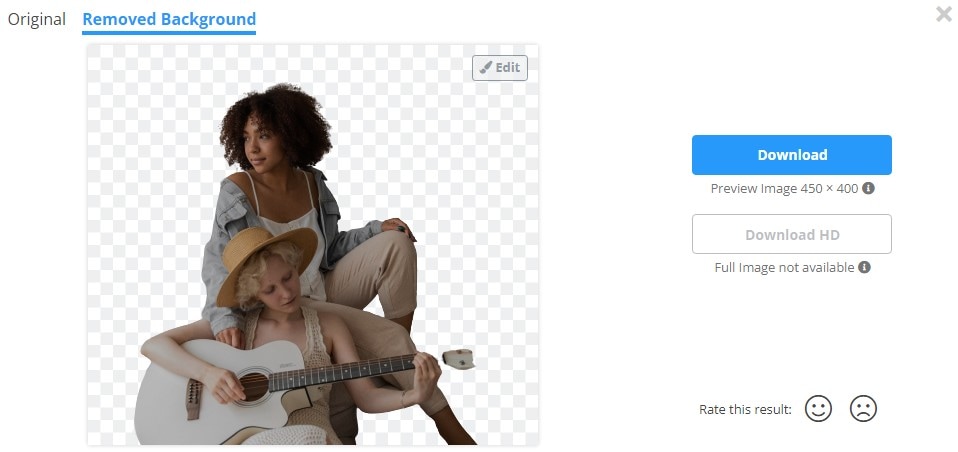 Steps to Remove Background from Image Online using Remove.bg
Step 1. Visit site and Upload Image: Visit remove.bg and to upload an image on remove.bg, you can click on the blue tab and select the image from your Finder or File Explorer. Alternatively, you can copy the image from the location and then paste in the box designated for picture upload, or you can upload from the internet using a URL, whichever works best for you
Step 2. Remove Background: As an online background removal tool, remove.bg uses an AI algorithm to detect the foreground and background then cut out the background, it works even better if there are humans in the photo.
Step 3. Download: To save your file, you will have to download it and, as stated in the intro, remove.bg can only export in PNG formats. There are two qualities to download, the normal and HD quality, and as you can already guess, the normal rate is free while the HD quality download is paid.
Pros
It is very fast in processing images and removing background
The settings and navigation is easy
Accurately cut out images, especially if there are humans in the image
Cons
Reduces quality of photo a bit
It can only export in PNG format
It is fairly popular for image downloading, so it comes with no surprise that they would have image editing tools and one of which is a background removal tool. Deposit photos online background remover can delete background of images in just a click, and although there is a maximum limit on the size of the image to upload, it would be surprising if someone went ahead and downloaded a 15MB photo, no it would be funny. Depositphotos can identify people, objects, and animals in a photo then work their way around this to create an image with the background perfectly removed.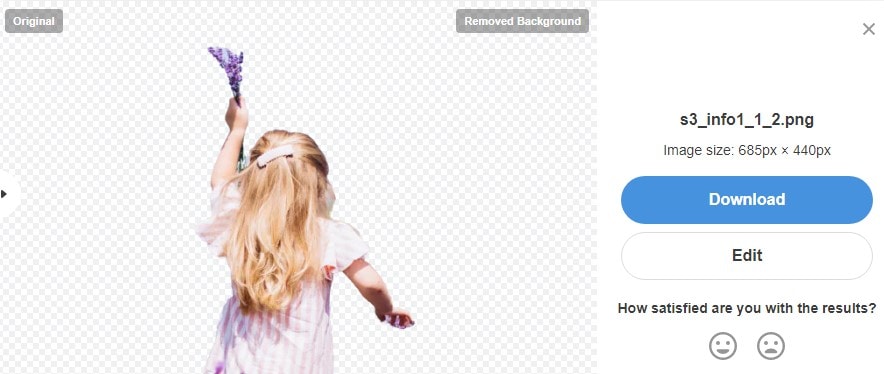 Has a vast collection of royalty-free stock images, videos, and music; BGM, SFX

Remove background in just a click

Features a lot of other tools
Steps to Remove Background from Images using Depositphotos
Step 1. Upload Image: Visit the website and click on the blue tab with 'upload image' to open your file explorer and select your preferred. You can also drag and drop the image into the website to remove background, but unfortunately, Depositphotos cannot use URL to upload the image.
Step 2. Remove Background: Wait for the AI to finish analyzing the image, and it will give you a preview.
Step 3. Download: You can't save your photo if you don't have an account on Depositphotos. This might be a good time to open one, though. Create an account and download your photo in good quality
Pros
Displays the original and the result side by side, so you know what changed
Accurately identifies foreground and background, thereby leading to a good cut-out image.
You can import and export in three formats; JPEG, JPG, and PNG
Cons
It is not a free site. To use other functions, you will have to pay
Requires you to create an account
At the point, it is not even worth stating how much some people just love DIY editing. We want to tune up our image and make it look more professional or cooler, we want to create amazing collages and even more amazing scrapbooks, and sometimes we just want to amaze someone. Fotor's Magic Clipper can get the job always done. It is a tool that allows you to cut out background mix and change it with new backgrounds as well. It is an easy solution to your background removal problems as they remove backgrounds and even give you free graphic design templates.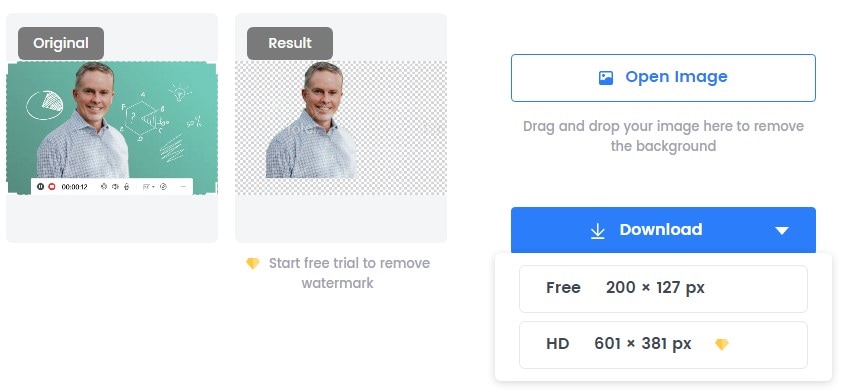 Create a transparent background or completely delete

Limited customization options

Detection of photo subject(s) for an accurate cut

It offers graphics design tools to help you
Steps to Removing Background Online using Fotor
Step 1. Upload Image: To upload an image on Fotor, click on the upload image tab and select a photo from your file explorer. You can also drag and drop the image into the website.
Step 2. Remove Background: Once the image has been uploaded, Fotor will analyze and cut out the image. The next thing you see is a preview of the old and new photos.
Step 3. Save: You can't download your image without signing in, and another downside to this amazing app is that you have to subscribe to remove the watermark from the image.
Pros
The mobile app version offers some graphic design resources to help you create an even better image
The accuracy of this app is unmatched. It can even cut out flowing hair perfectly
Does not reduce the quality of the image at all
Cons
Free users get their precious photos watermarked
It requires you to sign in before downloading
The background remover for PhotoScissors is by far one of the most accurate background removers of all. You can easily remove the background of people, objects, cars, even flowing hair can be cut out perfectly with this amazing background remover. You can even try to remove the background of transparent objects with little to no problem. PhotoScissors also has a cool feature that lets you remove the background based on color, say the background is the sky, or select it to delete sky blue from the image. Photoscissors also has a comprehensive photo editor where you can change the background, lighten or darken the image and do some minor editing.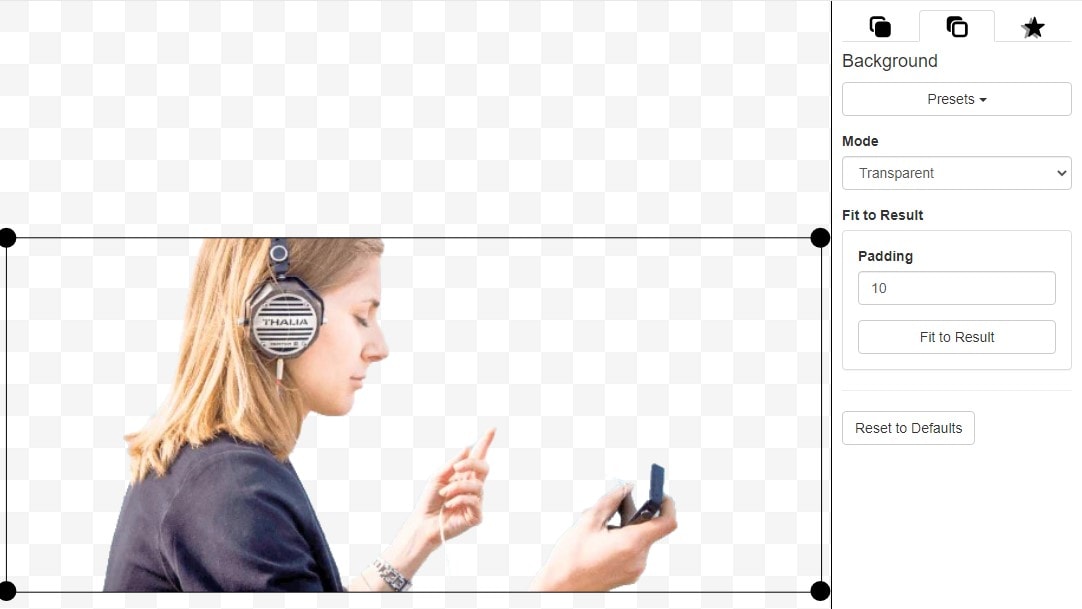 Accurate identification of foreground and background

Image editing features

Manual and AI background removal

Replace background
Steps to Removing Background Online using Photoscissors
Step 1. Upload image: To upload an image on Photoscissors, you can drag and drop the image into the web page or click on the 'upload image' tab and select your photo from your file explorer.
Step 2. Remove Background: The AI automatically removes the background and gives you are preview, now you can edit the image or add new background. If you are not satisfied with the cut, click on the mask at the top of the image editor, and you can do it yourself.
Step 3. Save: To download your file, click on the save icon located at the top right corner of the screen.
Pros
100% accuracy when cutting out background. Even flowing hair is accurately trimmed
Features some editing tools
AI and Manual background cutting; which is very rare to find
Cons
It doesn't work on mobile browsers
It has less functionality compared to the mobile app
Shortcomings of Online Background Removers: Most online background removers always have the same problem: their AI. Most of them employ the AI algorithm to measure the foreground and the background then cut out the image, and some of the time, this cut is not always accurate. Some of them also leave white or black-colored fill background when you are downloading it, which may also defeat the purpose of removing the background in the first place. The last problem would be supported formats as most online converters only support download in one format.
Part 2. How to Clear Background When Background Eraser Online Can Not Satisfy You
Online removers have many limitations, such as after removing, the quality would be worse. Here we introduce an advanced BG remover UniConverter. AI portrait is Uniconverter's very own background remover. Also, with high accuracy, you can rest assured that your image will come out even better. Uniconverter is a well-known multimedia editing tool that has featured some of the best tools, so do not doubt the new tool they brought to the table.
Steps to Remove Background Online using Uniconverter
Step 1

Launch and click on Toolbox > Background Remover

If you are yet to download the new Uniconverter 13, now might be a good time. On the main interface of Uniconverter, there is a list of tools on the left side. Locate and click on Toolbox. This will reveal a new set of tools, locate and click on Background Remover.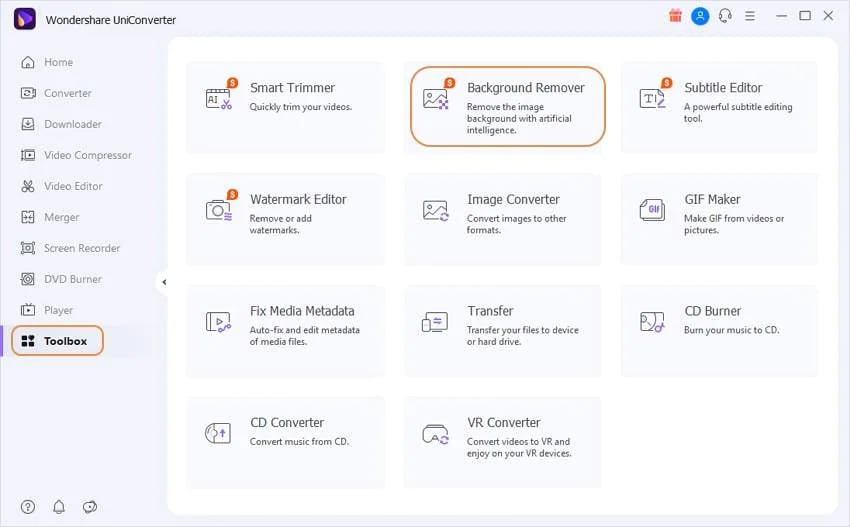 Step 2

Upload Images and Remove Background

Once you click on it, a new window and your preferred image pop up. Uniconverter supports batch processing, so you can upload more than one video and have the background removed simultaneously. The AI analyzes your image, and you can see the preview once it is done.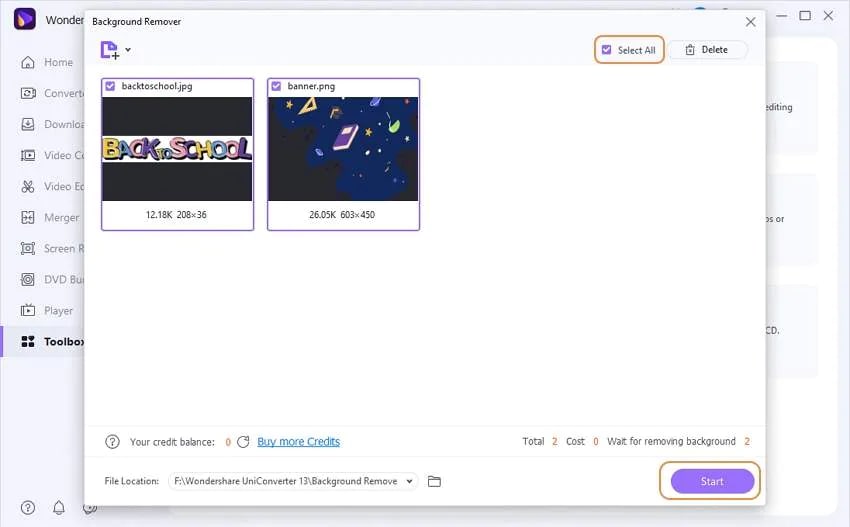 Step 3

Save

When you are done with all settings, click on start at the bottom of the interface to remove the background from the image. You can also add a new background by clicking the Edit button on the image's template. Your file automatically saves to the Uniconverter folder but you can change this by clicking on the File location tab at the bottom of the screen. Do this before starting anything.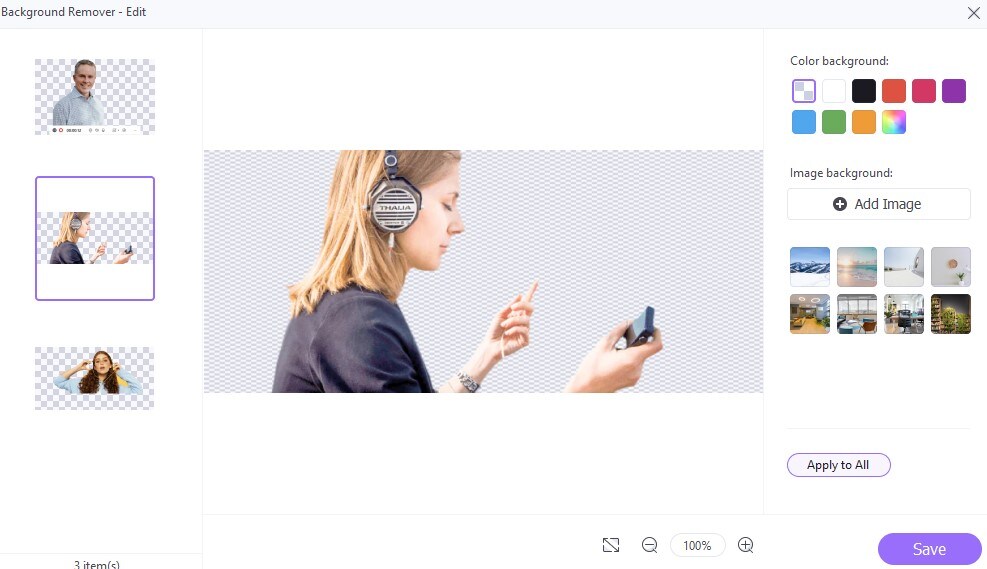 Q&As about Removing Background from Image Online
1. Are there any ways to remove background in batch? Uniconverter can help you. You just have to upload the photos one after the other before clicking on the Start
2. Can online background removers clear the bg in GIF images? Most of them can not, but you can use Unscreen to realize it.