UniConverter - Add/remove watermark for easy steps
UniConverter Version 13 provides powerful watermark features with easily customizable settings. Free try add/remove watermark on video just 30 secs and 3 easy steps
Everything we do, we do for a reason. Most times people tend to ask why we add watermarks to our documents. We only watermark word documents to protect our content's copyright and sometimes to classify documents for easy identification, but looking for how to remove watermark in Word might come with a bunch of reasons. You may decide to remove watermark word from a document because you have a new watermark to insert into the word document, or you want the content of the document at the disposal of the public, or for your personal reasons, just know that there are several ways to remove draft watermark in Word if you wish to know how to remove watermark from a word document. If you're ready to seize the opportunity coming your way, you can take the secret passcode from this article and unlock the door of "how to remove watermark in Word" with ease and so much comfort.
Part1. Use Microsoft Word to Put watermark in word or Remove Watermark on Word
Microsoft word popularly known as Ms word or word which is a property of the Microsoft Corporation is a word documenting software which is one of the limbs of the Microsoft Office suite. The Microsoft-owned software allows you as a user to add or remove watermark from word documents, change letters into upper or lower case, make tables, make lists, do text wrapping, add images, shapes, and texts to a document, and more. Talking about the features of the software, you'll be delivered the best tools you'll always and forever need whenever you want to make an office document, technical report writing, textbook writing, and editing, lecture notes, and more, as there is always advancement in the development of the software whenever a newer version is out. If you have an already made word document or you just want to start writing and you wish to add a watermark in word, here are steps to follow:
How to add draft watermark in Word?
STEP1
Launch the Microsoft word you have on your PC. If the Word opens, then you'll see the
Word's window is displayed on the screen of your PC. Type in or open the document you wish to watermark and click on Design from the menu bar you'd find at the top of the word's window.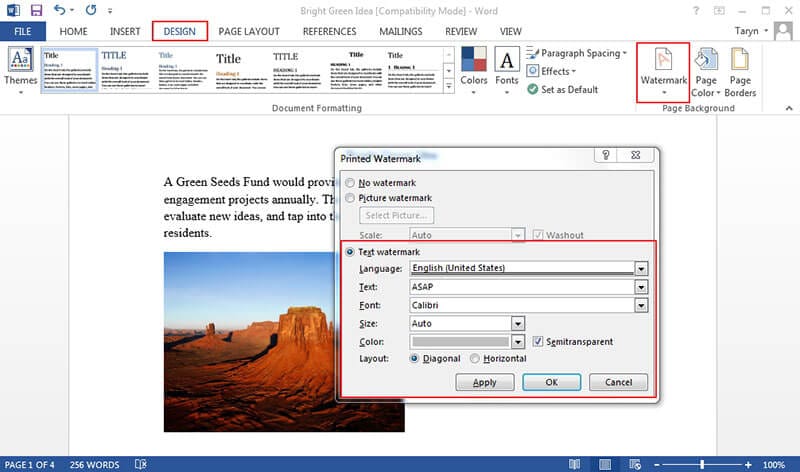 STEP2
After clicking on Design, go to the right side of the design options where you can use the page background options that include watermark, page color, and page background. Click the watermark option to access the available watermarks. If you've been looking for how to add a draft watermark in word, you can easily add a draft watermark from the displayed watermark options in the dialog box.
STEP3
From the dialog box, choose any available watermark of your choice whether it's the Confidential, do not copy, or draft type, as the watermark on your document.
NOTE: you can also customize your own watermark if you wish, all you need to do is click the Custom watermark from the options at the bottom of the dialog box. After clicking on Custom watermark, the printed watermark window appears. From the displayed window, you can change language, text, font, size, color, and layout. Once you're done setting these parameters as desired, just click Apply and OK to add a word watermark on all pages.
How to remove draft watermark in word or any other watermark type
You can follow these steps if you want to know how to remove draft watermark from a word document;
STEP1
Open Microsoft Word on your PC. Once the Microsoft Word is opened, open the document you want to remove draft watermark word or another watermark word.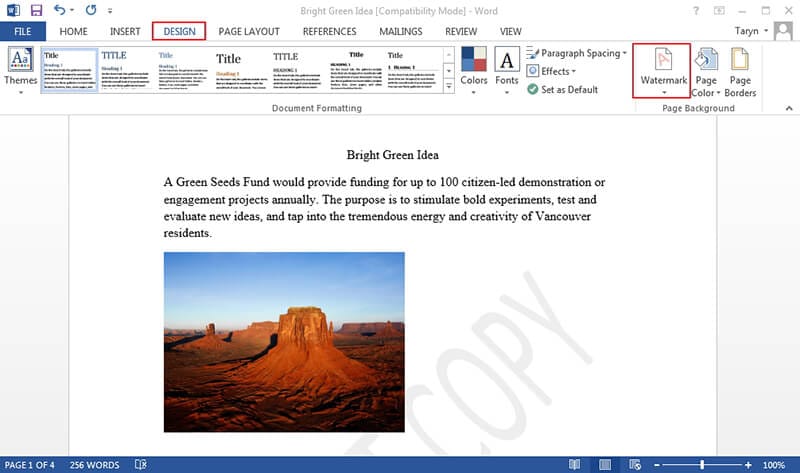 STEP2
From the menu bar on the display window, click on Design and go straight to the Pagebackground option, and click on the watermark option. After this, a dialog box appears.
STEP3
From the dialog box, select the removewatermark option you'll see below. Once you click on the remove watermark option, you're done removing the word doc watermark.
NOTE: just in case the document is watermarked at the Header and Footer of each of the documents and you wish to use Microsoft Word to remove the watermark, then just double-click the Header and footer to make the header and footer active, then erase the watermark words you see
Tips to removing watermark from video: Do you get very annoyed when you download the videos you like online with the watermark printed on the video interface? Or, imaging you are sharing a online video on your presentation, but the watermarks on videos are affecting the impressions. Hope there is no watermarks on these videos? You can try UniConverter to remove watermarks from video!
Pros
Microsoft Word is a very good documenting software when it comes to making office documents, lecture notes, guides, writing technical reports, and more
It permits a user to save files on any storage device as desired
Cons
Microsoft is quite expensive to purchase
The software cannot be recommended for graphical works.
Part2. How to Add/Delete Watermark in Word with Wondershare PDFelement
If you're in search of a tool or software that'd allow you to add or remove watermark from a word document whenever your Microsoft word is inaccessible, there's an option here for you, a software that will deliver everything you need at your feet – The Wondershare PDF Element. Wondershare is intuitive software with a beautiful and modified interface that allows Word documentation easy by creating PDFs, converting PDFs, combining PDF files, using already made PDF templates, batch processing, and more. Listing all of these qualities and features of the Wondershare PDF Element, if you're contemplating how to put a watermark on a word document or how to remove watermark from a document using the Wondershare PDF Element software, here are detailed steps to guide you on your know-how journey.
How to add watermark in Wondershare PDF Element
STEP1

Firstly, ensure that the Wondershare PDF Element is installed on your computer whether you're a Mac or Windows user. Launch the Wondershare PDF Element, then from the displayed user interface, click on the Open file icon to open the file you wish to add watermark to the software's interface.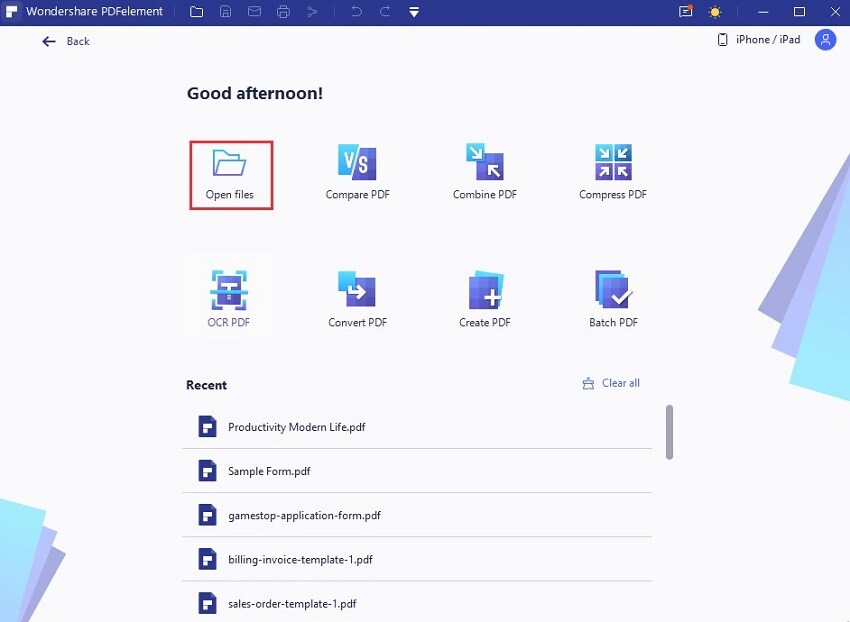 STEP2
After loading the file to Wondershare PDF Element, from the menu bar click Edit, then choose watermark from edit options. Immediately you select the watermark option, a dropdown menu displays. From the dropdown menu select New watermark for the watermark editing window to open.
STEP3
Once the New watermark window opens, you can select if it's a text or image watermark you wish to add, add text, choose text style, set properties, adjust the position of the watermark, set opacity, and more. If you like the setting you've made, click savesetting from the top right corner of the window and OK at the bottom of the window.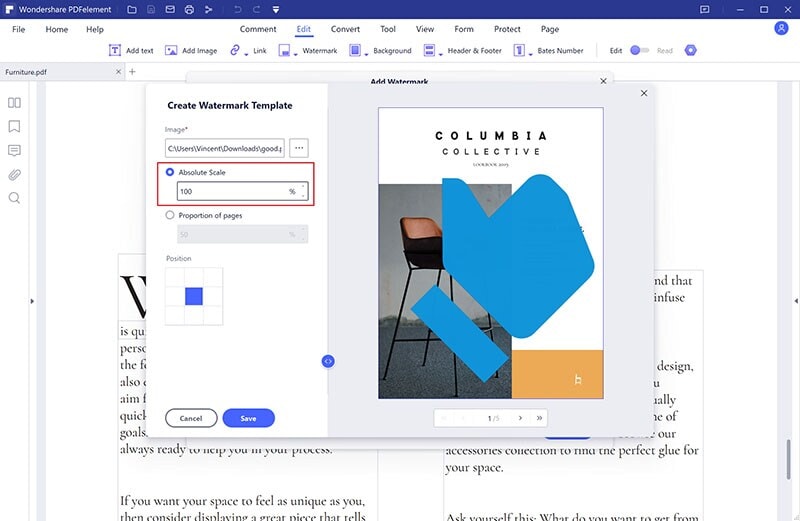 NOTE: After you click this, you'll see the watermark on your PDF or word doc.
How to remove watermark in Wondershare PDF Element
Just as you can use Wondershare PDF Element to add watermark on a document, the same applies to removing watermark from a document.
STEP1
Launch the Wondershare PDF Element from your Mac or Windows PC. As you've uploaded the file you added watermark to, you follow the same process to upload or import the file you want to remove watermark from.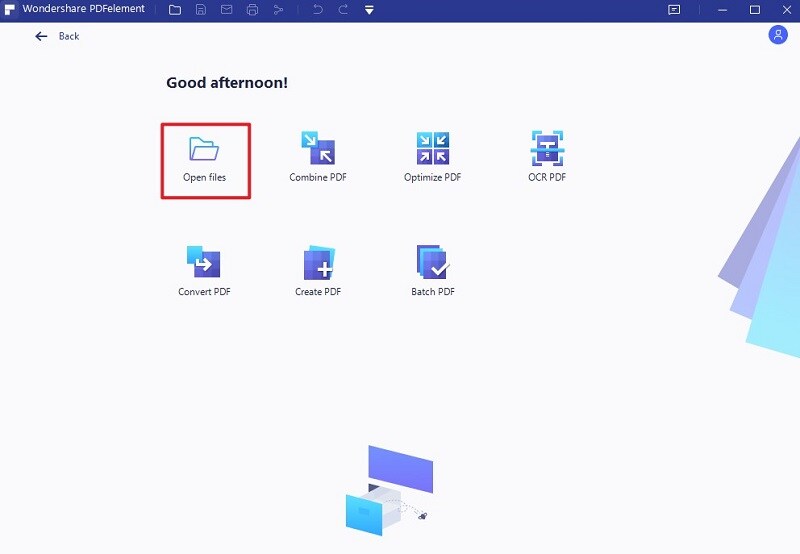 STEP2

Once you have opened the file you want to watermark in the software's interface, click on the edit option from the menu bar, and select the watermark option. Then from the dropdown option, you'll see three options just like the image below, select the Removewatermark option.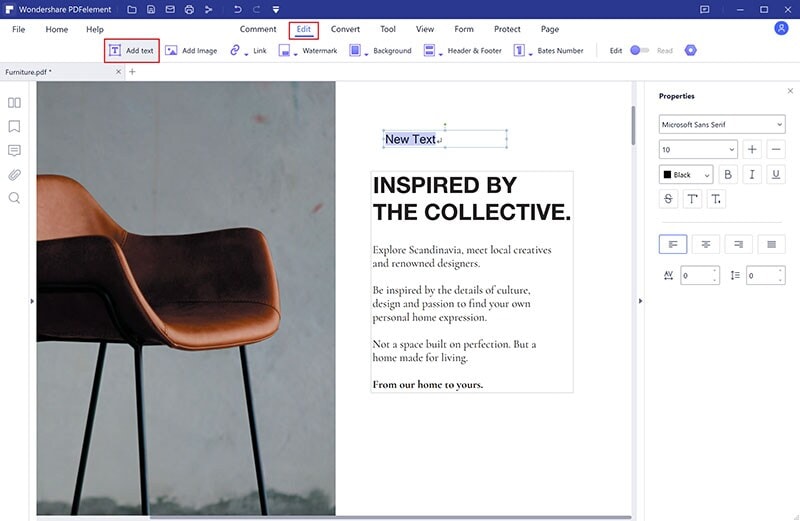 STEP3
Immediately you click on the remove watermark option, a dialog box will appear on the screen of your computer with an inscription saying "Are you sure you want to delete the watermark?". Once you see this, click on OK to remove the watermark completely.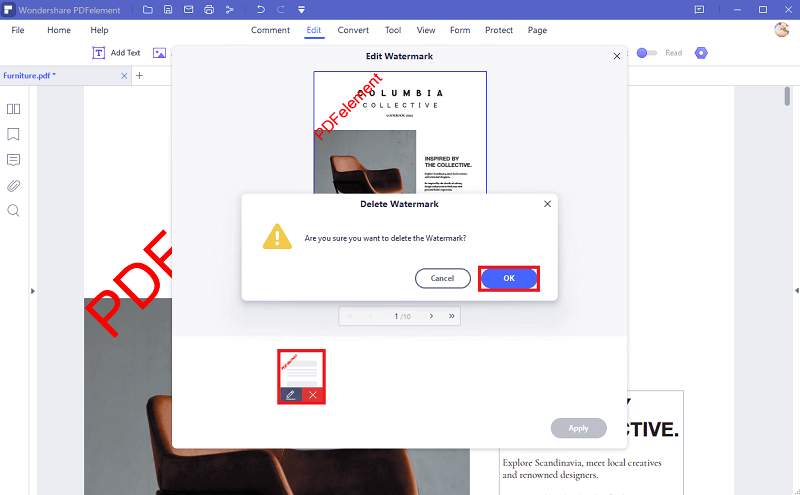 Note: After removing the watermark from the document, if you would like to edit the documents as desired, Wondershare PDF Element enrolls you with the benefit to edit as pleased.
Pros
Wondershare PDF Element supports batch processing when it concerns adding or removing watermark from multiple files
It gives the chance for users to recreate documents or create new documents as desired
Cons
This full-functional is might look a bit expensive for users who despise Quality
Wondershare PDF Element requires steep learning for inexperienced users to work on.
Wondershare UniConverter 13 - Best Video Converter for Mac/Windows
5,481,435 people have downloaded it.
UniConverter supports many formats and handles conversion equally, ensuring that high quality is delisered at all times.
During the conversion process, you may add multiple files since the program does batch conversion of files.
You can use the editing suite that covers subtitle editing, watermark editing, etc to make your results creative masterpieces.
This software facilitates file transfer to devices like Android and iPhone among others once the conversion is complete.
UniConverter is also capable of handling video compression hence ensures you acquire the video sizes you desire.
FAQ:
Is it illegal to remove watermarks from pictures or videos?
It is not illegal if your interest is not fraudulent or selfish. You can only be justified if the photo or video you're trying to remove is yours. If you're removing watermarks to practice your editing skills or to get complete detail about an image or video, it's not completely illegal because no one would get to see it since it's not for a commercial purpose.