Add Watermark to Video-UniConverter
Add image and text watermark to video with customized settings.
Adjust the position of watermark with ease.
Add watermark to multiple video files.
Convert and edit video after adding watermarks.
Additional features include video download, recording, compression, and others.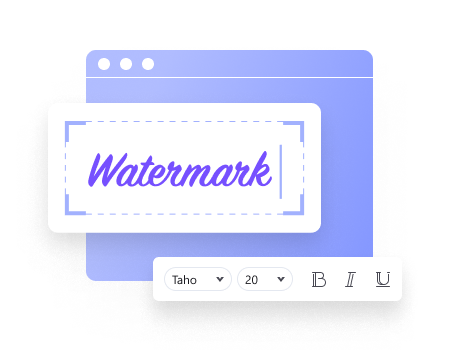 As a video or content creator, photographer, blogger, and more, using a watermark creator to design and create a watermark logo for your photos or videos can earn you a successful business. Adding your customized watermark logo to your photos or videos could protect the copyright of your products and promote your brand in terms of recognition. Don't let your little fingers run through your mind asking if it's even possible. When a watermark logo is embedded into your photos or video, you can claim ownership over such a product, and whenever people get to see it, the watermark logo seems to advertise your product and brand to billions of people. If you're looking for a watermark maker and how to make a watermark logo, this article will seamlessly guide and direct you.
 Part 1. How to Make Watermark Logo with the User-Friendly App-UniConverter 13?
You know there are several watermark creators you can use for free but you'll be needing a watermark generator with an easy and understandable interface like the Uniconverter 13. The Uniconverter 13 is a thrilling software with exclusive features that brings you into digital editing of audio and video files in the best available formats using features like a converter, downloader, compressor, video editor, merger, screen recorder, DVD burner, media player, a toolbox that houses a watermark editor, gif maker, subtitle editor and more. With all of these tempting features, I know you would like to know how to create a watermark logo using the Uniconverter 13.
Wondershare UniConverter 13 - Best Video Converter/Editor for Mac/Windows
5,481,435 people have downloaded it.
UniConverter supports many formats and handles conversion equally, ensuring that high quality is delisered at all times.
During the conversion process, you may add multiple files since the program does batch conversion of files.
You can use the editing suite that covers subtitle editing, watermark editing, etc to make your results creative masterpieces.
This software facilitates file transfer to devices like Android and iPhone among others once the conversion is complete.
UniConverter is also capable of handling video compression hence ensures you acquire the video sizes you desire.
Just in case you're wearing those shoes to embark on the know-how journey, here are steps to fuel your watermarking journey;
STEP1

Launch the Uniconverter 13 on your Mac or Windows PC. After launching the Uniconverter 13, from the displayed interface, click on the Video Editor you'll see at the left side of the interface and select watermark from the editor's menu.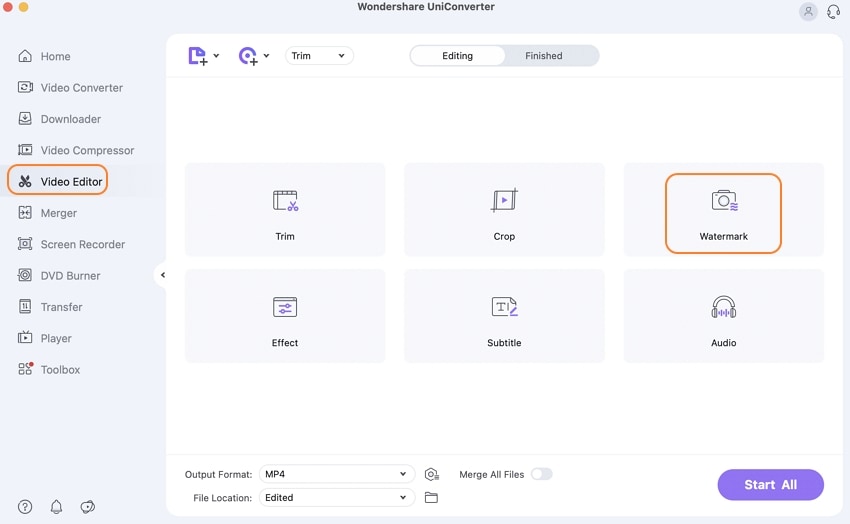 STEP2

Once you've clicked the watermark option, it takes you straight to the video editor's display where you start editing your video. From the watermark tab, at the right side of the display, you're allowed to add an image as a watermark logo by selecting the folder icon you'll see to import your watermark image. Aside from that, with the Uniconverter 13, you're also allowed to add a text watermark using the three text boxes you'll find there. If you wish to change fonts, colors, size, and font style, you can click the T close to the text boxes, and if it's the opacity - use the transparency adjustment slider. Once all of these are done, click on Apply to All and OK to save and exit.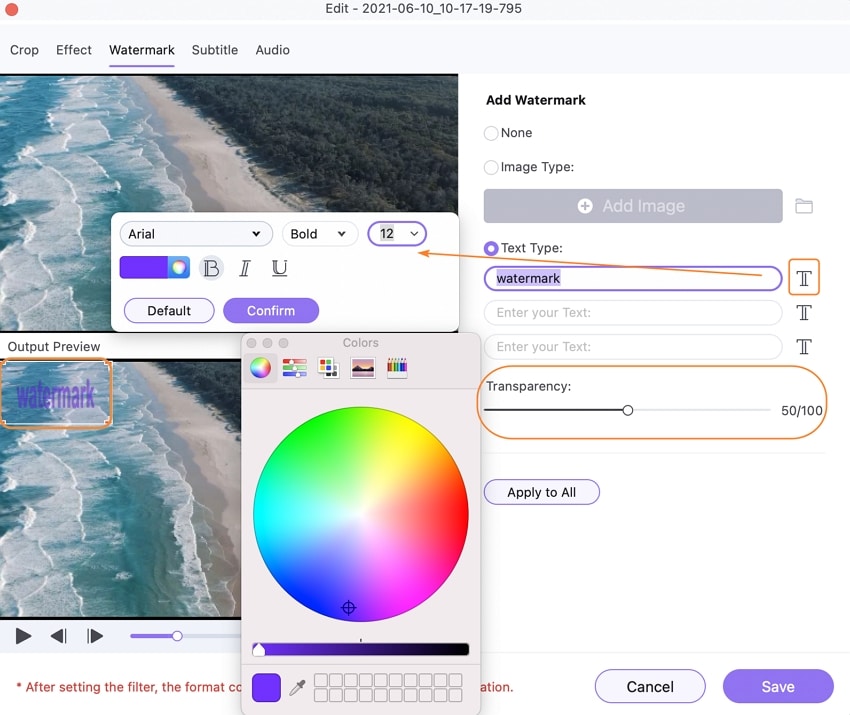 STEP3

If you wish to select an output format just follow the instructions and directions of the image below. Once all of this is done, click on the Start All button to start a conversion and saving process. Once the conversion process is completed, you click on the Finished tab to access the output.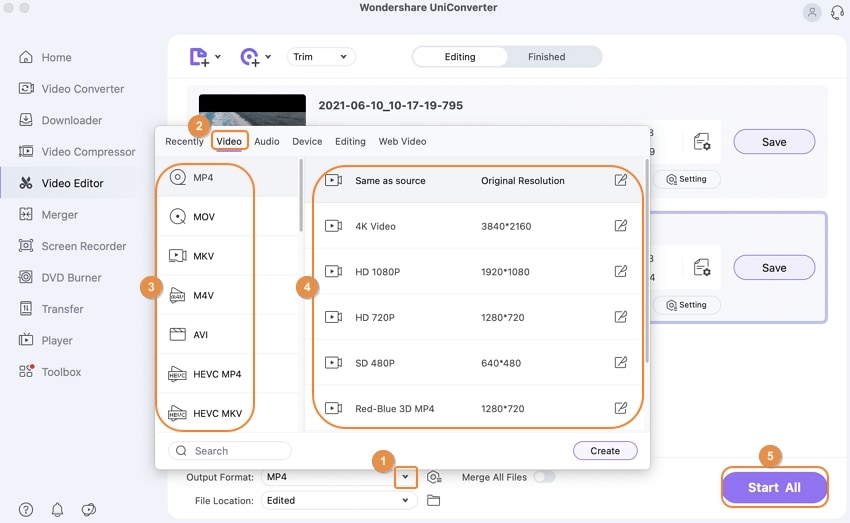 Part 2: How to Make Watermark Logo with Photoshop?
Photoshop is another amazeballs. The popularly known software is among one of the best photo editing software when it concerns image cropping, image coloring using the best available filters, adding or removing watermarks from an image, drawing, correcting errors on an image, adding text, and many more. The Photoshop software is mostly implored by graphic designers, photographers, website designers, and more. Just in case you're willing to know how to create a watermark logo with this watermark generator called Photoshop, here are few steps on how to create watermarks for photos:
STEP1

Launch photoshop on your Windows or Mac PC. Once you're done launching the photoshop software, create a new document by clicking New.. from the left side of the software's interface. Then a new window appears, from the newly appeared window select the sizing of the watermark you wish to create and. Click on Create once you're done.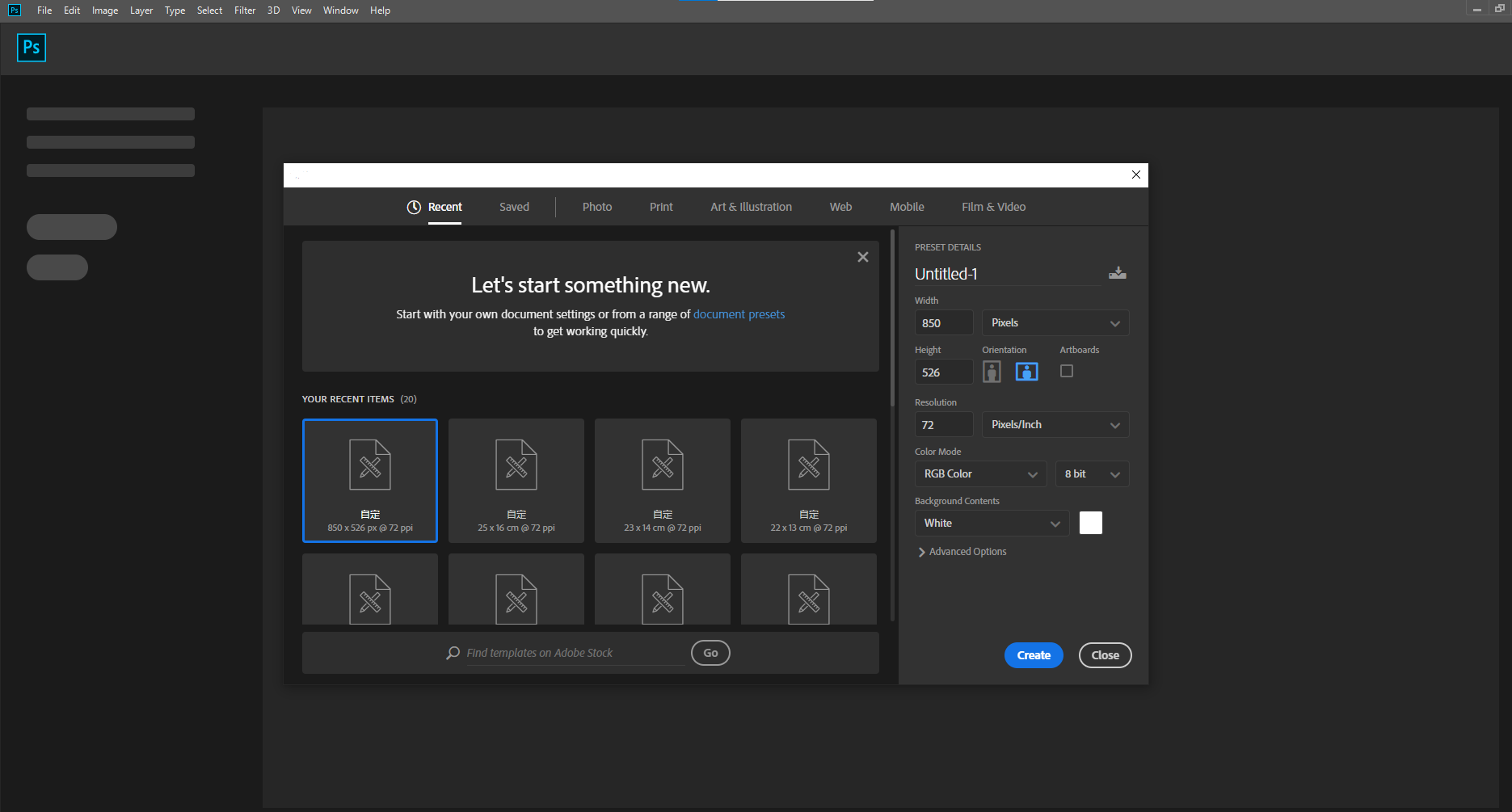 STEP2

On the editing interface, your watermark background appears after completing the first step. Now you can create a logo, add texts or import a logo if you already have one. Once you've added the image or text you want to use as a watermark, double-click Layer at the right side of photoshop's interface > add stroke > select the desired color and other parameters like size, pixel, opacity, and more.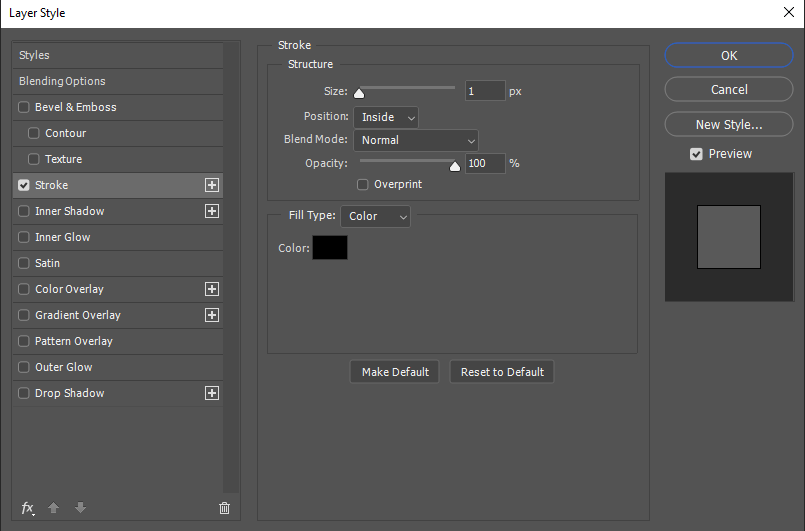 STEP3

After completing the second step, all you need to do is save the file as a PNG file.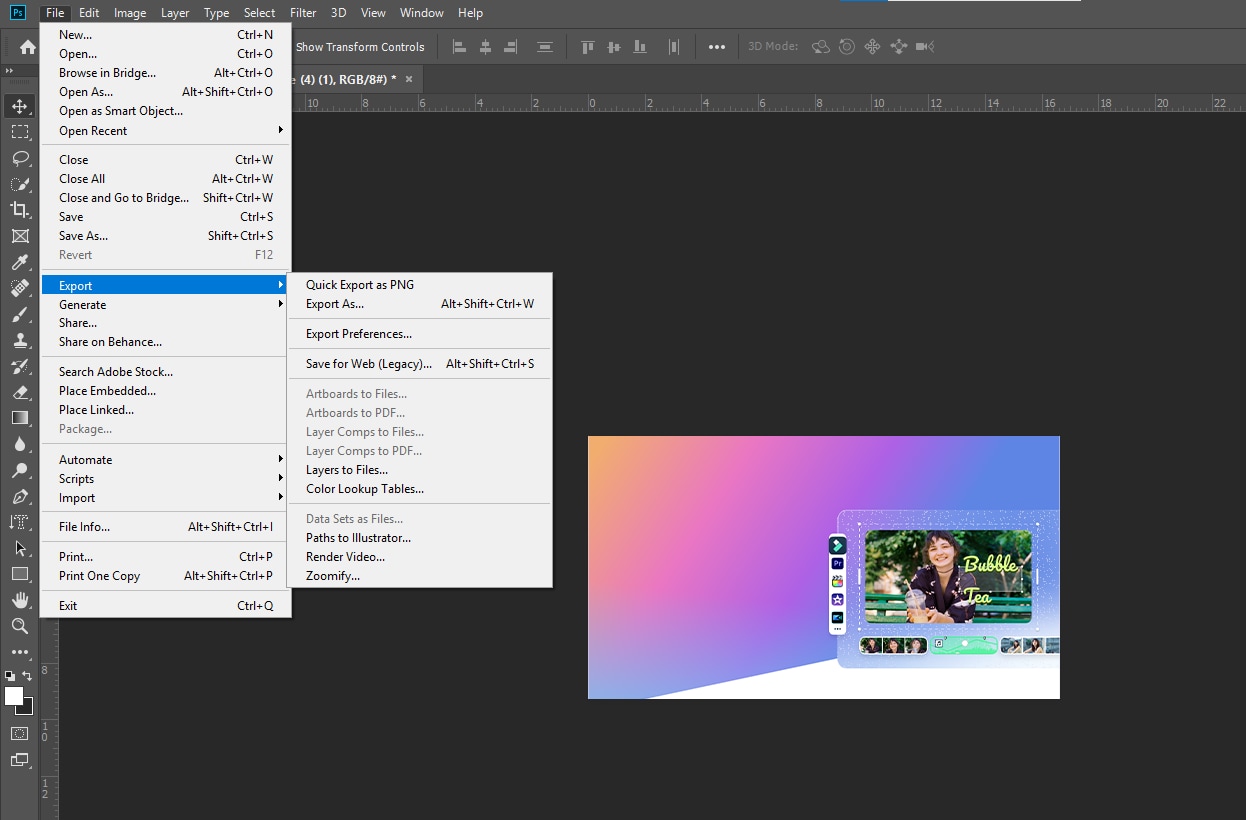 Pros
Photoshop offers a good variety of qualities when it comes to graphics and its exclusive editing tools
The software can be highly recommended for professionals
You can also edit video and animation using PhotoShop
Cons
If you decide to use photoShop to make your own watermark as an inexperienced user, you'll need tutorials due to its complex interface
PhotoShop's subscription plan is quite expensive
The software is space consuming
Part 3: How to Create a Watermark Logo with Online Watermark Generators?
Unlike Adobe Photoshop, VEED is an online simple and easy-to-use software that allows you as a user to edit videos by adding subtitles, add audio tracks to video, and more. With VEED, you can also watermark videos online. If you wish to use the watermark logo maker to create your own watermark online for free, simply follow the steps below to reach a successful watermarking destination.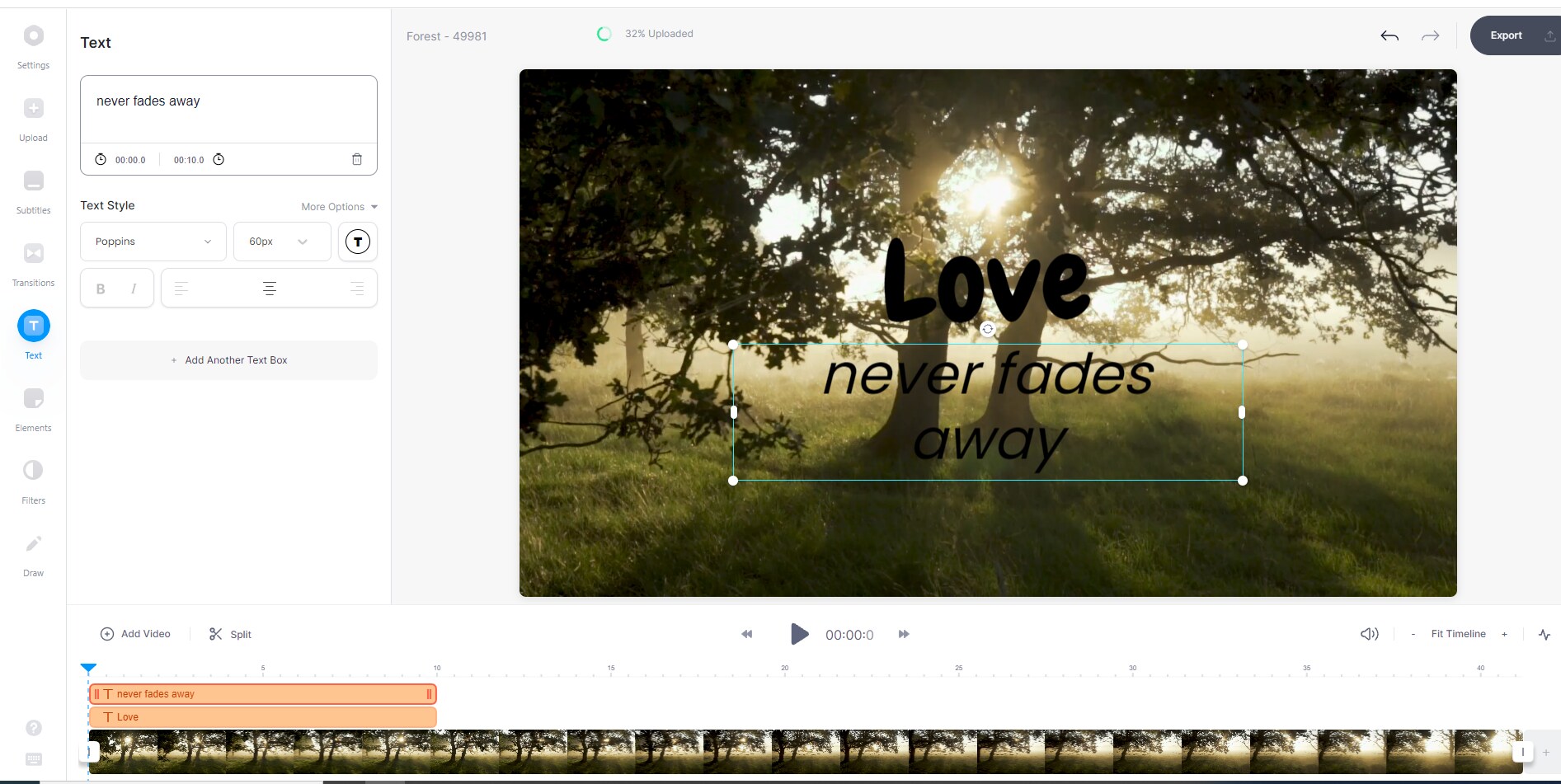 STEP1. First of all, open the browser-based VEED from any of the browsers on your PC whether you are a Mac or Windows user. Click the choose video blue button to upload the video you wish to watermark either by importing the files from the device's storage, Dropbox, or use URLs
STEP2. After this, choose the image or logo you wish to add to your video and place it in a position that suits your taste.
STEP3. Finally, to download your watermarked video you'll have to click on Export.
Pros
VEED has a simple and understandable interface
No subscription is required using VEED
You're allowed to import files from Dropbox, paste URLs, and more
Cons
It requires an internet connection to function
It has Limited editing features
As you know nothing goes for nothing, you'll need to sign up first with your email before you're allowed to use the app
Biteable is another online software with a beautiful interface you can use to create watermarks for photos if you want to use an online watermark logo maker. This software also has built-in templates for Facebook posts, advertisements, Linked In, event promos, E-Commerce, software promos, announcement, and more. With these steps, you can convert an image to a watermark online but not for free.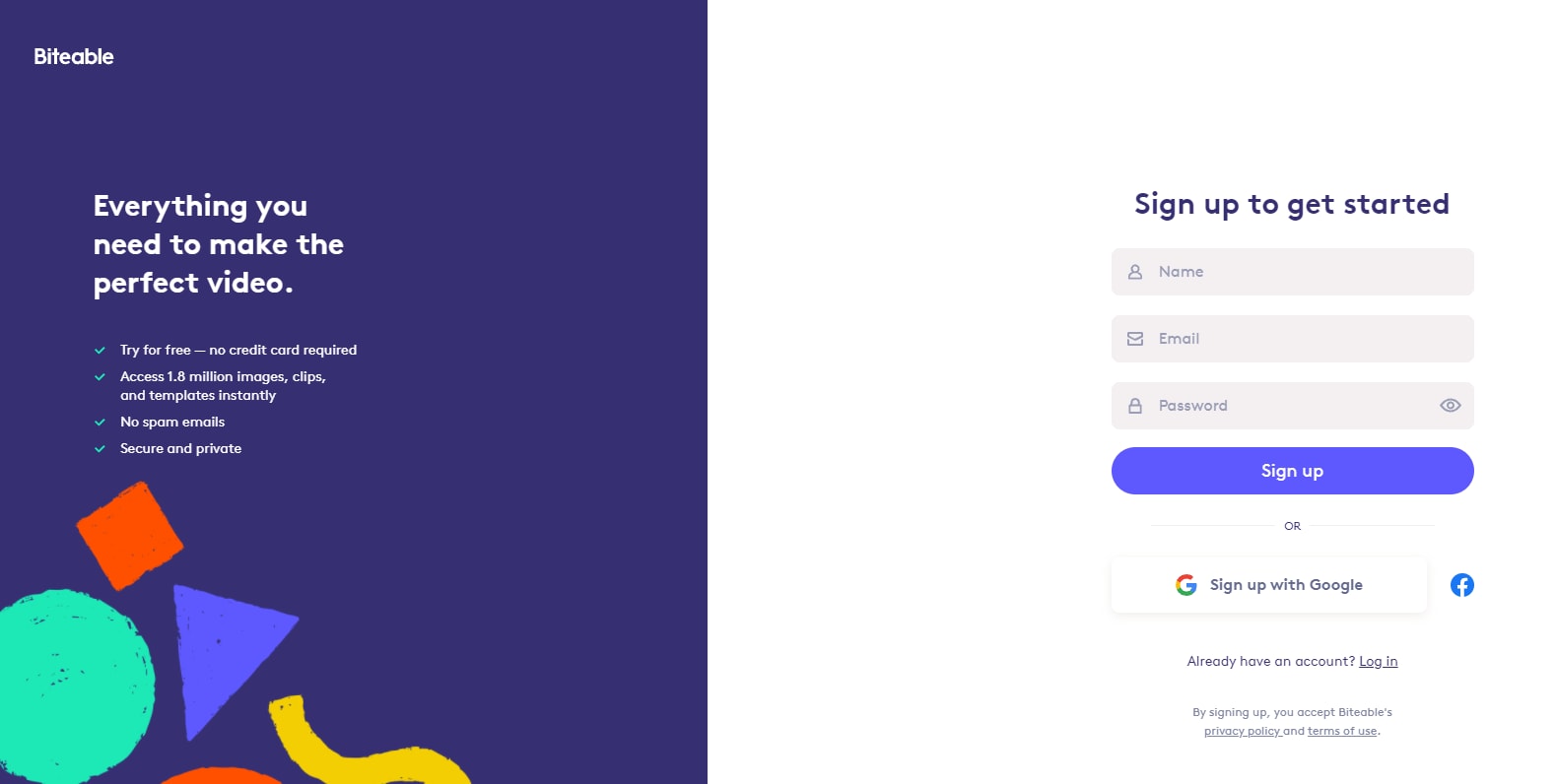 STEP1. Try to load the online watermark on a browser using your PC. After this login to biteable with your subscribed account if you wish to add a watermark logo to your photo or video.
STEP2. Biteable allows users to create their own video template from scratch using a blank slate by selecting Start with an empty video or better still, you can select an already designed template. Simply select AddScene> upload to import the video you wish to watermark. Once this is done, using Video Setting and enable custom watermark then click the + icon to select the logo.
STEP3. You can also adjust the watermark by changing the background shape or frame of the watermark, color, and scale. Immediately you're done kindly click Save.
Pros
Biteable is an easy to use and simple software with an understandable interface
Biteable users are opened to select templates of any category
You can use the software anywhere, anytime without installing it
Cons
You'll have a subscription before using it
You also have to sign up before you're given access to use the online software
It can't work without an Internet connection
FlexClip. Is an online video editor that gives you a chance to edit and protect your video by adding a watermark to it. Aside from that, the free online software offers a screen recorder, slideshow maker, watermark logo maker, movie maker, and more. If you wish to make your own watermark for free and want to know how to watermark videos, follow these steps below;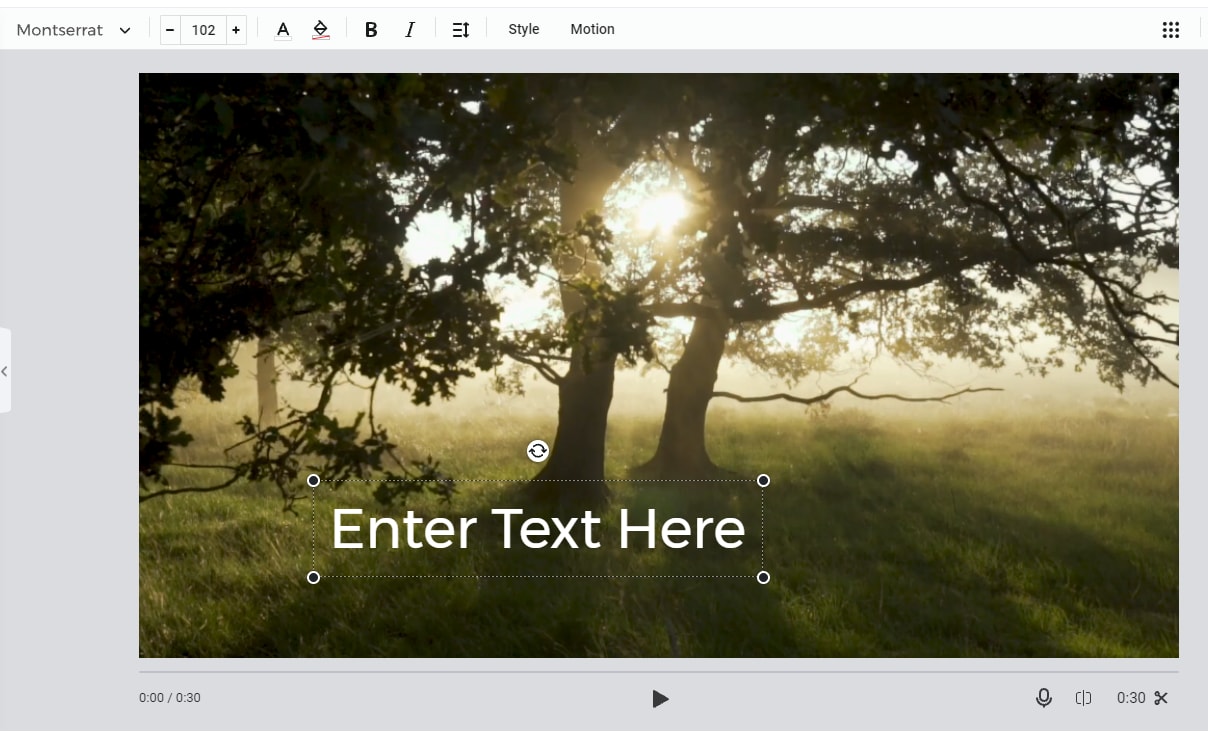 STEP1. Launch the online FlexClip on your Pc from a browser. Then upload the video you wish to watermark to the FlexClip interface by clicking on Media > Add a file( stock media, local file, recording, and more).
STEP2. After this, click the watermark tab, from there use the text or add an image as a watermark. You're also allowed to adjust parameters like font size, color, opacity, and more.
STEP3. Once you're done with all of this, all you need to do is preview your watermarked video and download it.
Pros
It has an easy-to-use interface.
It has intuitive editing features
It's 100% online so you don't need to download or install it
Cons
It also requires an Internet connection
Good quality is not assured
FAQs about Watermark Logo
How to design a watermark?
There are several watermark logo makers you can use to design a watermark and make a watermark for free. You can use software like BrandCrowd. BrandCrowd is a complete online software that allows users to create business logos, website logos, free logos, and more. You can follow these steps to guide you on how to make your own watermark logo.
STEP1. First of all, you load the online watermark logo maker on your browser. Afterward, just type in the texts for the logo.
STEP2. BrandCrowd automatically generates many logos, just select the one you like and adjust the necessary parameters and select the available formats
STEP3. Finally, Download and save your logo.
Is UniConverter free?
Yes, it has a free trial version. Although with the free trial mode you're limited to some editing features you're bagged with a complete media-editing toolbox if you can pay a little penny for a subscription plan.
How to Add/Remove watermark logo in Word Document
To add or remove the Word watermark, there are two useful methods: use Microsoft Word and utilize PDFelement. See how to add or clear the watermark on Word >>>