Add YouTube Video Watermark-UniConverter
Add image and text watermark to video with customized settings.
Adjust the position of watermark with ease.
Add watermark to multiple video files.
Convert and edit video after adding watermarks.
Additional features include video download, recording, compression, and others.
YouTube is one of the largest and biggest social media. If you're a YouTuber, whether a video blogger, musician, skit maker, instructor, and more, you have every reason and right to protect your content with a YouTube video watermark, as there fraudulent individuals ready to pirate, claim ownership over content that's not their's, and even share your streaming earnings with you. Without taking your heart on trips, all you need to protect your content's copyright is to know how to make a watermark for your YouTube channel using an intuitive watermark maker. Once you do this, one thing is assured – you have complete ownership over your content. If you're eager to know how to protect your YouTube video by adding a watermark to it, then give this article a way to your heart to guide you on how you can use a youtube watermark maker to reach your goal.
Part 1. How to Make a Watermark for YouTube Using YouTube?
YouTube has built-in youtube watermark maker. As branding is important, YouTube itself can help you add a video watermark for your YouTube content letting you gain more subscribers. Just in case you wish to know how to add watermark to YouTube videos, here are real steps you can follow to make everything right in your place:
STEP1
whether you're a Mac, Windows, GNU, or Linux user, Launch the Youtube app on your PC. Once YouTube is opened, Go straight to your account and click on Youtube studio, then straight down to Customization at the left side of the YouTube's interface.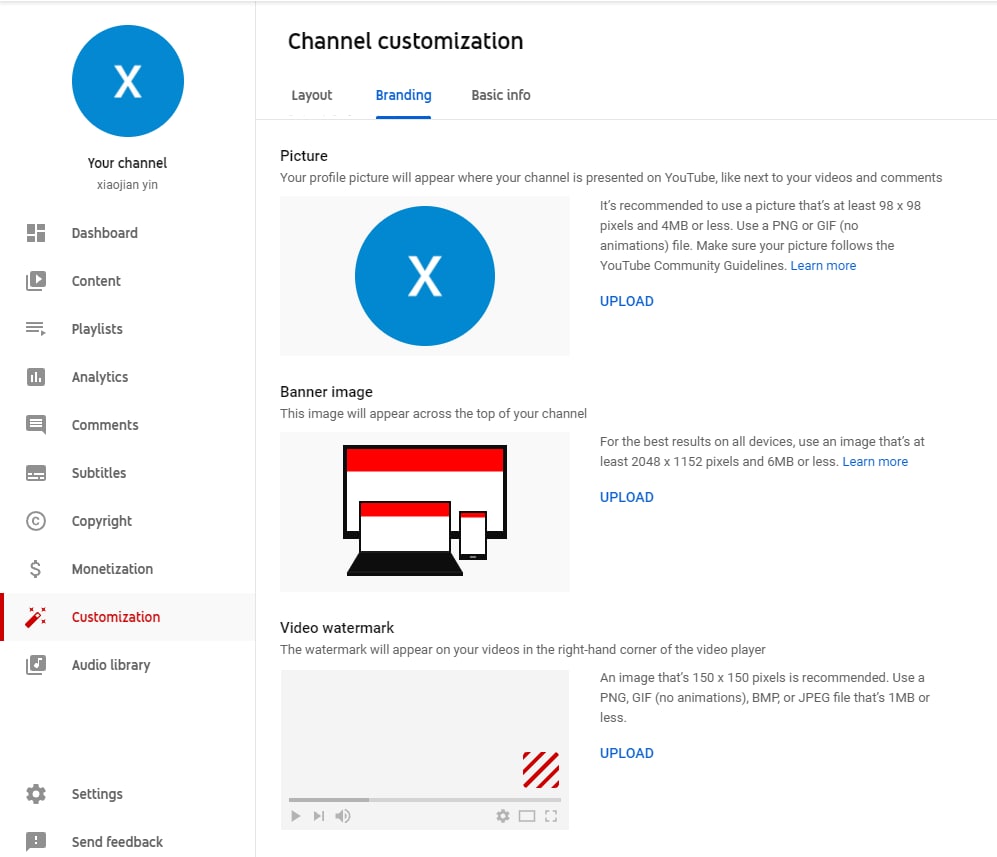 STEP2
There are three menu on the top of the channel customization. For making YouTube video watermark, immediately click on the Branding menu.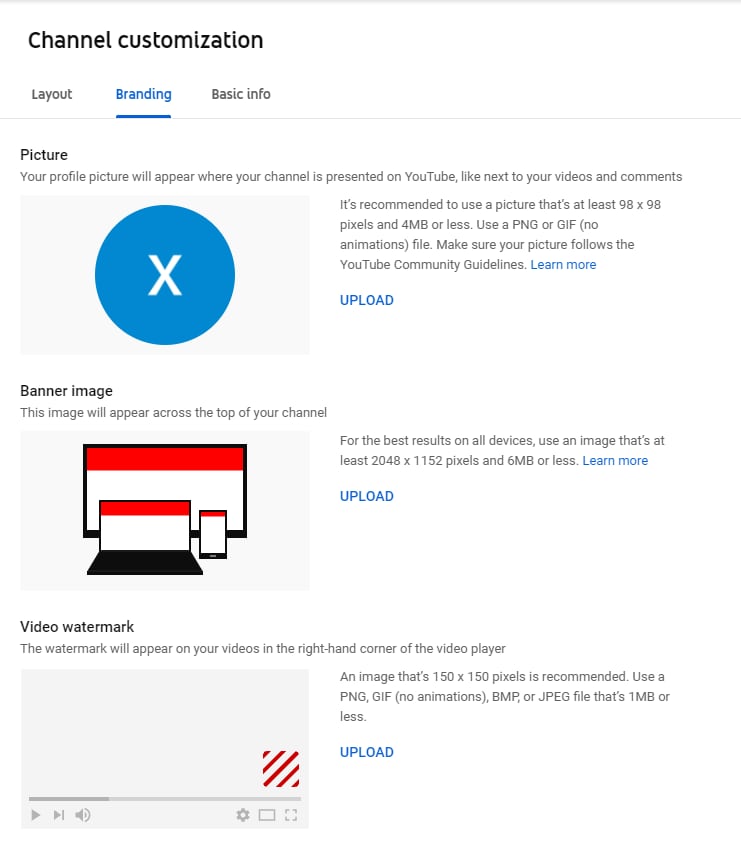 STEP3
After selecting branding, choose the video watermark section, you can now import the image you wish to add to the YouTube watermark template for videos, or if you have a custom logo or watermark for your YouTube channel you can kindly click on CHANGE. After adding the video watermark for your YouTube channel, you can also set the display time of the watermark by using any of these three options ( End of video, Custom Start time, or Entire video).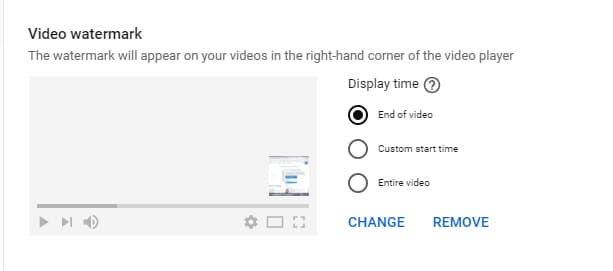 Once you're done with the entire setup click the Publish button at the top right corner to save and exit.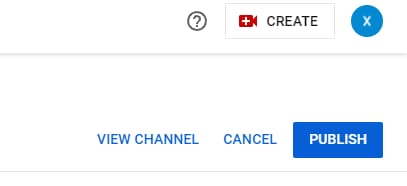 Pros
It takes little time to upload YouTube video watermark
The watermark you added can be applied to all your YouTube videos
You can customize when the watermark is displayed on your videos
Cons
The location watermark appears is fixed at the right lower corner
It has limited editing features and requires steep learning for inexperienced users when it comes to adding a newly created watermark to a channel.
You can not adjust the size of the watermark
Part 2. How to Make a Watermark for YouTube with UniConverter!
Even as youtube is well recognized among the biggest media brands, since it has limitations when it comes to editing youtube videos for a better output to attract more subscribers to YouTube channels, it still needs the help of an all-in-one intuitive software. That's why we've decided to introduce an offline software where you can edit, crop, trim, add subtitles, create watermarks for YouTube videos, and more, anywhere, anytime – the UniConverter 13. With the UniConverter 13, you can add and remove watermark from videos and do other editings with no restrictions.
Wondershare UniConverter 13 - Best Video Converter for Mac/Windows
5,481,435 people have downloaded it.
UniConverter supports many formats and handles conversion equally, ensuring that high quality is delisered at all times.
During the conversion process, you may add multiple files since the program does batch conversion of files.
You can use the editing suite that covers subtitle editing, watermark editing, etc to make your results creative masterpieces.
This software facilitates file transfer to devices like Android and iPhone among others once the conversion is complete.
UniConverter is also capable of handling video compression hence ensures you acquire the video sizes you desire.
We know not everyone is interested in every app they come across, but for those who are ready to make their brands soar high and make more income, you can follow these steps on how to make a watermark for your youtube channel: 
STEP1
Launch the UniConverter 13 on your PC if you have it. Just in case you don't have it, you can simply download and install it. After Launching, from the displayed interface select Video Editor > then click the Watermark icon you'll see.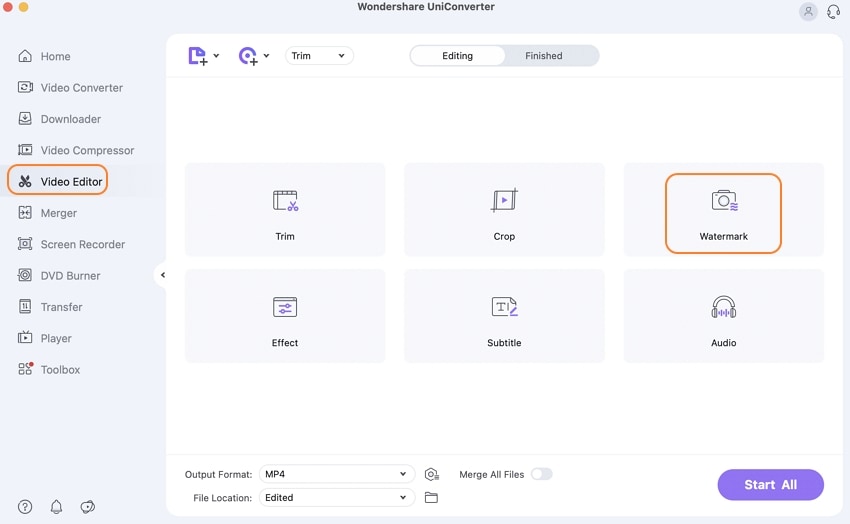 STEP2
Once you open the watermark icon, an editing window pops up. The watermark tab you'll see at the top of the appeared video thumbnail will display add watermark options like (image type, folder icon to import your watermark, text type,three text boxes where you can input the texts you wish to use as watermark, T icon to set the text size, text fonts, and color, transparency adjustable slide to set the watermark opacity). If you've set all your parameters click OK.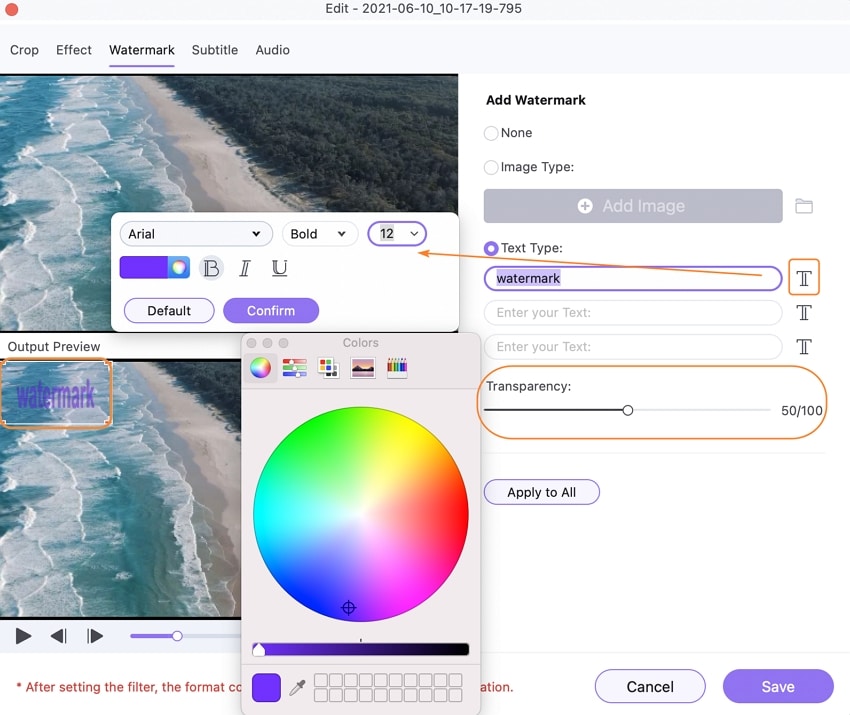 STEP3

Now select an output that'll be suitable for your YouTube video by clicking the output format dropdown option button located at the bottom left of the editor's interface. Then select Video > choose the desired output format and When you're done, click the Start All Button to begin the conversion process.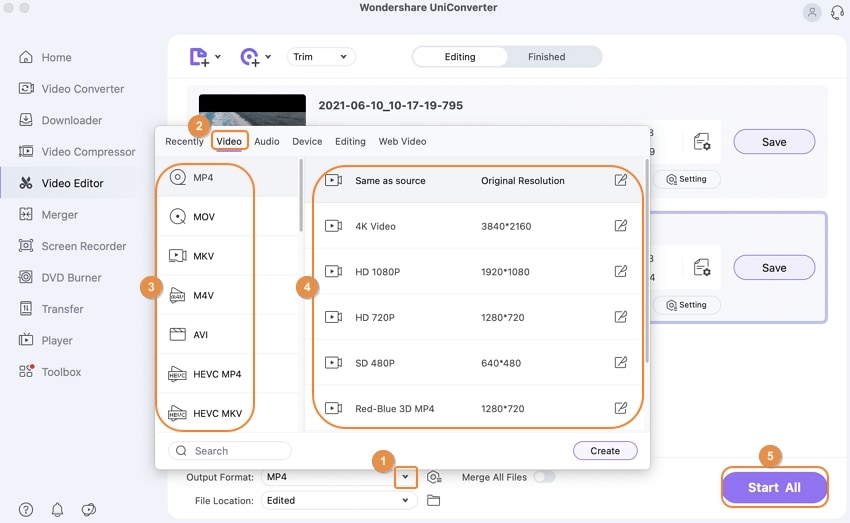 Pros
The UniConverter 13 has a simple and understandable user interface anybody can easily use
The watermark editor allows you to cumstomize the position of watermaek
Dynamic watermark adding is available
You can batch watermark videos
Cons
The how to make a watermark for youtubemaker is not free. You'll have to be on a subscription plan to access its features
It doesn't support devices like android, iPhone, and other mobile phone operating systems
Part 3. How to Make a Watermark for YouTube Using Kapwing?
If you don't want to download any software, you can use Kapwing. Kapwing is an online video editing software with amazing editing tools like an editing studio where users are allowed to add texts, resize, add effects, add audio files or recordings, create memes, make gifs, and more. Kapwing also gives you a chance to use its subtitle adder, video converter, and other beautiful features in its possession. Using Kapwing, there are few steps to guide you on how to add watermark to youtube video. Just in case you wish to proceed, follow the guidance of this article.
STEP1
If you wish to create for YouTube Load the online browser-based kapwing on your mac or windows PC. Once the kapwing opens, sign in if you have an account. After that you can click on Menu > select Media icon you'll find at the left side of the displayed interface to add the video you want to watermark.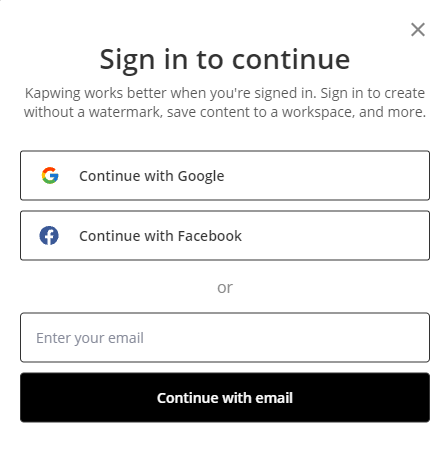 STEP2
Once you have selected the video, you add the watermark logo you want by clicking media if you have it on your device storage or use the Text icon at the left side of the interface to add text watermark. Just in case you wish to use a sticker as watermark logo, at the left side of displayed window, click on Element to add the sticker.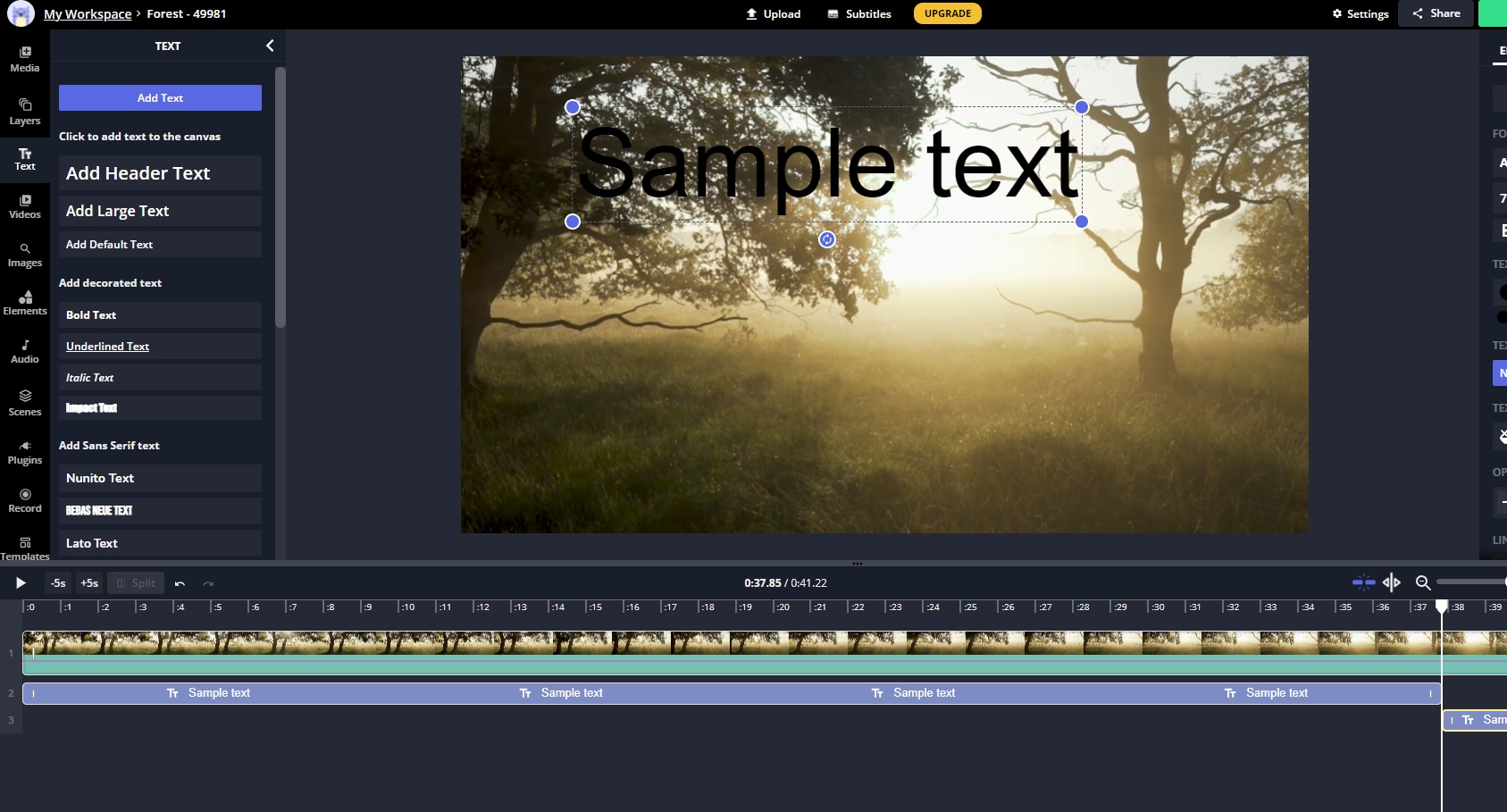 STEP3
If you've added the watermark logo as desired, the next step to take is to click on Export at the top right corner of the software's window to save your work.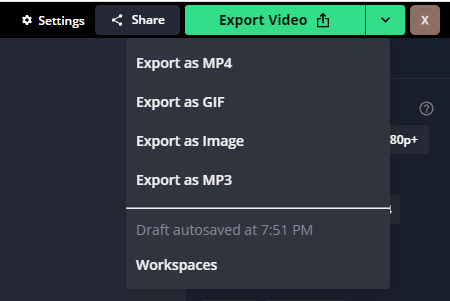 Note: After downloading the edited watermarked video for your YouTube channel, open YouTube from your computer and ensure you're signed in. Go to your camcorder icon located at the top right corner of YouTube's interface then click on it and select the Upload option to add your video. Once you've added the video, add the title and description of the video and Upload it.
Pros
Kapwing – as an online video editing software that it is, has a simple and direct user interface
Kapwing supports multiple languages which makes it easily accessible to people around the globe
It has already made templates that makes it easy if you're not chanced to create a new YouTube watermark
Cons
Editing doesn't save automatically – if you're editing and your connection goes off, then all your work disappears
No undo features when editing – Kapwing isn't considerate enough to give its users a second chance when a mistake is made and they wish to correct it
Kapwing shows no indication to tell the progress of your watermark editing work
Q&A:
How to Convert YouTube to GIF with No Watermark?
There are several ways, but If you're in search of how to convert YouTube videos to gif with no watermark on them with an easy-to-use software that can deliver the best output quality, then click the underlined colored texts.
Are there any free YouTube intro makers with no watermark?
Yes, there are several youtube intro makers you can use for free online without any watermark just to make your YouTube videos and channel more recognized whenever people watch your videos. You can use YouTube intro makers that are free with no watermark like invideo.io, Canva, Envato, and many more.