Remove Watermark From Video-UniConverter
Remove/Add watermark with customized settings.
Locate the position of watermarks with ease.
Add watermark to multiple video files.
Convert and edit the video after removing watermarks.
Additional features include video download, recording, compression, and others.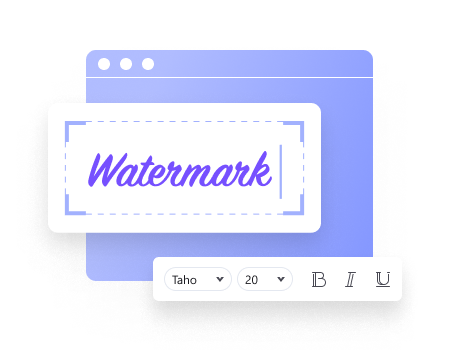 Quote: What is the way to remove a watermark from a video?
I know we're all sitting patiently waiting for the perfect moment to throw our shots at the question that tends to bother our minds – What is the way to remove watermark from videos? Reasons bring reasoning, that's why whenever we're faced with a problem we relentlessly hunt and search for the possible and best way to fix them, just as when we watch a music video, skit, movie or other video clips with an embedded watermark or logo on it and we plan to search the guide on how to get rid of watermarks on videos using the best watermark remover app, possibly to have a complete and clearer view of the video, read and understand the subtitle on the video just in case the watermark is obstructing you from having a good sight of it. Keep your worries down on how to remove a watermark from a video because this article will supply all of your basic needs. Although some people tend to search for watermark remover software to pirate and breach other people's copyright which is an illegal act punishable under the law.
Part 1. Easy Guide to Erase Watermark with the Recommended Watermark Remover Apps
The Uniconverter 13 is a fully-packed online and offline software with multiple supported audio/video formats that brings the best out of the box when it comes to audio/video editing, compressing, converting, downloading, merging, using a media player, screen recorder, DVD burner, watermark remover, and adder, subtitler, and many more. Neglecting the fact you're only searching for a watermark remover, the intuitive software allows users to enjoy features like GIF maker, photo editor, and more.
Wondershare UniConverter 13 - Best Video Converter for Mac/Windows
5,481,435 people have downloaded it.
UniConverter supports many formats and handles conversion equally, ensuring that high quality is delisered at all times.
During the conversion process, you may add multiple files since the program does batch conversion of files.
You can use the editing suite that covers subtitle editing, watermark editing, etc to make your results creative masterpieces.
This software facilitates file transfer to devices like Android and iPhone among others once the conversion is complete.
UniConverter is also capable of handling video compression hence ensures you acquire the video sizes you desire.
If you find Uniconverter 13 interesting, and you wish to know how to remove watermark from a video, then let the following steps guide you:
STEP 1

Download and install the Uniconverter 13 if you'd like to go with the offline version. Launch the Uniconverter 13. Once it opens, at the left side of the display interface, click on toolbox, then select watermark editor.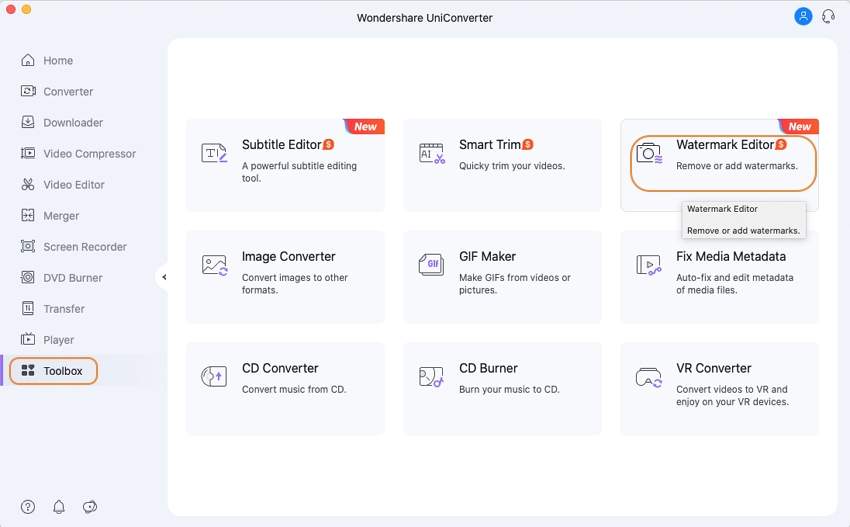 STEP2
On the watermark editor's interface, click on the Add Files icon or the dropdown option to load the video you wish to remove the watermark. Once this is done, kindly highlight the part where the watermark is located on the video by holding the left mouse button to select the watermark.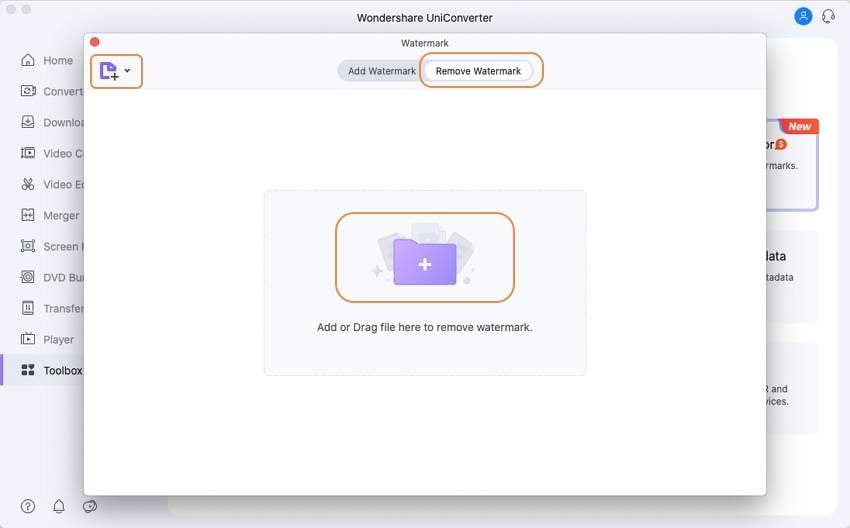 STEP3

After highlighting and selecting the watermark as desired, just click on the Remove Watermark button the complete the removal process.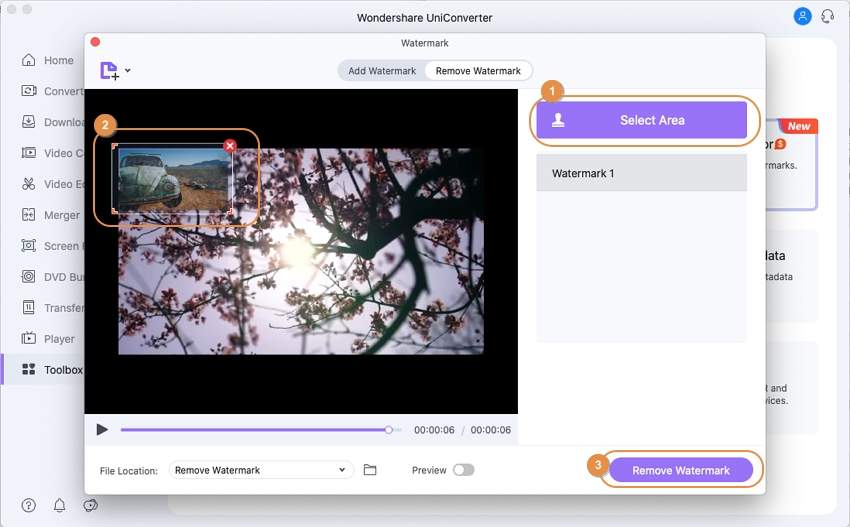 Price: Uniconverter 13 offers $2.99 monthly and $39.99 annually
Hitpaw is another amazing watermark remover software with a very beautiful and colorful interface that permits users to remove unwanted watermarks from videos whether it's a Tiktok video, Instagram reels, movie, music video, and more. The features of this watermark remover app are not limited to just eliminating watermarks or logos from video only. You're also allowed to remove unwanted objects from images too.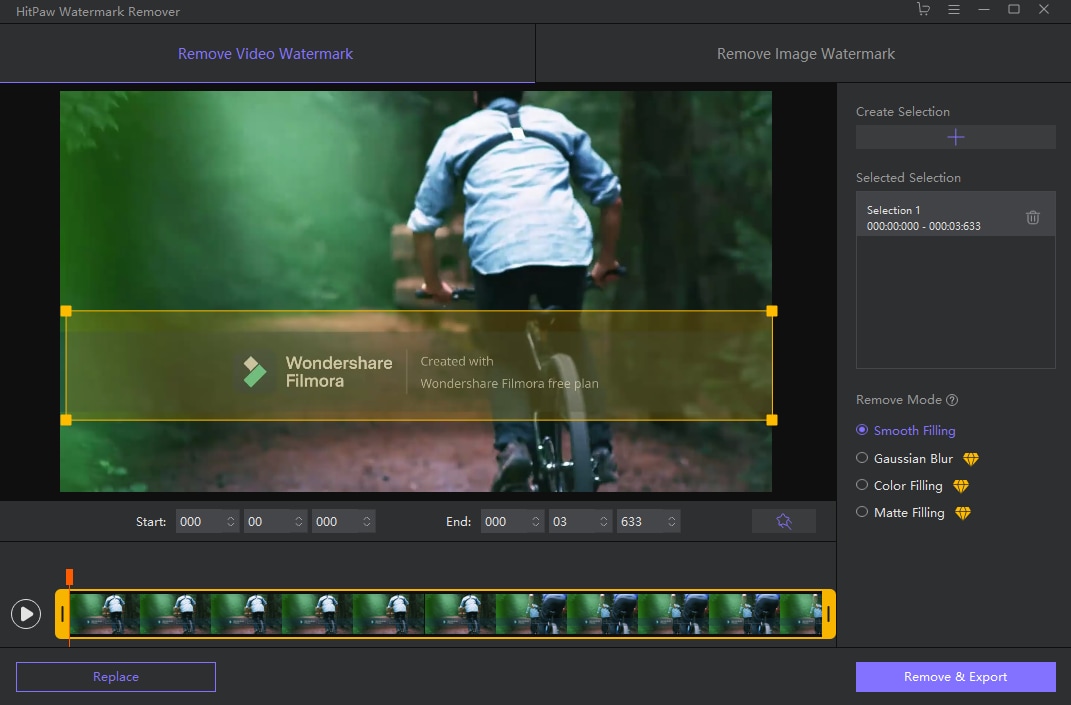 Price: HitPaw offers three subscription packages – $39.99 monthly, $59.99 quarter, and $89.99 annually
Pros
With HitPaw users are never restricted when it comes to editing and removing watermarks from videos of different formats
The watermark remover app permits you as a user to add voice recordings or music to a video.
It plays the role of a video converter.
Cons
HitPaw's online version has limited features
It only supports mac Windows and no other type of operating system
The subscription plan only supports one user I.e only one PC
iMyFone Mark Go is a watermark remover app that permits a user to add and remove a watermark from a video, remove ads, export the converted video, and more. Aside from all these, the watermark removal software allows you to update the software as the updating is automated with free customer support at your disposal.
Price: iMyFone Mark Go offers $29.95 monthly, $49.95 annually, and $69.95 Lifetime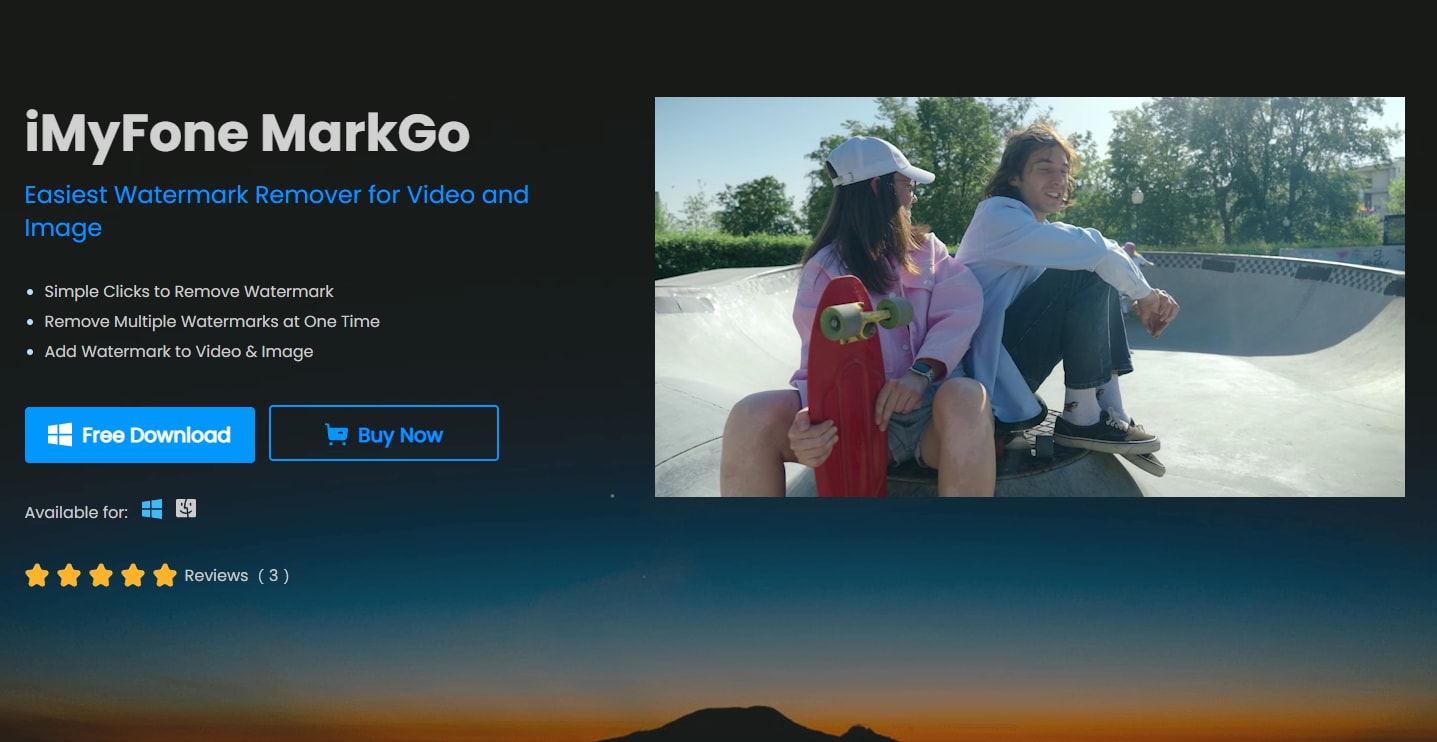 Pros
The app is very easy and simple to use
Users are opened to a committed customer service
It supports multiple removals of watermark
Cons
It is only available for Windows PCs
Limited features when you're on trial mode
The subscription plans are quite expensive
Part 2. Good Video Watermark Remover Online
Apowersoft online watermark remover is an online software that allows users to eliminate images or unwanted logos from a video with no stress. Although the online watermark remover also has an offline version that also permits you to do the same. With Apowersoft, you can get rid of watermarks from a video, all you need to do is follow the instructions below to guide you;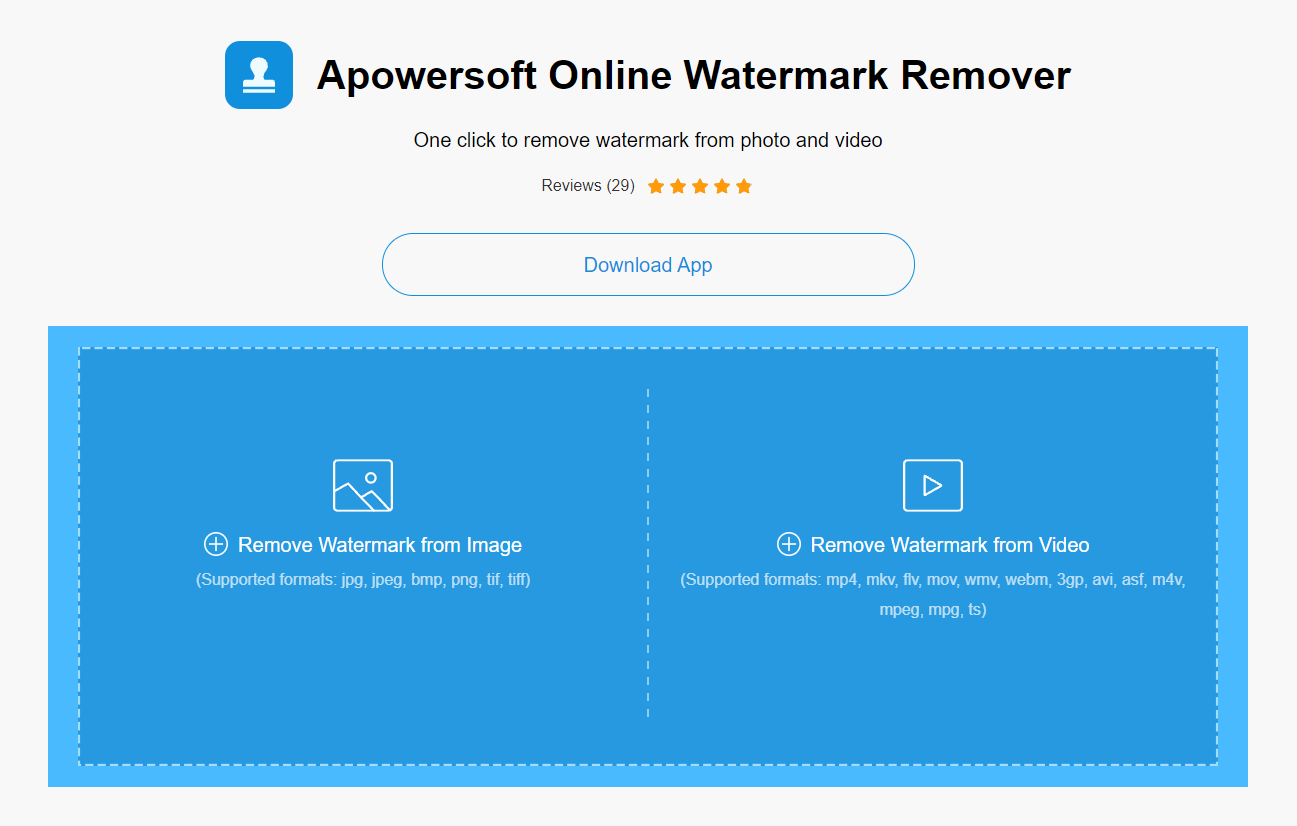 STEP 1 Run the browser-based Apowersoft watermark remover from the browser on your PC. Once it launches, click on the Remove Watermark From the Video box display to upload your video if it's in any of these formats: mp4, Mkv, Flv, MOV, WMV, WebM, 3gp, Avi, asf, m4v, MPEG, mpg, and ts.
STEP2 Once you have uploaded the video to the online watermark remover, highlight and select the watermark you'd like to erase from the video.
STEP3 After this, click Erase to eliminate the watermark from the video. Once the process is completed, you can view and download the output of your conversion.
Pros
The software is simple and easy to use to remove watermarks online
It is accessible anytime and anywhere
You don't have to go through the stress of downloading and installing any software since it's online and allows you to remove watermark from video for free
Cons
The highlighted part where the watermark is eliminated usually turns out to be a blur after the conversion.
Without an internet connection, there is no room for any removal of a watermark from a video
The Video Watermark Remover Online is just like any other online watermark remover you know. This software is a desktop-based app you can access anytime and anywhere without having to download or install the app on your PC. If you'd like to remove a watermark from a video online for free, follow the guideline below;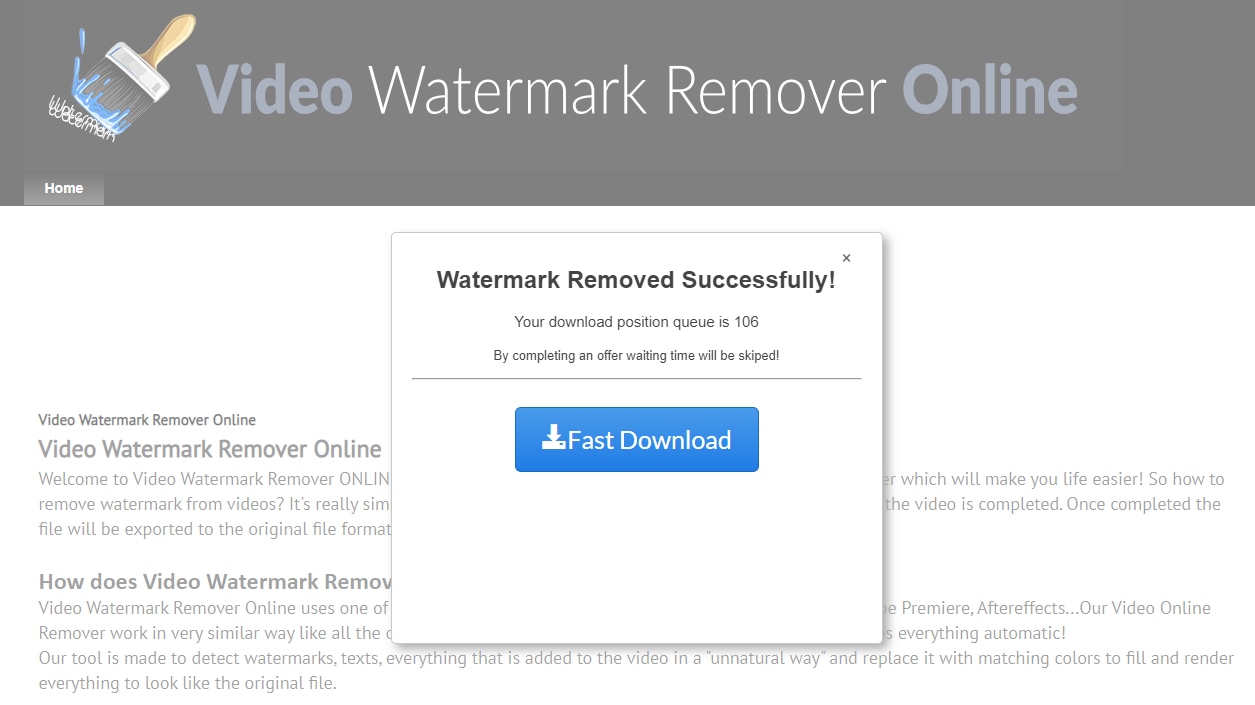 STEP 1 Run the online watermark software from the browser on your PC and click the blue uploading box you'll see after running the online to import the video you wish to remove the watermark from or simply drag and drop the video into the blue uploading box.
STEP 2 Once the video is uploaded to the online watermark remover app, click on the Remove watermark button that appears below the table carrying all the necessary information about the uploaded video.
STEP 3 Once the above process is done, a download option appears. Click on download to save the new video.
Pros
It requires no steep learning for inexperienced users
It has an easy video uploading interface
Eliminates watermark from a video in no time
Cons
It needs a good internet connection to function as expected
The free version only offers A 5-time trial and the subscription plan is quite expensive
Just in case you have an encounter with an issue when trying to use another online watermark remover, then you can try Video Watermark Remover to remove the watermark from the video. Video Watermark Remover is also an easy-to-use online software that allows you as a user to eliminate watermarks from a video at a click. If you decide to proceed with the Video watermark remover, here are steps to guide your path on your removal journey.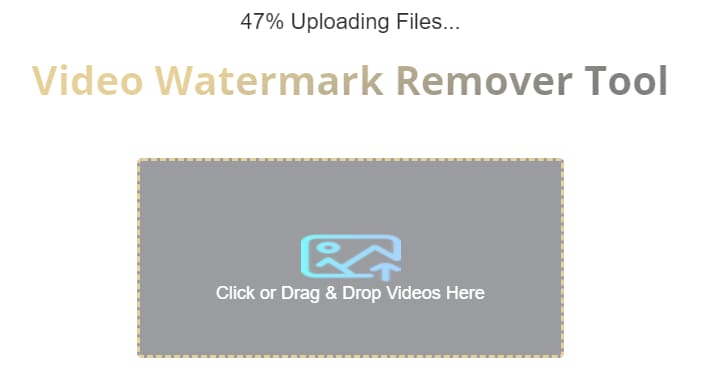 STEP 1 Open the Video watermark remover using any browser available on PC whether you're a mac, windows, or Linux PC user. Upload the video you wish to remove the watermark from by clicking the uploading option or using the simple drag and drop method.
STEP 2 Once you've uploaded the video you want to remove the watermark from, click on the Remove Watermark button you'll find below a table that displays the information of the uploaded video.
STEP 3 Once the watermark is removed, just simply click download the get your video
Pros
The software is a was-to-use type
Video watermark remover support batch processing for watermark and multiple videos
It supports almost all the video formats you know
Cons
After removing the watermark and want to download the new video, Video Watermark remover will engage you in an online survey which might be difficult
The software has no editing tool
Video Watermark Remover can't be recommended for professional use
Conclusion
You know we've discussed how to get rid of watermark on a video, and now you have a list of several watermark removers at your disposal, all you need to do is select a watermark remover that is best and favorable for you – an online/offline watermark remover like the Uniconverter 13 that offers exclusive and updated editing features that include a cutter or trimmer, converter, downloader, compressor, media player, screen recorder, gif maker, DVD burner, video editor, and more, with over 800+ supported formats. With all of the all-in-one features, the Unicoverter 13 is best at your recommendation.