game screen recorder for Windows-UniConverter
Show a gaming session, make tutorial video with customized settings.
Record screen, audio and webcam simultaneously.
Help you record a screen while working on another screen.
Useful record timer to help you set the start and stop time.
Convert, compress, and edit the recorded videos.
Recording game session is good for many reasons. People do it to show their friends how to pass certain stages; called walkthroughs, people record screens on Windows to show others how to play a game, the features of the game, the good and the bad parts, and most important, the game mechanics, we? We do it just for fun. Recording your gameplay session can allow you to play back and see how you fared against an opponent. Re-watching a Call of Duty or PUBG match will let you know how you move and how your opponent took you down, how careless you are, the wrong choices you made, and in the process, you can improve your quick thinking, decision-making, and figure out ways to get out of tight-spots. For games like Mobile Legends, you can use a Windows game recorder to record and watch it later to improve your tactics and teamwork.
Here, we have a list of windows 10 game recorder that serves as a good game recorder on Windows.
Part 1. Game Bar: Built-in game screen recorder windows Software on Windows
Windows Game Bar recording software is one of the improvements and updates to the windows system. Windows 10 users don't have to download third-party software for screen recording. Game Bar has it all covered. The Game Bar can function on any screen, and it doesn't need to be opened as an app. With dedicated shortcut keys, you can call up your Game Bar even when in the middle of a game. You don't have to minimize the app or keep it running before launching your game. You can start anywhere and stop whenever. The amazing 'Record now' function also allows you to make a short 30 seconds clip while recording i.e., it breaks the screen recording into 30 seconds.
How to Use Windows Game Bar Recording
Step 1

Call up the Game Bar - Windows Screen Recorder with Audio

Press Win + G to open the Game Bar. Other shortcut keys will make it start recording automatically but let's take it to step by step. If the window you have on your screen is not a game, Game Bar will ask to confirm if you want it to register as a game so that next time it won't ask for a prompt, but if the window is a game, you will see the Game Bar pop up on the screen. Remember to open the Xbox Game Bar from the gaming menu on the Windows's Settings.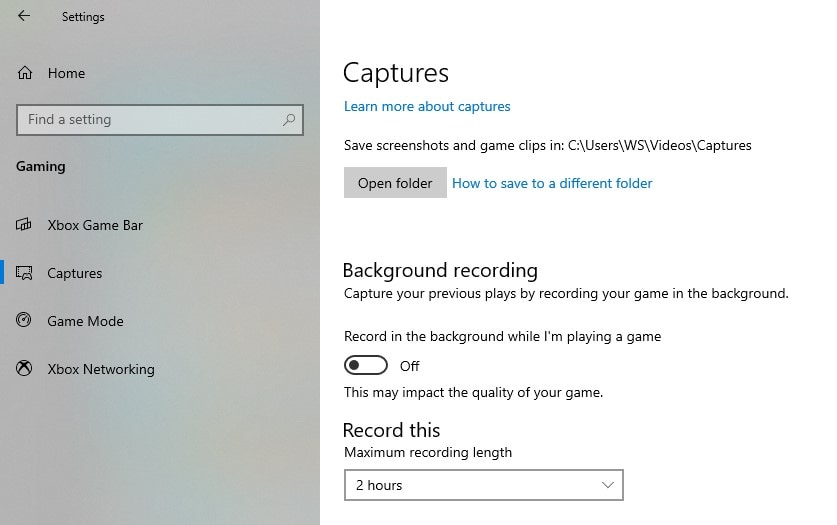 Step 2

Click on 'Record that' or 'Record'

Now you can choose to Screenshot, Record that, Record, or Broadcast. The screenshot allows you to save a picture of your screen while recording that, and the record will save the video. The difference between both is that record that will cut your video into 30 seconds will save normally. Either way, both can record screen and audio on Windows 10 easily.

Alternatively, you can use Win + Alt + G for Record and Win + Alt + R Record.

Another function of the Game Bar is that the broadcast function can be activated with the Win + Alt + B shortcut. It enables you to live-stream your Windows screen.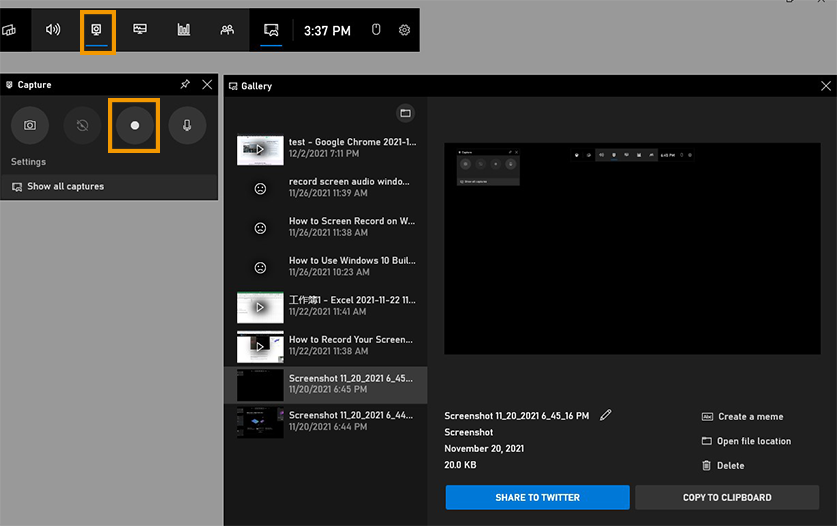 Step 3

Stop Recording and locate the video

To stop recording, you bring up the game bar again with the respective shortcut and click on the button used to start the recording. Alternatively, you can use the same shortcut for beginning to stop recording. Your recorded videos will be saved under the Video tab in File Explorer. Check for the 'Captures' folder and locate your recorded video.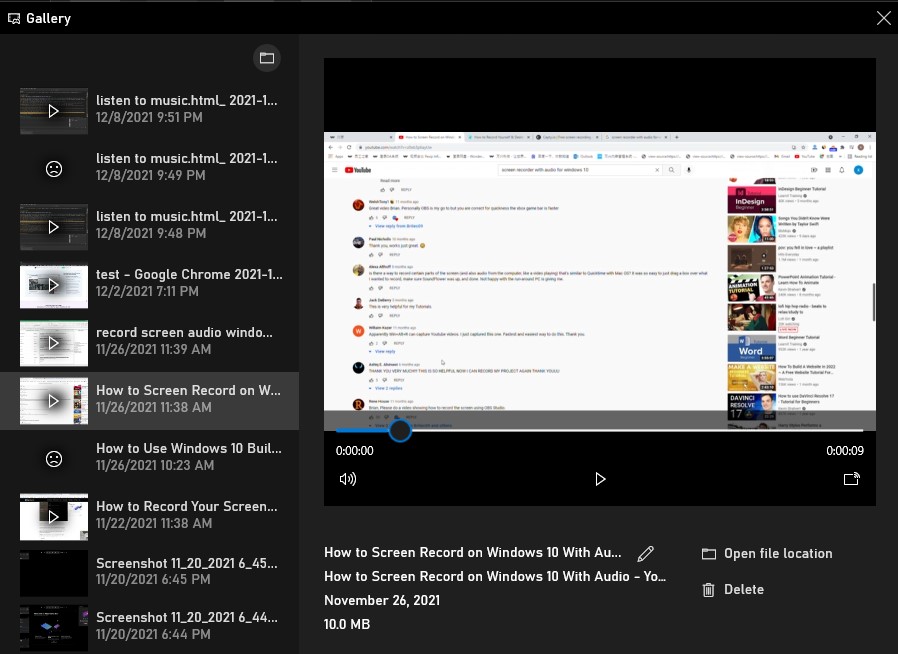 Pros
The 'Record now' function makes a 30 seconds clip with the video recording.
Cons
It can only record one window
It drains the battery excessively when used in an unplugged laptop
It requires a high-performance system
Part 2. 8 Advanced Game Recorder Software on Windows 10
Price: $39.99/year, $59.99/2-year plan, $79.99/one-time
Uniconverter is an all-in-one multipurpose tool for video making and editing. It has a wide range of tools that almost seem limitless. Entering the app for the first time is sure to wow you. It has functions like converting and supporting over 1000 formats, including web formats YouTube which correct. It converts your video to a format that conforms to YouTube standards and device format, etc. It also has compression, reducing the video size to about 70% of its original size without quality loss. It also has video editing features to crop, edit, and add effect to video. Screen recording is also part of the functions of Uniconverter. It can record screen, Webcam, and sound. Using screen recording, you can utilize all three recorders at once. Uniconverter can use the picture-in-picture feature, and it supports internal and external mic.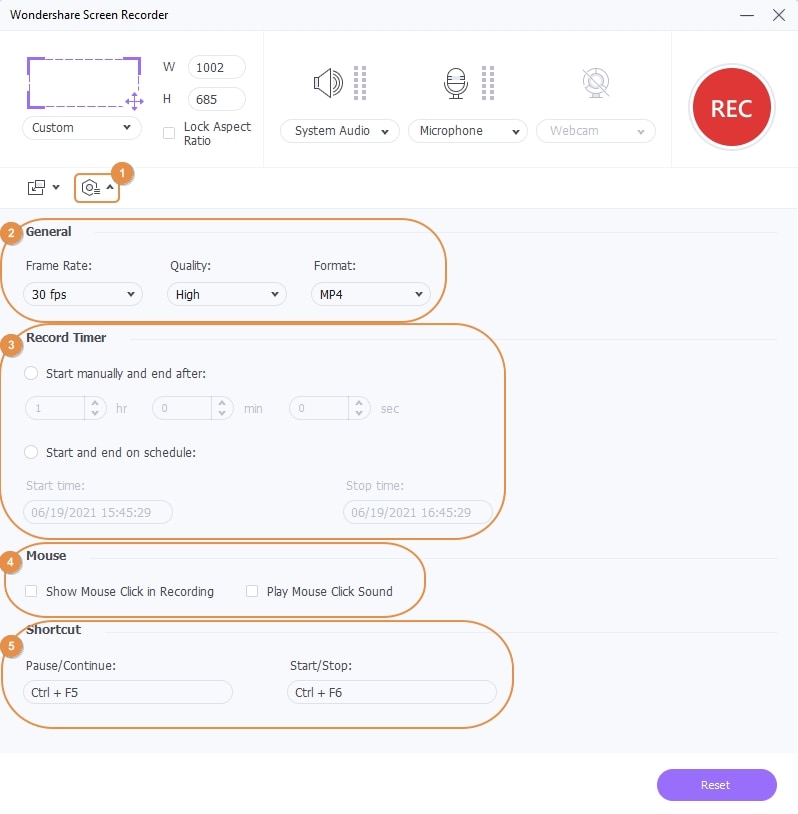 Picture-in-picture feature.

Record screen, webcam, and audio simultaneously.

You can record one screen while operating on another screen.
It has a built-in record timer.

It supports various output formats.
Limitations
It is not yet available on Linux
Wondershare UniConverter 13 - A Complete Meida Toolbox
5,481,435 people have downloaded it.
UniConverter supports many formats and handles conversion equally, ensuring that high quality is delisered at all times.
During the conversion process, you may add multiple files since the program does batch conversion of files.
You can use the editing suite that covers subtitle editing, watermark editing, etc to make your results creative masterpieces.
This software facilitates file transfer to devices like Android and iPhone among others once the conversion is complete.
UniConverter is also capable of handling video compression hence ensures you acquire the video sizes you desire.
Price: Free
Bandicam is worth being one of the best screen recorders for gaming. It has all the cool features and more. Additionally, it is lightweight and free, so low-end PC users will have no problem using Bandicam for Windows game recorder. It is only compatible with PC, but it has more than make up for this. Bandicam records high-quality videos and still keeps the size within a manageable range, which is rare for most recorders. The rule is that the higher the quality, the larger the size of the video, but Bandicam nerfs that rule. Other cool functions of Bandicam include schedule recording, which allows you to time the start and end of your recording, nice mouse effects, annotation in real-time, and so on. Try it out to see its other features yourself.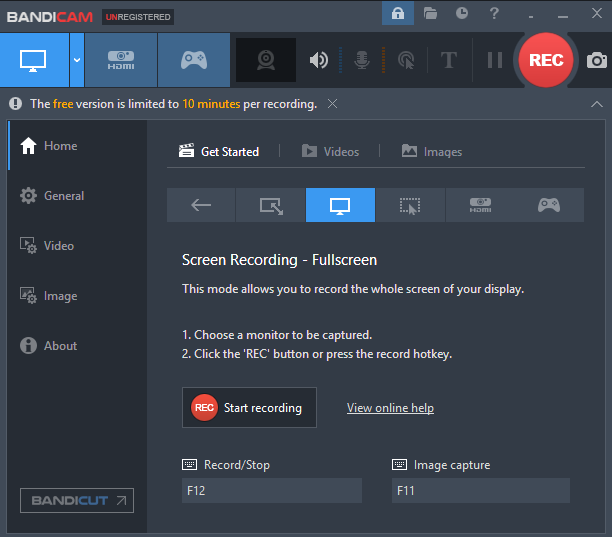 HD recording

Schedule recording
Video and Mouse effects

Real-time editing (Annotation)
Limitations
Only compatible with Windows
Price: Free
The 'complete' game recorder for windows or at least one of them, OBS is a freeware, meaning it is free, you don't have to pay to use this amazing app and all of its features what's more? This amazing screen recorder is available on Windows, Mac, and Linux. So far, there isn't a known limit for how long this software records, but it can keep on going and going as long as you have enough space on your storage device. Features that make the app worth trying include simultaneous recording of PC screen and Webcam, cool audio system with noise reduction functions that eliminates ambient sounds like PC vibration and occasional air whooshing sounds, highly customizable shortcut keys, and ability to set and select the video resolution and quality. Despite all these advanced functions, OBS still has a simple-to-navigate interface.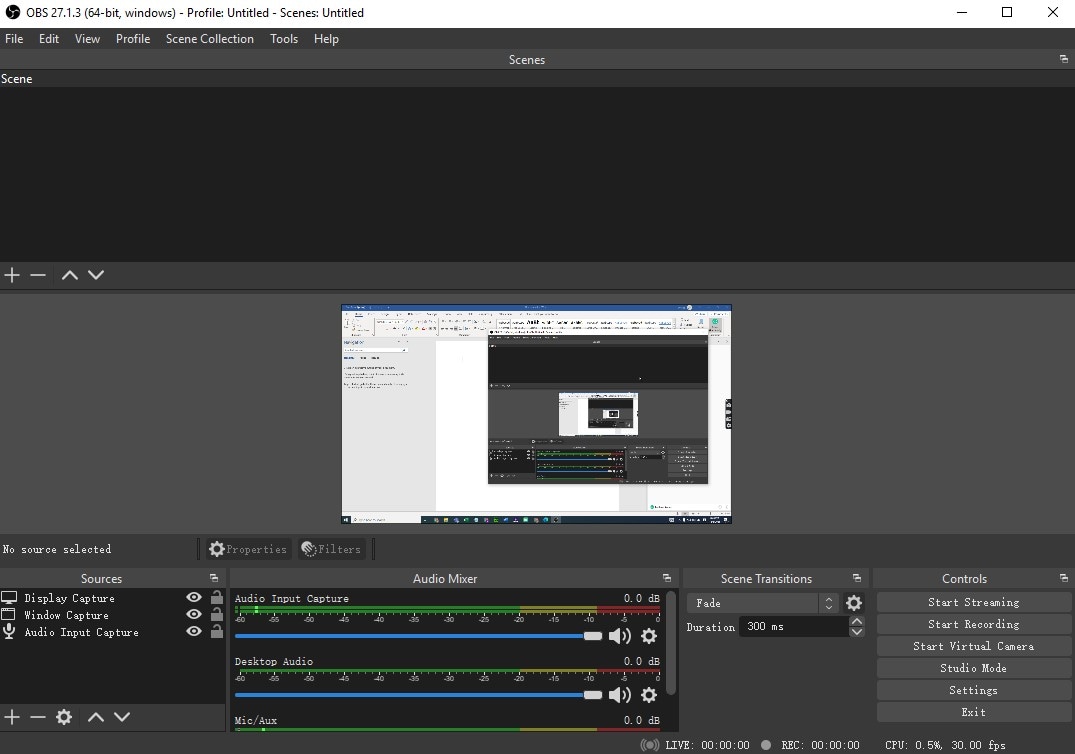 Simultaneous recording

Long-term recording

Noise reduction
Customization of shortcut keys

Multiple video formats and resolution
Limitations
It can freeze on a low-end PC
Price:$249.99
Camtasia is a software popularly known to be one of the best windows game recorders. Only little of the many game recorder for Windows could ever come close to what Camtasia is capable of. It is the perfect tool for tutors to create tutorial videos, for business people to make a sales presentation, for lecturers and teachers to make learning more fun and interesting to the learner. It is easy and quick to master, and with its large collection of presets, you don't need to be a professional before perfectly creating a video. You can spend hours creating your template then save it so you can use it subsequently, or you can enter one of the collections of Camtasia and get your desired templates. There are music, backgrounds, themes, shortcuts that you can utilize to make your video editing even more amazing.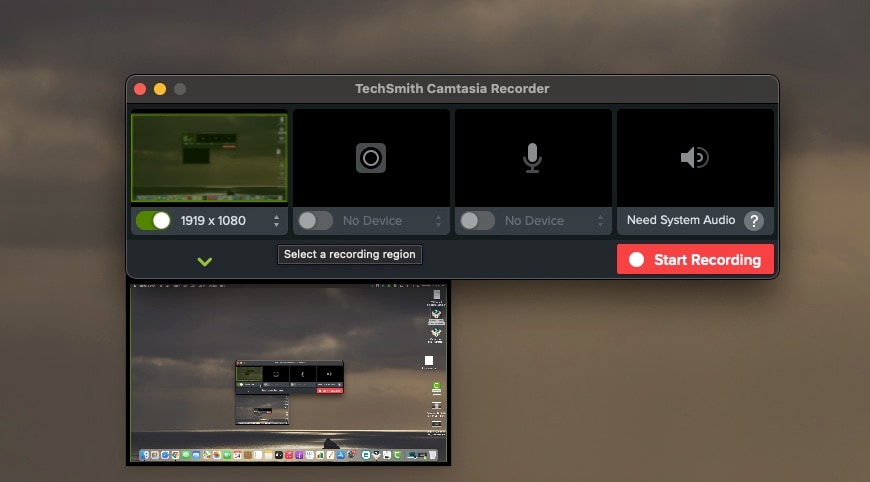 High-quality screen recording

Presets packages

Editing features
Create your template

Simultaneous recording
Limitations
It does not function well when dealing with large file.
Pricing: $19/year, $49/lifetime; including future updates
Another tool specialized in screen recording is this one even more based on the game recording. It has all the main functions that a good game screen recorder windows should have, and it doesn't fail to deliver. It works almost as an extension of the game. It works in the background and can be activated using a series of shortcuts. It is built to handle most games, desktop or online, and can work seamlessly between all types of games. It has some uncommon but unique functions like adding a caption to your video, making a gif from recorded video, adding a slow-motion effect to your video, etc. In essence, it is a recorder specially made for gamers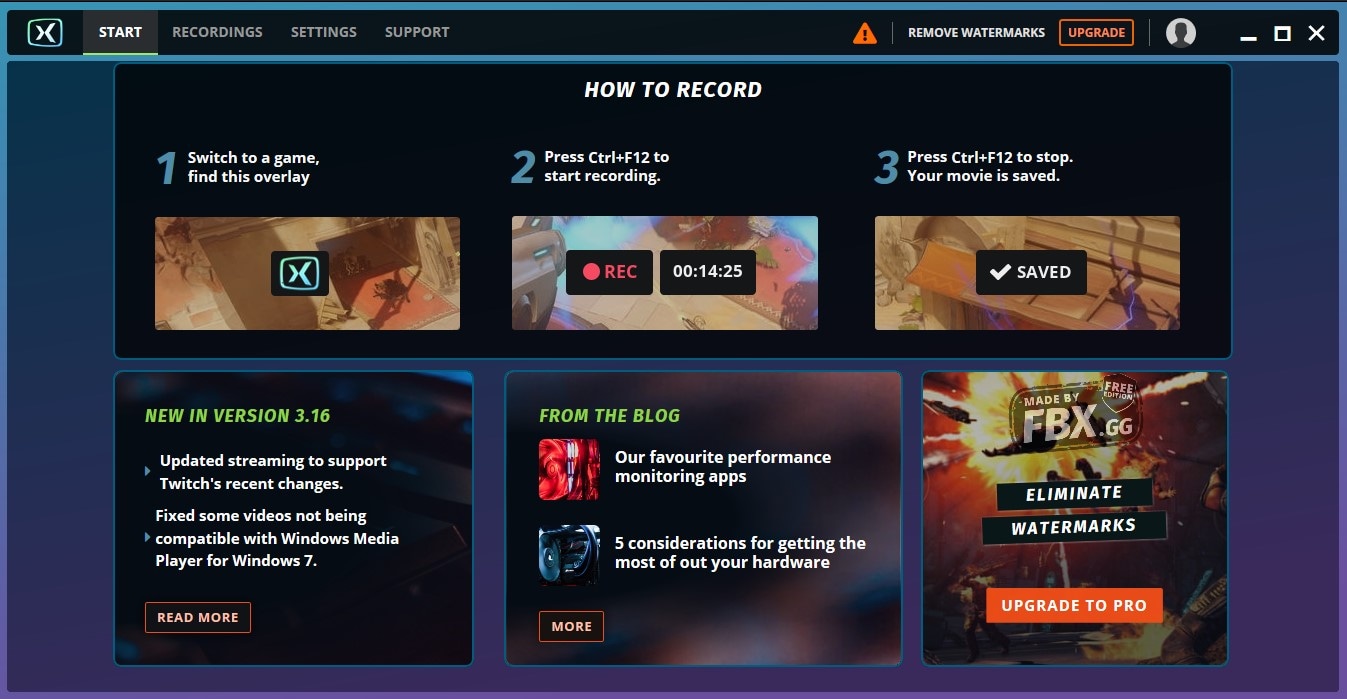 Live streaming options

Game clip creator
Limitations
Each video is limited to 15 minutes
They come with a watermark unless you are in the Pro version
Price: $9.99/monthly, $49.99/yearly, $69.99/lifetime; all with occasional discounts
This is another mind-blowing screen recorder for the game maker. Democreator is a new software specially made for screen recording on Windows. It can record screen, Webcam, and audio simultaneously without lagging or crashing. It can do simple video editing, not on a scale of professional editing tools, but it has enough editing functions to make your video look even cooler. It can add numerous effects to your video and make it more captivating. It can utilize AI face recognition and help you share your video directly to the internet. We all know how great Uniconverter is, so let's see what Democreator can do. Surely it retains the capacity to become one of the best windows game recorders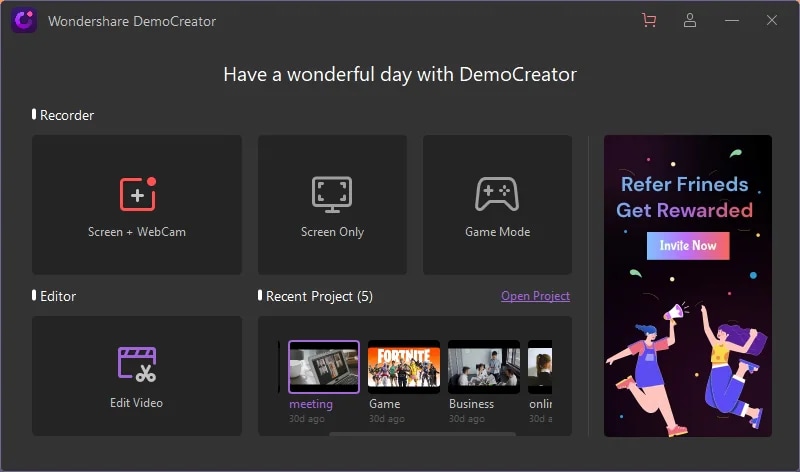 6 different recording modes

Support simultaneous recording i.e., webcam and system screen
Real-time annotation tool

HD quality output
Limitation
Requires a high-performance system to work smoothly
Price: $29.95/home version, $49.95/commercial version
This is undoubtedly one of the most popular game screen recorder windowss among gamers. Action! is an all-in-one screen recorder that comprises everything a gamer needs to make the perfect record of their gameplay. It has the high-quality video output like 8k and 4k all in widely compatible mp4 format, it can pick sounds from multiple sources while filtering the irrelevant sounds, it has screen and webcam recording and uses a function called time-shift which allows you to record iconic moments, you must set the time and assigned a hotkey to it beforehand. Immediately you press the key. It automatically goes back to save what happened on your screen; how far back will be determined by the time you set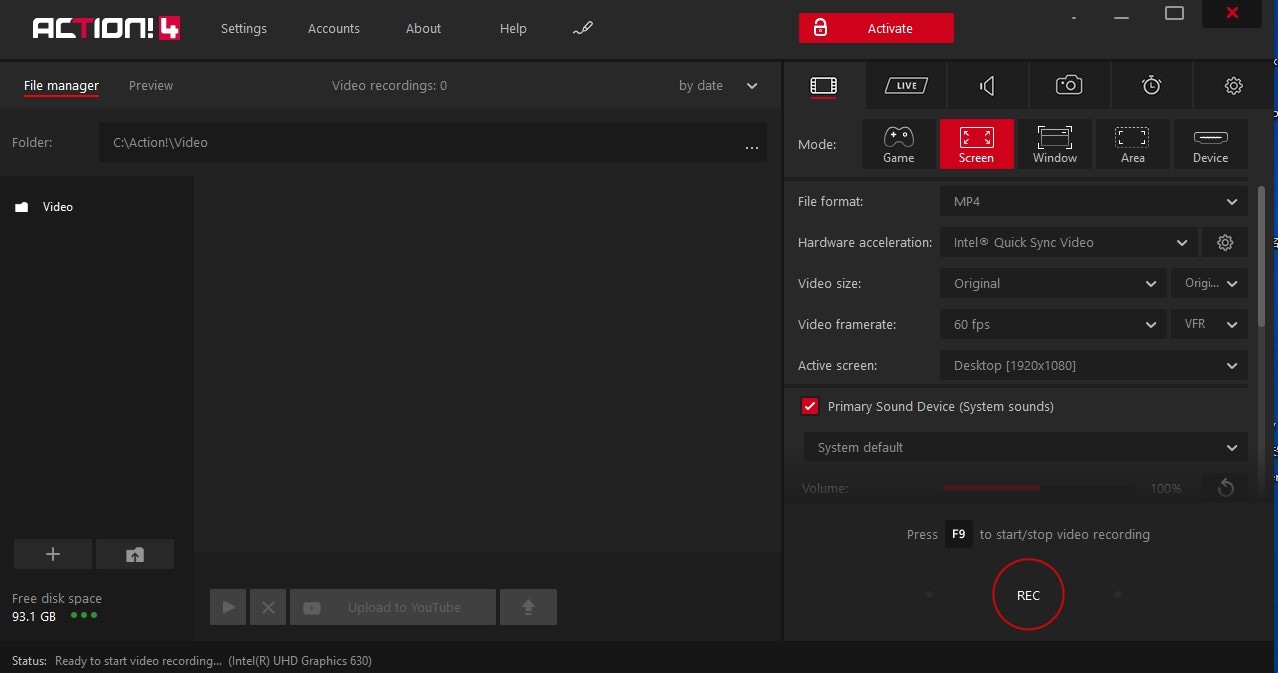 High-quality video output

Audio mix

Simultaneous recording (webcam and system screen)
Live streaming

Time shift
Limitations
You cannot custom-adjust frame rate
Price: FREE, PRO: $29.95/lifetime
Gamers who do screen recording regularly will know about this amazing software. There is not much to be said about its interface except that it is simple and easy to navigate. It can boast about its wide range of functions, which are fundamental to creating the perfect professional screen record. It supports videos of high quality and can export your video in any of the formats. However, you can only save your video in WEBM format in the free version. The PRO version allows exporting to more video formats like AVI, MOV, and MP4.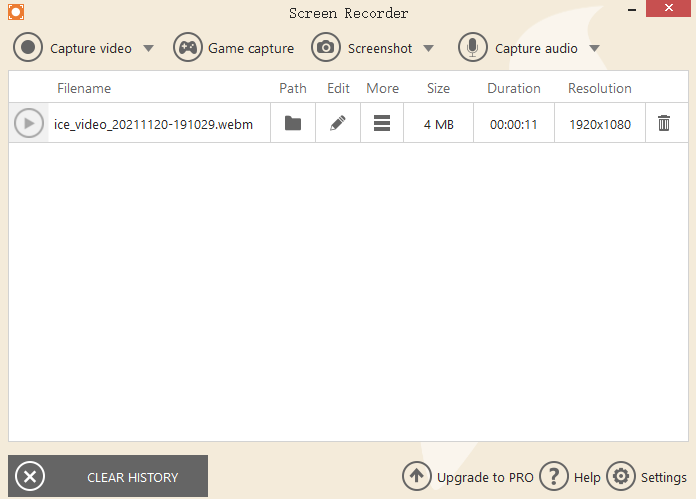 Simultaneous recording (screen, audio, Webcam)

Live streaming/ Webinar

Game recorder

Watermark adder
Direct share to the internet

Convert output video

Customizable shortcuts
Limitations
The free version supports only one format
Unless you go pro, there will be a watermark, and you can record more than 10 minutes.
Part 3. VEED.io: A Recorder to Help You Record Gameplay Online
Price: Basic: $12/month, PRO: $24.month, Enterprise: contact the sales team
Desktop sites are good, they have lots of functions, but online tools are even better. One of the tools that can compete with the giants mentioned above is VEED.IO. Just like the top-top game screen recorder windowss that have been mentioned before has a lot of functions especially made for screen recording some of which include simultaneous recording of audio, system screen and Webcam, there is no limit on the length of your recording, also in the VEED website is the video editor feature, the video compressor, automatic subtitle generator, real-time captioning, audio remover, and audio adder, gif maker, picture-in-picture, annotation, translator, automatic background remover, etc. the functionality also seem unlimited and the best part is, you can access all this online without downloading any software
Step 1

Visit VEED.io web and select the Screen Recorder option

Visit VEED.io official site. There are many other tools on the software on entering the site, and it might take a while to find the screen recorder tool. Keep scrolling until you find it, be careful not to miss it as well.
Step 2

Click on Launch FREE Recorder and select Layout

Clicking on the Screen Recorder tool will lead you to the main screen recorder page. Click on the Launch FREE Recorder tab, and it will lead you to the layout selection screen. The layout refers to what type of recording you want to do; Screen and Webcam, Screen only, Webcam only, or audio.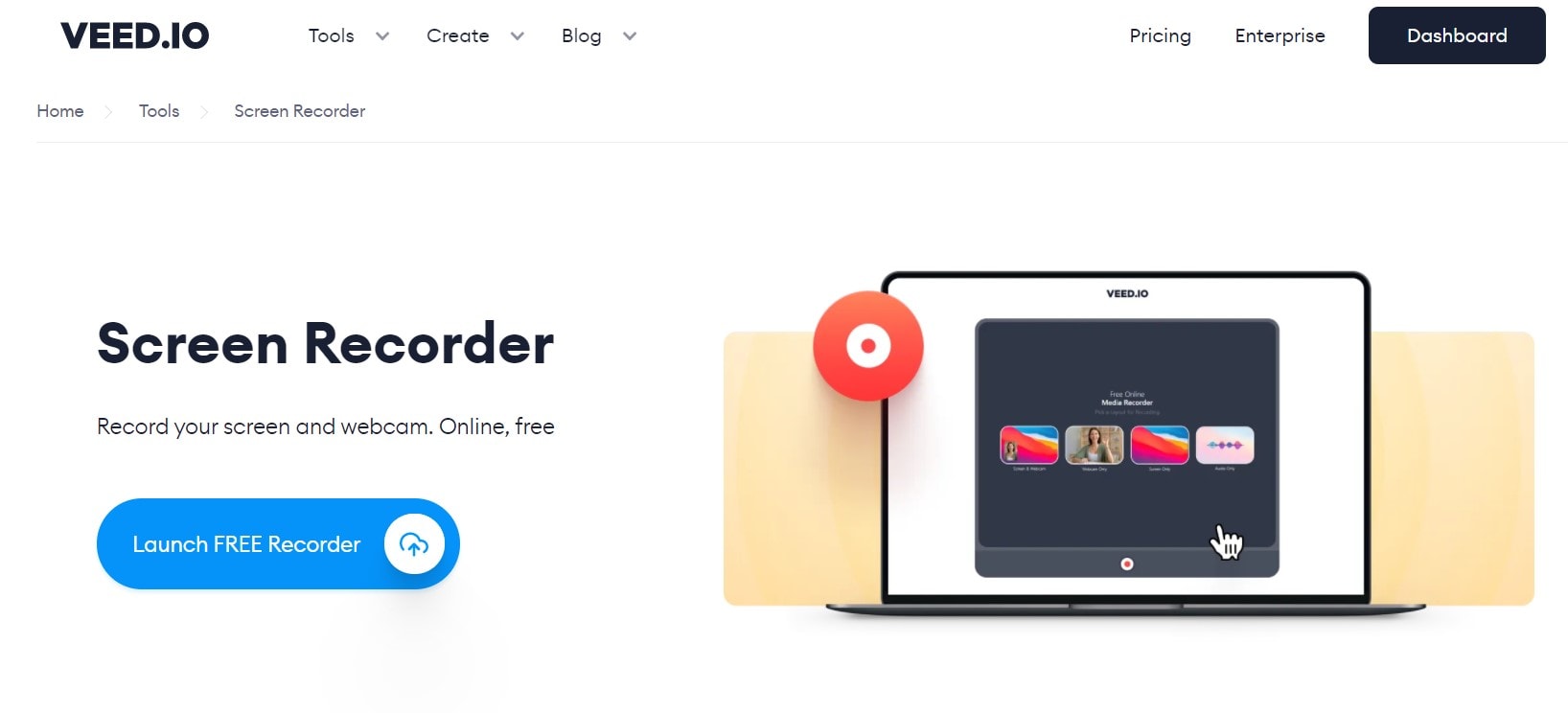 Step 3

Allow Microphone and Screen recording permission

After selecting a layout, your system will ask for permission to access the microphone and screen for recording. A new window pops up, and you can choose which screen you want to record; entire screen, windows, or a chrome tab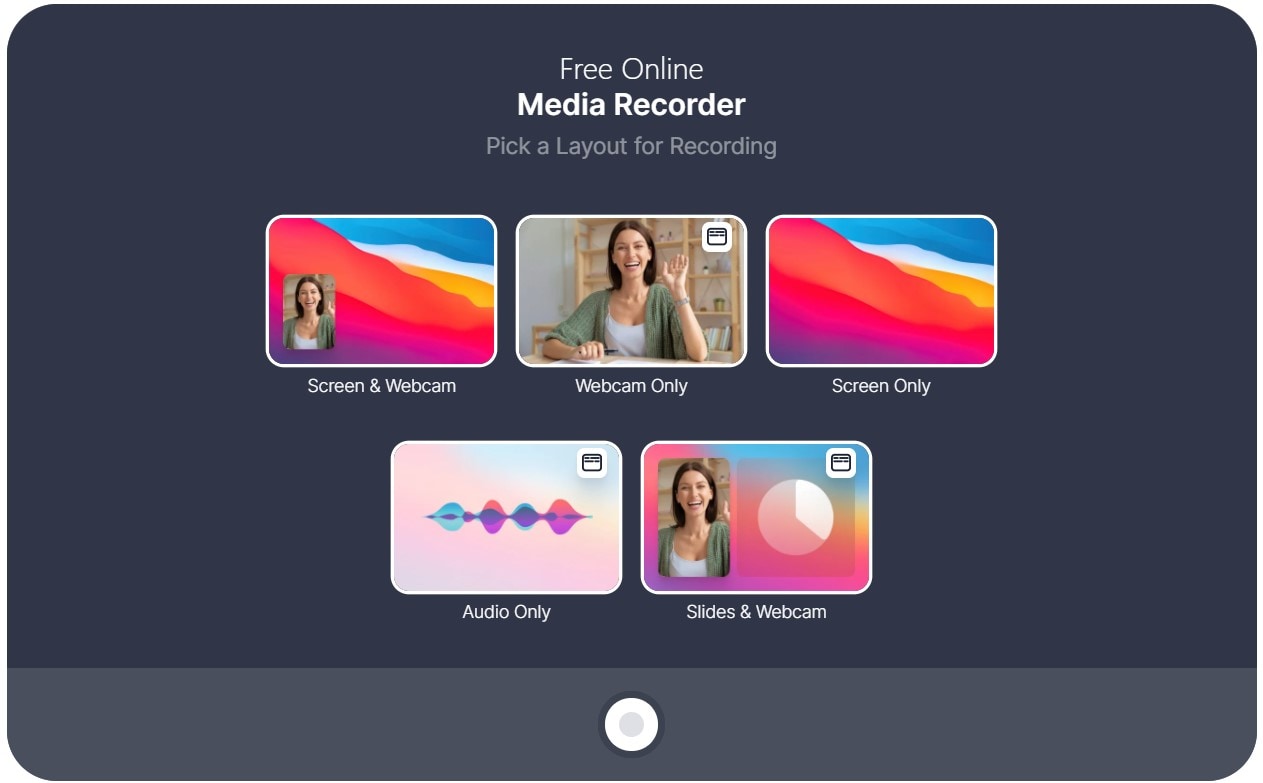 Step 4

Start Recording

Select either of the three options, click on the small preview, and choose Share at the bottom of the screen. Next, click on the record button. A countdown starts, and it starts recording after the countdown.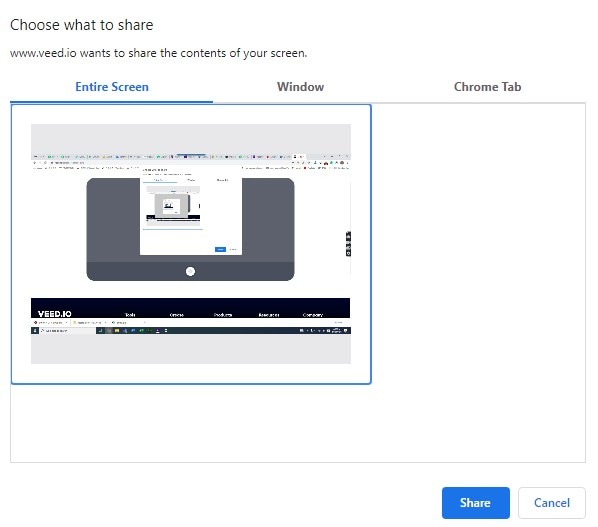 Step 5

Stop recording

A bar will pop up when you press share, you can use it to stop the screen record by clicking on stop sharing or going back to your browser and preventing it from there. Wait for the website to finish packaging your video, and you can download it or share it directly to the internet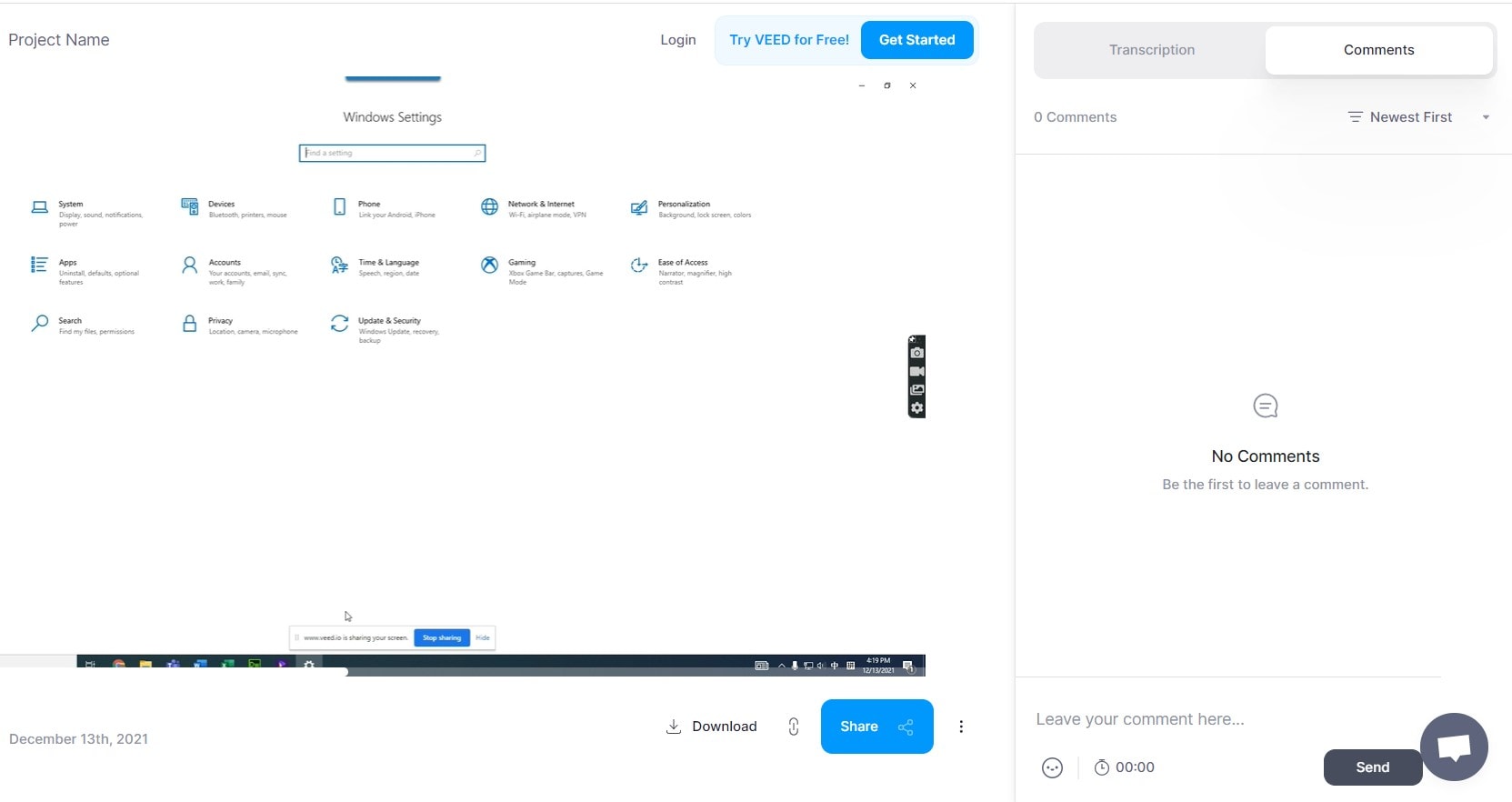 Pros
It is an online tool that needs no download.
There is no limit on the length of the recording.
Cons
It requires a very stable internet connection
Conclusion
The above list comprises amazing apps with mouth-watering features from the beginning to the end. Some are free, while some are paid. It doesn't matter which one. The functionality and its ability to perform is what matters. Screen recording for gamers can be for fun or a serious business. Screen recording a tournament shouldn't be too hard now that you've read this, all you have to do is select the one you think is appropriate for you. You should look out for its quality, editing features, and so on.