Screen Recorder-UniConverter
Show a gaming session, make tutorial video with customized settings.
Record screen, audio and webcam simultaneously.
Help you record a screen while working on another screen.
Useful record timer to help you set the start and stop time.
Convert, compress, and edit the recorded videos.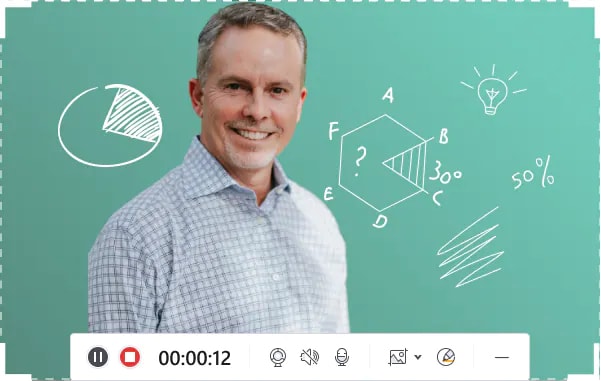 Keep in mind that there's nothing as retentive as keeping and viewing the record of an event you witness. Everyone around loves to record an online event that took place on their screen, screen record lectures, tutorials, presentations, and more with the interest of using the best free screen recorder to achieve this goal. If you're reading this article presently, I'd love to bring to your notice that all your worries about using a free screen recorder or a free online screen recorder are over, if you let this article take charge. Undeniably, we all know that utilizing good free screen recording software will enhance nothing but quality when it comes to screen recording, that is why we've listed a few good free recorder software you can use in this article.
Part 1. 10 Best Free Screen Recorders for Your Need
Bandicam is a screen recording software that makes screen capturing easy and stress-free on your PC screen. Without a doubt, the free screen recorder offers a chance to screen record videos from online streaming platforms, recording, webinars, lectures, presentations, games, and more. Considering Bandicam isn't a bad idea at all, although it's packed with pros and cons that might limit your interest in using the free screen capture software.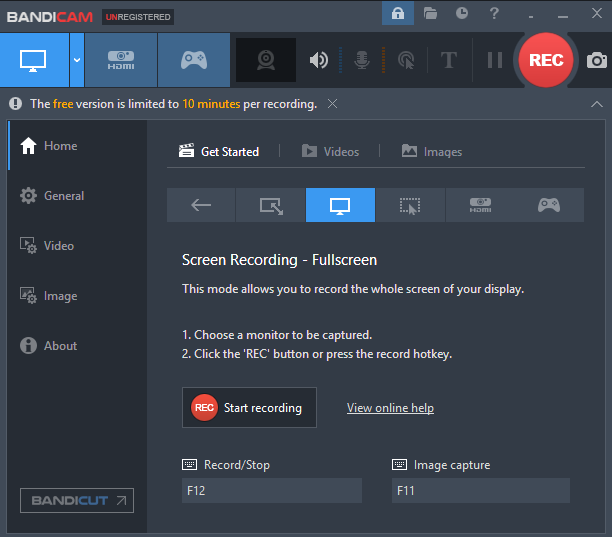 Pros
You are allowed to share your recorded screen via YouTube, Vimeo, and more
Bandicam offers a free trial version
Webcam and microphone features are available for self-recording and voice recording respectively.
Cons
With the free trial version, you're only allowed to record for 10min
It supports only Windows PC
Purchasing the paid version is a bit expensive
QuickTime Player
QuickTime Player is another amazing software that gives you free access to record a computer screen in no time. The mac OS software which is known to be a media player also functions as a screen recording software you can use freely to record your screen, edit and share your recorded files. Without taking much of your time, you can quickly scroll down and check the pros and cons of this software to get a hint if you'd still like to use it.

Pros
You can record audio alone and at the same time, record a video whether it's a movie or a song.
QuickTime Player permits users to record the screen of their iOS devices whether it's an iPhone or iPad.
Cons
It offers limited editing tools.
Only supports apple devices.
I know a lot of people would be like "OBS? What does that even mean?" Just in case it's not in your knowledge, OBS is an abbreviation for a free screen recorder that gives users the utmost opportunity to professionally record computer screens without any complications running around it. The name of this free recorder software is called Open Broad Software - OBS Studio. With this software installed on your computer, screen recording online videos from numerous streaming platforms can't be a problem.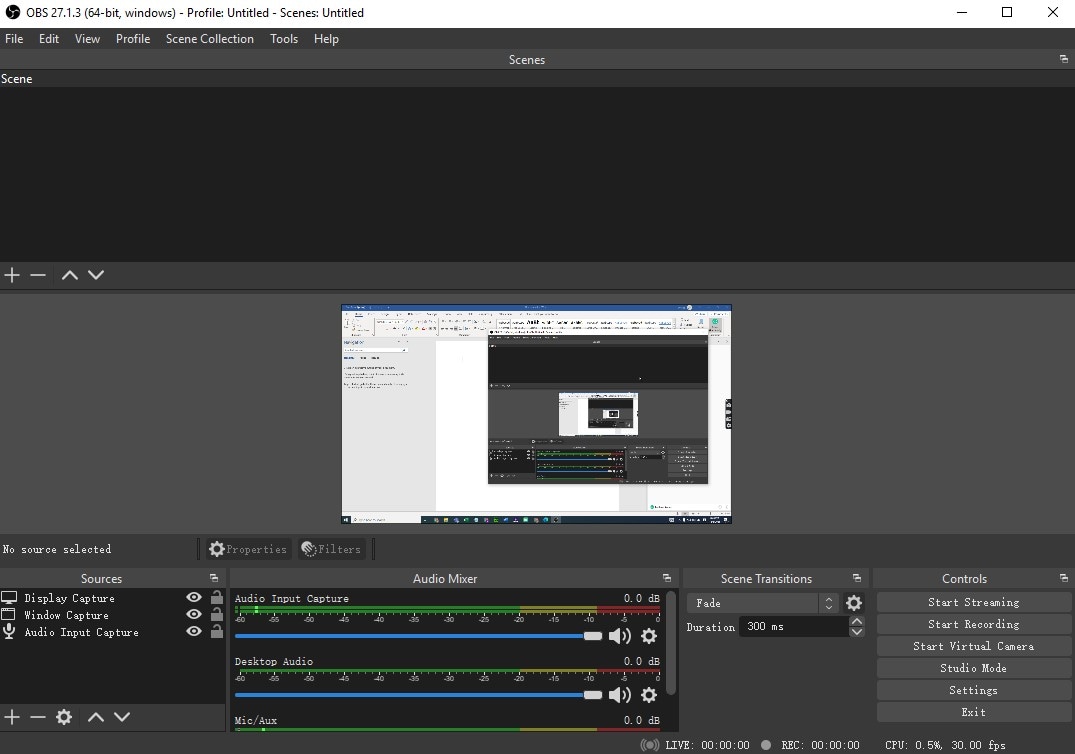 Pros
OBS Studio is free and supports Linux, Mac OS, and Windows PC
It has an audio mixer in its possession that filters noise or any distorting sound in the screen recorded files.
It supports a webcam and has intuitive editing tools
Cons
Users need tutorials on how to use the software.
It doesn't support iOS or Android devices.
It frequently stops working.
VSDC is a brand that has several software in its possession. A Screen recorder is one of the products of the big software brand which allow users to screen record or capture their pc screen with an unfailing guarantee to have the recorded files in mp4. So if you have tutorials video to record for audiences or YouTube subscribers, or you need to record a presentation, VSDC screen recorder software is here at your recommendation.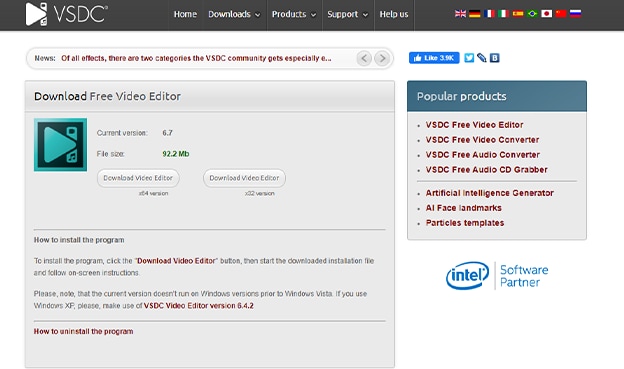 Pros
You are allowed to record 2D and 3D games.
It supports webcams, microphones, line-ins
It has built-in drawing tools
Cons
The user interface might require a little explanation for inexperienced users
All VSDC products are not integrated into a single software
Screencast-o-Matic is a free screen recorder online that you can download on your device to record important meetings, presentations, and more. The software provides you with an opportunity to trim, cut, and save recorded video leaving you with the decision to upload the screen recorded file to YouTube or screencast-o-Matic.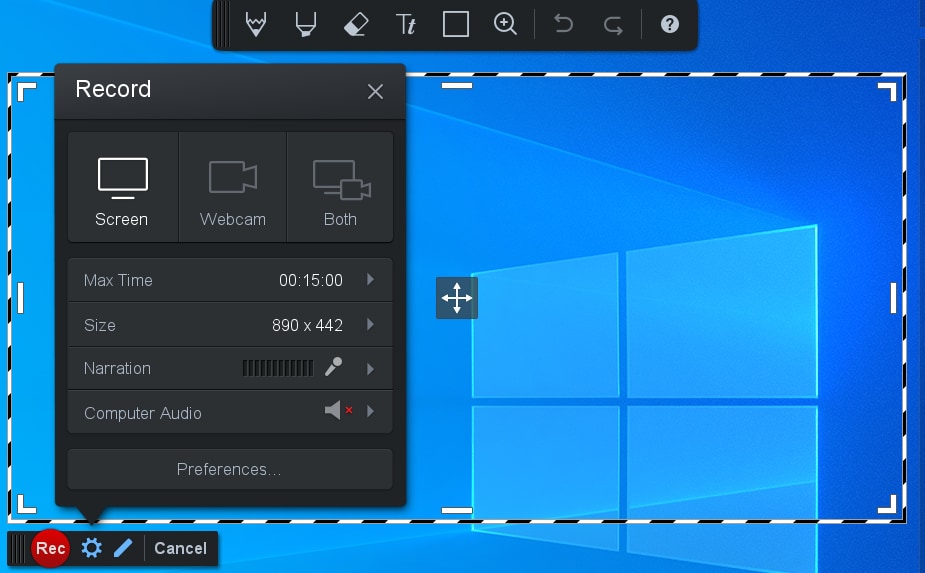 Pros
It supports Windows, Mac OS, iOS, android, chrome extensions.
It supports webcams and microphones for narrative purposes.
Cons
It has a paid version which might be uninteresting to users
Limited feature when using its free version
It requires steep learning for new users
If you're looking for screen recording software for free, you can get Vimeo Record. Vimeo record is an intuitive software that offers users free access to screen record multiple videos from your PC screen with a guarantee to use chrome extension on your PC. Considering Vimeo record, you're allowed to screen record from thousands of websites, also make tutorial videos like the aforementioned software applications, and more.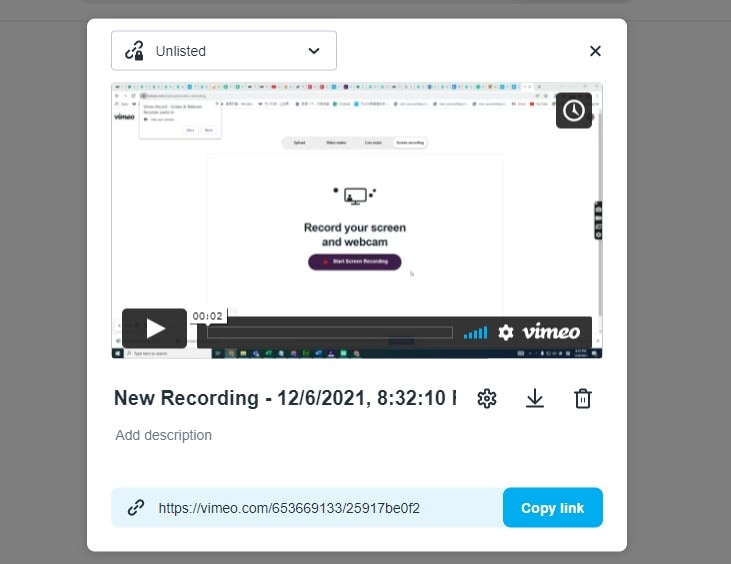 Pros
It has an automatic notification tool that notifies anyone that has access to the team folder whenever a video is saved.
It literally supports any device since it functions on a chrome extension.
It supports the use of webcams and microphones.
Cons
It can't be downloaded and installed as a software application on your PC.
It requires an internet connection.
It's not completely free.
Loom is another desktop-based free online screen recorder you can implore to record videos and audio files from your PC or other devices that support the software. If you'd be interested in using the desktop software, here are a few pros and cons the help you decide if you're making the right choice.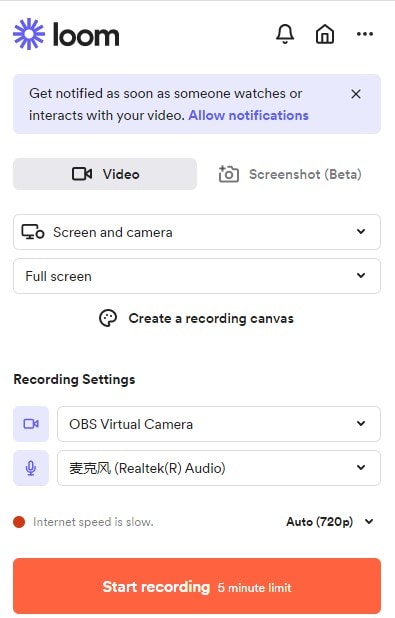 Pros
It supports iOS, Mac OS, Windows, and Android devices
It can be used as a business tool
Cons
Only works on chrome extension on a PC
It offers a paid version, so it's not completely free
It requires an internet connection on PC since its on chrome
This is another software brand that offers a variety of products which also features a free screen recorder as one of them. To cut the long story short, this particular product of FonePaw permits users to record their PC screen, use webcams and microphones if they wish to record themselves and narrate a video, take snapshots from their PC screen and edit with a variety of drawing tools.

Pros
It has an online free photo and pdf compressors and other tools like video converter and cutter, HEIC converter, and more.
You're permitted to record a 3 minutes Watermark-free video
Cons
Its screen recorder only supports mac and windows PC
If you're a free version user and the video you wish to record exceeds 3minutes, then it'll have a watermark embedded on it.
ScreenRec is also a well-built free screen recording software that offers its users the chance to record computer audio, their voices, computer screens, save and share the recorded files. As an explorer looking for a screen recorder, you can check the pros and cons of the software to see if you can cope with it.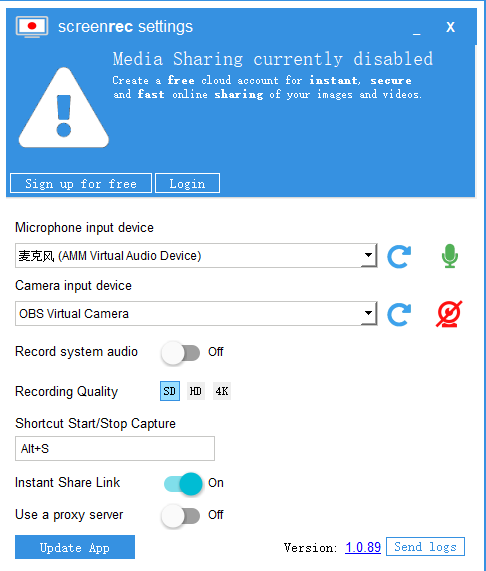 Pros
It supports Linux, Mac, and Windows OS
Screen recorded video doesn't carry a watermark on it
Cons
No webcam feature integrated into the software you'll have to download it as a separate tool
Users will require a little tutorial on how to use it
Most of the aforementioned screen recorders have been showing off their features and compatibilities but capty.io is exceptional because the screen recorder is a free online screen recorder that permits everyone to record the screens of their devices with no stress at all. Here are a few pros and cons to help with your choice of selection.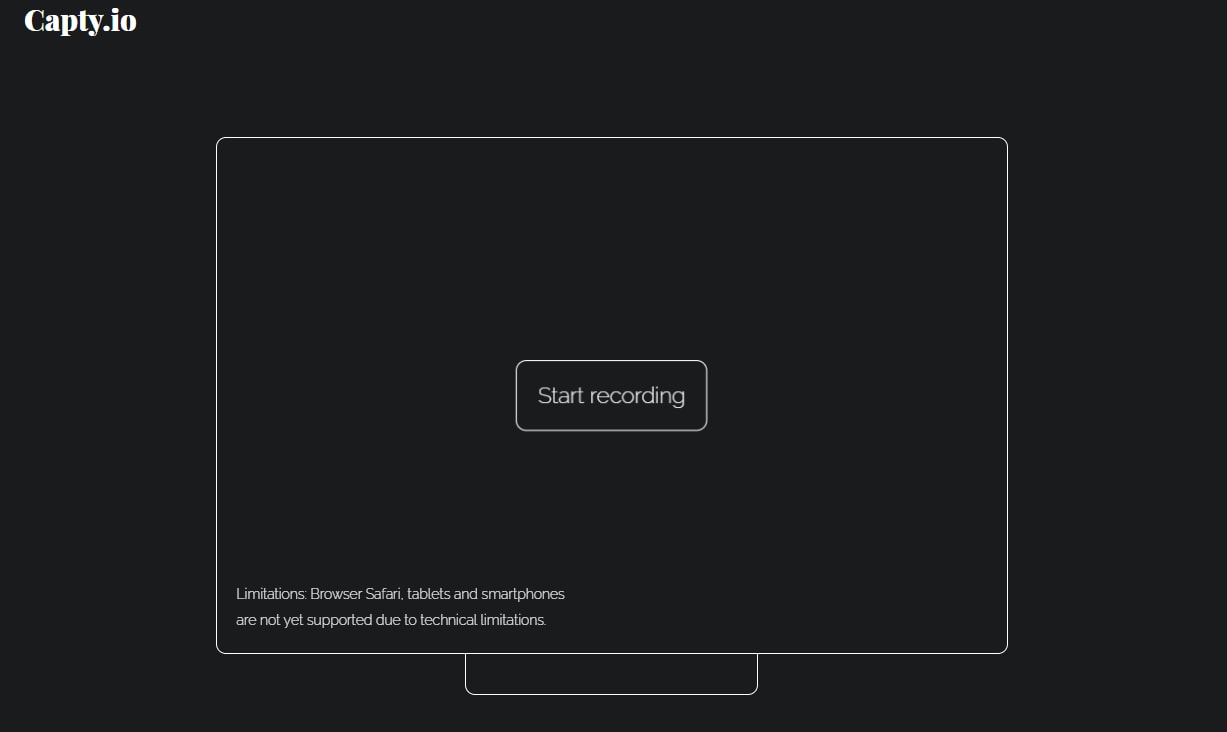 Pros
The online screen recorder can be utilized on any device.
Share and download recorded videos through links
The links are encrypted data links that can't be guessed, so the file's safety is 100% guaranteed
Cons
The links are only valid for 7 days
It requires an Internet connection
Part 2. A Paid Screen Recorder You Can Choose When Free Screen Recorders Don't Work
It's quite obvious that no one would say NO to a free product as everyone loves free things, but when it comes to creating professional content for the sole purpose of marketing, tutorials, conversion, and more, we all love to use software that will set the limitations of a free screen recording software when it concerns having a quality output, using an ad-free interface, exploring a variety of editing features, having a watermark-free output and more with a satisfactory budget. This is the destination where you'll have to seek the attention on software like UniConverter 13.
UniConverter 13 is a full intuitive software that offers more than the best screen recorder you're in search of to deliver professional quality content. The completely digital media workshop offers you tools like a converter, downloader, merger, video editor, DVD burner, media player, and many more tools all in the integrated UniConverter 13 to enhance your screen recorded file. If you'd like to deliver quality content using the UniConverter 13, follow these steps to guide you.
STEP1
Download and install the UniConverter 13 > launch the intuitive software > from the left side of its interface scroll down and select Screen Recorder > from the three displayed options on the screen recorder's interface select Screen Recorder or select the option from the three icons at the top left corner of the interface, to begin with what you came for.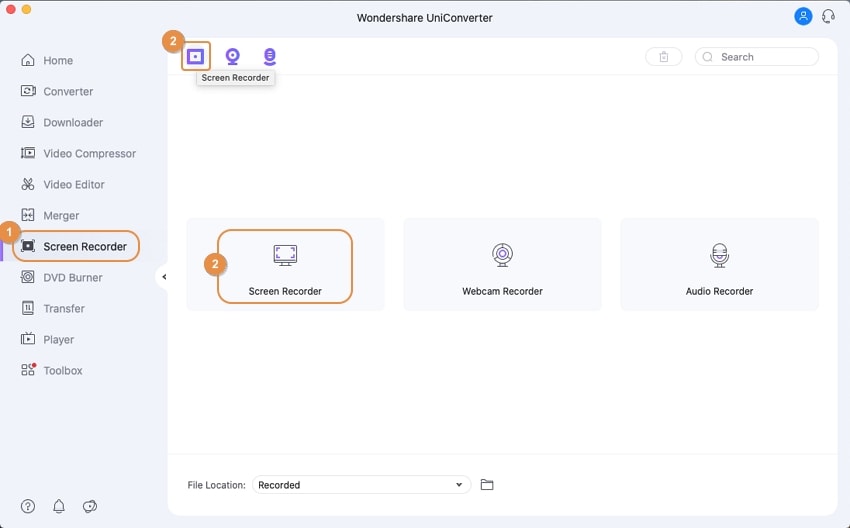 STEP2
Once the Screen Recorder opens, set the crop ratio you'd like to record your screen by using the dropdown below the crop icon at the top left of the interface > set the system audio to record sounds from your PC > choose your microphone type whether it's a built-in or external type > set your webcam to record yourself > settings icon below the record button to set the video's frame rate, quality, output format, recording time, and more.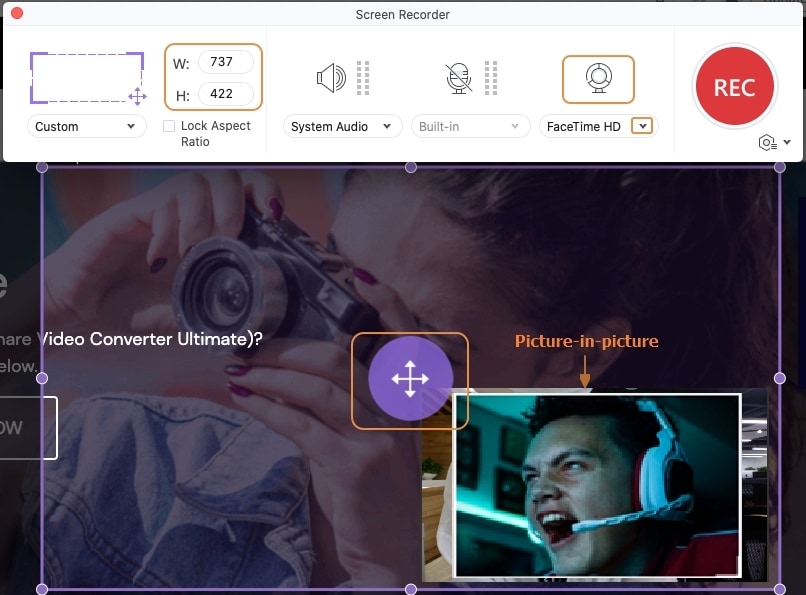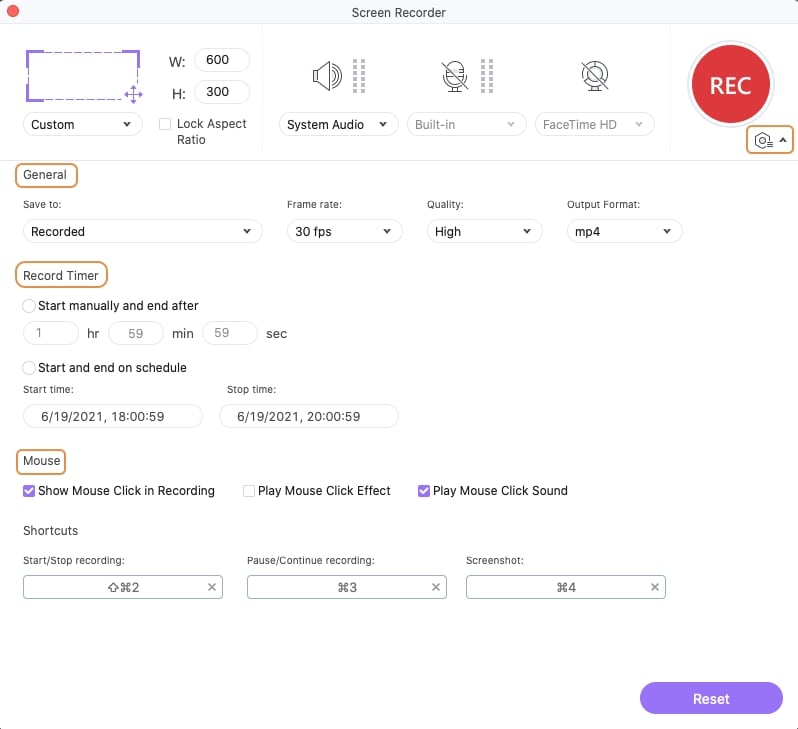 STEP3
After every adjustment, click the big red Record button to start recording > click the Stop button when you're done.

If you'd like to edit the recorded screen, you're allowed to open it in UniConverter's Video Editor and make every necessary editing.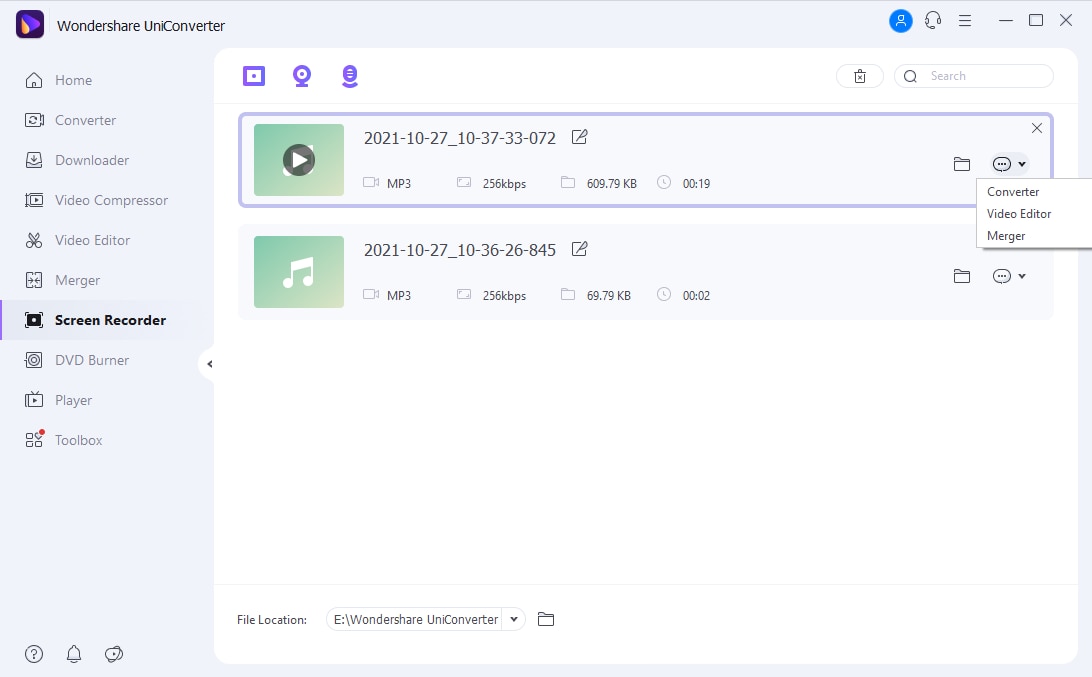 Conclusion
Screen recording with the best free screen recording software could be helpful but not as using a fully functional software with a screen recorder as one of its numerous tools like the UniConverter 13.