Is it possible to convert WMV videos online?
The answer to this question is a big yes. It is possible to convert WMV videos online. At this age and time, there are several online programs that can help you convert your WMV videos. This article is going to take you through the top 5 WMV Converter Online and steps showing how to convert WMV videos.
Part 1. Recommend the Best Desktop WMV Converter
If you want to convert WMV videos using a desktop program, it is recommended that you go for the best program. The best WMV converter is UniConverter. It is the fastest converter with a speed that is 90 times faster. Even with such a breakneck speed, the converter ensures that the original quality of the audio and video is retained. It is an ultimate conversion tool that supports almost all the popular and the least known media formats.
Get the Best WMV Converter:
Merge Multiple Videos: If you want to combine all your videos into one single file, then UniConverter has the ability to do so. This application will let you merge as many videos as you may want into one file and be able to arrange them in any order.
Fast with No Quality Loss: UniConverter is that fastest online WMV converter. Its conversion speed is 90 times faster than any other video converter. It is powered by APEXTRANSTM. This makes the online software the fastest video converter ever and when it converts, the original video and audio quality is retained.
Easy Video Editing: UniConverter will also allow you to trim, cut, crop, and rotate your video. It is the best video online editing tool.
Customize Videos: Do you want to brand your own video? Well, UniConverter will offer this ability. It allows you to add watermarks, cool effects, and subtitles to your videos.
Backup DVD : UniConverter allows you to backup your DVD by burning the content from one DVD to an empty one.
Step-by-step Guide to Convert WMV Files with UniConverter
Step 1. Import WMV Files
You can do this manually as follows: Choose "Add Files" to import the files or just drag and drop the WMV files on the app.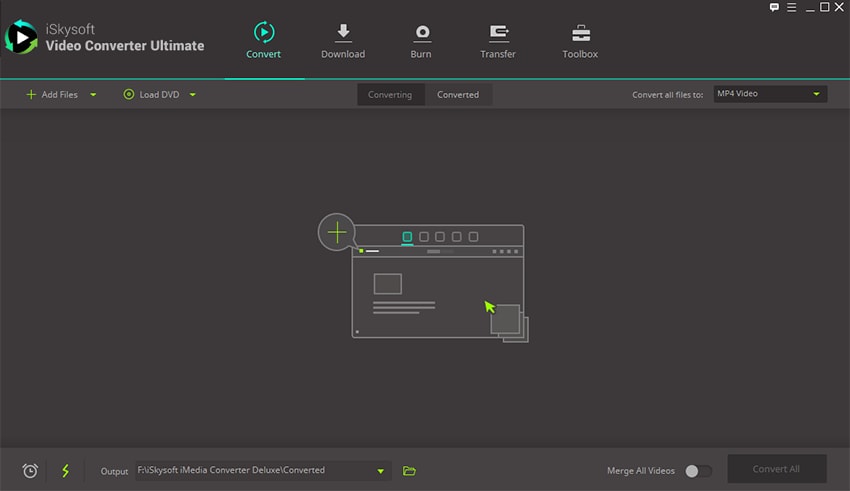 Step 2. Select Output Format
On Video Format List, select the output format of your desire. Before converting the files, you may decide to edit them and add cool effects.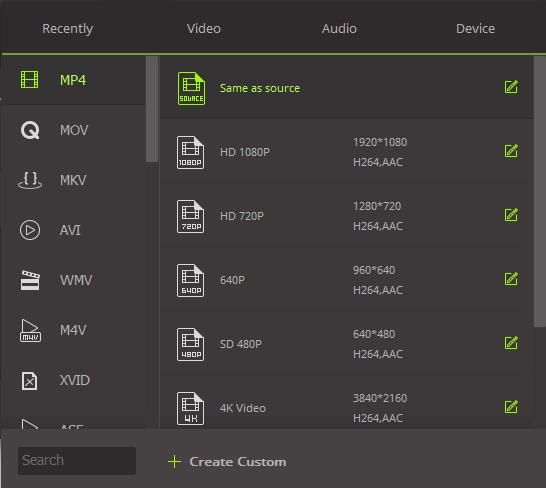 Step 3. Start to Convert WMV Videos
To convert WMV files to the format chosen, click the "Convert" button. Moreover, if you want get more desktop WMV converter, please check this article.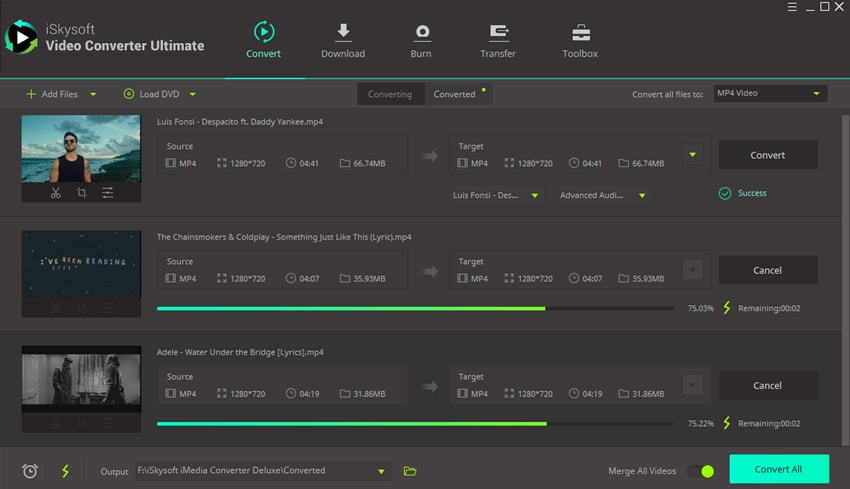 Part 2. Top 5 Online WMV Converter
#1. Apowersoft Free Online Video Converter
This is a very versatile online converter that works in both Mac and Windows OS. Apowersoft video converter converts both digital audio and video files to WMV, MOV, SWF, AC3, MPEG, AVI, and MKV among others. This video converter also allows for the extraction of audio from videos. This online converter features the ability to embed watermarks to videos and add special effects.
Pros:
Its user interface is simple to use.
No quality loss during conversion.
High conversion speed.
Cons:
The larger the size of the file being converted, the lower the speed.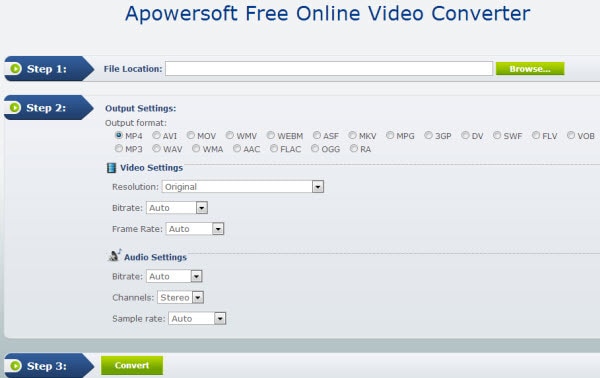 #2. Free Encoding
Free Encoding is a free online audio as well as video converter. With this online converter, you can convert between several video formats such as WMV, MKV, MOV, AVI, FLV and more. It also supports audio formats such as MP3, WAV, WMA and more.
Pros:
It produces high quality output videos.
Cons:
It is limited to a few formats.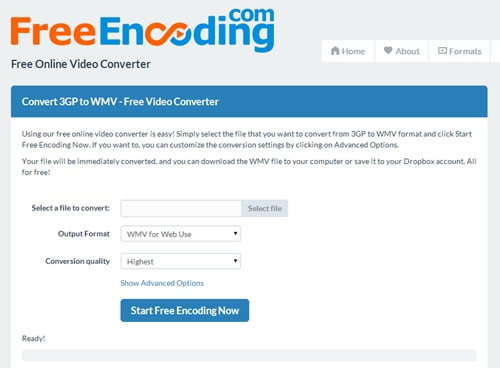 #3. ZAMZAR
ZAMZAR is an online video converter that can be used to convert WMV video formats to several other video formats such as MOV, AVI, MKV, and more. All you do is to upload your WMV video files and it will guide you on how to convert. It supports several popular file formats.
Pros:
You can convert videos between several formats.
Support downloading of videos and then converting them.
Cons:
Its capacity is limited to 100mb only.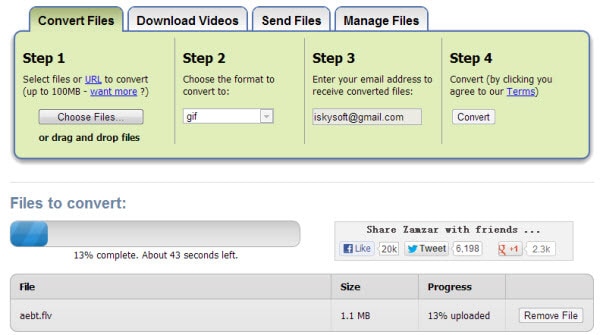 #4. ConvertFiles
ConvertFiles is a web based video converter that converts a wide range of file types such as video, audio, and documents. It has the ability to convert videos from and to different file formats such as M4V, MKV, FLV, WMV, and may more.
Pros:
Offer support to a number of formats.
Keep your files safe and private.
Cons:
Keep your files safe and private.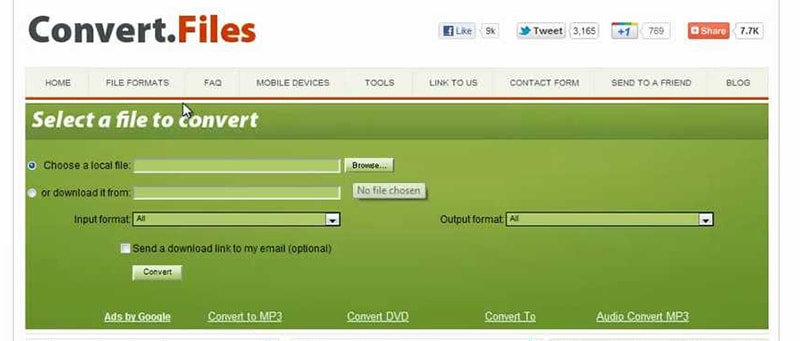 #5. Bender Converter
Bender is another free online converter with the ability to convert different video as well as audio formats. Some of the supported formats are WMV, MOV, AVI, MP4, MPEG, and FLV among others. The supported audio includes WAV, MP3, and several others.
Pros:
Easy to use.
No need for account creation.
Cons:
Have a small capacity of up to 100MB.