Best 5 Free WMV to MOV Converter Online
Go to Mac
Go to Windows
"I want to convert a Windows Media Video (WMV) file to QuickTime MOV, but I don't know which program to use. I've tried VLC and Handbrake but neither can convert WMV to MOV. Can anyone recommend anything please?" ---Quora
If you're familiar with this predicament, then you've found a solution in this article. Finding the right tool to convert WMV to MOV (Apple QuickTime) is no joke. Most will claim to offer plenty of conversion formats only to provide three or four options. That's why I've gone around the internet and came back with these five top-class WMV to MOV converters online. But before jumping into conclusions, remember that the desktop app on this post is more effective than the online programs.
---
Part 1. Best Desktop WMV to MOV Converter (Most Recommended)
UniConverter is the go-to program to convert WMV to MOV format effortlessly. It's safe because it won't transfer malware or virus to your PC/Mac and is 90x faster than other programs. This lightweight but efficient tool can also convert WMV to 3GP, MP4, M4V, and other standard formats. Moreover, it can burn files to CD or DVD, rip CDs, stream video to TV, record screen, and many more.
UniConverter(formerly UniConverter)
Convert WMV to MOV and other 150+ traditional formats such as AVI, VOB, 3GP, MP4, MP3, etc.
90x faster conversion compared to other regular converters.
Built-in editor for editing WMV clips by applying effects/watermarks, rotating, cutting, adjusting resolution, etc.
Burn WMV to CD/DVD/Blu-ray/ISO File with more than 30 static menu templates.
Below are the detailed steps to convert WMV to MOV quickly on Mac/Windows:
Firstly, download UniConverter, install it and then proceed to launch it. Now keenly follow these detailed steps:
Import the WMV clips for conversion
Stay on the Convert window then click the + Add Files button to locate and add the local WMV files. If you find that to be hectic, just drag-and-drop to the converter and after a few seconds, you'll see the video thumbnails.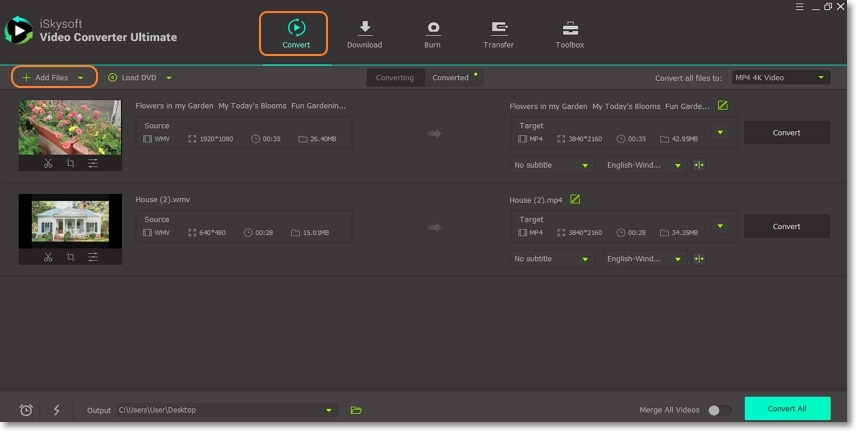 Edit WMV files (Optional)
For the best results, I advise that you make a few changes on your imported WMV clips. To do this, tap on the edit/setting icon right under the WMV thumbnail. Now crop, trim, rotate, add subtitle, or any other change you may want to apply. Keep note, however, that you can skip this step altogether.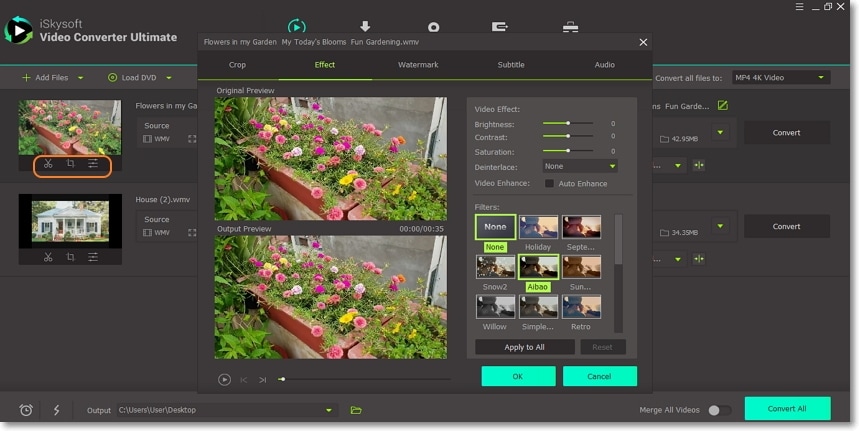 Click the drop-down menu beside Convert all files to label to open the formats window. Now click Video > MOV > resolution. Device optimization is also allowed as you can tap the Device option then choose your gadget name. You can convert to iPhone, Samsung, Apple TV, Blackberry, etc.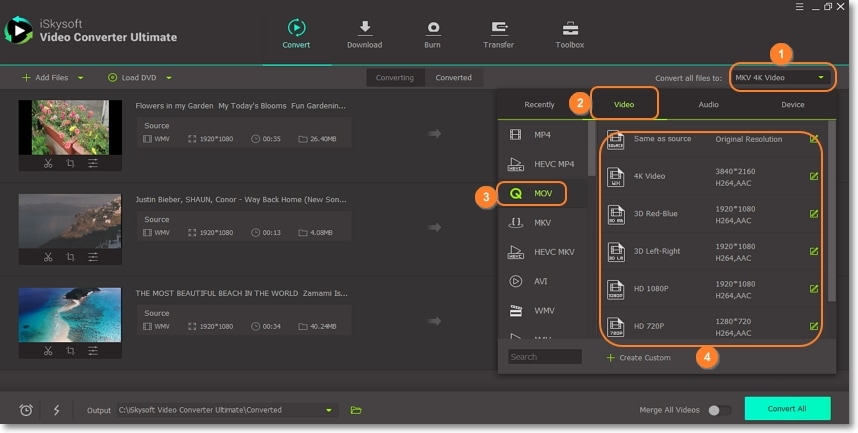 To quickly access the MOV video clips, set a target folder under the Output section. Lastly, just click Convert All and leave the rest to UniConverter. This program will take less than 20 seconds for single file conversions.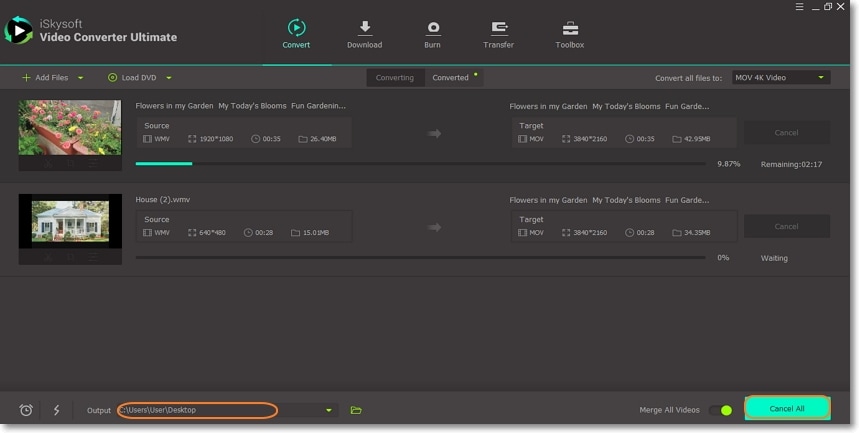 ---
Part 2. Best 5 Free WMV to MOV Converter Online
Moving forward, let's take a quick preview of some websites that convert WMV to MOV online. Here we go:
Honestly, if not that this online converter tool offers a max. of 100MB upload size only, I'd say it's the best conversion website ever. That aside, Online UniConverter can transform WMV to MOV, F4V, FLV, HVEC MP4, MP4, etc. without any hassles. You simply have to directly move your files to the website via dragging & dropping. There's also an "add" button to help you do that easily. It also downloads files from OneDrive, Google Drive, Dropbox, or any other video sharing site like YouTube. Furthermore, it compresses video and audio files easily. For a free service, Online UniConverter is a great steal.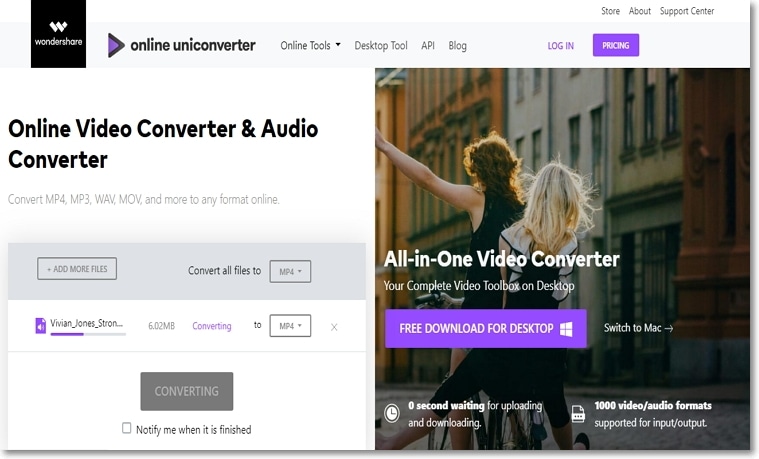 Pros and Cons:
+
Ad-free, easy-to-use interface
+
Lots of conversion formats
-
Small upload size
-
Few editing features
ConvertFiles is one powerful, safe, and straightforward conversion website that converts anything thrown at it. From audio and video files to document and image files, ConvertFiles doesn't disappoint. Although it lacks a file editor, ConvertFiles makes up for it with the free 250MB upload memory and a robust list of output options. And similar to the Online UniConverter, it's an ad-free website.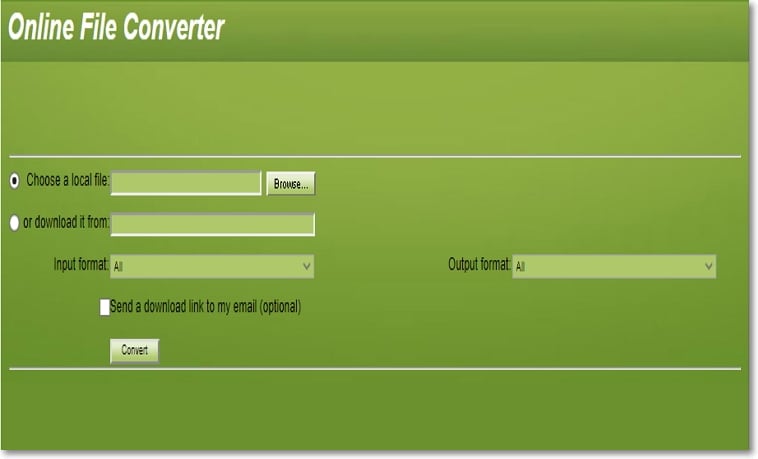 Pros and Cons:
+
Fast conversion process
+
Zero ads on the interface
-
Limited file upload size
-
No file editor
Looking to convert between units like temperature, time, currency, speed, and many others? Well, here's your solution. Besides that, Online Converter supports input/output formats like VOV, WMV, MOV, FLV, MPA, AC3, AAC, MPV, you name it. It's not even challenging to use because the buttons and steps are clearly marked. However, Online Converter is laden with ads and offers a paltry 200MB free upload size.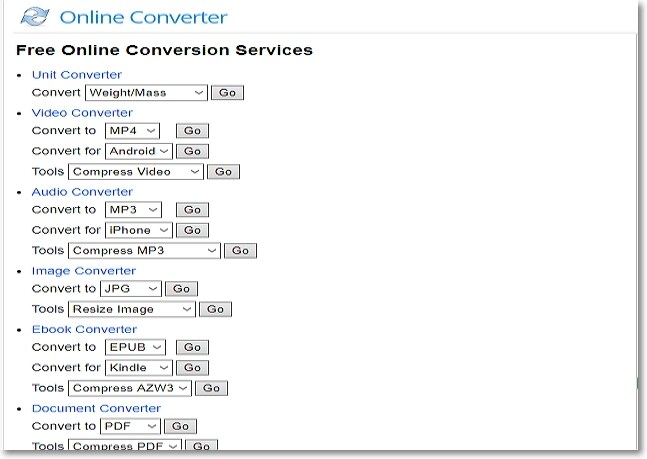 Pros and Cons:
+
Lots of input/output format
+
Easy to use
-
Small upload size
-
Ad-laden website
AConvert is another free, useful conversion website for converting WMV to MOV anytime, anywhere. Apart from converting locally imported video clips and audio tracks, it also converts media URL from YouTube, Facebook, Dropbox, etc. AConvert also boasts of an editor for personalizing outputs.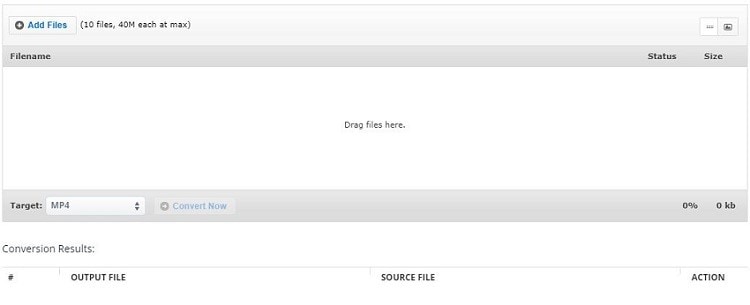 Pros and Cons:
+
Allows video/audio editing
+
Fast conversion speed
-
Small upload size
-
Slow to upload files
Last on this list is Onlineconvertfree. Just like the name hints, this website is totally free to use, though with some ads. Here, users can convert PDF, EPUB, M4A, MP4, MPG, Excel, etc. The website is also minimalistic enough for any beginner. On the flip side, Onlineconvertfree doesn't allow uploading of files more than 2MB. Honestly, that's a shame!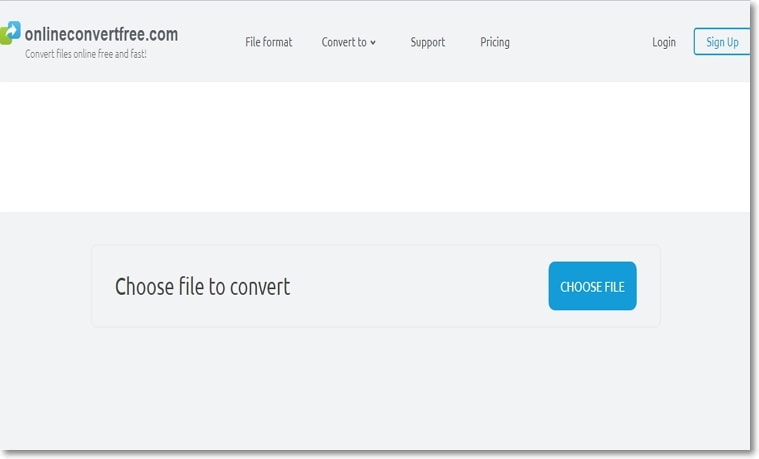 Pros and Cons:
+
Number of conversion formats
+
Intuitive UI
-
Ad-laden
-
Tiny upload size
If you consider the flaws of using these online converters, then UniConverter should be your favorite program. With it, there's no ads, upload size, or lack of video editing issues.
WMV
1. Convert WMV to Other Format

2. Convert Other Format to WMV

3. WMV Tools & Tips