Audio Video Interleaved (AVI) format is one of the file formats tat supports both audio and videos. You may have a number of these files on your device that you want to have them in a smaller size that is manageable and playable in windows platform. The ideal format is Windows Media Video (WMV). This format retains quality of files despite being compressed. In this article you will learn how to convert AVI to WMV using UniConverter.
AVI to WMV Converter
One of the highly recommended softwares is iSkyosft UniConverter. This all in one tool is not just a converter, editor but also a downloader. It has a simple interface besides its magnificent speed.
Get the Best AVI to WMV Video Converter:
It quickly converts videos to any different format such as AVI, WMV, MOV, MKV, FLV and much more. It also supports HD video files like HD MOV, HD FLV, MTS, TS, and M2TS etc.
It can also convert a number of standard of audio files to formats like AAC, WMA, WAV, and MP3 etc.
It has an inbuilt DVD burner that lets you burn media files to a blank DVD. This DVD burner also lets you convert media files to format that can be supported by your smartphone or media player.
It also has an editor with basic editing tools like cropping, splitting and rotating. And you can also add watermarks to images and videos.
It is also an online file downloader. It supports sites like YouTube, Vimeo, Mega, Facebook, Metacafe etc.
It can be compatible with Windows 10/8/7/XP/Vista, macOS 10.7 or later.
How to Use the Best AVI to WMV Video Converter:
Using this software requires no skilled expertise. Just download it to your computer and install it correctly. Then open it and follow the guides below.
Step 1. Upload AVI files
On the program window, you will see three options: Convert, Burn and Download. Click on "Convert" button and the drag and drop files to the program. All the selected files will be displayed on the screen.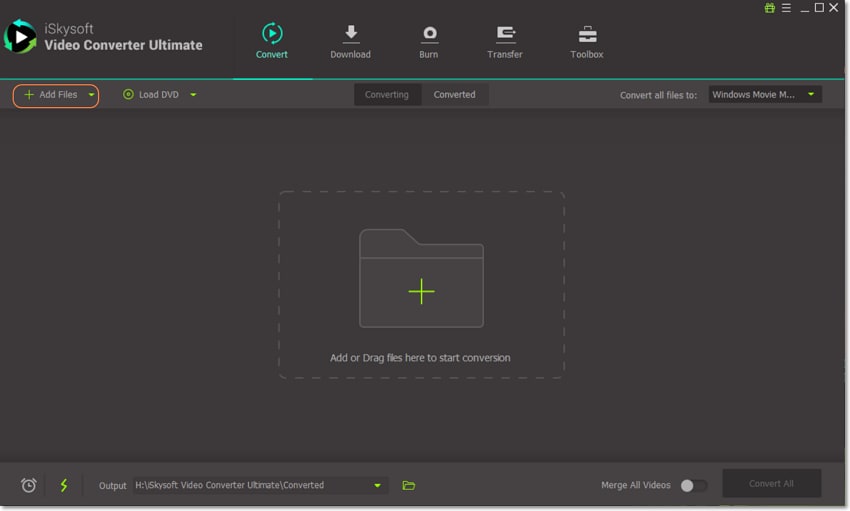 Step 2. Select WMV as an Output format
Now, hover the cursor to a point that displays output formats. From the six categories click on video format to select the "WMV" output format. On windows, click on Output format to get this option. It is also wise to create a folder that you want to save all the converted tasks.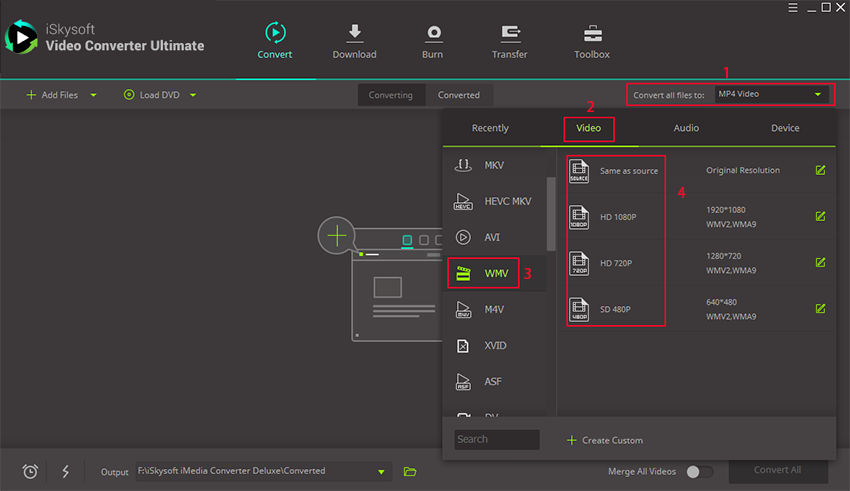 Step 3. Begin Converting files
Ensure that you have made the correct settings. You can then proceed and click on "Convert" button. Upon clicking on this button, the conversion process will commence immediately. Wait until all the files are converted before opening them. By the way, if you want to know more about how to convert AVI to WMV, please check here.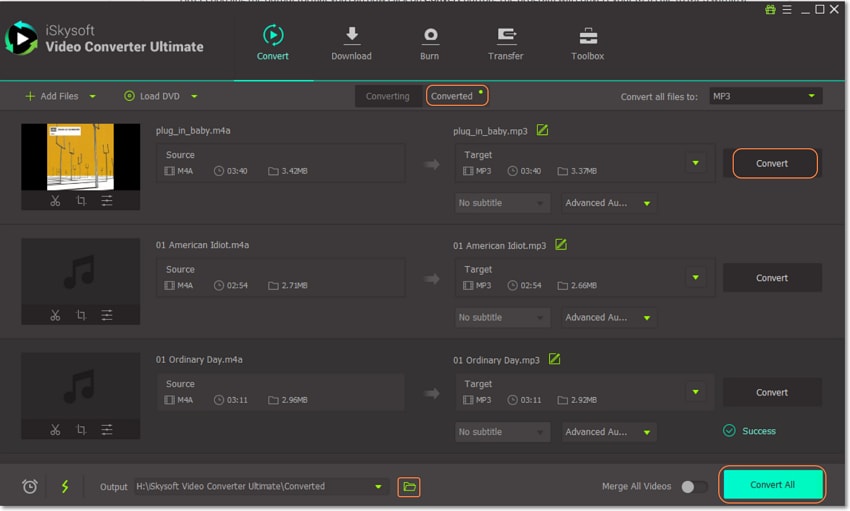 This is universal video converter that you can entrust in conversion of files. It supports diverse file formats like AVI, WMV, MP4, VOB ASF, and others. With prism you can save time a do a batch conversion of files while retaining its quality. Moreover, Prism allows you to personalize your files by adding watermarks besides customizing it.
Pros:
It supports both Mac and Windows operating systems.
It support wide array of video formats.
It supports direct DVD conversion.
Cons:
The conversion speed is slightly longer.
You have to purchase it after every three months.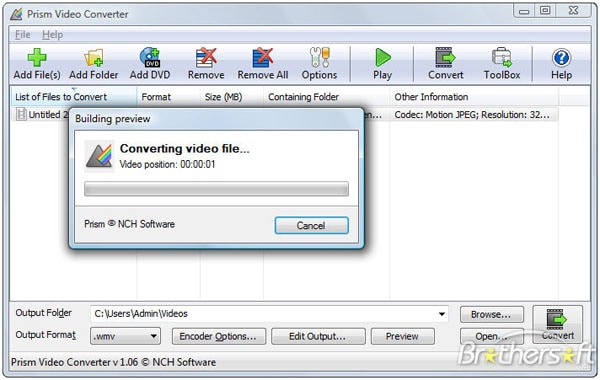 WinX Free software well-designed software that allows you convert video files to any supported output format. This software is very reliable when you to convert AVI file to WMV format without hassle. This Windows based software allows you to convert two videos at time. You can also use it to edit videos thereafter transfer converted files portable and media players.
Pros:
It supports high quality files.
It is easy to use.
It allows you download videos from YouTube.
Cons:
It has a poor customer support.
It does not accept conversion of more than 5 VOB files to AVI format.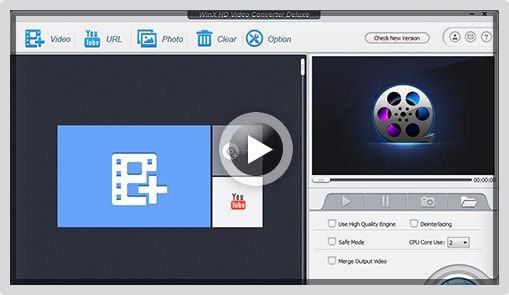 Any video converter is another option to settle for if you want to convert AVI files to formats such WMV, FLV, MP4, and MOV. The beauty of this software is that it can convert files to any format that is compatible with any editing software in the world. You can also use this software to download files from sharing networks whilst burning them to your DVD.
Pros:
It supports several file formats.
It has a great user interface.
Cons:
The audio and video of converted files do not sync.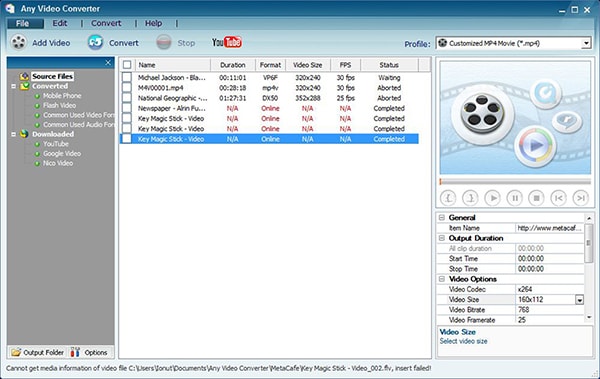 Movavi Video Converter is a complete tool to convert your AVI file to WMV and other file formats. It is compatible with many files. When you want to customize your videos and add some visual effects then you have the right software at hand. You can also visit YouTube, Facebook and download video file on any supported format. This tool allows you to export files to different devices including phones.
Pros:
It is easy and convenient to use.
It controls a number of file formats.
It supports multiple devices.
Cons:
It does not work with M4V file format.
It has limited editing features.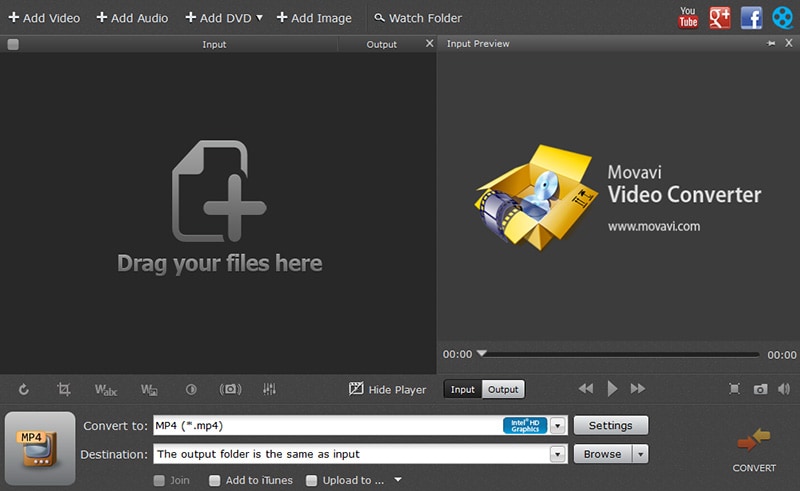 #6. Video Zipper
Video Zipper is also another video converter that can be used to convert AVI files to WMV. Its users enjoy its compatibility of over 300 file formats like VOB, MKV, FLV, MP$, ASF and others. When you want to juice up things, you can use its editing feature to adjust colour effects. To add on this software allows batch conversions of files thus saving time. It is reliable software that you can use to export your media files to iPhone, iPad, Samsung and PSP Android phones just to name a few. This software is also a great video download.
Pros:
It supports mobile devices.
It lets you download videos online.
It allows editing of files.
Cons:
It has limited editing tools.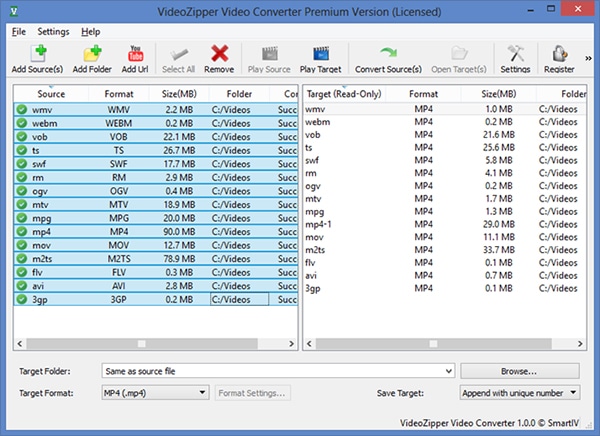 Format factory is also an intuitive tool that does a complete conversion of video files. It supports different file formats like 3GP, MPG, AVI, WMV, MP4 and FLV and many more. It also supports audio file formats like MP3, WMA, WAV, ACC, OGG and AMR. Format factory is an intuitive tool that is well built to support images of popular formats. After converting files you can transfer them to your iPod, iPhone and Blackberry. Another amazing feature about this software is that, you can use to mend your damaged audio and videos. It also has DVD riper besides its ability to support over 70 global languages.
Pros:
It is has simple user interface to use.
It repairs damaged videos and audio files.
It enable you add watermarks to videos and images.
Cons:
It does not support OGG output format.
It does not support Blu-ray video format.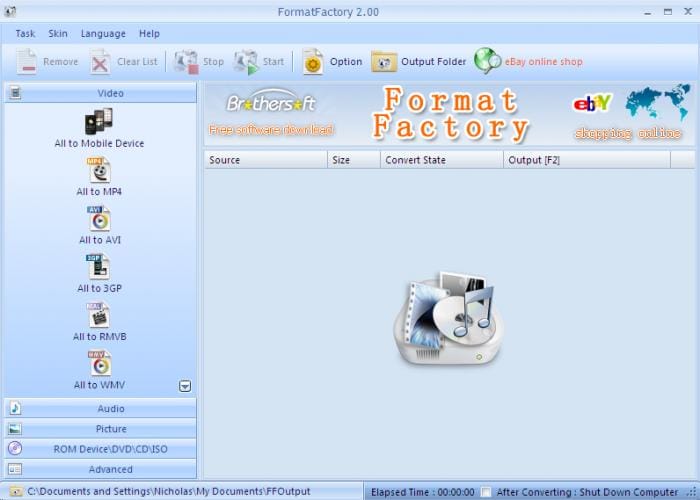 This time saving software converts all available video formats to any supported format. Wise Video Converter allows batch conversion of files and it is very to use. You simply drag and drop files to the program without having to browse for that long. After converting files you can easily export them to your mobile phone and computer. It's also worth mentioning that you can do a batch conversion. This is one of the few softwares that has a portable version.
Pros:
It offers conversion of many files at a time.
Conversion process is fast and easy.
It has a drag and drop feature.
Cons:
You can only use the free trial version for 30 minutes.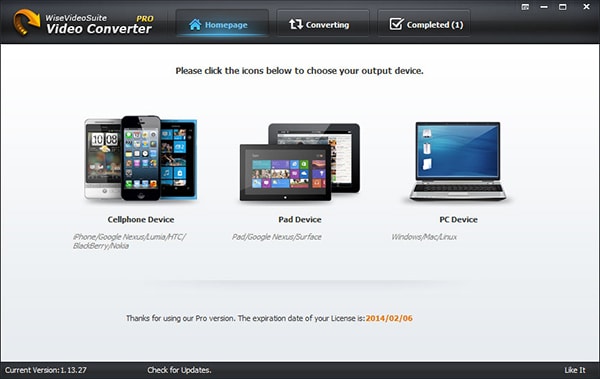 You can also trust this software when it comes to conversion video files. This software can manipulate different input file formats to any popular format. Furthermore, it lets you convert files to your iPhone, iPod, DVD, PS3 and others. It also comes with a free trial version that lets you have a taste before purchasing a full version.
Pros:
It is user friendly.
It conversion of files is excellent.
It offers batch file conversion.
Cons:
It is not stable.
Conversion of AVHCD is poor.
It does not work with audio files.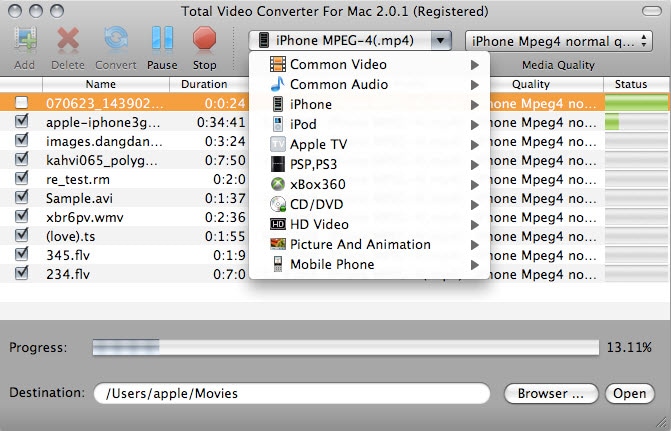 This software is well known for its ability to conversion and ability to edit files. It allows you eliminate parts on your videos as well as rotating images on the video. All these features are well incorporated alongside with video downloader and a DVD burner. It support over 60 sharing networks that you know. Moreover, it is compatible wit different mobile gadgets that you can export media on to tem directly.
Pros:
It is user friendly.
It supports over 200 file formats such as WMV, AVI, and MKV.
It has in-built editor.
Cons:
It is slow in ripping DVDs.
The file consists of malware.