Convert MOV to GIF-UniConverter
Make GIFs easily from video files in various formats.
Create GIFs from movie clips by seting the start and end time.
Support high-speed conversion speed.
Download MOV video from video and audio sites directly with one click.
Other features include recorder, merger, compressor, and so on.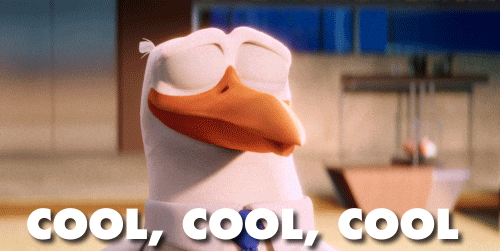 You might wonder what magic people use to change videos or convert MOV to GIFs for funny memes, animated videos, stickers, etc. There's no magic anywhere. But with our presence here, you can do anything when it comes to converting MOV to GIF conveniently. All you need to do is adopt a reading habit and pay attention to every detail we've provided at your dispense.
Part 1. How to Convert MOV to GIF Quickly with UniConverter GIF Maker?
The first on our list is the UniConverter 13, which is a property of Wondershare. Without a doubt, this software gives birth to multiple media editing and conversion tools that simplify media work just in an integrated system. One of the tools is the GIF Maker, which permits you to convert videos or photos of many formats into GIF Seamlessly. If you like what you're browsing currently, and you'd love to explore the intuitive and exclusive features of the UniConverter 13 to convert MOV to GIF, gladly take heed to the guidelines below and get the magic done.
STEP 1
If you don't have the UniConverter 13 on your PC, please kindly download and install it on your PC. Afterward, launch the UniConverter. Once it's opened, click on "Toolbox" which you'll see on the left side of the main interface, and select GIF Maker from the polygamous options.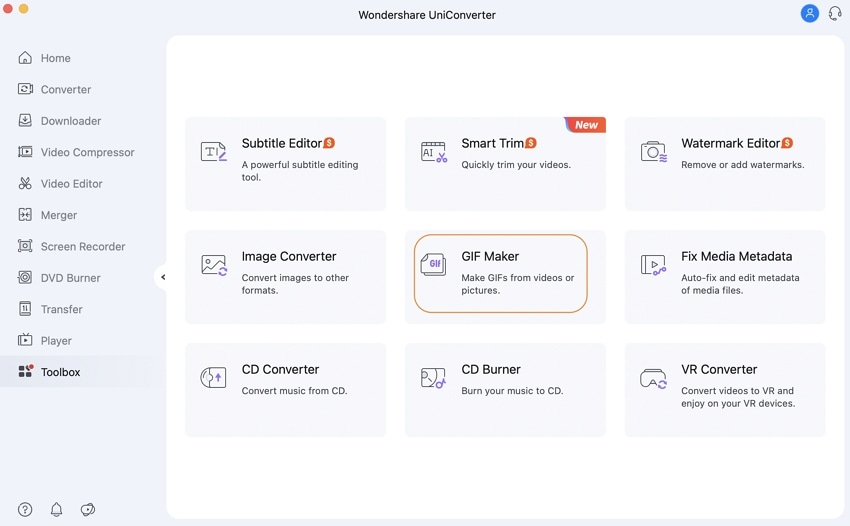 STEP 2
 Once the GIF Maker is open, ensure that you click the "Video to GIF" tab above and click on the "Add Files" button at the top left of the GIF maker's interface to add the video you want to convert.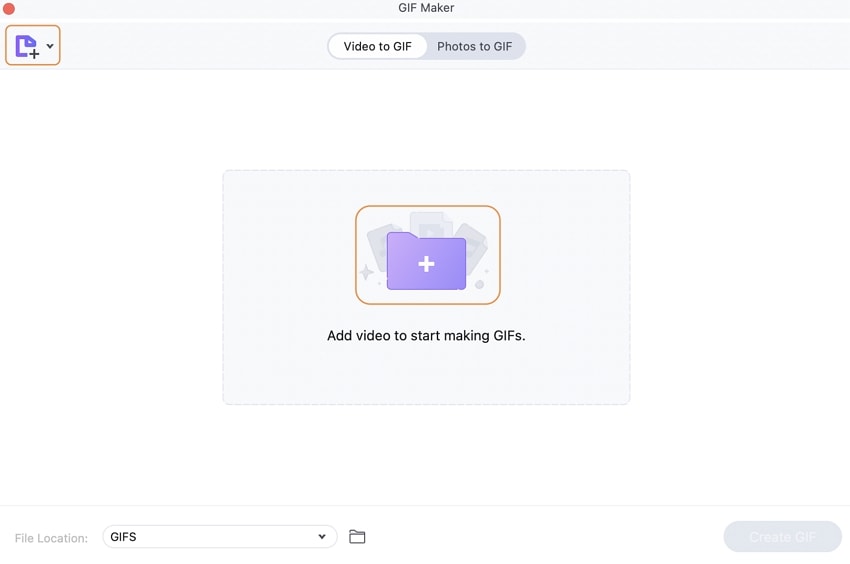 Note: UniConverter doesn't limit you to adding just a file to be converted to a gif. As a user of the intuitive and exclusively made software, you can convert numerous videos to gifs at a time. (it supports batch conversion)
STEP 3
Afterward, set the "Start Time and End Time" for the video, Size, and Frame Rate. Once you're done, go straight to click the drop-down arrow icon beside the File location and select "GIFS"> Choose a place to save the converted file, and finally, click the "Create GIF" to turn the MOV into GIF.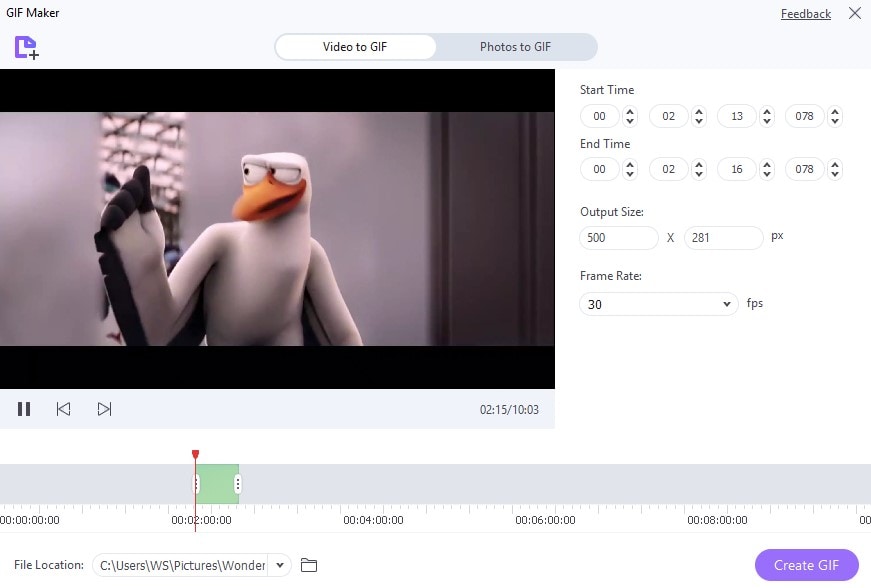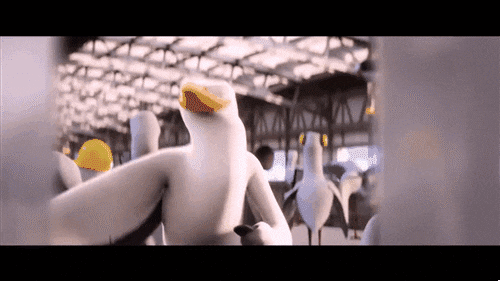 Pros
UniConverter 13 has a friendly and understandable user interface that allows seamless use.
It also supports converting images to GIFs, not just videos of different formats.
UniConverter 13 GIF Maker offers a free trial version.
Cons
The free trial version only delivers 30% of your work output
It offers a paid (Pro) version
The GIF carries a watermark if you're a free trial user
Pricing:
Annual Plan - $49.99/Year
Perpetual Plan - $69.99
Wondershare uniconverter 13 - Best Video Converter for Mac/Windows
5,481,435 people have downloaded it.
uniconverter supports 1000+ formats and handles 90X faster conversion, ensuring that high quality is delivered at all times.
You can add multiple files since the program does batch conversion of files.
The GUP acceleration can help you download online videos at high speed.
You can use the editing suite to remove video background, edit watermark and subtitles, and auto-trim videos.
This software facilitates file transfer to devices like Android and iPhone among others once the conversion is complete.
uniconverter is also capable of handling video compression hence ensures you acquire the video sizes you desire.
Part 2. How to Create GIF from MOV Video with Photoshop?
With the trends in the world becoming a digital planet, a lot of content creators, most especially graphic designers, are known to have photoshop as their companion, but who'd ever say the software can be utilized as a gif maker. Photoshop is another powerful and professional software to consider if you're interested in converting MOV to animated GIFs. With Adobe Photoshop in your possession, you can bring fiction into reality by adding motion to images or converting a MOV into a gif, adding filters and effects, adding text, and other exclusive features. Without any doubt crossing your mind, you can learn how to change mov to gif by glancing and exploring our simplified guideline below.
STEP 1
 You'll need to download and install Photoshop on your PC just in case you don't have it. Afterward, launch the software. From the top left side of the menu bar, click on "File" then go straight to select "Import" from the displayed menu and "Video Frames to Layers…" from the submenu.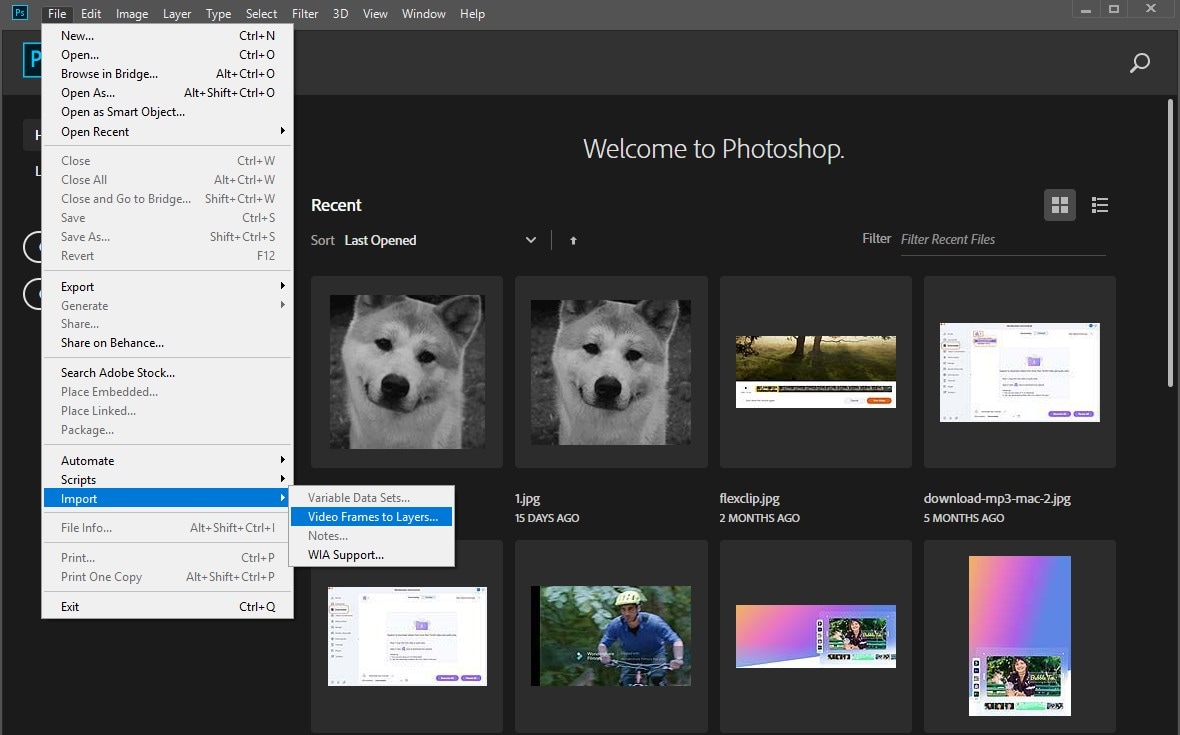 STEP 2
You'll see a new window (Import Videos to layers) pop up. First, ensure that you tick the "Make Frame Animation" box > select a specific video range and number of frames. Afterward, click on "OK" from the right side of the window.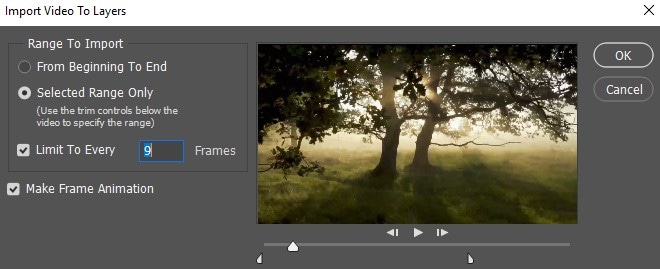 STEP 3
Once you're done, go to the menu bar and click "File" again, select "Export", then click on choose "Save for Web". Next, select one of the Gifs from the preset menu on the right side of the screen and adjust every necessary parameter. Finally, click on the "Save" button at the bottom of the interface, name it, and save it.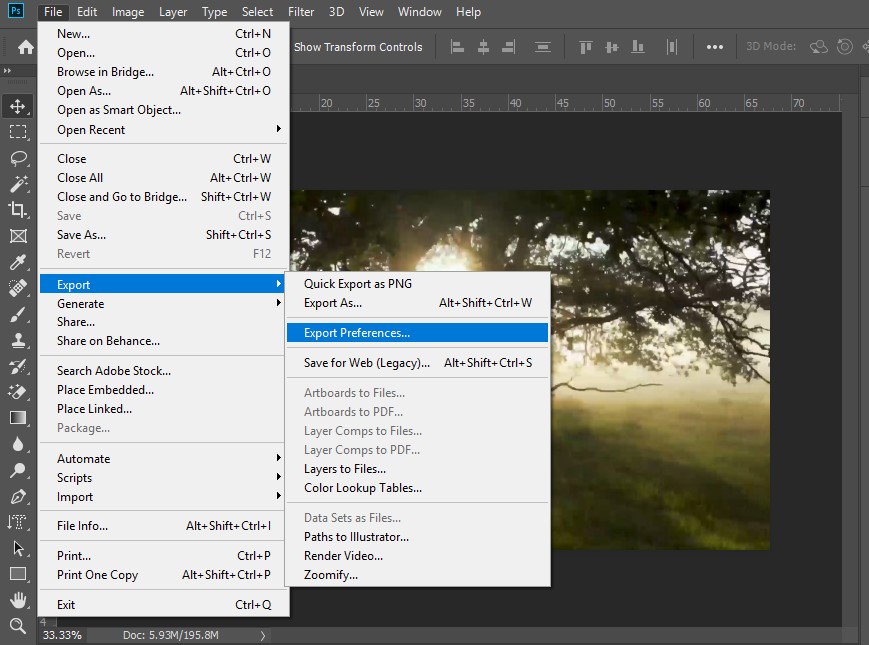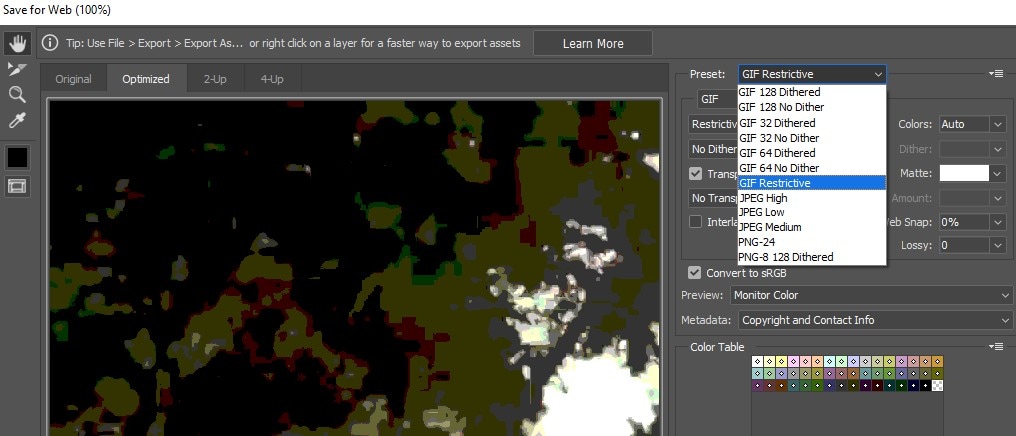 Pros
Photoshop features many exclusive and professional editing tools you can utilize to enhance your mov to gif file.
Aside from the fact that you can convert MOV to animated gifs, you can also convert photos to gifs.
It supports multiple video and image formats and also gives the converted mov to gif in the highest quality 
It offers a 7-day free trial 
Cons
Photoshop's interface is a little complex, and it requires steep learning for new users 
Photoshop price is quite high 
Photoshop is not advisable for batch work
Pricing
Stand-alone - $20.99/ month
Annual Billing - $239.88 / year
Part 3. How to Turn MOV into GIF on Mac with GIF Brewery?
Unfortunately, you might not be able to afford an expensive software like Photoshop, probably because the task you want to perform is small compared to the price of the software. Another way you can turn MOV into GIF without the Photoshop GIF maker is by allowing the affordable GIF Brewery to be your savior. 
Gif Brewery is a great software to choose if adobe photo is expensive or inconvenient for you to use. With GIF Brewery, you are permitted as a user to change your mov to gif seamlessly even if you've decided to use its simple but powerful screen recording feature to make a video. If you'd like to use this intuitively made software, you can explore the steps below to guide you through the journey.
STEP 1
Download and Install the GiF Brewery on your pc without any hesitation. Once it's installed, launch it, click on the "File" icon and select "Open". Now, scroll and select the video you wish to convert to GIF.
STEP 2
Once the video has appeared on Gif Brewery's interface, kindly drag the "start and end"bar you'll see at the bottom of the interface to a desirable length to trim the video. Also, you can click the "Resize or Crop" icon at the top of the interface to resize the mov to gif recommended resolution.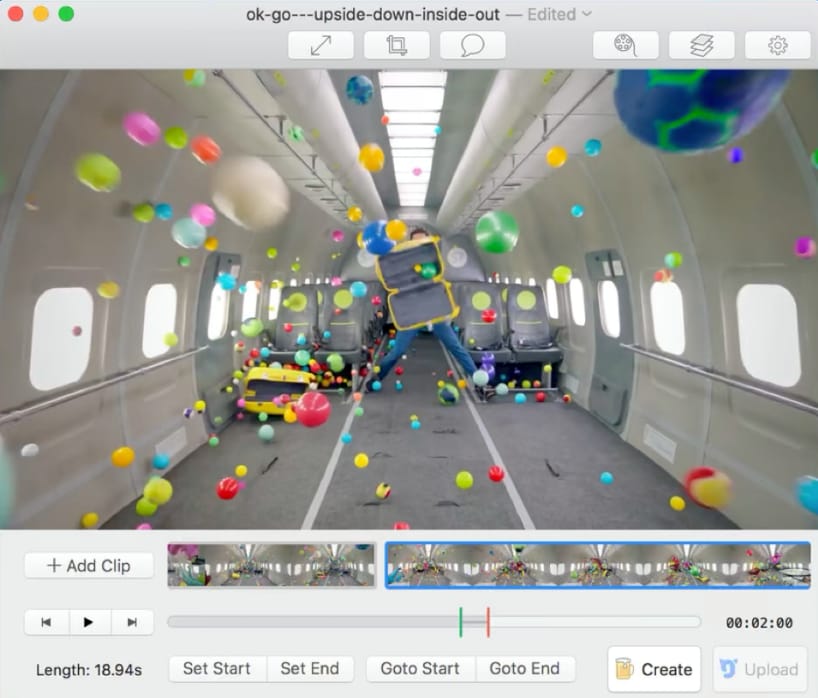 STEP 3
Afterward, go to the top right corner of the interface, and click the "Gif properties" button to frame count, frame delay, loop type, loop delay, color count, and more. Finally, hit the "Create GIF" button at the top left corner of the interface and choose "Save" from the newly displayed window.
Pros
GIF Brewery offers a previewing feature that allows users to preview the applied parameters before creating a GIF
Created GIFs are always of high quality and loop by default
Its Resizing feature supports mobile resolutions like 1080p / 4K
It supports social media and mail sharing.
Cons
Unlike the UniConverter 13, it doesn't support converting images to GIF
It's only compatible with Mac OS.
It doesn't support batch mov to gif conversion
Part 4. How to Convert QuickTime to GIF Online?
Again, just in case you're not a fan of the offline software applications, or you want to use an online software to convert QuickTime to gif in no time, we've got an online solution at your recommendation to assist you. We do you the favor of not having to download or install any software application on your device, whether you're windows, mac OS, Linux, Android, or iOS user. So what's this online software?
As simple as taking shots from your camera or uploading videos for your camera roll to make gifs, so is Giphy. This online solution allows you as a user to change video of any format to gif conveniently and confidently. Without wasting your time emphasizing the good features of Giphy, we've summarized the steps involved in creating a gif. So if you'd love to explore Giphy, you can joyfully get into the bus and go on the journey.
STEP 1
Open any browser on your device and load the web-based Giphy to it. Once Giphy is loaded, click on the "Choose File" option from the GIF tab, the first tab to import the video you wish to convert to a gif.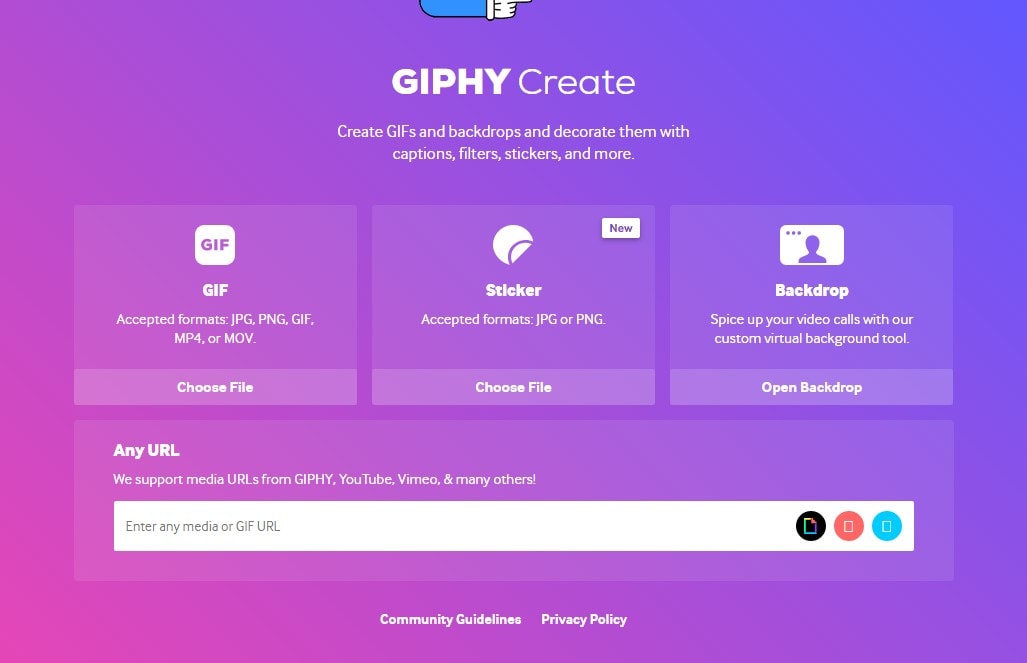 STEP 2 
Immediately after uploading the video, trim the video to a desirable length by using the duration and start time bar slider. Afterward, select "Next" from the top right corner of the interface to take you straight to the editing interface of Giphy. You can add text, draw lines, add stickers, and filter to the gif at the editing interface. After setting and making every adjustment, click on the "Next" option available on the interface.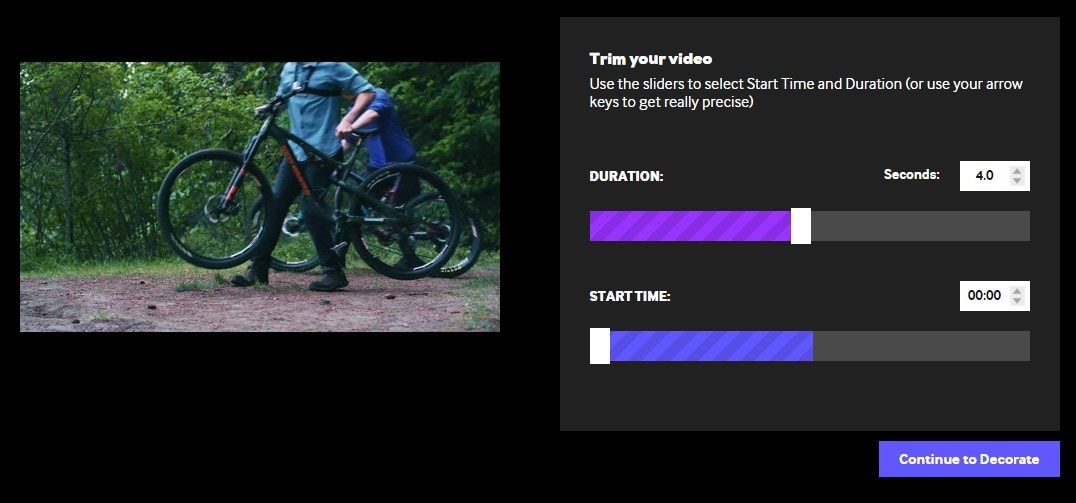 STEP 3
Finally, you can add a source URL, add a tag, decide to share it with the public or keep it private, upload it to Giphy or save it on your local storage using the provided options on your device's screen.
Pros
Giphy has a friendly and straightforward user interface every first-timer can relate to and enjoy
Giphy offers a free trial version you can utilize when you don't have money to pay for its paid version
It provides a friendly community of users where you can share your created QuickTime gif with others.
Cons
You have to sign up as a user before you can be allowed to use Giphy effectively 
The output quality of the created gif is usually low
It has poor editing tools
Pricing
Free version- $0
Premium- $2.99
Part 5. Q&As about Converting MOV to Animated GIF
1. Can I convert MOV to GIF with QuickTime?
No, you can't use QuickTime itself. QuickTime functions mainly as a media player with a guarantee to perform other media conversion and editing functions, but the app can't handle the task when it comes to converting QuickTime to GIF. Instead, it requires assistance from software applications like the UniConverter 13, Gif Brewery, and the likes of others.
2. How to compress MOV video to convert it to GIF?
To compress a MOV video to convert it to GiF, you need no other software but an intuitive UniConverter 13 to assist you with the compression procedures. Just in case you'd love to dig more into how to compress the MOV video, you can kindly explore the compressing solution we've provided for you before now in our previous article